Don't let those chicken bones go to waste after you've roasted a whole chicken – make a nourishing bone broth to sip from a mug, or to use in soups and stews for later.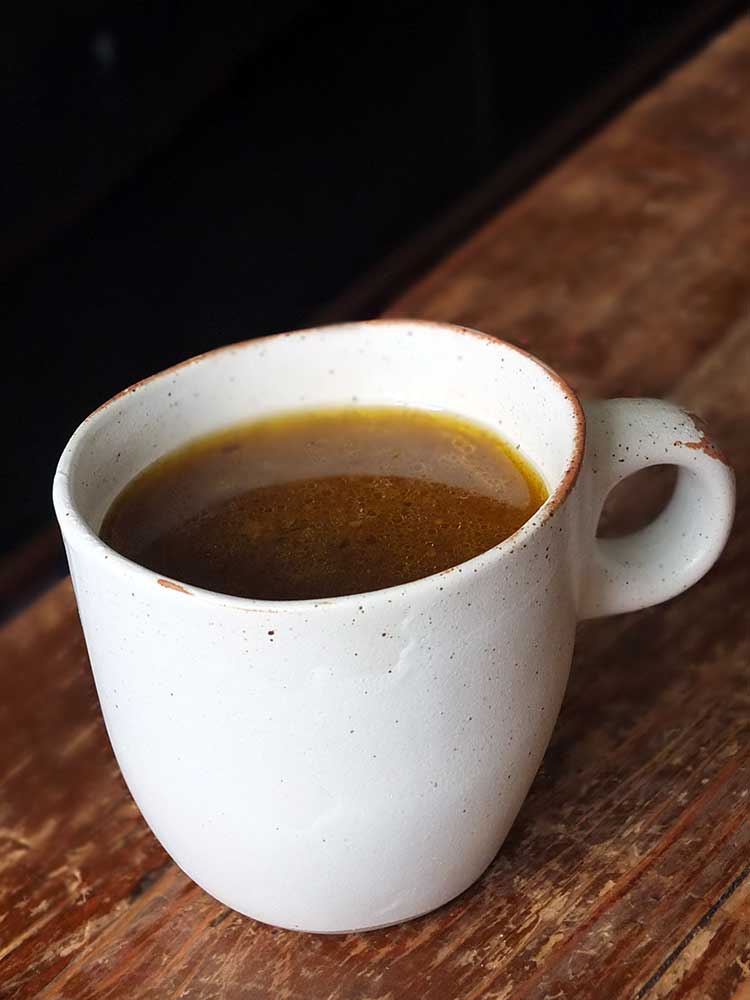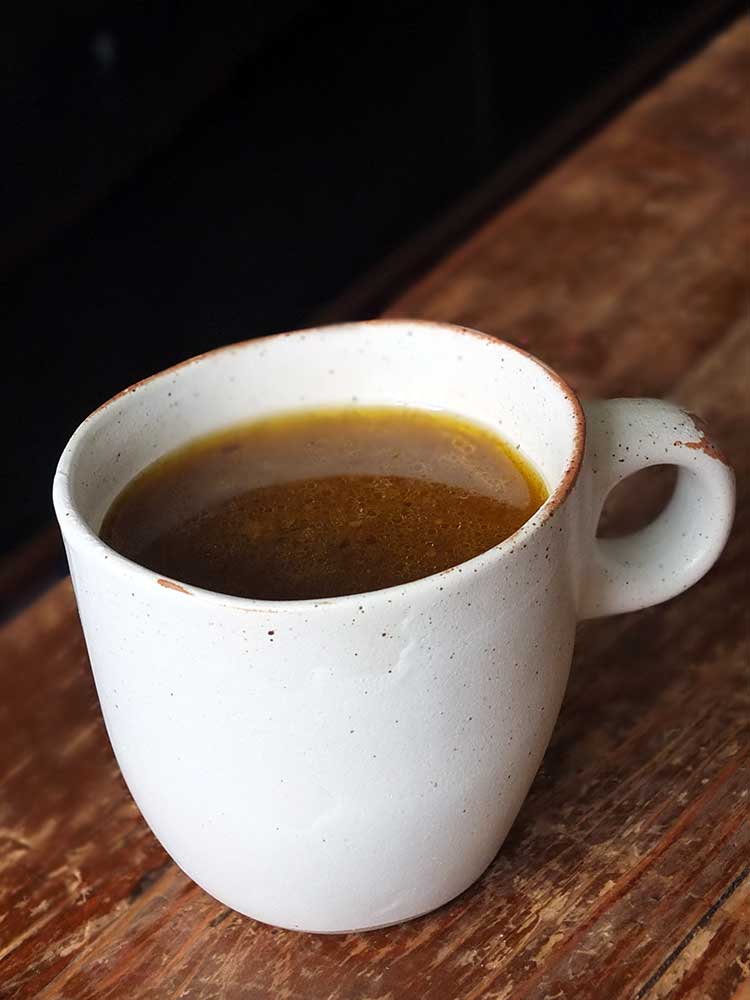 I have been making my own homemade chicken stock for years. In fact, chicken stock was one of the first recipes I'd blogged, way back in 2012. I've been pretty much making it the same way ever since, varying the ingredients slightly depending on what I had on hand – sometimes I add parsley, sometimes it's a handful of fresh thyme (stems and all) and occasionally, if I'm feeling a bit posher, I'll throw in a bay leaf or two. It's pretty basic stuff really.
In May of this year, I had surgery to remove a very rare solitary fibrous tumour from the fleshy bit of my cheek. My surgeon performed the operation in through my mouth so, despite the 15 stitches (plus two holding my relocated Stenson's duct in place), there's no visible scarring. There was, however, a great deal of trauma to the muscles I use to open my mouth and chew. Sustenance through a straw was needed for a good week or so as I healed.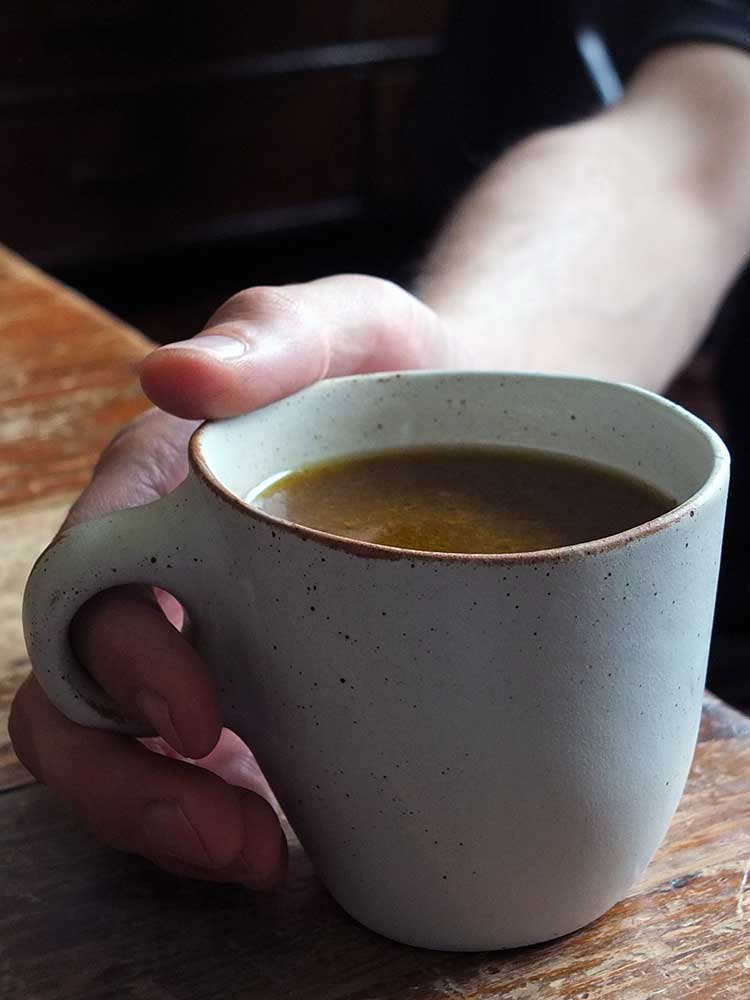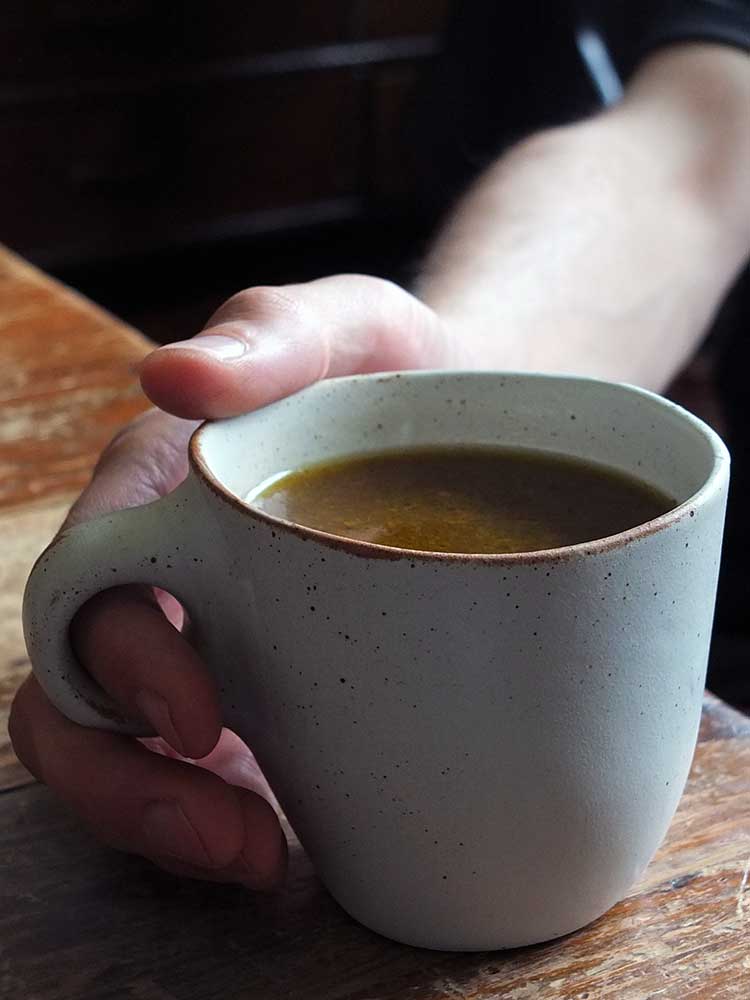 My husband, bless his cotton socks, took extra good care of me during my recovery, making me some homemade bone broth. He'd never made chicken stock or bone broth before, so I talked him through the process. The thing is, I'd started making my own beef and lamb stock a few years ago, and I roast those bones with the vegetables before covering in water and simmering for a good few hours. When I made chicken stock, I'd always just plonked the picked clean carcass into a pot with everything and simmer.
In my post-anaesthetic haze I'd told him to roast the already roasted chicken carcass, and oh my goodness gracious me what a flavourful broth resulted! I was that impressed by it I took a photo (below). He made sure it was served at the optimum temperature for me (41 C, measured with our Thermapen!) and brought it to me on the couch, with a straw to sip. Best bone broth ever. It wasn't until a good few weeks later I realised the reason it tasted so good was that it was twice-roasted (or perhaps because my husband made it?).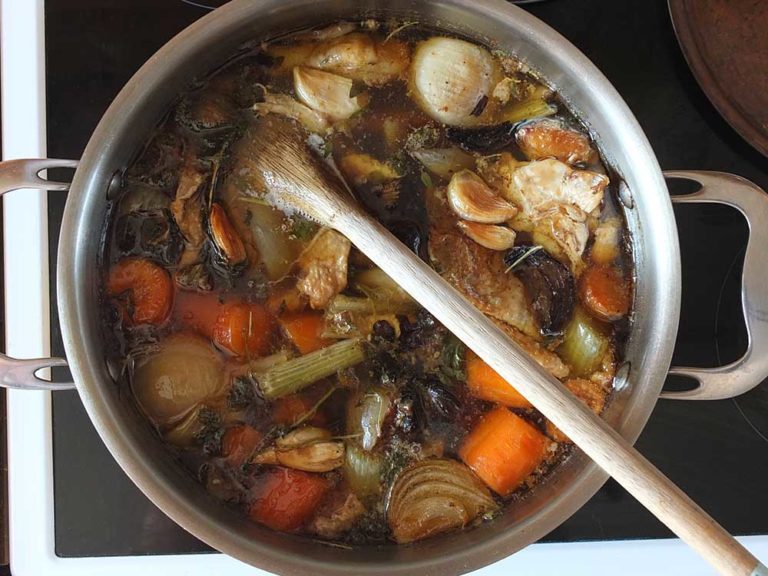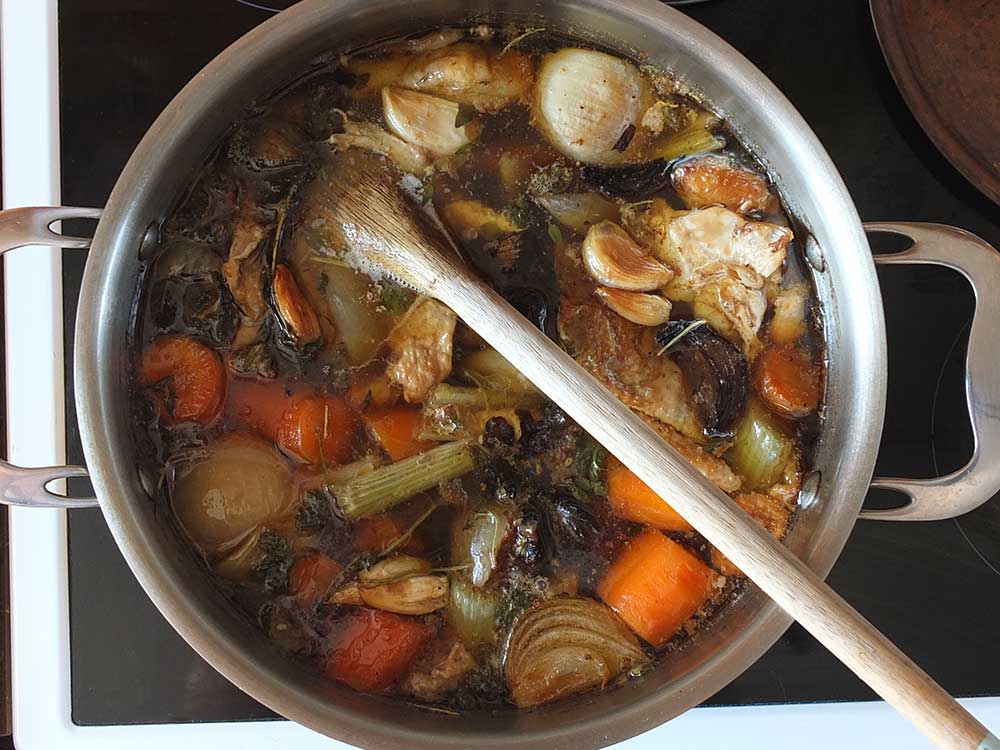 INGREDIENTS TO MAKE NOURISHING BONE BROTH
leftover roasted chicken carcass (you can also use lamb or beef bones for this too – get them from your butcher)
carrots
onions (leave them unpeeled – the brown skin adds colour and flavour to the broth)
garlic (I use twice as much as I suggest in this recipe as I love garlic)
celery
apple cider vinegar – this helps leach calcium out of the bones, enriching the broth
whole black peppercorns
fresh parsley sprigs (or thyme)
[amazon_link asins='B018XQ421A,B01H1JZ034,B017NT1EGO,B00VF6M7HC' template='ProductCarousel' store='elizskitcdiar-21′ marketplace='UK' link_id='d348af32-b8d9-11e8-aabf-e37c5223f0f5′]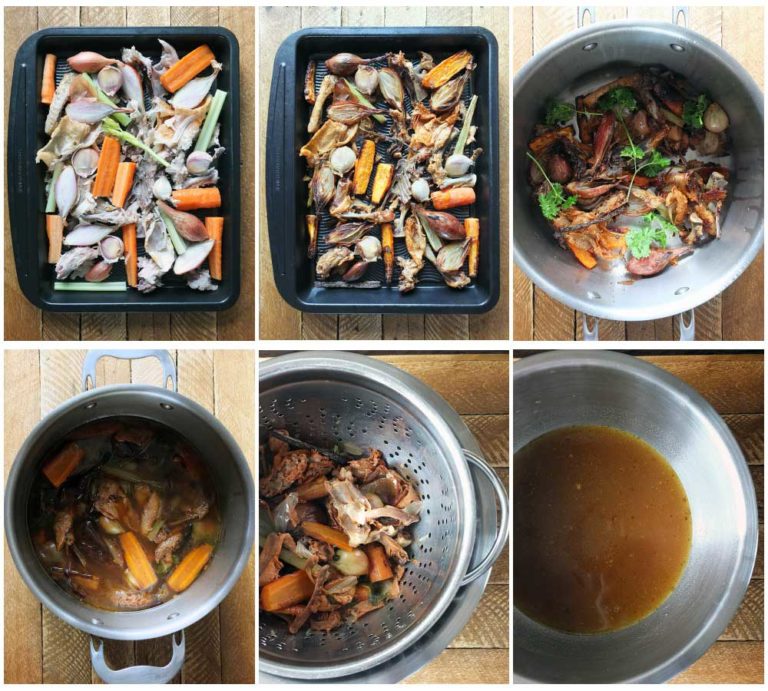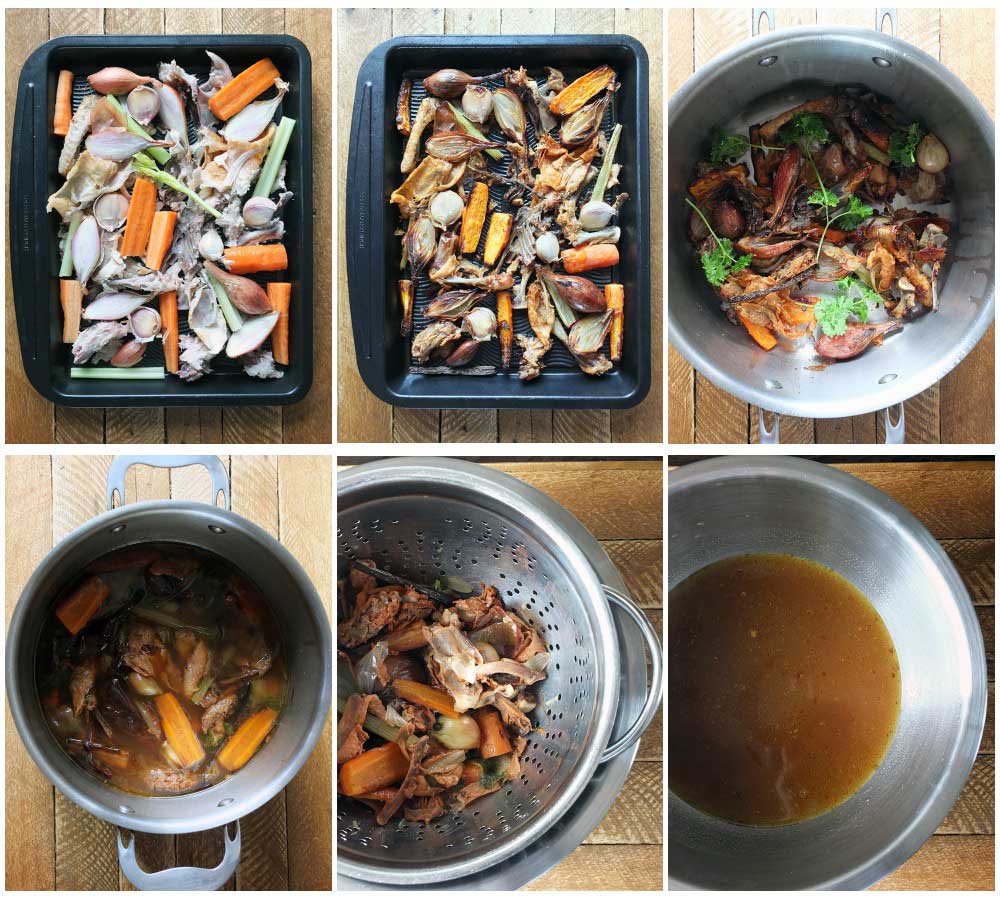 HOW TO MAKE BONE BROTH FROM SCRATCH
Step 1: pick your leftover roasted chicken carcass clean of meat (but leave a little for flavour) and arrange on a roasting tray along with the carrots, onions, garlic and celery. Drizzle with olive oil.
Step 2: Roast in a medium-hot oven for 45 minutes.
Step 3: Transfer the roasted bones and vegetables to a large stock pot (I have a giveaway for one here!), add parsley, peppercorns, apple cider vinegar and enough water to cover.
Step 4: Simmer with the lid on for several hours until the mixture is a deep, rich brown.
Step 5: Strain through a colander, reserving the liquid.
Step 6: Drink hot, or use in soups & stews. Freezes well.
How to Make Nourishing Bone Broth from Scratch
WHY YOU SHOULD DRINK BONE BROTH
There's a reason why chicken soup is an old wives' remedy for the cold – the broth is packed full of vitamins, minerals and nutrients. It's a very inexpensive and nutritious foodstuff, and the collagen in it helps with healing and the immune system. I add apple cider vinegar to mine so it's enriched with a little more calcium.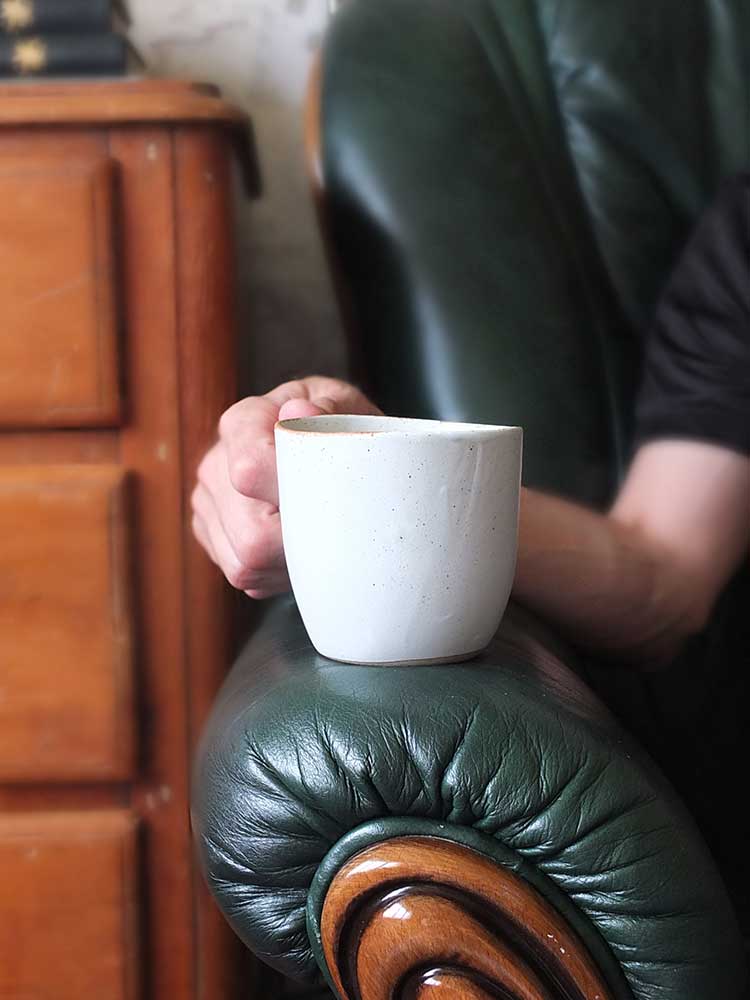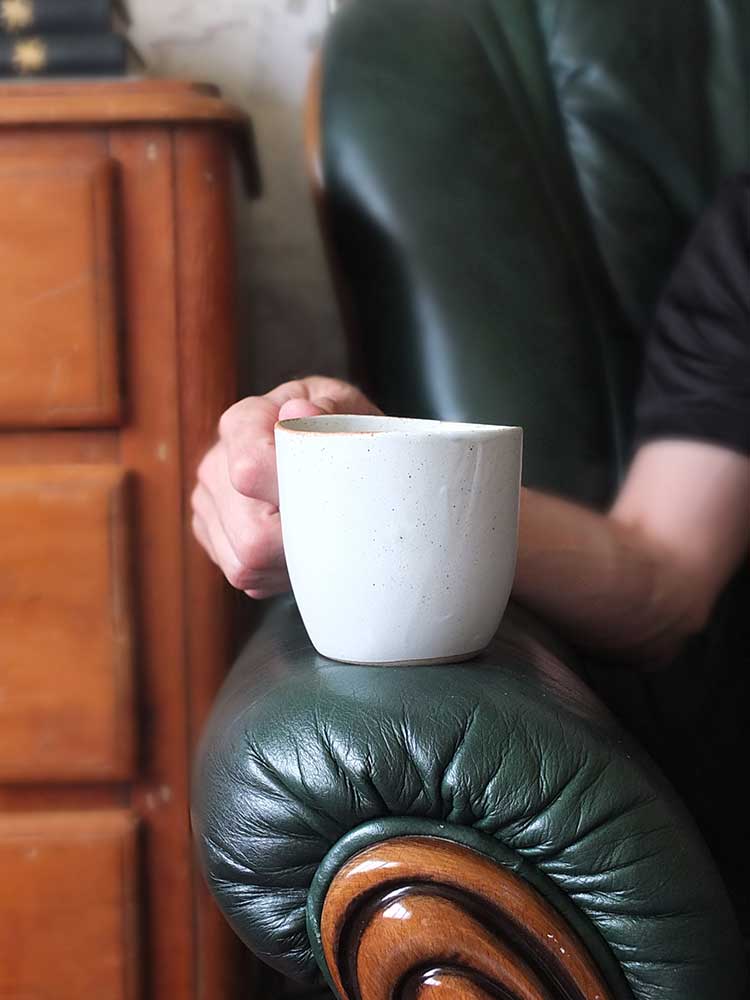 WHAT TO DO WITH HOMEMADE BONE BROTH
Sip it hot from your favourite mug.
Make chicken noodle soup – saute chopped or sliced onions, carrots and celery in a knob of butter until softened, add the bone broth and throw in a handful of broken up spaghetti sticks.
Make some creamy roast chicken soup with the leftover reserved roast chicken (recipe to follow shortly!).
Make chicken with apples – a warming one-pan autumnal comfort food recipe inspired by a passage in a book I read once
Make the best chicken gravy. Simply thicken the bone broth with a little cornflour dissolved in water.
Freeze in ice cube trays and use in any recipe calling for chicken stock.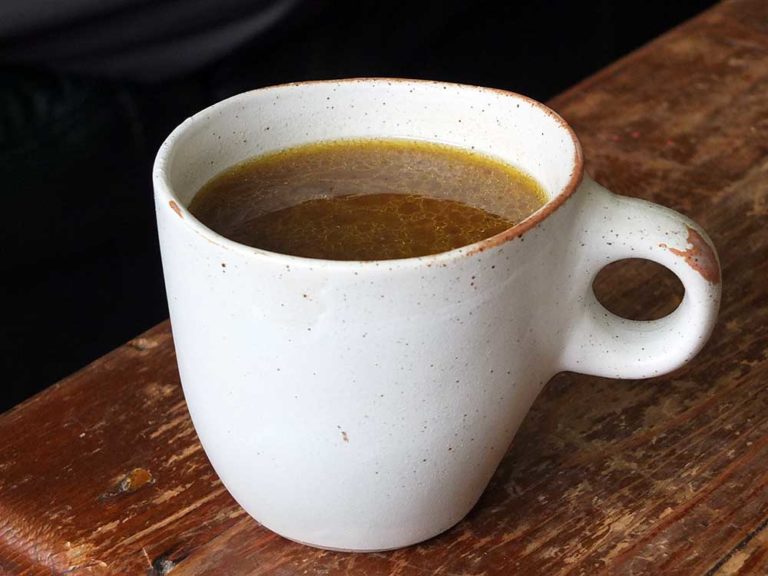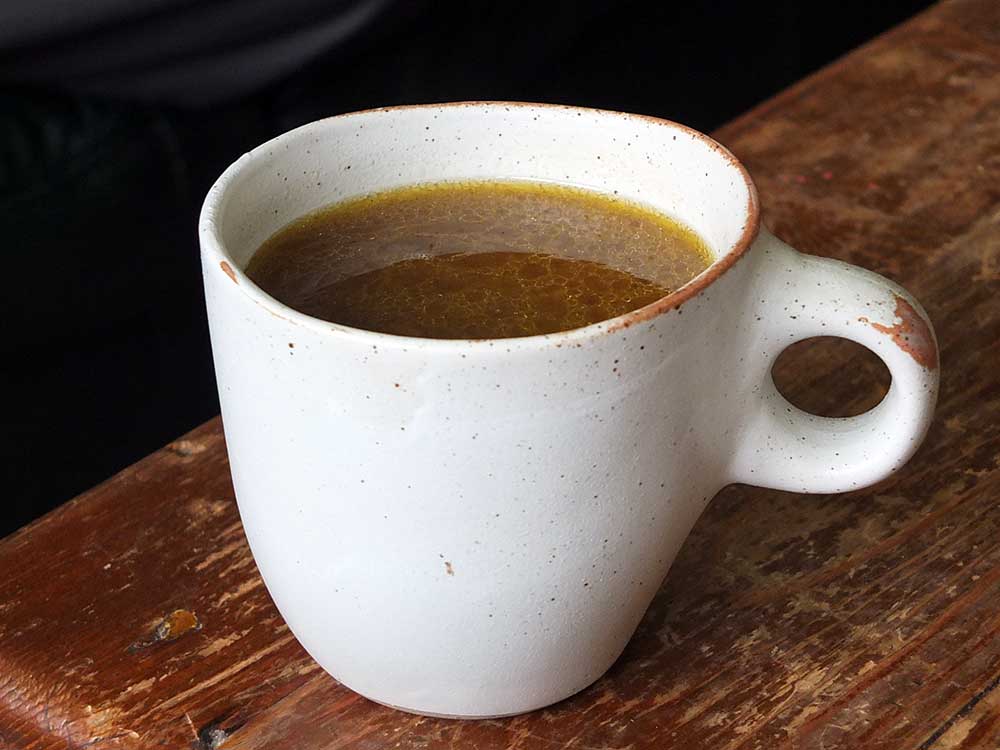 I ended up not drinking all the bone broth my husband had made, freezing some for later. This was dug out of the bottom of the freezer recently (I'm trying to free up space) and I made the most gorgeous creamy roast chicken soup with it. I thought I should take a few step-by-step photos too, so show you how easy it is to make.
There's a reason people eat chicken soup when they're feeling poorly. There's a whole host of nutrition packed into that broth – from the minerals in the bones and in the marrow to the vitamins and nutrients in the vegetables added to the stock. I realise I'm a bit late to the whole 'bone broth as a superfood' craze of 2015, but here's our recipe nonetheless. Try it, even if you just turn it into soup.
How do you make your stock or bone broth? Have you any tips or tricks to share? Let me know in the comments!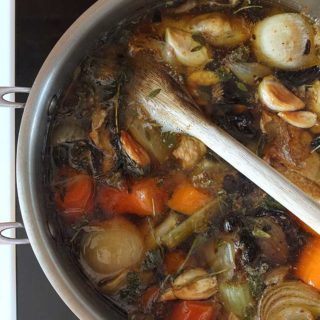 Nourishing Bone Broth Recipe
So simple to make and incredibly tasty and nutritious, this versatile bone broth can be sipped hot or used in soups or stews.
Print
Rate
Ingredients
1

chicken carcass

preferably organic

2

carrots

cut lengthwise

2

brown onions

unpeeled & quartered

2

celery sticks

quartered

4

whole

garlic cloves

unpeeled

2

tbsp

olive oil

to drizzle

6

sprigs

fresh parsley

or mix of thyme, bay & parsley

1

tbsp

apple cider vinegar

1

tsp

whole black peppercorns

cold water

to cover
Affiliate Links
This recipe card may contain affiliate ingredient and equipment links. As an Amazon Associate I earn from qualifying purchases.
Instructions
Preheat oven to 180 C/ 350 F.

Pick most of the meat off the chicken bones (leave a little for flavour) and arrange the bones, wings, skin & everything on a roasting tray.

Scatter your washed (unpeeled) halved carrots, unpeeled quartered onions, unpeeled garlic cloves and quartered celery over the top of the bones and drizzle with the olive oil.

Roast in the centre of the oven for 45 minutes.

Transfer the roasted bones and vegetables to a large stock pot. Add the parsley, pepper corns, apple cider vinegar and enough water to cover.

Bring to the boil, reduce the heat to low and simmer with the lid on for several hours.

Strain through a colander, reserving the liquid.

Drink hot, or use in soups and stews. Freezes well.
Environmental Information
PIN THIS BONE BROTH RECIPE FOR LATER!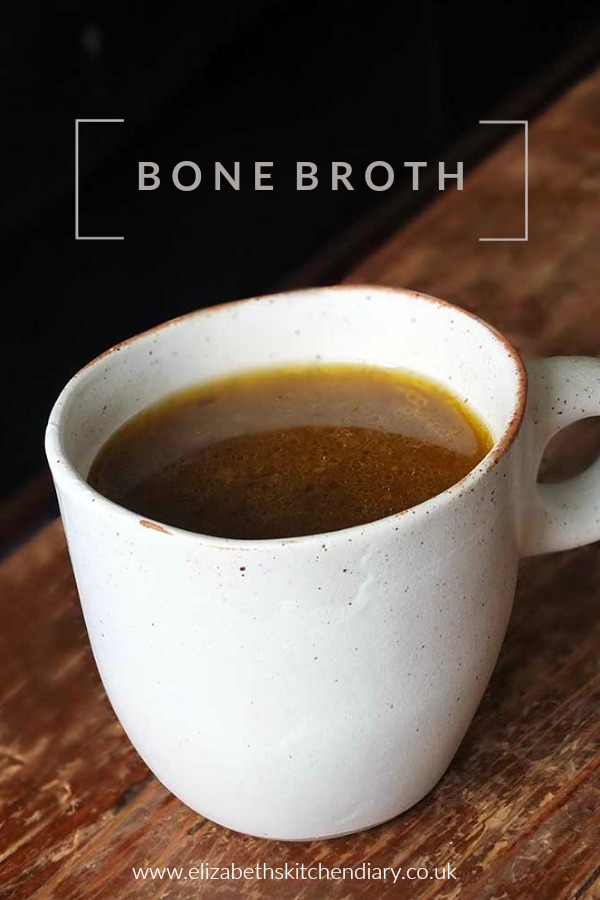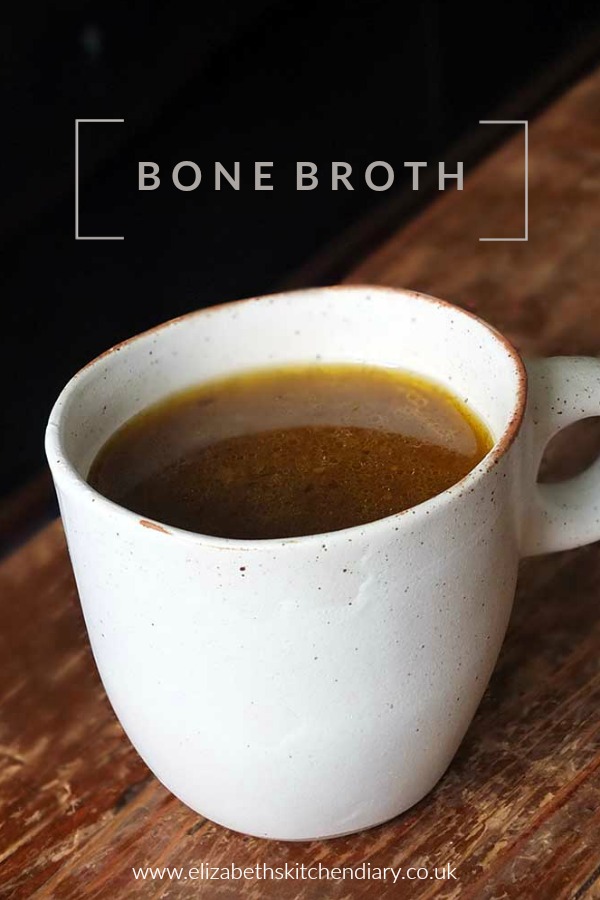 [color-box]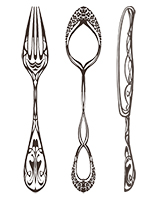 Have you made this recipe?
Take a photo and tag @tangoraindrop or use the hashtag #elizabethskitchendiary and share on Instagram and Twitter. It would make my day to see your creations!
[/color-box]