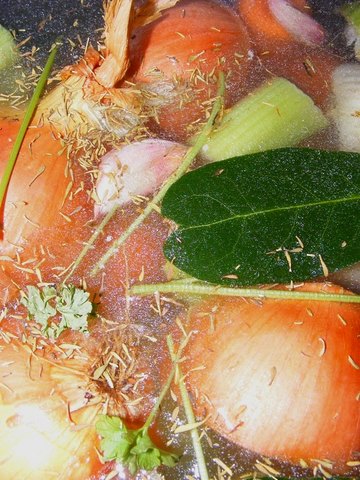 I meant to post this a few weeks ago after I'd make the chicken stock using the carcass of a roasted chicken, but I forgot about it until this morning when I pulled out an ice cream tub of frozen stock from the freezer (I'm on a mission to empty the deep freeze)! I am sure there is a bottom in there somewhere….). So yes, homemade chicken stock… I only ever use it for making chicken soup with, as I prefer the strength and flavour of Knorr chicken stock cubes for anything requiring smaller quantities of stock.
1 roast chicken carcass
2 carrots, halved (just wash, don't peel)
1 large onion, quartered (don't take the skin off, this adds colour to the stock)
1 celery stalk, coarsely chopped
3-4 cloves of garlic, crushed but not peeled
2 bay leaves
a few sprigs of fresh thyme (or dried if you're out of fresh)
parsley stalks
10 whole peppercorns
broccoli stalk, optional (I often save my broccoli stalk for this)
capful of apple cider vinegar*
water
Pick over your carcass removing most of the meat, but leave some for added flavour. Reserve the meat – I freeze mine in quantities sufficient for chicken pies and the remainder goes into chicken noodle soup. Break up the bones slightly (if you can stand the sound!) and put into a large stock pot. Add the remaining ingredients and add enough water to cover. Put on to simmer for a few hours with the lid on, or alternatively make the stock in your slow cooker. When you think it is finished remove from heat, let cool and strain out the solids. Freezes well.
* Apple cider vinegar helps to leach the calcium out of the chicken bones, thereby enriching your stock with its wonderful osteoporosis-preventing properties.