With just a few simple seasonal ingredients, you can create a warming, creamy potato and leek soup that pairs perfectly with salt beef bannocks or warm, crusty bread.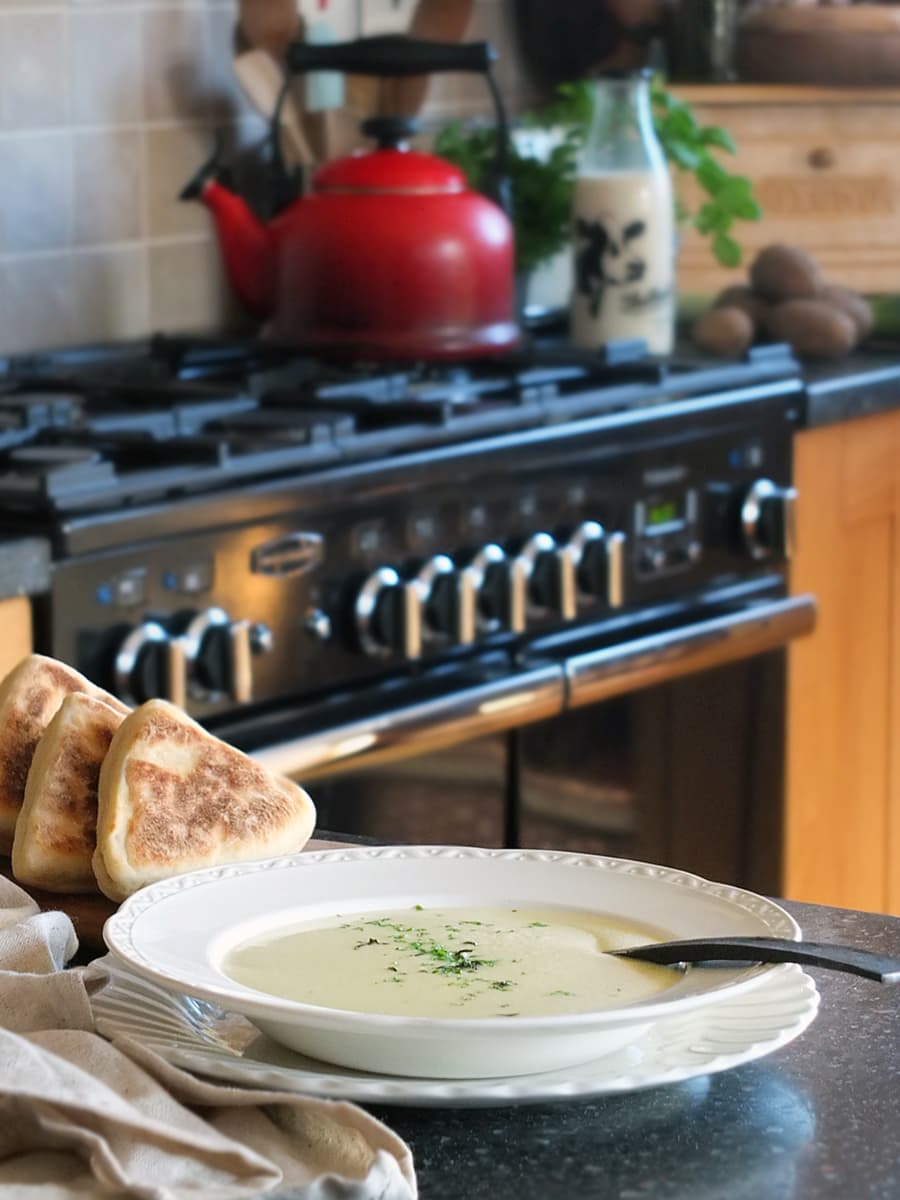 Tattie & leek soup, classic comfort food
Nothing beats a bowl of thick, creamy, piping hot soup to warm you up this time of year. It's the first day of Spring today, but there's still a winter chill in the air. The snowdrops are blooming, the daffodils are pushing their way up through the earth and the days are rapidly lengthening. I heard my first skylark of the season earlier this week too, spotted my first dog daisy and the frogs have come out of their hibernation. We 'rescued' one on the side of the road the other day, spotted as we cycled past. It's still cold outside though.
With the brighter days and stirrings of new life comes a natural desire, in me at least, to spend more time outdoors. Last week I began the arduous task of turning over the earth for a new vegetable allotment, and my road bike has (fingers crossed) come off the turbo for the season.
I'm still craving soup occasionally, on those colder days, especially those days spent outside adventuring. Leeks are one of the few British-grown vegetables still in season right now, being harvested between September and May each year, so they're perfect for cold weather soup making.
Taste of Shetland
I had intended on blogging this tattie & leek soup recipe a year and a half ago when I teamed up with Keiba Film and Taste of Shetland to create a short 'Faerdie Maet' promotional film. Life, however, got it in the way, as it is wont to do.
The Taste of Shetland film was all about using local Shetland-grown produce to create a recipe you could take on the road with you, something for a journey. In this case, I made hot soup with local tatties, leeks, shallots, milk, cream and butter to take on a picnic. Chives from my neighbours garden were used as a garnish and I served the soup with some salt beef bannocks.
I've spent many an afternoon sheltering from the crisp north wind behind a low stone wall warming my cold hands cupping a mug of hot soup like this recipe.
Musings on leeks
Tattie and leek, potato and leek, leek and potato…. whatever you call it, it's one of my favourites. For me, it's something associated with Shetland as I'd never had this type of soup before moving here. Truth be told, I'd rarely cooked with leeks before moving to the UK.
I remember being quite perplexed when I bought my first leek in a wholefoods shop back in Canada in my early 20s. I had no idea what to do with it, and an internet search turned up a recipe for 'frizzled leeks': thinly sliced leeks cooked in plenty of vegetable oil (basically deep-fried leeks). This recipe certainly did not convince of the merits of this vegetable, but now that I think of it, frizzled leeks would make for a rather fabulous textured potato and leek soup garnish. Next time!
Creamy potato and leek soup recipes are found in a variety of cuisines, from the Welsh cawl cennin, Romania's supă de Praz, Scotland's tattie & leek soup and the French potage Parmentier.
By the 19th century, soups made with pureed leek and potato were popular in France. Traditionally served cold, vichyssoise, as it now is known after it's invention in America, was a favourite of King Louis XV.
Me, I prefer mine hot, and this is how I make it…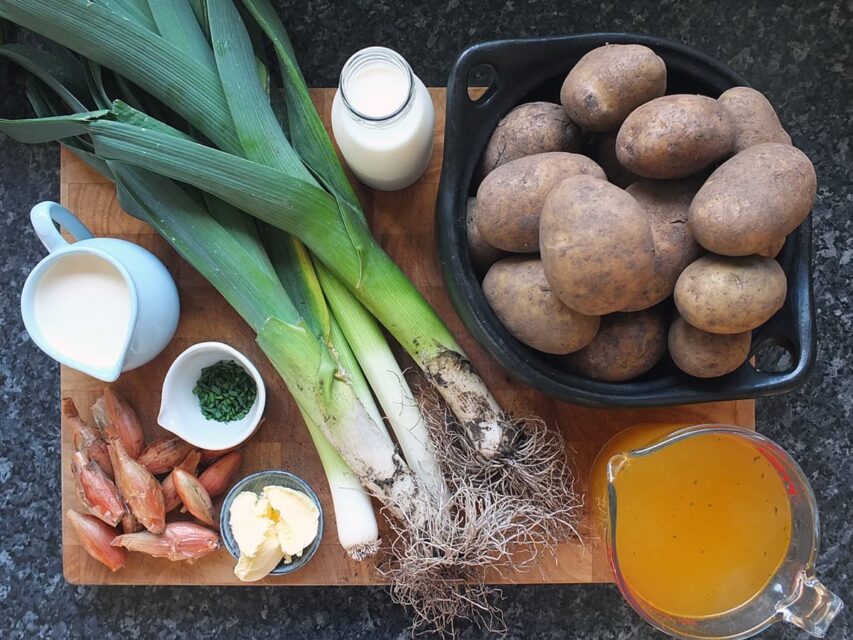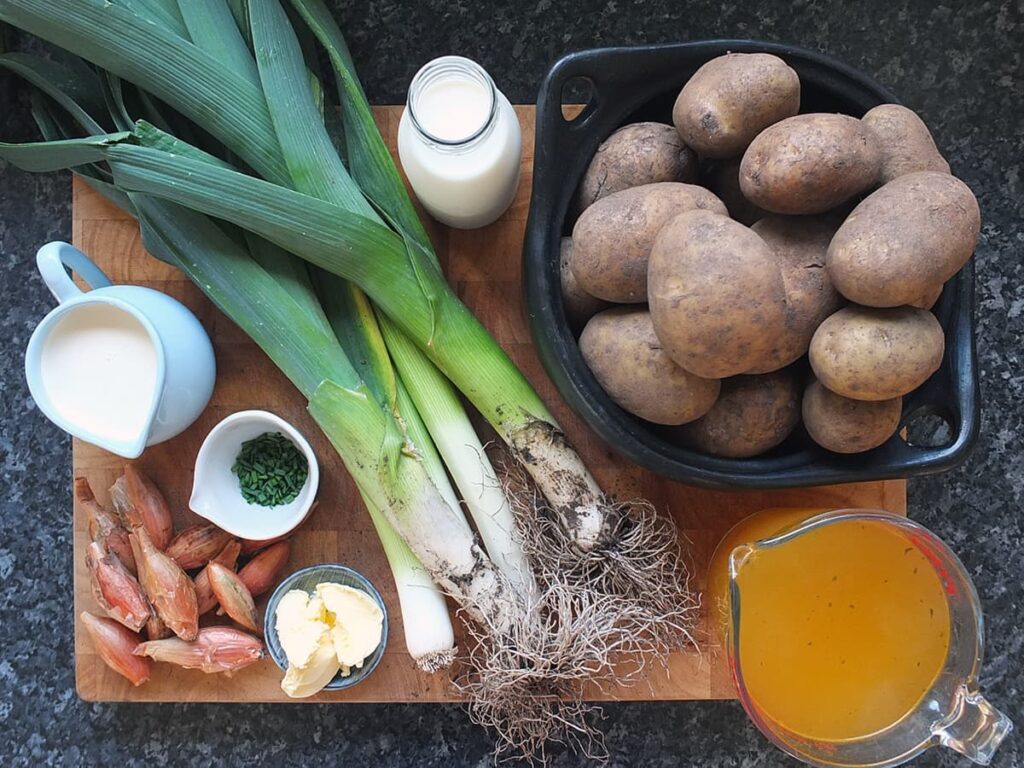 For this recipe, you'll need…
Leeks – trim the roots and top third of the green part, leaving 2-3 inches. Reserve and freeze the rest of the green leek, if you wish, to make soup stock at a later date.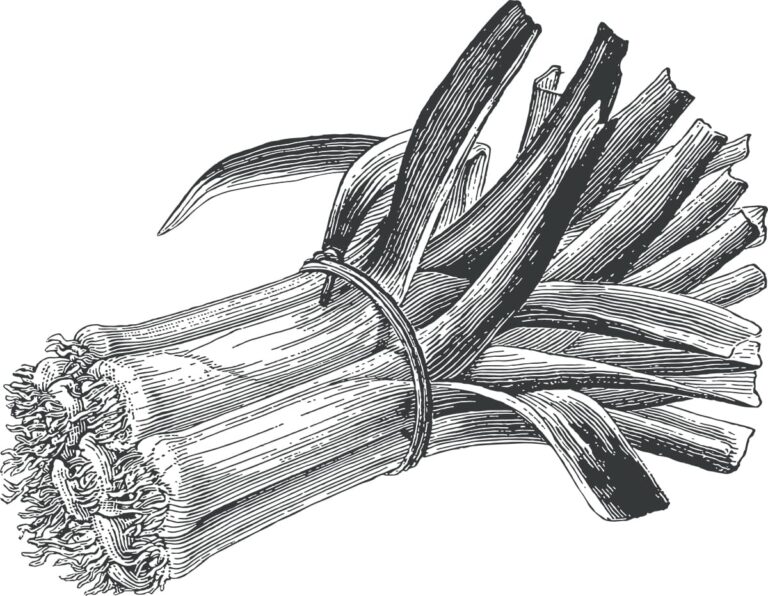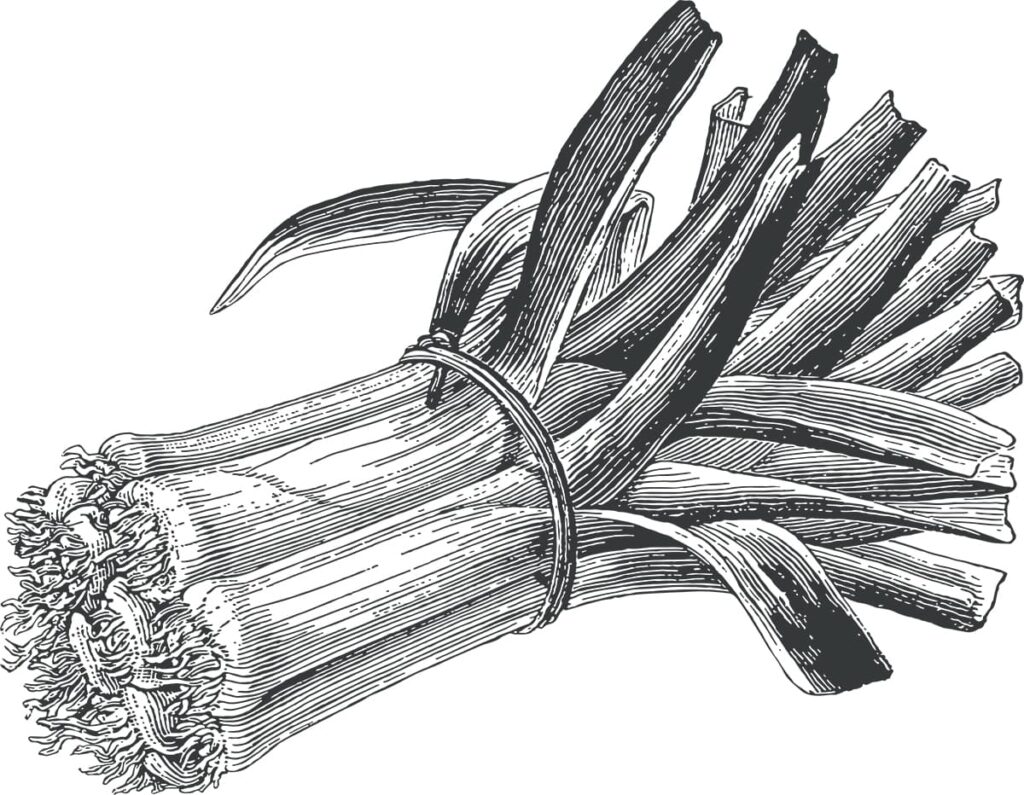 Potatoes – use a floury variety for the best soup.
Butter – this recipe wouldn't hit the same level of comfort/satisfaction if you used oil or margarine.
Onion – use one large onion, coarsely chopped, or a handful of small shallots.
Milk – opt for full-fat milk for the best flavour.
Cream – use double or heavy cream for the best results.
Chicken stock – use either homemade or from a stock cube/pot. Substitute with vegetable stock if desired.
Sea salt – to taste.
Freshly ground black pepper – to taste.
Fresh herbs – to garnish. I use chives, thyme or parsley, depending on what's available.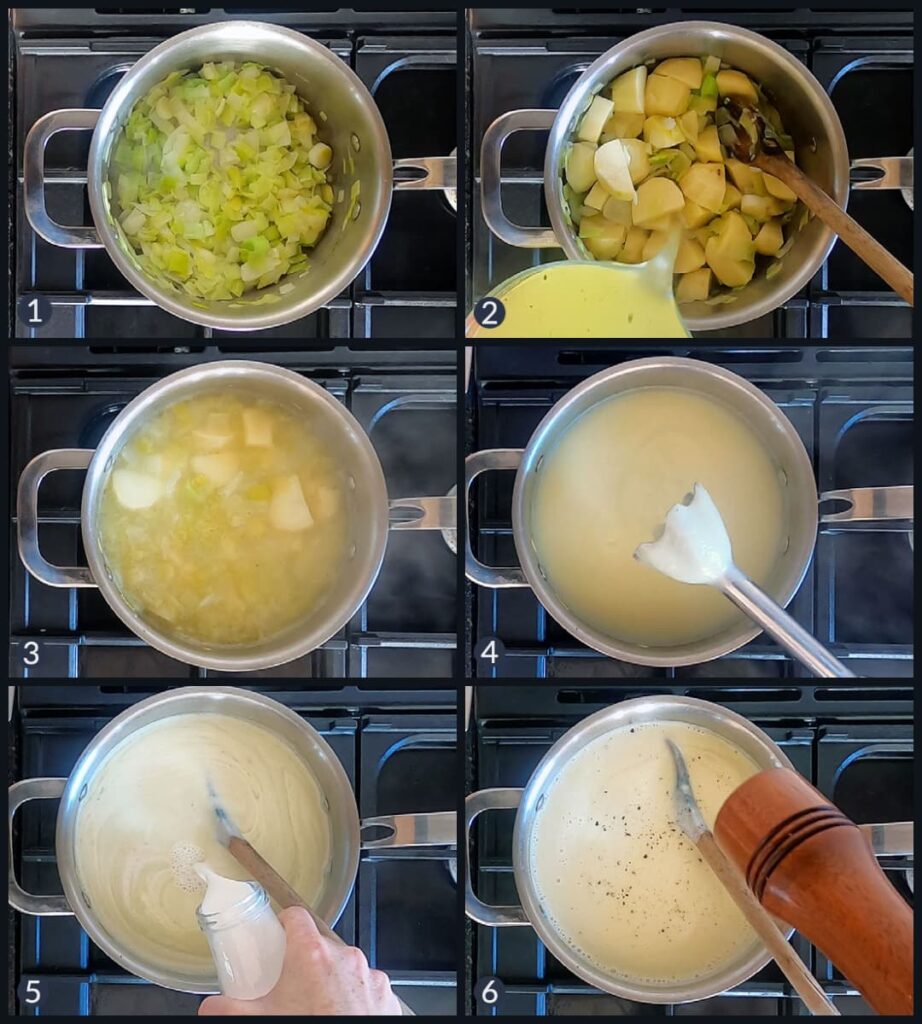 How to make potato and leek soup
Gently cook the leeks and onions in butter until they begin to soften, about ten minutes.
Add the potatoes and chicken stock.
Bring to the boil and simmer, uncovered, for 25 minutes, until the vegetables are tender.
Remove from the heat and puree until smooth.
Add the cream and milk.
Reheat and season to taste with salt and pepper.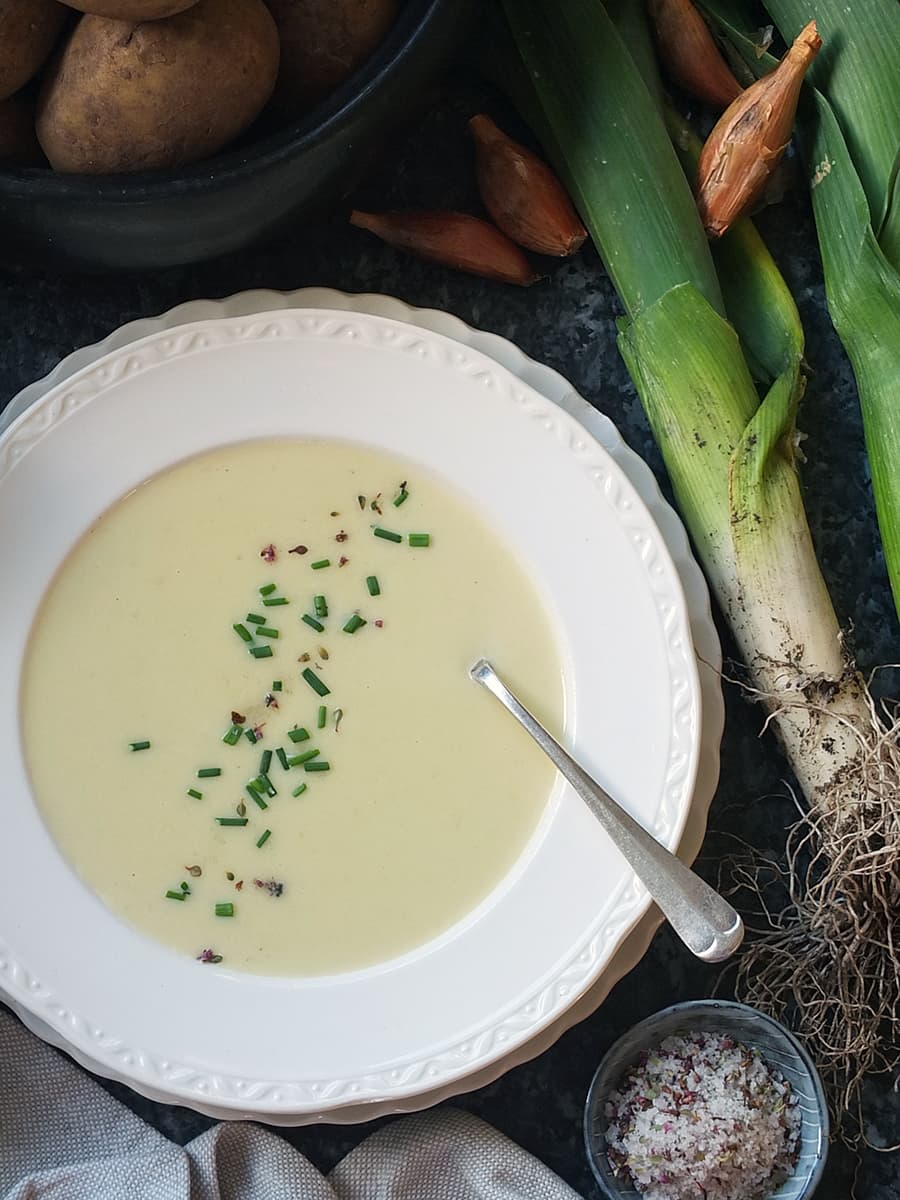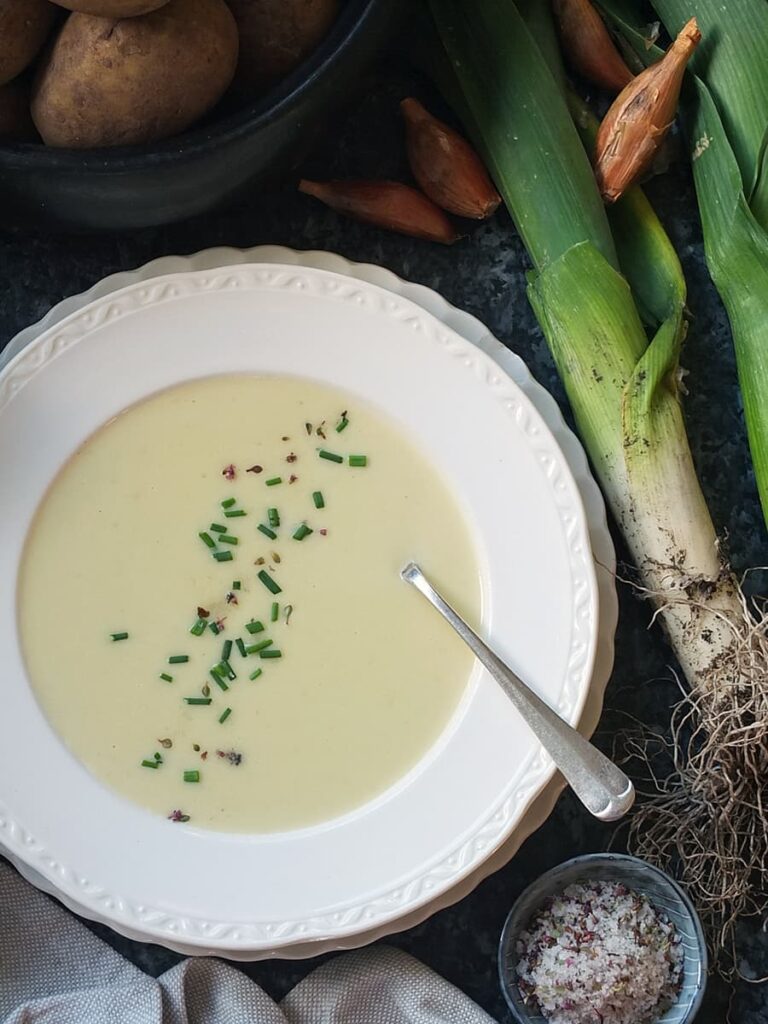 How to wash and cut leeks
Trim the root portion just above the base and slice off the top, just above where the light green area turns into the dark green.
Slice the light green stalk in half, lengthwise, if it is particularly thick. Leave smaller leeks whole.
Slice, chop or dice your leeks, as required.
Place the chopped leeks in a colander and rinse with water to remove any traces of dirt.
Which bit of the leek do you use?
The whites and light green parts of the leek are the parts most commonly eaten. The dark green bits are edible, but they have more of a bitter, pungent flavour and so are usually discarded. Saying that some cooks like the strong flavour of the dark green ends. You could always leave them in to see what you think.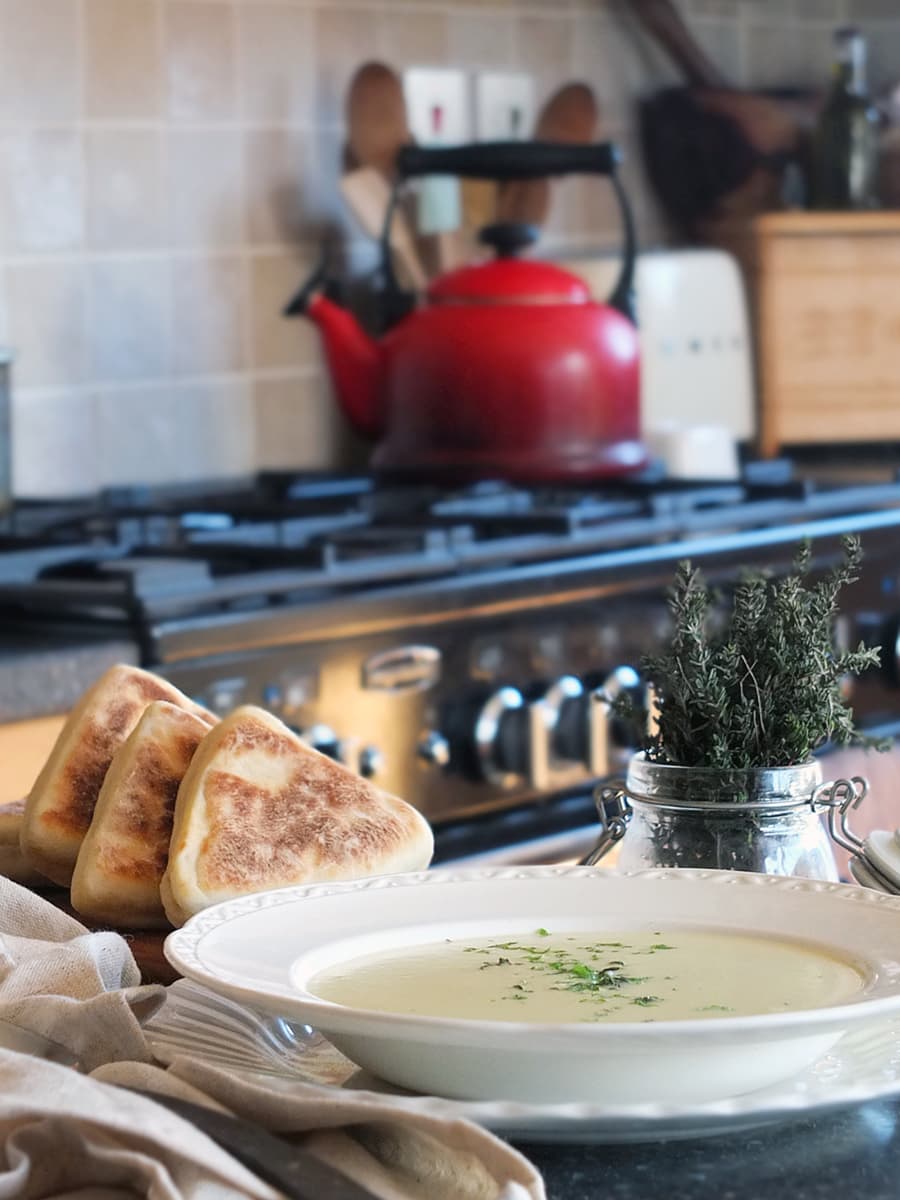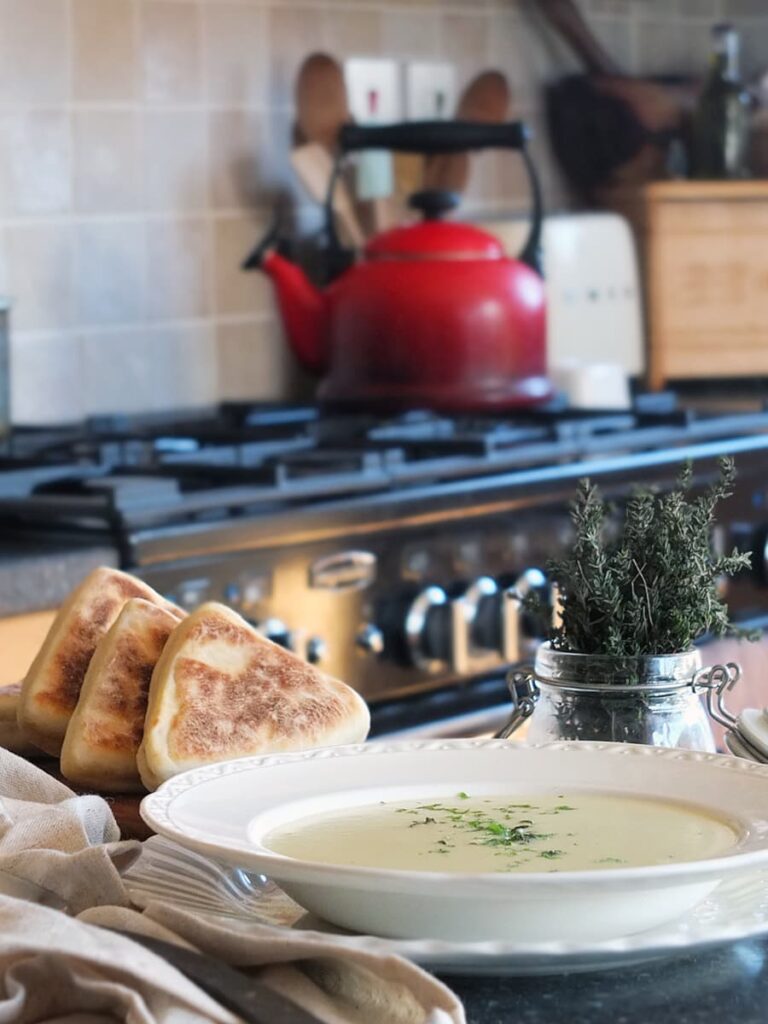 What potatoes are best for soup?
For a deliciously smooth, creamy potato and leek soup you want to use a starchy, floury potato – the kind you'd make mashed potatoes with. Here in Shetland, I prefer using J.K. Mainland's premiere potatoes.
Waxy potatoes, the kind you'd bake and load with baked beans and mature cheddar cheese, take too long to break down in the soup. This can result in a grainy texture. However, these, and waxy new potatoes, are perfect if you want to retain the texture of the potato in your soup. Cut them smaller and leave them in pieces instead.
Elizabeth's tattie & leek soup recipe video
I recently attended a video training workshop through Scotland Food & Drink (via Taste of Shetland) in a bid to improve the videos I create for you.
My homework, after the masterclass, was to shoot, edit and promote a video. I chose this recipe to try out some new skills: namely, shooting a video from two angles.
You can view the video in the recipe card below. Disable your adblocker if you can't see it. The money I'll earn from the short ad you'll see before the video (as well as the in-content ads you'll view in this blog post) helps me keep this website running and I will be infinitely grateful.
Thank you, and happy soup making! Xx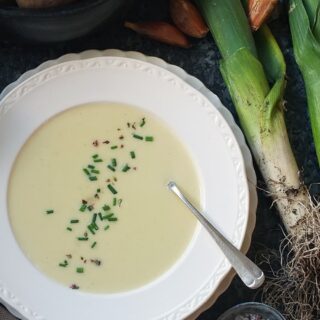 Creamy potato and leek soup recipe
This hearty, creamy, filling soup pairs perfectly with salt beef bannocks or warm, crusty bread.
Print
Rate
Affiliate Links
This recipe card may contain affiliate ingredient and equipment links. As an Amazon Associate I earn from qualifying purchases.
Instructions
Peel your potatoes and cut into one-inch size pieces.

Trim your leeks reserving the green tops for soup stock and slice the whites. Coarsely chop the onion.

Heat butter in a medium-sized saucepan over medium heat and add the onion and leeks.

Cook for ten minutes, or until the onions and leeks soften. Do not allow them to brown.

Add the potato and chicken stock.

Bring to the boil, reduce the heat and simmer for 25 minutes, until the potatoes are tender. Do not overcook, as this will affect the flavour.

Remove from the heat and blend until smooth with a hand blender.

Add the cream and milk and heat over a low flame.

Serve garnished with chopped chives, parsley or thyme leaves.
Notes
How long will potato and leek soup keep in the fridge?
This recipe will keep for 3 days, covered, in the fridge.
Can you freeze potato and leek soup?
This recipe does not freeze well.
Nutrition
Sodium:
88
mg
|
Calcium:
132
mg
|
Vitamin C:
28
mg
|
Vitamin A:
1646
IU
|
Sugar:
6
g
|
Fiber:
4
g
|
Potassium:
646
mg
|
Cholesterol:
72
mg
|
Calories:
325
kcal
|
Trans Fat:
1
g
|
Saturated Fat:
13
g
|
Fat:
21
g
|
Protein:
6
g
|
Carbohydrates:
30
g
|
Iron:
2
mg
Environmental Information
Pin this potato and leek soup recipe for later
Other soup recipes you might like
Hearty and filling, this traditional soup from the wild and remote Shetland Islands is made from reestit mutton, a salted and brined preserved mutton unique to the islands. 
This easy, versatile chicken noodle soup recipe is made with leftovers from a Sunday roast chicken dinner, including leftover gravy. It's easy to tailor the recipe too depending on what you have lurking in your fridge needing to be used up. 
A simple, yet incredibly rich and delicious oxtail soup recipe made extra easy by slow-cooking in a Crock Pot.