This Shetland Croft style gingerbread house is made using a (slightly adapted) Norwegian pepperkakehus recipe given to me by my Norwegian mother-in-law. It's a delicious, sturdy, easy to work with gingerbread recipe, and the process of me making this featured on BBC Radio Shetland's Shetland Larder on the 19th of December 2018! You can listen here!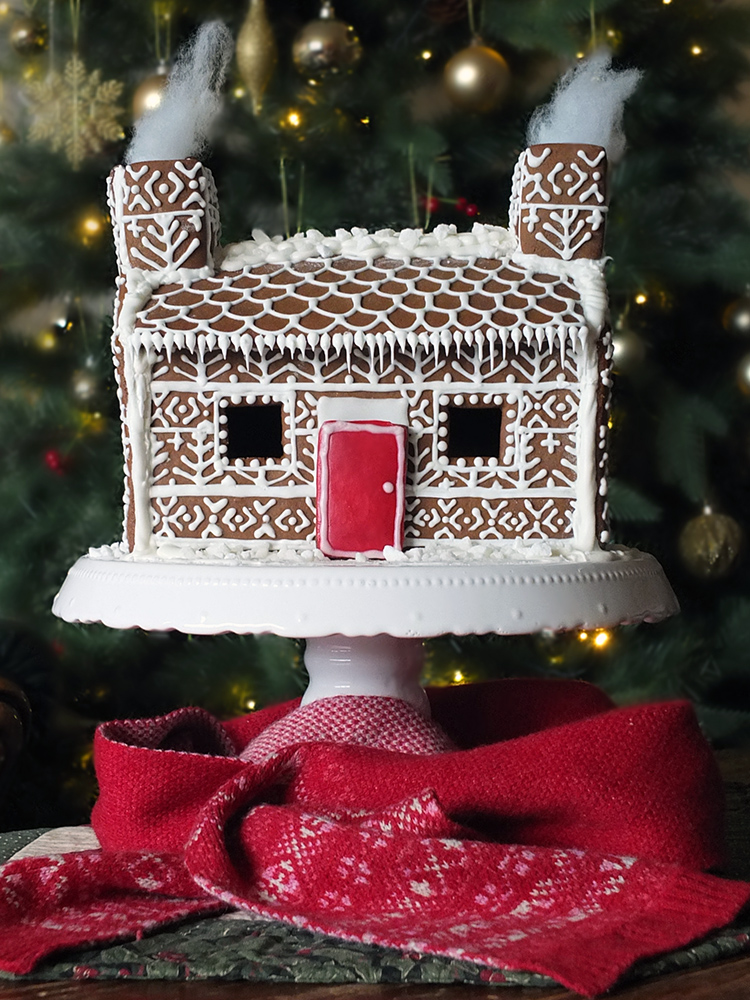 This is, officially, the second gingerbread house I have ever made. The first one was exactly six years ago, which I photographed and published in a blog post entitled Shetland Pepperkakehus. This was back when my blog was still very new and on Blogspot, and one of the photographs in that original blog post won me an iPad mini in a Christmas baking photo competition on Facebook. I remember having no idea what an iPad was, at that time and I nearly gave it to the kids.
For this version, I was inspired by my neighbour's Shetland Croft Planter from Greencroft Shetland. With its bright red door, I thought the design could be transferred into gingerbread architecture. I'm quite pleased with the results!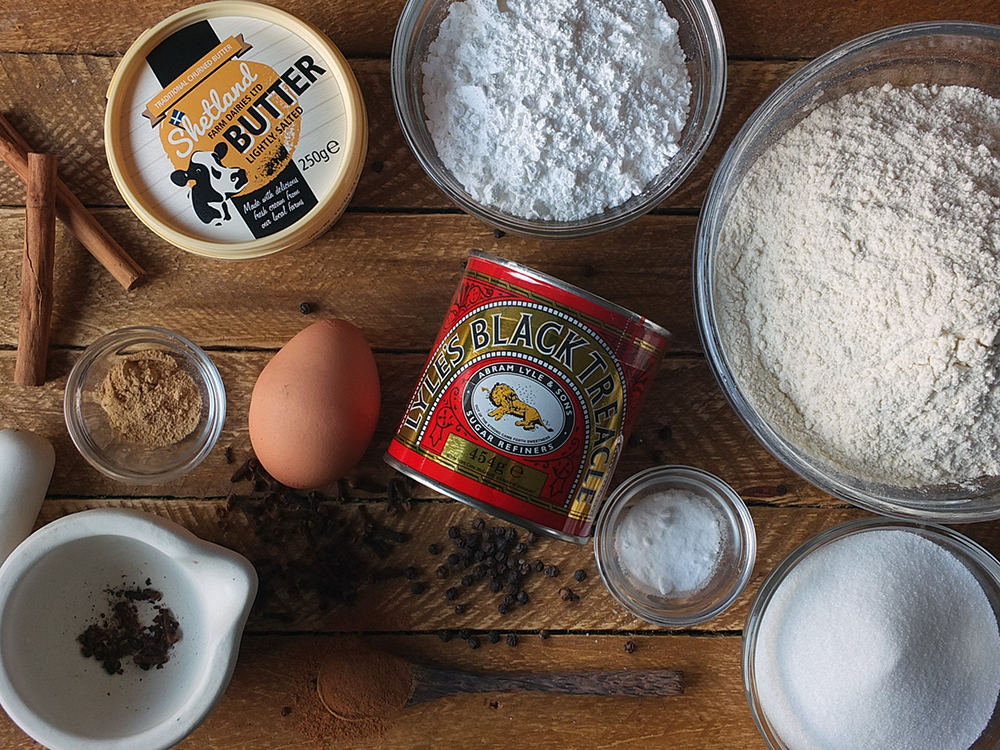 INGREDIENTS FOR THIS SHETLAND CROFT GINGERBREAD HOUSE
600 grams of plain flour
1 tsp ground cinnamon
1 tsp ground ginger
1 tsp ground cloves – I grind my own whole cloves for a better flavour
1 tsp ground black pepper
1/2 tsp baking soda
250 grams treacle, or if you want a milder flavour use equal parts treacle and golden syrup
125 grams Shetland butter
2 eggs (plus 2 egg whites for the icing) – my eggs came from Bressay
250 grams caster sugar
500 grams icing sugar (divided)
red gel food colouring – optional, to colour the icing for the door
sugar cubes – optional, to decorate
Products from Amazon.co.uk
‹
›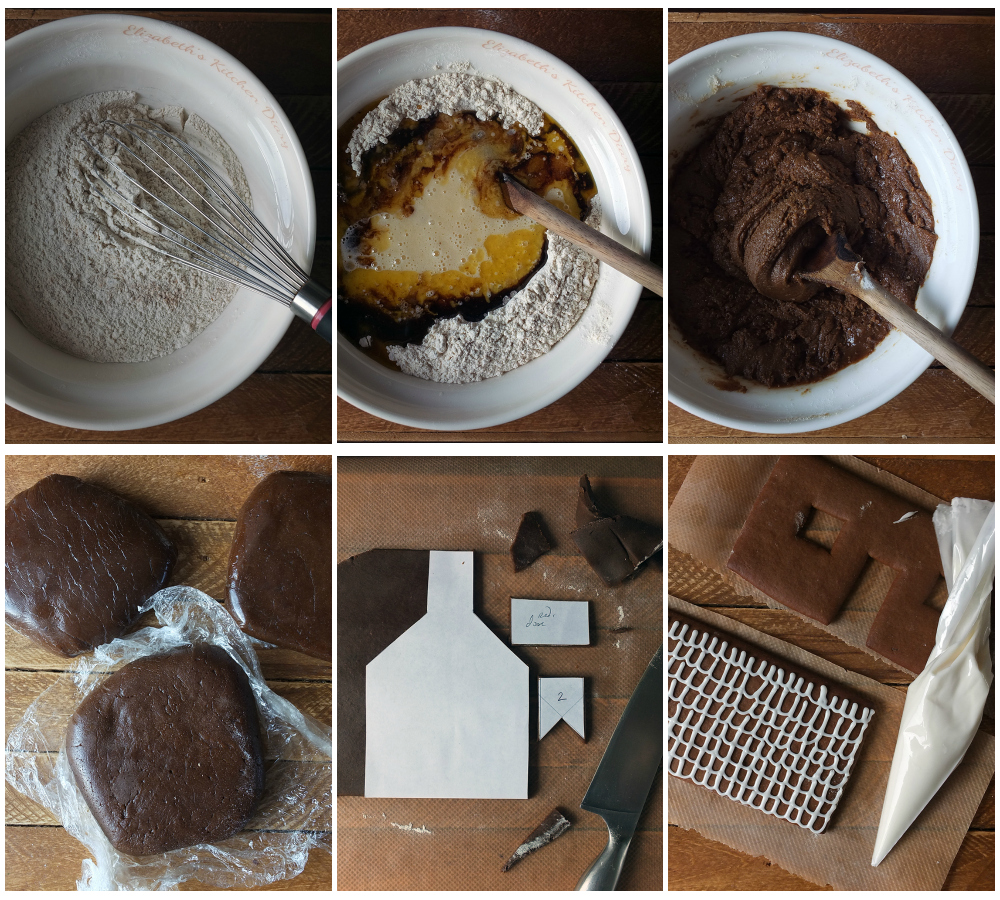 HOW TO MAKE A GINGERBREAD HOUSE
Step 1: Mix together the flour, baking soda and spices. I use a whisk to gently but evenly distribute the spices.
Step 2: Melt the treacle and butter together in a small saucepan, and whisk the eggs and caster sugar together until light. Add both to the bowl of dry ingredients.
Step 3: Stir well with a wooden spoon until combined. The dough will seem too soft and wet, but it will work, don't worry.
Step 4: Divide the mixture into three even pieces, roll in clingfilm and leave to chill overnight in the fridge.
Step 5: The next day, roll the dough out on a piece of non-stick baking paper. Cut out your gingerbread house template (you can download my pattern here– if you can't access this Dropbox folder leave a comment and I'll email it to you) and bake for 12 minutes in a preheated oven. Make sure you transfer the pieces of baking paper with the cut-out gingerbread pieces on it to the baking tray instead of handling the dough itself once it's cut. This will help the shapes keep their proper proportions. Cut the baking paper if the pieces are too close together, as they do spread a little during baking.
Step 6: Mix the icing sugar with egg white to make the icing. Pipe a decoration as desired, and assemble the house. Do this in stages, starting with the four walls and finishing with the roof and chimneys. Leave a good few hours of drying time in between each section of the assembly.
Products from Amazon.co.uk
‹
›
TIPS FOR ASSEMBLING & DECORATING THIS GINGERBREAD HOUSE
Be patient! Allow several hours drying time in between each section.
Make sure your wire rack isn't slightly curved, like mine, to keep your gingerbread components straight. Otherwise, you'll end up with slightly curved walls like I did. Oops.
The roof with my pattern doesn't rest on the sides, as many houses do. You'll have to compensate for this by piping a little icing on the inside side walls to rest the roof pieces on. I used a mini milk bottle to prop up one half of the roof before adding the second.
Icing hides a multitude of errors. Be generous, if you need to. 😉
Decorate each section with your favourite Fair Isle patterns, leaving the pieces to dry overnight before assembling. Use Google Images for inspiration (or your favourite knitting book).
You'll need two batches of icing if you cover your gingerbread house in designs, like I did.
Crushed sugar cubes sprinkled over the top and base of the house look like fallen chunks of snow, I think.
Re-roll any leftover pieces of gingerbread dough and let the kids cut out their own designs.
This dough freezes well, I have discovered. I'd made this batch of dough at least a month ago, but then I never had time to bake/assemble the gingerbread house before I left for London for the awards ceremony, so I popped it in the freezer. Simply defrost on the countertop for a couple of hours.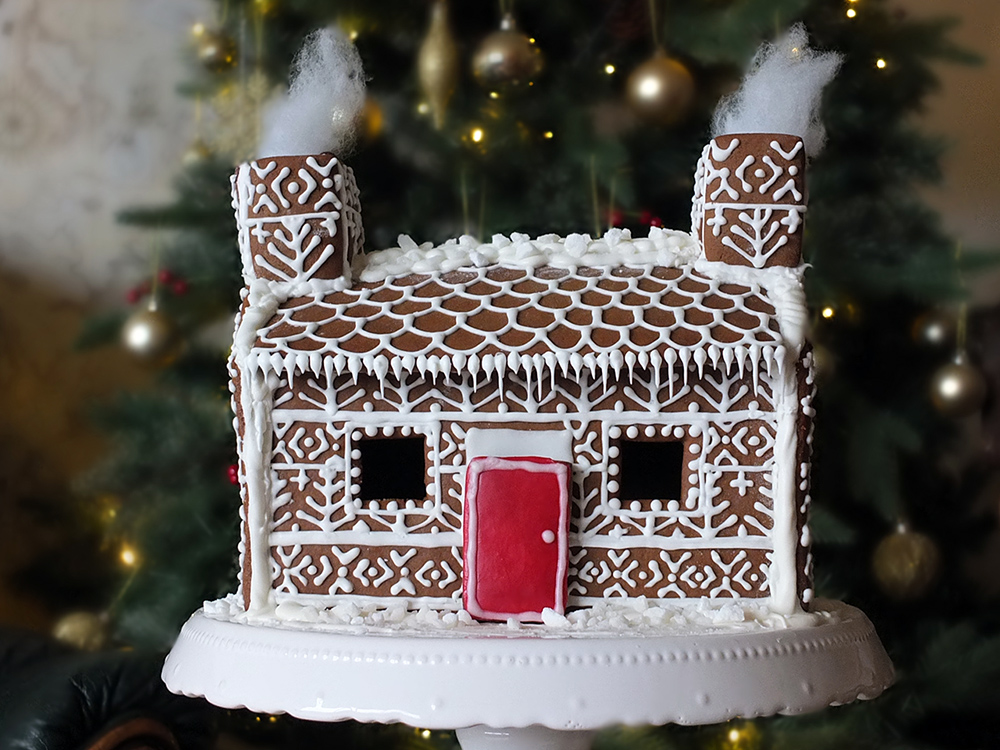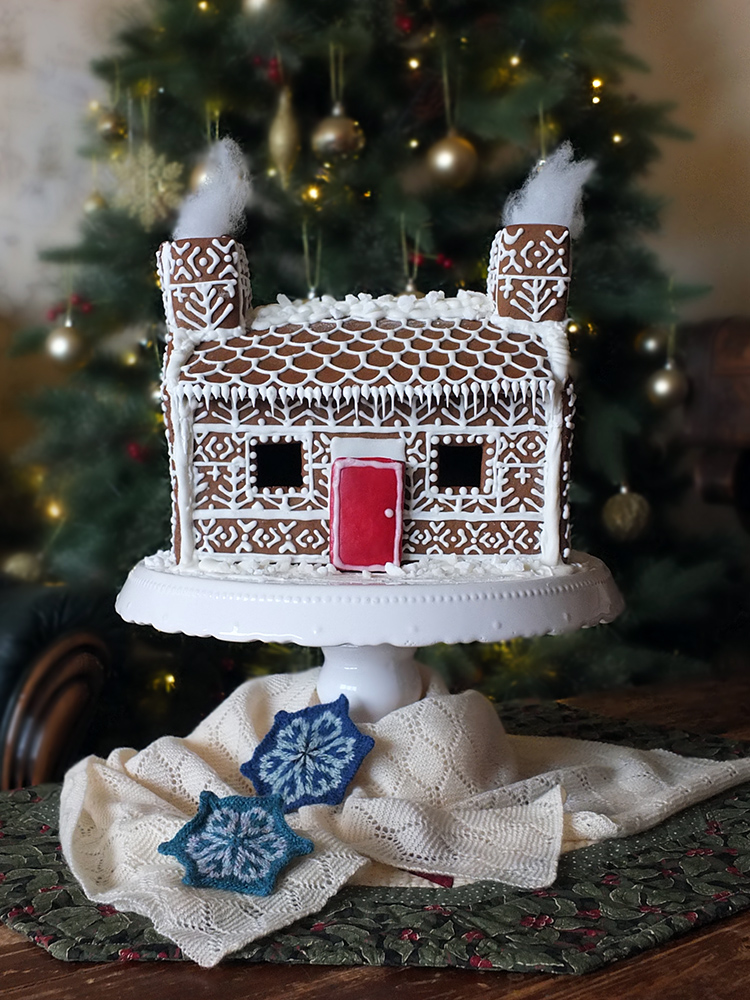 FAIR ISLE KNITTING PATTERNS
I have to confess I'm no expert in knitting or Fair Isle patterns. For my gingerbread house, I searched online for images featuring patterns within my limited piping skills, opting for a design I'd piped on my original Shetland Pepperkakehus back in 2012 and another tree motif I found by Outi Kater on her gorgeous Snow in Kergord mittens.
If you're wanting to know more about Fair Isle knitting, let me introduce you to my neighbour (and world's fastest knitter!), Fair Isle expert Hazel Tindall.
Hazel recently gifted me two of her gorgeous Twartree pieces to wear to the Vuelio Blog Awards Ceremony in London. I'm (slightly jokingly) attributing my win to wearing these works of art – I wore one as a corsage on my wrist, and the other clipped to my clutch purse on the night. She made them both to match my dress, and I'm sure you'll agree, they're beautiful! You can find the Twartree pattern here.
I had attempted to pipe her Twartree design onto the front door of my gingerbread house, like a festive wreath, but my lack of piping skills let me down. I opted for a solid red door outlined in white instead.
Products from Amazon.co.uk
‹
›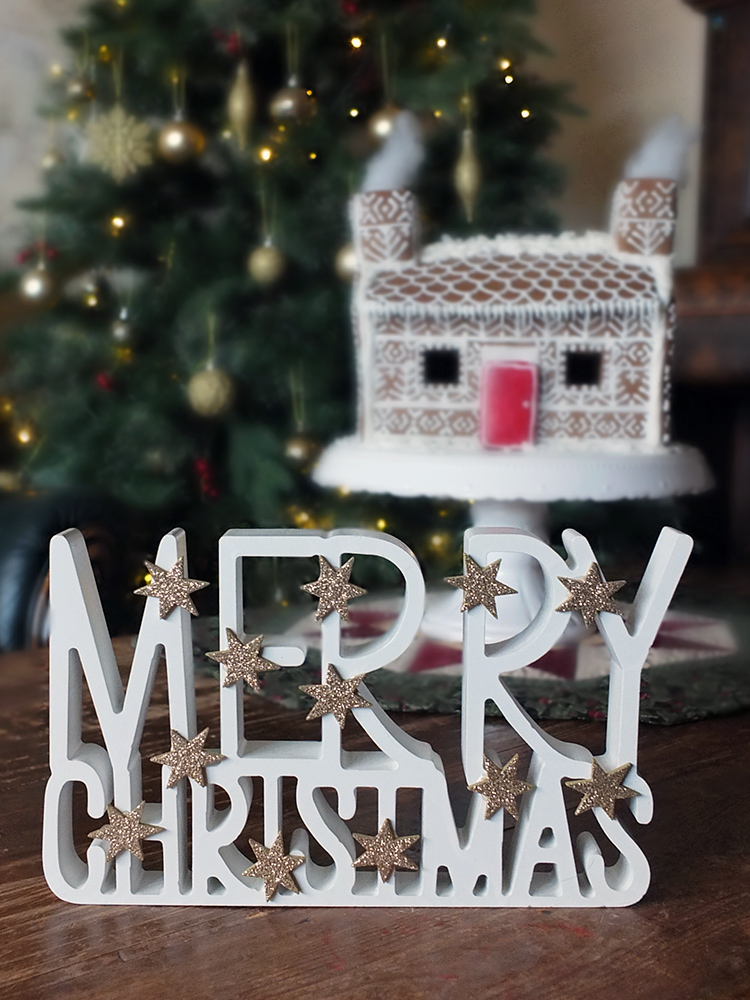 All in all, I'm quite pleased with this gingerbread house. Hopefully, it won't be another six years before I make another!
I'd like to take this opportunity to wish you all a wonderful Christmas and a prosperous New Year. May 2019 be the best year yet!
Servings

Prep Time

Cook Time

Passive Time

1

house

3

hours

12

minutes

24

hours
Servings

Prep Time

1

house

3

hours
Cook Time

Passive Time

12

minutes

24

hours
Combine the flour, spices and baking soda in a large bowl.

Whisk the egg and caster sugar together until light and fluffy.

Melt the treacle and butter together and allow to cool slighty. Add the treacle and egg mixtures to the dry ingredients and work well with a wooden spoon until combined into a soft dough.

Pop the bowl of dough in the fridge for an hour or so to chill, and then divide into three even sized discs. Wrap in each disc in clingfilm and leave to chill in the fridge overnight.

Preheat the oven to 200 C/ 180 C fan/ 390 F.

Roll out each disc of dough on a sheet of good quality non-stick baking paper using a lightly floured rolling pin.

Cut out your gingerbread house pieces, and remove the excess dough around them.

Transfer the baking paper with the cut out pieces (leaving the gingerbread untouched) to a baking sheet and bake in the centre of the oven for 12 minutes.

Leave to cool for a few minutes on the tray before transferring to a wire rack to cool completely.

To make the icing, combine the icing sugar with the egg white. Transfer to a piping bag and decorate each of the components of the gingerbread house as desired. You'll need two batches of icing if you're going to pipe designs all over it as I have. Colour your front door red, in Shetland style, if desired.

Leave overnight to harden before assembling, starting with the four walls and finishing with the roof and chimney. Leave several hours of drying time in between assembling the walls and each of the roof pieces. You might need to prop up half of the roof with something and leave it to dry before adding the second half.

Finish off with the chimney, and sprinkle the roof join with some crushed up sugar cubes to resemble snow.
PIN THIS GINGERBREAD HOUSE FOR LATER!