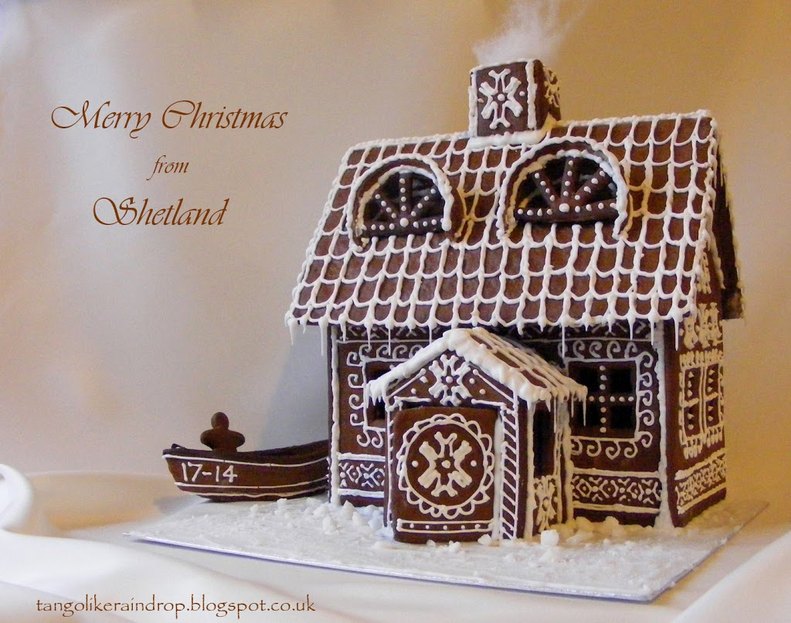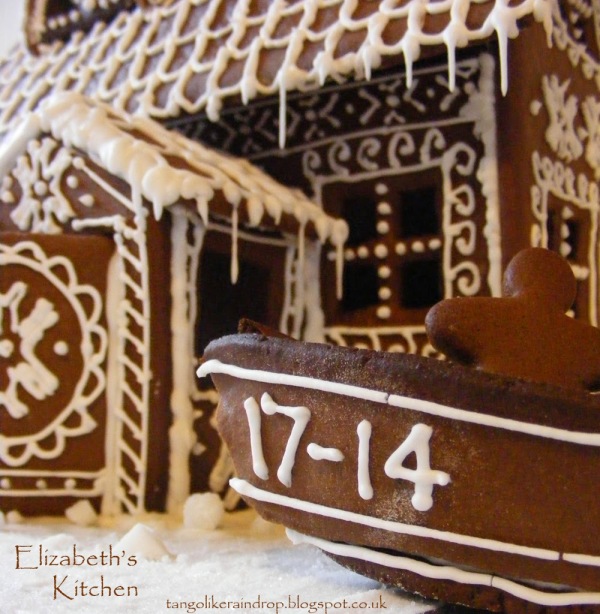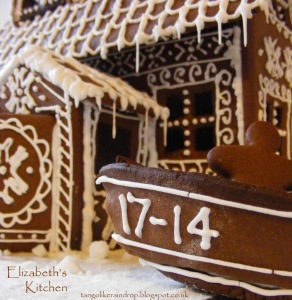 Making a gingerbread house has always been on my Christmas to-do list, but I've never mustered up the courage to try it until this year. I certainly didn't think I should attempt anything as grand as James Morton's Shetland inspired barn as seen in the Great British Bake Off. However, as I'm never one to do things by half measures this 11.5 inch tall house is what I came up with. This pepperkakehus recipe and template is adapted from one sent over from Norway by Bestemor (Norwegian for 'Grandmother') and I altered it slightly by doubling the quantities of spice and adding some Shetland seaweed, which shows up as lovely little green flecks throughout the dough. I couldn't for the life of me find any sweets I liked to decorate the house with so I opted for piping Fair Isle knitting patterns in Royal icing instead. Inside there are two battery operated tea lights which make it look like there is a roaring, warming fire inside. All in all I think it's pretty effective and I'm quite pleased how it has turned out. Not bad for a first attempt!
I'd like to take this opportunity to wish all my readers a most wonderful Christmas and may 2013 bring you health, happiness and good food! x
Shetland Pepperkakehus
A Scandinavian/Shetland inspired gingerbread house recipe.
Ingredients
2 large eggs
2 1/2 dl caster sugar
250 grams treacle
125 grams butter
1 tsp freshly ground black pepper
1 tsp ginger
1 tsp cinnamon
1 tsp cloves
1 tsp Shetland Seaweed Sprinkle
1/2 tsp bicarbonate of soda
600 grams plain flour
500 grams icing sugar
4 egg whites
Instructions
1. Whisk the eggs and sugar together until light and fluffy.
2. Gently melt butter and treacle together in a small saucepan. Allow the mixture to cool slightly before adding to the egg and sugar mixture.
3. Sift together the spices, seaweed, bicarbonate of soda and the flour.
4. Stir the dry ingredients into the wet ingredients with a wooden spoon to make a dough. Knead briefly until smooth.
5. Cut dough into quarters and wrap in clingfilm. Chill overnight in the refrigerator.
6. Preheat oven to 200 C.
7. Roll dough out on a floured board until 3 mm thick.
8. Using a paper template cut out the walls, ceiling, etc. Remember to cut out the centres of the windows!
9. Place on baking paper and bake for 10-12 minutes.
10. Reroll the leftover bits and refrigerate the dough when it is not being used.
11. Transfer to a wire rack to cool completely. Leave the baking paper on until the gingerbread is cool.
12. To prepare the royal icing, whisk the egg whites until frothy.
13. Sieve over the icing sugar and beat, continually, for at least five minutes, or until the icing forms stiff peaks.
14. Decorate as desired. It is easier to decorate the parts prior to assembly. Leave to dry overnight and assemble the next day.
Details
Prep time: Cook time: Total time: Yield: 1 house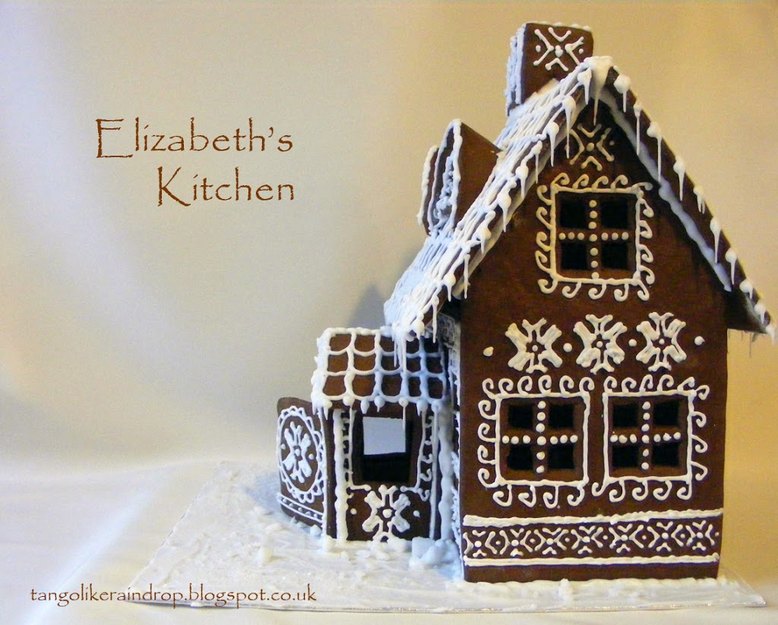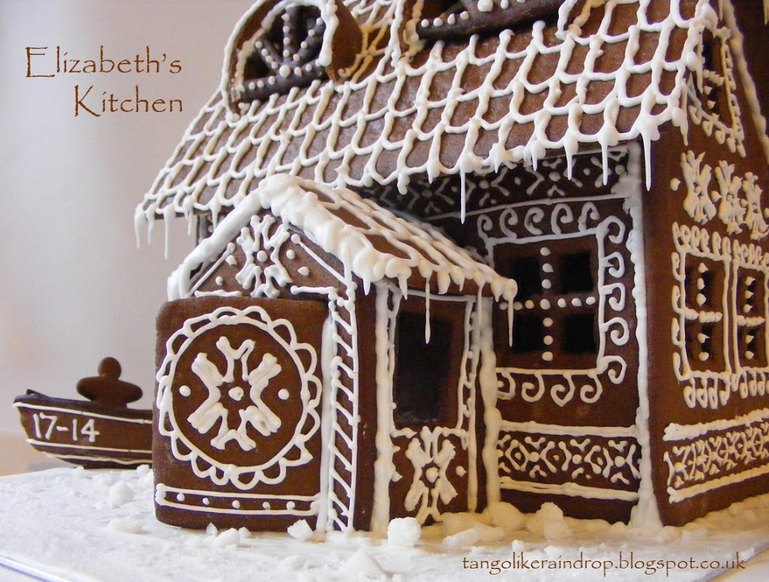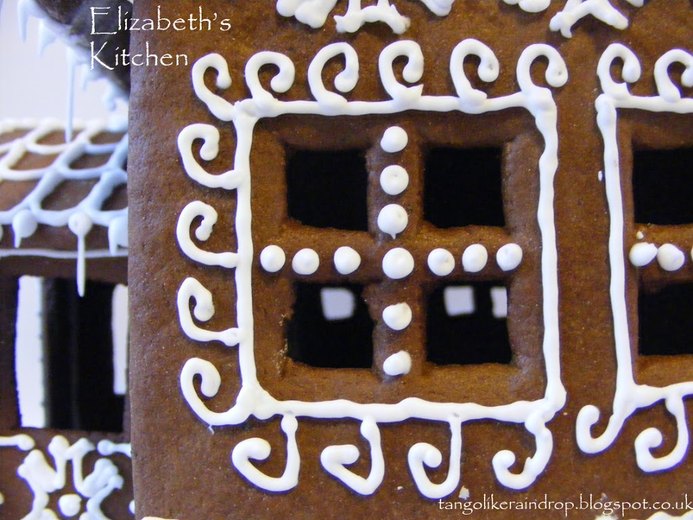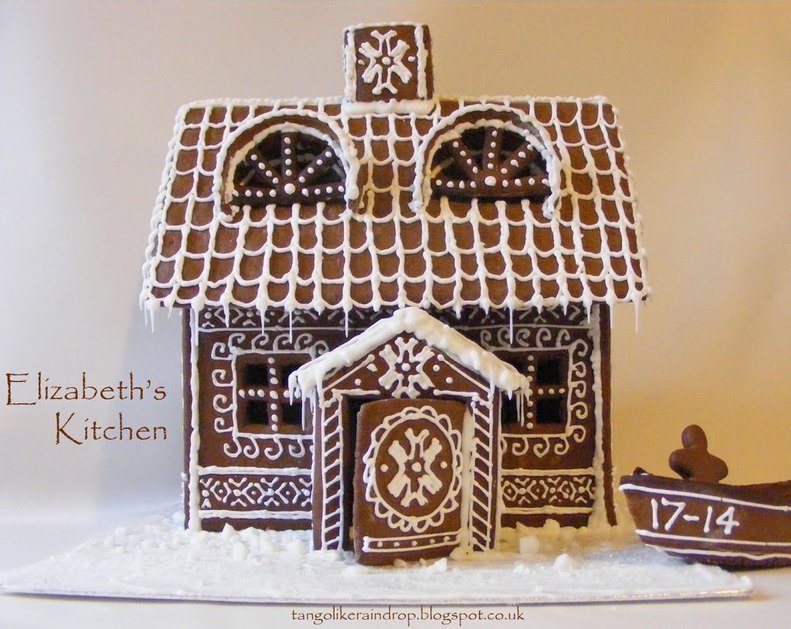 As this recipe is made from scratch and contains no artificial, refined ingredients or colouring I am including it in Javelin Warrior's Made with Love, Mondays blogger's round up.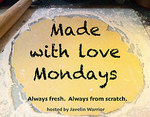 I am also entering my Shetland pepperkakehus in Cindy's Writings and Recipes First Annual Gingerbread House Competition – again, go and have a look-see and don't forget to visit between the 27th-31st and vote for your top 3!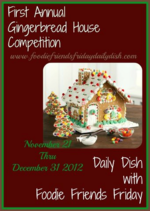 New Year's Update: I am delighted to hear that I have won the gingerbread competition! Thank you to everyone who voted for me, I really do appreciate it. Lots of love xx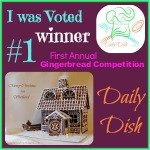 The Crazy Kitchen is hosting a Blog Hop featuring gingerbread houses. Do have a look-see at the lovely creations from around the world!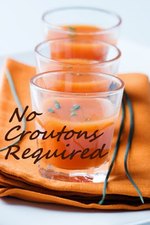 Edit: In December 2013 I shared this post with Jacqueline from Tinned Tomatoes and her No Croutons Required link-up as she wants to see our festive photos, and the first photo in this post is one of my favourites I have taken over the years. 🙂