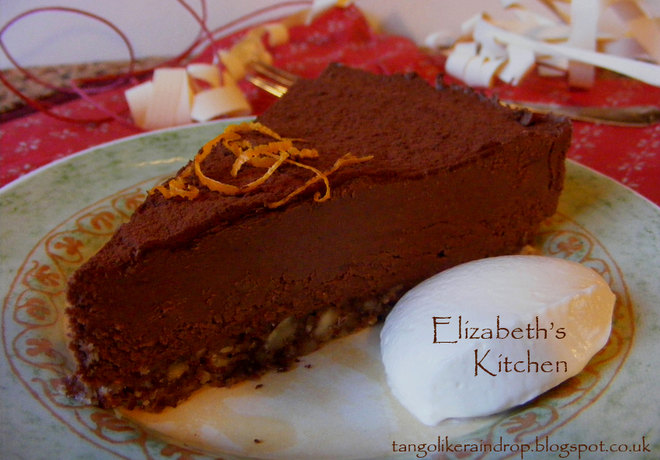 I've been wanting to make this recipe for a very long time, ever since I tore the recipe out of one of those supermarket magazine Christmas features years ago. I can't tell you which supermarket it was because since I've lived on this island one supermarket in particular has changed hands four times, so it's either a recipe by Safeway, Morrisons, Somerfield or Tesco. There's no clue on the recipe page itself.
It's an interesting, nutty, chocolately, not-too-sweet torte, but it is rather dry and rich so you need to serve it with plenty of sweetened cream. I served this one with Bailey's Irish Cream which I thought worked splendidly. A perfect ending to a Christmas feast.
I am submitting this recipe to We Should Cocoa, a round-up of fabulous chocolate recipes co-hosted by The Chocolate Teapot and Chocolate Log Blog. All the recipes involve cocoa in some form and a special ingredient. This month the special ingredient is cinnamon and the challenge is hosted by Choclette at Chocolate Log Blog.
Base:
100g hazelnuts
100g pecans
75g unsalted butter, melted
50g soft brown sugar
1 tsp ground cinnamon
Topping:
250g dark chocolate
100g caster sugar
150g unsalted butter
2 tbsp brandy
400g tin chestnut puree
juice of 2 clementines
1/2 tsp vanilla extract
250ml double cream, whipped
1 tbsp cocoa powder, to dust
Grind nuts in a food processor until coarse. Mix with remaining ingredients and press into a 25cm springform cake tin. Chill.
Melt chocolate in a bowl suspended over a pan of barely simmering water.
Beat sugar and butter together until creamy. Add the brandy, puree, juice and vanilla and beat again.
Fold in the melted chocolate and then the whipped double cream. Pour over the base and chill for at least 2 hours. Dust with cocoa powder and serve at room temperature.