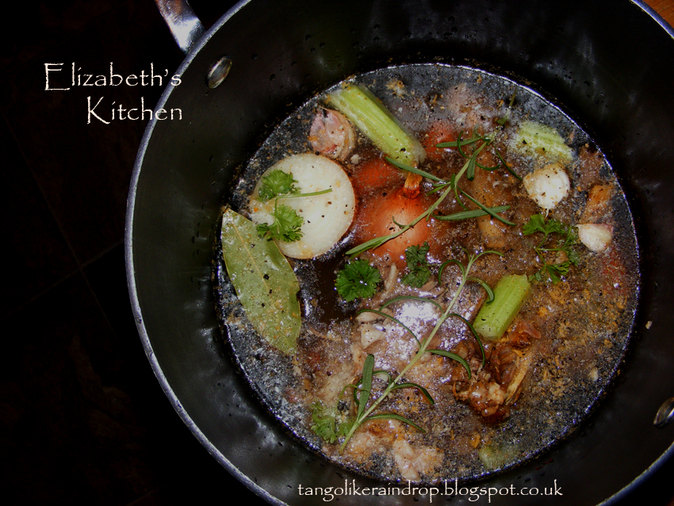 Making your own soup stock is a simple, inexpensive process and the result is loaded with nutrients, unlike the MSG-laden supermarket varieties. The addition of the cider vinegar helps to leach calcium out of the bones, enriching your stock even further. Scientific research has shown that prolonged cooking of a bones in soup increases the calcium content of the soup if cooked at an acidic, but not at a neutral pH (abstract). Since calcium plays such a vital role in developing and maintaining bone density every little bit helps.
lamb bones, including meat trimmings, leftover from any roast lamb dish
1 small onion, halved (leave skin on)
1 stick celery, broken into pieces
1 large carrot, peeled and coarsely chopped
4 pints water
2 sprigs fresh rosemary
a few parsley stems
1 bay leaf
2-3 small garlic cloves, crushed (leave skin on – I tend to use those little stray ones at the bottom of the garlic dish)
capful of cider vinegar
10 peppercorns
Place all the ingredients in a stock pot and bring to a boil. Reduce heat and simmer, uncovered for 1 1/2 – 2 hours, occasionally skimming off any fat or scum that gathers at the surface. Remove from heat, cool, and strain through a fine sieve. Chill overnight in the refrigerator, removing any remaining fat from the surface. Freeze for up to 3 months or use immediately.