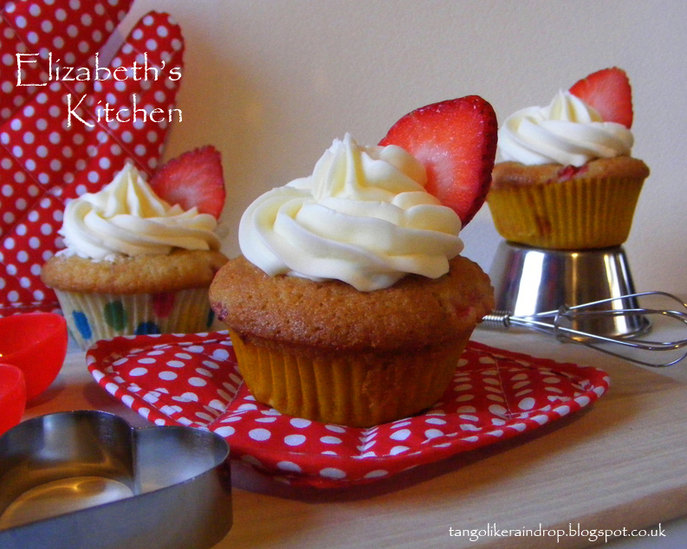 It was yet another cold, dark, dreary day here in Shetland on this, the last day of 2012. It was pouring down with rain and the children are on their school holidays and were desperately needing entertained. What to do?
Karen over at Lavendar & Lovage has set a cooking challenge of baking with citrus fruit for a zingy start to 2013 in Tea Time Treats, a food blogging challenge alternately hosted by Karen and Kate at What Kate Baked. Also, I have recently been sent a box of goodies to try out from Sugar and Crumbs filled with flavoured cocoa powders and icing sugars, which my children have been anxious to experiment with (eat!) since it arrived. One of the icing sugars was flavoured with strawberry, so that got me thinking.  My six year old daughter and I headed to the kitchen, her with her new cupcake chef's hat and apron and me with my new copy of The Great British Bake Off: How to Turn Everyday Bakes into Showstoppers, a Christmas gift from my children which they didn't see until I unwrapped it Christmas morning – aren't they thoughtful! Somehow it ended in my trolley at the supermarket without anyone seeing… somehow…
So, this is what we came up with using the ingredients we had. We adapted a recipe for English Summer Cupcakes to incorporate citrus and the strawberry flavoured icing sugar. DD did most of the work – I just talked her through it and helped out here and there with some of the trickier bits. She did have full intentions of making a lovely swirled icing on her own, but she's a bit too little yet to master the piping bag, so she ended up frosting the cakes using a palette knife and plenty of sprinkles. The three in the photo above were mine trying to show her what to do. I took that photo during the daily half hour of decent light photo opportunity while she happily decorated the remaining cupcakes. I may have pinched her new minature-sized baking set for props! Aren't they adorable!
This is her first contribution to Tea Time Treats. Enjoy! As this is my last post for 2012 might I take this opportunity to wish all my readers a Happy New Year and all the best for 2013.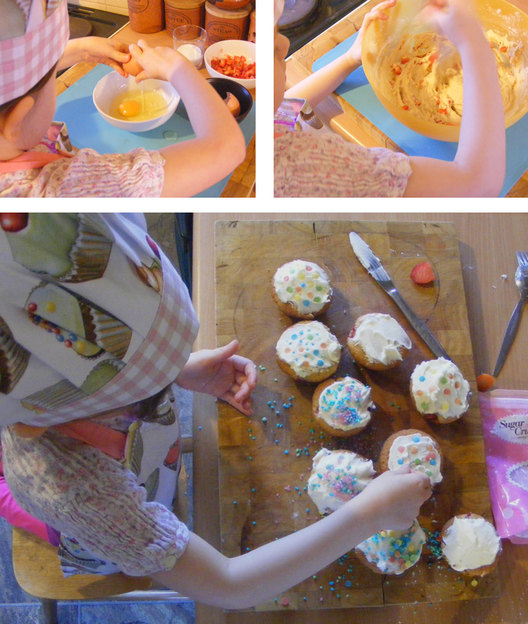 Strawberry Lemon Cupcakes
Light, fluffy and fruity cupcakes.
Ingredients
125 grams unsalted butter, softened
175 grams caster sugar
2 large eggs, room temperature
175 grams self-raising flour
pinch of salt
3 tbsp milk
100 grams strawberries, hulled and chopped into small pieces
zest and juice of 1/2 lemon
200 grams strawberry delight icing sugar
100 grams unsalted butter, softened
Instructions
1. Preheat oven to 180 C. Line a 12-hole muffin tray with paper cases.
2. Cream butter and sugar together until light and fluffy.
3. Add eggs and vanilla, a little at a time, beating well after each addition.
4. Sieve over the flour and salt.
5. Add the milk and fold gently until incorporated.
6. Mix the strawberries with the lemon juice and zest. Fold into the batter.
7. Spoon into the paper cases and bake for 20 minutes, or until the tops are golden.
8. Cool for a few minutes in the pan and then transfer to a wire rack to cool completely.
9. To prepare the buttercream, blend the icing sugar and butter together until smooth. Add a few drops of milk, if required.
10. Spread over the cupcakes and decorate with a slice of strawberry.
Details
Prep time: Cook time: Total time: Yield: 12 cupcakes