This light and fluffy carrot cake with cream cheese frosting recipe is delicious, straightforward to make and keeps fresh for five days in the refrigerator. It has become a firm favourite with my walking tour guests at the Aald Harbour Hoose in Lerwick, Shetland (What? Where? Walking tour guests?! Subscribe to my newsletter to learn more!).
This recipe is adapted from the carrot cake with cream cheese frosting found in What to Bake and How to Bake It (2014) by Jane Hornby.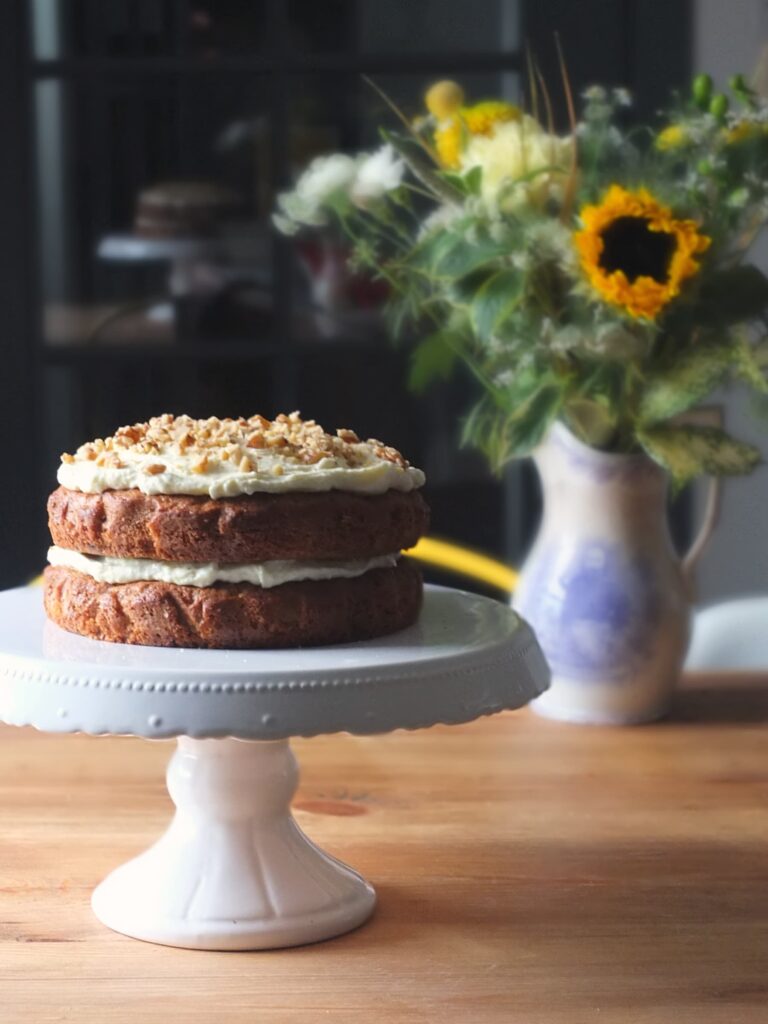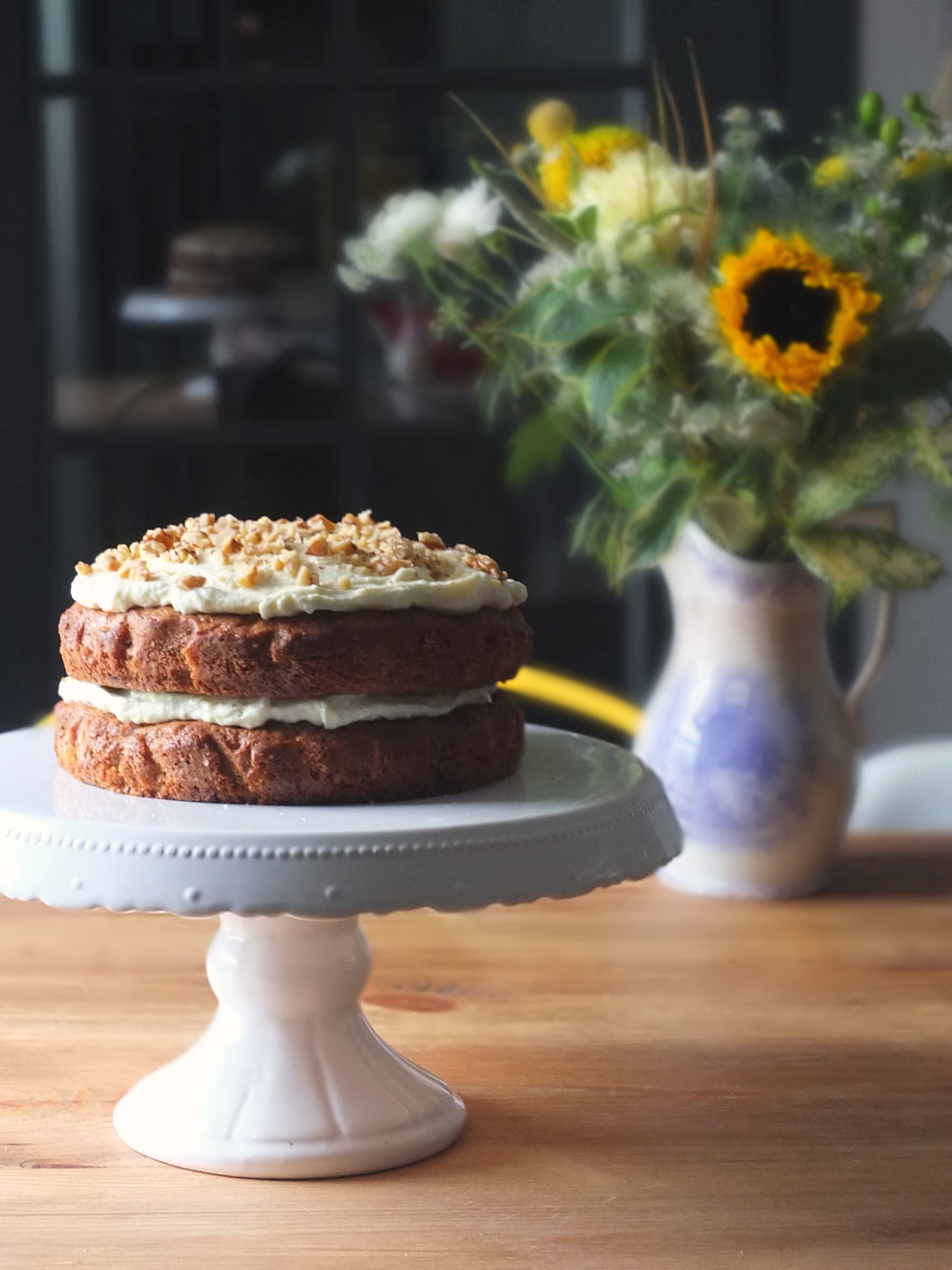 Dearest reader,
I am back! Have you missed me?
This super easy carrot cake with cream cheese frosting recipe is my first recipe post this year and the first one I have exquisitely enjoyed making, photographing and writing for you in over three.
Life got busy. Silly busy.
A lot has happened: a pandemic, Brexit, a cost of living crisis and I've changed jobs and homes a few times.
A lot is still happening; every day is an adventure, and I am treasuring every moment of it. I'm always busy doing something, with many fingers in many pies…
What, you might ask?
Subscribe to my newsletter, and all will be revealed!
From now on, all personal anecdotes will be shared in my newsletter only to keep my website content evergreen. I've got a few interesting stories to share with you, too!
In the meantime, I hope you enjoy this carrot cake with cream cheese frosting recipe. A huge thank you to all my walking tour guests who encouraged me to start blogging again. x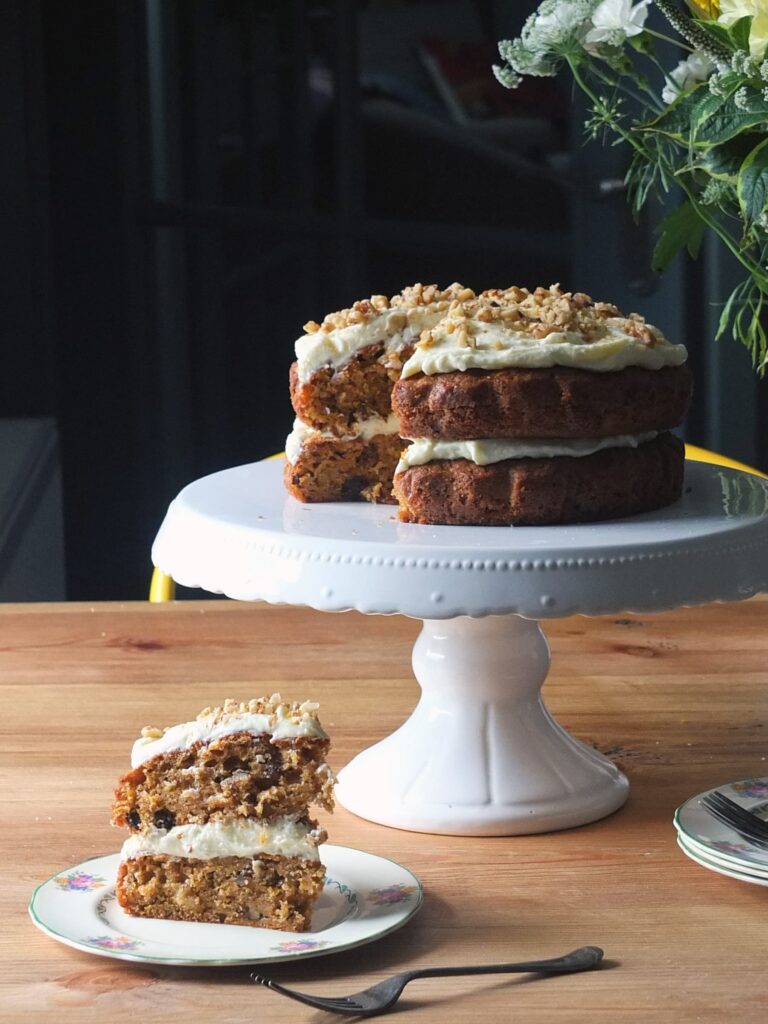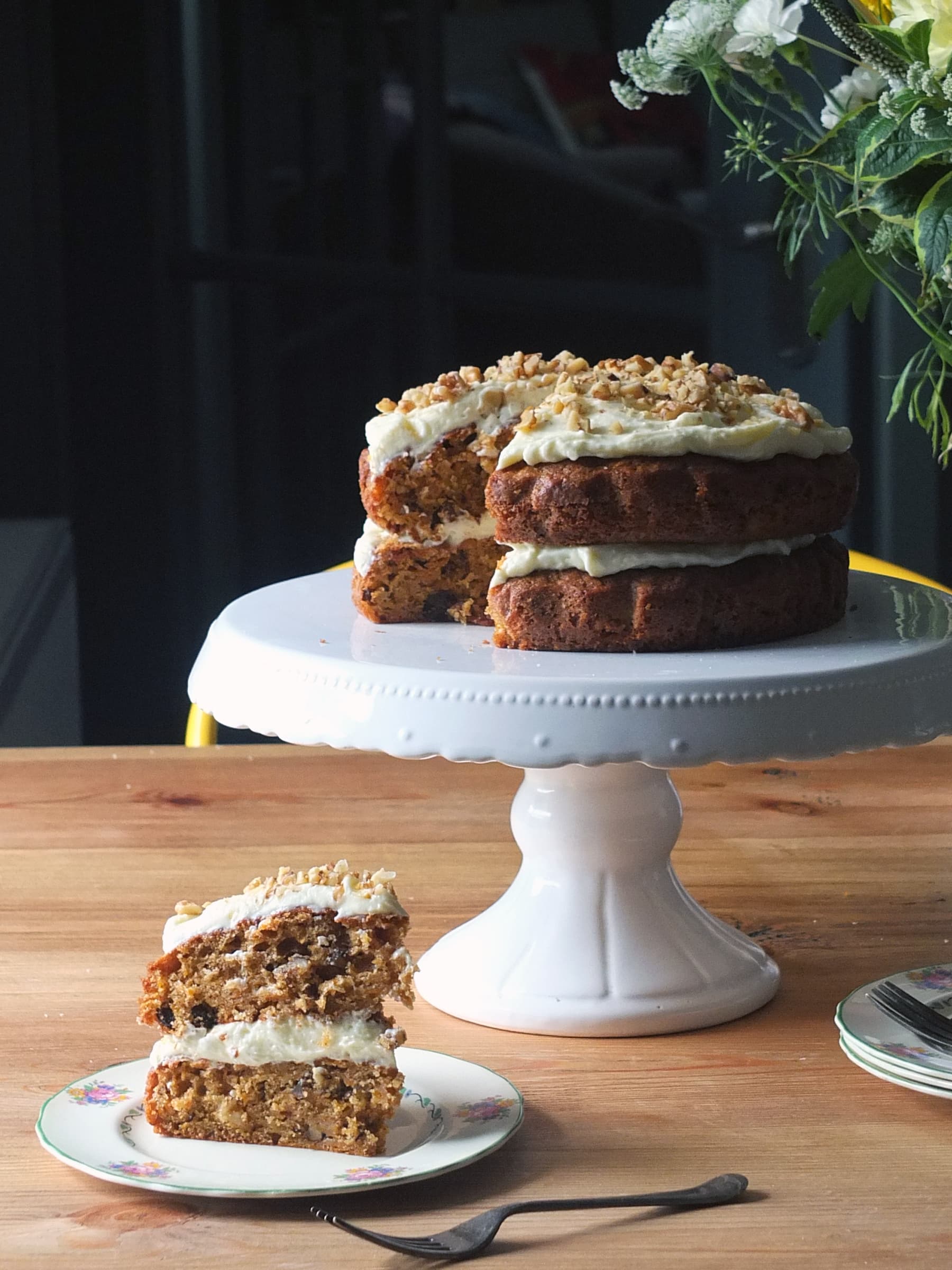 Why are carrots used in carrot cakes?
Carrots are a naturally sweet vegetable, and they're plentiful and less expensive than sugar. This makes them a perfect addition to a cake.
The historical origins of the use of carrots in a cake are disputed. In Europe, carrots were used in puddings from the Middle Ages, around the same time that the orange carrot, as we know it (did you know carrots were originally purple?), was cultivated in Holland.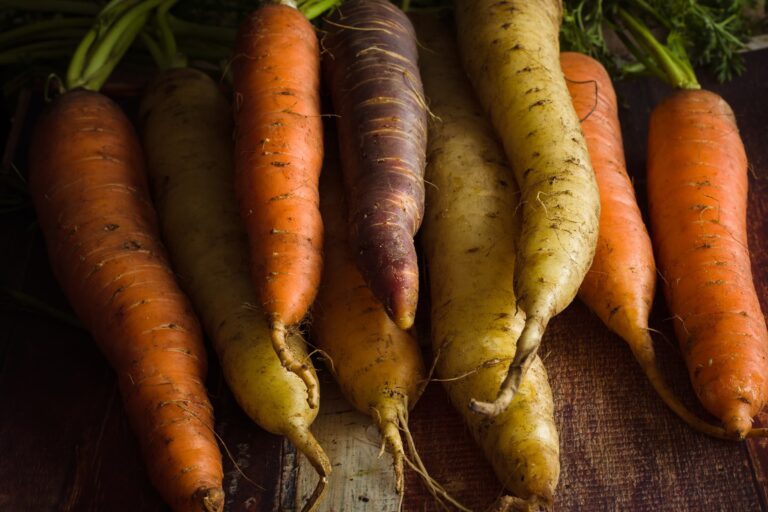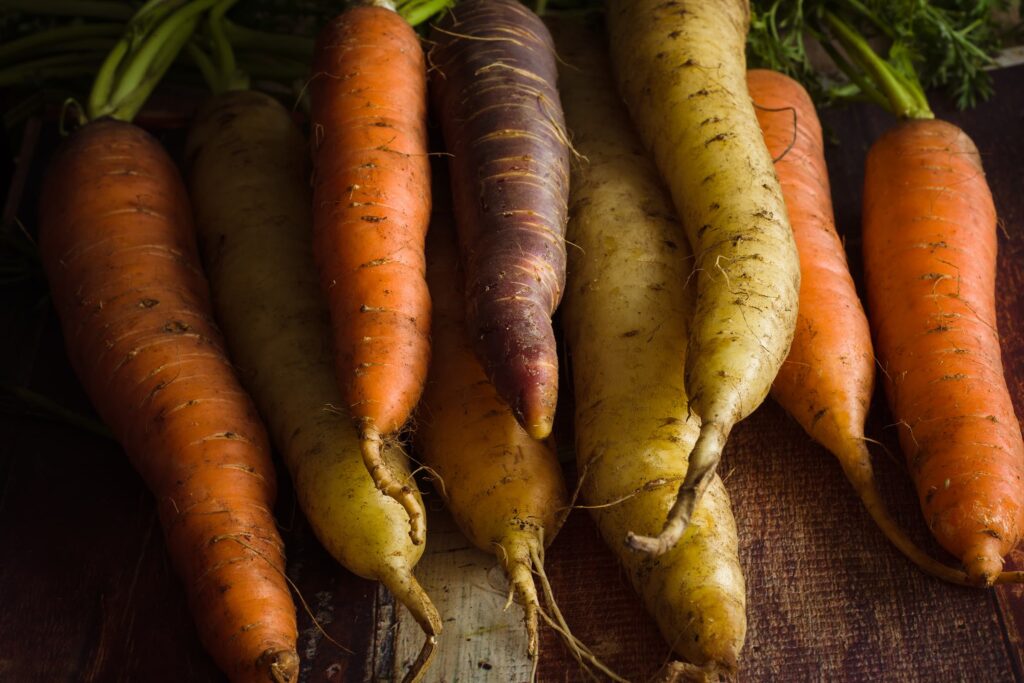 One of the earliest carrot pudding recipes dates back to sixteenth-century England:
During WW2, carrot cake gained popularity in England after the British Ministry of Food launched a propaganda campaign saying that carrots would improve eyesight, helping people to see during blackout periods. Sugar was rationed to 8 ozs weekly, so carrots became an alternative sweetener.
The Food Ministry also suggested after a German blockade of food supply ships made resources such as sugar, bacon and butter unavailable, that the war could be won on the "Kitchen Front" if people changed what they ate and how they prepared it.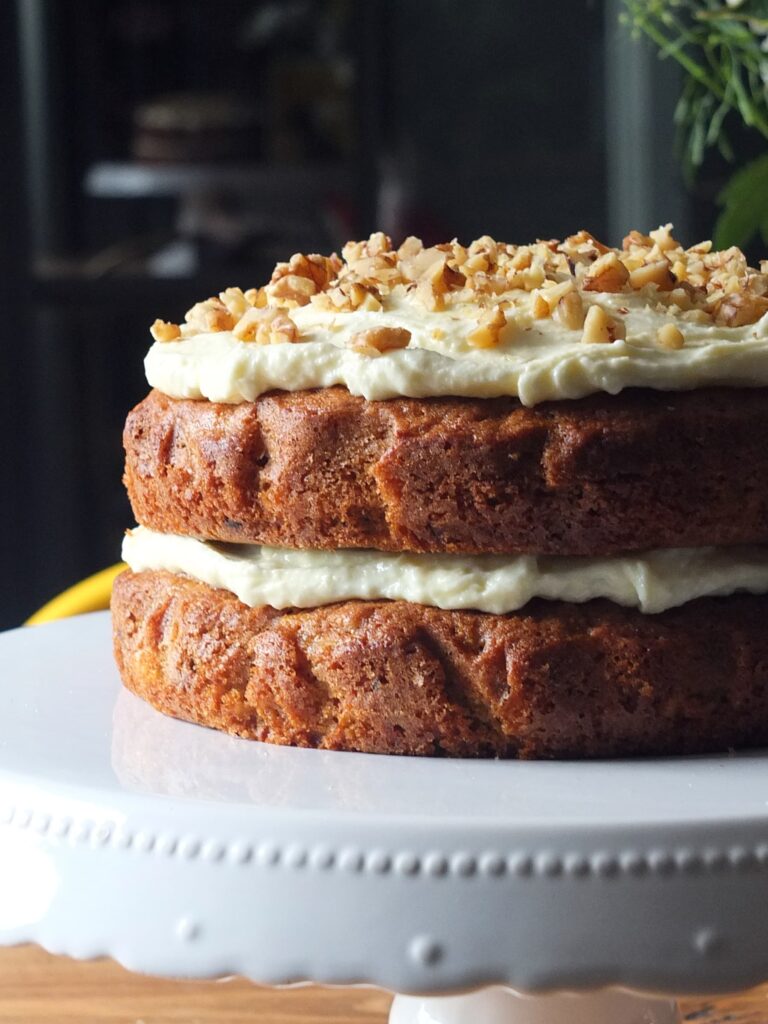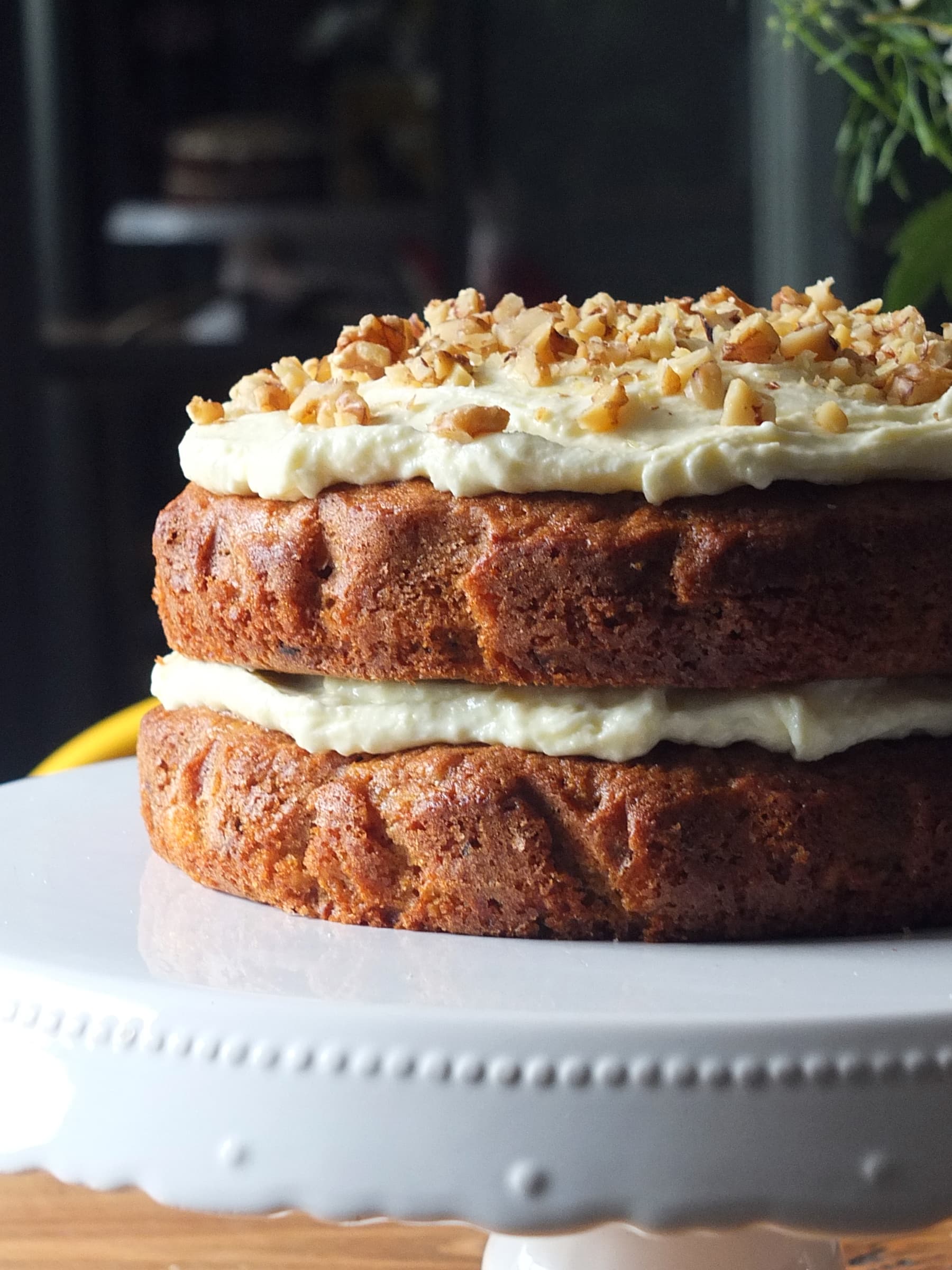 In 1941, Lord Woolton, the Minister of Food, emphasized the call for self-sustainability in the garden:
This sentiment is relevant even now, during the current cost of living crisis.
Enough about the history of carrots, though; you're here for a carrot cake with cream cheese frosting recipe!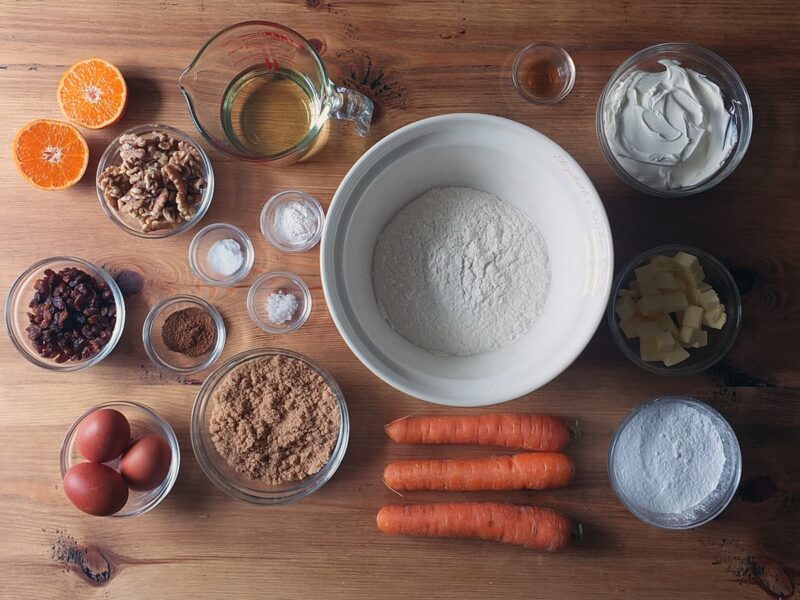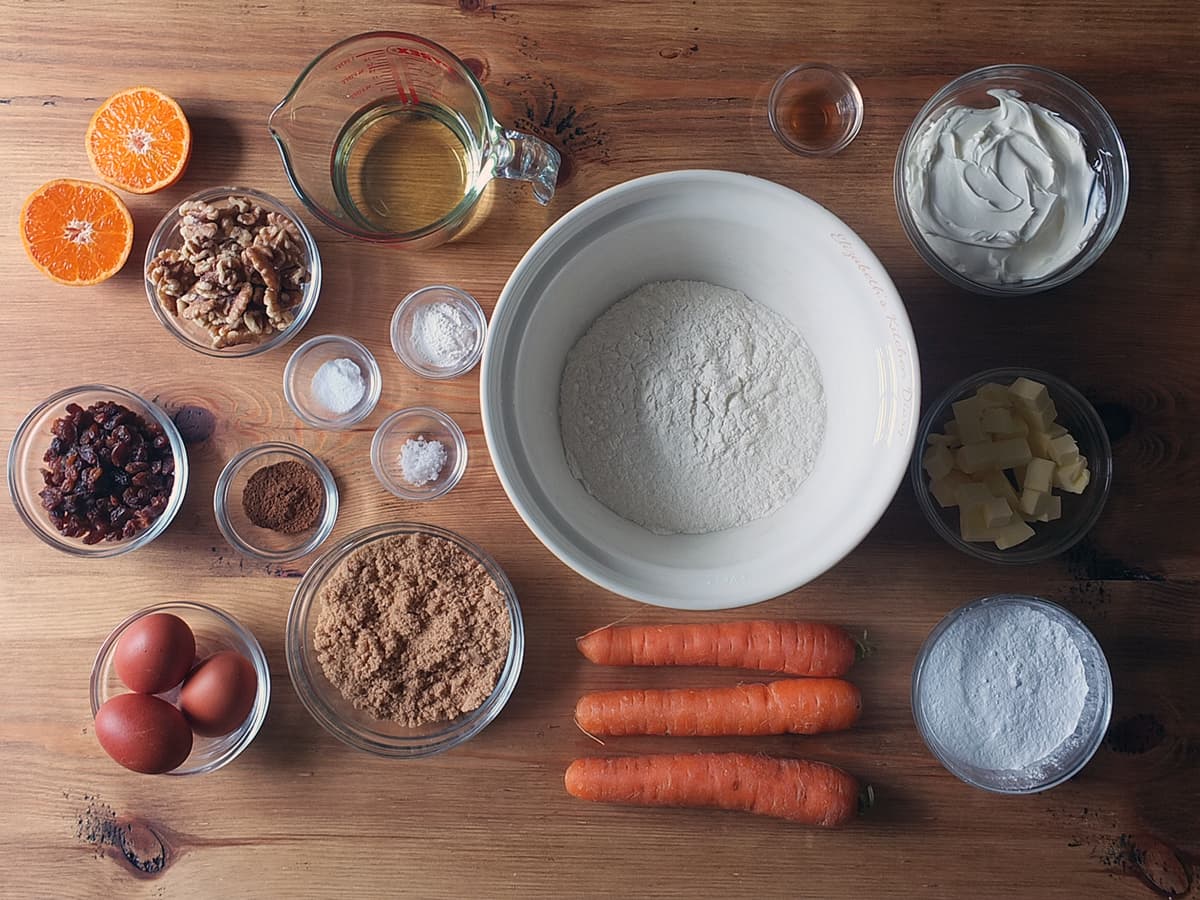 What you'll need to make a carrot cake with cream cheese frosting and why…
Plain flour – the basis of every good light and fluffy cake. Flour provides the cake's structure when the proteins interact in the presence of liquid to form gluten.
Baking powder – an essential leavening agent that creates a lighter bake that's not overly dense.
Bicarbonate of soda – an alkaline raising agent that balances the pH of the bake.
Mixed spice – a generous quantity of cinnamon, ginger, nutmeg, allspice and cloves create a deliciously fragrant and warming bake.
Sea salt – salt is a flavour enhancer and affects the tenderness of a baked good. The salt forms strong molecular bonds with gluten, which makes the batter tighter and more elastic. It also helps balance the sweetness of the cake.
Light brown soft sugar – provides a rich, full flavour to the carrot cake.
Orange – both the zest and the juice of the orange are used in this recipe, adding a complementary flavour and a slight acidity.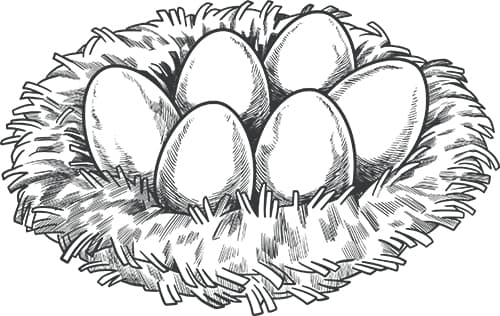 Eggs – provide emulsification and structure to the bake, creating a smooth, well-mixed batter. They also bind the ingredients together so the cake doesn't crumble apart. I always use free-range Shetland eggs when available.
Vegetable oil – this makes for a deliciously moist bake that stays moist for a good five days.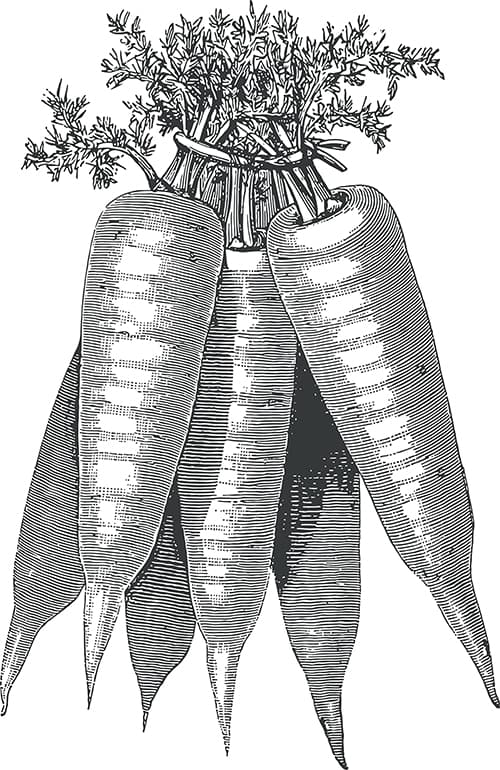 Carrots – the star of the show! These add sweetness and moisture to the cake batter. They also add vegetables to your diet, which, in my mind, makes this recipe a positively virtuous health food. (I jest, just ignore the calorie content).
Raisins – these little juicy morsels pair very well with carrots, but feel free to omit these if you're not a fan.
Walnuts – chopped walnuts give a hearty, nutty flavour and texture to the recipe. Substitute with pecans, almonds, pumpkin or sunflower seeds if you prefer.
Butter – this adds a creamy, delicious buttery flavour to the frosting.
Cream cheese – the smooth texture and tangy, sweet flavour of cream cheese make a perfect topping for a crumbly carrot cake.
Vanilla extract – for just a touch of flavour in the frosting.
Icing sugar – for smooth sweetness to finish off the bake.
How to make a light and fluffy carrot cake with cream cheese frosting
The following carousel contains affiliate equipment and ingredient links. As an Amazon Associate, I earn from qualifying purchases. Visit my Amazon Storefront for quick links to my favourite kitchen equipment and recipe ingredients.
Click here for the full printable recipe instructions.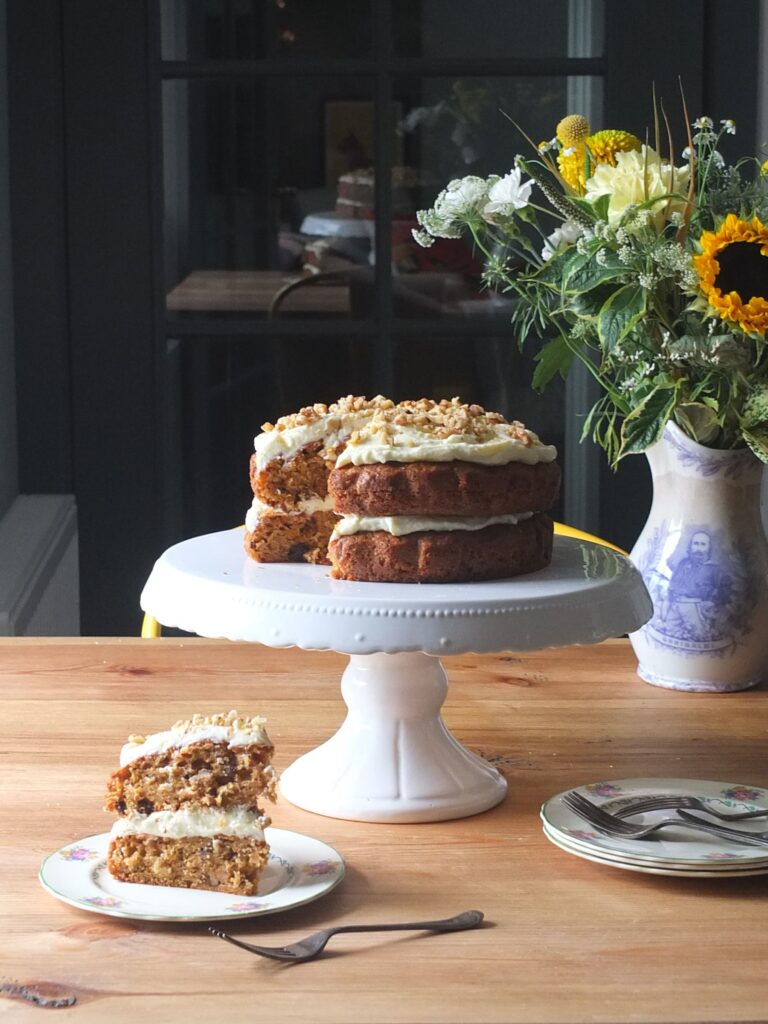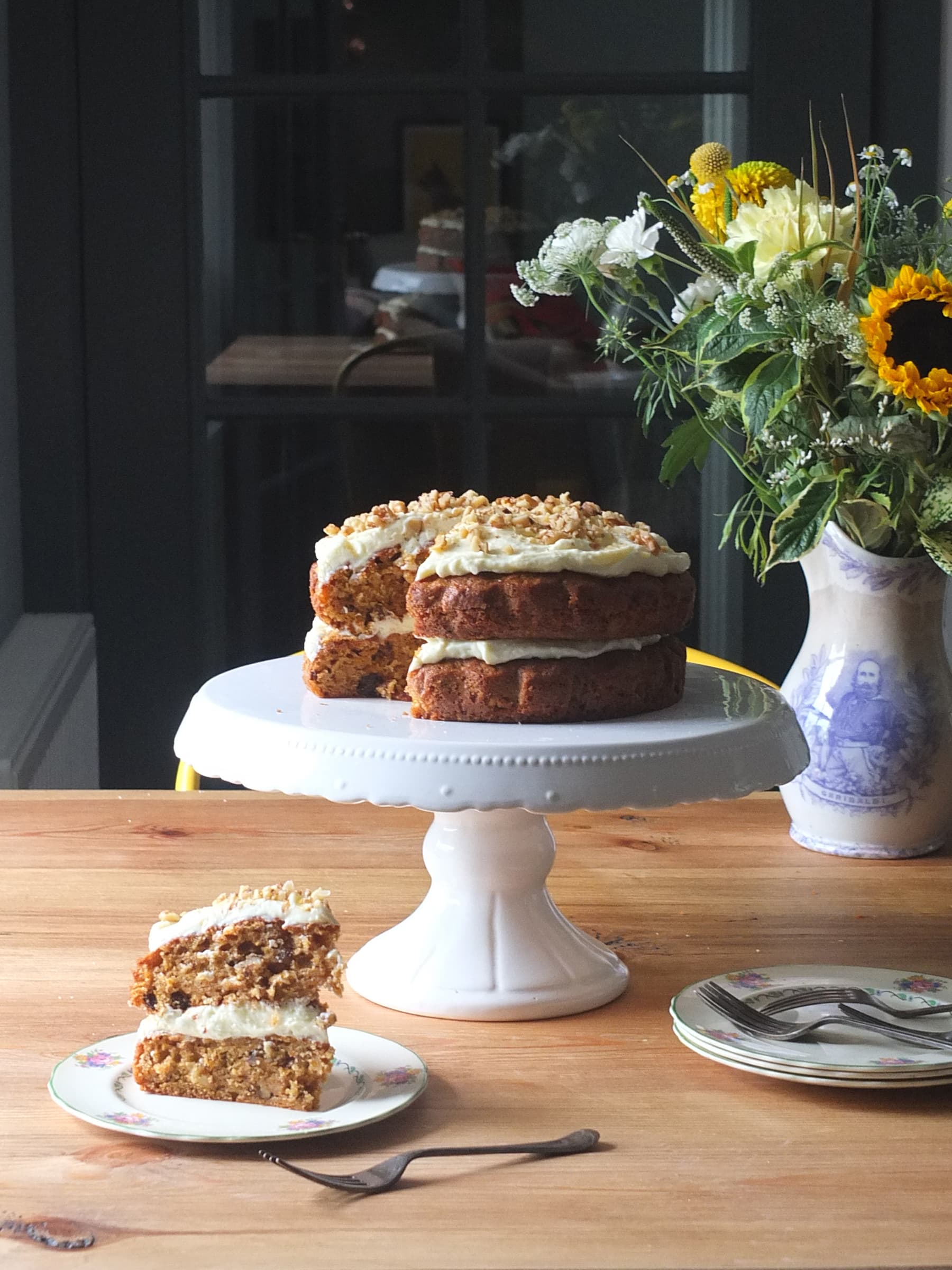 Tips for making carrot cake
Don't grate your carrots too large or too small. They must be grated fine enough to be suspended in the batter to distribute evenly through the bake. If they're too large, they'll sink or be underbaked, and you don't want a crunchy carrot cake. Use the fourth side on your box grater (the one you already use to grate cheese) for the perfect size.
When measuring the cake batter into the tins, use your digital scales to weigh them so you know they are the same size.
Tips for making cream cheese frosting
Ensure your butter is exceptionally soft and your cream cheese is cold before mixing the frosting. The best frosting I've ever made (not the one pictured; that one is lumpy and not perfect) was when the butter nearly melted after I used my ceramic mixing bowl hot straight from the dishwasher.
Be very gentle when you are mixing in the icing sugar. Fold using a spatula, and take care not to overmix.
If you do overmix and it begins to go lumpy, add some more icing sugar and press through a sieve.
Alternatively, own the imperfection, disguise it with finely chopped walnuts and enjoy eating your cake. It'll taste just as good, lumpy frosting or not.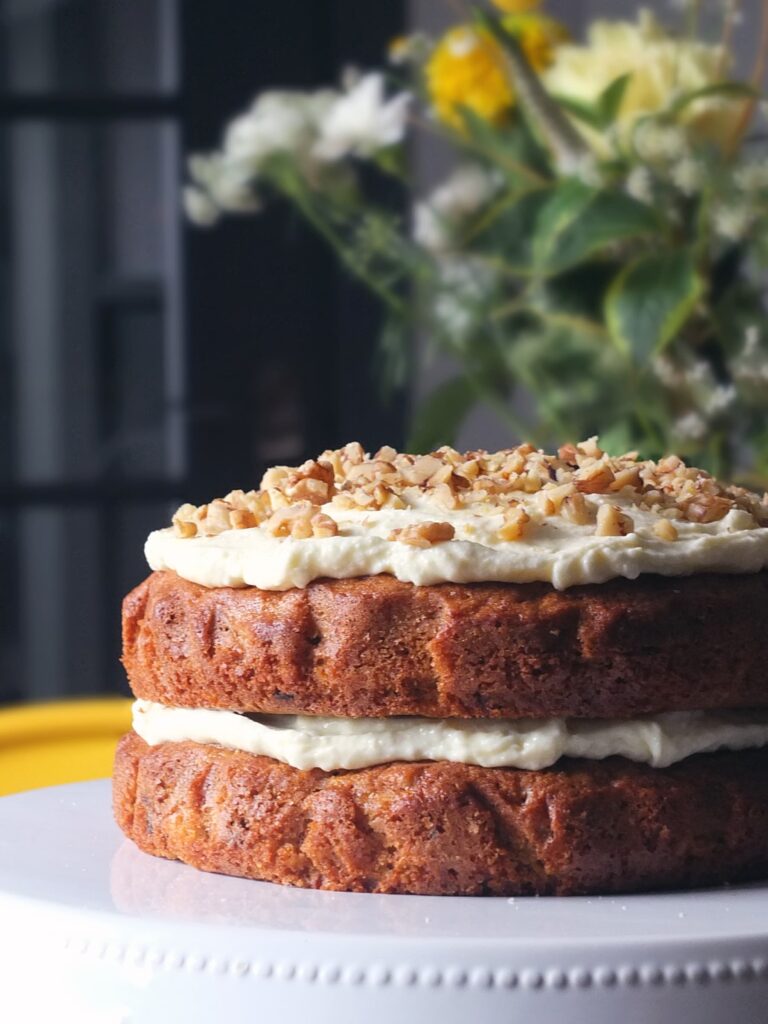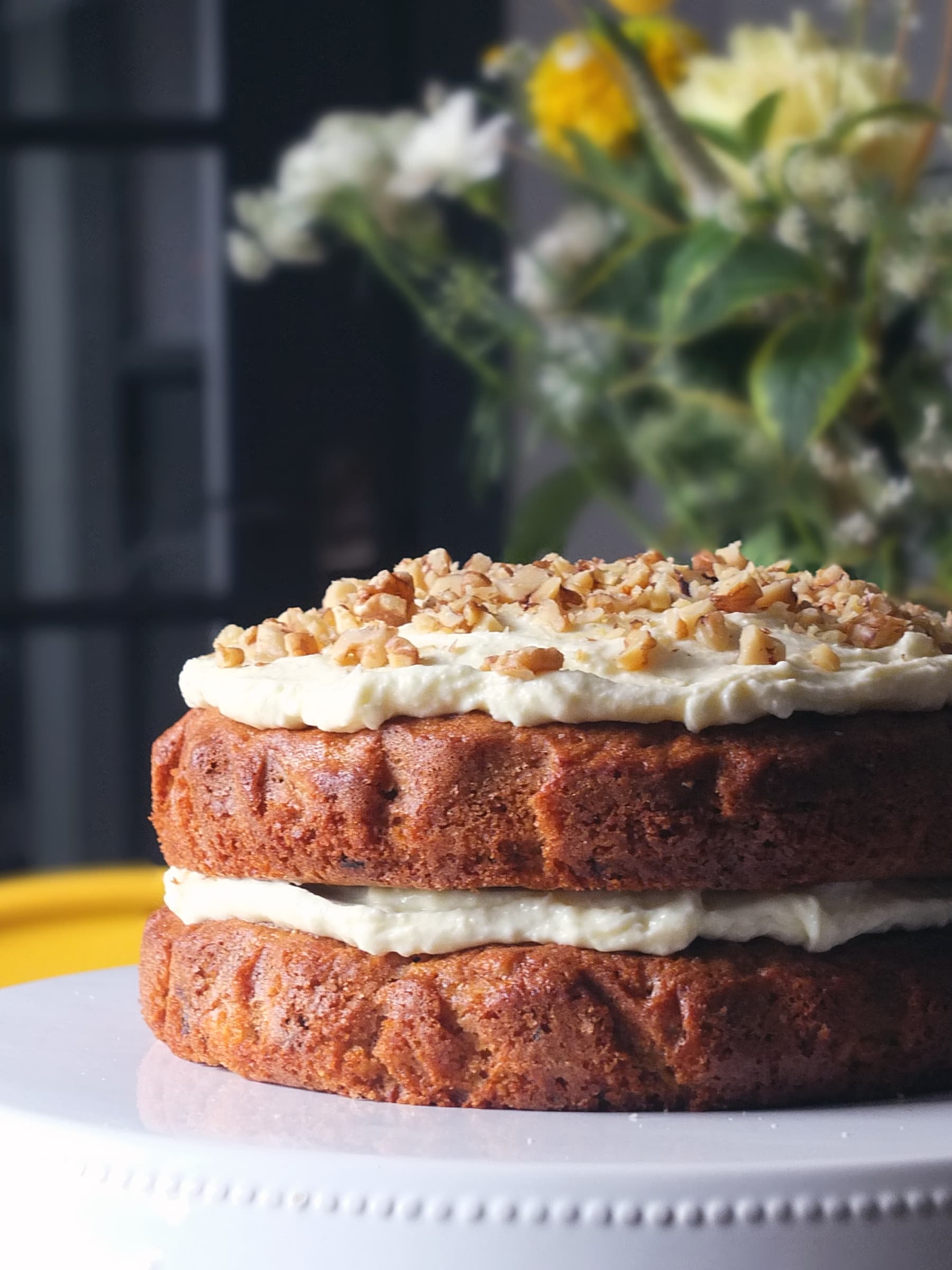 Does this recipe work with gluten-free flour?
I do not know yet. In theory, yes.
I am going to try different flours and see which one works best. I often have gluten-free guests, so it would be nice to have this option for them.
Watch this space!
Why do you use baking powder and bicarbonate of soda in a cake?
Some recipes call for both baking powder and bicarbonate of soda. These recipes often contain some acid as an ingredient (i.e., yoghurt, brown sugar, vegetables or fruit); however, the carbon dioxide created from the acid and baking soda is not enough to leaven the volume of batter in the recipe. Baking powder is used to add the necessary lift.
Sometimes, you need a little bit more leavening than you have acid available in a bake.
Baking powder and bicarbonate both affect the browning and flavour of the bake.
Why did the carrots in my carrot cake turn green?
Carrots contain pigments which are very sensitive to changes in pH balance. They will change from orange to green in environments that are too acidic or alkaline.
The alkaline nature of the bicarbonate of soda will turn carrots green if it comes into contact with them.
Either too much baking soda was used in the recipe, or it was not evenly distributed in the cake batter.
If you'd used this recipe to make your carrot cake, which contains the perfect ratio of leavening agents, your carrots should not have turned green. If they did, try sifting the dry ingredients first next time.
The carrot cake is still safe to eat; the green tint will not affect the flavour.
Note: walnuts will turn blue/purple in the same chemical process.
How do you know when your carrot cake is done?
The top of the cake will be golden and springy to the touch. There will be no wobble in the middle.
To ensure my cake is fully cooked, I rely on a digital thermometer to measure the internal temperature. Generally, when the thermometer reads 98° C, I know my cake is ready.
I use a Thermapen One, which acts as a thermometer and cake tester with its metal skewer.
Alternatively, use a spaghetti stick or bamboo skewer to check if your cake is finished. Insert it into the centre of the cake, and if it comes out clean, it's cooked.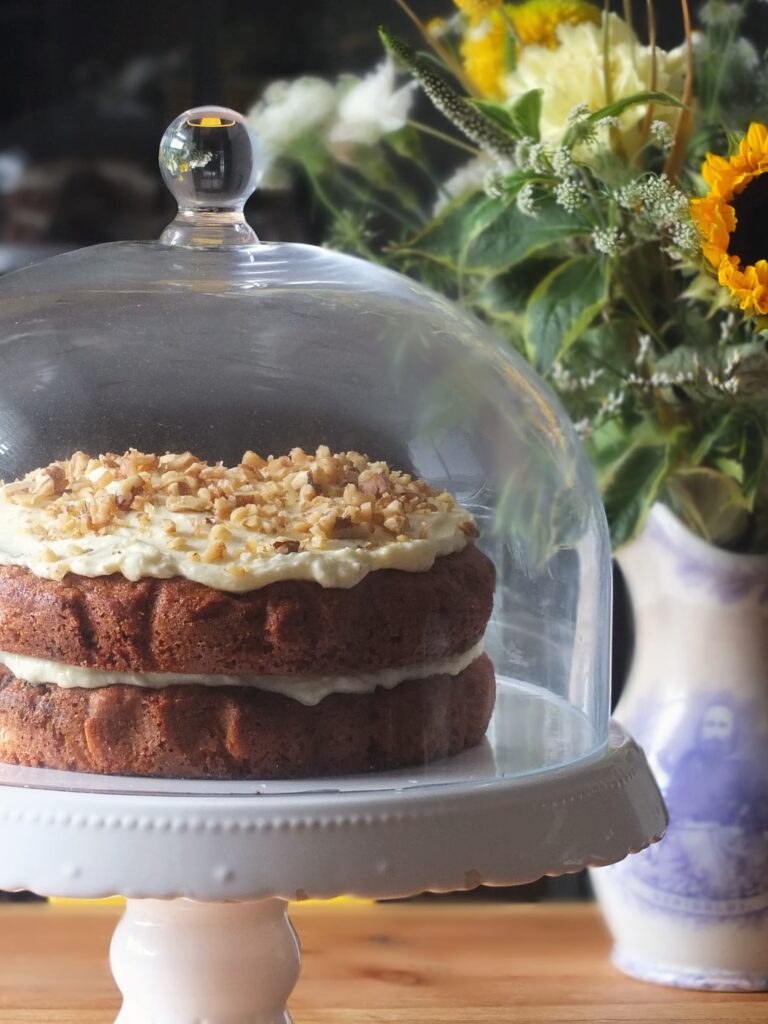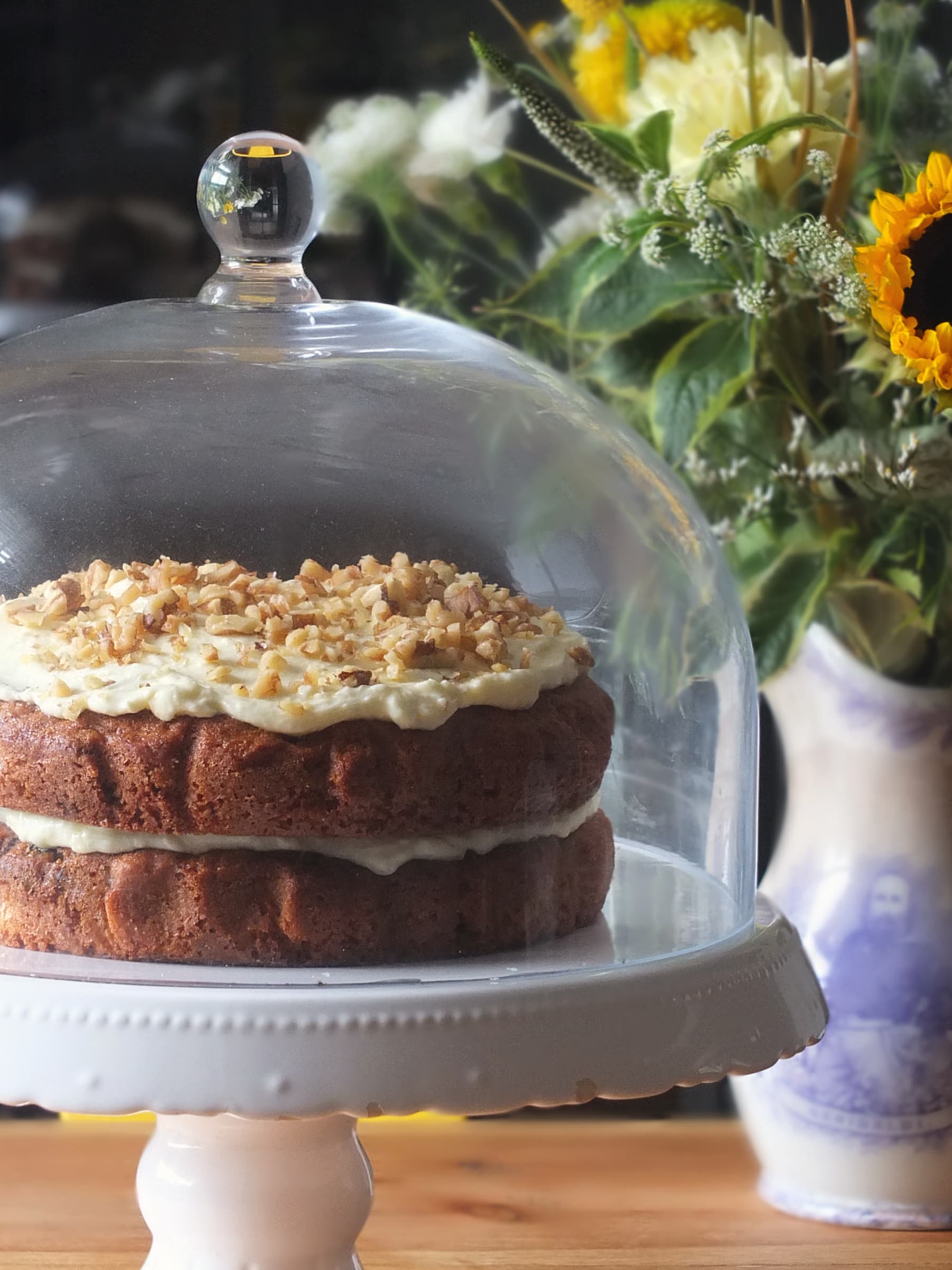 This carrot cake with cream cheese frosting will keep for a good five days in the refrigerator.
If you serve it as part of a packed lunch for walking tour guests, as I do at the Aald Harbour Hoose, the icing will have softened again when your hikers have sat down for their break.
This cake has had rave reviews from my guests, and I hope you enjoy it, too!
As always, everything tastes better in the outdoors. I hope you use this recipe to #fuelthatadventure. x
Recipe Difficulty Levels
Easy

Requires basic cooking skills and ingredients you most likely already have in your kitchen.
Moderate

Requires more experience, preparation and/or cooking time. You may have to source special ingredients.
Challenging

Recipes requiring more advanced skills and experience and maybe some special equipment.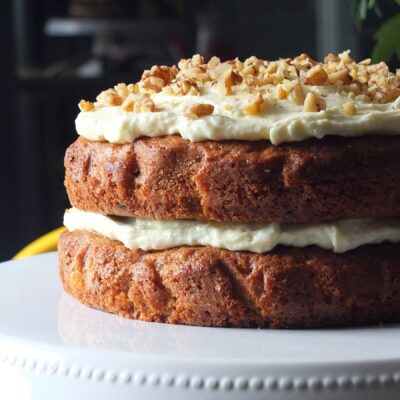 Easy, Light & Fluffy + MOIST! Carrot Cake with Cream Cheese Frosting Recipe
This light and fluffy carrot cake with cream cheese frosting recipe is delicious, extremely easy to make and keeps fresh for five days in the refrigerator.
Print
Pin
Rate
Ingredients
for the cream cheese frosting
Affiliate Links
This recipe card may contain affiliate ingredient and equipment links. As an Amazon Associate I earn from qualifying purchases.
Instructions
Sift

250 grams plain flour

,

2 tsp baking powder

,

1/2 tsp bicarbonate of soda

,

1/2 tsp Shetland sea salt

and

2 tsp mixed spice

into a mixing bowl.

Add

200 grams light brown soft sugar

and mix well. Add the zest of

1 orange

and squeeze the juice into a small bowl.

Grate

300 grams carrots

with the large-holed side of a box grater so that you have 250 grams of grated carrot.

Measure

200 ml vegetable oil

into a measuring jug and crack in

3 large free-range eggs

. Add the orange juice and whisk with a fork.

Chop

100 grams walnuts

, reserving about 20 grams for decorating the top of the cake afterwards.

Pour the oil mixture into the dry ingredients and beat with a wooden spoon until smooth.

Add most of the walnuts, the grated carrots and

85 grams raisins

.

Stir until evenly mixed, but do not overmix.

Divide the batter evenly between your two lined cake tins, using electronic kitchen scales to weigh them to make sure they're the same.

Bake in the centre of your oven for 30 – 35 minutes, until a skewer inserted comes out clean and the tops of the cakes are golden and risen. Alternatively, the internal temperature will be just under 100°C when cooked.

Allow the cakes to cool in the tins for 10 minutes before removing from the tin and leaving to cool to room temperature on a cooling rack.

Meanwhile, using an electric hand mixer, cream

100 grams butter

until very soft, almost liquid. My hand mixer has a HeatSoft function, which gently softens the butter if I forget to take it out of the fridge first to soften it at room temperature.

Gently fold in

280 grams cream cheese

.

Add

1/2 tsp vanilla extract

and

100 grams icing sugar

and gently combine. Do not overmix once the sugar is in.

Place one of the cooled cakes onto a cake stand or onto the inside lid of a large cake storage tin. Spread half of the cream cheese frosting, top with the other cake and finish with the remaining frosting. Sprinkle with the remaining walnuts and chill until needed.
Nutrition
Calories:
560
kcal
|
Carbohydrates:
53
g
|
Protein:
7
g
|
Fat:
37
g
|
Saturated Fat:
12
g
|
Polyunsaturated Fat:
14
g
|
Monounsaturated Fat:
9
g
|
Trans Fat:
0.4
g
|
Cholesterol:
88
mg
|
Sodium:
313
mg
|
Potassium:
359
mg
|
Fiber:
3
g
|
Sugar:
28
g
|
Vitamin A:
4793
IU
|
Vitamin C:
8
mg
|
Calcium:
103
mg
|
Iron:
2
mg
Pin this easy carrot cake recipe to make later
Other cream cheese frosted recipes you might like