In this eggless birthday cake, three layers of vanilla sponge cake are infused with thyme syrup before being sandwiched together with a decadent strawberry cream cheese frosting.
A not-too-sweet, visually striking birthday cake for a 70th birthday celebration.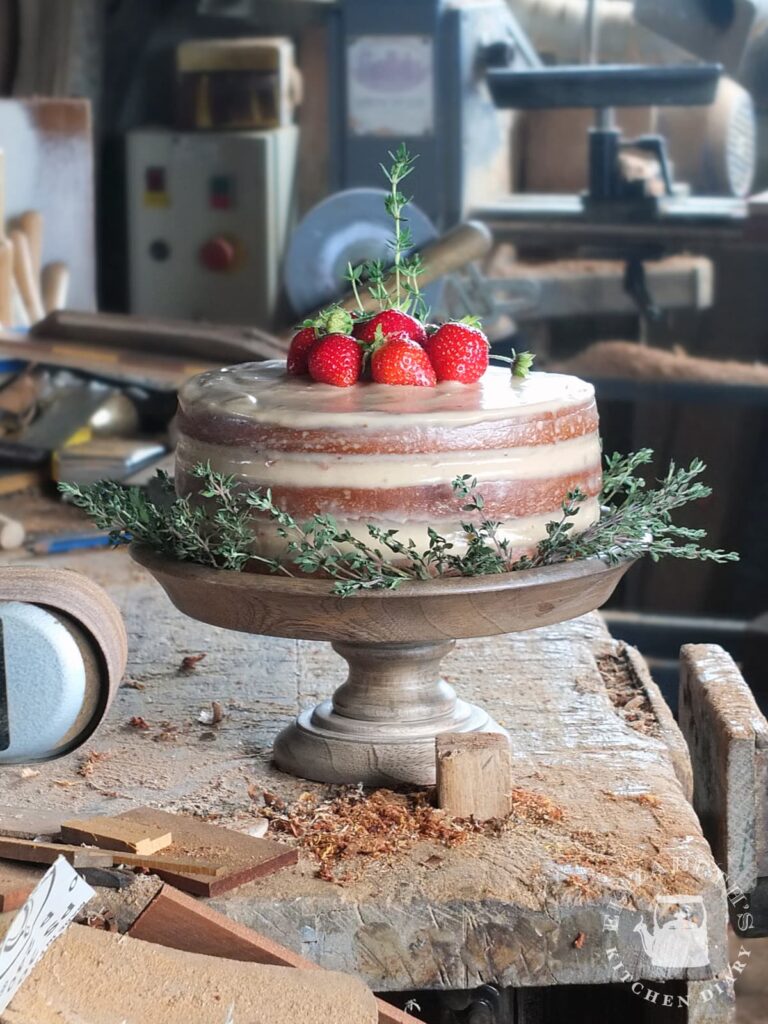 A 70th birthday cake for a man
The challenge: to create a visually impressive, tasty, subtly indulgent birthday cake for my partner's 70-year-old father, Terry.
Oh, and it needed to be egg-free.
Challenge accepted.
I believe birthday cakes should somehow reflect the personality or interests of the recipient, so for this cake, I took inspiration from Terry's woodturning workshop.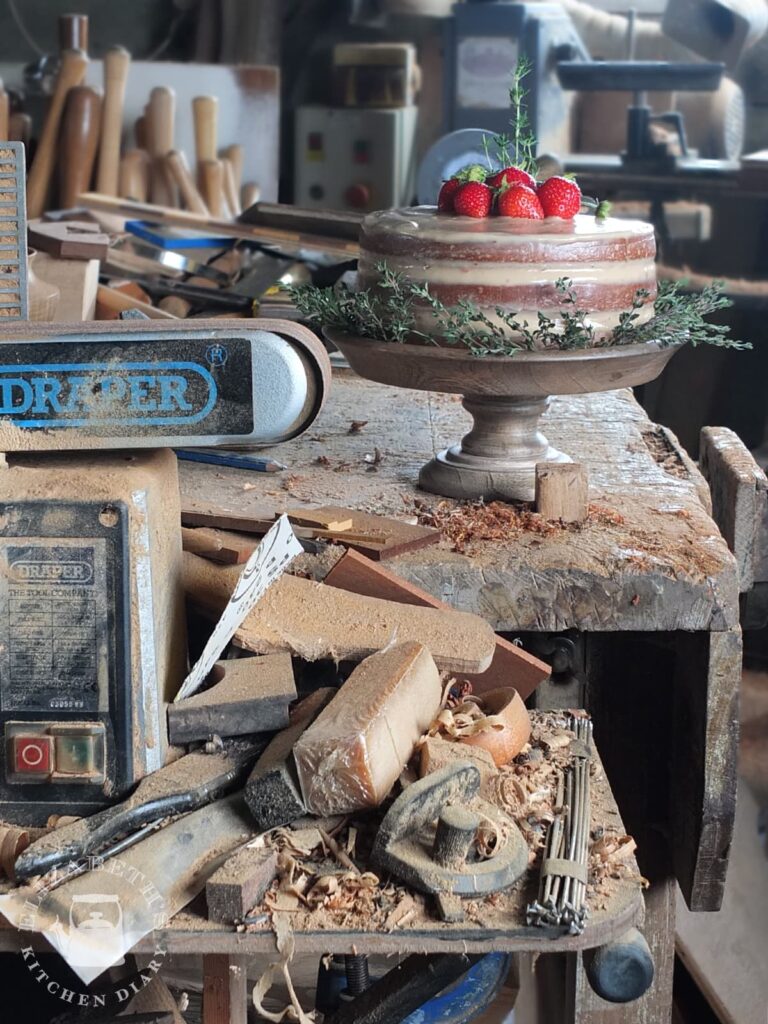 The wood turning workshop
The first time I saw this workshop my heart did a thing.
Being an ex-pat Canadian I have a nostalgic fondness for sawdust and wood. The smell of sawdust itself, that slightly sweet sappy scent of wood, brings me right back to the Canadian forests and the village I grew up in. Firewood. Chopping kindling. The sawmill. Lumber.
It smells like home.
There's something to be said about seeing someone's ideas come to life out of a solid piece of wood.
Each piece starts the same, with unlimited potential.
A bit like people.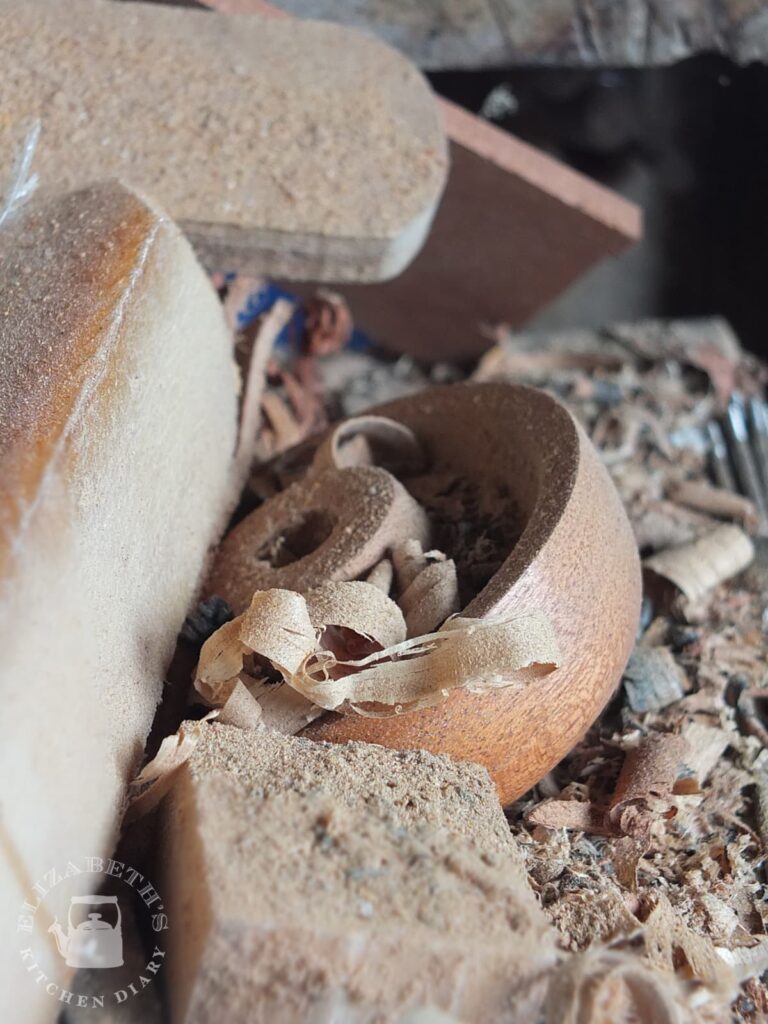 Plus, those little curls of wood shavings!
Each one of those has been made, carefully, by hand. The by-product of art.
Care. Craftsmanship. Skill.
There's a beauty in that.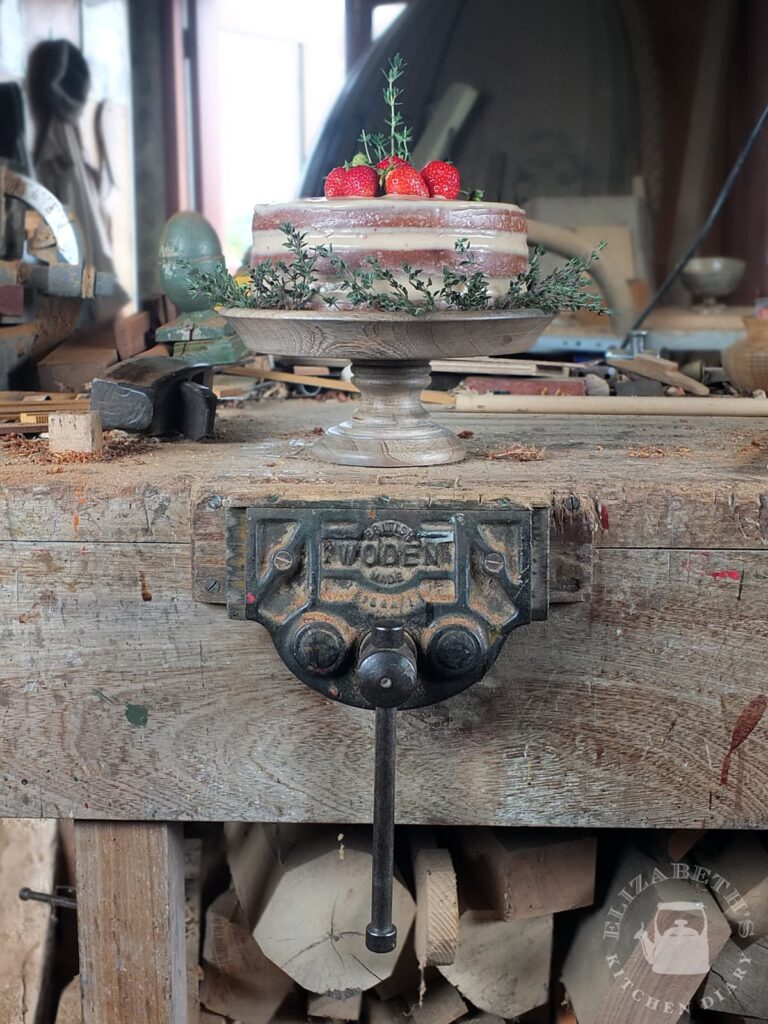 Eggless birthday cake recipe
This blog post isn't about wood shavings though, it's about a cake for a wood-turner who recently turned 70.
This birthday cake, inspired by this strawberry and thyme cake recipe, needed to be egg-free, so I turned to this egg-free vanilla cake recipe as a starting point as it had so many good reviews.
It didn't disappoint.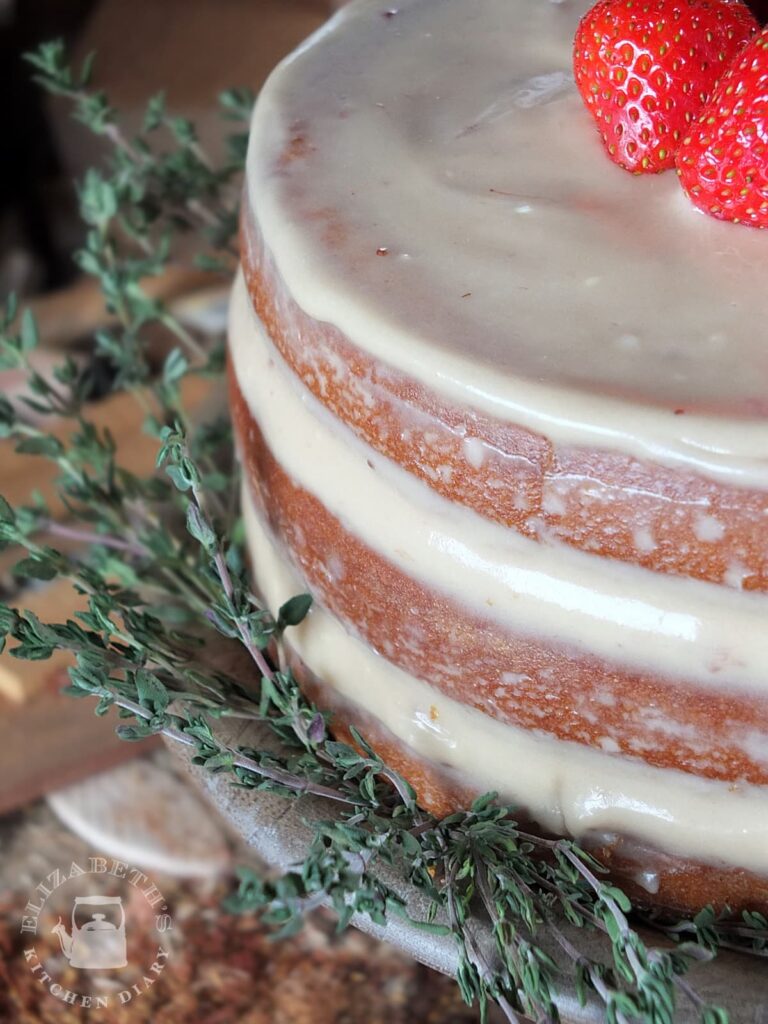 Thyme syrup-soaked vanilla sponge cake
I made three light and fluffy eggless vanilla sponge cakes the day before, wrapping them in clingfilm overnight to keep them from drying out.
Before assembling the cake, each layer was drizzled in homemade thyme syrup, made by simmering sugar, water, fresh lemon juice and fresh thyme sprigs together until thickened. This was left to cool before being strained.
The thyme syrup has two purposes: first, it helps keep the cake moist as I find egg-free cakes tend not to have the same moist crumb texture as their eggy cousins. Secondly, the syrup adds a subtle sophisticated lemon-thyme flavour to the cake.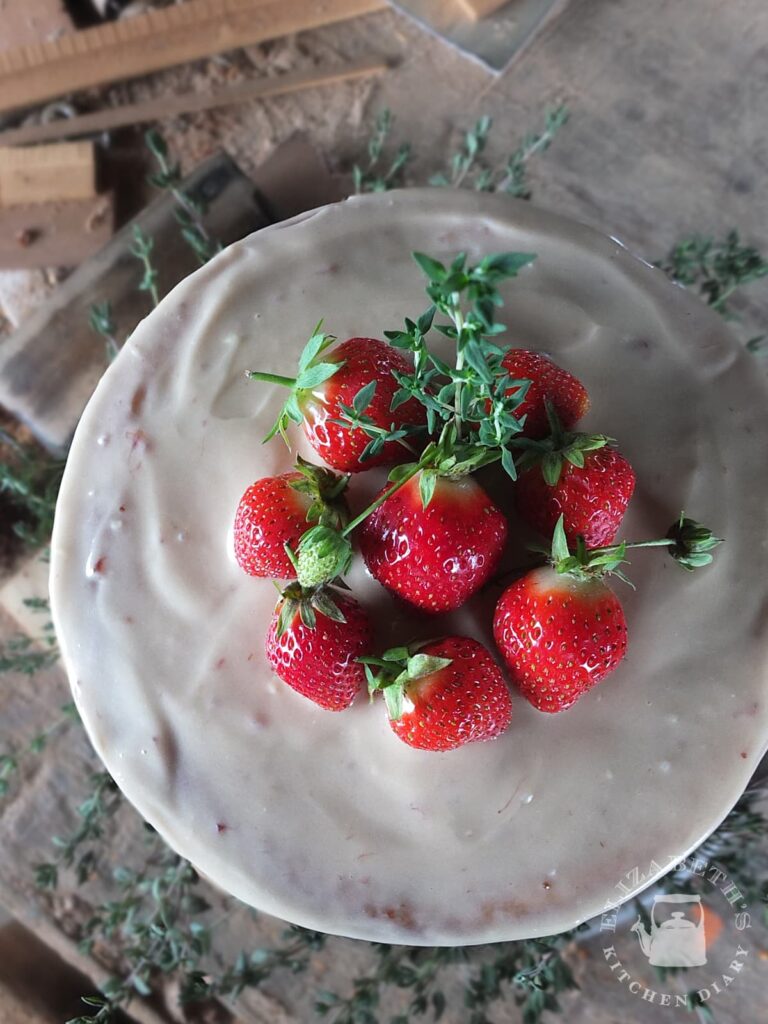 Strawberry cream cheese frosting
The three layers of thyme-syrup soaked sponge were then sandwiched together with an easy strawberry cream cheese frosting (inspired by this recipe).
Truth be told, I made this cake twice just to make sure it was going to be good enough. The first time I misread the recipe ingredients for the frosting and I ended up using equal quantities of butter and cream cheese. The second time I went with the original twice as much cream cheese as the butter option (pictured).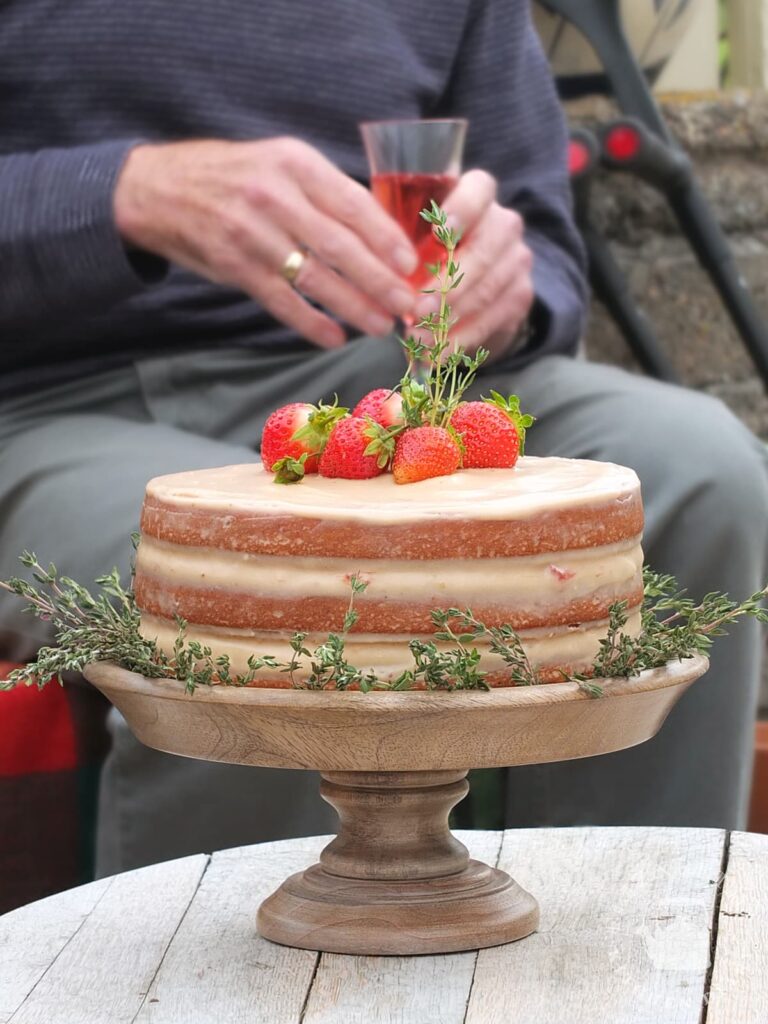 To be honest, the first batch of frosting was much nicer and easier to work with. So, that's the recipe I've included in the printable recipe card below.
I opted for a naked frosted-style cake to tone down the overall sweetness. I liked how the naked cake looked almost like a wood texture.
This three-layer showstopper of a cake was finished off with fresh strawberries and thyme sprigs. I think it's a rather natural-looking, creative, subtly sophisticated eggless birthday cake for a 70-year-old man.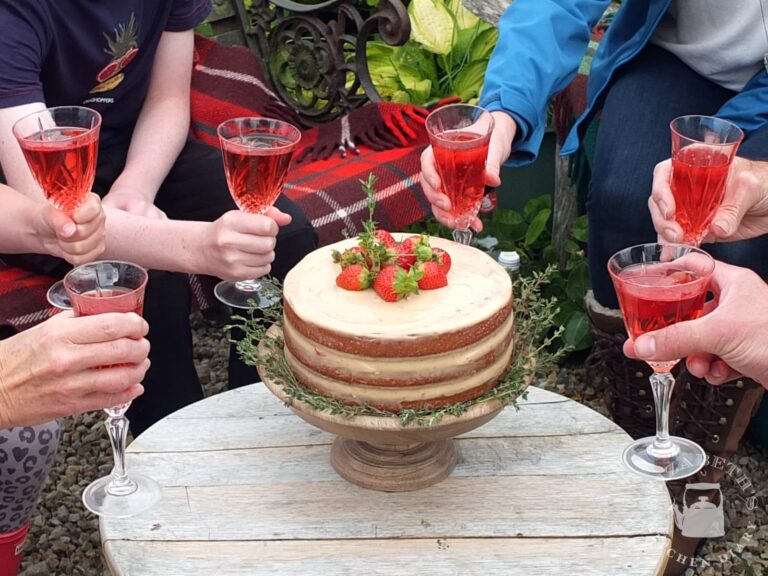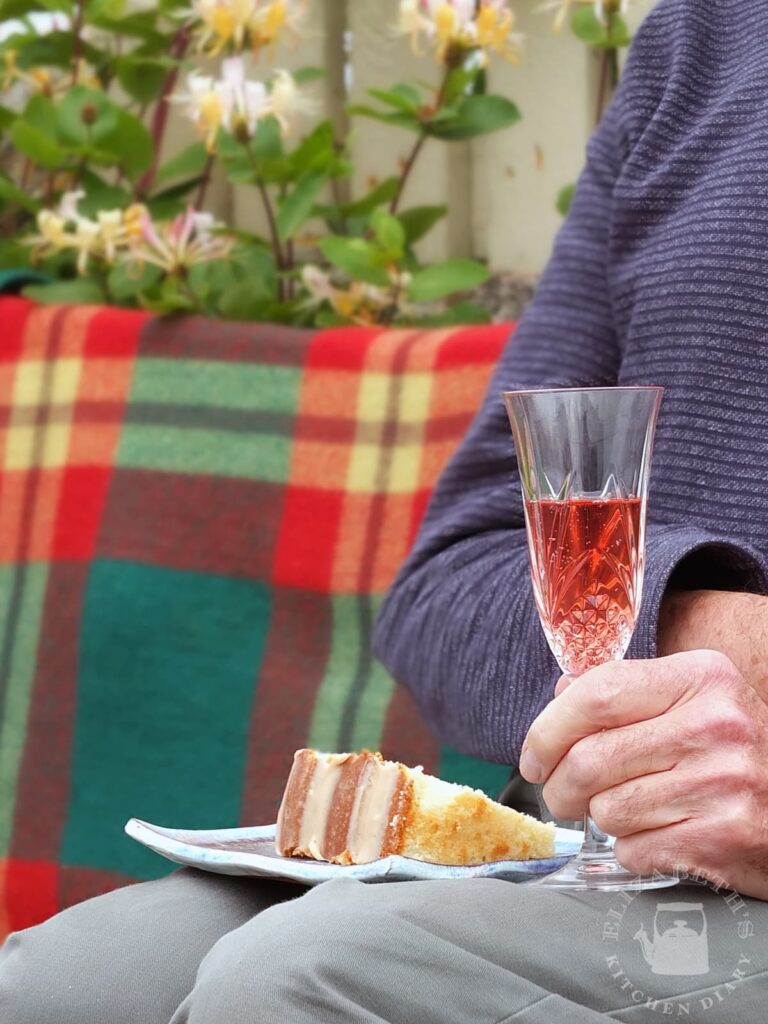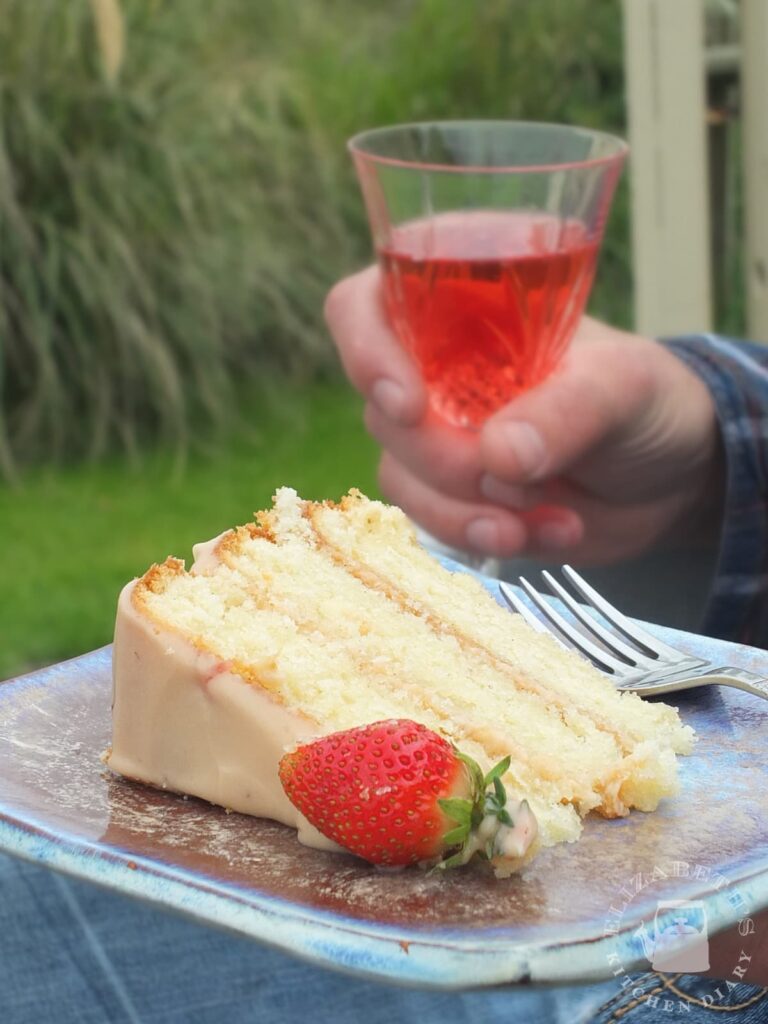 Strawberry and thyme cake
In this eggless birthday cake, three layers of vanilla sponge cake are infused with thyme syrup before being sandwiched together with a decadent strawberry cream cheese frosting.
Print
Pin
Rate
Ingredients
for the eggless vanilla sponge cake
for the strawberry cream cheese frosting
to decorate
fresh strawberries

thyme sprigs
Affiliate Links
This recipe card may contain affiliate ingredient and equipment links. As an Amazon Associate I earn from qualifying purchases.
Instructions
Make the eggless vanilla sponge cakes
Preheat your oven to 180ºC/160ºC fan/350ºF and line 3 x 8-inch springform baking tins with a round of baking paper.

Sift the flour and baking powder into a large bowl. Add salt.

560 grams plain flour,

2 tbsp baking powder,

1 tsp salt

Pour the vinegar into the milk and leave to curdle for a few minutes.

480 ml full fat milk,

2 tbsp white vinegar

Cream together the butter and sugar until light and fluffy. This will take a few minutes.

230 grams unsalted butter,

400 grams caster sugar

Add the vanilla and beat well.

Alternately add the soured milk and the flour in small batches, mixing well in between each addition.

Divide the cake batter evenly between the three prepared cake tins.

Bake in the centre of your oven for 20-35 minutes (our fan oven needed 35 minutes) until a skewer inserted into the centre comes out clean.

Leave the cakes to cool in their tins for ten minutes before transferring to a wire rack to cool completely.
Make the thyme syrup
Place the water, sugar and lemon juice into a small saucepan and bring to the boil over a high heat.

60 ml water,

2 tbsp lemon juice,

100 grams caster sugar

Reduce the heat to low, add the thyme sprigs, and simmer gently for ten minutes.

Remove from the heat and leave to cool.

Strain out the thyme sprigs.
Make the strawberry cream cheese frosting
Cream together the butter and cream cheese.

125 grams unsalted butter,

125 grams cream cheese

Add the strawberry conserve and vanilla.

2 tbsps wild strawberry conserve,

1/2 tsp vanilla bean paste

Add the icing sugar and mix well.

150 grams golden icing sugar
To assemble
Drizzle the thyme syrup evenly over the three eggless vanilla sponge cakes.

Layer on a cake stand, frosting with the strawberry cream cheese frosting.

Decorate with fresh strawberries and thyme sprigs.

fresh strawberries,

thyme sprigs
Nutrition
Calories:
660
kcal
|
Carbohydrates:
94
g
|
Protein:
7
g
|
Fat:
29
g
|
Saturated Fat:
18
g
|
Polyunsaturated Fat:
1
g
|
Monounsaturated Fat:
7
g
|
Trans Fat:
1
g
|
Cholesterol:
79
mg
|
Sodium:
251
mg
|
Potassium:
334
mg
|
Fiber:
1
g
|
Sugar:
57
g
|
Vitamin A:
976
IU
|
Vitamin C:
2
mg
|
Calcium:
160
mg
|
Iron:
3
mg
Pin this recipe for later