A delicious, spiced cake made with the humble swede (rutabaga).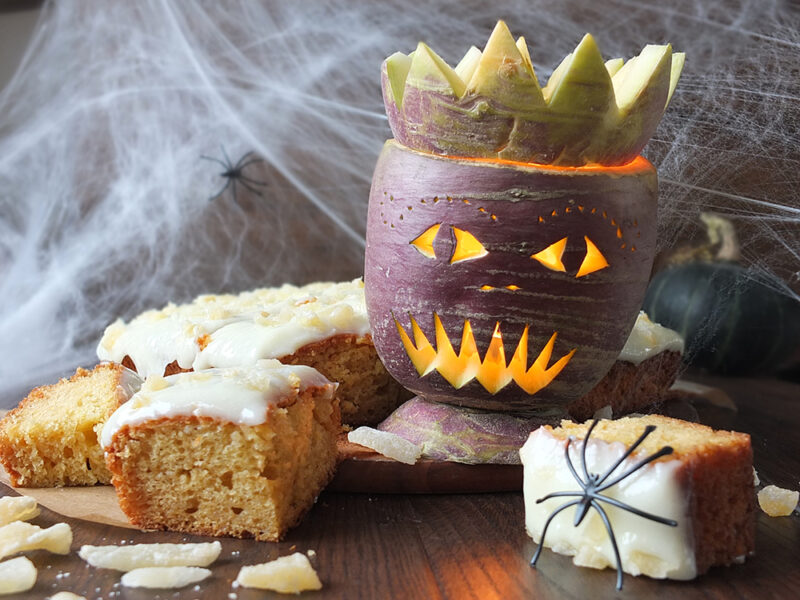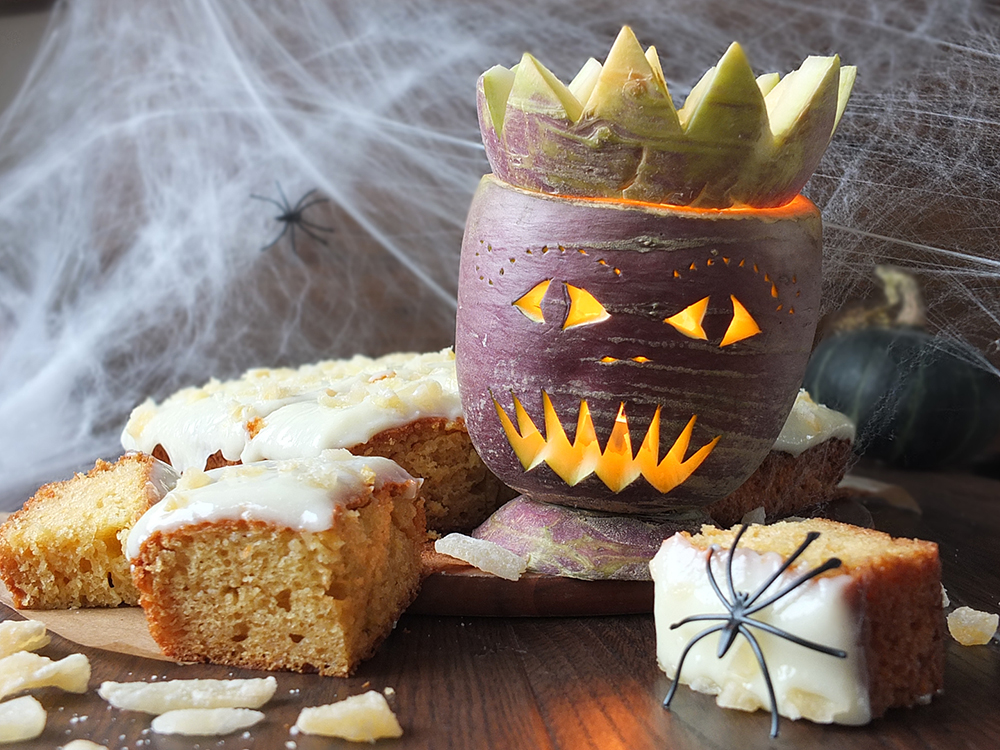 Did you know that the humble swede (aka. rutabaga, neep or Swedish turnip) can make a rather excellent flavoured cake? Think carrot cake, but with a more subtle vegetable flavour. Warming spices like ginger and nutmeg make it for the perfect Autumn bake, excellent with an afternoon cuppa on these dreary, cold rainy days.
The rutabaga is traditionally carved into neepie lanterns here in Shetland this time of year. We had our annual village Halloween party last night which included, as always, a pumpkin/neepie lantern parade. Some of the designs were really quite impressive!
The neepie lantern pictured above was my first ever attempt at carving my own, and I am rather pleased with it, if I do say so myself!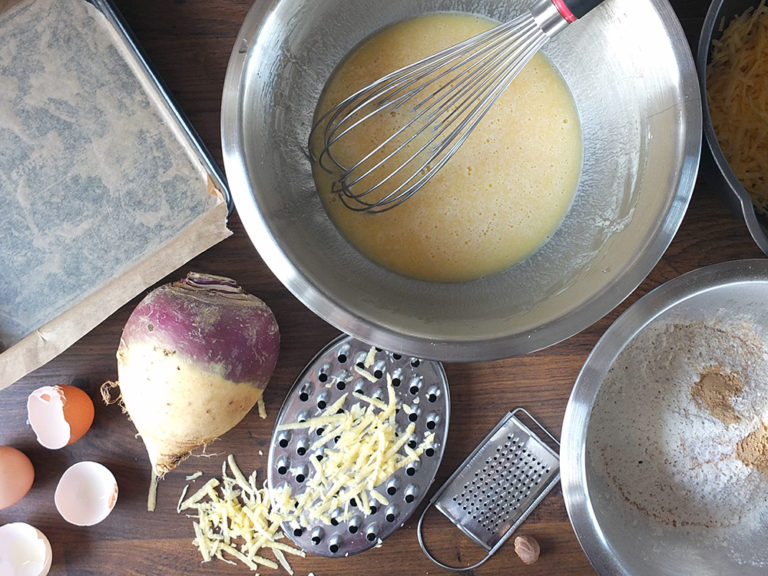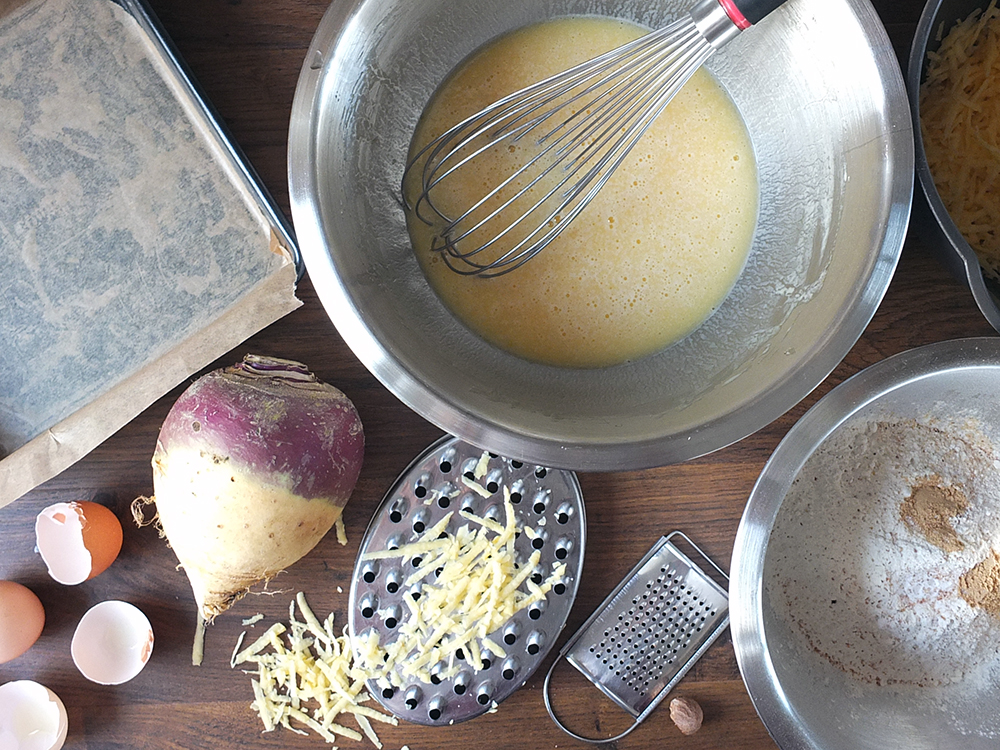 I picked up this swede cake recipe at the Shetland Food Fair last year, where local crofter Mary Burland was handing out slices (along with the recipe) from her food stall. The recipe originally appeared on the Shetland.org website.
It's a really simple cake to make, no creaming of ingredients are required. Just measure out the wet ingredients and whisk together, sift over the dry ingredients and stir in the grated swede. Swedes don't tend to be a particularly wet vegetable (like carrots or courgettes) so you don't even need to press out any extra water. Just fold it in, pour into a prepared pan and bake.
The frosting is a very simple cream cheese one, just take care not to overmix it. You might also like Kate's swede cake variation over at Veggie Desserts with a brown butter frosting and salted hazelnuts. Her cake recipe has an extra nutmeg kick to it too; perfect for you spice fans!
If you're looking for other ways to cook a swede, you should try Claire at Foodie Quine's way of cooking turnip in microwave. Apparently, it sings as it cooks!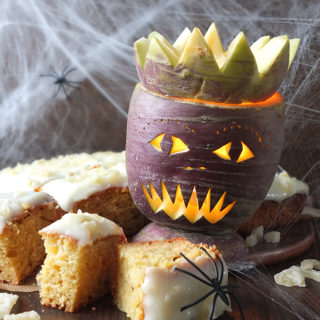 Spiced Swede (Rutabaga) Cake with Cream Cheese Frosting
This gently spiced cake is a perfect way to use up any veg box swedes lurking in the vegetable crisper. Excellent with an afternoon cuppa.
Print
Rate
Ingredients
for the cream cheese frosting
Affiliate Links
This recipe card may contain affiliate ingredient and equipment links. As an Amazon Associate I earn from qualifying purchases.
Instructions
Preheat oven to 180C/160C fan and grease and line a 9 inch square cake tin.

Whisk together the sugar, oil, yogurt and eggs in a large mixing bowl.

Sift together the flour, bicarbonate of soda, spices and salt.

Stir the dry ingredients into the wet, and fold in the grated swede.

Spoon into the prepared baking tin and bake in the centre of the oven for 25-30 minutes. A skewer inserted in the centre will come out clean when it's ready. Transfer to a wire rack to cool completely.

To prepare the frosting gently combine the cream cheese and icing sugar together. Ice the cake when it is completely cool and decorate with chopped crystalised ginger or chopped nuts, if desired.
Environmental Information