In collaboration with Go Cook, exclusively for Tesco.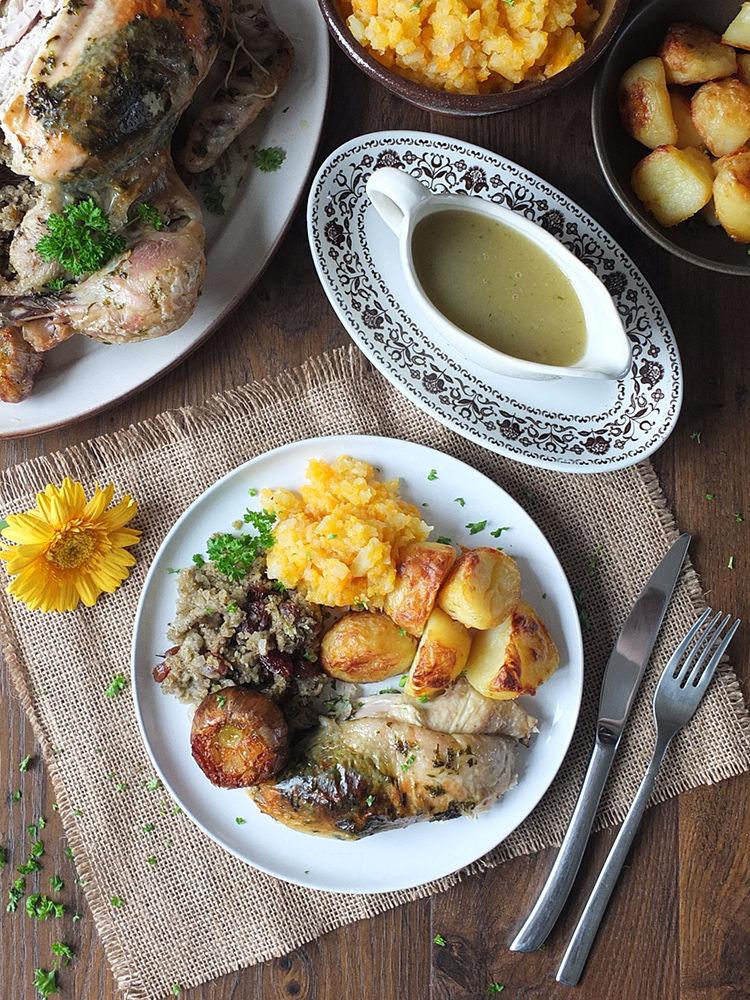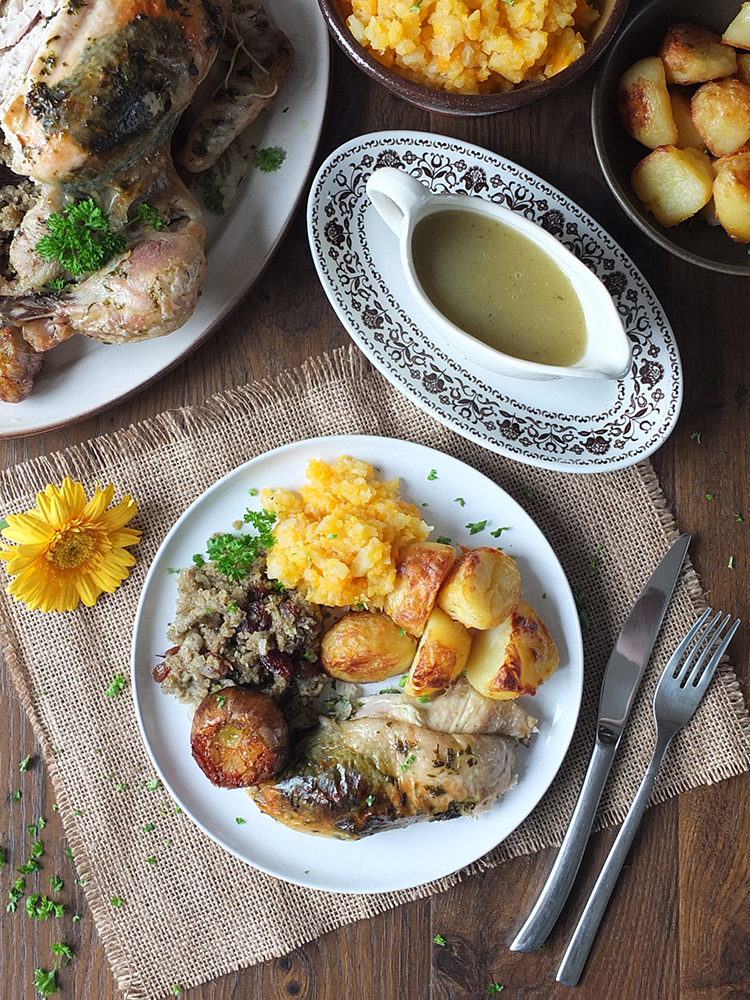 A roast chicken dinner with all the trimming is, I firmly believe, the ultimate in comfort foods. It's been my favourite meal to eat ever since I was a small child. My grandmother made the best roast chicken dinners, ever, and this recipe is my adaptation of what I remember her making for me when I was a child. I always requested a roast chicken dinner for my birthday. My brother asked for hot dogs for his birthday. I asked for roast chicken. Favourites, eh?
Making a complete roast chicken dinner with all the trimmings isn't hard work, either. It can be a bit time consuming what with all the veg prep, so we're looking at about three hours, from start to finish, including cooking time.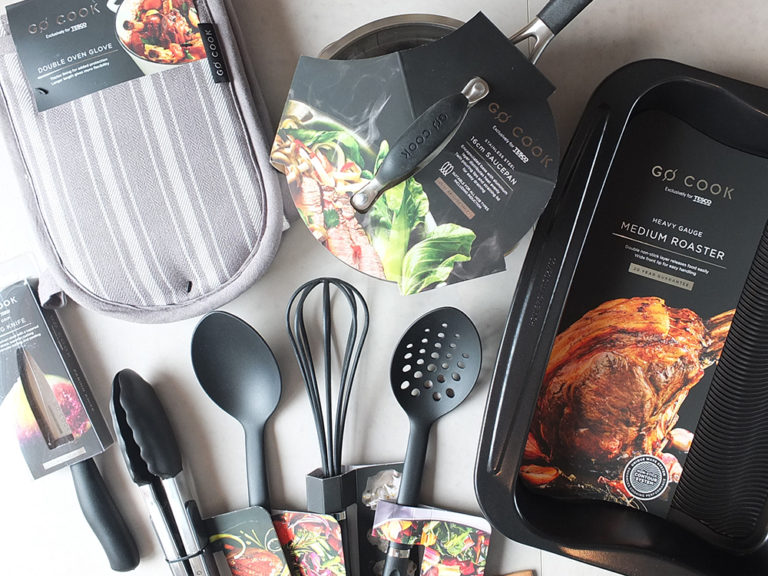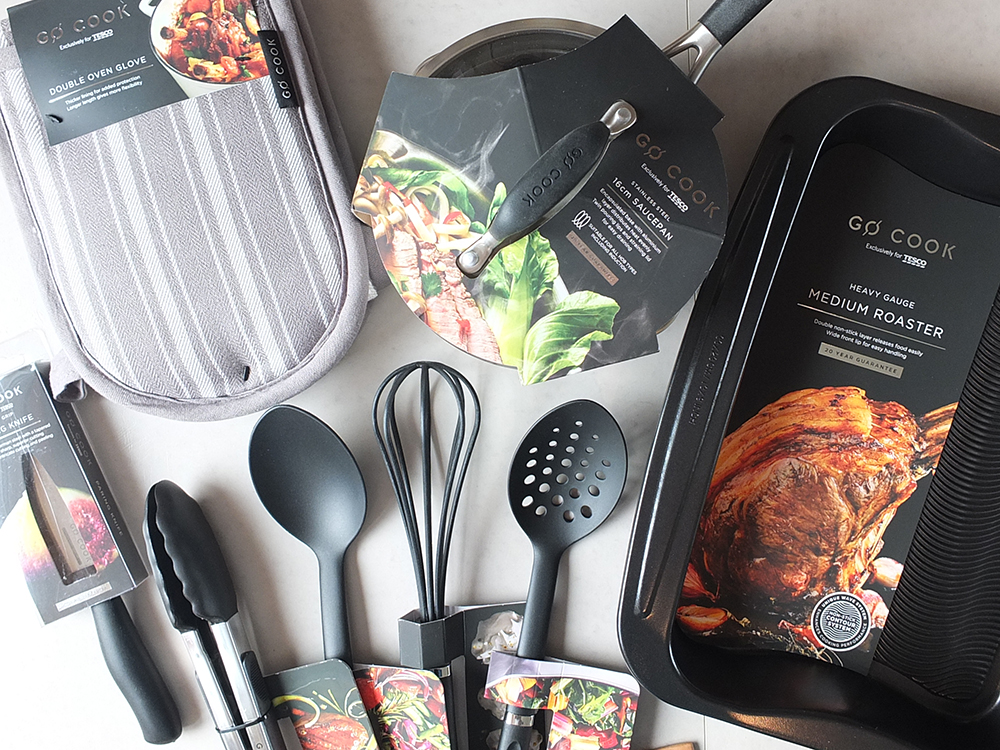 Preparing a homemade roast chicken dinner is made a whole lot easier if you've got the right tools, too, like the newly launched Go Cook, exclusively for Tesco range. I picked up a selection of utensils, two roasting tins, three of their swish new pans, two knives and their apron, tea towels and oven mitts at our local Tesco branch recently. For a supermarket range, I confess I am really impressed with their quality!
When it comes to making a roast chicken dinner with all the trimmings, the most time-consuming bit is the vegetable prep. A good knife or two at this stage will save you a lot of time, and be safer too – did you know a dull knife is more dangerous than a sharp knife? You're more likely to injure yourself with a dull knife because the tool isn't doing the job it's supposed to be doing as so you exert more force. As a result, the knife is more likely to slip and you're more likely to cut yourself.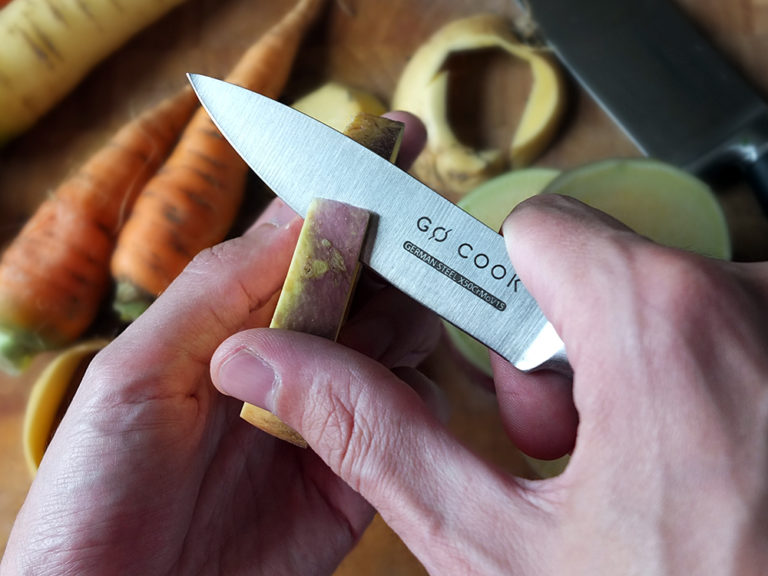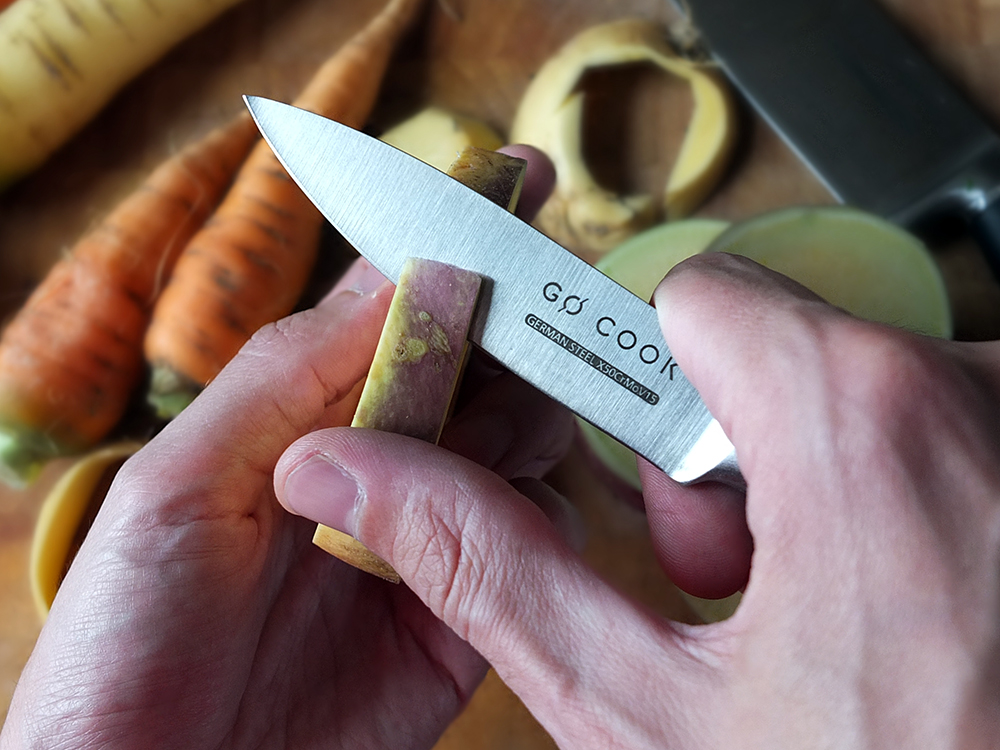 The Go Cook soft grip paring knife (pictured above) is made from high-quality German steel with a tapered blade for sharp, superior cutting; perfect for intricate cutting and peeling. The moulded soft grip silicone handle fits perfectly in your hand and gives a firm, comfortable grip for enhanced dexterity and the blades are engineered to stay sharp for longer. RRP £7
I also picked up the larger Go Cook soft grip chef's knife, perfect for chopping meat and vegetables (pictured below, left). I find larger knives like this make chopping onions a breeze and I really liked the weight balance of this knife. It was an absolute pleasure to use. RRP £12.
Now, my ultimate roast chicken dinner includes homemade stuffing, but back in Canada where I grew up you could buy a pre-made ready ground spice blend called 'poultry seasoning'. This is not a blend available in the UK, and it wasn't until recently where I stumbled upon a homemade poultry seasoning recipe by Spend with Pennies which is the perfect recreation of the flavours I remember as a child. I've adapted the recipe slightly to use ingredients available in the UK (namely whole dried herbs instead of the powdered version Americans/Canadians use), but for an authentic taste, you need to blend the spices together into a powder. It just doesn't taste the same if it's not powdered. Trust me.
Sauteeing the chopped onion was a breeze in my new Go Cook Stainless Steel 28cm Saute Pan. The encapsulated steel base with an aluminium layer is designed to ensure heat is distributed evenly, meaning perfect results every time. The contour design enhances the cooking performance, while an advanced triple non-stick layer reduces the need for cooking oils and provides a robust cooking surface. It's got a comfortable, soft-touch handle that reduces heat transfer, allowing you to move the saute pan seamlessly between the hob and prep area. Also, their pans are suitable for induction hobs, which means they're going to be appearing in my future recipe videos! RRP £34.
When using non-stick pans you can't use metal utensils, so I used my new Go Cook Nylon Solid Spoon (pictured above). This premium nylon spoon is suitable for use with all types of cookware, including those with non-stick surfaces, and is heat resistant up to 200°C. An ergonomic, soft-touch handle provides a comfortable grip, allowing you to prepare your favourite foods with ease. The handle also includes a hole to enable hanging storage. It's also dishwasher safe. RRP £4.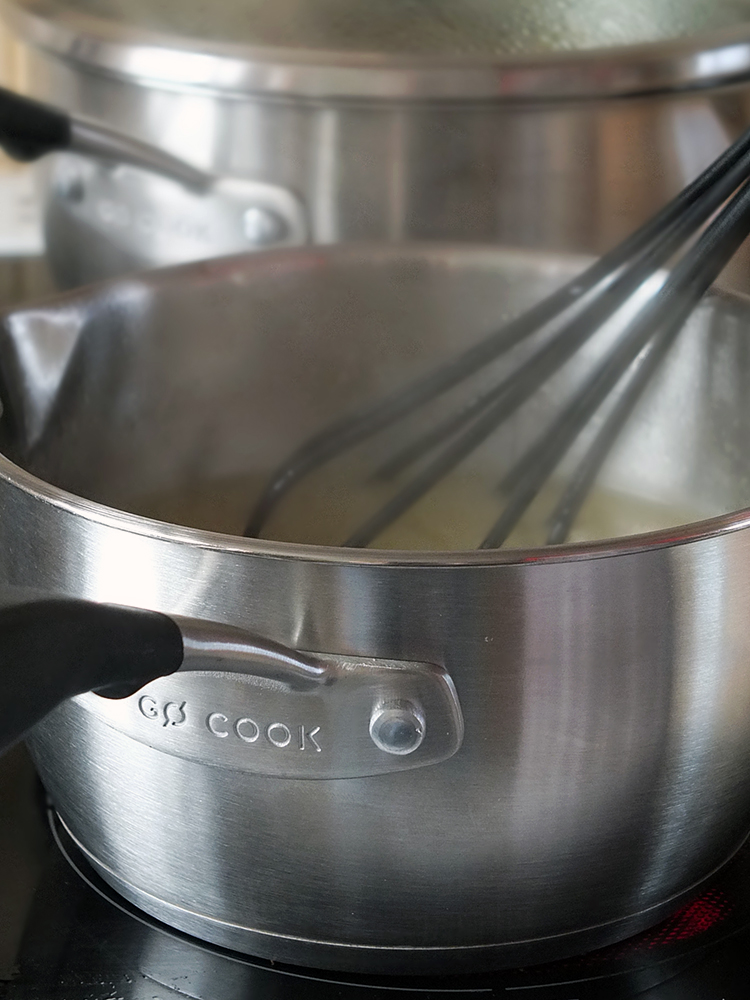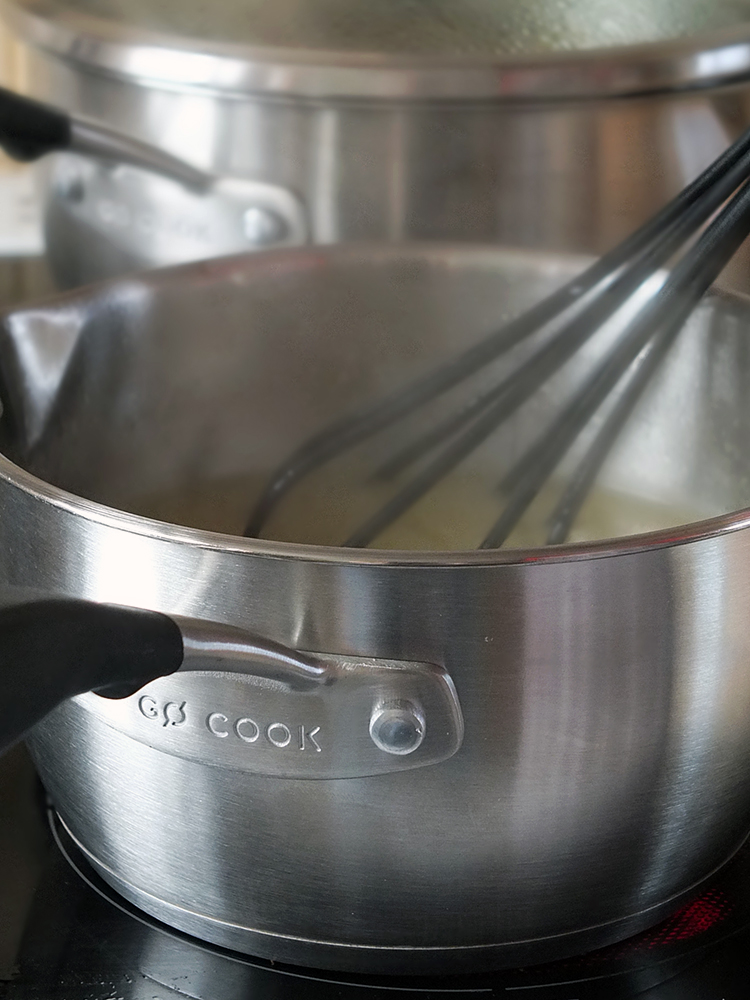 It's taken me years to perfect my homemade gravy recipe, and the process is made so much simpler with the Tesco Go Cook range.
The Go Cook Stainless Steel 16cm Saucepan, besides being durable and stylish and boasting the same design as the saute pan above, it's got twin pouring lips and a straining lid for easy draining. PLUS, it has really handy internal measurement marks and you can make a full two pints of gravy in this if you wanted. RRP £20. They've got a 20cm version too, perfect for making carrot and turnip mash.
When it comes to gravy making, I pour off the juices from the roast chicken into the saucepan and top up the quantity with the vitamin-rich cooking water from cooking the carrots and turnips (using the Go Cook Nylon Ladle RRP £4), pop in half a chicken stock cube, blend until smooth and thicken with cornflour, stirring continuously with my Go Cook Nylon Whisk RRP £4. Easy peasy.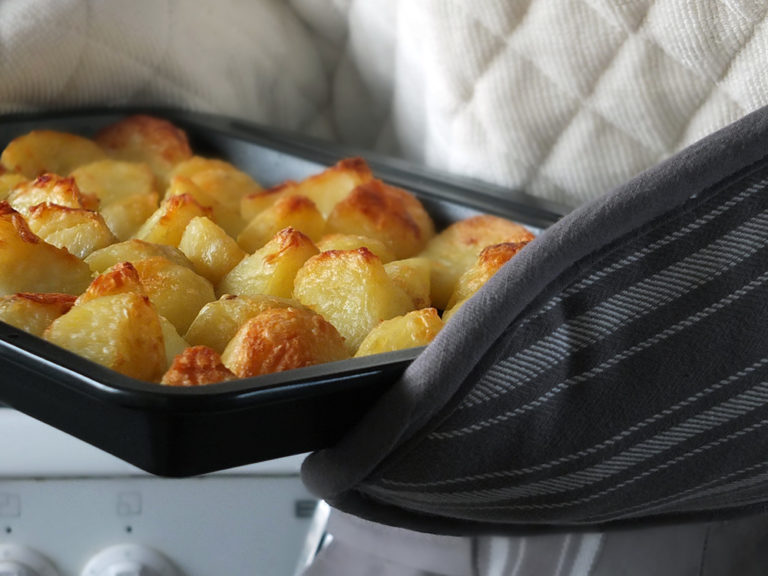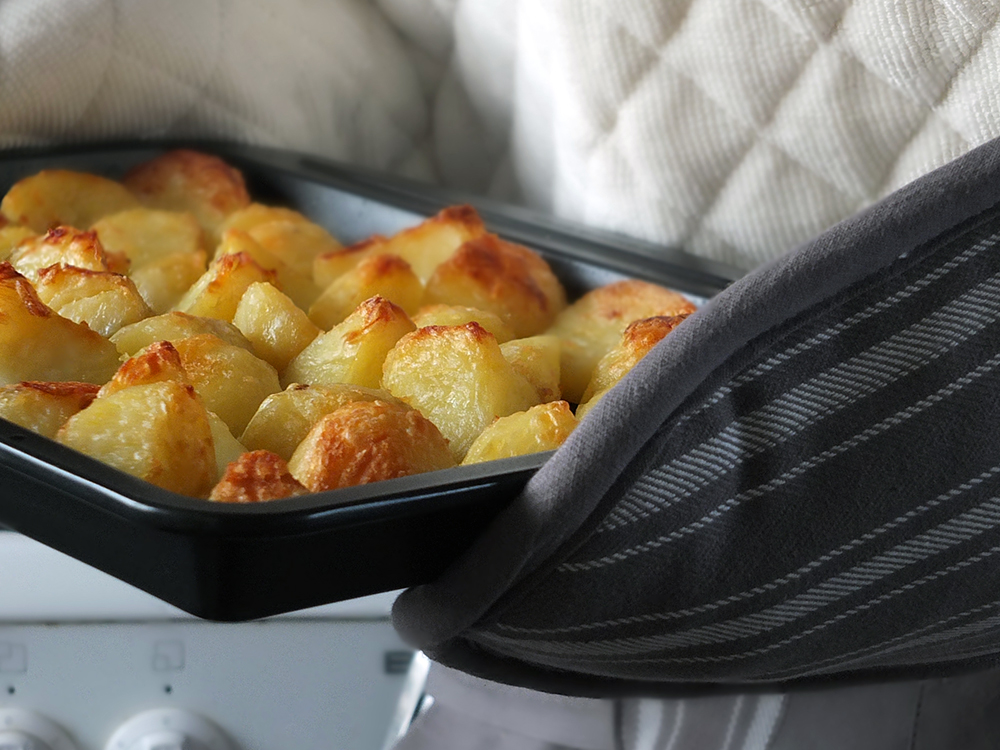 When it comes to the ultimate roast chicken dinner I prefer mashed potatoes, but over the years I've made a compromise with my roast-potato-loving husband. He thought there was too much soft food on the plate, and reckons the crispy roast potatoes pair perfectly with everything else.
The Go Cook Heavy Gauge Medium Oven Tray is the perfect size for roasting a whopping 1 kg of roast potatoes. Featuring a double non-stick layer that prevents food from sticking to the tray for easy release and clean up and a unique contour design that allows the air to flow under the potatoes, you'll get perfect results every time! RRP £6 Pair this with the new Go Cook Grey Double Oven Glove RRP £7.
The Tesco Go Cook range features a wide variety of utensils, but my favourite has to be the Go Cook Stainless Steel Tongs (pictured above) RRP £5. These premium stainless steel tongs are fitted with heat-resistant, silicone tips to prevent scratching and scraping on non-stick surfaces while the ergonomic, soft-touch handles ensure a comfortable grip and feature a handy locking function for easy storage. Plus, they slip in very nicely into the tea towel strap on the Go Cook Grey Apron RRP £8.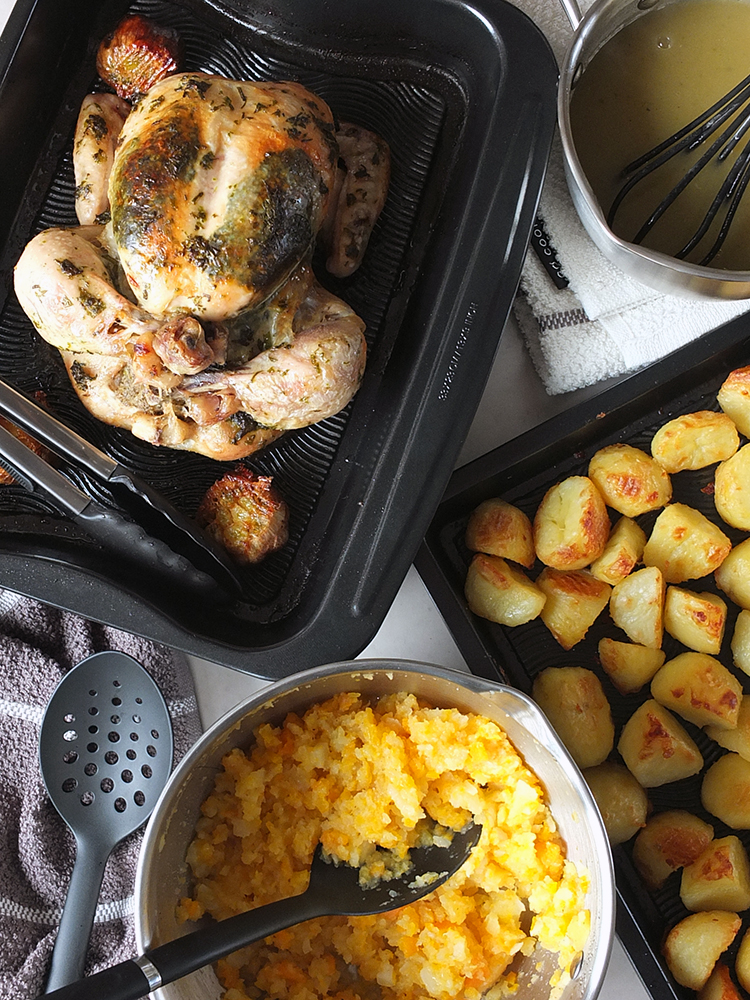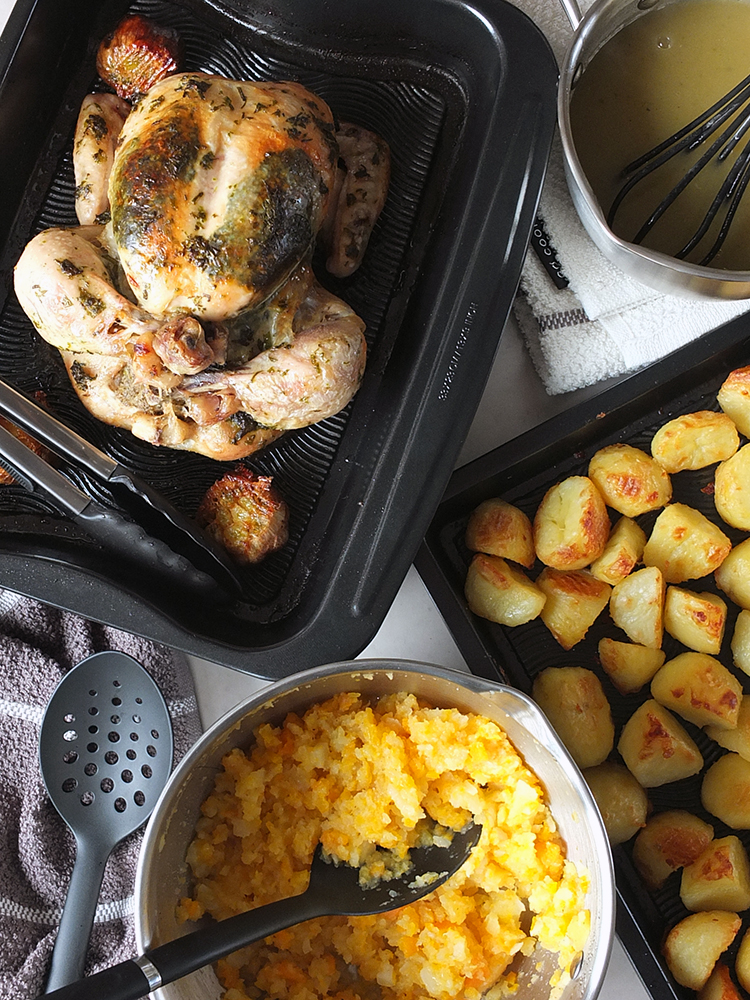 Now, a post about a roast chicken dinner isn't complete without talking about the roast chicken is it! I roasted my chicken in the Go Cook Heavy Gauge Medium Roaster RRP £12. With high sides to keep all the lovely juices inside, it features the same durable non-stick construction as the smaller roasting tray above. A wide lip means it's easier to grip and transfer from the oven to the kitchen top too.
The Go Cook range, exclusively for Tesco, is designed to be functional yet affordable, premium quality for everyday prices. Like I said earlier, I am really impressed by the quality of these products. The Go Cook utensils have a five-year warranty against defects while the pots and roasting tins have a twenty-year guarantee. Look out for them in your nearest Tesco!
In the meantime, here's the recipe for my ultimate roast chicken dinner. No basting required.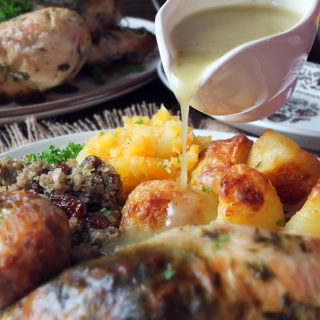 The Ultimate Roast Chicken Dinner
Everything you need to make the ultimate roast chicken dinner, no basting required! Comfort food at its finest!
Print
Rate
Ingredients
Affiliate Links
This recipe card may contain affiliate ingredient and equipment links. As an Amazon Associate I earn from qualifying purchases.
Instructions
To prepare the poultry seasoning, place all of the ingredients in a blender and blend until it forms a fine powder. Store in an airtight container.

Remove chicken from the refrigerator and bring to room temperature as you prepare the stuffing.

Preheat the oven to 200C/ 180 C fan/ 400F and move the middle rack to the lower third of the oven.

Heat 1 tbsp of the olive oil in a saute pan and gently fry the one finely chopped onion for 5-7 minutes until it begins to soften and become transleucent.

Remove from the heat and place the onion in a medium sized mixing bowl to cool to touch.

Add the torn bread, the poultry seasoning, sultanas and season well to taste. Add enough of the remaining olive oil to bind everything together. Use your fingers to squeeze it all together.

Carefully remove some of the elastic holding the chicken legs together (don't remove it entirely as you'll put it back afterwards) and stuff the chicken cavity with the stuffing. Use the elastic to tie the legs back together and place the stuffed chicken in a large roasting tin.

Mix the softened butter and the chopped herbs together and, using your fingers, lift the skin over the breasts and place 1/3 of the herb butter under the skin on either side, taking care not to tear the skin. Rub the remaining herb butter over the outside of the chicken skin.

Cut the garlic bulbs in half, leaving the paper on, and arrange in the roasting tray. Scatter the remaining onions, quartered, in the roasting tray too, and pour in the water.

Cover the chicken and the tray tightly with foil so that the steam can't escape. Roast for one and a half hours (set a timer!) without touching it. No need to baste.

Meanwhile, peel and wash your potatoes. Cut them into roast potato size and parboil them in boiling, salted water for five minutes. Drain and return to the pan. Pop the lid on and give it a gentle shake so that the edges roughen up a bit.

Preheat your top oven (or if your oven is big enough, pop them under the chicken), to 220 C/ 200 C fan.

Preheat your roast potato roasting tin with your fat of choice until the fat is smoking. Add the roast potatos, shake the pan to cover the potatoes in the melted fat and return to the oven for 45-60 minutes, turning occasionally.

Peel and chop your turnip and carrots, placing them together in a small saucepan. Cover with water and gently simmer for 25 minutes or so until tender. Reserve the cooking water. Mash the cooked vegetables with the butter and freshly grated nutmeg. Keep warm.

Remove the foil from the roast chicken and carefully drain off all the cooking liquid into a small saucepan. I find it's easier to remove the chicken to a waiting plate first, and then return it to the roasting tin.

Pop the chicken back into the oven for another 20 minutes or so, until the skin is browned nicely.

Meanwhile, using a handblender, blend the cooked quartered onions with the roast chicken cooking liquid and the stock cube (if using) until smooth. Return to the saucepan, add enough of the turnip/carrot cooking liquid to bring it up to a pint and bring to a simmer. Add the cornflour dissolved in a little water and stir the gravy until thickened. Use more cornflour if you prefer a thicker gravy. Keep warm.

Serve!
Notes
If you want to keep the calorie content of the stuffing lower, use water instead of the olive oil to bind everything together.
Leftover reheat very well, simply arrange in a casserole tray, cover and reheat at 200C for 30 minutes or so.
Freeze leftover roast chicken and leftover gravy for another day.
Environmental Information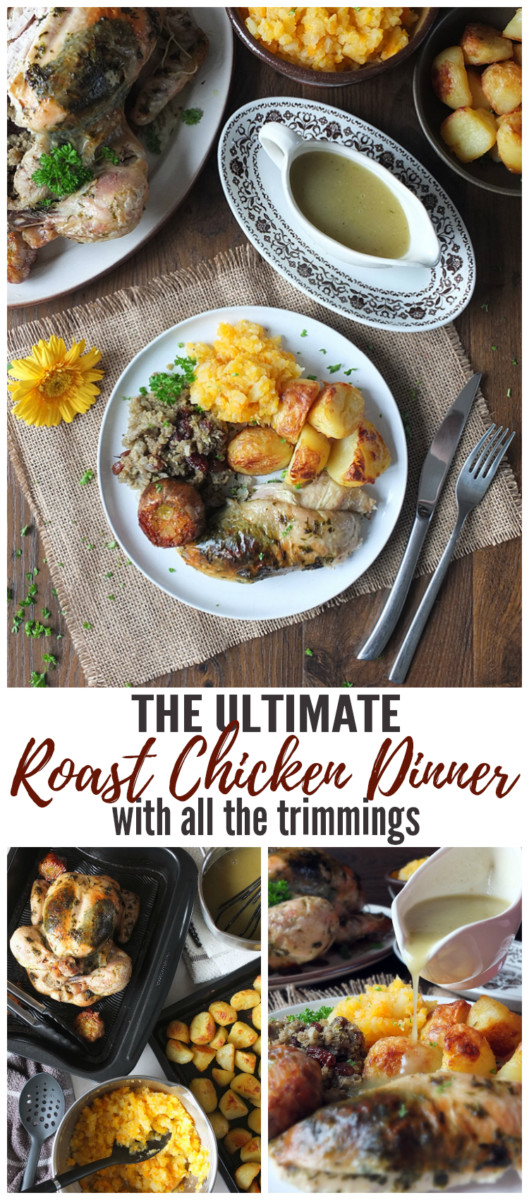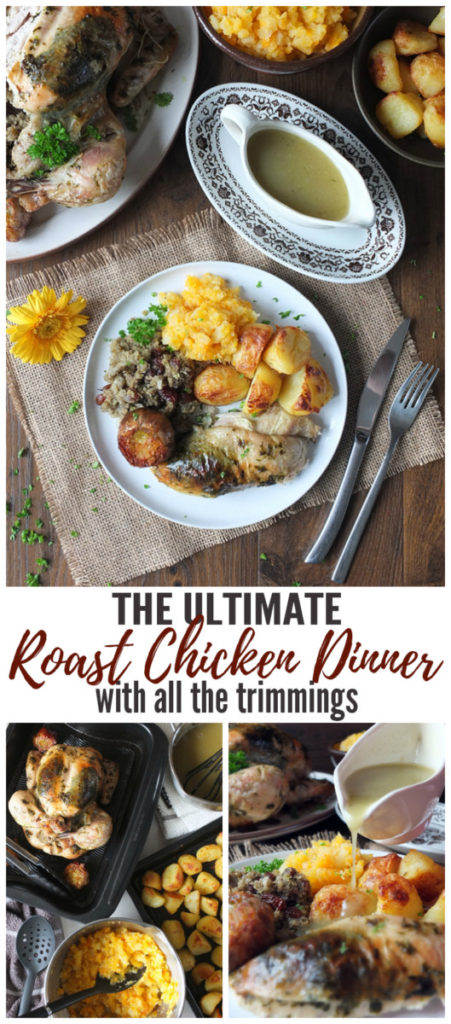 This is a sponsored recipe post in collaboration with Tesco, although all thoughts and opinions expressed are our own. Thank you for supporting the brands who make it possible for me to do what I love: mess up my kitchen and share recipe stories.