In collaboration with a2 Milk™ & Percol Coffee.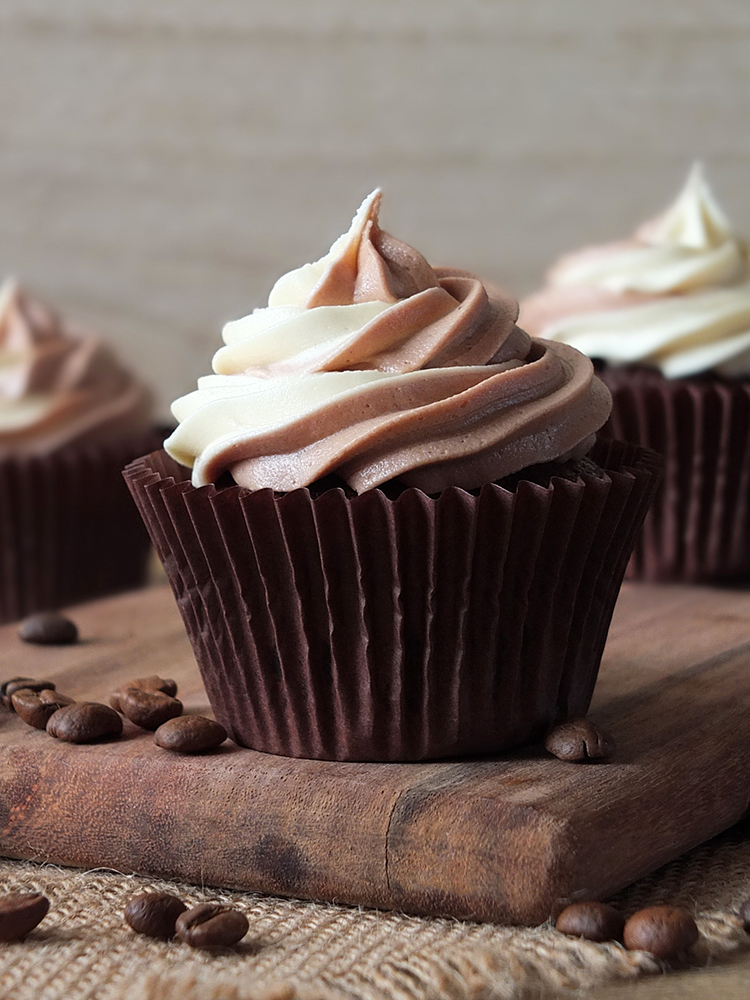 I have to confess, I am a bit of a coffee addict. I love my morning cuppa(s), plus one more to help keep me going around mid-afternoon. I love coffee flavoured things too, cakes, sweets, cupcakes, you name it. The only thing better than coffee is a combination of chocolate and coffee. Perfection!
These cupcakes are really simple to make too. No creaming of ingredients required. Simply sift the dry ingredients, melt together the butter, cocoa and freshly made strong coffee and stir in the milk, egg and vanilla. Easy peasy!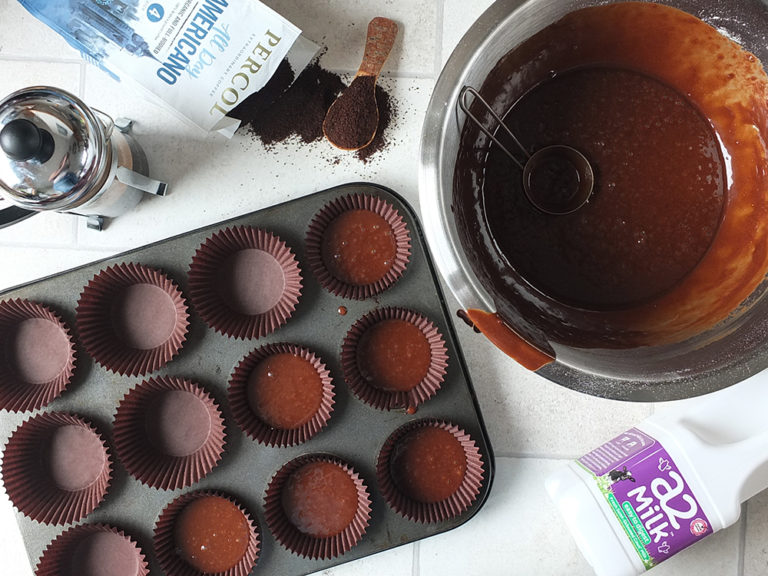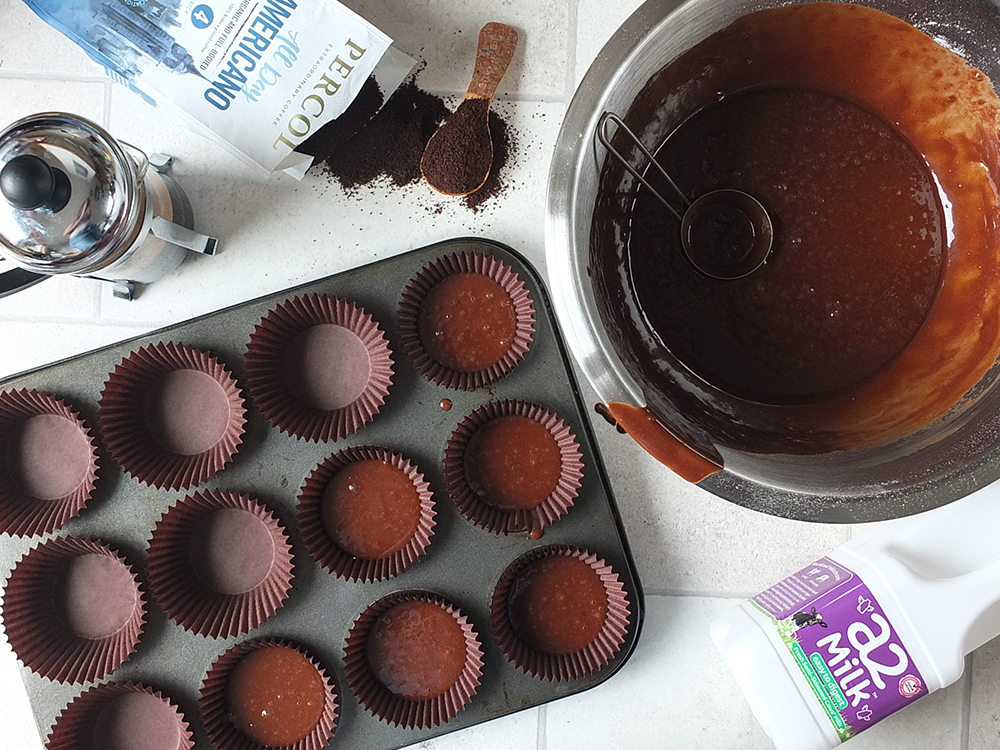 Did you know that not all cow's milk is the same? Way back when, all cows only produced the A2 protein, but domestication of the cattle led to cows developing the A1 protein. Nearly 70% of all dairy cows these days produce the A1 protein, which can trigger the symptoms of milk intolerance in sensitive individuals as the A1 protein is much more difficult to digest than the A2 protein.
a2 Milk™ contains no A1 protein, meaning it's gentle on sensitive tummies. It's natural cows' milk with nothing added and nothing is taken away, just as nature intended. As such, it's suitable for the whole family.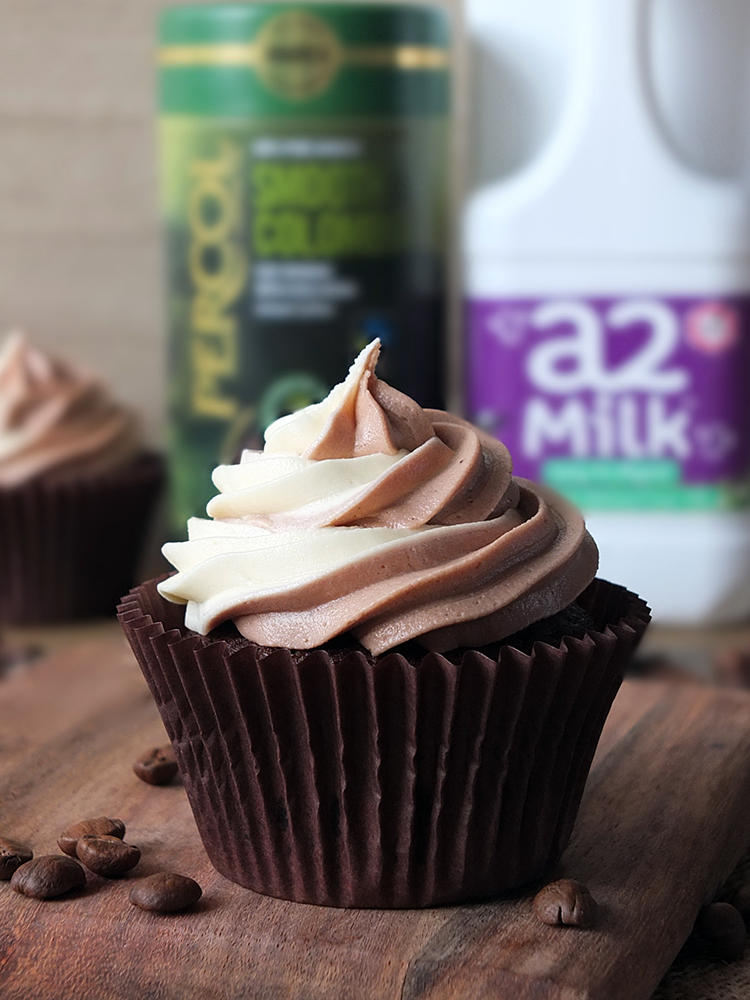 Percol Coffee is a small, London-based team of coffee lovers along with a little office dog called Lupo. They're the only brand which offers a delicious range of instant, ground, whole beans, capsules and coffee bags. This means you can find the perfect cuppa for every occasion, whether you've got time to freshly grind your own beans or feel like an instant pick me up.
Percol has always had a focus on sustainability and responsibility from bean to cup and choose to use Rainforest Alliance, Fairtrade and organic certified coffees.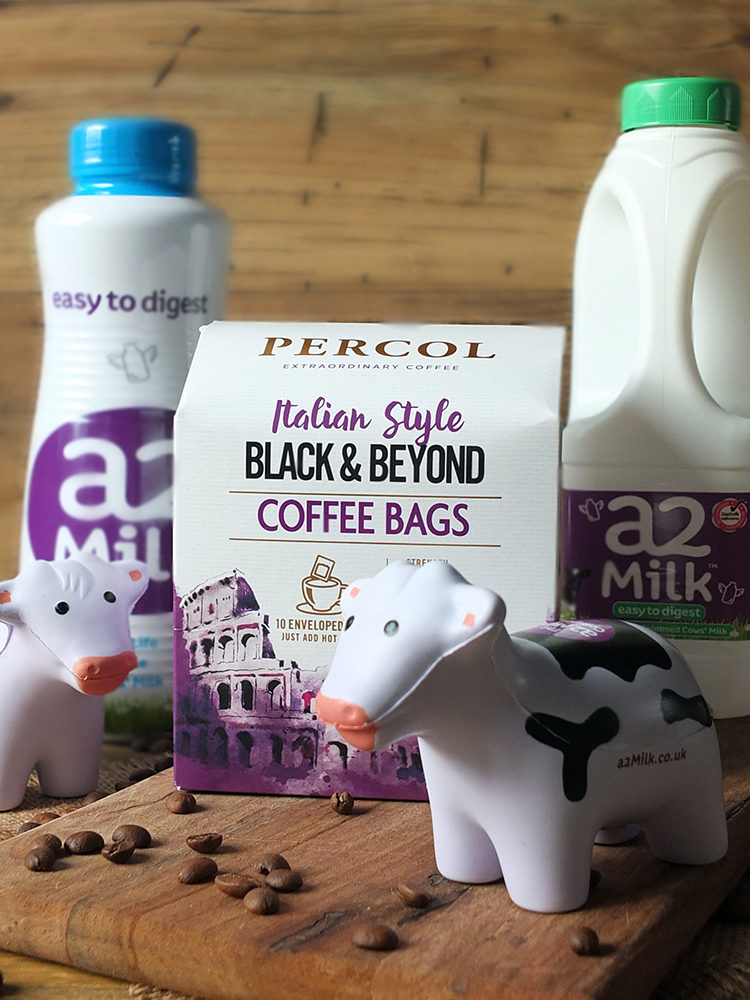 The latest addition to the Percol range are coffee bags. They're as easy to use as tea bags, so you can enjoy a proper cup of ground coffee – without the fuss. I reckon these would be absolutely perfect for camping and Autumn hill walks.
For my cupcake recipe, I've combined the delicious flavour of Percol and the tummy-friendly a2 Milk™. I've used goat's butter, which is also naturally free from the A1 protein and can be found in most supermarkets.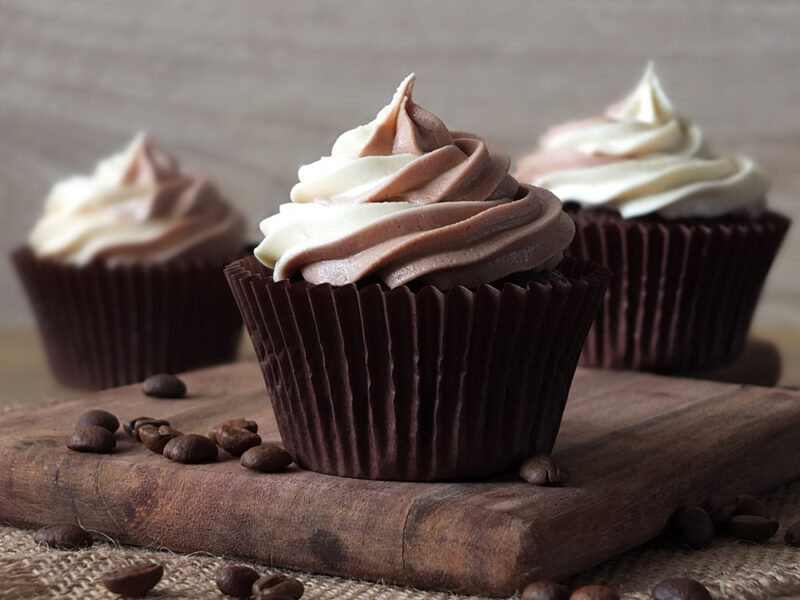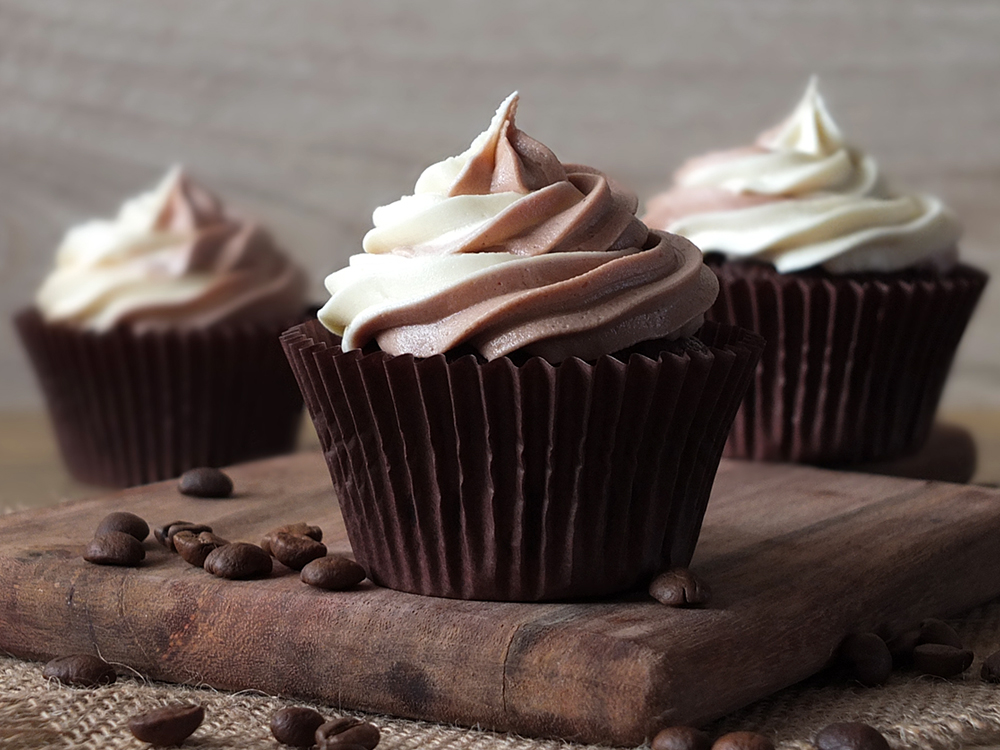 You can find a2 Milk™ on most leading Supermarket shelves or online. They're also on Facebook, Twitter and Instagram. Percol coffee is also on the social media scene: follow them on Facebook, Twitter and Instagram. Look out for their products in many leading supermarkets.
a2 Milk™ and Percol have teamed up to offer my blog readers two fab prizes of a Nespresso machine, loads of coffee, a Keep Cup, tote bag, milk jug and more! To enter visit my Instagram post and my Facebook post and follow the instructions given. Two chances to win! Hurry, as the winner will be randomly selected on the 6th of November.
In the meantime, here's some cake. 🙂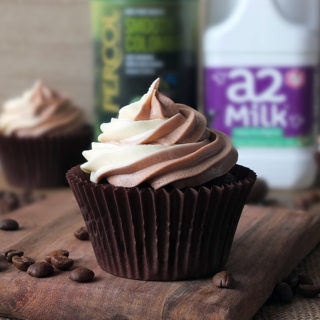 Chocolate & Coffee Cupcakes with Coffee Swirl Frosting
These simple to make chocolate cupcakes with a hint of coffee are topped with a chocolate and coffee two-tone swirl frosting.
Print
Rate
Ingredients
for the chocolate coffee cupcakes
for the chocolate coffee swirl frosting
Affiliate Links
This recipe card may contain affiliate ingredient and equipment links. As an Amazon Associate I earn from qualifying purchases.
Instructions
Preheat your oven to 190C/170C(fan)/375F/gas mark 5 and line a 12-hole muffin tin with paper cupcake cases.

Sift together the flour, bicarbonate of soda, caster sugar and brown sugar together. Set aside.

Make a strong cafetiere of Percol coffee. Measure out 115ml and add to a small saucepan along with the goat's butter and cocoa powder. Gently heat until everything has melted. Do not allow to boil.

Measure out the A2 milk in a measuring jug. Add the vinegar and stir. Crack in the egg and add the vanilla.

Add the cooled coffee chocolate mixture to the dry ingredients along with the milk mixture. Stir well to combine. The batter will be thin.

Spoon into the prepared cupcake cases.

Bake in the centre of the oven for 20 minutes, until well risen. A skewer inserted in the centre of the cupcakes will come out clean when they are done.

Transfer to a wire rack to cool completely.

To prepare the frosting, beat the butter and icing sugar together until well combined. Divide the frosting in half (400 grams in two bowls).

Add the cocoa powder and milk to one half and beat well until light and fluffy. Add the cold coffee to the other half, beating well.

When the cupcakes have cooled, place a large star nozzle into a large piping bag. Carefully spoon each frosting into either side of the piping bag (or use a dual icing bag) and pipe large swirls of frosting on top of each cupcake.
Notes
a2 Milk™ is not suitable for cows' milk protein allergy. If you have been medically diagnosed with any milk intolerance, seek advice from your doctor before use.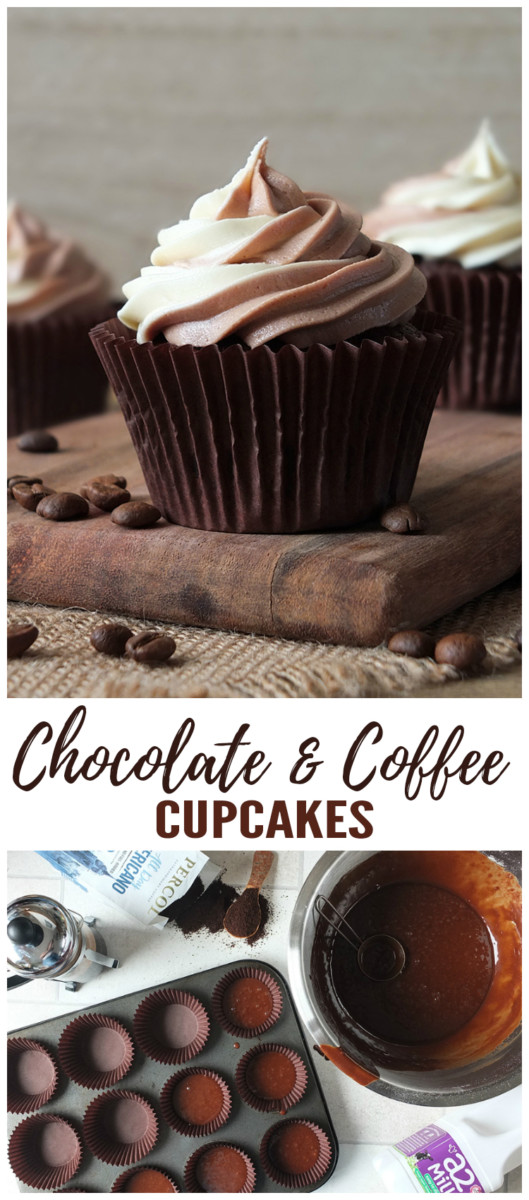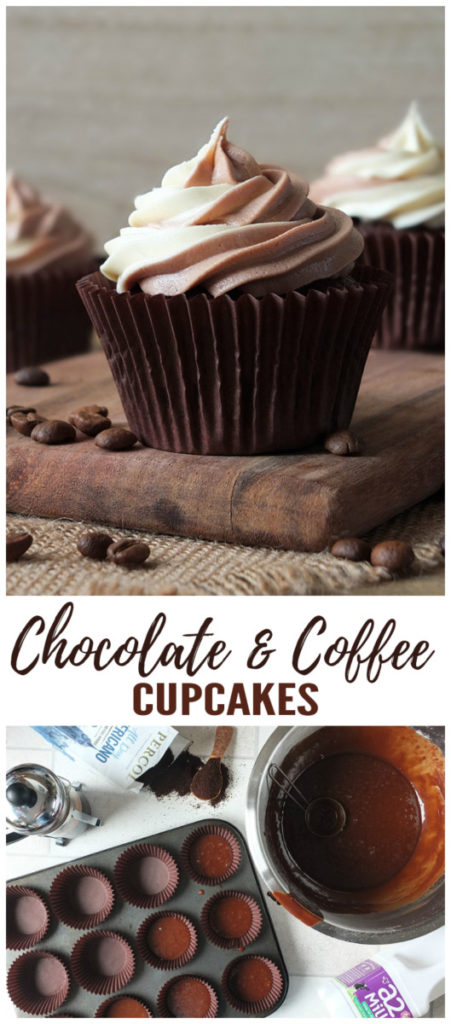 This is a sponsored recipe in collaboration with a2 Milk™ and Percol coffee. All thoughts and opinions expressed are our own. Thank you for supporting the brands who make it possible for me to do what I love: mess up my kitchen and share recipe stories.