In collaboration with a2 Milk™ & Percol Coffee.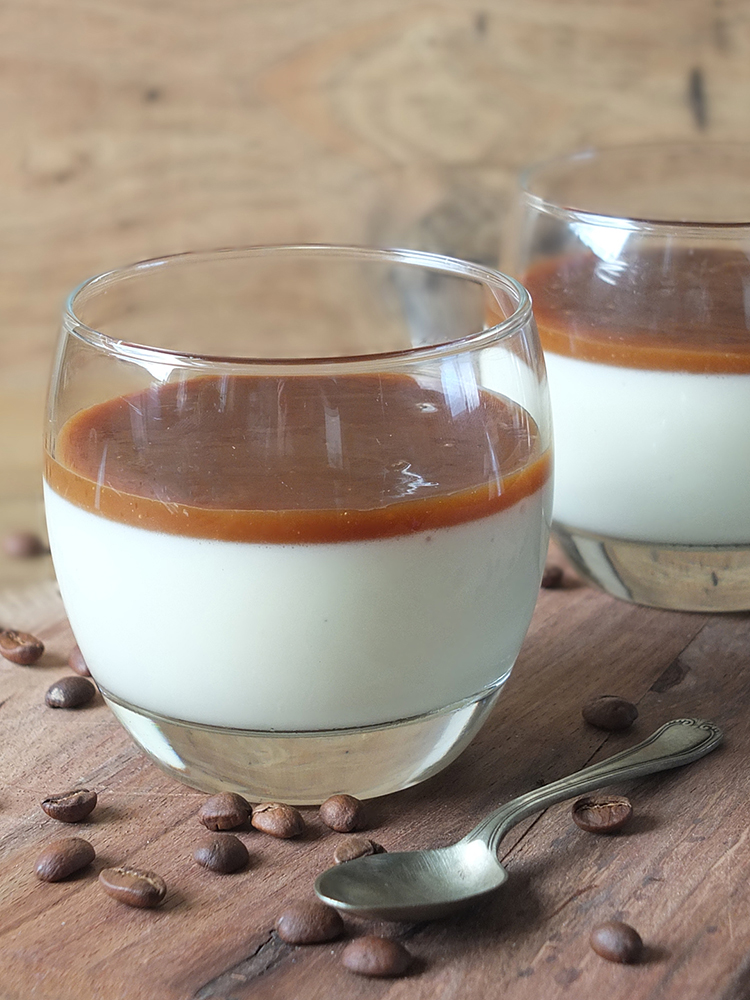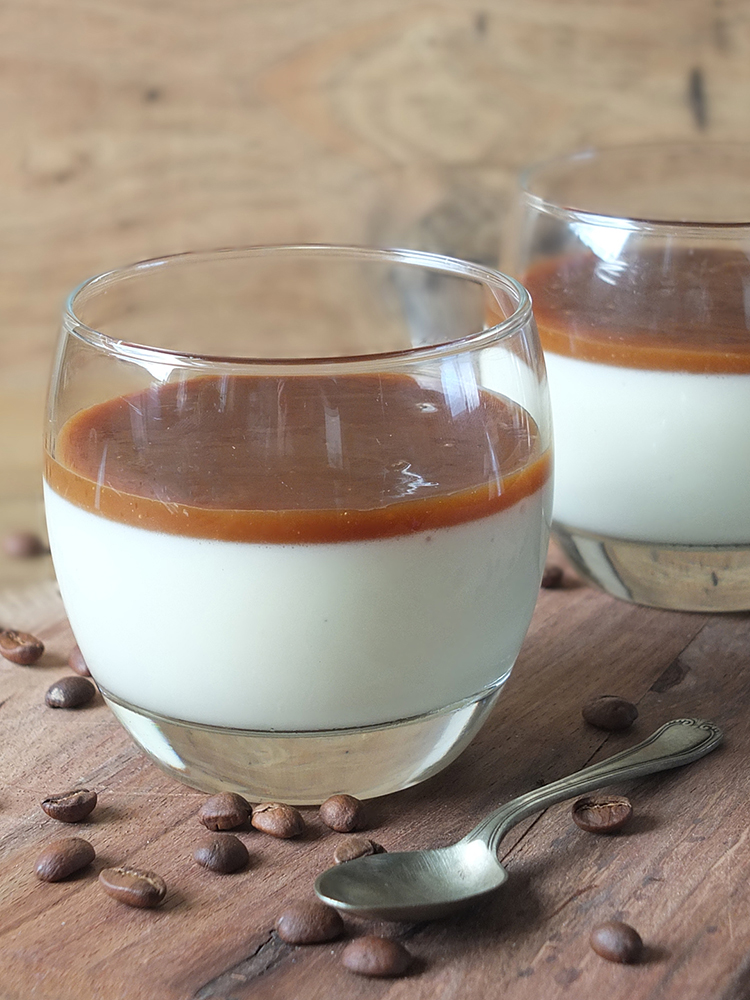 Panna cotta is one of the easiest desserts ever to make – simply set cream, milk and sugar with some gelatine and top with your favourite sauce!
For this recipe, I've combined the delicious flavour of Percol coffee and the tummy-friendly a2 Milk™ in a dessert which will be sure to impress any dinner guests, and it's virtually fuss-free to make too!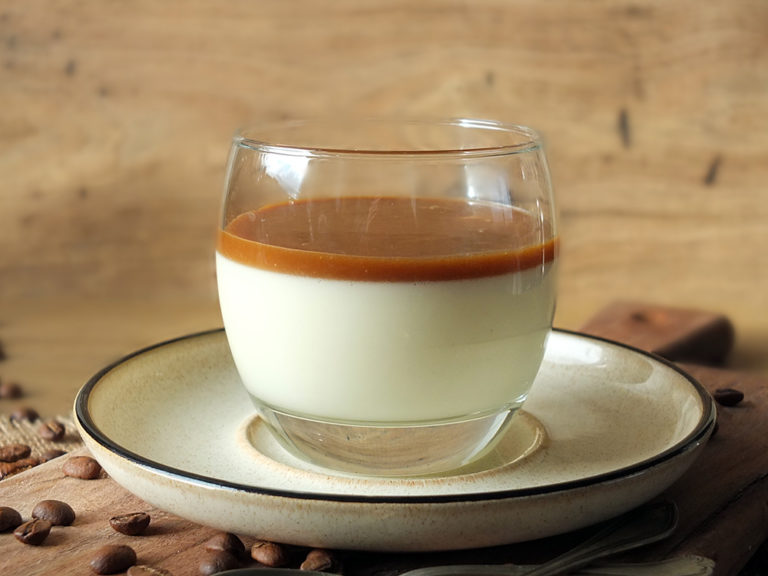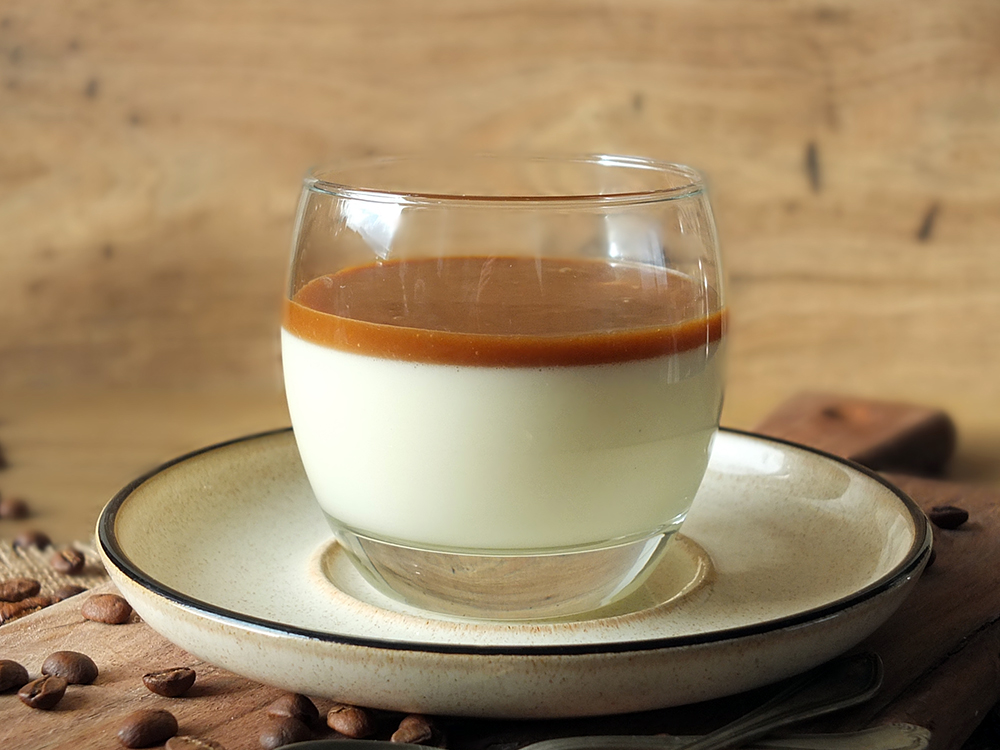 My husband has declared panna cotta to be his new favourite dessert, and I'm quite delighted as it really is remarkably easy to make. All you need to do is sprinkle the contents of one gelatine sachet, the kind you can find in the baking section at your local supermarket (gelatine leaves are too faffy for my tastes, if I'm to be honest, I like to keep it simple!) over half of the milk you're using, leave it for a few minutes, heat and blend into the remaining ingredients. Then you simply pour into your dessert dishes. You could, if you wanted, lightly grease your dish to turn the panna cotta out onto a serving plate, but like I said, I like to keep things simple.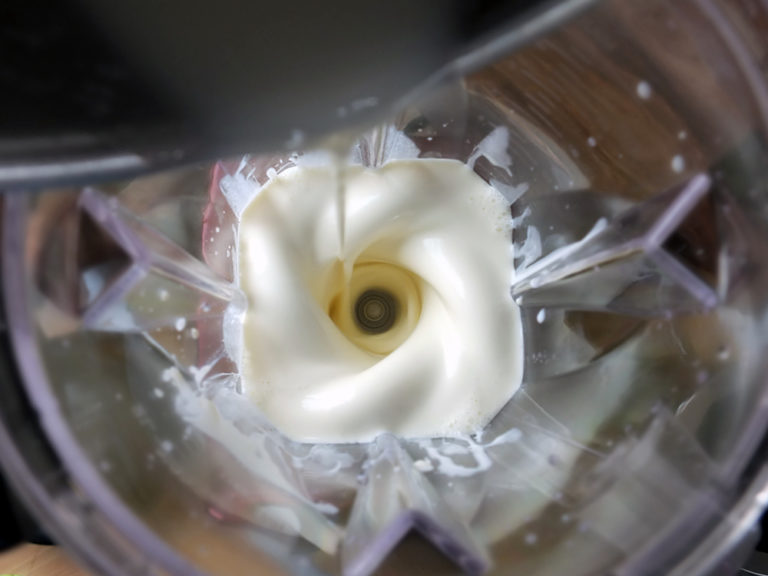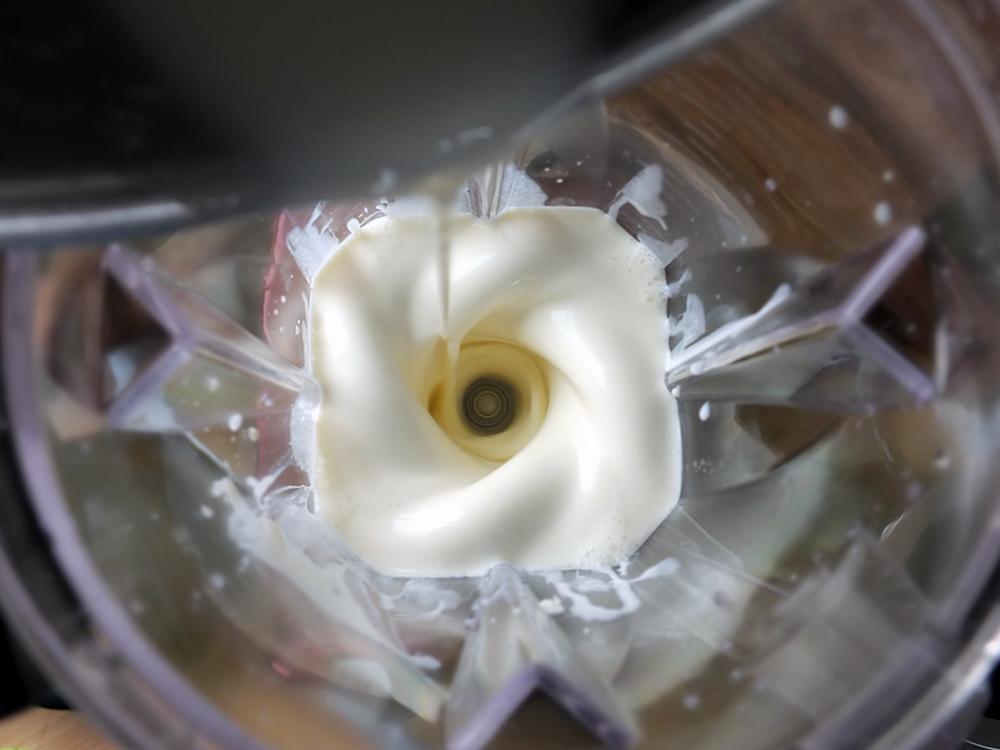 Percol Coffee is a small, London-based team of coffee lovers along with a little office dog called Lupo. They're the only brand which offers a delicious range of instant, ground, whole beans, capsules and coffee bags. This means you can find the perfect cuppa for every occasion, whether you've got time to freshly grind your own beans or feel like an instant pick me up.
For this recipe, I've used their Smooth Columbia 100% pure arabica instant coffee granules to flavour a homemade coffee caramel sauce.
Percol has always had a focus on sustainability and responsibility from bean to cup and choose to use Rainforest Alliance, Fairtrade and organic certified coffees.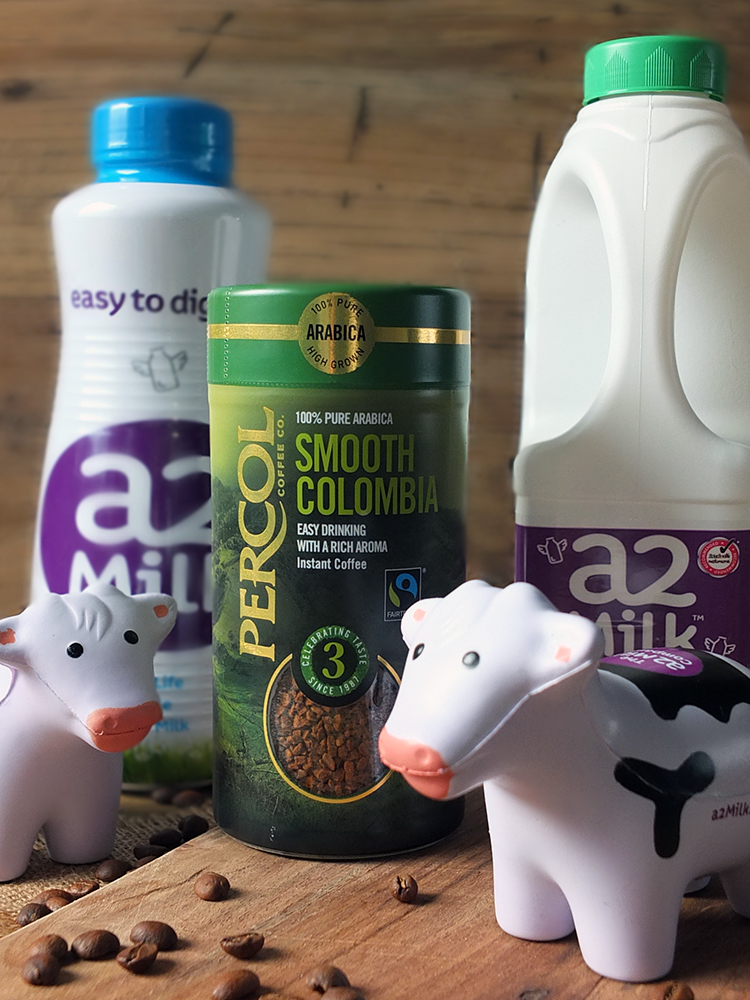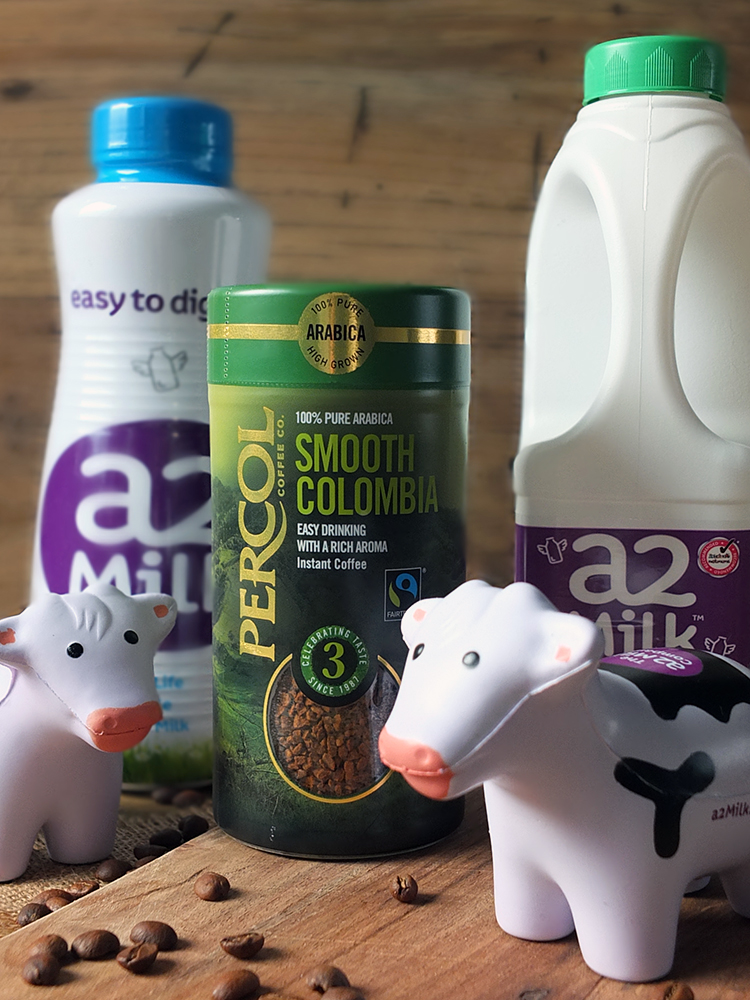 Also, did you know that not all cow's milk is the same? Way back when, all cows only produced the A2 protein, but domestication of the cattle led to cows developing the A1 protein. Nearly 70% of all dairy cows these days produce the A1 protein, which can trigger the symptoms of milk intolerance in sensitive individuals as the A1 protein is much more difficult to digest than the A2 protein.
a2 Milk™ contains no A1 protein, meaning it's gentle on sensitive tummies. It's natural cows' milk with nothing added and nothing is taken away, just as nature intended. As such, it's suitable for the whole family.
I've combined the tummy-friendly a2 Milk™ with goats cream for my panna cotta, a cream which is also naturally free from the A1 protein and can be found in most supermarkets.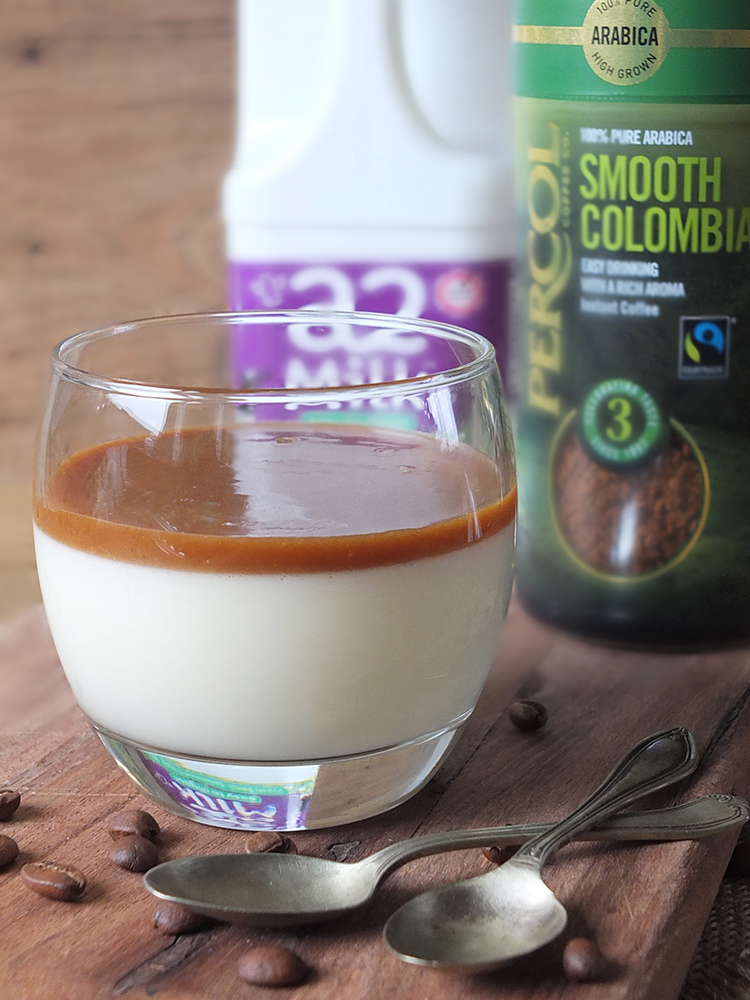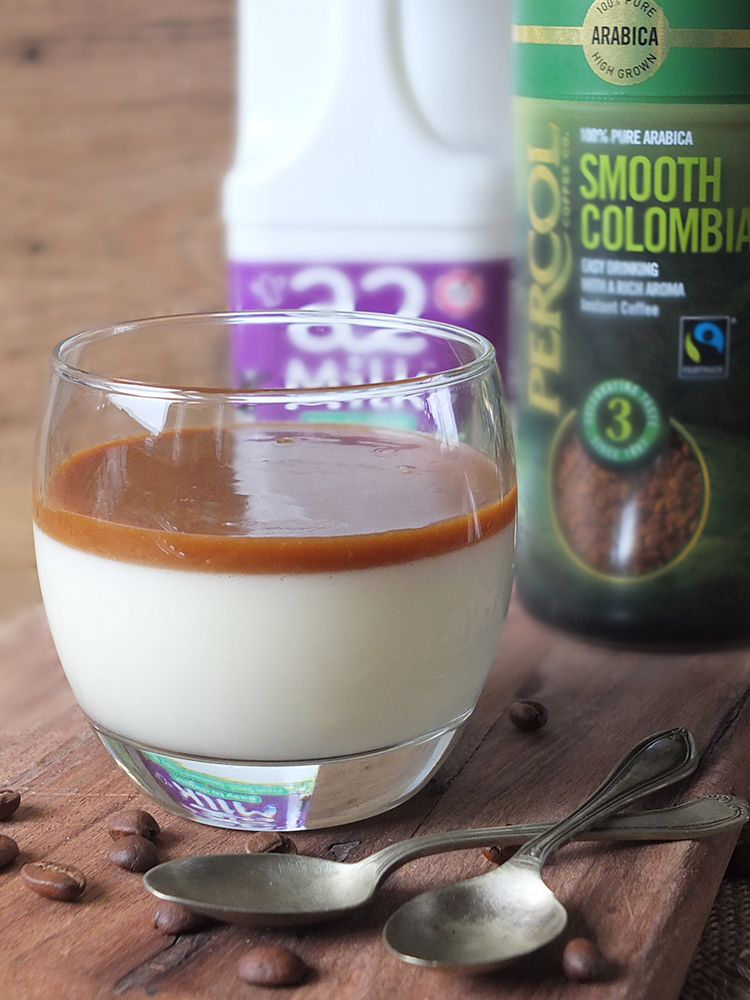 You can find a2 Milk™ on most leading Supermarket shelves and on Facebook, Twitter and Instagram.
Percol coffee is also on the social media scene: follow them on Facebook, Twitter and Instagram. Look out for their products in many leading supermarkets.
a2 Milk™ and Percol have teamed up to offer my blog readers two fab prizes of a Nespresso machine, loads of coffee, a Keep Cup, tote bag, milk jug and more! To enter visit my Instagram post and my Facebook post and follow the instructions given. Two chances to win! Hurry, as the winner will be randomly selected on the 6th of November.
In the meantime, here's a rather delicious panna cotta recipe for you!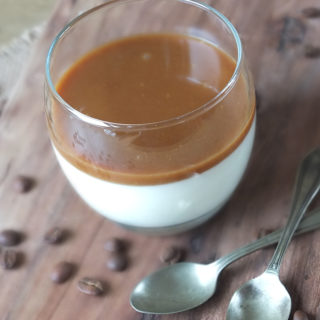 Vanilla Panna Cotta with Coffee Caramel Sauce
This quick and easy-to-make dessert will be sure to impress dinner guests!
Print
Rate
Ingredients
for the vanilla panna cotta
for the coffee caramel sauce
Affiliate Links
This recipe card may contain affiliate ingredient and equipment links. As an Amazon Associate I earn from qualifying purchases.
Instructions
To prepare the panna cotta, measure out 125 ml of the a2 Milk™ into a small saucepan and sprinkle over the contents of the gelatine sachet. Stir gently and leave to sit for five to ten minutes.

Gently heat the a2 Milk™ and gelatine until the gelatine granules have completely dissolved. Rub the a2 Milk™ between your thumb and fingertips; you will not be able to feel the gelatine when it is ready.

Meanwhile, place the remaining a2 Milk™, the goat cream and vanilla sugar into a blender and blend on low until combined.

With the blender still running on low, slowly pour in the a2 Milk™ and gelatine.

Pour into four individual serving glasses and chill in the refrigerator for two hours.

To make the coffee caramel sauce, crush the Percol instant coffee granules in a mortar and pestle to a fine powder. Dissolve in the hot water and add to the goat's cream. Set aside.

Pour the caster sugar into a medium sized non-stick pan and heat over a medium-high temperature. Using the handle of a wooden spoon, slowly trace a circle pattern in the sugar to keep it moving as it melts. Keep stirring until the sugar has melted completely and is a lovely golden caramel colour, about ten minutes.

When the sugar has caramelized, stir in the butter until it has melted completely and add the coffee cream. Stir until combined and remove from the heat. Pour into a bowl and set aside to come to room temperature.

To serve, spoon one quarter of the room temperature coffee caramel sauce over the top of each of the individual vanilla panna cottas.
Notes
Make your own vanilla sugar! When you've used the vanilla seeds from a vanilla pod in another recipe, place the empty pod in a container full of caster sugar and leave for a few weeks for the flavour to develop.
a2 Milk™ is not suitable for cows' milk protein allergy.
If you have been medically diagnosed with any milk intolerance, seek advice from your doctor before use.
Environmental Information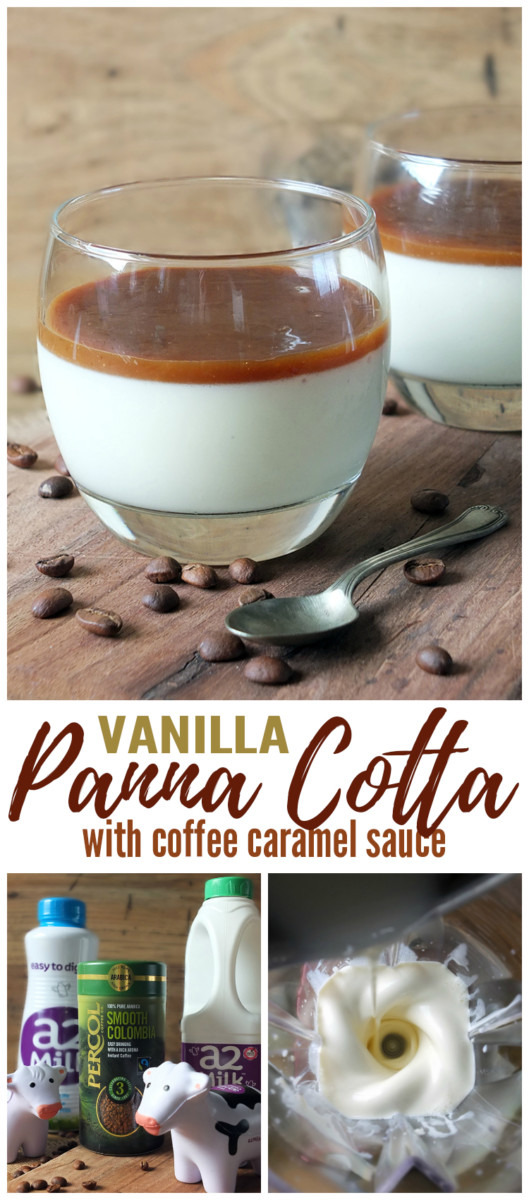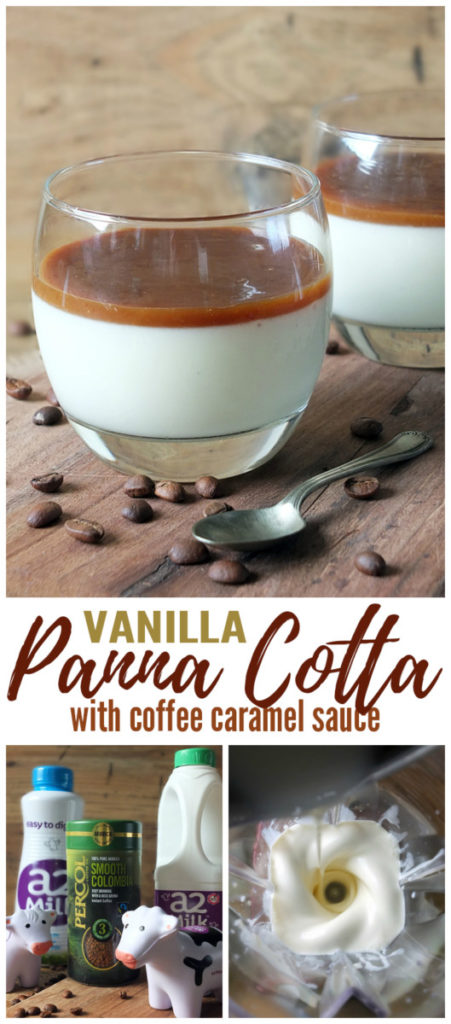 This is a sponsored recipe in collaboration with a2 Milk™ and Percol coffee. All thoughts and opinions expressed are our own. Thank you for supporting the brands who make it possible for me to do what I love: mess up my kitchen and share recipe stories.