In collaboration with Juliette's Interiors.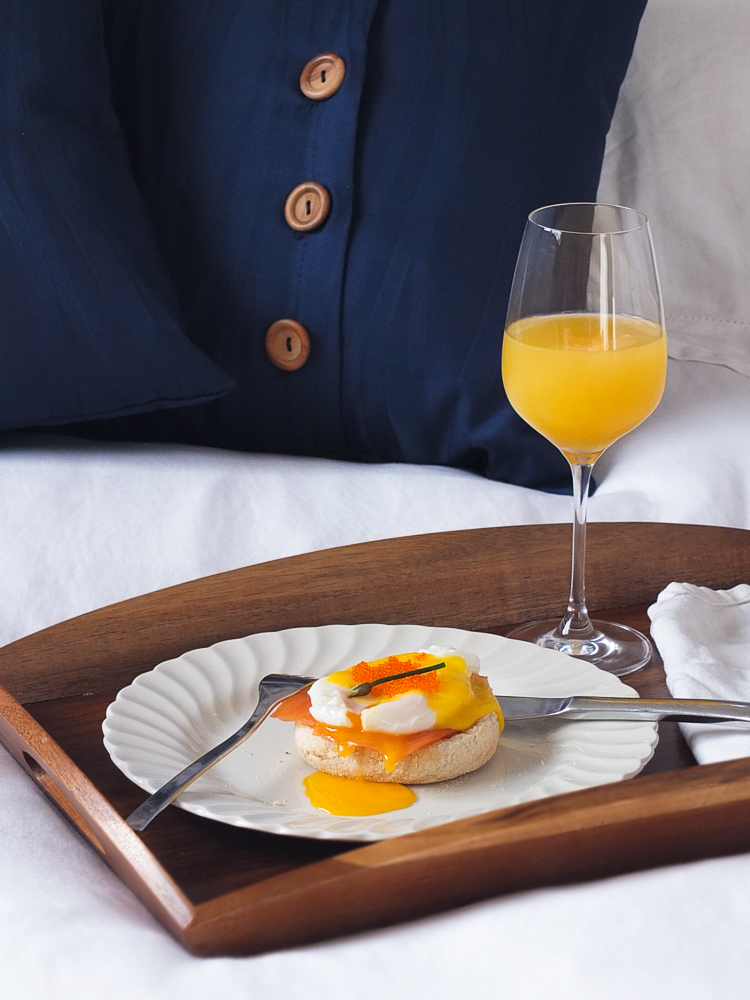 I confess I've been rather spoiled of late. I've had some amazing opportunities this year to travel and to eat some of the finest food from Scotland, Paris, Italy, Spain and the Caribbean. As one who draws inspiration for her home-cooking from food eaten abroad, I often return from these trips filled with ideas for recipes to recreate at home.
One of these ideas was to recreate a luxury brunch I enjoyed in Aruba last month – eggs Benedict with salmon tobiko served with a Mimosa, pictured below. I confess I may have developed a fondness for Sunday morning Mimosas.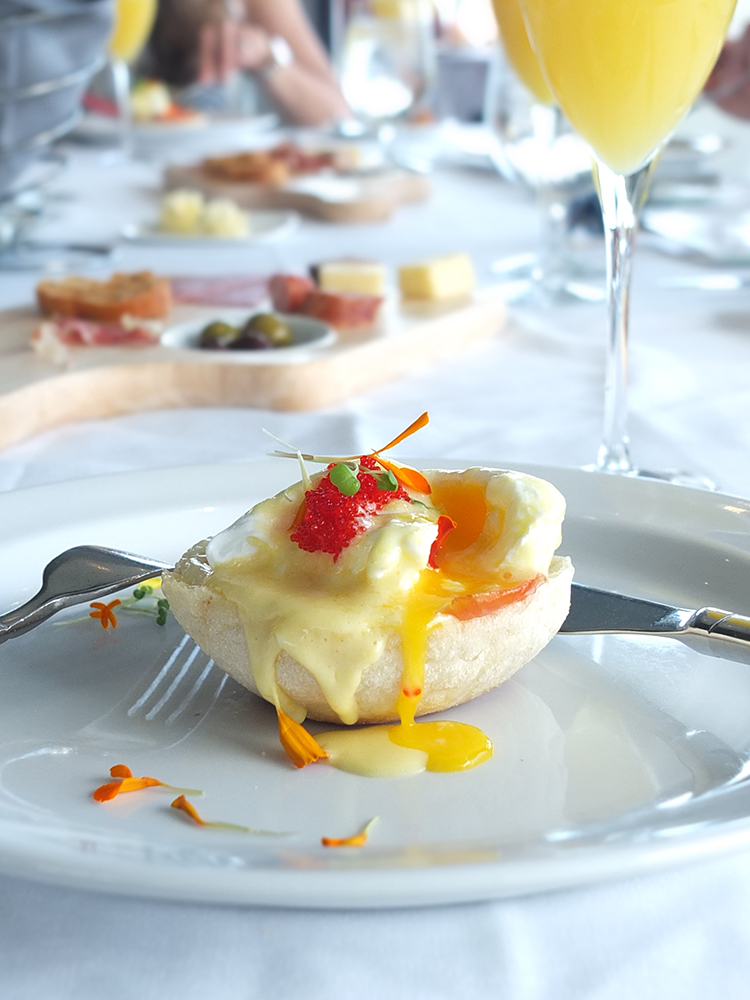 One of the other things I've learned, after staying in so many luxury hotels while travelling, is how nice it is to sleep in a luxurious bed. Our own mattress is less than 18 months old, and although it was comfortable enough when we first bought it, all the springs now creak for some reason!
So, I've been daydreaming of buying a new bed, in fact, I'd like to renovate the entire bedroom. A proper luxury retreat for my husband and I, with a mattress that doesn't creak.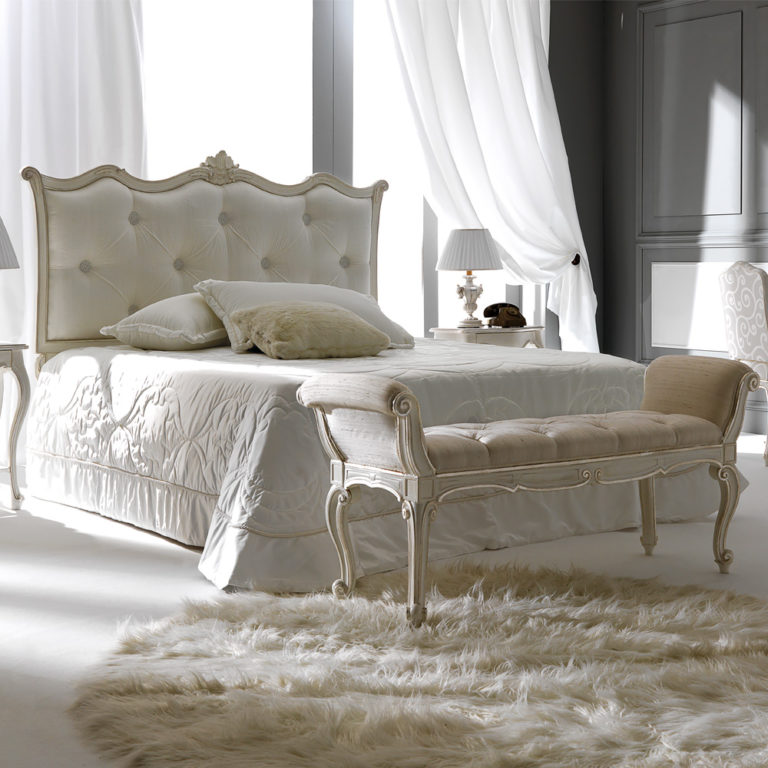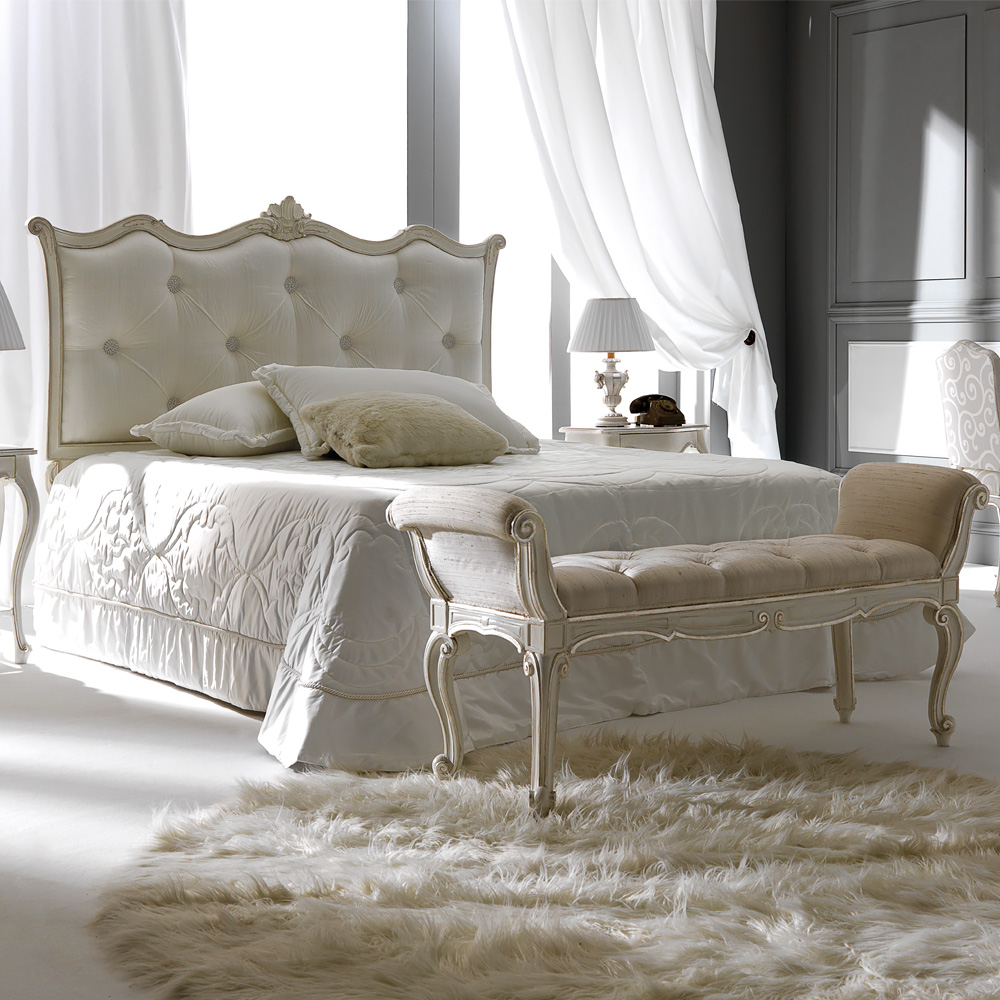 I've been browsing Juliette's Interiors, daydreaming of what kind of luxury bed I would love to own and eat breakfast in bed in, and I keep going back to the Curved White Designer Italian Silk Button Upholstered Bed, pictured above. Can you imagine crawling into that bed under a feather duvet and freshly washed sheets at the end of the day? Heavenly!
A luxury bed like this requires a luxury mattress too. The Royal Comfort Sovereign Hypnos mattress (pictured below) features hand teased hair and lambswool wrapped around a unique hourglass-shaped pocket spring system. I bet those springs won't creak after 18 months!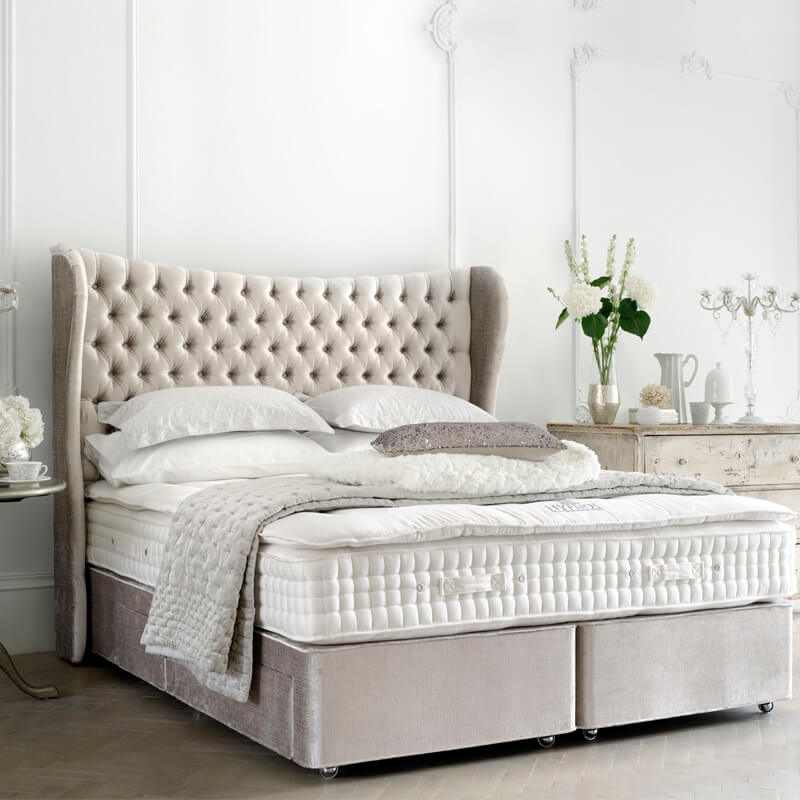 So a luxury bed and mattress are crying out for a luxury breakfast in bed, are they not?
Like I mentioned earlier, this recipe was inspired by a brunch I enjoyed in the Caribbean. I noticed that instead of halving the English muffin, like we usually do, just the top edge was taken off so it was thicker. I use the tines of a fork to cut my English muffins; just press them into the centre of the muffin along the edge and separate the two halves. This results in a nice, textured toasting surface, perfect for melting butter into.
My breakfast also features smoked Shetland salmon, which I firmly believe to be the finest in the world. Shetland salmon is now available in many UK supermarkets – just keep an eye out for its origin.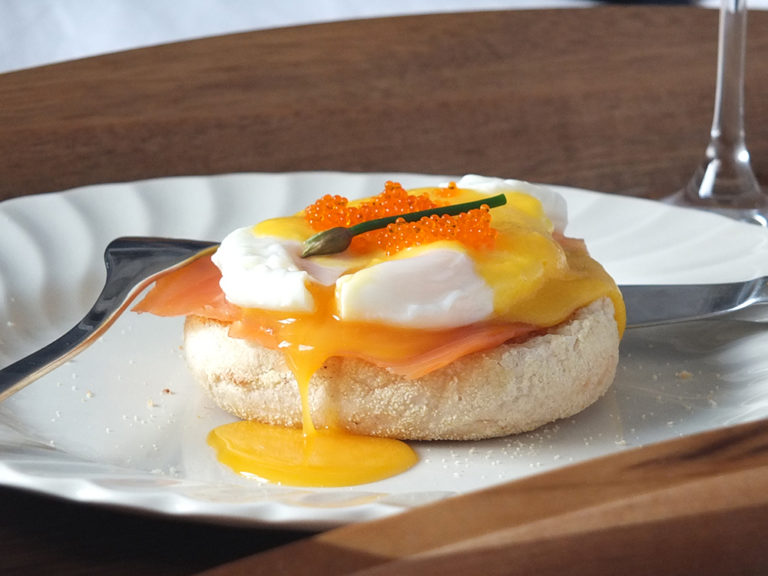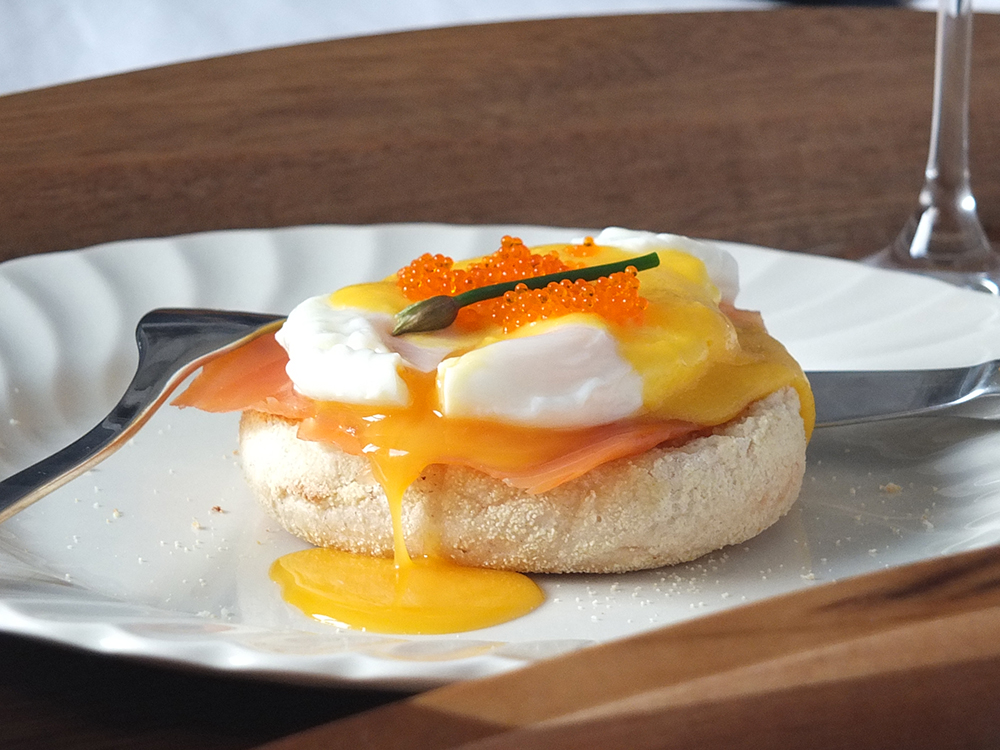 This is topped with my perfectly poached egg. Poaching eggs are one of my talents, my husband says, but it's not really that hard to do. I use a small, deep frying pan with about 1.5 inches of simmering water, to which a capful of apple cider vinegar has been added. The secret is to crack the eggs into a ceramic mug first (one egg per mug) and to carefully drop them into the simmering water. No more than two eggs should cook at a time in a small frying pan, or the water will cool too quickly. Set your timer, toast your English muffin and by the time it's toasted and buttered the egg will be ready. Just make sure to drain it before topping the smoked salmon.
For this recipe, it's the hollandaise sauce that takes some practising to get right, and if I am to be honest I'm not entirely there yet myself. Still, it's easy enough to salvage a split sauce and get away with it. I'd recommend reducing the vinegar a day or two in advance if you don't want the smells of simmering vinegar to be wafting through your luxurious breakfast.
Tobiko, in case you didn't already know, is flying fish roe and it's usually used to garnish sushi. You can order it online from London. Edible flowers? Well, all that was left in my garden in October was a single chive bud, so that had to do!
What luxury bed would you like to eat your breakfast in bed in? Why not pop over to Juliette's Interiors and have a browse!
COMPETITION TIME!
I'm not the only blogger dishing up a delicious luxury breakfast for you. There are five of us, and Juliette's Interiors will feature all five of our breakfasts on their blog on Friday 3 November and on social media throughout the following 10 days. Click here to see the other breakfasts and cast your vote!
You'll then have the chance to vote for your favourite! Voting is open until midnight on Sunday 12 November, and one person who likes, shares and comments will be chosen at random to win a Breakfast in Bed Box, pictured right, delivered to their home address while the winning blogger (pick me! pick me!) will win a Luxury Breakfast or Brunch at a local restaurant or hotel.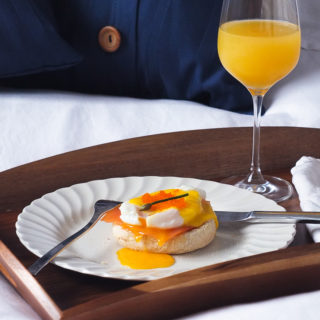 Luxury Eggs Benedict with Smoked Salmon & Tobiko
A perfectly poached egg sits on a buttered toasted English muffin, layered with smoked salmon, tobiko and homemade hollandaise sauce. Wash down with a Mimosa or two.
Print
Rate
Ingredients
for the hollandaise sauce
for the eggs Benedict
for the Mimosa
100

ml

freshly squeezed orange juice

100

ml

Champagne
Affiliate Links
This recipe card may contain affiliate ingredient and equipment links. As an Amazon Associate I earn from qualifying purchases.
Instructions
First, place the vinegar in a small saucepan and bring to a gentle simmer. Simmer for approximately 8 minutes, until it has reduced to 25 ml. Set aside to cool.

Meanwhile, clarify your butter. Gently melt it in a saucepan and skim the foam off the top.

Bring a small saucepan of water to a gentle simmer and place a heatproof bowl over it.

Add the egg yolks and vinegar reduction to the bowl and whisk until it becomes light, airy and foamy and forms ribbons when a spoon is dragged through it.

Slowly add the clarified butter to the mixture, stirring well to combine. You might need to take it on and off the heat during this stage so you don't over cook it, and take care not to overmix or it will separate. (see notes on how to rescue a split hollandaise sauce).

Set aside, covered, while you poach the egg and toast the English muffin.

To perfectly poach an egg, bring a small frying pan filled with about 1.5 inches of water and a capful of apple cider vinegar to a gentle simmer.

Crack your eggs into two separate coffee mugs (trust me!) and gently pour into the simmering water. Set your timer for 2 minutes.

Meanwhile, use the prongs of a fork to slice off the top of the English muffins about 1/4 of the way down. Toast, butter and arrange on a plate.

Top the buttered English muffins with the smoked salmon.

When the poached egg is done (you might need to swirl the water a bit for the last few seconds to get the top of the egg to solidify), carefully remove with a slotted spoon, drain and arrange on the top of the smoked salmon.

Spoon over the Hollandaise sauce and top with the tokibo. Garnish with edible flowers, if desired.

To make the Mimosas, pour equal parts of freshly squeeze orange juice and Champagne into a wine glass.

Serve (in bed!)
Notes
If your hollandaise sauce splits, simply add another egg yolk, 1 tsp of butter and 1 tsp of warm water to the mixture and gently stir together until it's the consistency of double cream.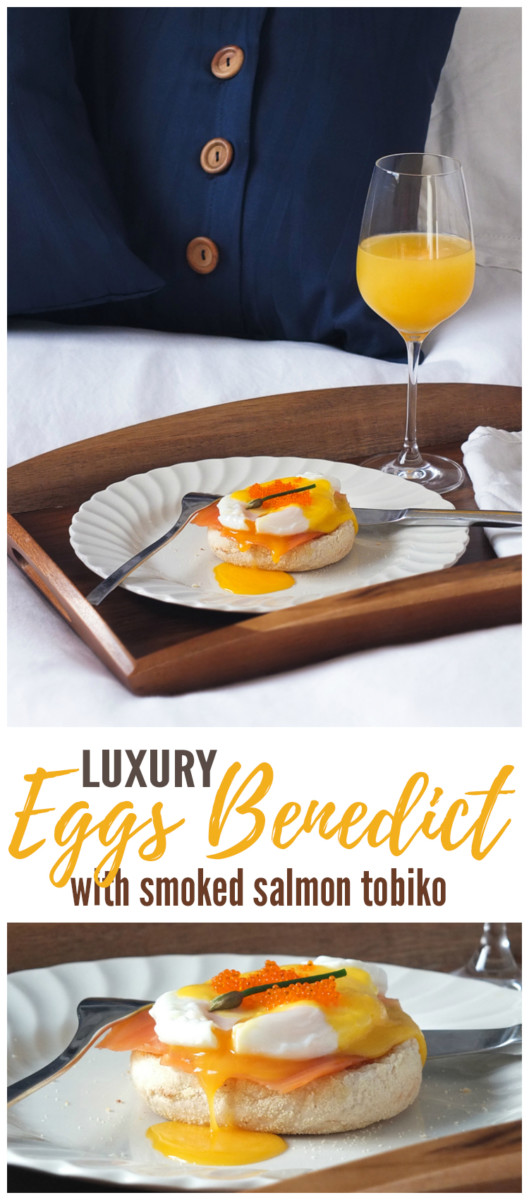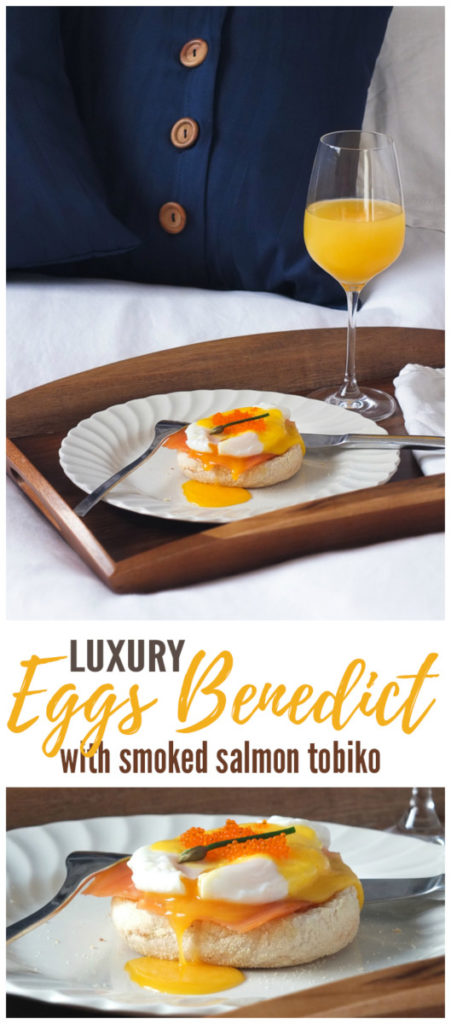 This is a commissioned recipe in collaboration with Juliette's Interiors. All thoughts and opinions expressed are our own. Thank you for supporting the brands who make it possible for me to do what I love: mess up my kitchen and share recipe stories.