In collaboration with Love Food Hate Waste.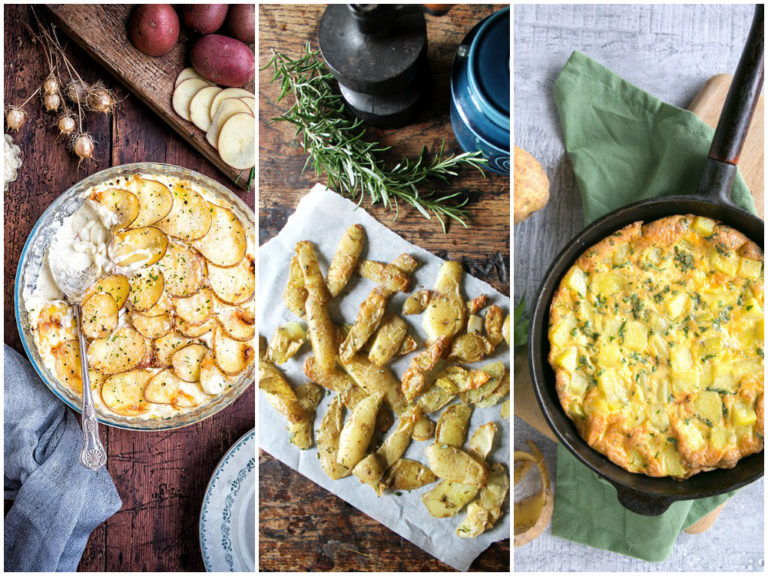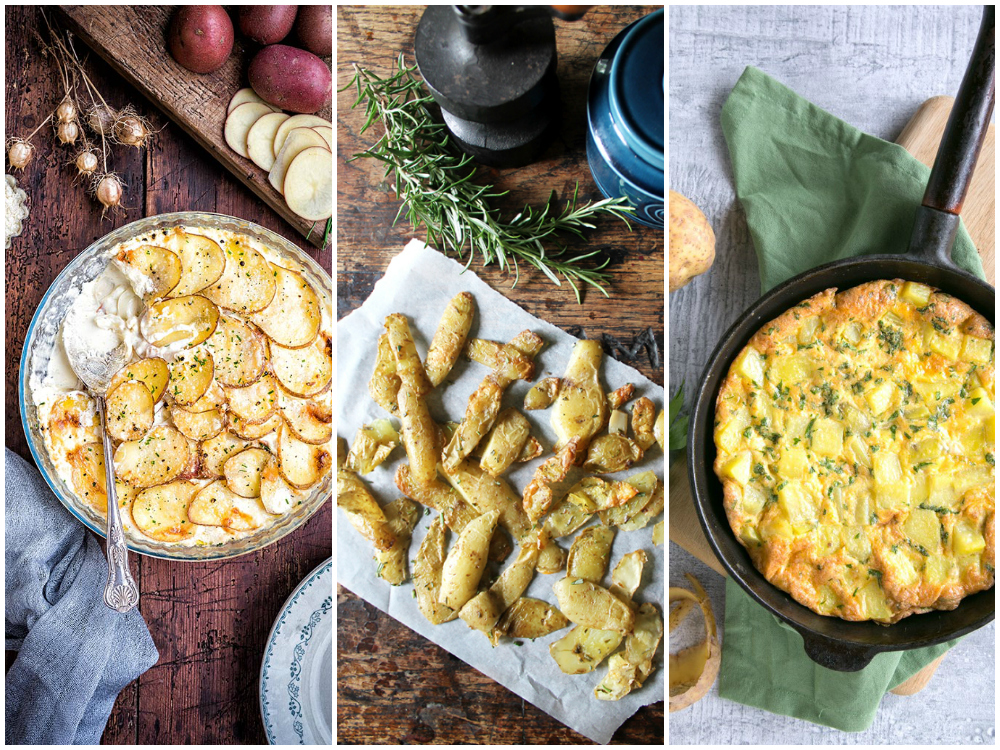 Potato season officially begins now with these longer, colder nights and sudden cravings for all things carbohydrate (ok, that could just be me…). Potato season means a surge in potato sales and therefore, potentially a rise in the number of potatoes thrown away.
Potatoes are one of the most demanded food products: 1.7 million tonnes are bought by UK households each year, yet 730,000 tonnes of these end up in the bin or compost. That's 46% of all potatoes bought! The main reason potatoes are thrown out is because they are not used in time, according to Love Food Hate Waste statistics. Most potatoes are thrown away unpackaged (89%) (it's better to store your potatoes in their original packaging if you can), and they were most likely to be thrown away in quantities greater than 800g, which suggests that either people are simply buying too many to start off with, they're not storing them in the best way to make them last, or they're not sure how to use them up. This accounts for 25% of all potato waste.
We're sure you can agree that this simply won't do. So, we've teamed up with Love Food Hate Waste to share some top storage tips and we've scoured the internet to find you some of the best UK food blogger potato recipes to help #SaveOurSpuds.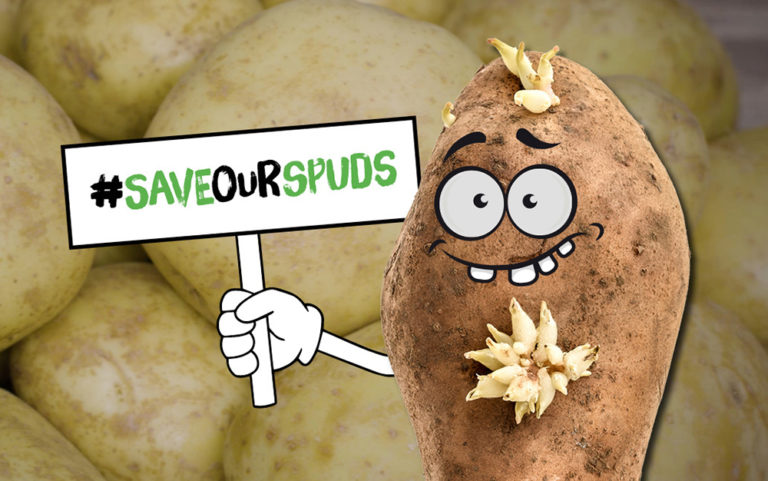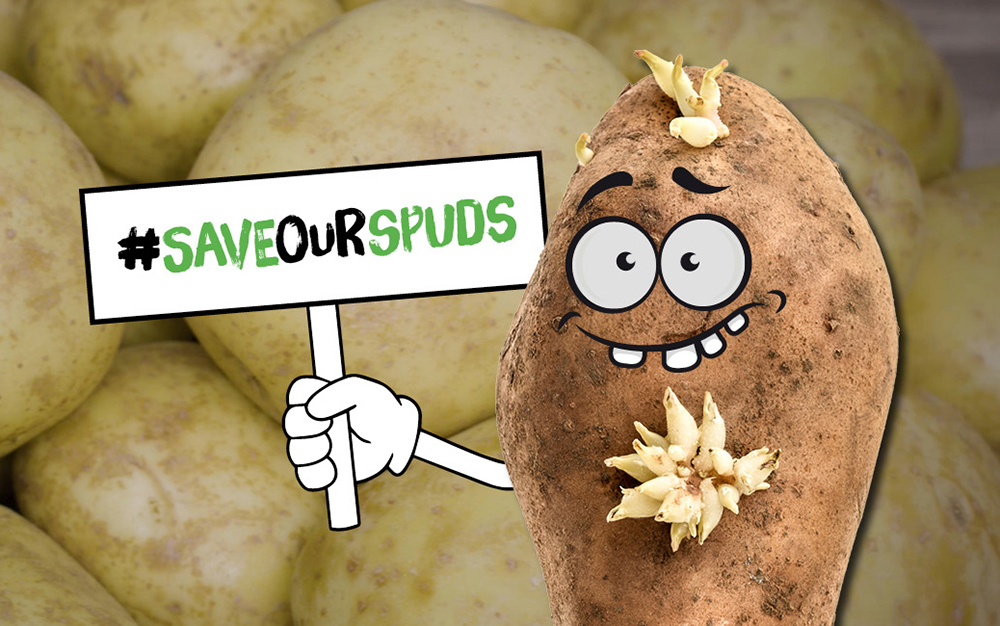 Top #SaveOurSpuds tips from Love Food Hate Waste include:
Store potatoes in a cool, dark, airy place because if they're left in a warm, well-lit place they'll start to sprout.
Either keep potatoes in their own packaging or, better yet, put them into a cloth or natural fibre bag.
Store potatoes away from strong-smelling foods like onions. Both onions and potatoes release gases that cause the other to spoil more quickly, so store them in separate cupboards.
Don't throw out the green potatoes – when exposed to artificial or natural light, potatoes can develop a green colour due to chemical changes, but you can just cut off the green bits and still eat the rest of the potato. No problems! Same goes with sprouted potatoes, just cut off the eyes. They're still edible.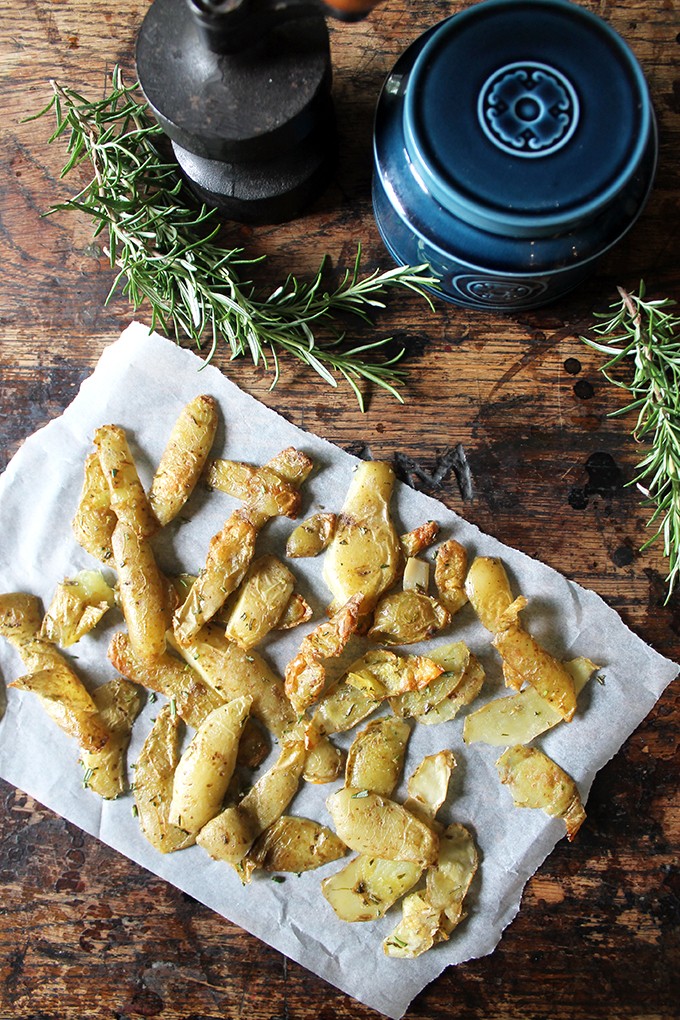 Top #SaveOurSpuds Tips & Recipes from UK Food Bloggers
Us food bloggers can be a rather creative bunch. Give us an ingredient and we can transform it into a hundred different recipes; something for every taste. Here are some of the best ways we use up our potatoes:
Roast them!
Roast potatoes are definitely one of the nation's favourite potato dishes. That crispy exterior and fluffy interior, no Sunday roast would be complete without them. However, what about those potato peelings?
Instead of throwing out the peels, just stick them into the oven and you'll have lovely homemade crisps/chips. They're a great way to reduce food waste. – Kate from Veggie Desserts. Try her Roasted Potato Peelings with Rosemary & Sea Salt
You could also try the Garlic & Rosemary Scalloped Potato Roast or Crispy Garlic & Herb Potato Wedges from Family, Friends, Food. Don't forget my rather fantastic Crispy Roast Potatoes!
Grate them!
Once such a staple carb, potatoes have been pushed to the sidelines by pasta, noodles and rice, which are all thought of as quicker carbs for midweek meals. But of course that's not true, you just have to cook potatoes in ways that minimise the cooking time, such as grating the potato so that it cooks quickly. Given that potatoes are a very natural ingredient, and a good source of fibre and potassium, I think it's time they get into the spotlight again. – Kavey from Kavey Eats. Try her Potato Rösti Pizza Base
Other recipes that use grated potato include Claire's Comté Cheese and Potato Rosti Waffles; Kavey's Parmesan & Paprika Potato Waffles; Emily's Creamy Tarragon Mushrooms on Potato Rostis or Camilla's Potato Rosti Waffles.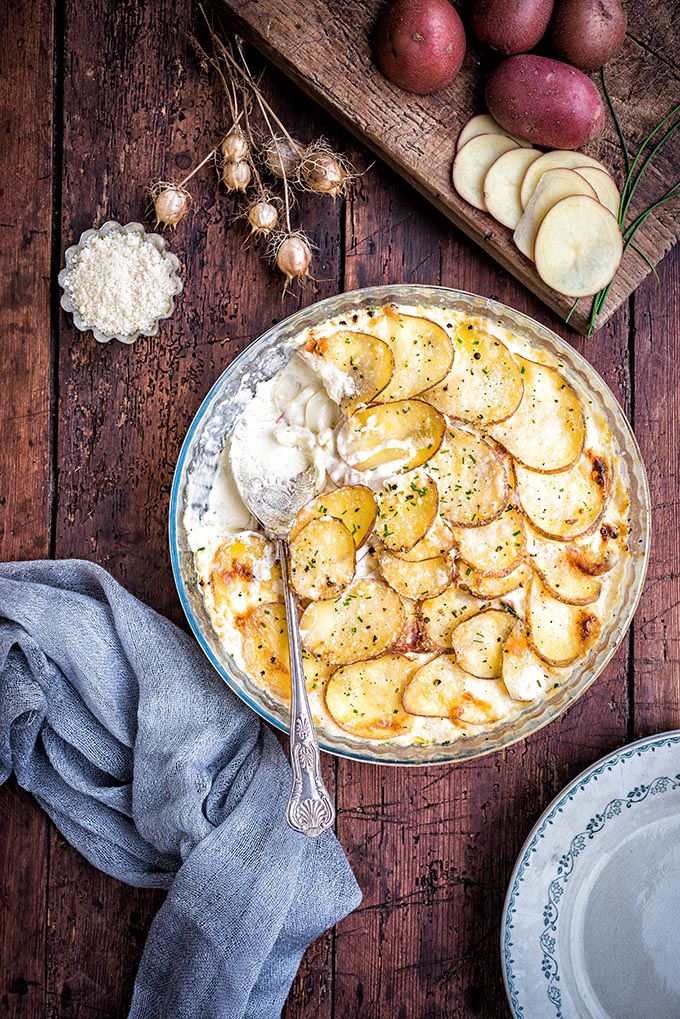 Bake them!
When it comes to baking potatoes, my personal favourite is to turn the oven up to 200C (fan), poke holes in the potatoes with a fork, rub them with vegetable fat, sprinkle liberally with sea salt flakes and bake them in the centre of the oven (no baking tray so the air circulates) for an hour and a half or so, until they feel soft when you squeeze them. I like baked beans and plenty of cheddar cheese on mine (with a nice hefty dose of chilli powder).
You could also try Lucy's Creamy Scalloped Potatoes with Bacon & Parmesan; Jaqueline's Cheesy Cauliflower & Potato Bake with Spinach; Rebecca's Cheesy Pesto Dauphinoise or Welsh Rarebit Loaded Potatoes with Crispy Leeks; my Paprika-spiked Potato Wedges or Rhian's Vegan Potato Dauphinoise.
Mash them!
Mashed potatoes have to be one of the best comfort food dishes, ever, especially with lashings of gravy. Try my Cheesy Mashed Potatoes with Kale or Creamy Roasted Garlic & Chive Mashed Potatoes recipes. Mashed potato also make a rather lovely filling for homemade Polish Pierogi (Dumplings) with Cheese & Potatoes Sardinian Ravioli (Curlurgiones). I use leftover mash in my Herbed Potato Bannocks, and you can also put them in a Chocolate Cake or use them as a base for some Coconut Chocolates! True story! You can also combine leftover mash with cheese to make Potato Croquettes or why not try Diana's Cheesy Mashed Potato Cakes or use them to top my Creamy Fish Pie with Prawns and Dill.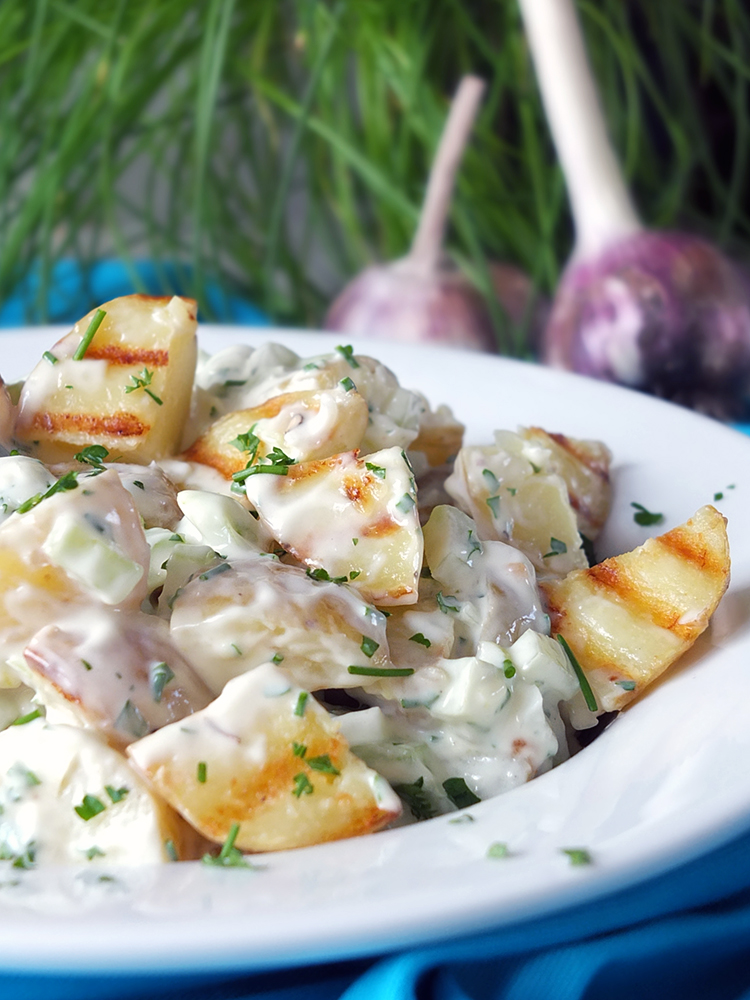 Whip up a potato salad!
Just because it's cold out doesn't mean we have to forget about potato salads. These will often keep a few days in the fridge and make for rather nice packed lunches too. Try Emily's Autumn Potato Salad, or my Roasted Garlic & Grilled Baby New Potato Salad (pictured above) or our Family Favourite Potato Salad perfect with grilled meats. You could also try Rhian's Vegan Japanese Potato Salad or Amy's Roast Potato Salad with Sumac Dressing.
Throw them in a curry, soup or pie!
Adding potatoes can make for a lovely, thick, creamy soup or act as a base for a wonderfully filling curry. The perfect comfort food for these cold days. Try Emily's Thai Peanut, Potato & Spinach Curry, Angela's Easy Homemade Potato Soup on a Budget or her rather gorgeous looking Homity Pie. I've got a nice Pea, Potato & Lovage Soup recipe you might like, while Cullen Skink, the traditional Scottish fish soup made with potatoes, has to be one of the best potato soups out there.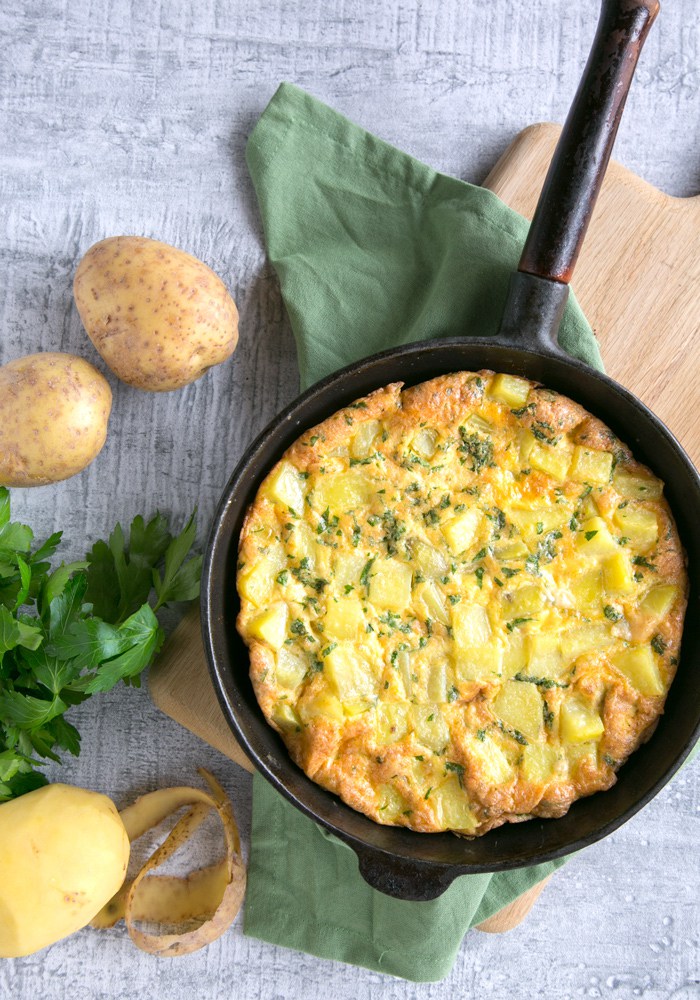 Fry them!
You can't have a potato recipes post without including fried potatoes now, can you. I like slicing cold, leftover boiled potatoes to a one-centimetre thickness and frying them in plenty of butter, seasoned well with salt and pepper. The ultimate comfort food with a good squeeze of tomato sauce over the top. Alternatively, if you're wanting something a bit more classy try Andrea's Classic Italian Potato Fritatta Potato, Amy's Courgette & Halloumi Hash with Tomato Sauce, Rebecca's How to Make Fondant Potatoes, Diana's Middle Eastern Batata Harra (Hot Potatoes) or my Leftover Roast Beef & Potato Hash or Potato Canapes with Bacon and Asparagus. Leftover boiled potatoes make for excellent Mini Lamb, Pea & Potato Samosas too, if I do say so myself!
MORE UK FOOD BLOGGER POTATO STORAGE TIPS
• Only buy enough potatoes for what you need immediately. Resist the urge to buy one get one free. – Elizabeth from Elizabeth's Kitchen Diary
• Pop them in a pillowcase and put them in a cool dark cupboard. They are loose, have air and are kept dark. I was sent a big batch of potatoes and kept them for months. – Jacqueline from Tinned Tomatoes
• My tip would be to always cook/serve them with something fatty like butter or oil. It brings out the flavour but also slows down digestion so you get the energy more slowly instead of in a big spike. – Helen from Family, Friends, Food
• Buy 'earth on' potatoes and store them in a brown paper carrier bag, fold over the top to keep out the light and store in a cool place (that's cool as in cold, not cool as in groovy!) They will keep much longer than washed potatoes. – Janice from Farmersgirl Kitchen
More information about the wider food waste problem in the UK
In the UK, every year 7.3 million tonnes of food is thrown away from people's homes, costing around £13 billion, or around £60 per household each month. And on average, each person wastes the equivalent of two and a half main meals a week. As it stands, this means:
If this food waste was prevented, it would have the environmental benefit of taking one in four cars off the road
An area, almost the size of Wales would be needed to produce all the food and drink currently wasted
This is part of a global issue, and if food waste were a country, it would be the world's third-largest emitter of greenhouse gases after the USA and China
Love Food Hate Waste believe that your food is for you, not your bin. Saving food saves money and helps to slow down global warming and deforestation, and reducing the amount of food that ends up in the bin also means you can say goodbye to unnecessary packaging waste. If we all make a few small changes and start using up the food we buy, together, we can make a big difference.
How do you use up your potatoes? Let me know in the comments! In the meantime, follow Love Food Hate Waste's #SaveOurSpuds campaign on Twitter! For more potato recipe inspiration, and to find out more about how to store and use potatoes, visit the Love Food Hate Waste website.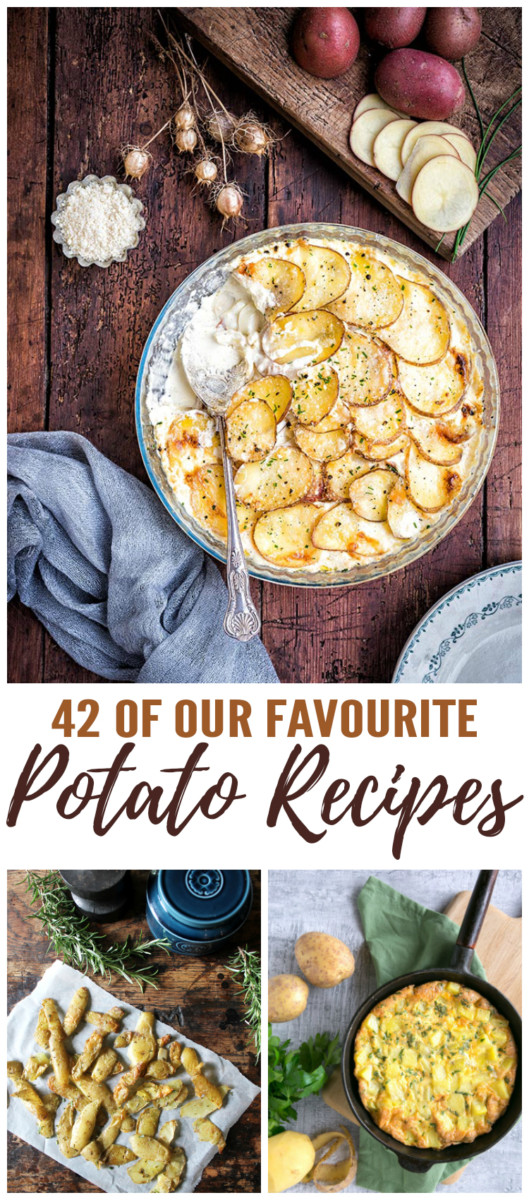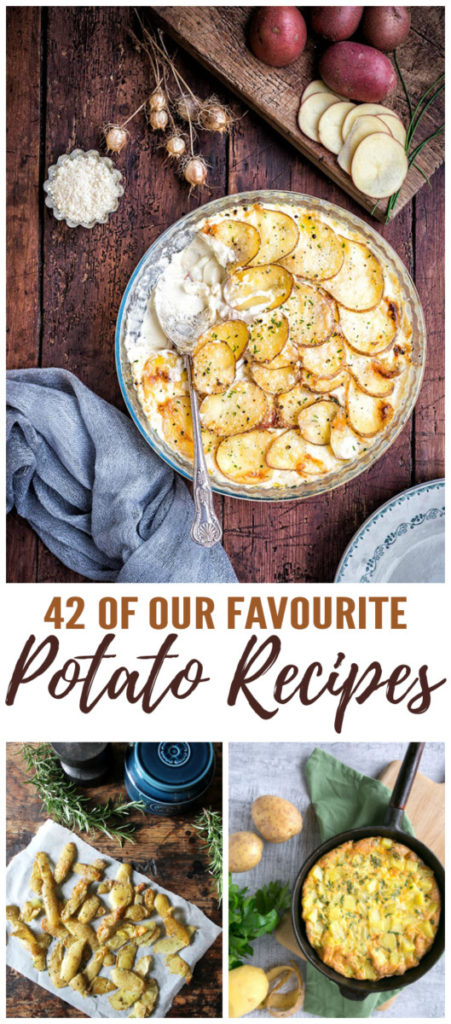 This is a sponsored post in collaboration with Love Food Hate Waste. Thank you for supporting the brands who make it possible for me to do what I love: mess up my kitchen and share recipe stories.