An indulgent Oreo freakshake recipe in collaboration with Oreo.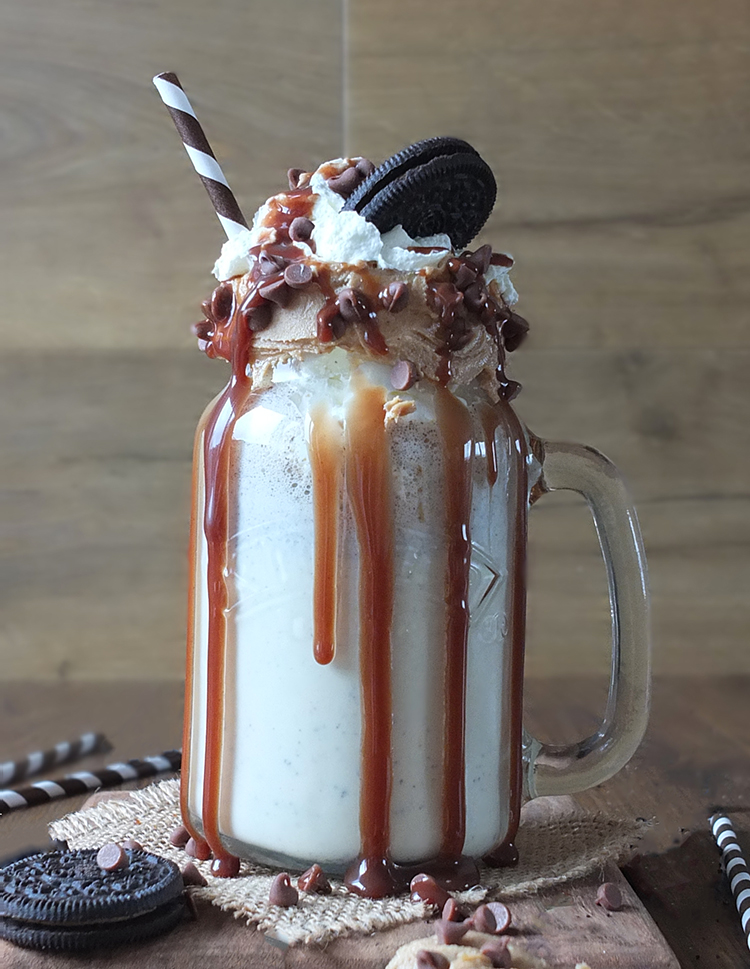 All work and no play makes Elizabeth rather grumpy. I try my best to eat a healthy diet and to keep active, but do you know what? Sometimes, a little indulgent treat just has to be done. The 80:20 rule, right? 80% of the time I try and eat healthy which means 20% of the time I can treat myself.
It's all about balance.
For some, chocolate and peanut butter is a marriage made in heaven, which is why I did a double take when walking down the biscuit aisle in our local village shop and I spotted that Oreo had developed a Peanut Butter flavour Oreo cookie! Swoon!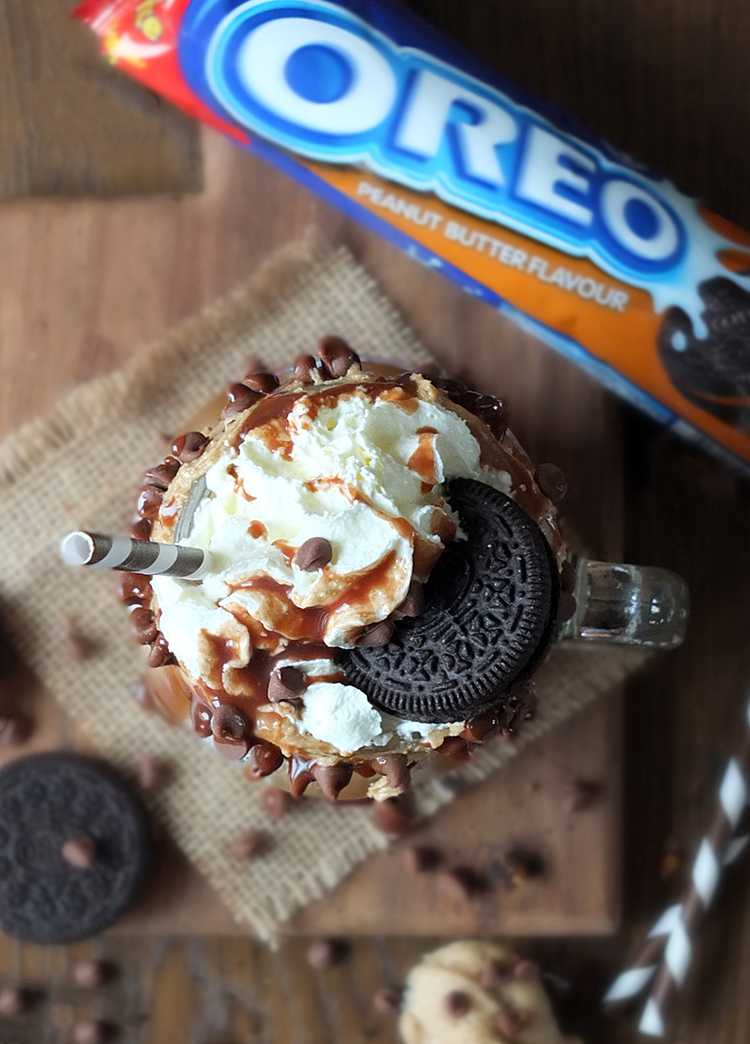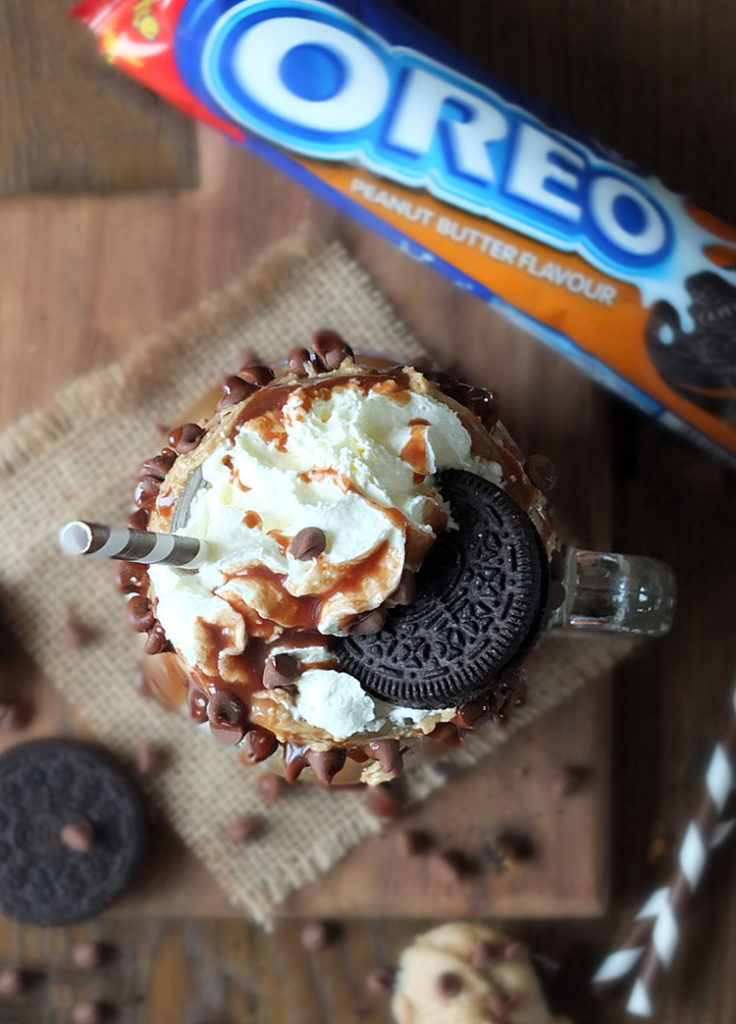 The first thing that sprang to mind when I saw these cookies was that I wanted to make a freakshake with them. Freakshakes originally came out of Australia and they're the most indulgent milkshake you could imagine with all sorts of treats whizzed up into the shake itself and piled up onto the top as decoration.
For my chocolate Peanut Butter Flavour Oreo freakshake I blitzed up one Peanut Butter flavour Oreo cookie in a milkshake with some vanilla ice cream and milk. I used reduced fat options to keep the calorie content under 500 kcal.
This was poured into a glass I'd decorated with some peanut butter stuck with chocolate chips. Topped with squirty cream, chocolate sauce, some more chocolate chips and one more Peanut Butter flavour Oreo cookie well, this was one seriously awesome treat! You should have seen the look on my kids' faces!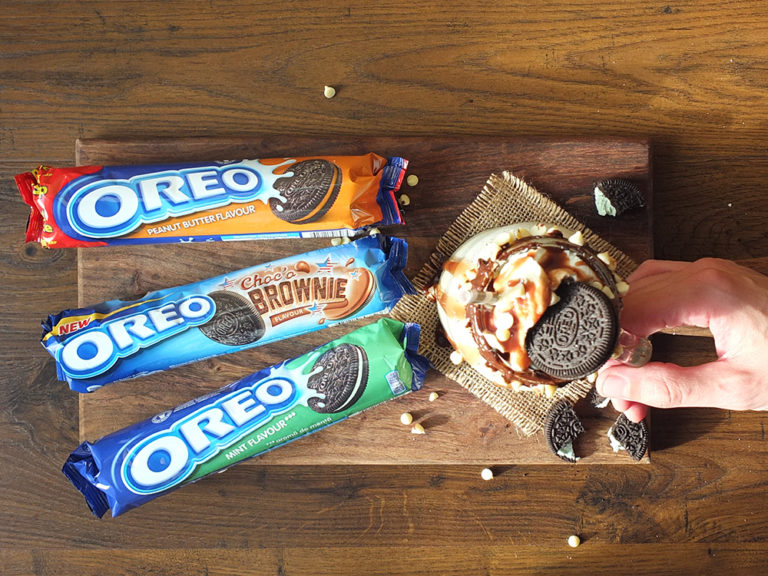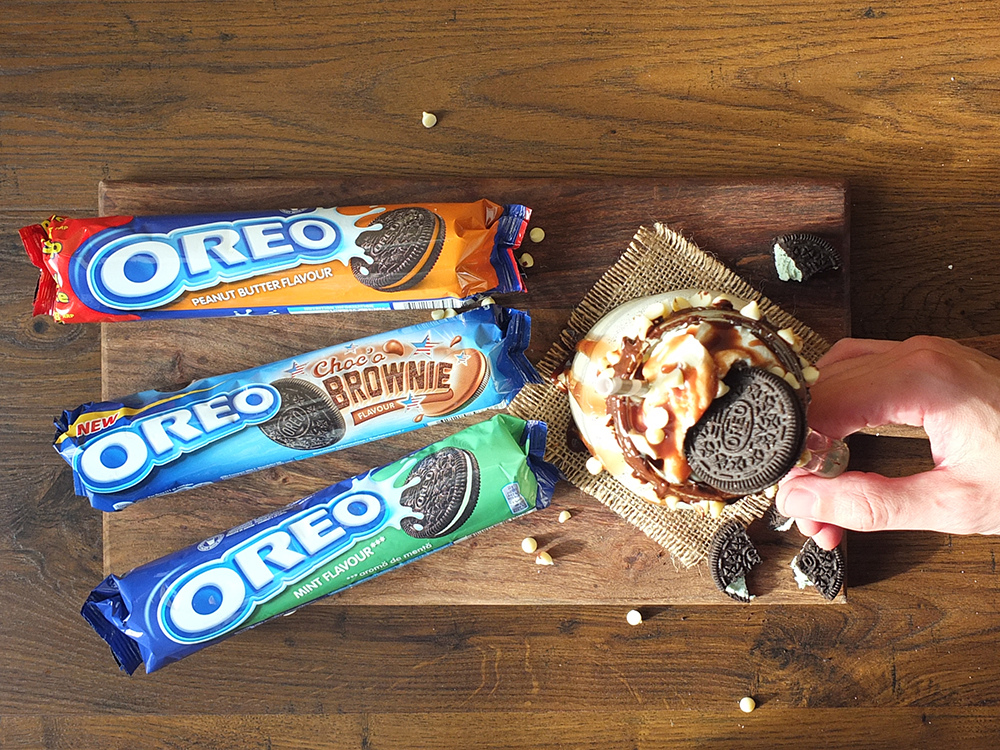 Oreos have always been one of my favourite cookie brands. The iconic black and white cookie is loved by people across the globe, but did you know it has only been in the UK for 9 years? Oreo is now the world's favourite biscuit, with over 7.5 billion eaten every year, and they've launched various different flavours for all of their cookie fans; namely Peanut Butter flavour (which was actually launched in the UK in 2015, but these things take time to get to Shetland!), Choc'o Brownie flavour, Mint flavour and (not pictured) Strawberry Cheesecake flavour.
Not a fan of peanut butter, like my husband? Use the different flavoured Oreos to make different flavoured freakshakes!
Why not decorate your glass with melted chocolate and white chocolate chips (as pictured above) and whiz up a Mint flavour Oreo in your freakshake? Top with cream, chocolate sauce and some more white chocolate chips (or, if you're in America, get those lovely mint flavour chocolate chips!).
For a chocoholic freakshake use the Choc'o Brownie flavour Oreos and your favourite chocolate and for a strawberry cheesecake freakshake use strawberry sauce instead of chocolate sauce, and decorate with white chocolate chips.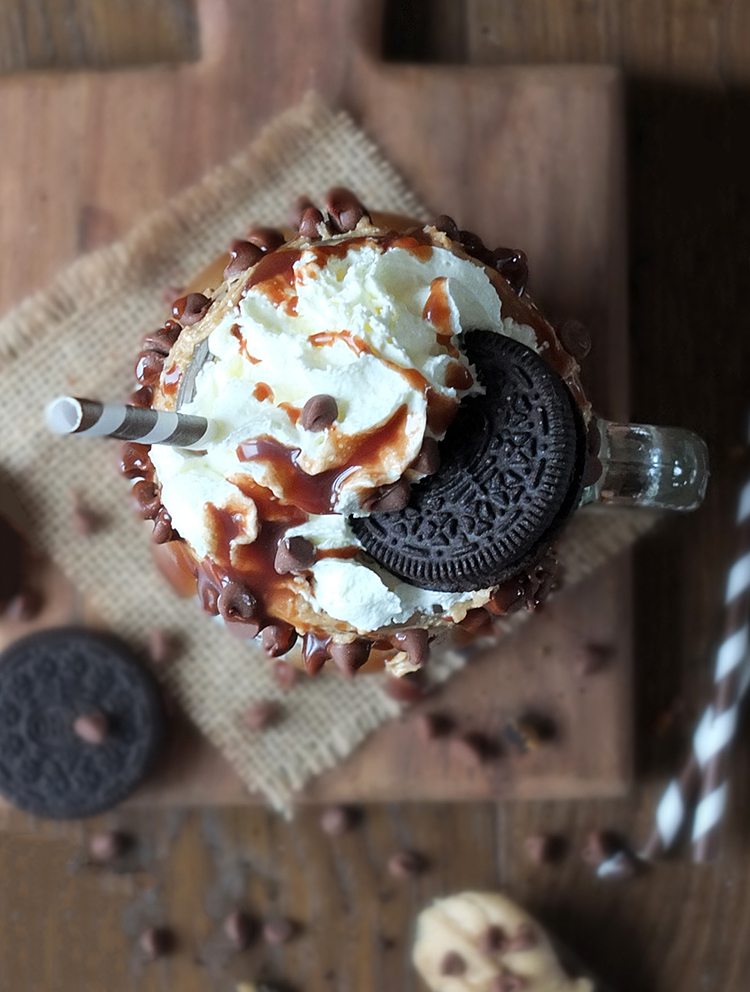 You can find the new Oreo Flavours range at your nearest supermarket or village shop. What's your favourite flavour? Let me know in the comments!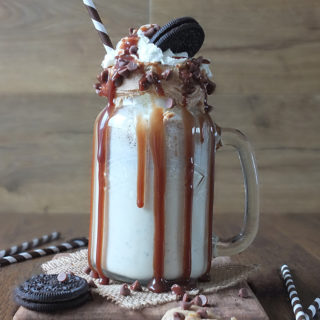 Chocolate & Peanut Butter Flavour Oreo Freakshake
Chocolate and peanut butter is a marriage made in heaven (for some!) and here we've used the new Peanut Butter Flavour Oreos to create a delicious, indulgent freakshake.
Print
Rate
Affiliate Links
This recipe card may contain affiliate ingredient and equipment links. As an Amazon Associate I earn from qualifying purchases.
Instructions
Coat the edge of a large handled pint glass with the peanut butter and stick the chocolate chips to the peanut butter.

Combine the ice cream, one Peanut Butter Flavour Oreo cookie and the milk in a blender and blend until smooth.

Pour into the glass and top with the squirty cream.

Garnish with the chocolate sauce, allowing some to drip down the sides, any remaining chocolate chips and the last Peanut Butter Flavour Oreo cookie.

Serve immediately.
Click here to view the nutritional information for this recipe.
OTHER CHOCOLATE & PEANUT BUTTER RECIPES YOU MIGHT LIKE
Chocolate Peanut Butter Swirl Halloween Cake
Chocolate Chunk & Peanut Butter Cookies
Chocolate-Covered Peanut Protein Bars
Chocolate Peanut Butter Smoothie Bowl
No-Bake Chocolate & Peanut Butter Oat Squares
Chocolate & Peanut Butter Cornflake Slice
Peanut Butter Cup Cookies
Reese's Peanut Butter Cup Macarons
Peanut Butter Cookie Brownies
Peanut Butter and Chocolate Scones
Peanut Butter Cup Porridge
Chocolate Peanut Butter Crunch Bars
Nutella Peanut Butter Banana Muffins
Baked Peanut Butter Nutella Doughnuts
SHOP THIS POST
Peanut Butter Flavour Oreos
Handled Glass Drinking Jar
Brown Stripe Paper Straws
This is a sponsored post in collaboration with Oreo, but all thoughts and opinions expressed are our own. Thank you for supporting the brands who make it possible for me to do what I love: mess up my kitchen and share recipe stories.
[color-box]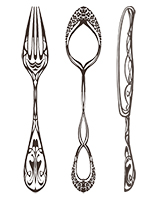 Have you made this recipe?
Take a photo and tag @tangoraindrop or use the hashtag #elizabethskitchendiary and share on Instagram and Twitter. It would make my day to see your creations!
[/color-box]