Medovníky are deliciously spiced, decorated gingerbread-style cookies flavoured with honey, cinnamon and cloves. These festive cookies are often served at Christmastime in Slovakia decorated with white icing swirls.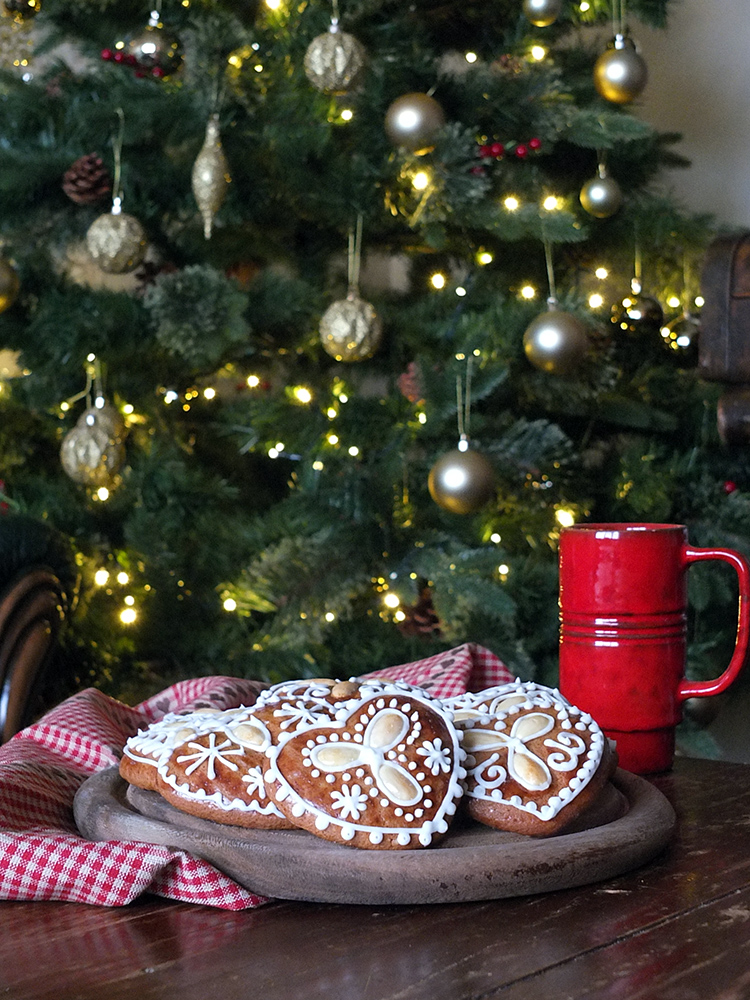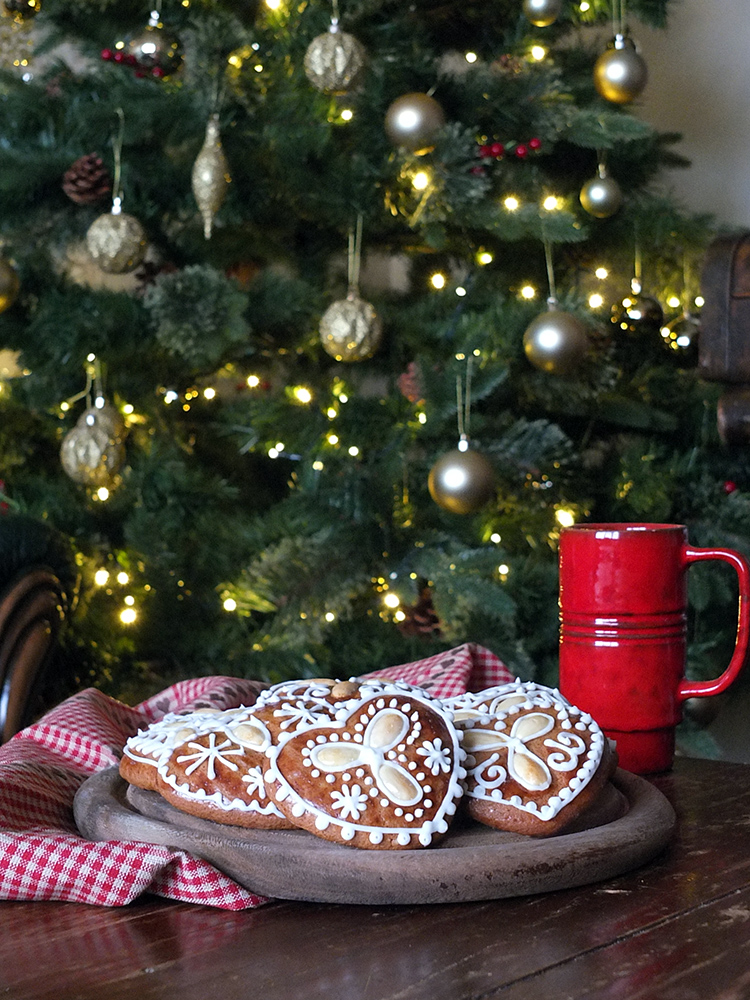 Christmas baking – something new
I do love experimenting with new recipes, and recently I had a notion to try one of the Christmas recipes from a cookery book I've had for some years: Festive Foods: Christmas Cooking Around the Worldby Hanne Kruse (2002).
Note, I've never visited Slovakia (if I'm to be honest my European geography is somewhat appalling and if given a map I wouldn't be able to identify where exactly the country even is!), and I have no Slovakian family connections. I simply found a recipe in an old cookery book and attempted to make it.
Alas, the recipe developers in this cookery book clearly didn't road test their recipes before publication as, following the instructions to the letter in this book, the dough simply would not come together. Why? Because they forgot to include the butter in the recipe.
I attempted to salvage the dough by guessing how much butter should be needed, but alas, my first lot ended in the bin after overnight chilling.
I then found this recipe and tweaked the one I had with much success – and thus, my children have been thoroughly enjoying these delicious gingerbread-style honey cookies with their intricate swirls of Royal icing.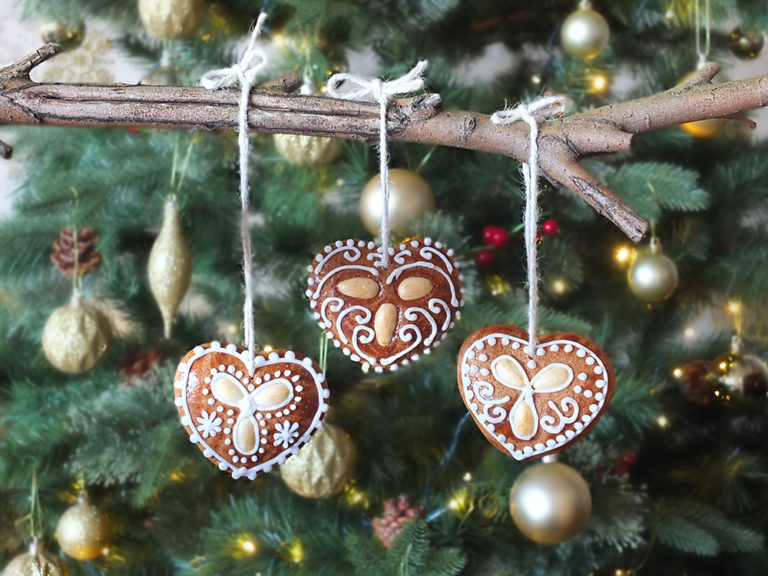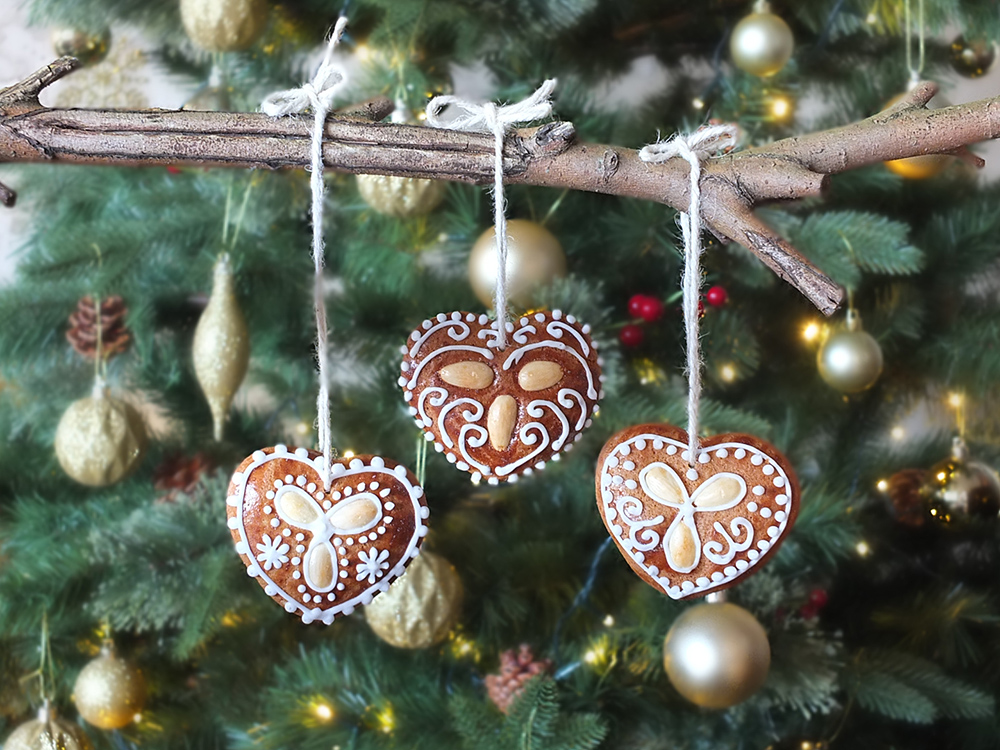 What are medovníky?
Medovníky are deliciously spiced, decorated gingerbread-style cookies flavoured with honey, cinnamon and cloves. These festive cookies are often served at Christmastime in Slovakia decorated with white icing swirls.
Santa will be enjoying a few this year too, when he stops by on his yearly visit, with a glass of milk of course.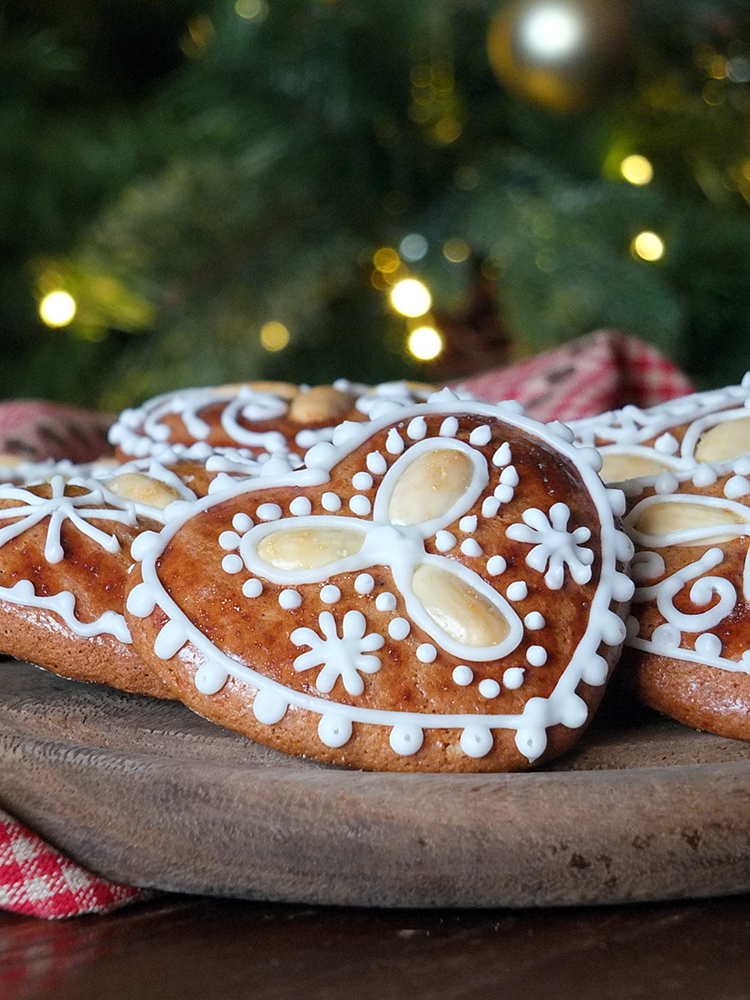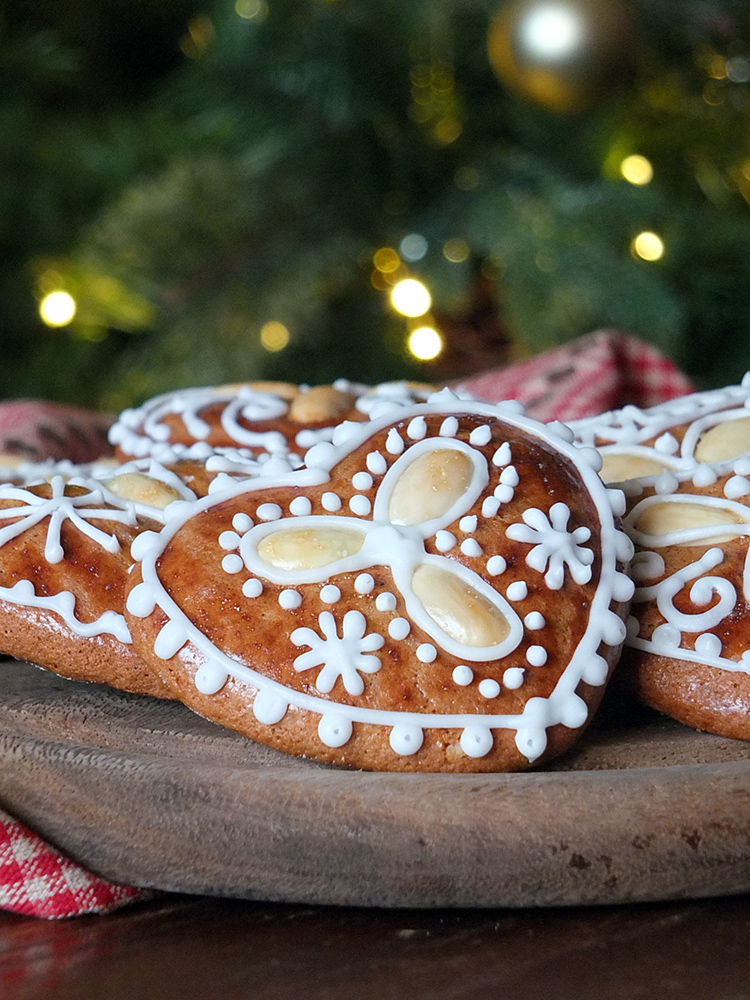 I've decorated some of my medovníky with blanched almonds, as recommended in the original cookery book. It's really easy (and much cheaper) to blanch your own almonds, especially if you buy your almonds in bulk.
How do you blanch raw almonds?
To blanch raw almonds simply boil a kettle, pour hot water over your raw almonds and leave them for a few minutes before draining and plunging the hot almonds in a bowlful of cold water. The almond skins will slip off easily.
How do you decorate medovníky?
Classic medovníky are often decorated simply with swirls of white icing, and given that my children can be of two minds when it comes to nuts, I left half of my cookies plain so they could decorate them as they wished with the icing.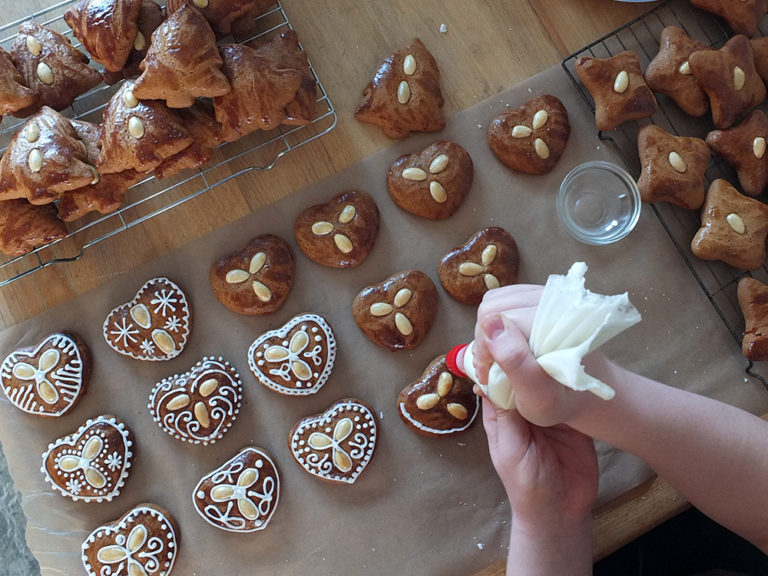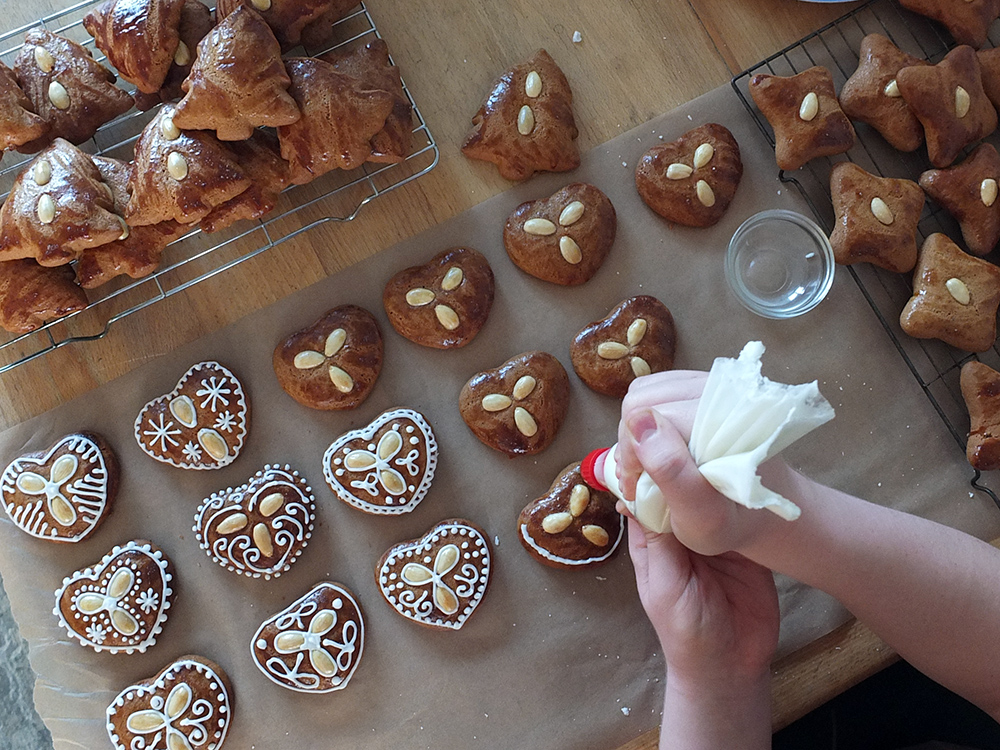 What spices are used in medovníky honey cookies?
The spice mixture used in medovníky honey cookies is very similar to gingerbread spice, but ginger is not always included. The original recipe I adapted this recipe from only had cloves, but I added cinnamon, nutmeg, star anise, allspice and a nice hefty pinch of freshly ground black pepper to mine. You can find a traditional recipe for the spice mixture here. Use whole spices and grind them yourself for a more intense flavour.
Tips for making medovníky
The dough will be very sticky when it first comes together. Leave it to chill in the fridge for a while before kneading and dividing into two discs to chill overnight.
When it comes to brushing the cookies with beaten egg white, you can either do this before you bake them to give a lovely rustic golden colour to the cookies or brush them with the egg white as soon as they come out of the oven for a more uniform glaze. The heat from the cookies will cook the glaze, so you don't have to worry about brushing raw egg over them.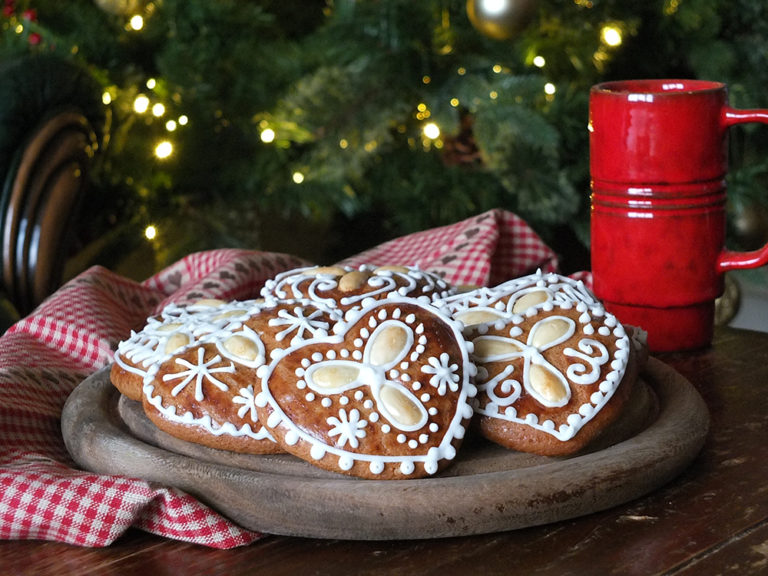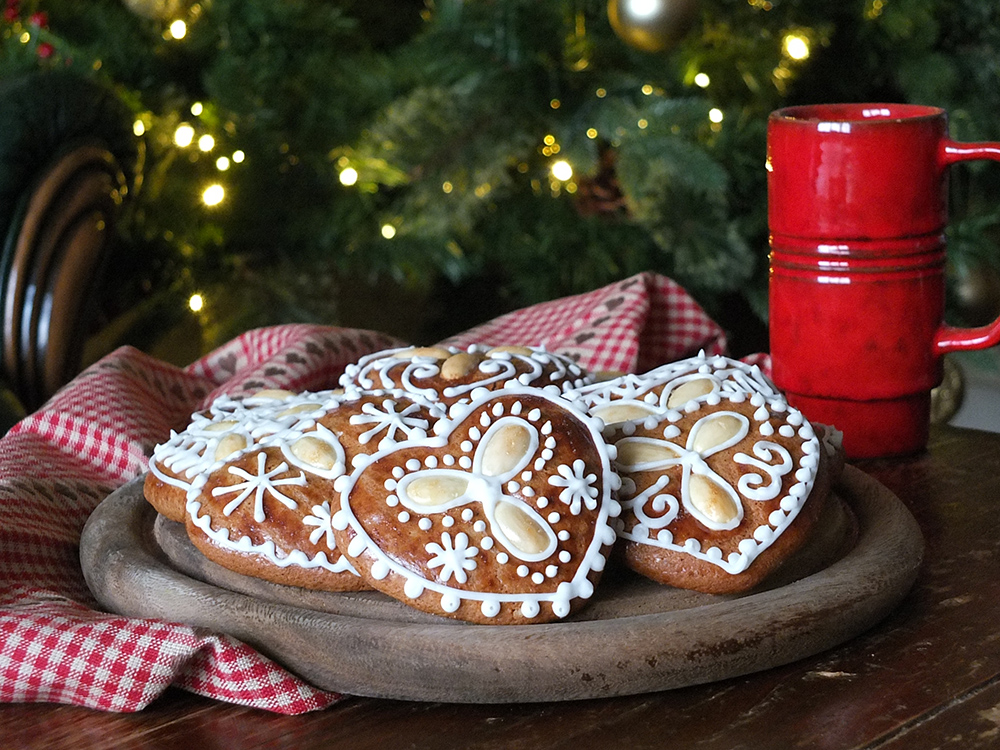 How long do medovníky keep?
These cookies also improve with age, softening and becoming more gingerbread-like in texture. A perfect festive treat to leave out for Santa, I think.
As an aside, what do you think of our new Christmas tree? I've bought an artificial one this year as I am loathed to spend £90 on a real one whose needles will begin dropping before Christmas Day only to chuck the whole thing on top of the village bonfire after the festive.
So, new tree, new baubles (all gold) and new soft white lights – I'm really loving our tree this year even though it isn't real.
What cookies will you be leaving out for Santa this year? Let me know in the comments!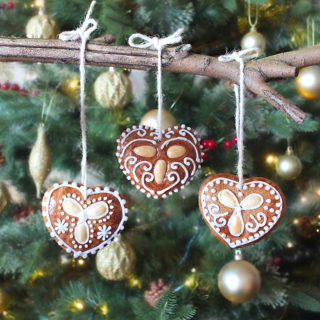 Medovníky: Slovak Spiced Honey Cookies
Flavoured with honey, cinnamon and cloves these delicious cookies are often served at Christmas-time in Slovakia decorated with white icing swirls.
Print
Pin
Rate
Affiliate Links
This recipe card may contain affiliate ingredient and equipment links. As an Amazon Associate I earn from qualifying purchases.
Instructions
Sift together the flour, icing sugar, bicarbonate of soda and spices.

Measure out the honey and butter in a small saucepan and heat gently until the butter has melted.

Add to the dry ingredients along with the eggs and mix well to form a soft dough.

Leave to chill in the refrigerator for an hour to firm up. Knead gently on a floured surface and divide into two discs. Wrap each disc in cling film and leave overnight in the refrigerator to chill.

Preheat your oven to 200 C/ 400 F and line a baking tray with paper.

Roll out each disc on a floured surface to a thickness of half a centimetre.

Cut out with your desired cookie cutter and place well apart on the baking sheet.

Decorate with a few blanched almonds, if desired, and glaze with the beaten egg white.

Bake for 10-15 minutes, depending on your oven (mine takes 12). Transfer to a wire rack to cool completely.

To prepare the icing, mix the ingredients together and pipe swirls and decorations over the top of the cookies.

Will keep for several days in an airtight container.
Nutrition
Calories:
150
kcal
|
Carbohydrates:
29
g
|
Protein:
2
g
|
Fat:
3
g
|
Saturated Fat:
2
g
|
Cholesterol:
19
mg
|
Sodium:
73
mg
|
Potassium:
31
mg
|
Fiber:
1
g
|
Sugar:
16
g
|
Vitamin A:
96
IU
|
Vitamin C:
2
mg
|
Calcium:
7
mg
|
Iron:
1
mg
Environmental Information
Other Christmas baking recipes you might like
No Christmas cookie decorating skills? No worries! The uglier the better with these ugly Christmas sweater gingerbread cookies! 
This delicious Bûche de Noël, or Christmas log recipe, is a real showstopper. It is a white swiss roll sponge filled with decadent chocolate cream and frosted with a rich dark chocolate icing.
This pressure cooker apricot and almond Christmas cake is an incredibly delicious and moist cake ready in just 2.5 hours! With no soaking and no feeding needed, it's perfect if you're needing a last-minute homemade Christmas cake (or two!). 
PIN THIS MEDOVNÍKY RECIPE FOR LATER