This pressure cooker apricot and almond Christmas cake is an incredibly delicious and moist cake ready in just 2.5 hours! With no soaking and no feeding needed, it's perfect if you're needing a last-minute homemade Christmas cake (or two!). This recipe is brought to you in collaboration with CrockPot®.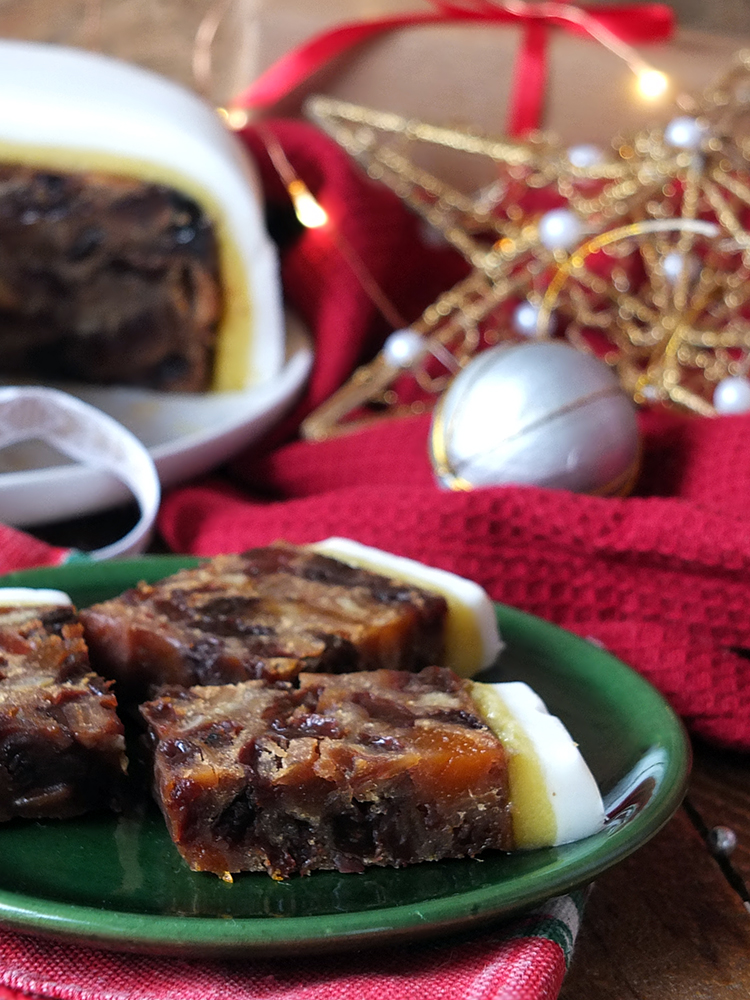 A Christmas cake in a pressure cooker!
I am so excited to share this recipe with you! I don't know about you, but for me, these days, there just doesn't seem to be enough hours in the day to get everything done. I am not, by any means, one of these people who gets their Christmas cake baked early, and then diligently feeds it over the following months so come Christmas it's moist and flavoursome.
So I created this pressure cooker Christmas cake recipe! You can have the entire thing made and cooked within two and a half hours.
Soaking the dried fruit overnight is not needed, and there's no having to feed it a good glug of brandy every once in a while, no waiting – I bring you a deliciously moist, fruity Christmas cake – made, iced and served in one afternoon.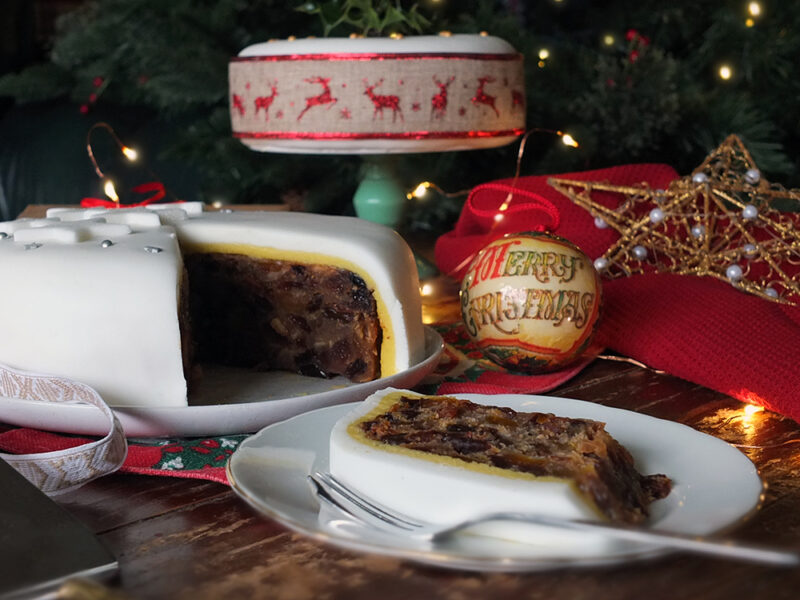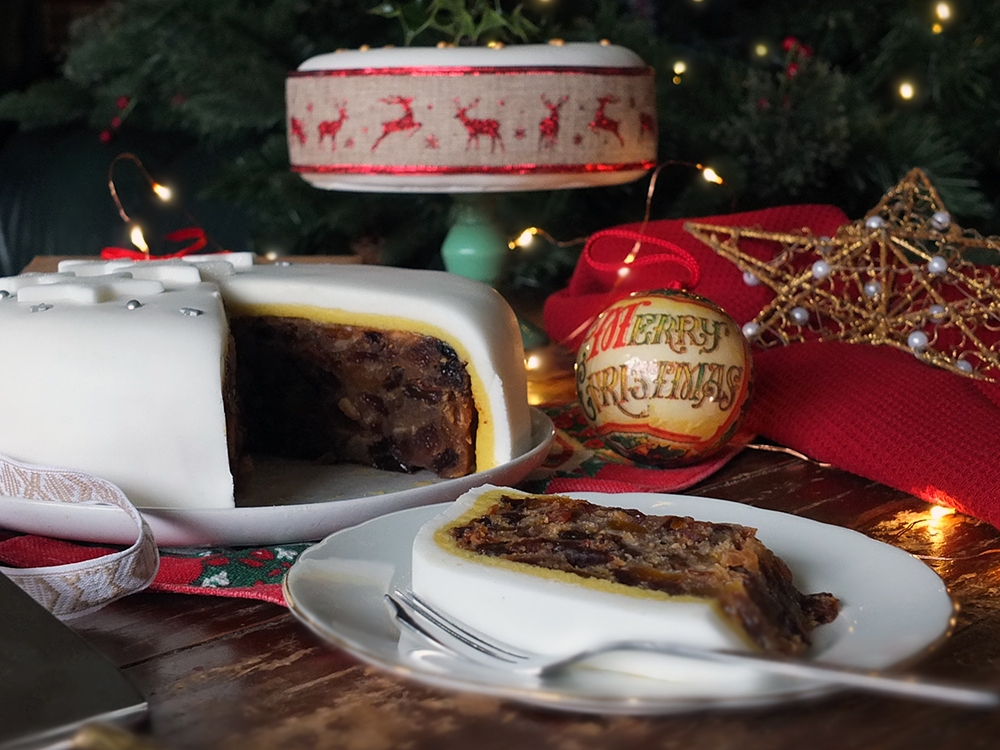 The Crock-Pot® Express Multi-Cooker
I've been using a slow cooker now for years as they're such a handy and versatile kitchen appliance to have around. Usually, I just plonk a bunch of ingredients in the pot (sometimes I sear the meat, sometimes not) and then leave the house on an outdoor adventure for a while. By the time I return home, knackered and hungry from hillwalking, dinner is ready!
Crock-Pot® is the original slow cooking brand which was started in North America back in 1971. Since then, it has grown as the expert in electrical one-pot cooking with the largest range of slow cookers in the UK market.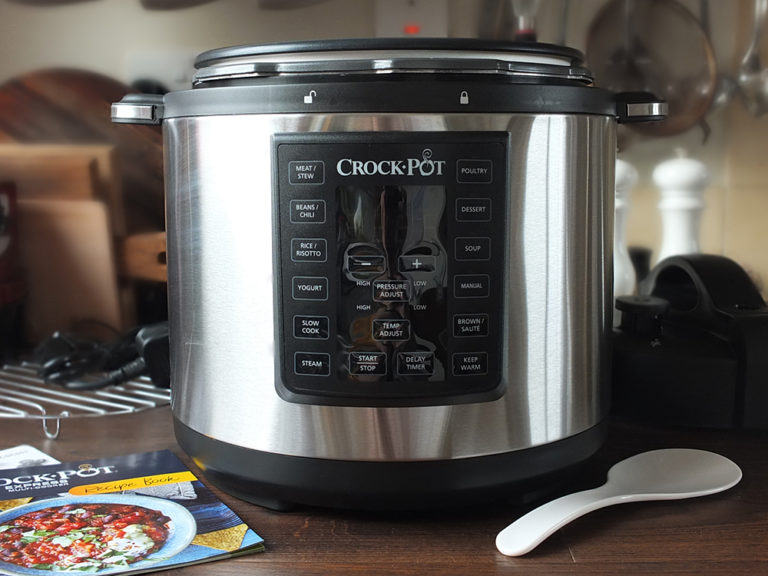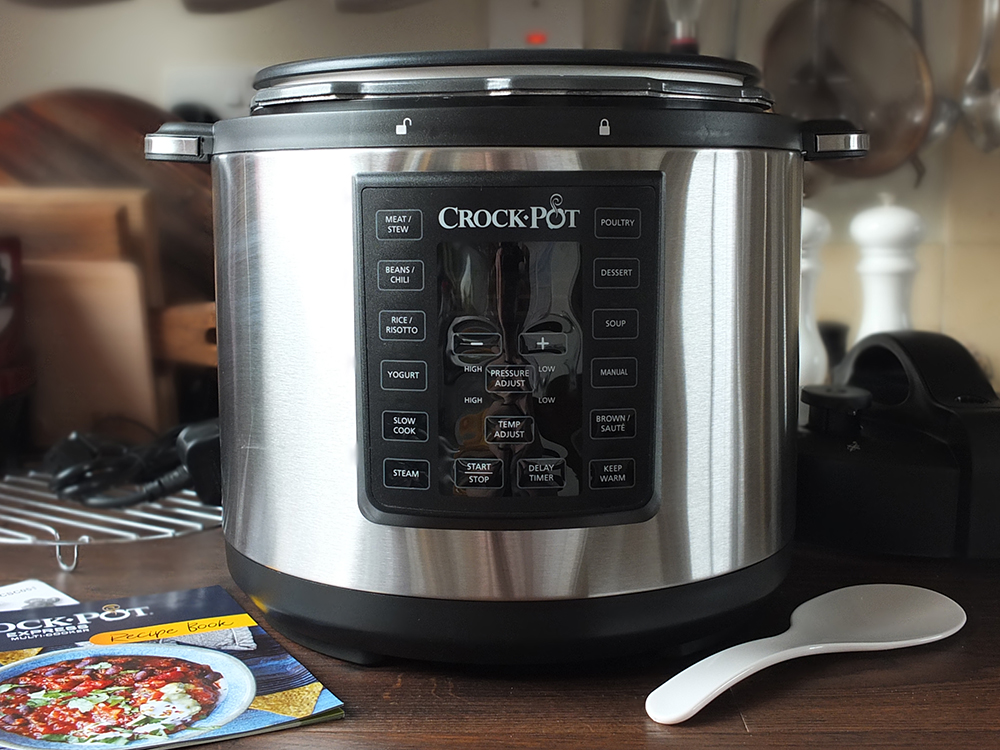 The newest addition to their range, the Crock-Pot® Express Multi-Cooker, is a next-level slow cooker. You can do all the searing in the cooking pan, meaning you don't have extra washing up to do, and, if for some reason you've forgotten to put the roast chicken on for the dinner that you wanted before you left, you can put in it when you get back.
The Crock-Pot® Express Multi-Cooker is also a pressure cooker! It can cook a whole roast chicken in just 30 minutes!
It can also, believe it or not, speed up the whole process of making a Christmas cake! You know, in case you're like me and left it to the last minute… again.
Other features include:
cooks up to 70% faster, saving time when in a hurry
a time delay
12-in-1 multicooker functions including pressure cooking; slow cooking; brown/saute and steam all in one pan meaning you can easily prepare any recipe on the menu, using one convenient appliance
8 one-touch meal options including meat/stew; beans/chilli; rice/risotto; yogurt; poultry; dessert, soup & manual
easy to use – everything is pretty straightforward to understand and apply
low cost – it retails for around £90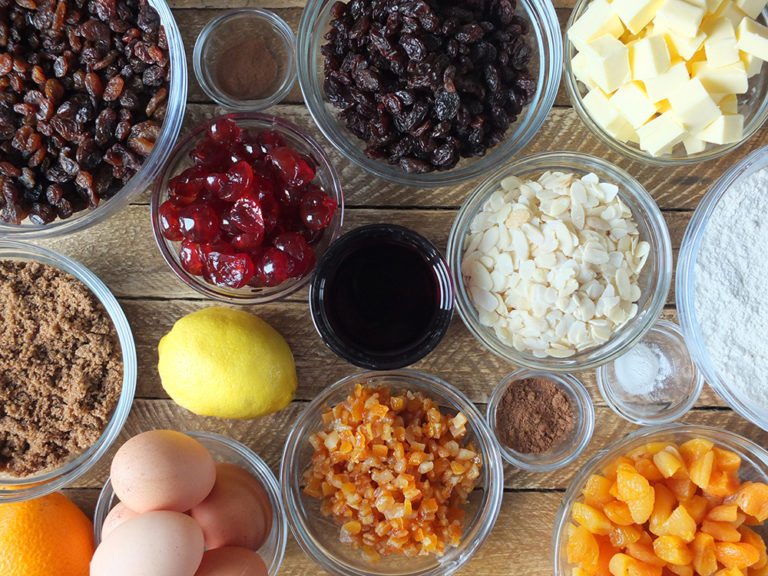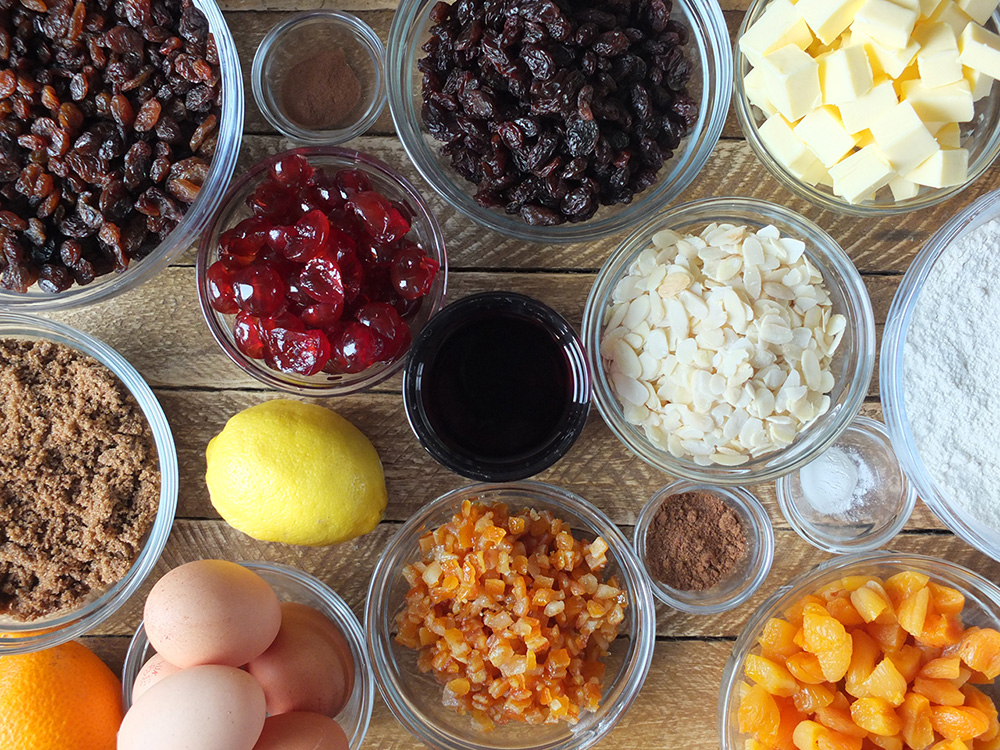 Ingredients needed for this pressure cooker Christmas cake recipe
assorted dried fruits: sultanas, raisins, apricots, cherries and mixed peel
flaked almonds
a lemon and an orange
plain flour
baking powder
spices: mixed spice & ground cinnamon
dark brown muscovado sugar
butter
brandy – I used cherry brandy
free range eggs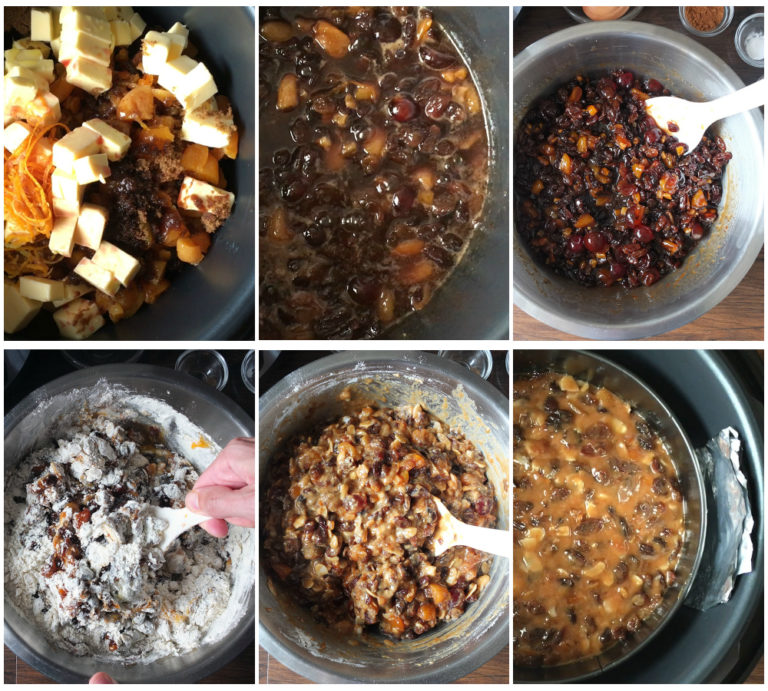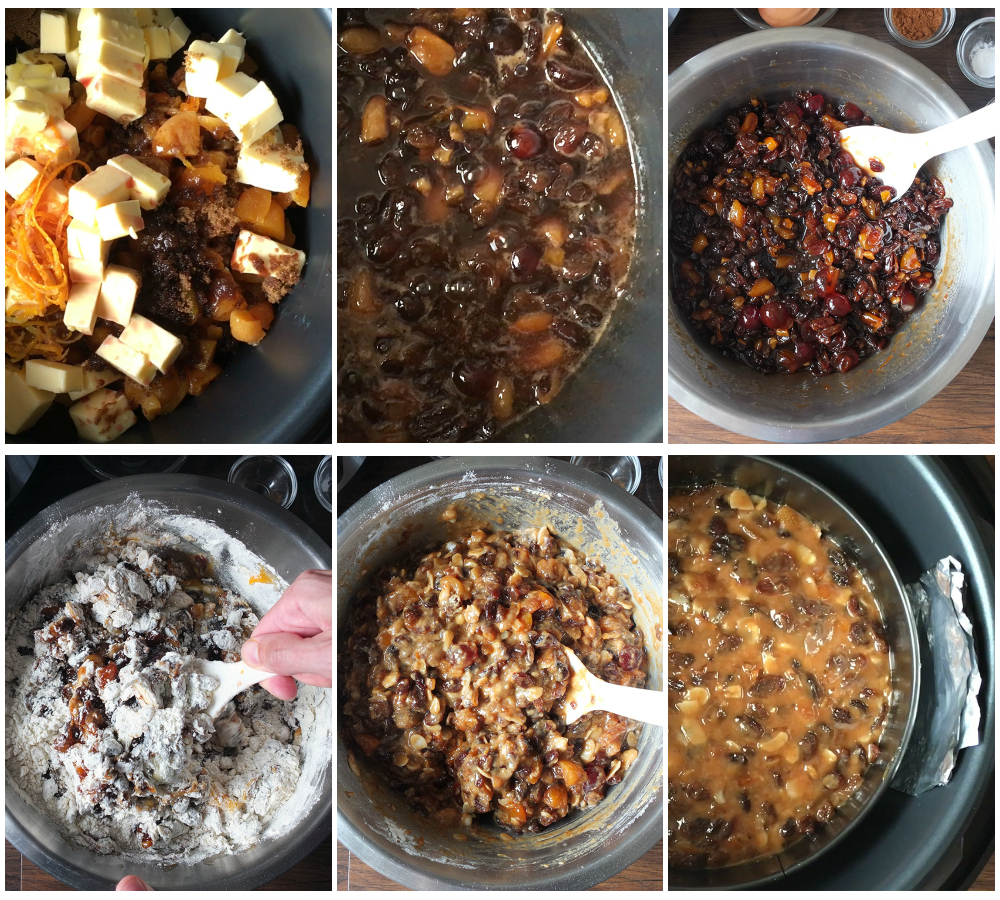 How to make a pressure cooker Christmas cake
Place all the dried fruits, sugar, butter, citrus juice and zest and the brandy into the cooking pot of the Crock-Pot®Express Multi-Cooker.
Select MANUAL and LOW temperature for FIVE minutes. Stir occasionally. This helps plump up the dried fruit and replaces the usual overnight soaking that many Christmas cake recipes need.
Transfer the fruit mixture to a large mixing bowl and leave to cool.
Stir in the flour, baking powder, spices, almonds and eggs.
Mix well and spoon into two 7-inch round high sided cake tins.
Place the cake tin on the steaming rack along with some water and an aluminium foil sling to ease removal. Press DESSERT, HIGH PRESSURE and set timer for 60 minutes for a softer cake, or 90 minutes for a firmer cake. Remove, cool and decorate as desired.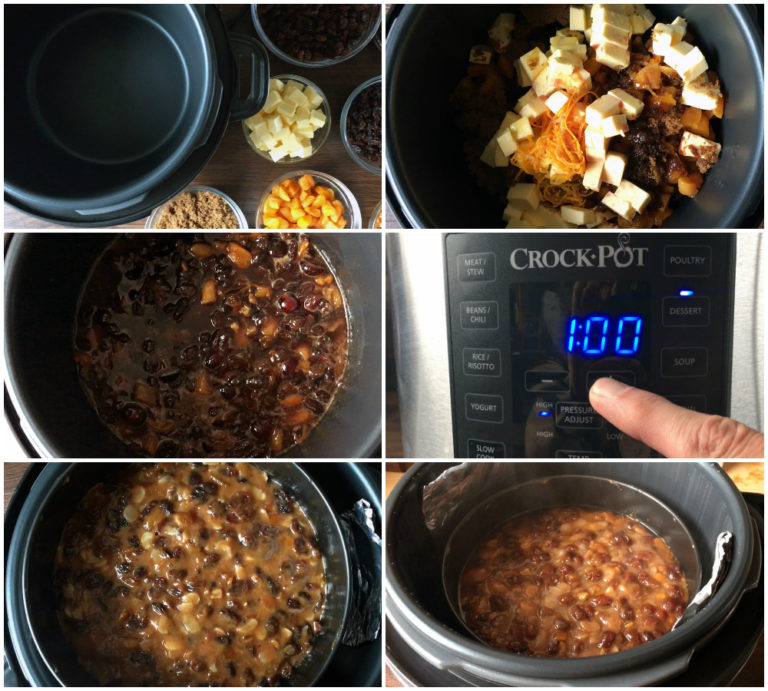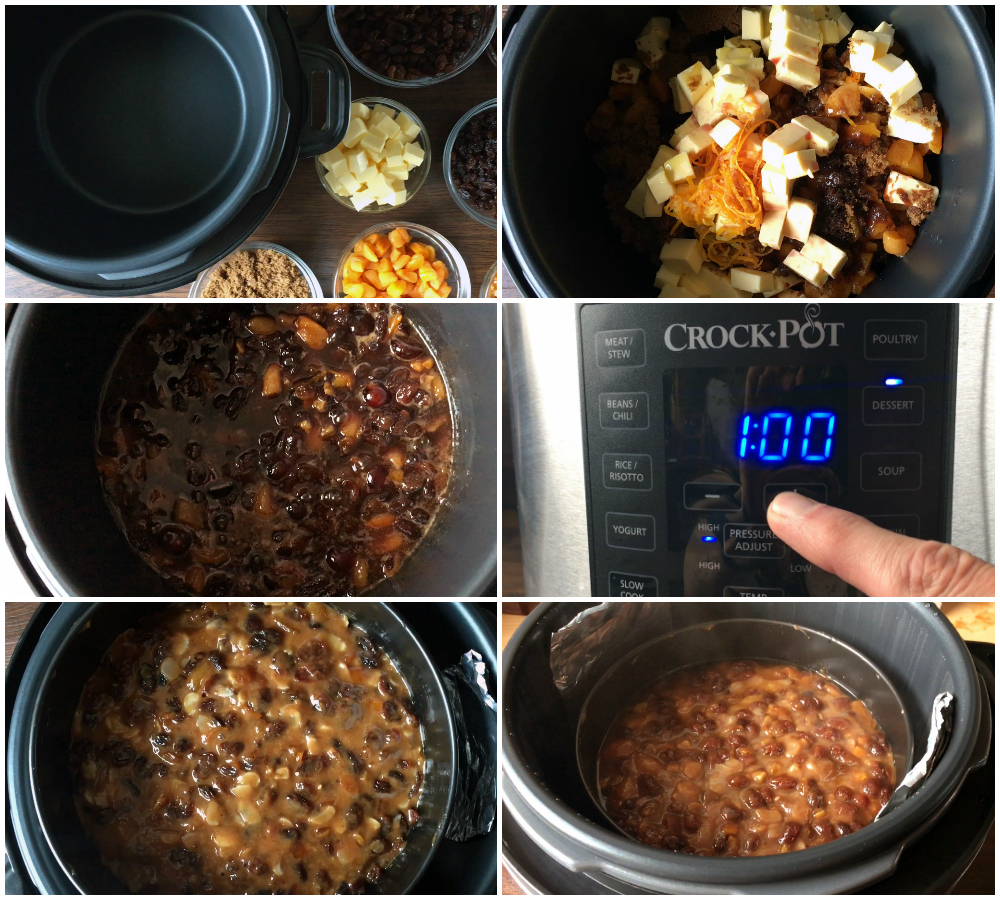 Pressure Cooker Apricot & Almond Christmas Cake
Now, this Christmas cake is baked in the pressure cooker, so it looks wet and undercooked when it first comes out. Rest assured, as it cools it will harden, and it dries out more with each passing day. It does, however, taste super, as soon as it's cooled.
You can serve it straight away, or wrap it in cling film until you need it. Ice as desired, or if you're one of those folks who are not keen on marzipan and ready-to-roll icing, you could always decorate the top of the cake with some whole almonds before baking.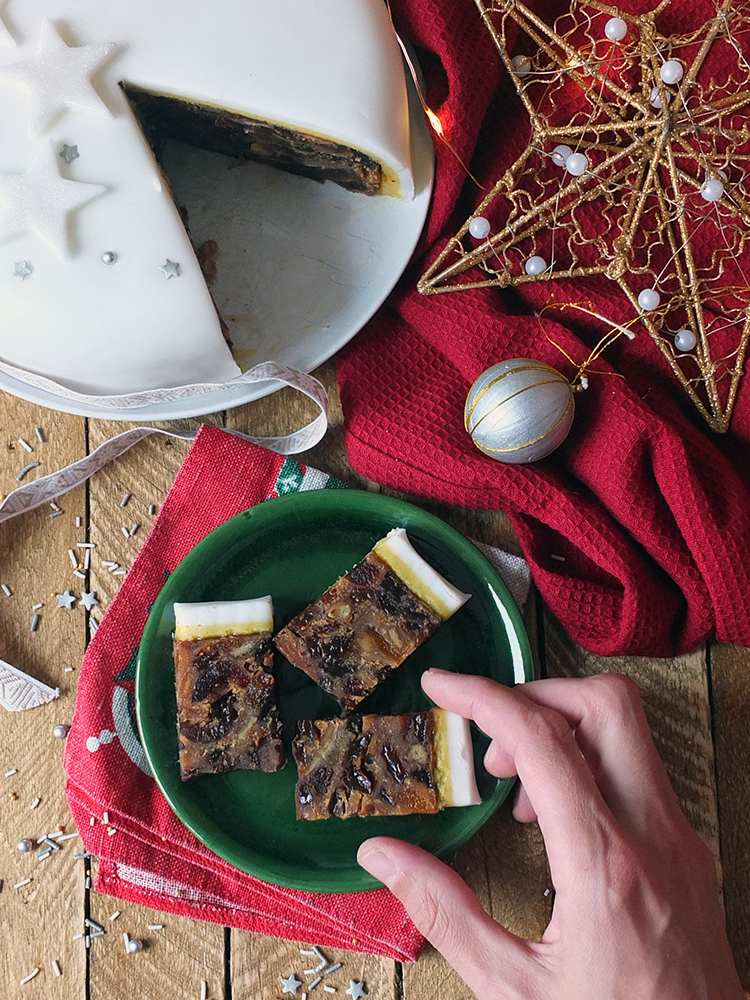 There's no need to go overboard with decorating your Christmas cake either. If you're short of time, just fix a festive ribbon around the base or side of the iced cake. A sprig of fresh holly makes for an attractive finish too, I think.
Alternatively, cut some Christmas shapes out of the leftover ready-to-roll icing, brush with some edible glitter and press a few silver or gold coloured balls into the top. Easy peasy!
Cut your cake into small pieces and serve as usual.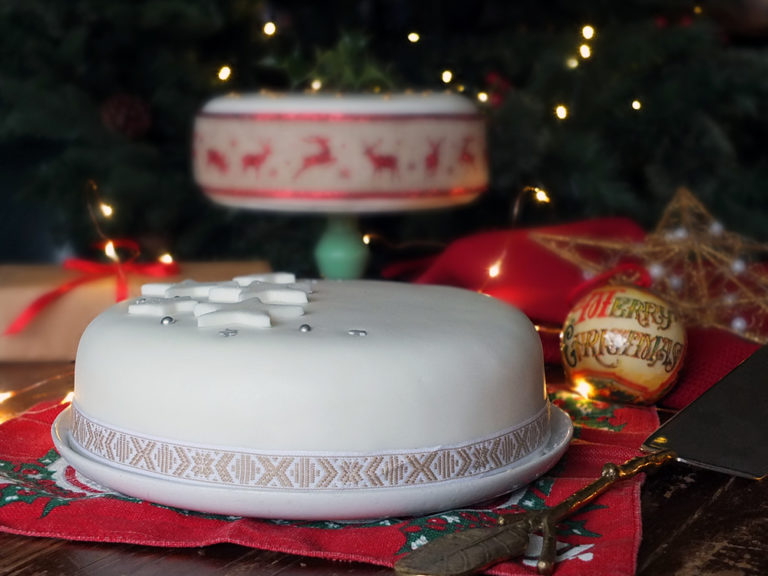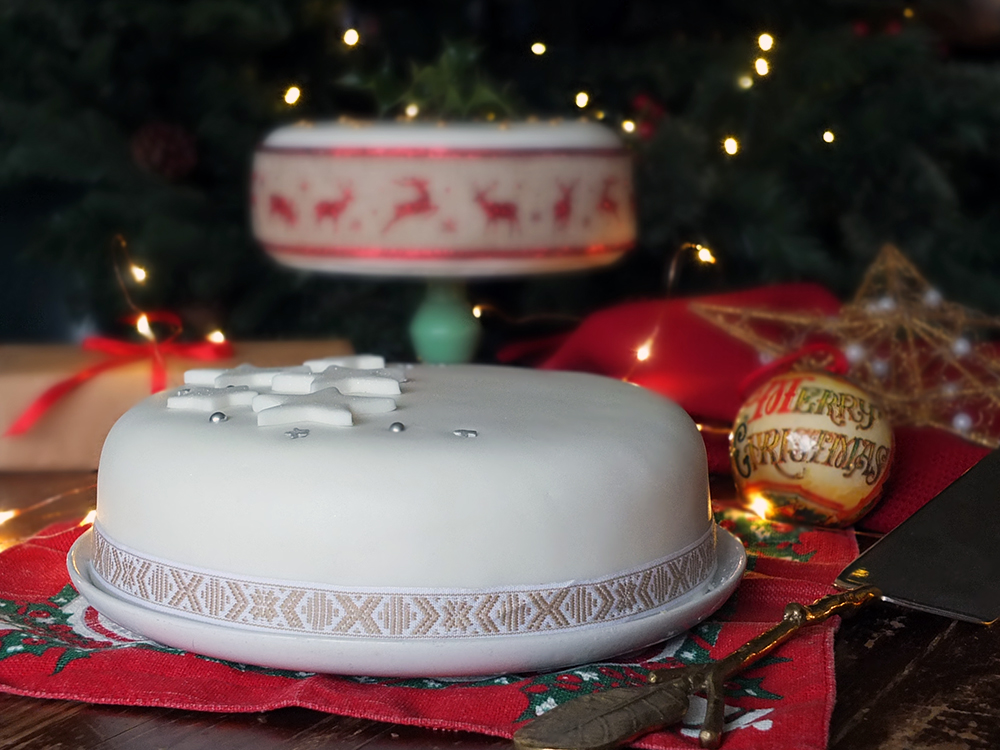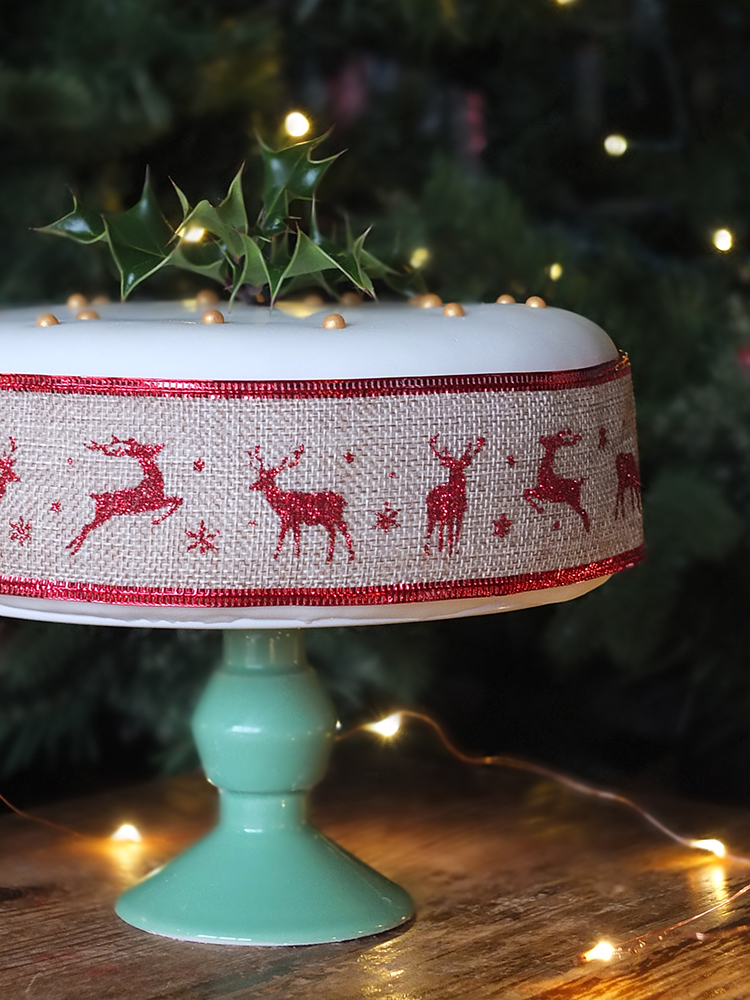 During the month of October, Crock-Pot® encourages Brits to slow down by joining in with #Crocktober – a 31-day slow cooking challenge that aims to help the people of Britain put their feet up, enjoy that extra hour in bed and take back that quality time with loved ones. Importantly, #Crocktober sets out to remind us that it's possible to cook delicious meals without taking up the whole day.
This is the second of three recipes I will be sharing this Crocktober for Crock-Pot®. Check out my Oxtail Soup recipe made using the slow cooker function of the Crock-Pot® Express Multi-Cooker, and watch this space for the third recipe!
For more recipe information, visit the Crock-Pot website and follow them on Instagramand Facebook.
What's your favourite recipe to cook in a pressure cooker? Let me know in the comments!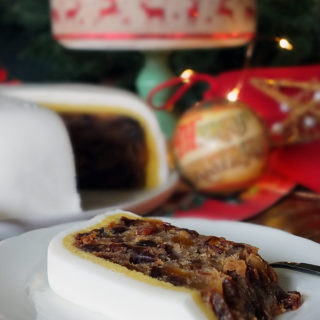 Pressure Cooker Apricot & Almond Christmas Cake Recipe
This pressure cooker apricot and almond Christmas cake recipe is a delicious, moist cake ready in just 2.5 hours! With no soaking and no feeding, it's perfect if you're needing a last-minute homemade Christmas cake.
Print
Pin
Rate
Affiliate Links
This recipe card may contain affiliate ingredient and equipment links. As an Amazon Associate I earn from qualifying purchases.
Instructions
Place the sultanas, raisins, apricots, mixed peel, cherries, orange and lemon juice and zest, cherry brandy, butter and dark muscovado sugar into the Crock-Pot Express Multicooker cooking pot.

Select MANUAL, set the temperature to LOW and leave to run for five minutes, stirring frequently.

Transfer the mixture to a bowl and leave to cool for half an hour.

Meanwhile, lightly grease two 7-inch high sided metal cake tins.

Add the flour, baking powder, spices, almonds and eggs to the fruit mixture and stir well.

Divide the mixture evenly between the two cake tins, smoothing over the top.

Add 300 ml water to the clean Crock-Pot Express Multicooker cooking pot and place the metal steaming rack in the bottom.

Make an aluminium foil sling big enough so that you can remove the hot cake tin after cooking, and place this on top of the steaming rack. Make sure there's enough space in the top so it doesn't get caught in the lid.

Place one of the cake tins in the base of the cooking pot and fit the Crock-Pot Express Multicooker lid, making sure it is in the locked position and that the steam release valve is closed.

Select DESSERT, HIGH PRESSURE and set the timer for 60 minutes, or 90 minutes if you prefer a more dense cake.

At the end of cooking, wait 10 minutes to allow the pressure to release naturall. Carefully use a kitchen utensil to move the steam release valve into the release position.

Carefully remove the cake tin from the cooking pot and leave to cool completely.

Cook the second cake, and decorate as desired when cooled!
Nutrition
Calories:
224
kcal
|
Carbohydrates:
38
g
|
Protein:
3
g
|
Fat:
7
g
|
Saturated Fat:
4
g
|
Cholesterol:
34
mg
|
Sodium:
62
mg
|
Potassium:
277
mg
|
Fiber:
2
g
|
Sugar:
21
g
|
Vitamin A:
419
IU
|
Vitamin C:
4
mg
|
Calcium:
35
mg
|
Iron:
1
mg
PIN THIS PRESSURE COOKER CHRISTMAS CAKE FOR LATER
This is a sponsored recipe post in collaboration with Crock-Pot®, although all thoughts and opinions expressed are our own. Thank you for supporting the brands who make it possible for me to do what I love: mess up my kitchen and share recipe stories.