A simple, yet incredibly rich and delicious oxtail soup recipe made extra easy by slow-cooking it in the new Crock-Pot®Express Multi-Cooker. This recipe is brought to you in collaboration with CrockPot®.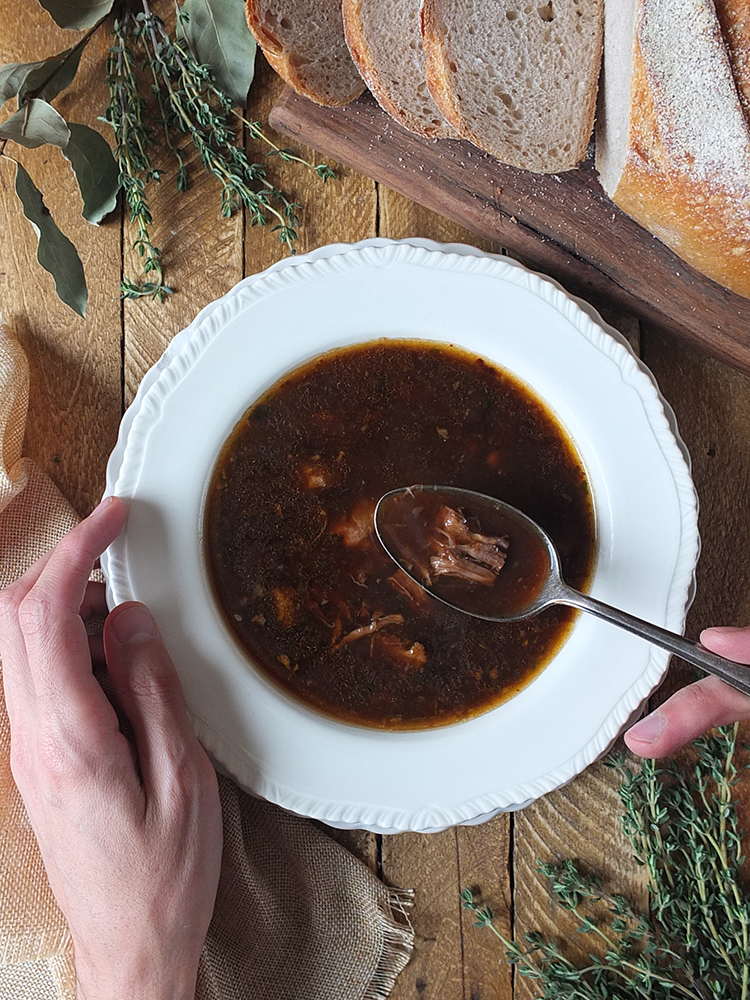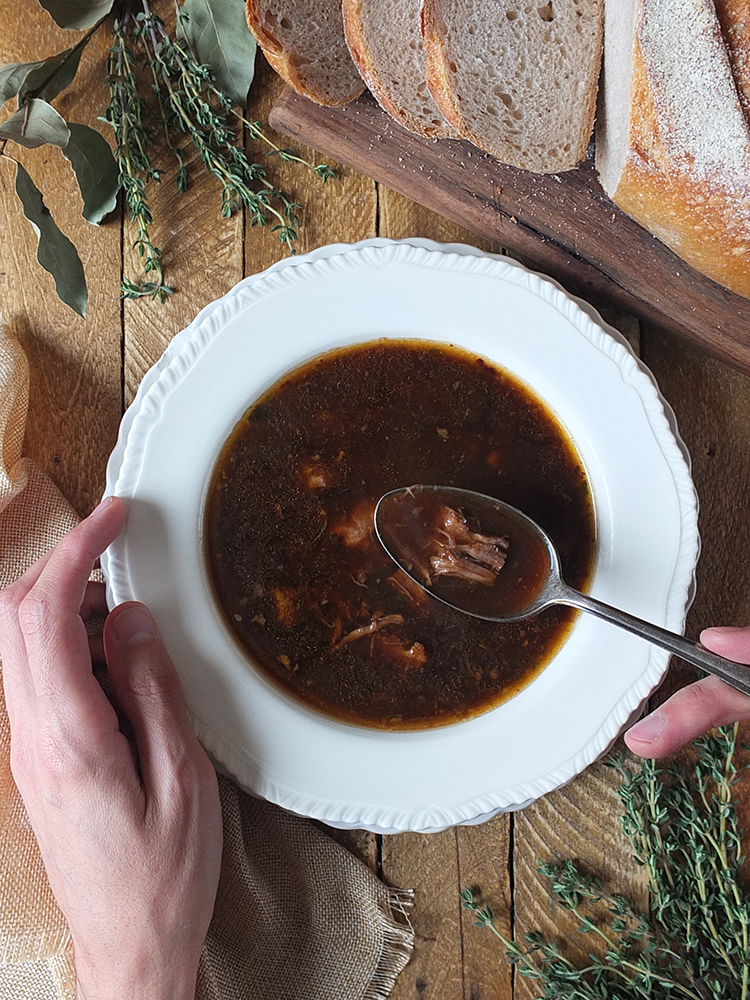 It's officially Autumn, up here in Shetland, with the days growing noticeably colder, shorter and windier. Our diet is switching from light summer salads and meals to warming comfort foods like soups and stews.
In this oxtail soup recipe, I use a whole oxtail (skinned and cut into segments by my butcher), seasonal heritage rainbow carrots, celery, onions and garlic from my veg box and a whole bottle of locally brewed oatmeal stout to create a rich and delicious Autumnal dish.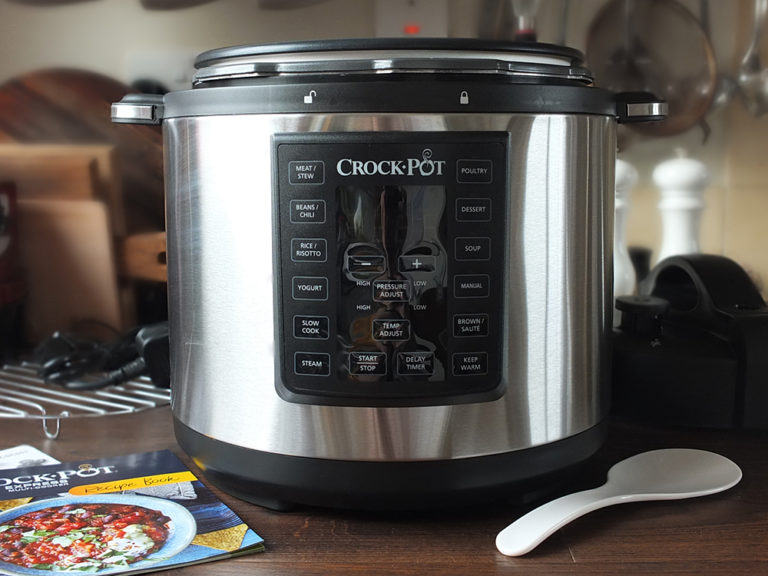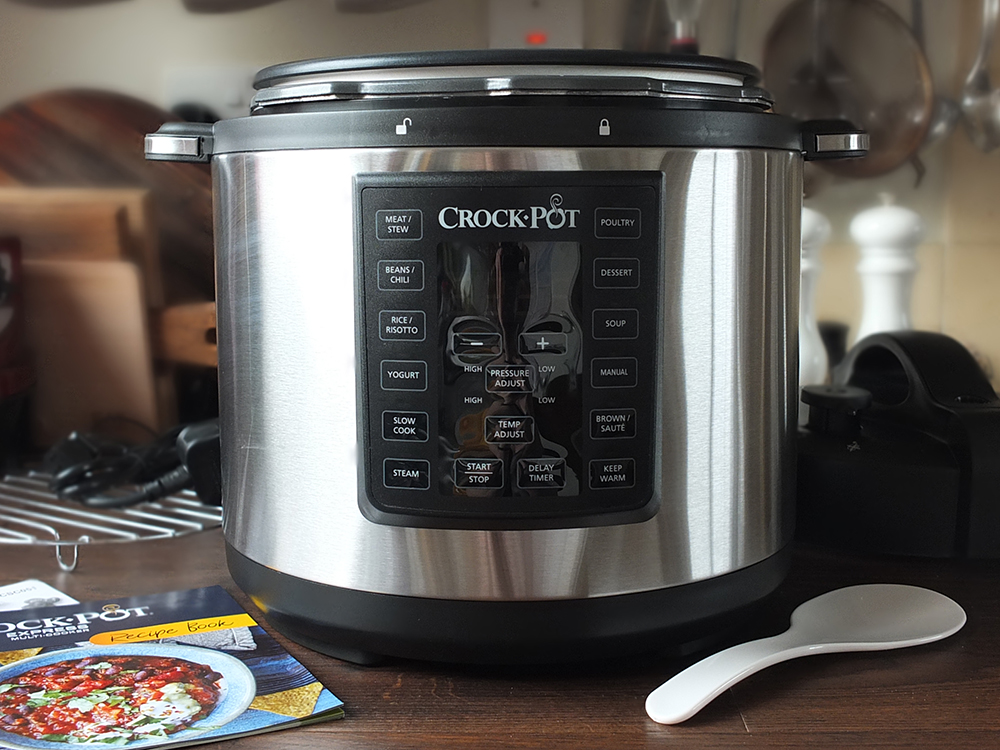 The Crock-Pot® Express Multi-Cooker
I've been using a slow cooker now for years. They're such a handy and versatile kitchen appliance to have around – and usually, I just plonk a bunch of ingredients in the pot (sometimes I sear the meat, sometimes not) and then leave the house on an outdoor adventure for a while. By the time I return home, knackered and hungry from hillwalking, dinner is ready!
The new Crock-Pot® Express Multi-Cooker, on the other hand, is a next-level slow cooker. You can do all the searing in the cooking pan, meaning you don't have extra washing up to do, and, if for some reason you've forgotten to put the roast chicken on for the dinner that you wanted before you left, you can put in it when you get back. The Crock-Pot® Express Multi-Cooker is also a pressure cooker! It can cook a whole roast chicken in just 30 minutes!
Other features include:
cooks up to 70% faster, saving time when in a hurry
a time delay
12-in-1 multicooker functions including pressure cooking; slow cooking; brown/saute and steam all in one pan meaning you can easily prepare any recipe on the menu, using one convenient appliance
8 one-touch meal options including meat/stew; beans/chilli; rice/risotto; yogurt; poultry; dessert, soup & manual
easy to use – everything is pretty straightforward to understand and apply
low cost – it retails for around £90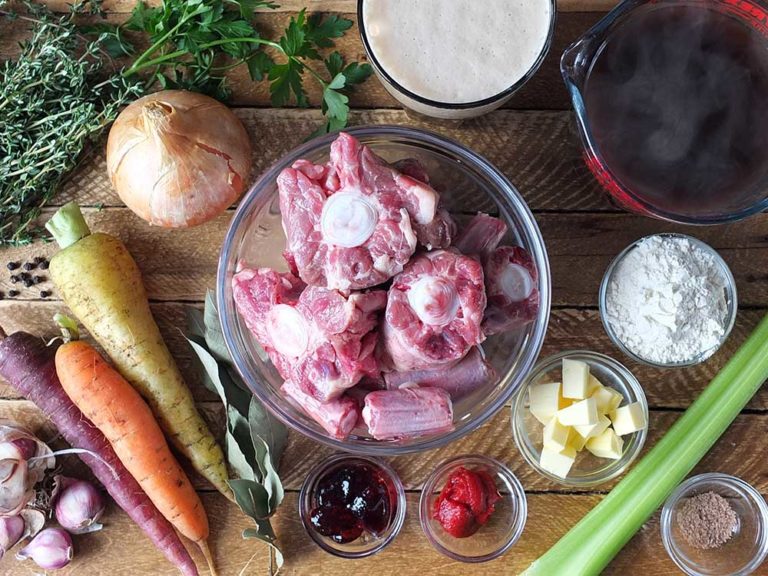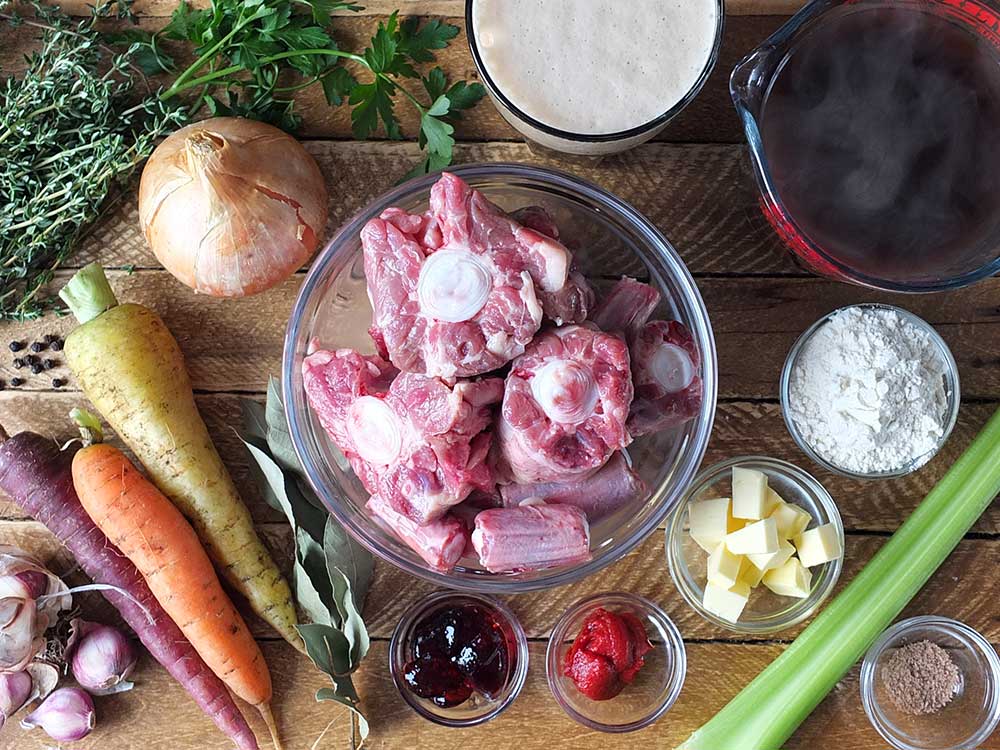 Ingredients to make Oxtail Soup in the Slow Cooker
one whole oxtail – get your butcher to cut it into pieces
plain flour, for dredging
butter
sea salt and freshly ground black pepper – I used smoked sea salt for extra depth of flavour
carrots – I used heritage rainbow carrots from my veg box
celery
onions
garlic
good quality beef stock – I use Rich Beef Stock Pots
tomato puree
good quality stout – I used a locally brewed oatmeal stout
fresh herbs: thyme & parsley, and a few dried bay leaves
redcurrant jelly – for a little touch of sweetness
[amazon_link asins='B07C1MPN1T,B014G2LG1E,B01CFWAUNC,B00CMX5BVQ,B01EWVJMCE,B00GLAV5VQ,B07CSDCTZD,B01BMB7XZA' template='ProductCarousel' store='elizskitcdiar-21′ marketplace='UK' link_id='72b0946d-c894-11e8-94cb-a582fc142dca']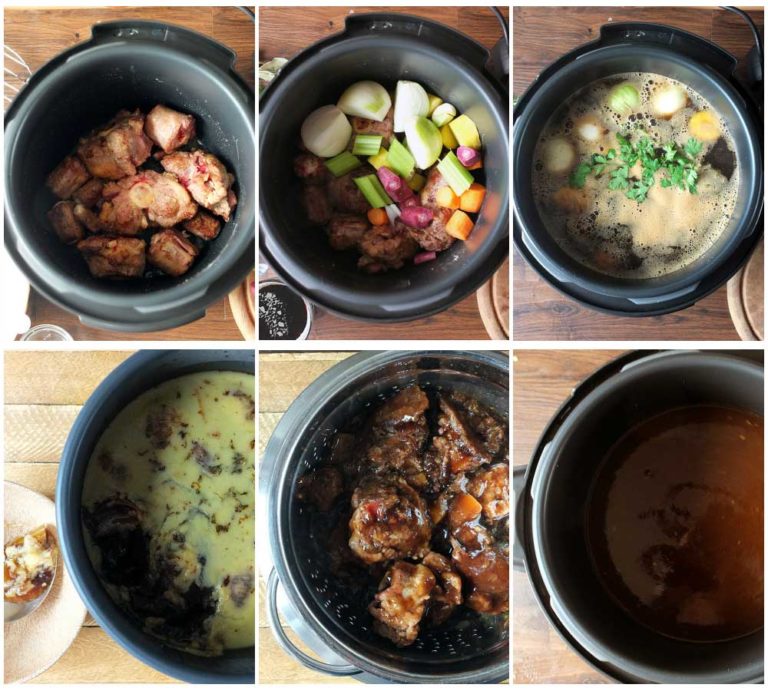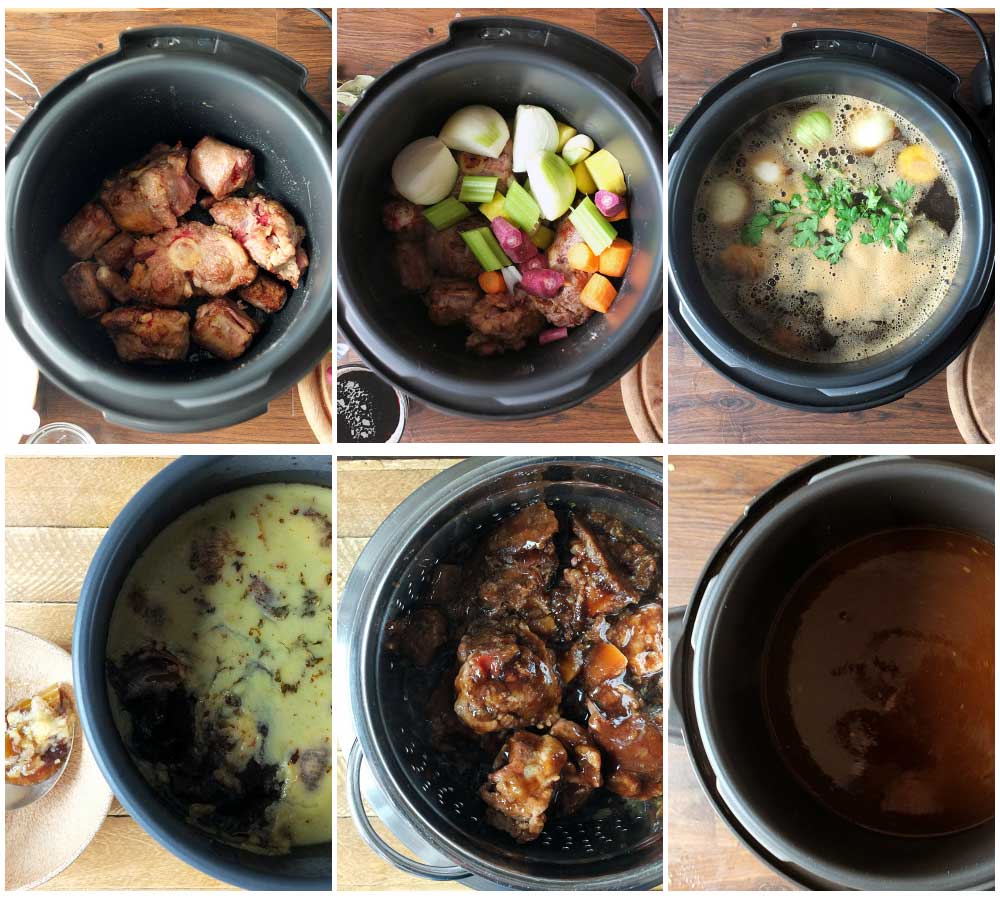 How to make oxtail soup in the slow cooker
Step 1: Dredge oxtail pieces in seasoned flour and brown on all sides.
Step 2: Add coarsely chopped onion, garlic, carrot and celery.
Step 3: Add beef stock, stout, tomato puree and herbs. Slow cook for 8 hours on low.
Step 4: Leave in the fridge overnight to develop the flavours. Skim off fat in the morning.
Step 5: Sieve out the liquid, reserving it for later. Discard the vegetables and shred the cooked meat.
Step 6: Make a roux in the cooking pot with flour and butter, add the reserved soup liquid, shredded meat and red currant jelly. Reheat and serve!
How to Make Oxtail Soup in the Crock-Pot Express Multi Cooker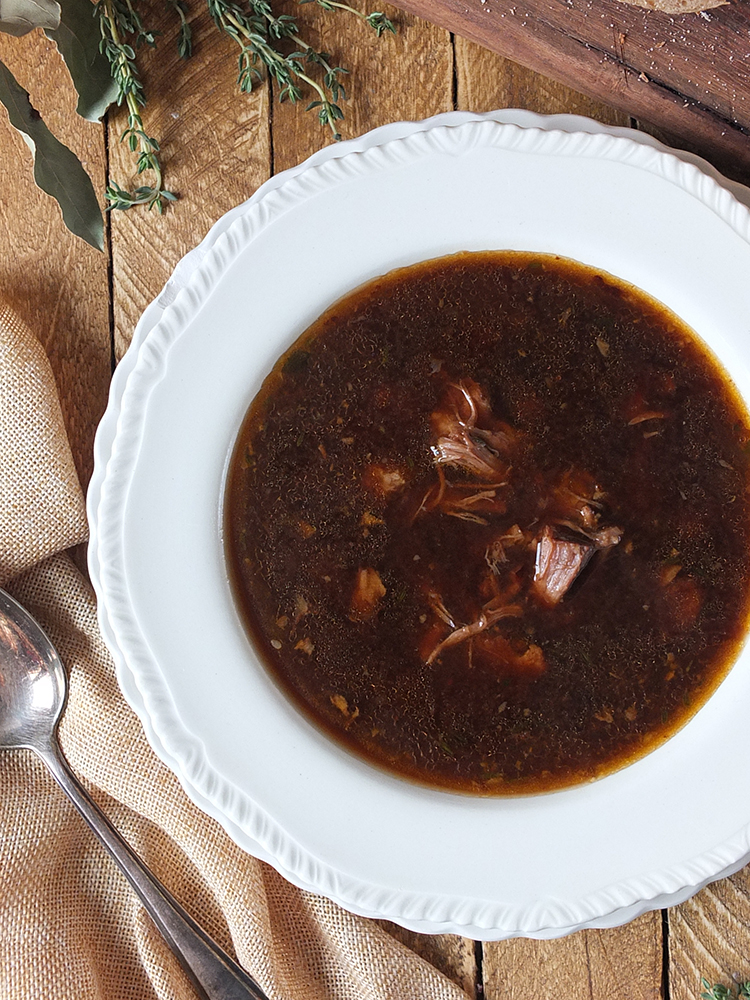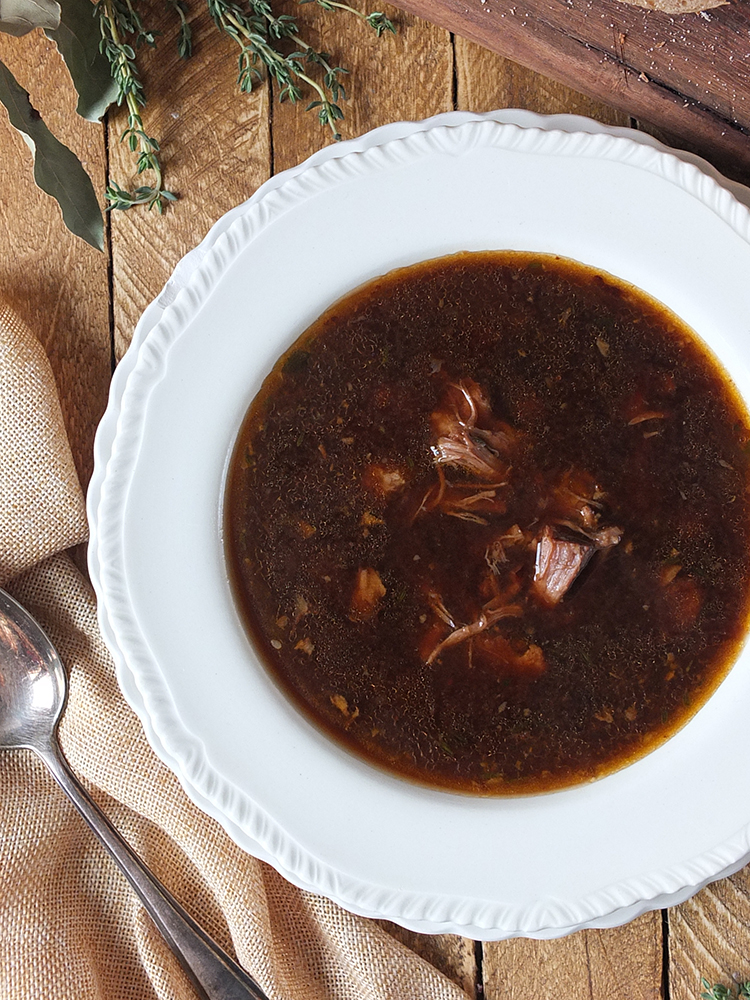 The resulting gelatin-rich soup is incredibly nutritious and tastes absolutely amazing, and there's very little work (and washing up) involved when you use the Crock-Pot® Express Multi-Cooker.
Crock-Pot is the original slow cooker. They launched in North America in 1971 and they've been trusted with family mealtimes ever since. For over 40 years Crock-Pot has led the way in electrical one-pot cooking as more and more people across the world embrace slow cooking as the convenient, cost-effective way to create hearty, flavoursome family meals.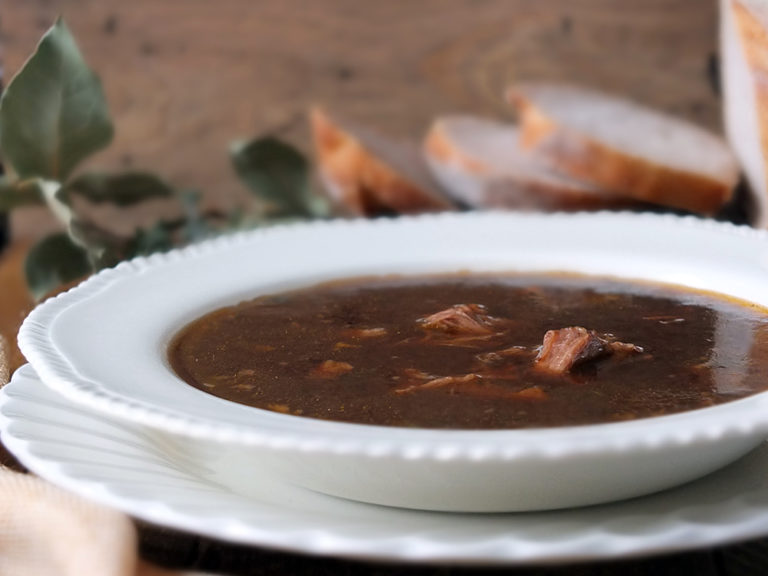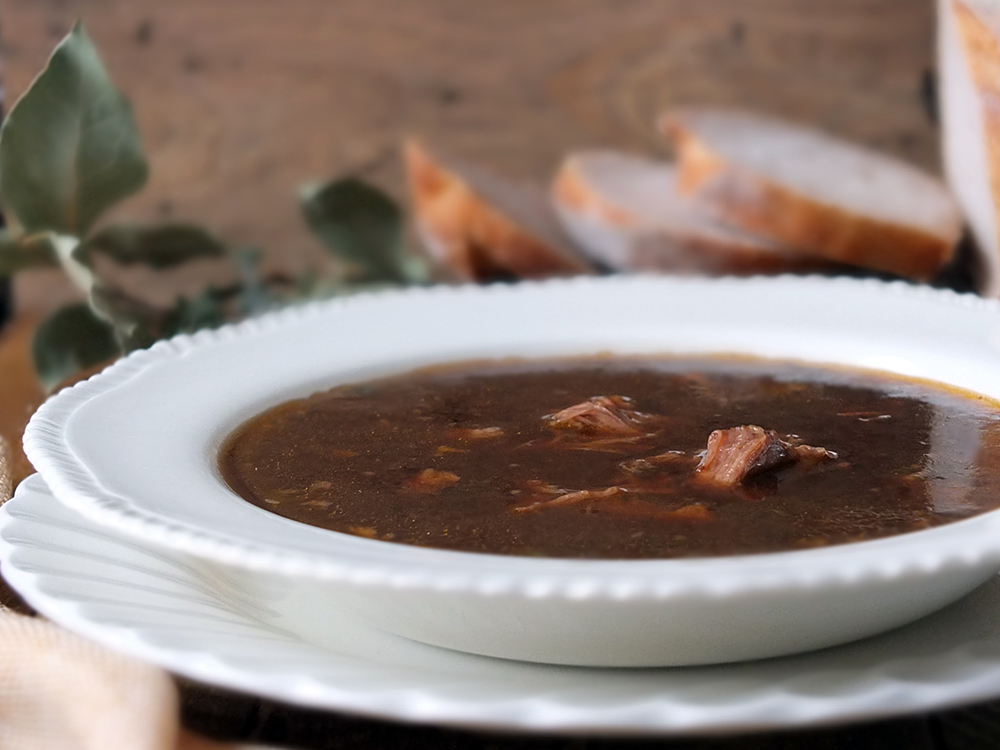 During the month of Crocktober (October) Crock-Pot®, encourages Brits to slow down by joining #Crocktober – a 31-day slow cooking challenge that aims to help the people of Britain put their feet up, enjoy that extra hour in bed and take back that quality time with loved ones. Importantly, #Crocktober sets out to remind us that it's possible to cook delicious meals without taking up the whole day.
This is the first of two recipes I will be sharing this Crocktober for Crock-Pot®. Watch this space for the second!
For more recipe information, visit the Crock-Pot website and follow them on Instagram and Facebook.
What's your favourite recipe to cook in a slow cooker? Let me know in the comments!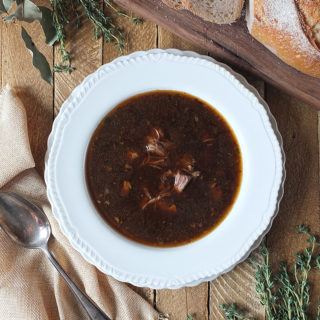 Slow Cooker Oxtail Soup with Stout
This rich and delicious oxtail soup recipe is really easy to make; a perfect winter warmer.
Print
Rate
Affiliate Links
This recipe card may contain affiliate ingredient and equipment links. As an Amazon Associate I earn from qualifying purchases.
Instructions
Season half of the plain flour with plenty of sea salt and freshly ground black pepper. Dredge the oxtail pieces in the seasoned flour.

Select the Brown/Saute function on the Crock-Pot® Express Multi-Cooker and set the timer for 10 minutes.

After the HEAT display has switched off, add half the butter to the pot and allow it to melt. Add the dredged oxtail pieces, and using the plastic spoon to turn the meat so that it sears on all sides.

Add coarsely chopped vegetables, beef stock, stout, tomato puree and herbs.

Fit and seal the Crock-Pot® Express Multi-Cooker lid, ensuring that the steam release valve is open. Select the Slow Cook option, and set the timer for 8 hours.

At the end of the cooking time, allow the soup to cool. Cover, and place into the fridge overnight.

The next day, skim any fat from the top of the cold soup. Sieve the entire mixture, setting the pieces of cooked oxtail aside, discarding the vegetables and reserving the liquid.

Using two forks (or your fingers) shred the cooked oxtail meat and set aside. Discard the bones and cartilage.

Clean the Crock-Pot® Express Multi-Cooker cooking bowl and place into the heating base. Select MANUAL and press Start.

Add the remaining butter and allow to melt. Add the remaining flour and stir with the plastic spoon for a minute, until cooked.

Slowly add the beef stock, a little at a time, stirring between additions. Bring to a simmer and add the reserved shredded oxtail and the redcurrant jelly.

Heat through and serve with some crusty bread.
Environmental Information
PIN THIS SLOW COOKER OXTAIL SOUP RECIPE FOR LATER
This is a sponsored recipe post in collaboration with Crock-Pot®. All thoughts and opinions expressed are our own. Thank you for supporting the brands who make it possible for me to do what I love: mess up my kitchen and share recipe stories.
[color-box]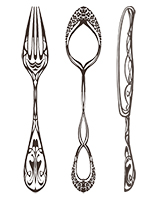 Have you made this recipe?
Take a photo and tag @tangoraindrop or use the hashtag #elizabethskitchendiary and share on Instagram and Twitter. It would make my day to see your creations!
[/color-box]