Three layers of peanut butter and chocolate flavoured cake swirled together sandwiched with peanut butter frosting and topped with a milk chocolate ganache and a giant Halloween spider.
I confess that when it comes to Halloween I really am still a child at heart. I grew up in rural Eastern Canada where Halloween, and all things Autumnal, were A. Very. Big. Thing.
Cape Breton, where I grew up, is famous world wide for its beautiful Autumnal leaf colours – the reds, golds, yellows and oranges of the forest canopy are something truly wondrous and attract American tourists in their droves to view them. Those Autumn colours and the feelings they evoke still hold a place in my heart.
Halloween in our rural village was highly anticipated. All of the children used to dress up in costumes and go out trick or treating, and every single home in the village was open to us trick or treaters. We'd go out with pillow cases and would often have to return home once or twice to empty them of our candied treasures.
Then, afterwards, we'd all gather in the village hall for our annual Halloween party. There was a costume judging, bobbing for apples and all sorts of fun fantastic childhood games. Then we'd go home and make ourselves sick over the following days by gorging on sweeties. I have a mouth full of fillings to prove it.
Gosh I loved Halloween.
Fast forward a few decades and I'm living on a remote North Sea island where Halloween is most definitely Not. A. Thing. In fact, it's often actively shunned as some ludicrous money making American custom and not for the civilised folk of the British Isles.
Don't get me wrong, there is still a village Halloween party but no one really goes trick or treating (there was one year where we had six trick or treaters but I think they were the regular three who dressed up in different costumes and came back again). No one but us in our village decorates their house up with Halloween decorations.
It's just not a custom here. Now, kale casting is a custom here on All Hallow's Eve. Older children go and steal some kale out of folk's gardens and chuck it in their front door, dirt and all. I reckon that if folk left bowls of Halloween candy in their front porches they wouldn't have to clean up the mess left from a well-aimed kale stalk. Kidding!
They don't carve pumpkins either. They carve neeps. Have you ever tried to hollow out and carve a neep (aka turnip)? Why!? Why would you even want to suffer through that?! And incidentally, did you know you can cook a turnip in a microwave?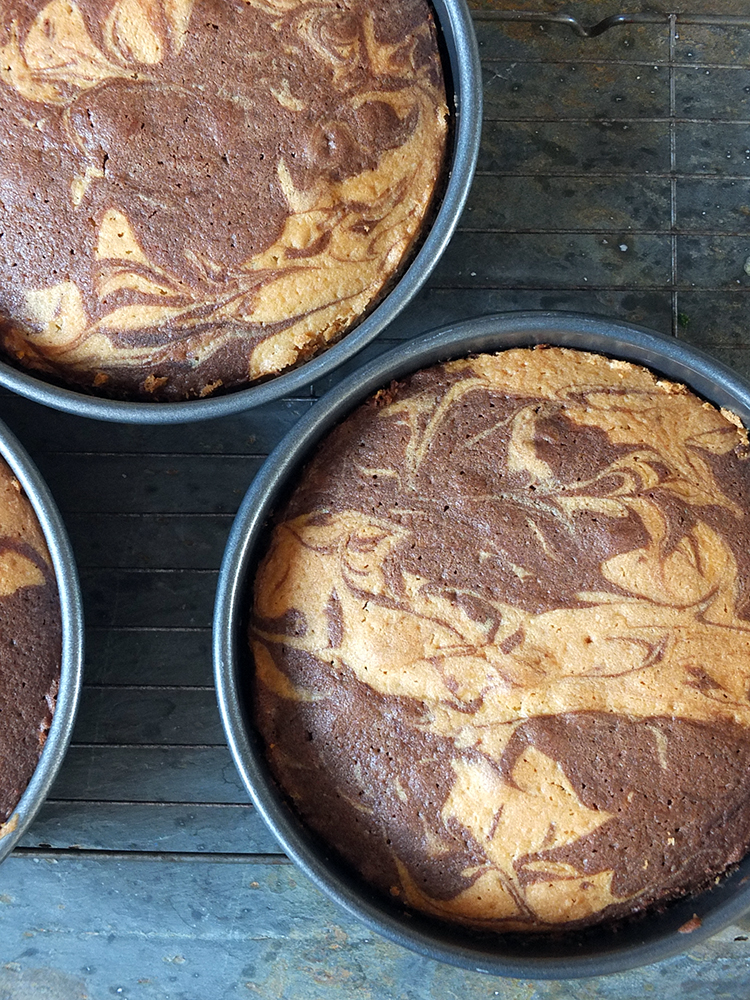 Ach well. When in Rome.
So, despite the fact Halloween is a rather muted affair on my remote island, I like to make the best of it at home and I like to treat my children to the most over the top American-style celebration cakes and bakes. I did manage to find two shops in our local town selling a small selection of Halloween themed decorations, and so I stocked up.
My ideal Halloween is spent at home with my family, dressed up in our Halloween costumes and surrounded in our decorated house. We like to watch a themed movie like Nightmare Before Christmas, Frankenweenie or Corpse Bride (I see a Tim Burton theme going on here…!)
Another fond memory I have from my rural eastern Canadian childhood is growing up on Skippy peanut butter. Well, before Skippy it was Squirrel peanut butter – remember, "the one with the peanut on top"? The company that made Squirrel peanut butter started making the American Skippy brand and then they eventually discontinued the original Squirrel range. Canadian jars of Skippy peanut butter still have a picture of a squirrel on it in homage to the previous brand though.
Remember during the late 1980s early 90s when Skippy peanut butter came in bear shaped glass bottles? We had a whole row of those jars that my mother used to use as storage containers. Ah, the memories! I'd love one of those on my counter top now – filled with sweets or something.
So, this year I've created a rather over the top extravagant Halloween themed cake for my children using Skippy peanut butter.
So yes, my cake – it's a three layered chocolate and peanut butter swirl cake sandwiched together with peanut buttercream frosting and topped with a layer of plain chocolate ganache. It's a really simple ganache to make too, none of that fancy heating double cream up to the right temperature nonsense – simply melt the ingredients in a bowl suspended over hot water and pour over the top.
The showstopper, I think, is the giant Halloween spider decorating the top made from a Scottish Tunnocks teacake for the body (for you overseas readers, that's a chocolate covered marshmallow cookie), a single Malteeser for a head and some Quality Street Matchmakers for legs. The Tunnocks teacake and Malteeser are covered in chocolate frosting and then rolled in Halloween sprinkles. Rather effective, no? Mega chocolate overload!
Oh, another tip is to pop your cake into the fridge to chill once you've put the peanut buttercream on it (don't forget to reserve a little to pipe a cobweb on the top of the cake!) – the chilled icing makes the hot chocolate ganache set much quicker, giving you those lovely chocolate drips.
Make sure your chocolate frosting isn't too warm either when trying to fix the legs onto the spider, or you'll spend ages trying to keep them upright. Experiment – if they keep falling over pop the icing in the fridge for a few more minutes to harden some more.
Use the photo above as a guide for leg placement – four blobs of frosting on either side of the spider body and then four more blobs where you want the 'feet' to be located. Use another blob of frosting for the 'knees'.
Personally, I think chocolate and peanut butter are a marriage made in heaven (you have no idea how excited I was when peanut butter Kit Kats finally made it across the pond to us!). And Reese's peanut butter cups? Swoon!
Do you have any Halloween customs in your family? Let me know in the comments!
PIN THIS HALLOWEEN CAKE FOR LATER