Eat one… if you dare!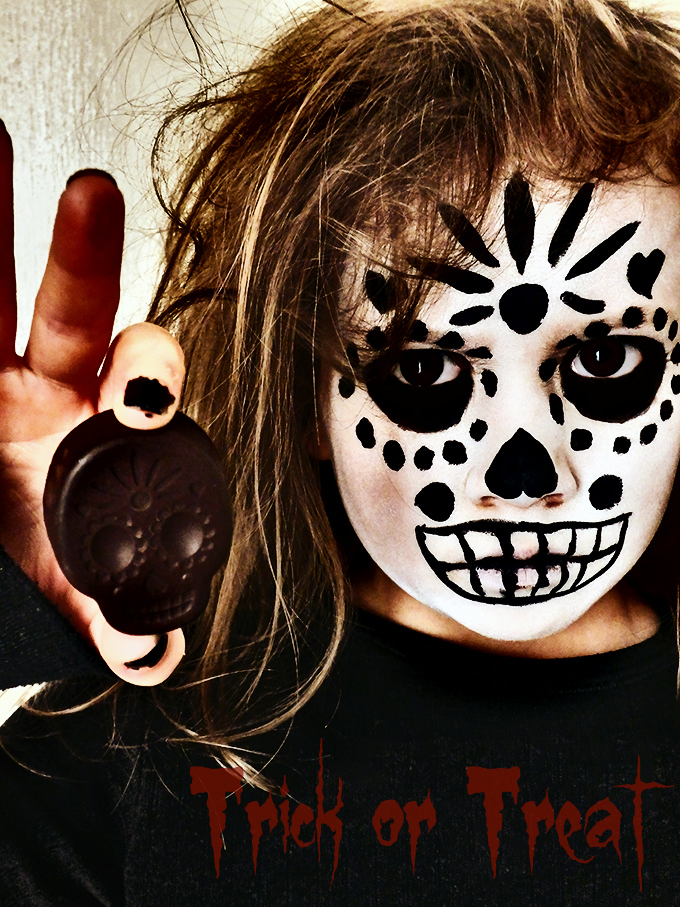 I love Halloween. I mean, I seriously love Halloween.
Unfortunately, Halloween in Shetland isn't nearly on the same scale as the Halloween of my rural Canadian childhood, where houses would be decorated up inside and out (with some teenage twerp invariably blowing up our carefully carved jack o'lanterns with fire crackers). Every child in the village dressed up and went trick or treating – with pillow cases. None of these little plastic pumpkins for stashing treats in, no, there was enough loot to fill a pillow case (sometimes twice!).
I'm sure this may have contributed to the mouthful of fillings I have, but that's besides the point.
Maybe it's just that UK Halloweens pale in comparison to those grand affairs of my North American upbringing, but do you know what? My kids are half-Canadian.
They get a kick-butt Halloween.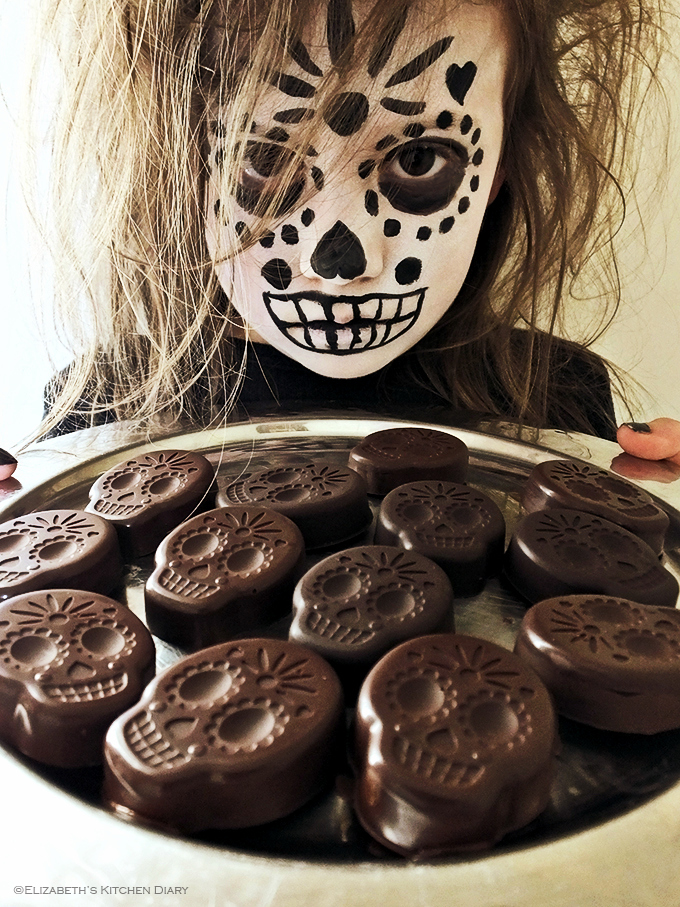 Look at that face – doesn't that face deserve an awesome Halloween?
Don't get me wrong, we do celebrate Halloween in my rural island village. There's a village party at the local hall that takes an awful lot of effort to create. I know, I've done two out of my three required turns already. A group of village parents are selected/volunteer to host the party at the hall each year (and the Christmas party) and you're expected to do it three times before your children reach secondary school. Those with newborns are excempt from volunteering.
The parents organize the whole event – party games, home bakes, prizes, everything and this takes some time to do. Do you know how many loaves of bread, litres of milk and tins of coffee are required to cater for a village party?  It is pretty good fun, to be honest, although sometimes I struggle with the social aspect (I'm not, by nature, a sociable person – would you believe?!).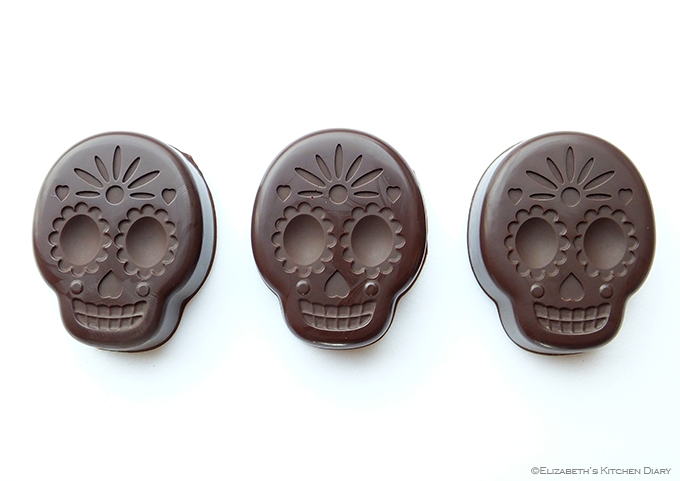 Earlier on in the year Lekue contacted me, asking if I'd like to try out a selection of their silicone bake ware. My two boys have birthdays close to each other in the Spring, so I picked the number five cake mould and the three tier cake mould to make their birthday cakes with. I also picked this Crazy Skull chocolate mould, to hold onto until Halloween.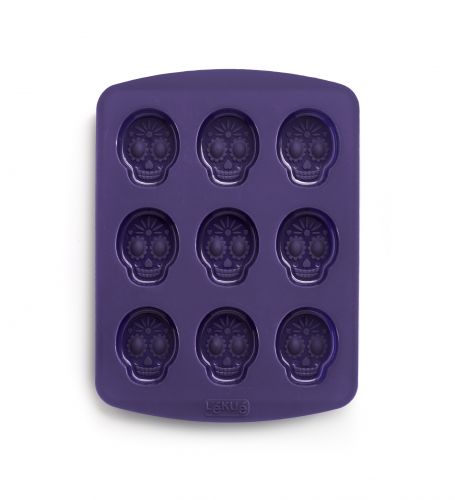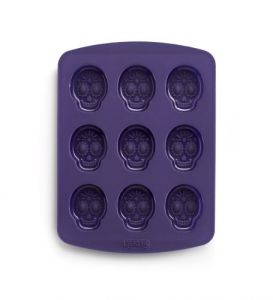 I brought that mould out today, melting some gorgeous 85% cocoa solids Fairtrade dark chocolate and using white marzipan to make some zombie skull brains to hide inside (ok, I was feeling lazy – I could have concocted some elaborate filling, but there was a free 100 gram sample of Renshaw white marzipan languishing in my cupboard needing used up. That would do.)
Then I had to paint my daughter's face to match the skull pattern on the mould. That was a little bit fun.
I ran out of dark chocolate, so I made another batch with plain chocolate – these are still nice, but I prefer the dark stuff myself.
Our village postie was treated to two of these while on his route today too (just mentioning him because I know he'll read this!). 🙂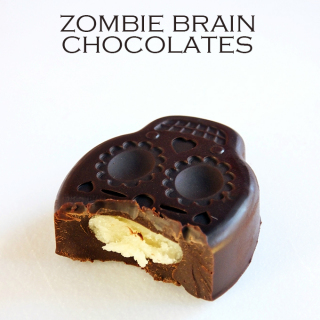 Zombie Brains Chocolates
A dark chocolate coating encases the most delicious zombie brains. Eat if you dare!
Print
Rate
Affiliate Links
This recipe card may contain affiliate ingredient and equipment links. As an Amazon Associate I earn from qualifying purchases.
Instructions
Break chocolate into a heat proof bowl and suspend over a pan of barely simmering water. Stir until melted.

Spoon a little of the chocolate into the base of a skull shaped chocolate mould and pop in the fridge for 10 minutes to harden.

Take a small ball of marzipan and shape into a flat oval shape. Place in the 'brain' area of the skull mould.

Fill the remainder of each well with melted chocolate and pop back into the fridge until hardened.
Environmental Information
Halloween in this household means dressing up for dinner (see my Spooktacular Halloween Feast for last year's celebration) followed by a family film night involving a Tim Burton film. This year I think they're all old enough for Edward Scissorhands – yay! 🙂
In the meantime, we got busy this week making Halloween cupcakes. This is a great way to keep the kids entertained for a little while: make your favourite cupcake batter to fill Halloween themed cupcake cases and let the children have free reign with the imaginations to decorate with assorted sweets.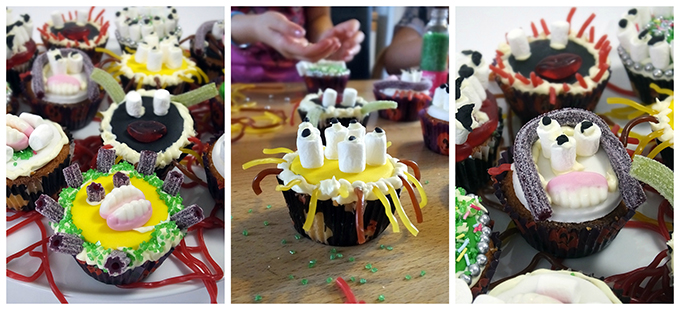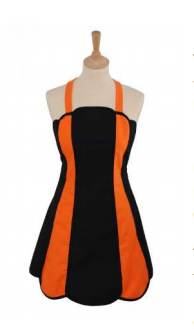 We're all dressing up this year for the village Halloween party. The kids want to be zombies and vampires, while I am going to go as a zombie chef, of sorts, wearing my new stylish paneled Halloween apron, part of the new C'est Ca Halloween kitchen textile range (a photo will be added after the day – I'm not dressing up beforehand for a photo and then doing it again on Halloween, but I did want to give them a mention before the big day).
I'm loving this cotton apron with its fitted bodice top and swishy skirt hand made in their factory in Norwich. If you want one for yourself Broadway Cook Shop sells them online. RRP £22-95
Linking up with Tasty Tuesdays, by Vicky at Honest Mum, Recipe of the Week by Emily at A Mummy Too and Cook, Blog, Share by Lucy at Supergolden Bakes. Also linking up with We Should Cocoa with Choclette over at Chocolate Log Blog and Hannah at Honey & Dough.
MORE HALLOWEEN INSPIRATION
Fun Halloween Recipes by Katie
Halloween Cookies by Sarah
Follow Choclette's board Halloween / Guy Fawkes / on Pinterest.


If you want to be kept up to date on my recipes, occasional craft tutorials, adventure stories and giveaways then please subscribe to my weekly newsletter; it gets sent out every Monday morning if there is new content. Your email address won't be passed on to anyone, you will never be spammed and you are free to unsubscribe at any time, no questions asked. Make sure you confirm your subscription or you won't receive the newsletter – if it hasn't arrived check your junk mail folder.
[wysija_form id="1″]
With thanks to C'est Ca @ictcCookware for the gorgeous apron, Premier Housewares for the Halloween themed baking cases and Lekue @lekue for the Crazy Skulls silicone mould. All opinions expressed in this post are those of Elizabeth's Kitchen Diary. This is not a paid post.