For a leisurely late morning breakfast.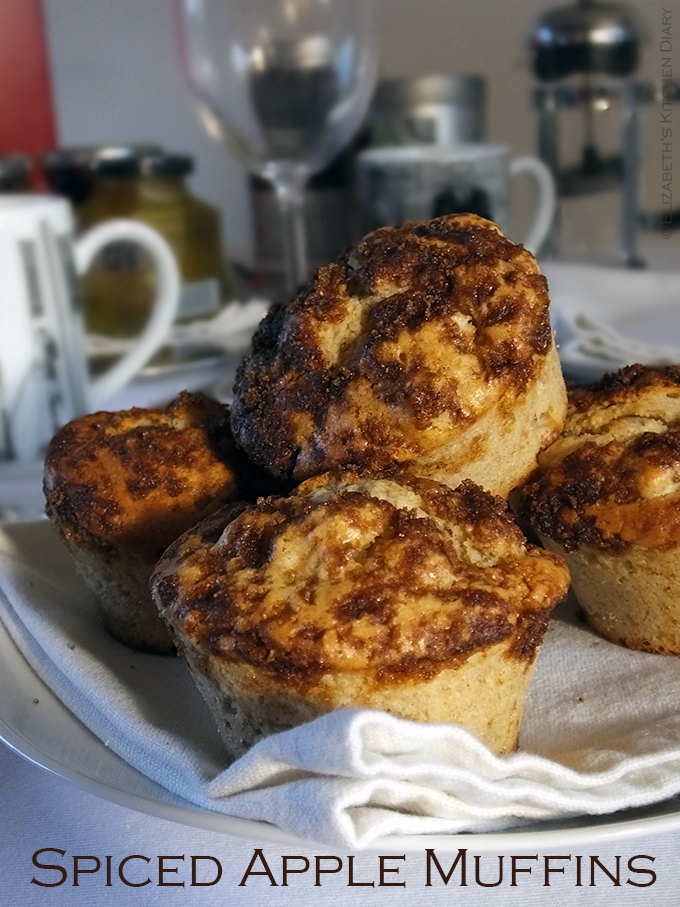 Nothing beats a leisurely late morning breakfast when you've got all the time in the world to enjoy it.
Good coffee, home bakes, quality preserves and a cheeky glass of… Prosecco?!
This is what my husband and I indulged in the other day.
The nature of my husband's work means he leaves the house at silly o'clock in the morning, but he's usually home by lunch. The nature of my work (and I'm not complaining, honest!) means I usually spend more time writing about food these days than I do cooking and eating it.
My poor husband is left to fend for himself, foraging in the fridge when he gets home, while I'm busy frantically typing away trying to meet deadlines.
I surprised him the other day, however, with a house filled with the warming scent of freshly baked spiced apple muffins and a table laid out, complete with a freshly ironed white table cloth and napkins, and the contents of a Harvey Nichols 'Rise & Shine' breakfast hamper.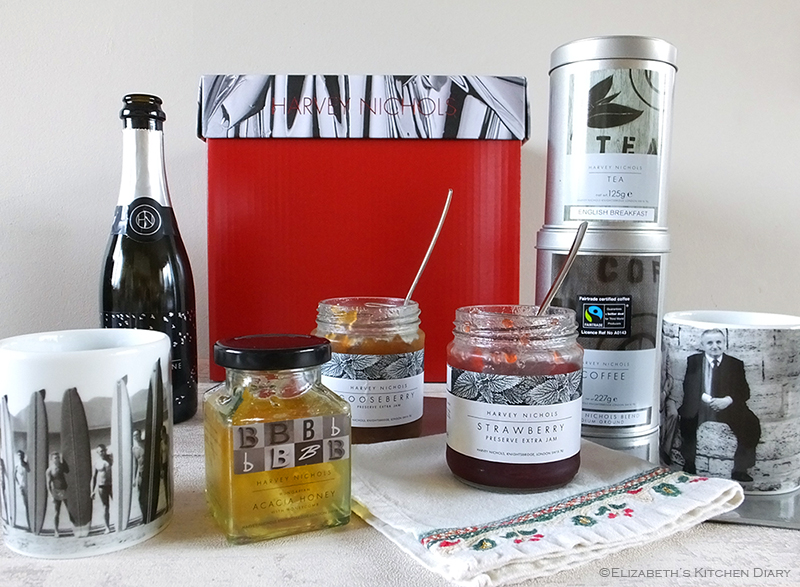 Hamper contents:
1 x 227 gram tin of Fairtrade Harvey Nichols own blend of coffee, hand crafted and drum roasted in the UK to produce a special medium to full bodied filter coffee with smooth chocolate undertones.
1 x 125 gram tin of carefully selected blend of Indian and Ceylon loose leaf teas producing a bright, flavoursome, highly drinkable English Breakfast Tea.
2 x quirky French porcelain Harvey Nichols mugs; one featuring the iconic Harvey Nichols Cantucci men and the other surfers. These are dishwasher, oven, microwave and freezer safe.
1 x 250 gram jar of Hungarian acacia honey complete with honeycomb. Light and delicately flavoured this sweet honey looks beautiful on the table with its honeycomb.
1 x 340 gram strawberry preserves made in small handmade batches using whole fruit to a traditional recipe nearly 100 years old.
1 x 340 gram gooseberry preserves. Made with whole gooseberries to produce a fruity and slightly tart preserve ideal with pastries, cakes or toast.
1 perfectly sized half bottle (375 ml) of Valdobbiadene Prosecco. Their website describes it as "Fabulously fruity, it is bursting with flavours of pear, red apple and ripe peach all set against a subtle mineral charged backdrop."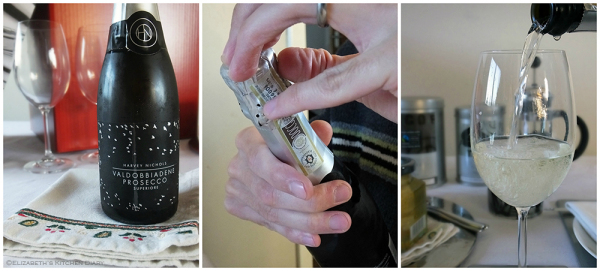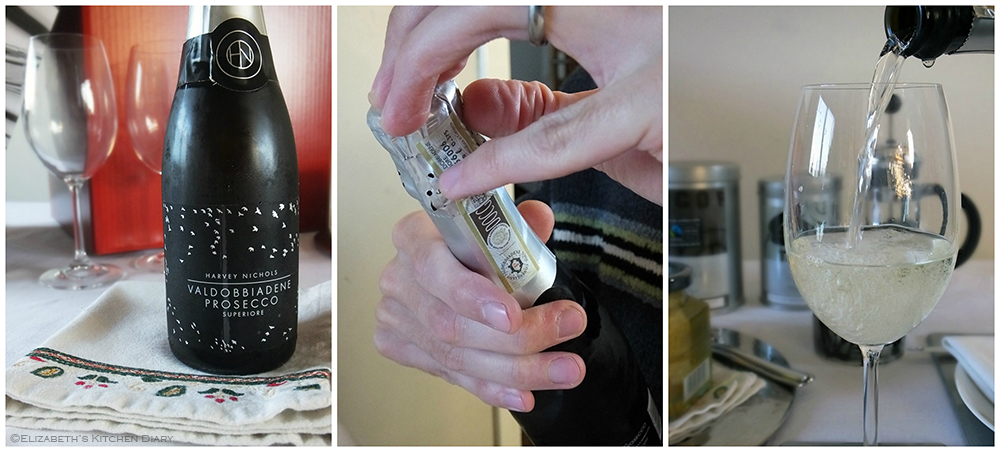 I couldn't very well serve toast with the contents of this lovely hamper, so I adapted a spiced apple muffin I found in an old Canadian leaflet in my cookery binder.
We thought it made a rather fantastic late breakfast with the low autumn Shetland sun shining through the window casting a golden hue over everything. I ignored the deadlines for awhile and we sat there indulging in good food and good conversation.
"Elizabeth, sometimes I really love your job" – my dear husband, while sipping Prosecco and spooning honey over his freshly baked muffin.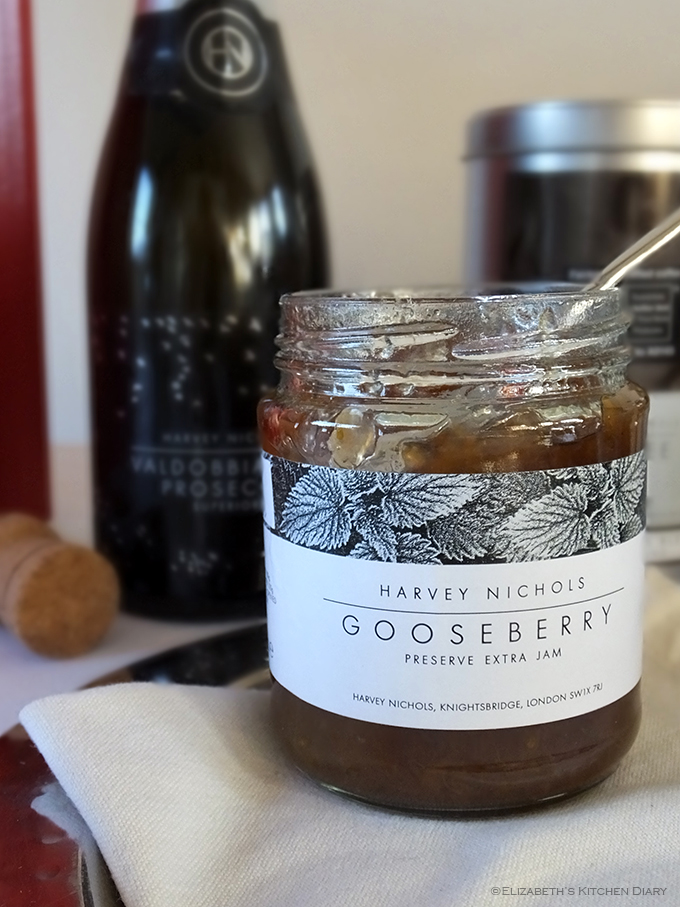 The honey was an absolutely gorgeous treat and complimented the spiced apple muffins perfectly while the Prosecco… well, if I have to be honest I do believe this was the first time I'd ever tried Prosecco and I love it! Lightly fruity and bubbly it too paired well with the spiced apple muffins. We both preferred the gooseberry preserve with the home bake, but the strawberry one was nice and not overly sweet either.
The Fairtrade coffee blend is rather fantastic as well. I've been sipping a cup (from my lovely new grumpy men mug!) while I've been typing this post. We haven't tried the tea yet, not being big tea drinkers, but I should expect it would live up to the quality of the rest of the hamper contents.
The hamper itself arrived at my rural island home fairly quickly after dispatch, well packaged in a gorgeous red box filled with compostable filling. I'm keeping the box itself for storage as it's so pretty!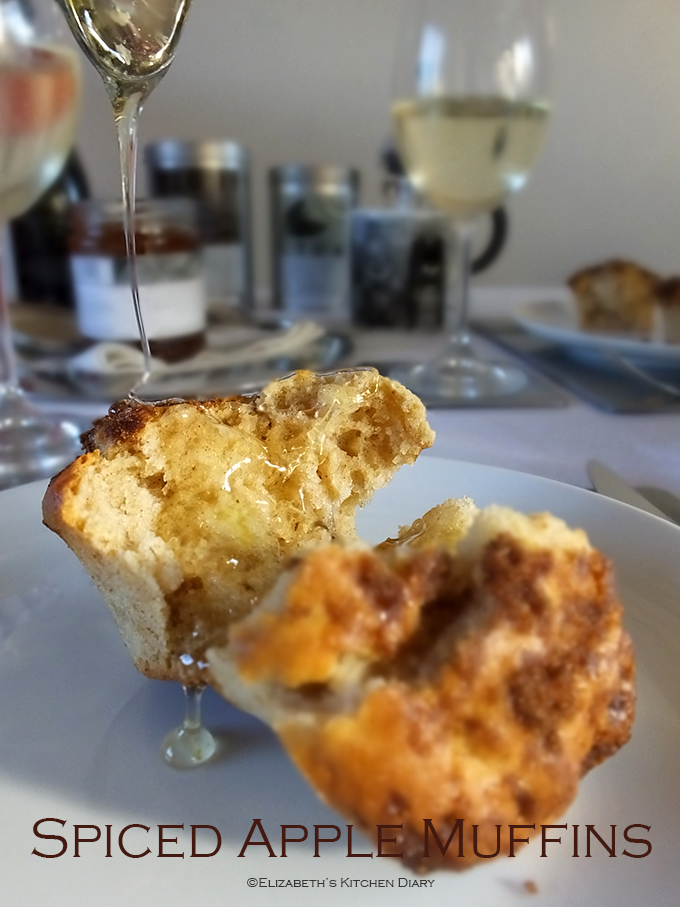 This Harvey Nichols Rise & Shine gift hamper is the kind of thing you would never buy for yourself (ok, I would never buy it for us) but it's just the right sort of thing you might like to treat your friends or family to; those people you know who love to sit and indulge in long, slow breakfasts.
Harvey Nichols have quite a wide range of Christmas Hampers on offer, from this lower budget one (which is still rather dear at £65) to the more extravagant Ultimate Indulgence Hamper which would set you back a whopping £2,000 (if anyone fancies buying this for me I'd be eternally grateful!).
To find out more visit their website. You can also find them on Twitter and Facebook.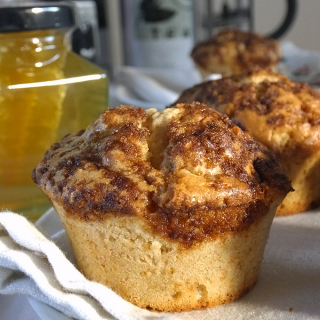 Spiced Apple Muffins
A warming, spiced apple muffin perfect for these cold mornings!
Print
Rate
Affiliate Links
This recipe card may contain affiliate ingredient and equipment links. As an Amazon Associate I earn from qualifying purchases.
Instructions
Preheat oven to 200 C/ 400 F and lightly grease 12 muffin tin holes (or line with paper cases)

Sift together the flour, baking powder, salt, cinnamon and nutmeg in a large bowl.

Stir in the caster sugar and add the chopped apple pieces.

Combine milk, beaten egg and melted butter in a measuring jug.

Pour the wet ingredients into the dry and fold until just combined.

Spoon into the prepared tins so that they are 3/4 full.

Combine brown sugar and spices in a small bowl. Sprinkle the mixture evenly over the top of the muffin batter.

Bake for 20-25 minutes, until risen and golden. A skewer, inserted in the centre of a muffin, will come out clean.

Transfer to a wire rack to cool. Eat warm with jam and honey.
Environmental Information
Linking up with Laura over at I'd Much Rather Bake Than… and her fab Biscuit Barrel challenge. This month the theme is 'Winter warmers'. I am also linking up with #recipeoftheweek by Emily at A Mummy Too and Tea Time Treats co-hosted by Karen over at Lavender & Lovage and Janie at Hedgecombers.
OTHER SPICED BAKES YOU MIGHT LIKE
Green Apple Fruit Cake and Pear & Ginger Muffins by Jacqueline
Spiced Apple Spelt Cake by Nazima
Bear Paws – Old Fashioned Molasses Cookies by Elizabeth
Spiced Apple, Plum & Red Wine Crumble by Emily
If you want to be kept up to date on my recipes, occasional craft tutorials, adventure stories and giveaways then please subscribe to my weekly newsletter; it gets sent out every Monday morning if there is new content. Your email address won't be passed on to anyone, you will never be spammed and you are free to unsubscribe at any time, no questions asked. Make sure you confirm your subscription or you won't receive the newsletter – if it hasn't arrived check your junk mail folder.
[wysija_form id="1″]
Elizabeth's Kitchen Diary was sent a Harvey Nichols Rise & Shine Breakfast Hamper for review. All opinions expressed are our own. This is not a paid post.