Remember, remember the 5th of November.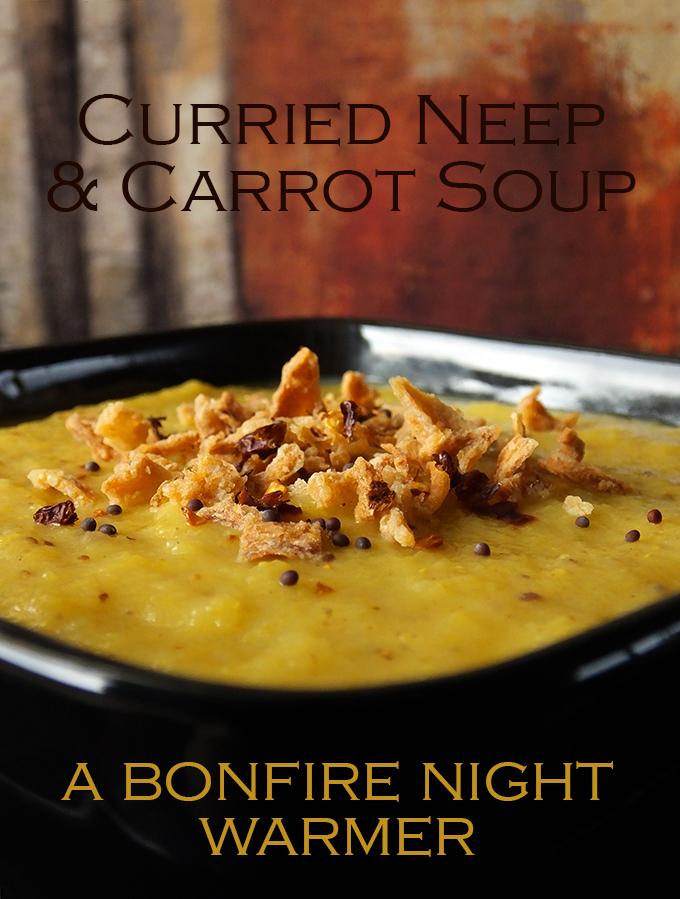 I may lament about the scaled down UK Halloween and lack of trick or treaters (we only had two this year – they left with loads of sweeties) compared to my rural Canadian upbringing, but do you know what? Bonfire night totally makes up for it.
I hadn't even heard of Bonfire Night, celebrated here in the UK each 5th of November, until I moved to the UK. Perhaps my Canadian history lessons were lacking (or perhaps I didn't pay attention quite as much as I should have). Bonfire Night is held in the UK to celebrate the failed attempts of Guy Fawkes to blow up the House of Lords in 1605.
There's something wonderfully primal about a community gathering together around a giant, roaring fire. The first time I attended the Bonfire Night celebrations here in my rural village I didn't know a soul. I'd only just moved to the village and I was very heavily pregnant with my second child. A complete stranger handed me a polystyrene cup of hot reestit mutton soup and someone else had a tray of salt beef bannocks and was also handing out sparklers to all the children. It was truly heartwarming.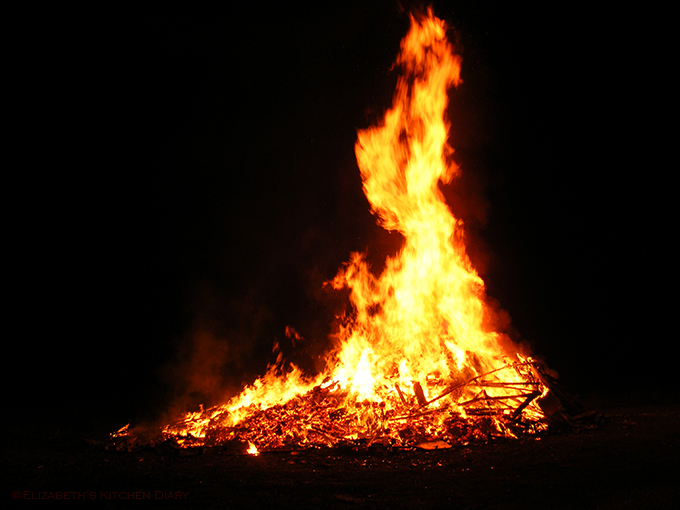 Throughout the year the villagers pile their unwanted wood and other flammables on the bonfire site, so by the time November comes around it's a pretty huge pile of fuel. There's a collection box in the village shop for the fireworks fund and on the Saturday nearest Guy Fawkes night (weather permitting) a flare is set off to announce the beginning of the festivities.
We all gather (at a safe distance) around the bonfire pile as it is lit, and you can feel the heat of the flames from quite a distance away. As a village we mingle, chat and share stories.
Sometimes I really do love where I live.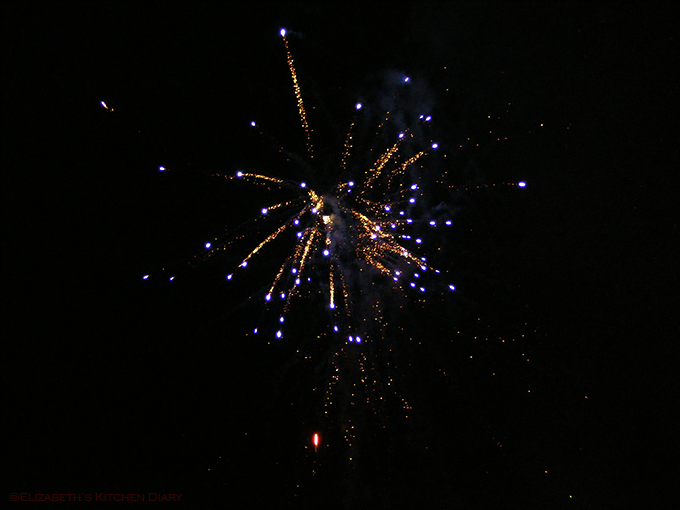 After the bonfire reaches its peak the men of the village set off the fireworks to a mass oooh-ing and ahh-ing from the villagers (and, if you're my youngest son, an abject screaming freak-out ensues and someone has to take him home. Maybe this year now that he's a bit older one of us parents will get to stay for the whole event!).
You certainly warm up by the bonfire, and as soon as you leave its warm embrace to go home you're absolutely freezing. Warming food is required. A nip or two will work, of course, but you want something that's going to warm up your core. Not just hot soup – I mean hot spicy soup!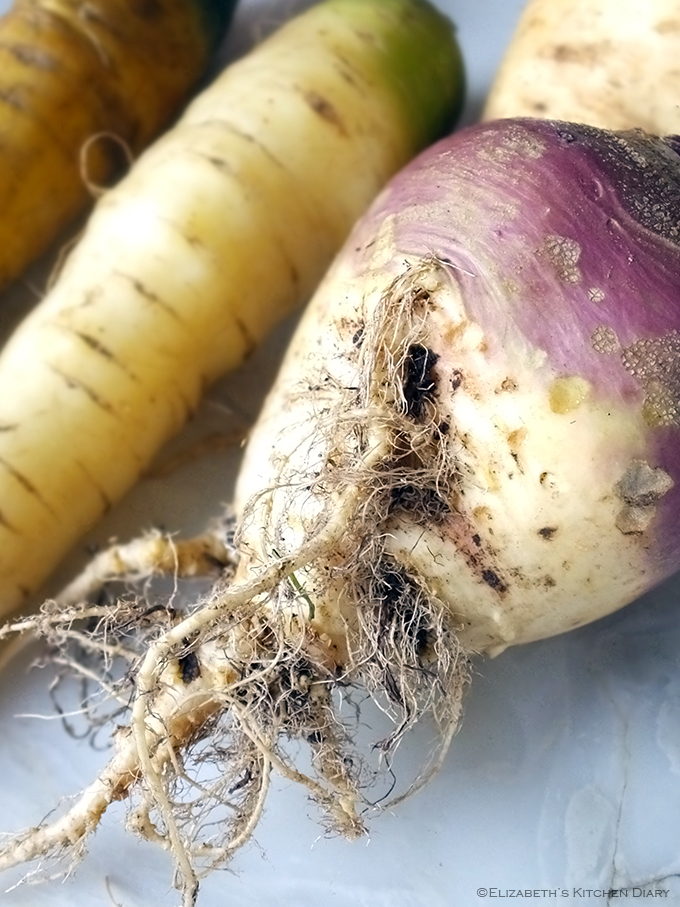 Would you believe I actually dreamt about this soup the night before I made it? Neeps (or swedes – these are not turnips!) are usually chopped up and cooked in beef stews in my house, or boiled with an equal quantity of carrots before draining, mashing with plenty of butter and freshly grated nutmeg, and served with a roast chicken dinner.
Neeps have been making a regular appearance in my veg box lately and we've not had any stews or roast chicken dinners to serve them with, so they've been gathering in the fridge. Something needed to be done with them. I dreamt about neep soup the night before. Soup it was going to be!
I found this recipe for turnip and carrot soup, upped the spices, replaced the turnip with neeps and changed a few other bits and here you have one seriously heart-warming soup (quite literally – the ginger content of this soup makes your skin warm up from the inside!). Just the sort of thing you need after you've been standing outside in the cold for an hour or so.
I topped my soup with some shop bought crispy fried onions I found for sale at the village shop. You could go through the bother of making your own, but at just over £1 for a whole tub of onions I thought that was a rather good bargain, and you can keep sprinkling the onions over the top of the soup as you eat your way through it. You'll understand if you are a crispy fried onion fan like me.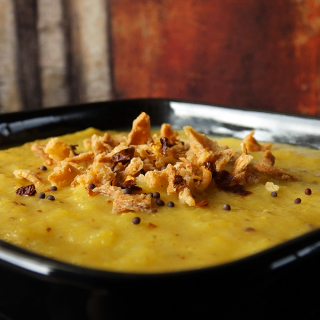 Curried Neep & Carrot Soup
This soup will warm your cockles on bonfire night!
Print
Rate
Affiliate Links
This recipe card may contain affiliate ingredient and equipment links. As an Amazon Associate I earn from qualifying purchases.
Instructions
Heat oil in a large soup pan over a medium-high heat.

Gently saute the onion until it begins to soften, about five minutes.

Stir in the black mustard seeds, coriander seeds and curry powder. Cook for one minute and add the ginger, smoked sea salt and cubed vegetables. Stir well to coat.

Pour over the vegetable stock, pop the lid half on and leave to simmer for 20 minutes or so, until the vegetables are tender.

Squeeze in the lemon juice, remove from heat and blend the soup with a hand blender until smooth. Season well with freshly ground black pepper.

Serve warm with plenty of crispy onions.
Notes
Tip: keep ginger root in your freezer. Grate the desired quantity, no need to peel, and return to freezer to keep fresh.
Environmental Information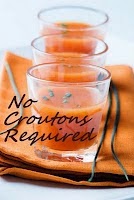 Linking up with No Croutons Required, the vegetarian soup and salad challenge co-hosted by Jacqueline over at Tinned Tomatoes and Lisa at Lisa's Kitchen.
OTHER WARMING SOUPS YOU MIGHT LIKE
Quick & Easy Butternut Squash and Chestnut Soup by Sarah
Dutch Split Pea Soup by Jeanne
Carrot, Leek & Mustard Seed Soup by Jacqueline
Moong Bean Dahl by Urvashi
Roasted Tomato, Red Pepper & Chorizo Soup by Camilla
Spicy Red Pepper & Sweet Paprika Soup by Jan
Quick Courgette & Blue Cheese Soup  and Pete's Home Made Cream of Tomato by Kavita
Onion Cider & Double Cheddar Soup by Laura
Spooky Carrot Soup by Jo
If you want to be kept up to date on my recipes, occasional craft tutorials, adventure stories and giveaways then please subscribe to my weekly newsletter; it gets sent out every Monday morning if there is new content. Your email address won't be passed on to anyone, you will never be spammed and you are free to unsubscribe at any time, no questions asked. Make sure you confirm your subscription or you won't receive the newsletter – if it hasn't arrived check your junk mail folder.
[wysija_form id="1″]