Celebrating Shetland food.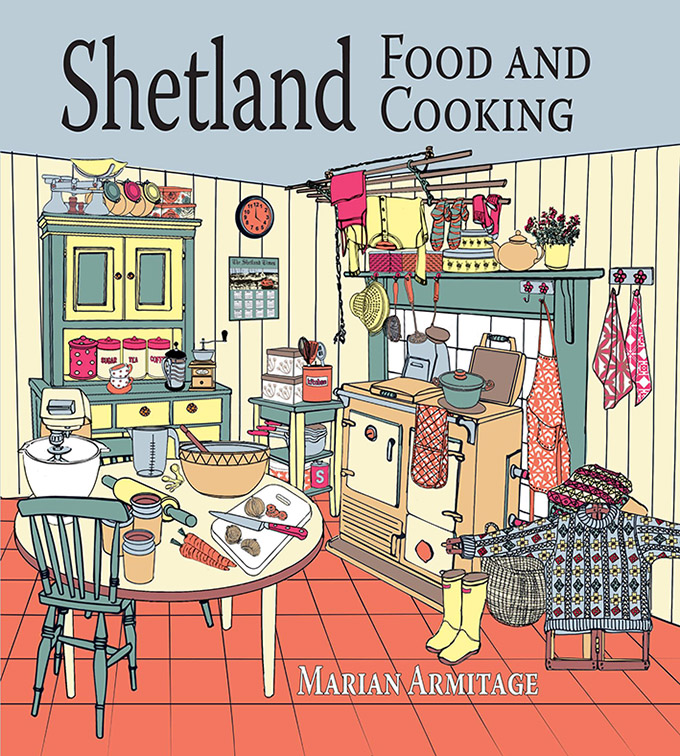 Cookbooks are a dime a dozen these days. As a food blogger I get sent cookbook after cookbook for review. Many get a cursory look through, a quick write up and then get banished to the bookshelf to rarely see the light of day again. Some I may make a recipe or two before giving the book away, and others become firm favourites, referred to time and time again.
Every now and then a cookbook comes along that's completely different, the kind of cook book you want to read, cover to cover, like a novel, comfortably in bed with a cup of steaming hot chocolate as the winter gales blast outside.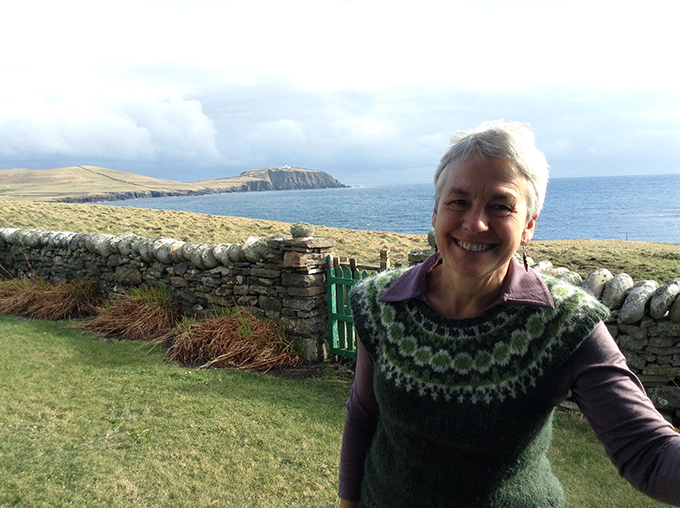 MARIAN'S HISTORY
Author Marian Armitage is a native Shetlander  educated at the Anderson Educational Institute in Lerwick, Shetland's main town. Encouraged by her mother, a traditional Lerwick housewife, and by her domestic science teacher, she knew by the age of 12 that she wanted to be a cookery teacher.
Summer holidays were spent working with various food producers in the town, from Willie Robertson's grocer shop to the Queen's Hotel kitchen to kippering herrings with the Herring Industry Board. She studied at the Edinburgh College of Domestic Science, learning both the course content and skills to teach it at the same time. After finishing her studies she taught cookery first in Norwich and then to inner city sixth formers in London, a teaching career spanning 35 years.
PURPOSE OF THE BOOK
In 2012 Marian saw a gap in the market. Other than the 1925 book Cookery for Northern Wives by Margaret B. Stout, she realised there were no contemporary books describing Shetland food and cooking. Although Cookery for Northern Wives gives a fabulous historical snapshot into the eating habits of post-war Shetlanders, many of the old recipes do not translate well into modern kitchens with modern tastes.
Marian wanted to create something highlighting the wealth of quality Shetland produce and producers available and to encourage people, Shetlanders and visitors alike, to use more of this produce in easily reproducible recipes, so she set to work researching and writing Shetland Food and Cooking.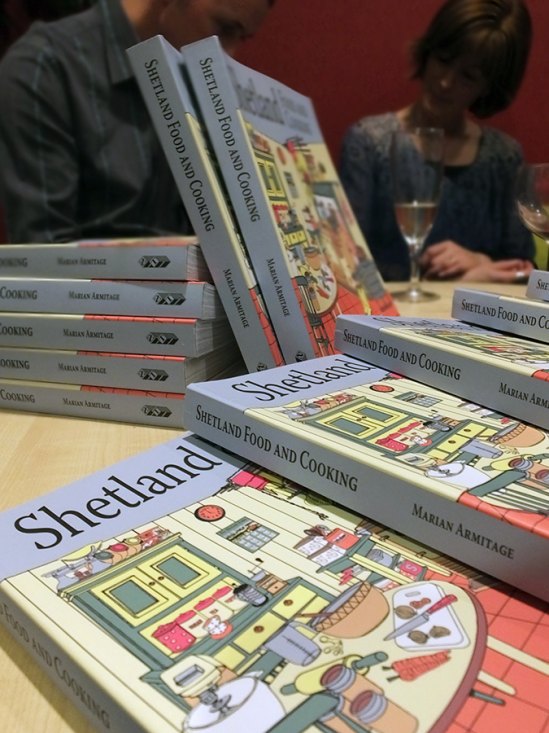 THE BOOK ITSELF
In this book, Marian combines her Shetland heritage with the colours and flavours she's experienced through her life's journey as a cookery teacher, where her students came from a diverse background.
In this book you will find traditional Shetland recipes such as bannocks, sassermeat clatch, rhubarb chutney, taatie soup with reestit mutton and a whole host of seafood recipes, but you will also find more contemporary recipes such as Armenian lamb, bobotie, ceviche and a beremeal flat bread recipe, made with a heritage barley grown here in Shetland since the time of the Vikings.
The book is conveniently divided into five sections, fish, meat, fruit & vegetables, dairy and home baking. Each section includes a historical background, musings on the current production situation, stories on the people and organisations involved in Shetland food production and promotion.
Written in the first person Marian's recipes are accompanied by light-hearted personal anecdotes and full colour photographs, most taken by herself in her own kitchen. She wants to encourage a new generation of home cooks to experiment with the wealth of produce available to them.
Marian is passionate about Shetland and Shetland food. She believes the food is the best you will find anywhere.
"This book is about Shetlanders, the food they grow, rear, catch and sell; the traditions and historical influences as well as newer trends."
Retailing at £20 this soft back book is printed and published by The Shetland Times. You can buy a copy through the Shetland Times Bookshop.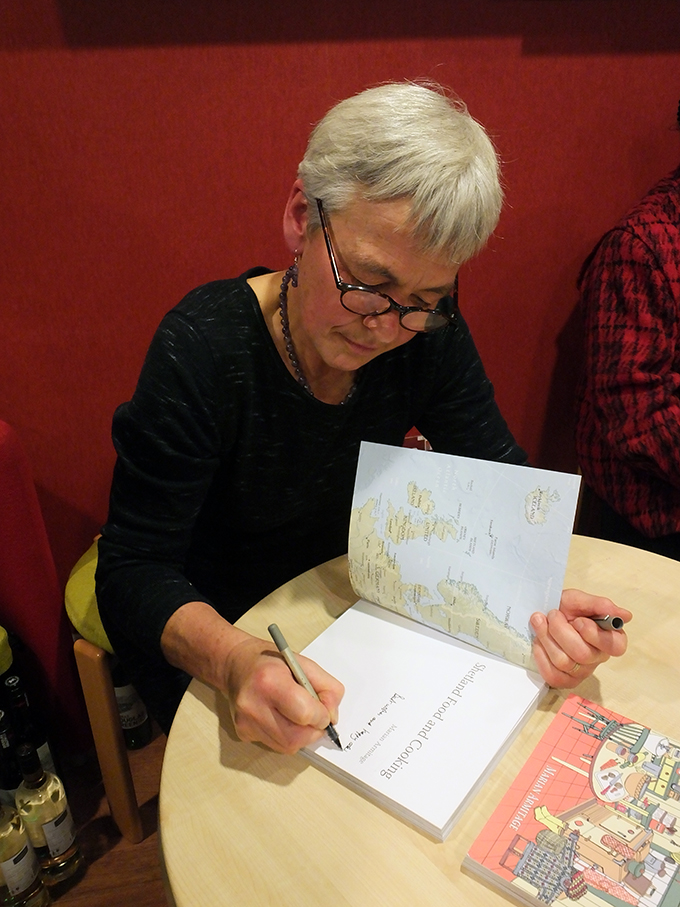 GIVEAWAY
I was at the official book launch last night (which you will be able to read all about shortly over on A Taste of Shetland) and I bought myself a copy of Marian's new book. I also bought one of my lovely readers a copy and Marian autographed it!
HOW TO ENTER
For your chance to win an autographed copy of Shetland Food & Cooking by Marian Armitage enter using the Rafflecopter form below. Come back and tweet about the giveaway every day for more chances to win!
TERMS & CONDITIONS
This giveaway is open to worldwide entries. Entrants must be age 18 or over. The winner will need to respond within 7 days of being contacted; failure to do this may result in another winner being selected.
The prize is offered and provided by Elizabeth's Kitchen Diary. The prize is an autographed copy of Shetland Food & Cooking by Marian Armitage . There is no cash alternative and the prize is not transferable.
If you need some help using Rafflecopter, here's a quick clip to show you how. Rafflecopter will pick the winner at random from all the entries received. I will be verifying entries and any automated entries or those who have claimed they have made the mandatory blog post comment and really haven't will be disqualified. It's mandatory!
Closing date is midnight on Monday 8 December 2014 (GMT)  and the winner will be announced that day.
a Rafflecopter giveaway

Don't forget to visit my Giveaways page for some other fab prizes!
If you want to be kept up to date on my recipes, occasional craft tutorials, adventure stories and giveaways then please subscribe to my weekly newsletter; it gets sent out every Monday morning if there is new content. Your email address won't be passed on to anyone, you will never be spammed and you are free to unsubscribe at any time, no questions asked. Make sure you confirm your subscription or you won't receive the newsletter – if it hasn't arrived check your junk mail folder.
[wysija_form id="1″]
Elizabeth's Kitchen Diary bought this book with her own money. This is not a paid post and all thoughts and opinions expressed are our own.