In collaboration with Vita Coco.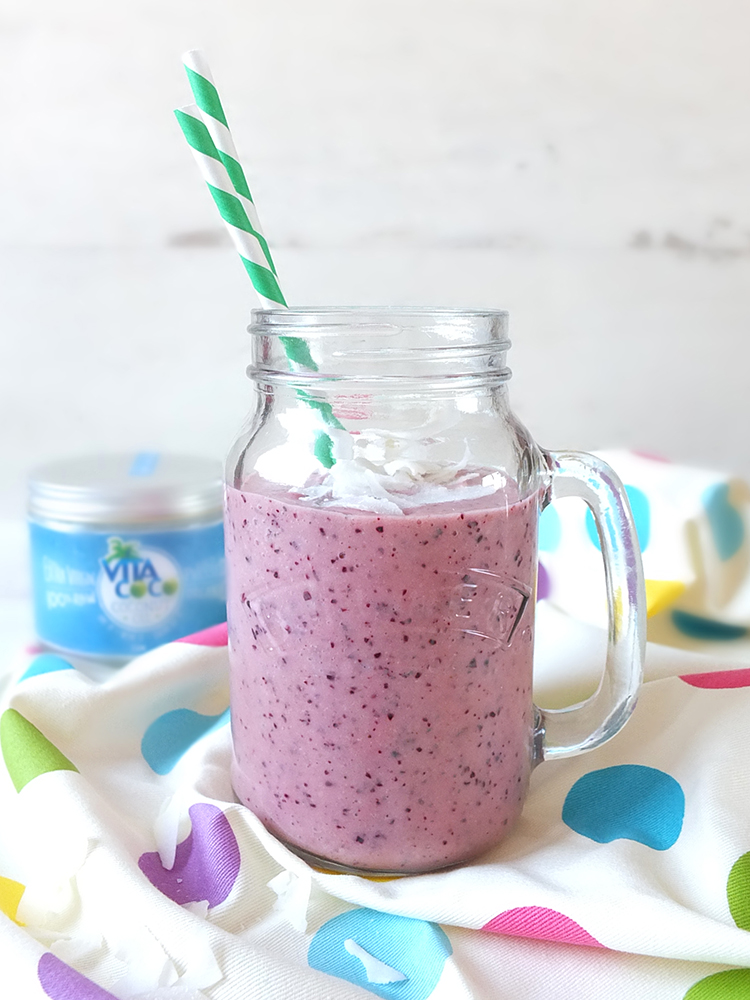 Coconut oil is a fairly new addition to my kitchen pantry, and if I am to be honest, there's now a little tub of it in the medicine chest in our bathroom too!
It's such a versatile ingredient with a whole host of health benefits. It's packed full of healthy saturated fats (our bodies need these to function properly), helps moisturise your skin from within (great for those of us with dry skin problems), helps maintain dental health (have you heard of oil pulling? Swish coconut oil around your mouth once a day to help remove bacteria and aid gum health) and studies have shown it may even assist with weight loss!
Coconut oil also contains medium-chain fatty acids which have been shown to help with building muscle and shedding body fat.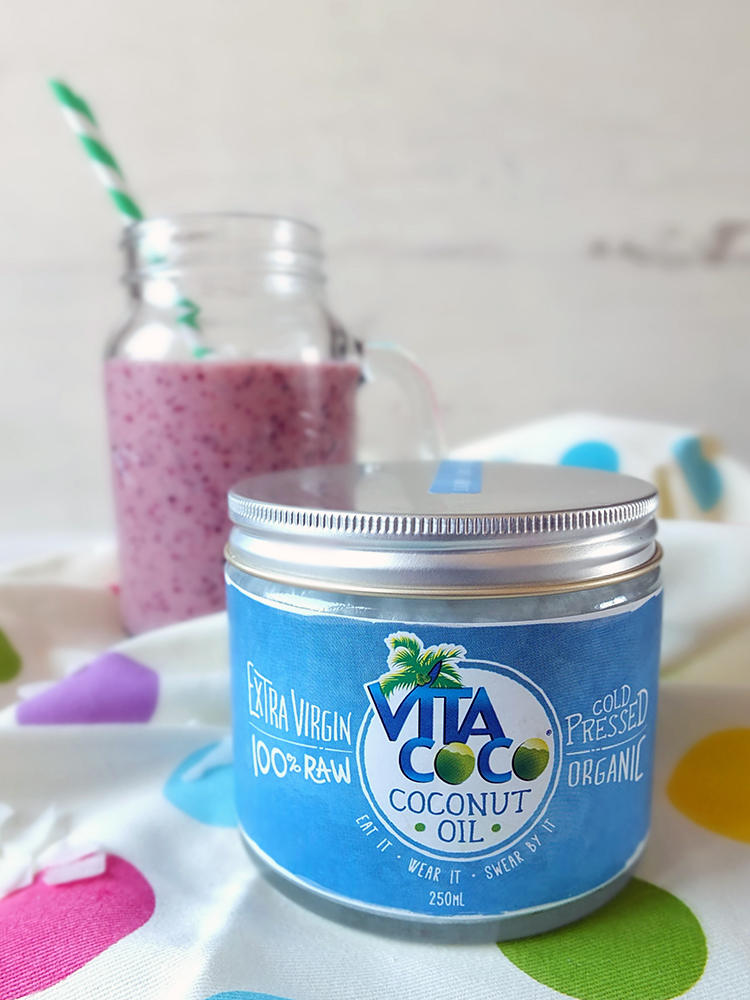 I like to add a tablespoonful of Vita Coco coconut oil in my post workout smoothies, like this blackcurrant and coconut smoothie recipe I originally created for their #SwearByIt website. I use frozen banana segments to add a bit of delicious creaminess (and some much needed potassium), but feel free to use a small banana and a few ice cubes instead.
In fact, feel free to use a handful of whatever fruit is in season, for flavouring. I chose blackcurrants for this recipe because when I originally made it back in the late summer, the blackcurrant bushes in Shetland were heaving with fruits. Strawberries, raspberries, cherries, blueberries or blackberries would also work really well, depending on the time of year.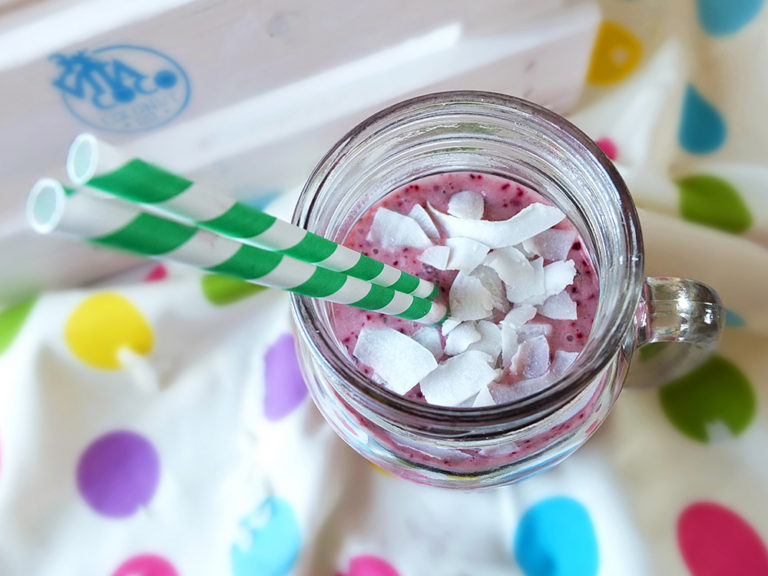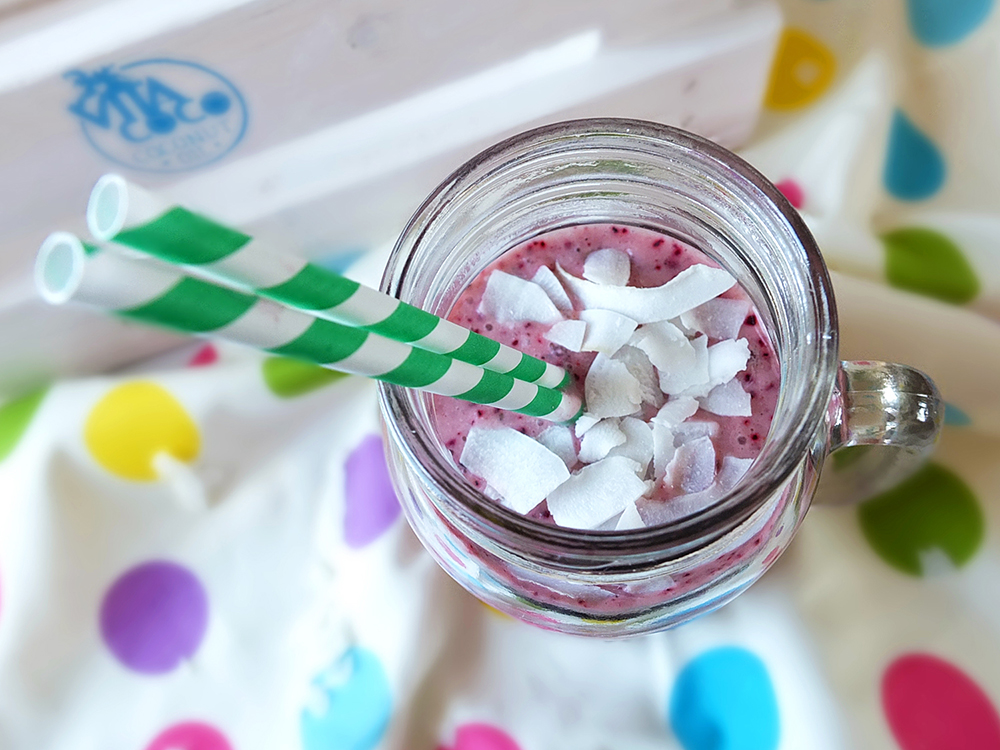 Don't just take my word for it though, if you've never tried coconut oil before and you fancy giving it a go Vita Coco is offering free samples to try. Simply pop on over to their website and request one!
What do you like putting in your post workout smoothies? Let me know in the comments!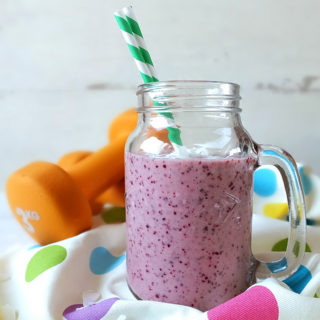 Blackcurrant & Coconut Post-Workout Smoothie
Packed full of vitamins, minerals, protein and healthy fats this is a rather tasty post-workout smoothie!
Print
Rate
Affiliate Links
This recipe card may contain affiliate ingredient and equipment links. As an Amazon Associate I earn from qualifying purchases.
Instructions
Place all the ingredients in a high speed blender and blend until smooth.

Pour into a glass, decorate with coconut shavings, if using, and drink immediately.
Environmental Information
OTHER POST-WORKOUT SMOOTHIES YOU MIGHT LIKE
Turmeric & Coconut Smoothie by Celery & Cupcakes
Banana Nut Protein Smoothie by Elizabeth's Kitchen Diary
If you're looking for another way of using up a glut of blackcurrants, why not try making cassis, and then turning it into a grown-up drink like Jane's Kir Royale Prosecco!
This is a commissioned recipe which originally appeared on the #SwearByIt website. Thank you for supporting the brands who make it possible for me to do what I love: mess up my kitchen and share recipe stories. For more tips, tricks and recipe inspiration using Vita Coco Coconut Oil, you can head to www.swearbyit.com to find out more.
[color-box]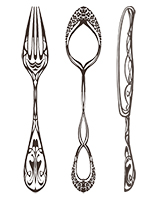 Have you made this recipe?
Take a photo and tag @tangoraindrop or use the hashtag #elizabethskitchendiary and share on Instagram and Twitter. It would make my day to see your creations!
[/color-box]