I love Polish pierogi. When I lived in Canada I used to be able to buy packages of ready-made ones in the freezer section of the supermarket, but alas, now that I live in rural Scotland there is a decided lack of premade pierogi, so every now and then I make my own. These freeze splendidly – freeze them on a baking tray before the boiling step and when they are solid transfer them to a container. Pop however many you want into some boiling water and cook as normal. I always cook them with bacon and onion sauteed in a ridiculous amount of butter.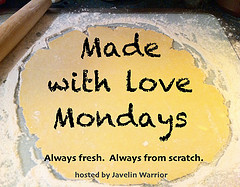 Because these are very much a 'handmade with love' recipe I thought I would submit the recipe to Javelin Warrior's Made with Love Mondays blog challenge, a round-up of fabulous made from scratch recipes from around the world. Do pop on over for some inspiration!
Serves 4
Dough:
2 cups plain flour, plus extra for kneading and rolling dough
1/2 teaspoon salt
1 large egg
1/2 cup sour cream, plus extra to serve with the pierogi
1/4 cup butter, softened and cut into small pieces
Potato, cheese & onion filling:
5 medium potatoes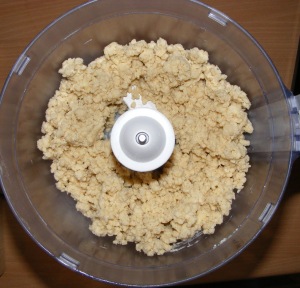 1 onion
20g butter
50-100g mature cheddar cheese (or more, to taste)
1 tbsp fresh parsley, chopped finely, or 1 tsp dried
sea salt & freshly ground black pepper, to taste
6 rashers smoked back bacon, cut into strips
2 large onions, cut in half and sliced
butter
The simplest way to prepare the pierogi dough is to mix all the ingredients together in a food processor with a dough blade. Pulse until it starts to form clumps, but be careful not to overbeat. Wrap the dough in plastic and refrigerate for 20-30 minutes or overnight.
Meanwhile, boil the potatoes until they are tender. Mash and allow to cool. Chop the onion finely and saute in the butter. Cool. Mix together the potatoes, onions, cheese, parsley and season to taste. I find it's easier to do this in the morning, or even the day before.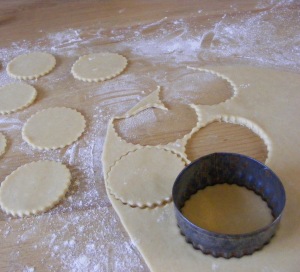 Roll the pierogi dough on a floured board or countertop until 1/8″ thick. Cut circles of dough (2″ for small pierogies and 3-3 1/2″ for large pierogies, I like mine large) with a cookie cutter. Place a small ball of filling, around a tablespoon, on each dough round and fold the dough over, forming a semi-circle. The dough is quite elastic so you can stretch it around. A little bit of practise and this becomes very easy. Moisten the edges with water and seal. Press the edges together with the tines of a fork.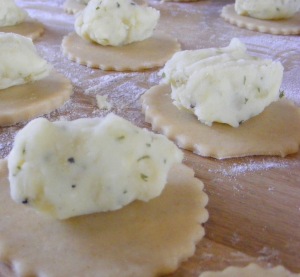 Boil the perogies a few at a time in a large pot of water. They are done when they float to the top (about 8-10 minutes). Remove from the water with a slotted spoon and allow them to drain on a wire rack.
Saute the sliced onions and bacon in butter in a large pan until onions are soft and the bacon is cooked. Remove from the pan and keep warm. Pan fry the pierogies in more butter until lightly crispy.
Serve with plenty of soured cream on the side.