A recipe by Ren Behan from her book Wild Honey & Rye.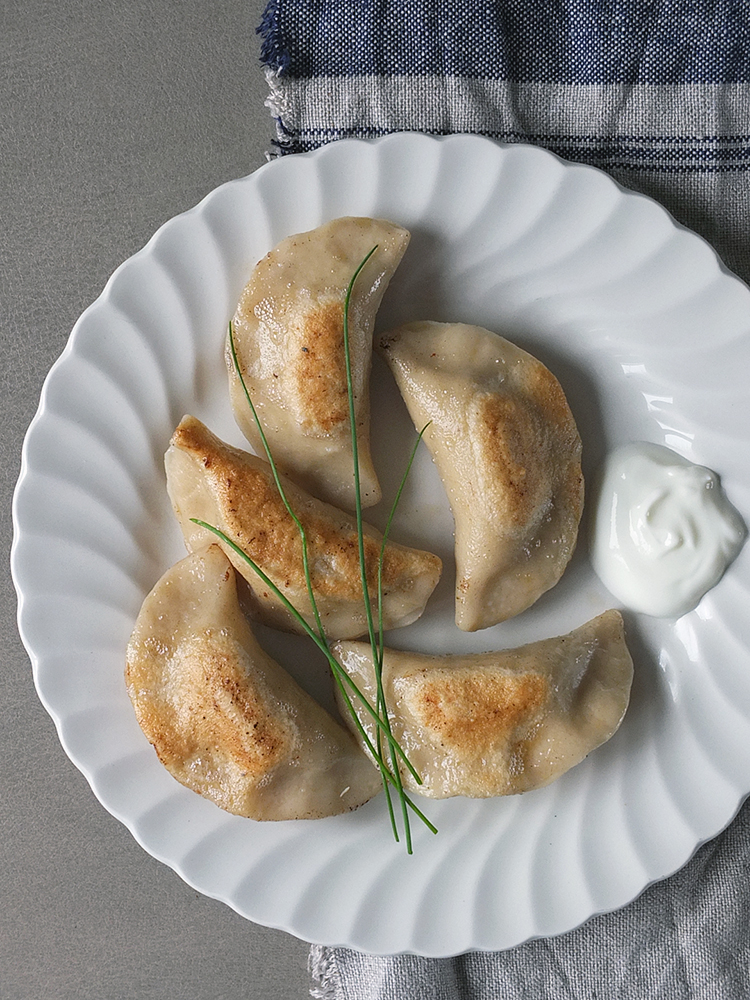 Pierogi were the first Polish food I ever tasted. I was living in an apartment building shared with a few flatmates back in Halifax, Nova Scotia, when I discovered a fairly inexpensive bag of cheese and onion dumplings in the freezer section our local supermarket.
These dumplings became my number one go-to budget recipe; something quick and easy to make after a long day at work. Simply pop a few of them in a pan of simmering water, wait for them to float to the top, drain and then gently fry in a bit of butter so that they crisp up and turn golden. Serve with soured cream. Perfection.
That was until I discovered how much better homemade pierogi tasted, and how remarkably simple and therapeutic they are to make.
I've had a rather fantastic lazy Sunday today, plinking away at my blog (for fun) in between preparing a batch of pierogi with cheese and potatoes for dinner. The recipe comes from Wild Honey & Rye, the debut cookery book from British food writer Ren Behan.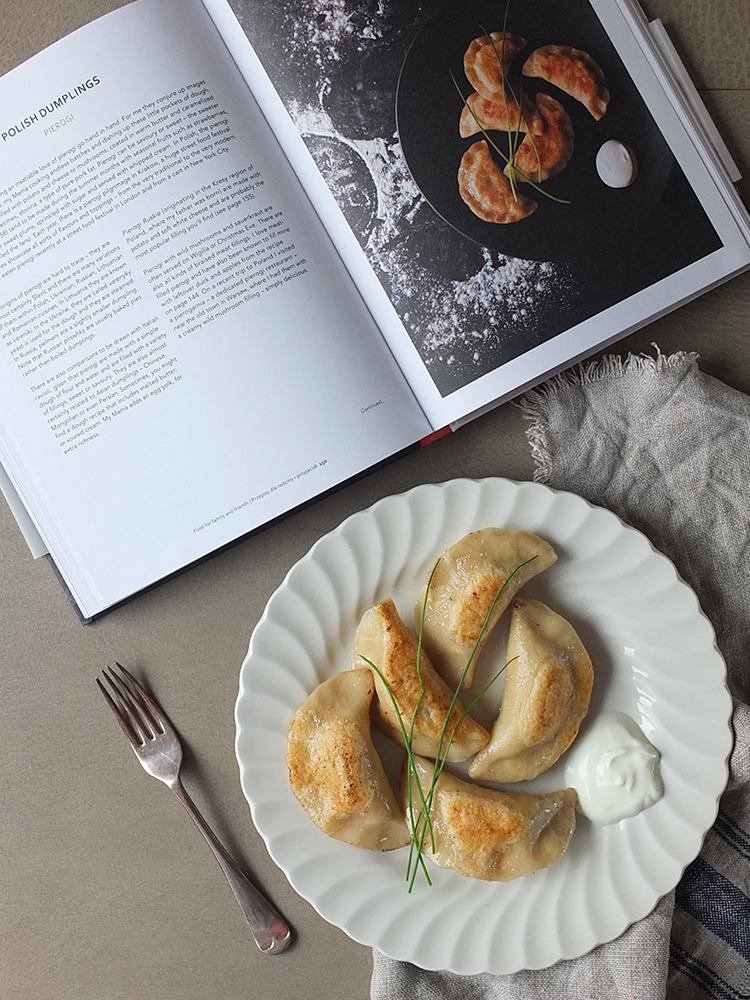 You can read my full review of her utterly gorgeous cookery book here, but I also wanted to share one of her recipes with you (with permission, of course!) – her authentic recipe for Polish pierogi with cheese and potatoes. Usually, when I make my own pierogi, I use potatoes and cheddar cheese, but this time, following Ren's instructions, I used Polish twaróg, a curd cheese Shetlanders can find in the Polish chilled food section of our local Tesco for approximately £1.25.
Unlike my usual (totally unauthentic) pierogi recipe with dough made quickly in a food processor, Ren's dough recipe is made with love, by hand, the proper way. In a purely symbolic food blogger love sort of way, I used the yellow-handled knife Ren herself gifted me in a not-so-secret Santa a group of us food bloggers participated in a few years ago to mix the dough. The grey piece of fabric with the blue stripe in the feature photo in this blog post was also in that Secret Santa gift, and I treasure it.
This dough recipe was such a pleasure to work with; soft and malleable it didn't require any extra water to stick the sides of the dumplings together. Pinching was sufficient. Note, I did need more water than the recipe suggested to make the dough itself though, an additional 100 ml or so.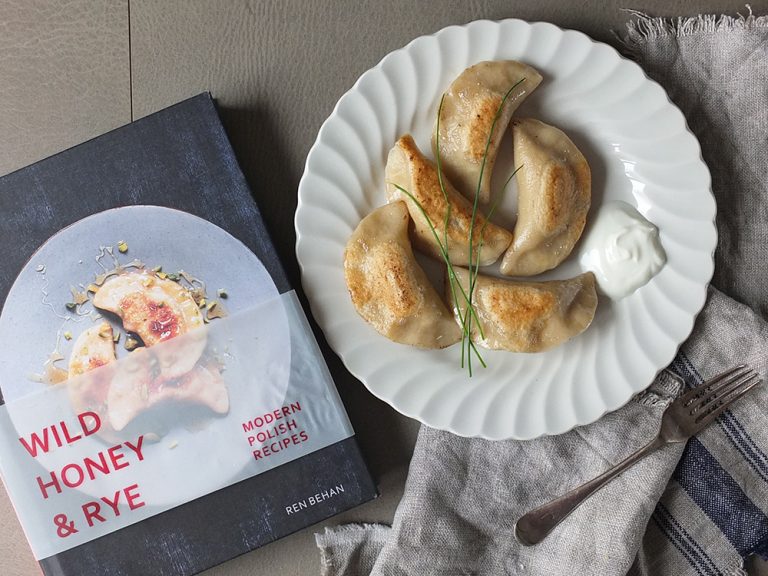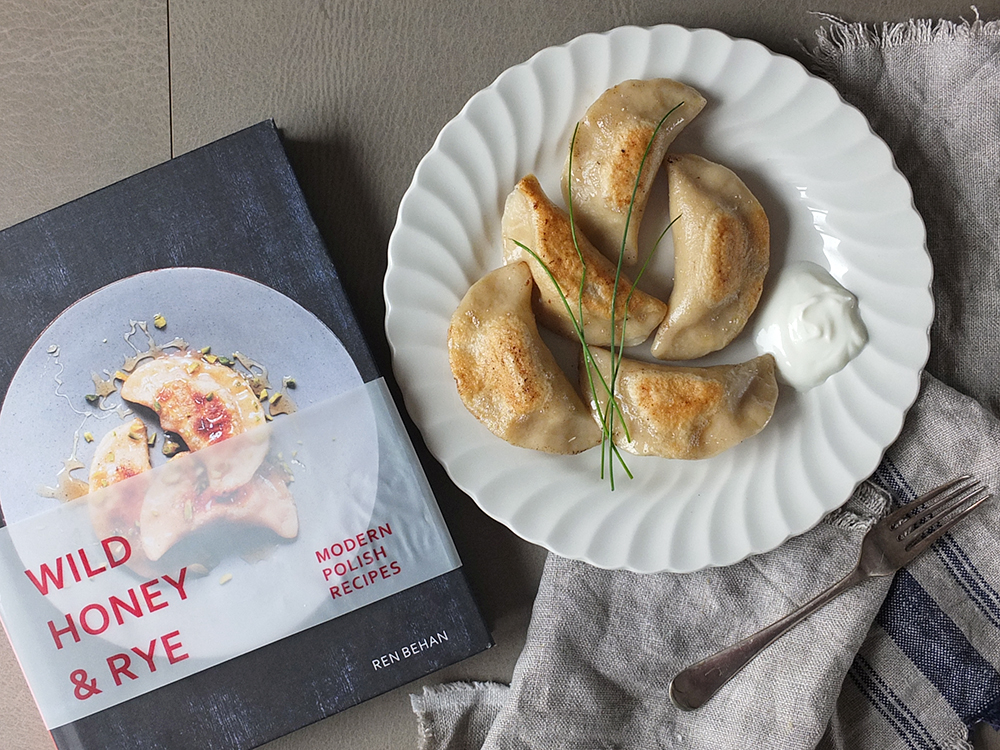 The filling, made with proper Polish cheese, was absolutely gorgeous. It's not as strong flavoured as cheddar, but in all honesty, it's much better. Served with a dollop of soured cream on the side they made for a rather lovely, leisurely, pottering about the kitchen in my pj's Sunday lunch.
Ren's book provides several other fillings for pierogi: buckwheat, bacon and curd cheese; mushrooms and cream; duck and apples and sauerkraut and wild mushrooms. I plan on experimenting with all of them.
Ren's recipe makes approximately 40 pierogi, and the great thing about them is that they can be frozen after quickly boiling them, and then cooked from frozen again for future meals. I plan on having mine with plenty of fried onions and bacon.
You can buy Ren's book from all good booksellers for £20. It's an essential cookery book for any culinary explorer, giving the reader a real-life glimpse into Polish food, detailing the culture, ingredients and family memories behind the recipes.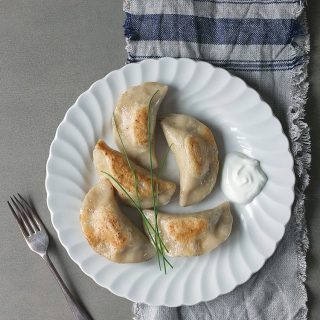 Traditional Polish Dumplings with Cheese and Potatoes (Pierogi Ruskie)
A recipe from Ren Behan's debut cookery book Wild Honey & Rye.
Print
Rate
Ingredients
for the cheese and potato filling
1

kg

potatoes

peeled and quartered

300

grams

twaróg

(Polish curd cheese)

2

tbsp

vegetable oil

1

tbsp

butter

1

large

onion

very finely chopped
Affiliate Links
This recipe card may contain affiliate ingredient and equipment links. As an Amazon Associate I earn from qualifying purchases.
Instructions
To prepare the pierogi dough, sift the flour onto a large wooden board or work surface. Make a well in the centre and add the beaten egg and oil along with a few tablespoonfuls of warm water. Using a knife, begin to mix together, adding a little more water one tablespoonful at a time. At first, the dough will be quite soft and sticky. Use your hands together to bring the dough together into a ball.

Once the dough has come together, knead it on a floured surface for 4-5 minutes. The dough should become quite elastic. If it is too wet, add a little more flour. Put the dough into a bowl, cover with a damp tea towel and set aside for 30 minutes.

Put the potatoes into a large pan of cold water, add a pinch of salt and bring the water to the boil over a high heat. Turn the heat down and simmer gently for 15 minutes or until the potatoes are soft when pierced with a knife. Drain and leave to dry out completely.

Meanwhile, heat the oil and butter in a large frying pan. Cook the onion over a low heat for at least 10 minutes or until completely soft and caramelised. Leave to cool slightly.

Mash the potatoes, add the curd cheese and mash together.

Add the onion to the mashed potato mixture and season well with salt and pepper. Leave to cool completely before filling the pierogi. You can make the filling up to 2 days in advance.

Divide the dough into half and keep one half covered with a damp tea towel to prevent it from drying out. Sprinkle your work surface with flour and roll out the dough until it is about 3 mm thick.

Have a floured tray or board to hand. Using a pastry cutter or an inverted glass tumbler, cut out 8cm/3 inch circles of dough. Continue until all the dough is used. Cover the circles with a damp tea towel until you are ready to start filling - or cut out a few circles at a time and fill them as you go along, keeping the dough covered with a clean tea towel.

To fill, place a circle of dough in the palm of your hand and add a teaspoonful of filling in the centre of the circle. Fold the dough over to enclose the filling. Using your thumb and forefinger, pinch the dough along the edge so that the pierogi is well sealed. Lay the pierogi in rows on the floured tray and cover with a damp tea towel while you prepare the rest.

To cook: bring a large pan of water to the boil. Carefully drop the dumplings in one at a time (you can cook about eight in a standard pan). Keep the water at a gentle boil. The pierogi are cooked when they float to the top, after about 2-3 minutes. Lift them out with a slotted spoon, drain in a colander and set aside while you cook the rest. You can serve the pierogi boiled, as they are, or you can gently fry the boiled pierogi with a little vegetable oil or butter so that they pick up a little golden colour.
Notes
Recipe reproduced with permission from Ren Behan/Pavilion Books.
Environmental Information
OTHER RECIPES FROM WILD HONEY & RYE
One-Pan Polish Breakfast
Polish Forest Mushroom Soup
Potato Pancakes with Mushroom Sauce
Hunter's Stew (Bigos)
Apple Pancakes (Racuchy)
Easy Mini Lemon Babkas (Babeczki)
Polish Christmas Cookies (pierniczki swiateczne)
Plum & Poppyseed Traybake
Blackberry Flavoured Vodka
Curd Cheese, Honey & Walnuts on Rye Toast
Cherry Crumble Cake
Traditional Polish Pierogi (Meat & Mushroom fillings)
[color-box]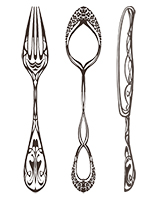 Have you made this recipe?
Take a photo and tag @tangoraindrop or use the hashtag #elizabethskitchendiary and share on Instagram and Twitter. It would make my day to see your creations!
[/color-box]
This is not a paid post. With thanks to Ren Behan and Pavilion Books for the review copy of Wild Honey & Rye.