Five minutes prep and no chopping involved. Easy peasy!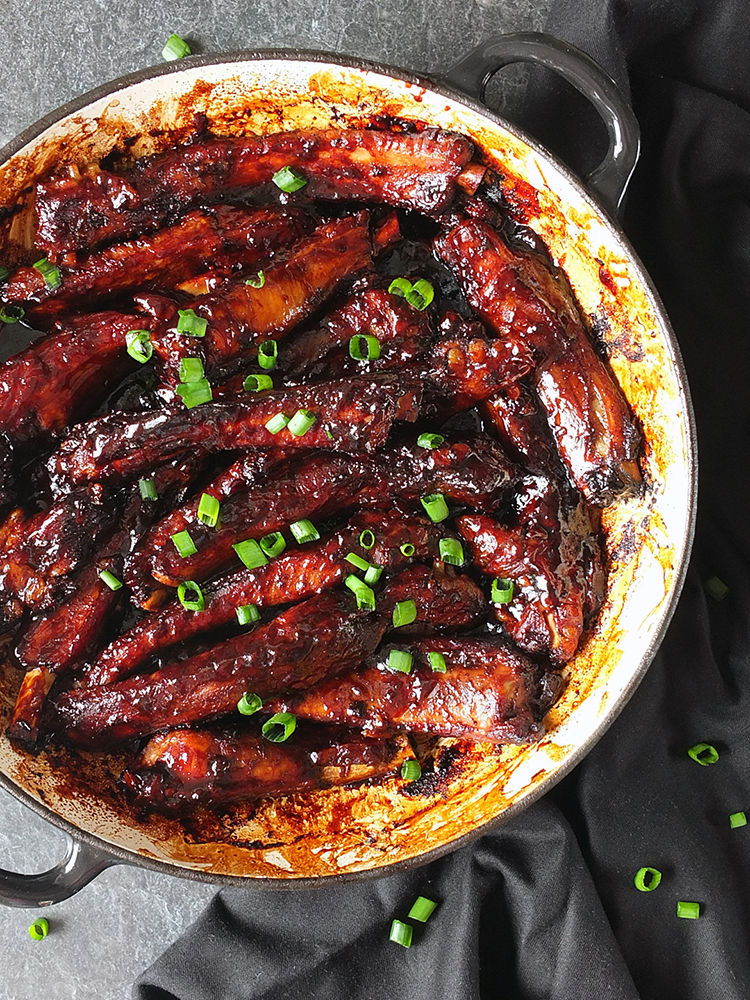 You know when you make a recipe and it's so amazingly good that you have to make it again just a few days later, and your family are all like yay! and you're like yay! because there is literally only five minutes prep you know you're onto a winner!
My dear friends, this is that recipe. Our new family favourite – may I introduce to you the easiest slow-roasted Peking-style spare ribs recipe in the world*!
No chopping, no marinading, no faff. Just whisk everything together in a bowl, pour over some pork ribs and slow roast with a low heat (as recommended by The Kitchn), covered, in the oven for two and a half hours. After two hours, turn the ribs over and cook for 15 minutes with the lid off, then turn over again and finish roasting for 15 minutes.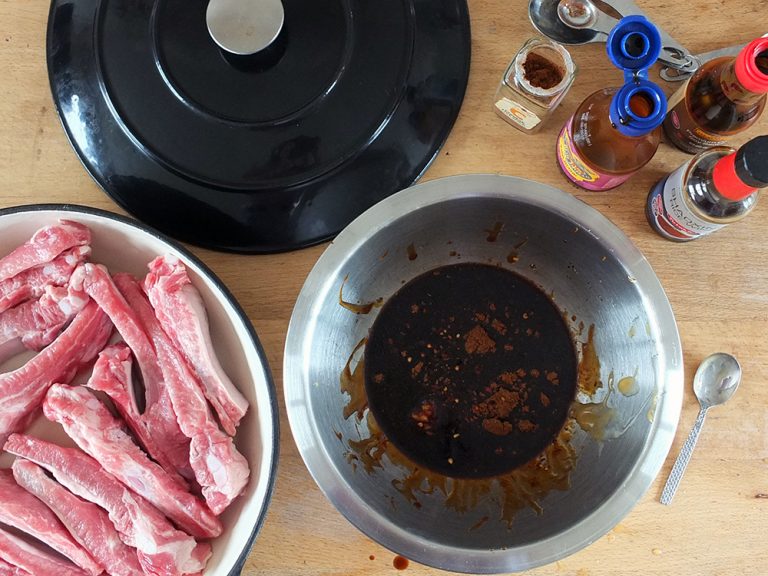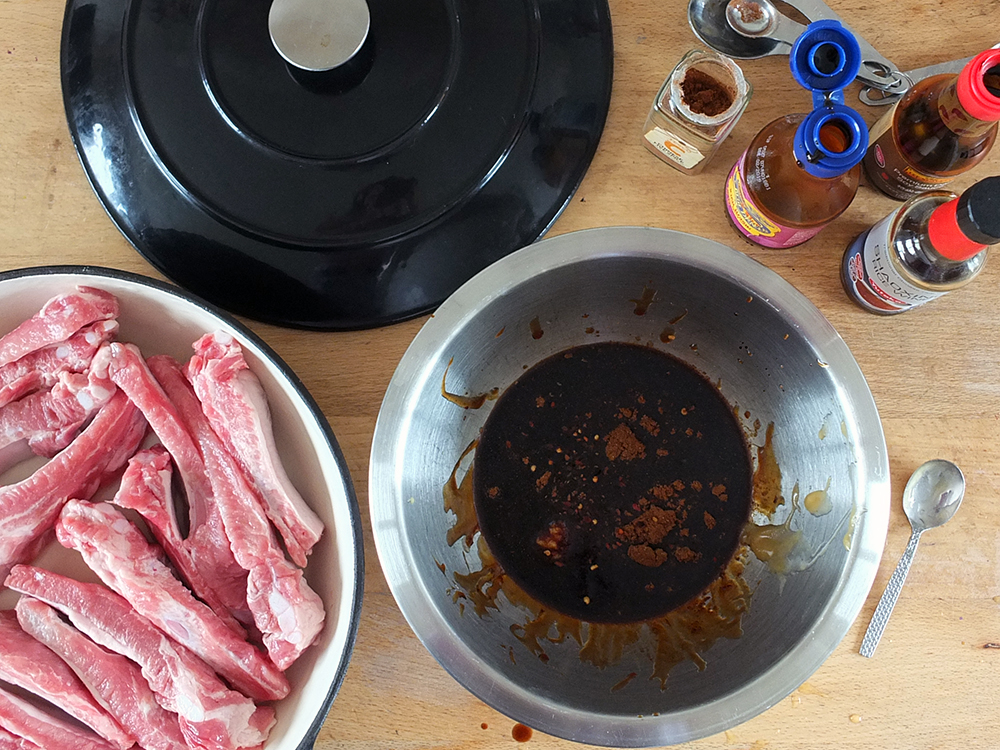 After that, drain off the lovely pork-infused marinade at the bottom of the dish, thicken it with a little cornflour so it becomes a gorgeous dark, glossy sauce, and pour over the ribs.
Serve immediately with or without rice depending on what level of a bone-knawing carnivore you are. We're an "I'll just have the meat thanks", kind of family when it comes to these ribs.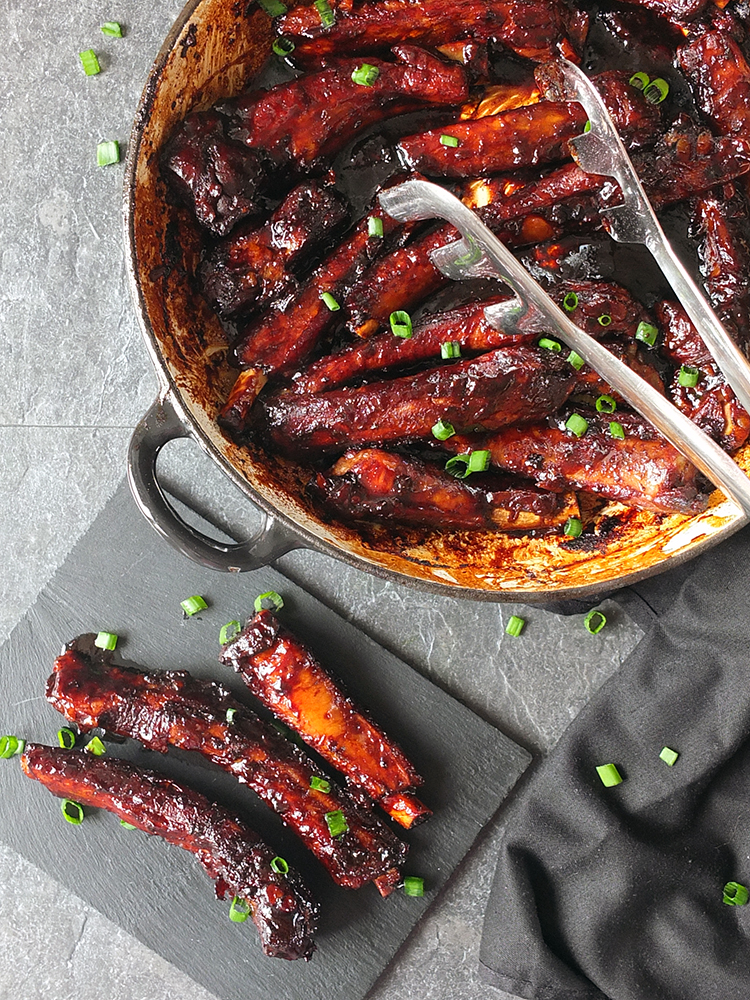 They are so seriously awesome. Trust me. The meat is so tender and falls off the bone. I've noticed with a lot of rib recipes that the meat is really tough and often burnt at the edges after cooking for the recommended time. I've also noticed that many recipes simply marinade the meat – I want a nice gorgeous thick and sticky coating to my ribs; something that'll get me licking my fingers and wanting more.
This recipe ticks all those boxes.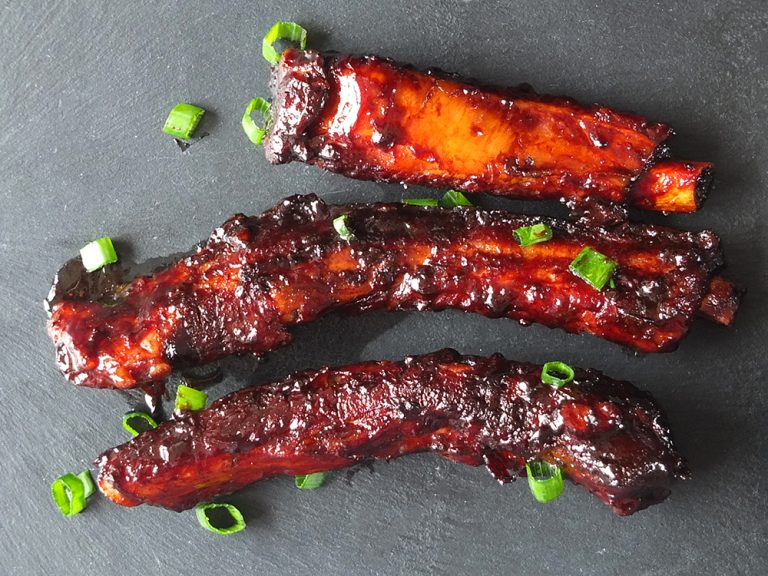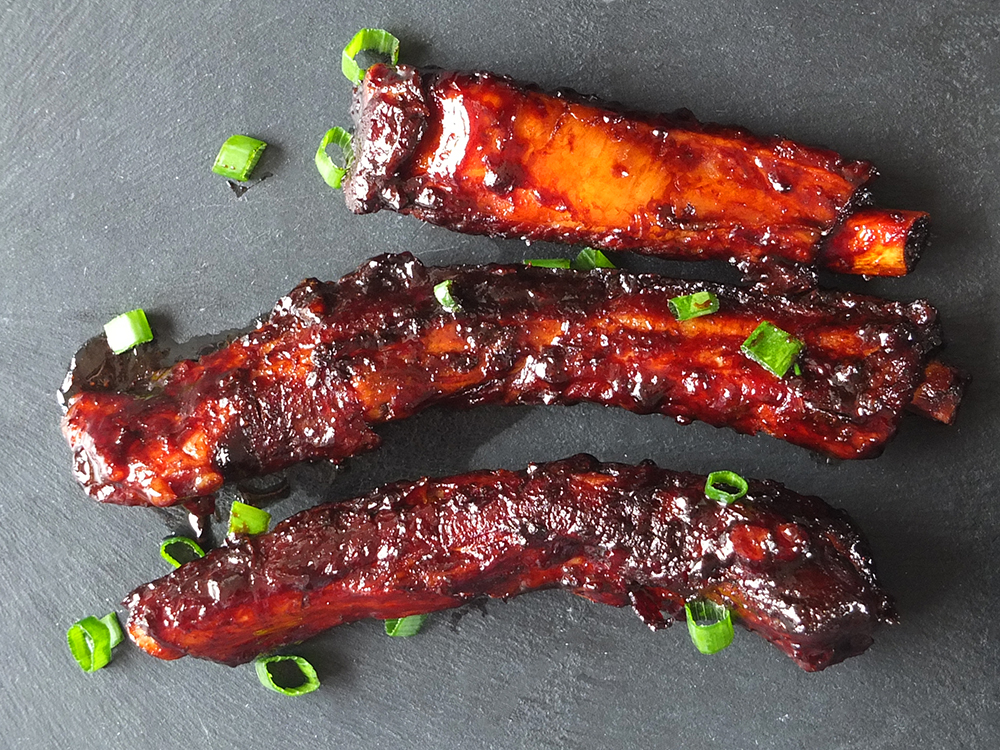 This recipe uses Chinese Five Spice, which is a spice blend of star anise, cinnamon, fennel, black pepper and cloves. It's a warming and delicious spice blend, not hot at all, so it's great for children like mine who don't like 'fire in the mouth' foods. I've added a pinch of crushed chilli flakes to this recipe for some added heat, but it's not essential.
Do let me know what you think of this recipe if you try it; I love to hear feedback! 🙂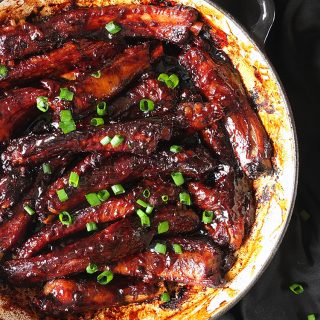 The Easiest Slow-Roasted Peking-Style Pork Ribs
This is the easiest Peking-spare ribs recipe ever! Simply mix, pour, coat and roast! Enjoy!
Print
Rate
Affiliate Links
This recipe card may contain affiliate ingredient and equipment links. As an Amazon Associate I earn from qualifying purchases.
Instructions
Preheat oven to 150 C/ 350 F.

Place the pork ribs in a heavy lidded casserole dish or a deep pan.

Mix all the sauce ingredients except for the cornflour and spring onions. Whisk until combined and pour over the pork ribs, coating them well.

Cover (use aluminium foil if your dish doesn't have a lid) and roast in the middle of the oven for two hours and a half hours.

After two hours remove the lid from the casserole dish and turn the ribs carefully, basting each one. Return to the oven for 15 minutes and repeat again, turning the ribs so the brown somewhat for the final half hour of cooking.

At the end of the cooking time, carefully drain off the liquid in the casserole dish and place into a small saucepan. Bring to a simmer.

Dissolve the cornflour in a little cold water and add to the simmering sauce mix. Stir well until it thickens, for 2-3 minutes, and then pour over the ribs, coating evenly.

Garnish with chopped spring onion, if desired, and serve immediately.
Environmental Information
OTHER PORK RIB RECIPES YOU MIGHT LIKE
BBQ Smoked Ribs
Spicy Smoked Ribs
Honey-Glazed Smoked Ribs
Jamie Oliver's Barbecue Ribs
Nigel Slater's Pork Rib Recipes
Pork Ribs West African Style
Sticky Slow-Cooked Pork Ribs
If you like pork you might also like my pan-seared pork medallions with apples and fried sage recipe, or how about some beer-glazed roast Iron Age pork sausages?
SHOP THIS POST
Pork Ribs 700 grams
Hoisin Sauce 190 ml
Dark Soy Sauce 150 ml
Shaoxing Rice Wine
Runny Honey
Garlic Puree
Chinese Five Spice
Crushed Chilli Flakes
Spring Onions
Masterclass Cast Iron Lidded Casserole Dish
*this is not a verified claim. I am just declaring it the easiest recipe ever. 😉