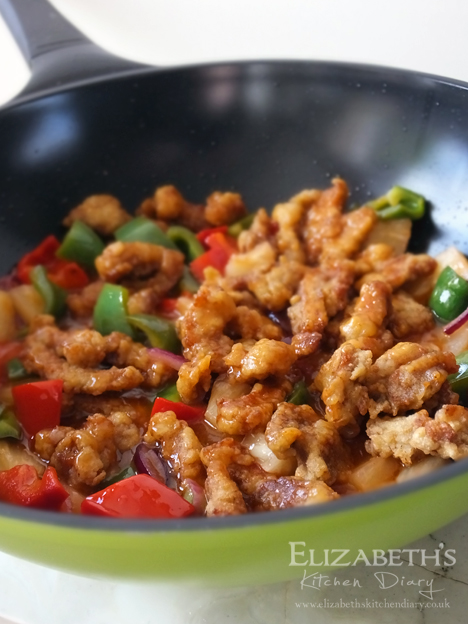 When I was 14 I got my first summer job. This was as a tour guide at the Canadian Intercolonial Railway Station in the remote island village of Orangedale where I spent most of my childhood. Growing up I used to spend a lot of time at that railway museum, looking through all the old artefacts and playing with the telegraph machine.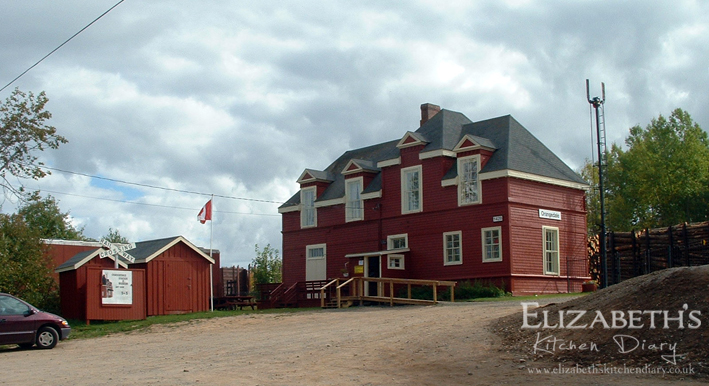 Built in 1886 it's pretty old for Canadian standards, and I'm sure its unique construction influenced my lifelong passion for all thing Victorian. It's a pretty famous railway station and still attracts visitors from all over the world. It might have been meeting these foreign people which sparked my wanderlust too. Sometimes tourists would ask me to pose in front of the station for photographs, as my long red plaited hair reminded them of Anne of Green Gables (who was a fictitious character from the neighbouring Prince Edward Island and she had green eyes, not blue like mine! I was always most affronted when I was compared with dear Anne). There was even one American woman who took my picture as she wanted to paint me. I wonder if she ever did as I never heard back from her.
I worked at the station for two whole summers (1992 & 93). That first summer the Rankin Family released their new album Fare Thee Well Love which included a track called The Orangedale Whistle, written about the station. That song reached number seven in the RPM Country Tracks. We were forced to play that album on loop for the entire summer. It was a very, very long time before I could listen to it without cringing. Now it just makes me homesick.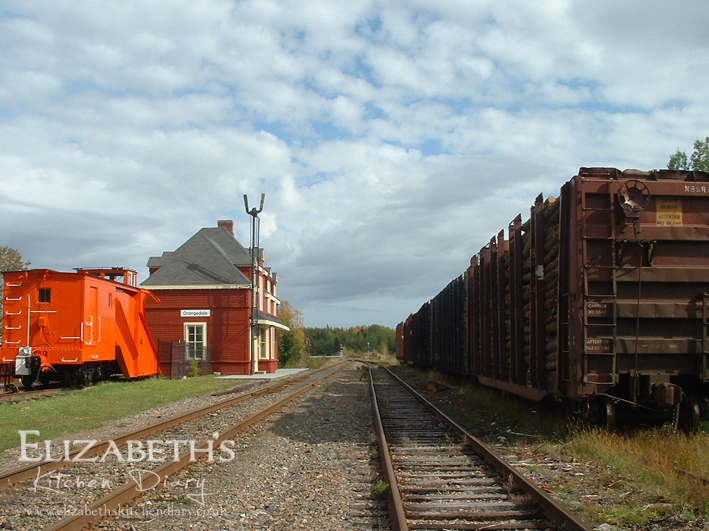 You can see some white dots at the far end of the track in the photo above. This is where the village road crossed the tracks. The bell used to go when the train got close, the familiar ding-ding-ding-ding before the train appeared around the corner, preceded by the whistle. It was a regular part of village life. Sometimes, the more daring of us children would stand on the station platform as the train rushed by. The bravest (more foolish?) of us would stand pressed against the station wall, that bit you can see jutting out over the platform. It was only a few feet away from the rushing train. You could feel the moving train sucking you towards it. It was terrifying. None of us ever got hurt, but I did meet a fellow several years down the road when I was living in the Rocky Mountains who wasn't as fortunate. He'd been hit by a train doing the very same thing and his head was a mass of scars because of it.
We used to pick up coal along the train tracks, back when the coal train went through the village. It was transporting coal from the mining town of Sydney, north of us on Cape Breton, to the city of Halifax on the mainland of Nova Scotia. There was this one time when one of my friends picked up a piece of coal and chucked it into the water at the trestle, the place where the train tracks went over a bridge of sorts crossing the Bras d'Or lake. It floated! He went in the water after it and after much begging and convincing I got to take it home. That's how I learned about pumice stones (I had a fantastic science book at home which explained all these things – there was no Google back then!).
Ten years ago I returned to this village with my eldest son (who was four at the time). We watched the train go by from a safe distance and he had the opportunity to walk along the railway tracks like I did when I was little. We took turns to see how long we could balance on the tracks before we fell off. The path you see above was our short-cut to the village shop (Bruce's shop), located 60 seconds from the crossing.
If you carry on down that dirt road for twenty minutes you end up at Camp Aitebreagh, a children's summer camp I attended for one or two weeks every summer from the age of seven until I was thirteen.
My second summer job when I was sixteen and seventeen was as an assistant cook at this camp, and it was here I was given the recipe for this sweet n' sour pork stir fry. I used to help the head cook, Shirley, make it for around eighty children and twenty adults.
Shirley, in addition to having fantastic cooking skills, is quite the artist too. On that one visit I've had back to the village I grew up in since I immigrated fifteen years ago Shirley gave me a copy of one of her paintings: the Orangedale trestle. I will treasure it, always.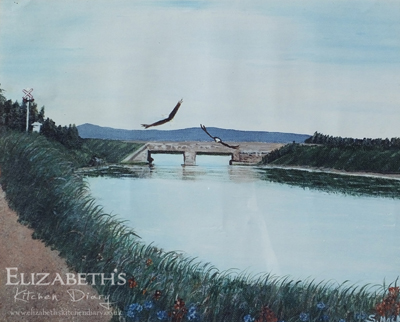 This sweet and sour pork recipe is my adaptation of her recipe. I've doubled the veg and used red onion instead of brown but essentially it's the same and it's one of our family favourite dishes. Don't let the long list of instructions put you off. If you prepare everything in advance (that was my job at the camp!) it's bam-bam-bam and dinner is served.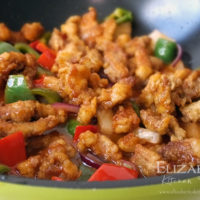 Sweet 'n Sour Pork Stir Fry
A tender and juicy sweet n' sour pork stir fry. A favourite with children!
Print
Rate
Total Time:
1
hour
5
minutes
Ingredients
Pork
300

grams

pork fillet, fat trimmed and cut into bite sized pieces

1

tbsp

light soy sauce

1

large free range egg yolk

7

tbsp

cornstarch

divided

1500

ml

sunflower or canola oil, for frying
Vegetables
160

grams

mixed red and green peppers, cut into 1 inch squares

1

medium sized red onion, peeled, halved and finely sliced

2

large garlic cloves, finely chopped

150

grams

tinned pineapple in juice, cut into chunks (reserve juice)

4

tbsp

sunflower or canola oil, divided, for cooking

1

tbsp

water, for cooking
Sauce
2

tbsp

reserved pineapple juice

2

tbsp

distilled white vinegar

3

tbsp

caster sugar

3

tbsp

water

3

tbsp

tomato ketchup

1.5

tsp

salt

1.5

tsp

cornflour, dissolved in 1 tbsp water
Instructions
Prepare pork marinade by combining the soy sauce, egg yolk and 1 tbsp of cornstarch together in a medium sized bowl. Stir in the pork pieces and leave to marinade for 20-30 minutes.

Meanwhile, prepare peppers, onion, garlic and pineapple and place in separate bowls. It can get frantic while cooking and so having everything prepared in advance makes it much easier.

Prepare sauce by combining the pineapple juice, vinegar, sugar, water and tomato sauce together in a jar and shake briefly. Set aside. Dissolve cornflour in water and set aside too.

Heat the oil in a large heavy bottomed pan to 180 C. Keep the lid nearby just in case the oil gets too hot and catches fire (just pop the lid on to put it out).

Stir the remaining 6 tbsp cornstarch into the pork. It gets a bit gloopy but I find once it's well combined you can separate the pork pieces onto two plates for ease of handling.

Deep fry the pork in two batches for 3 minutes. Use a timer! Remove pork with a slotted spoon and place on a plate next to the cooker.

When both batches of pork have been cooked pop them all back into the hot oil for a further 30 seconds. Remove with a slotted spoon and drain in a bowl lined with kitchen towel. Keep warm (I put a plate over the top to keep the heat in).

Move pan with hot oil out of the way and place a wok on the hot burner.

Heat 1 tbsp oil in the wok and stir fry the peppers with 1 tbsp water for 2 minutes. Remove peppers and keep warm.

Add remaining 3 tbsp oil and stir fry the garlic for 30 seconds. Add the onion and pineapple and stir fry for a further minute.

Return peppers to the pan and pour in the sauce.

Bring to the boil and stir in the cornflour dissolved in the water to thicken.

When thickened stir in the pork pieces and toss lightly to coat the pork in the sauce completely.

Serve immediately with rice or noodles.
Notes
A typical 435 gram tin of sliced pineapple in juice will give you enough pineapple to make this recipe, plus 4 slices leftover for a pineapple upside-down cake for afters, if you fancy!
Now, to finish off since I'm on the subject of trains. You simply have to watch this video. It's only a minute long so it won't take up much of your time. A series of these Canadian Heritage videos were made when I was a teenager and were aired during the television adverts. Many of their stories have stayed with me over the years.
On the 6th of December 1917 a French cargo ship the SS Mont Blanc, loaded with wartime munitions, collided with a Norwegian vessel the SS Imo. The vessels caught fire and many of the city inhabitants came out to watch the blaze, but one train dispatcher knew what was going to happen. I get goosebumps every time I watch this.
You can read more about the Halifax Explosion here.
I used to have an old cookery book I'd picked up at a car boot sale when I lived in Halifax and within its pages I found handwritten notes of the owner's account of the Halifax Explosion. Names of who was in it and where they were. I left that cookbook with my ex when I left Canada, and Pat, if you are reading this I would really love it if you gave me that book back!
I shall stop waffling now and go make dinner… thanks for reading! x