Are insects the future for global human protein needs? With 69 grams of protein per 100 grams of whole cricket, cricket protein is not to be ignored. This crunchy cricket granola recipe features whole, dried crickets, rolled oats, honey, sunflower seeds and dried fruit.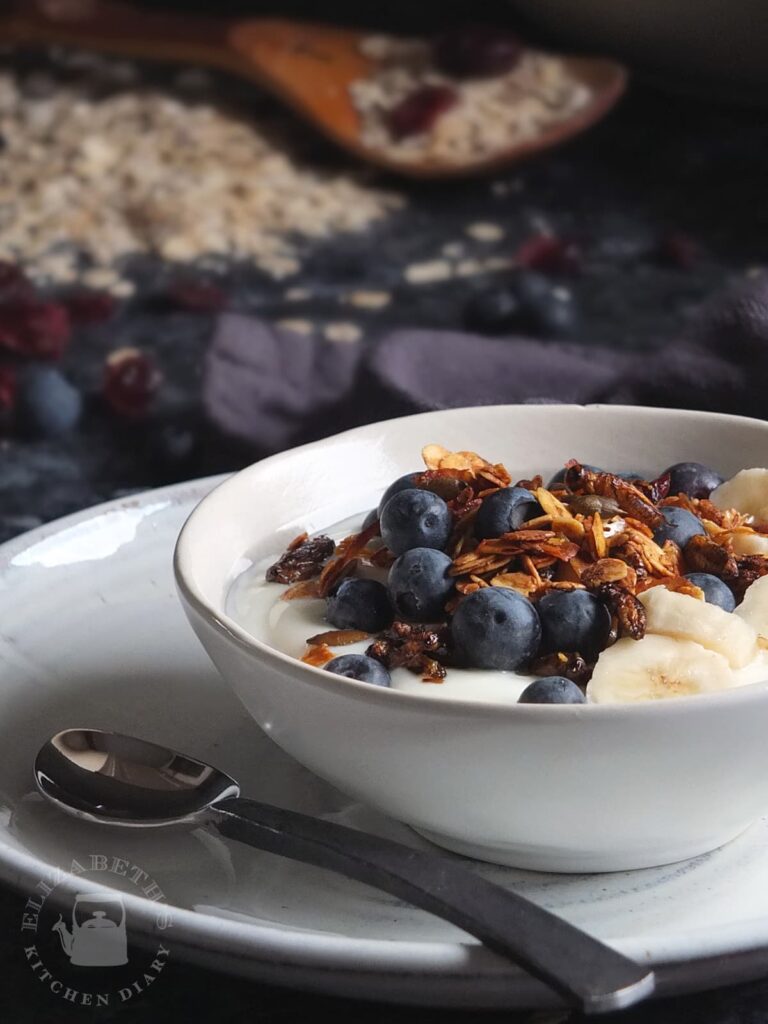 Is insect protein the way of the future?
Humans need protein to survive. The world's population is predicted to grow to 9 billion by 2050, requiring double the current food production. That's a whole lot of protein.
Currently, much of this dietary protein is provided through livestock farming which has a whole host of environmental, ethical and health issues.
Dried insects contain, on average, 35-65% protein. This is significant and could be a practical solution to the growing global protein demands.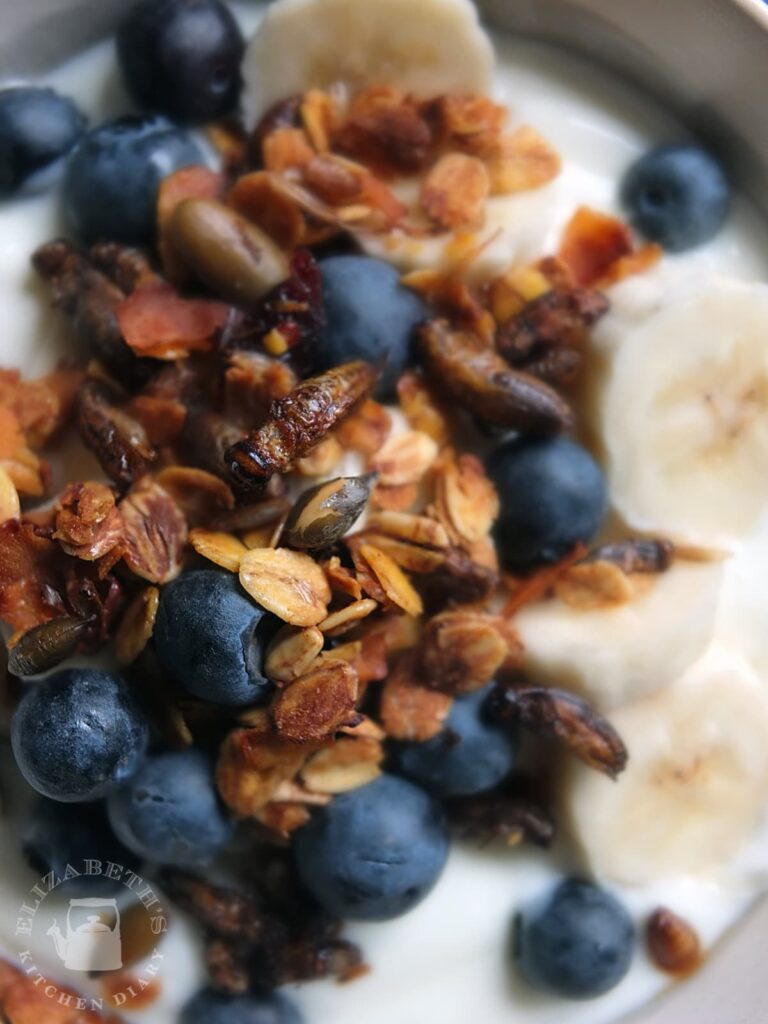 Entomophagy, the practice of eating insects, is practised by more than 2 billion people in more than 80% of the world's countries. It's us, in the west, who turn up our nose in disgust at the idea. (80% per cent of you who responded to my Instagram story poll!).
However, insects may be in your diet already without you knowing – carmine, a staple of the global food industry, comes from the cochineal scale insect. It provides the vibrant red colour of some sweeties, ice cream and yoghurt, and it's even found in cosmetics such as rouge and lipstick.
Shellac, a resin extracted from the female lac bug, gives jelly beans and many fruits in your fruit bowl their shine.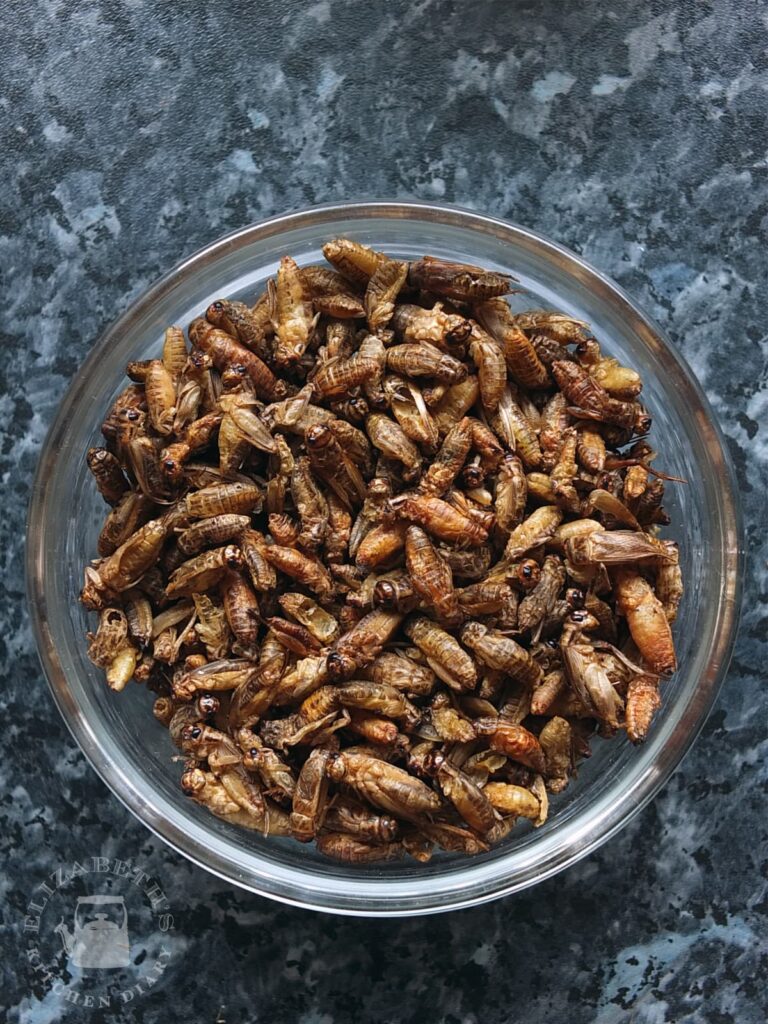 Cricket protein – what are the numbers?
Crickets contain, on average, 69 grams of protein per 100 grams of dry weight (compare to beef, which contains 29 grams of protein per 100 grams of meat). They are also high in omega 3 and 6 fatty acids, contain more vitamin B12 than red meat and more calcium than milk.
They are also useable sources of copper, iron, magnesium, folic acid as well as B-group vitamins and vitamins A, C, D, E and K.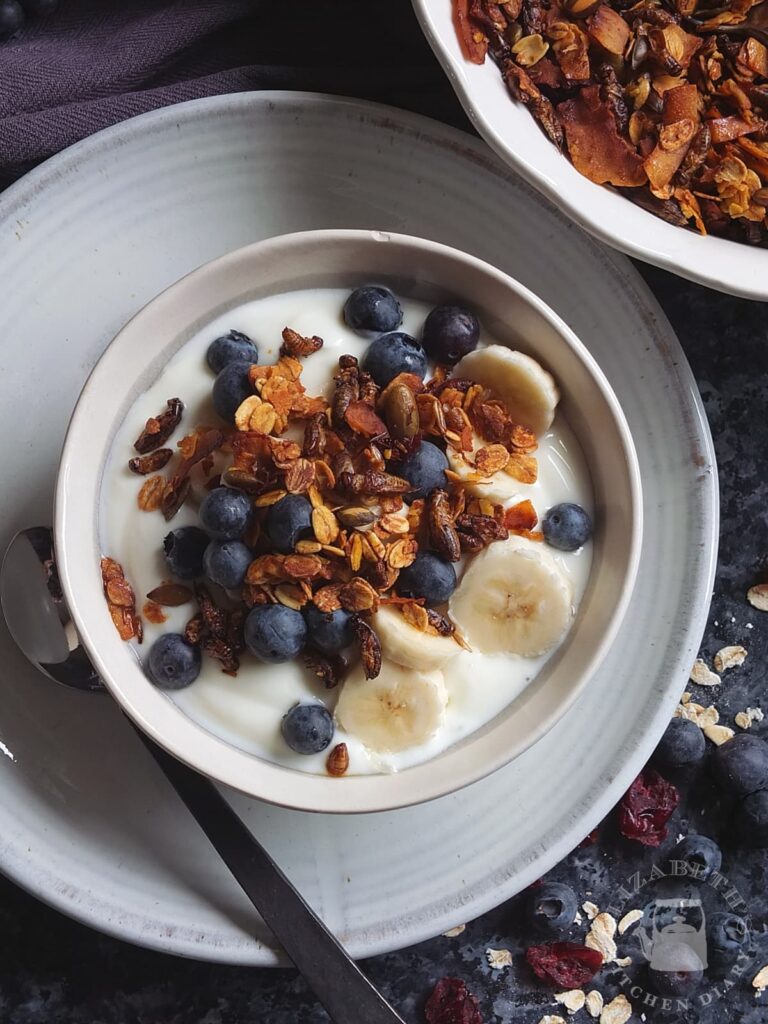 The environmental impact of insects
Insects emit fewer greenhouse gases compared to traditional livestock, and they take up substantially less space too.
They can be farmed in small, compact areas. Individual insect farm compartments can be stacked on top of each other which takes up very little volume.
They also require significantly less water to grow, and insects can be fed on the by-products of human and animal waste.
Beef cattle require 8 kg of feed to produce 1 kg of beef, while crickets only need 1.7 kg of feed. On average, 80% of a cricket is edible compared to 40% of a cow.
Edible insects are a sustainable, delicious superfood. Why are we not eating them?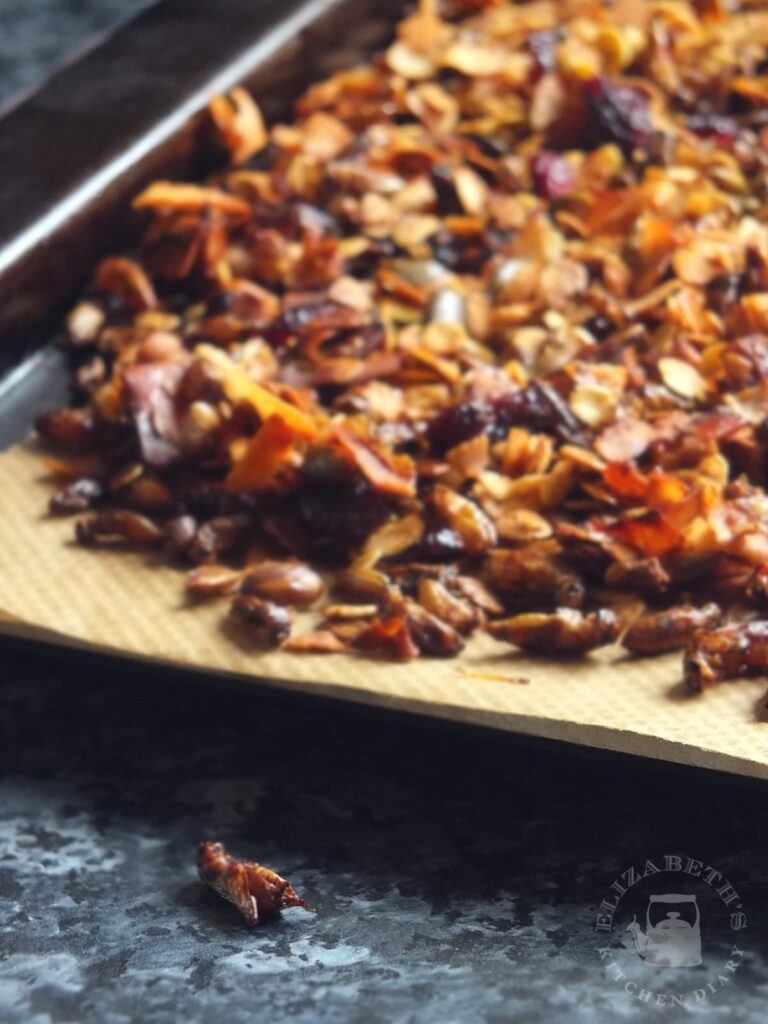 Can you buy crickets produced in the UK?
Yes!
Years ago, when I was first approached by brands producing cricket protein, the insects were all grown and shipped from the far east – mostly from Vietnam and Thailand where they are commonly eaten. As the popularity of the food source grows, UK producers are slowly coming on board, which means a lower carbon footprint.
You can buy recipe kits (like this crunchy cricket granola) that include UK-grown crickets from BUG.
What do crickets taste like?
Crickets have a mild, nutty flavour. Some people think they have a slight fishy flavour, like prawns.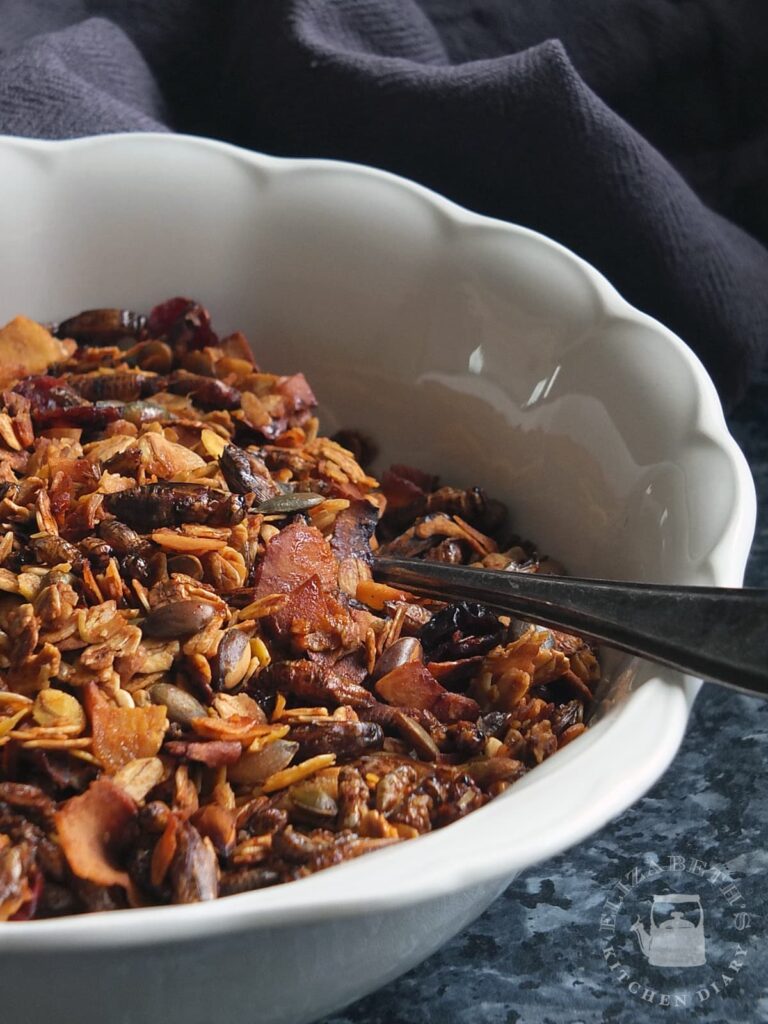 The cricket dilemma
Crickets are tiny. There are only 0.15 grams of protein per insect. Compare this to your average beef cow which can provide 52 kilos of useable protein per animal. That means you'd need 346,667 crickets to provide the same quantity of protein.
The cricket dilemma: 1 life vs. 346,667 lives.
While insect harvesting has a significantly less environmental impact, it poses ethical questions.
Thoughts?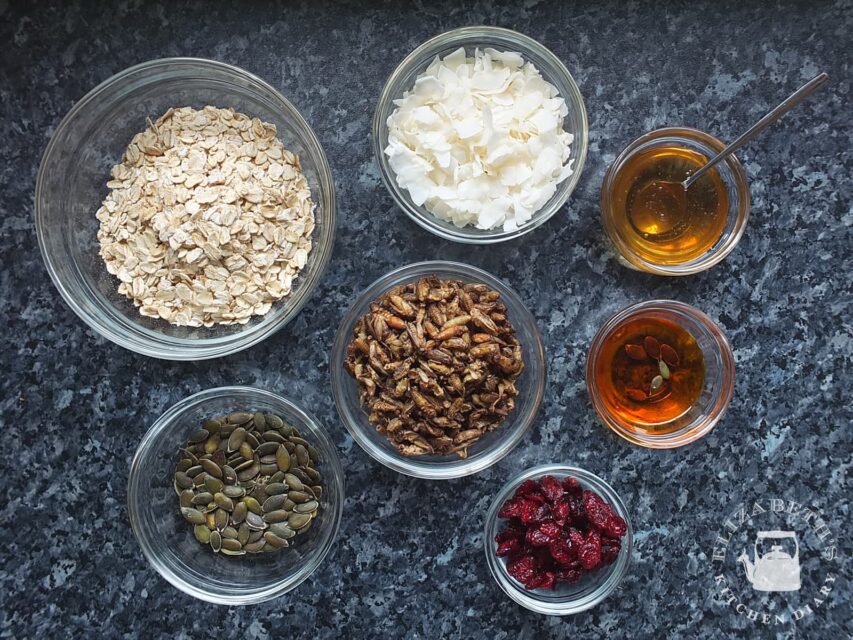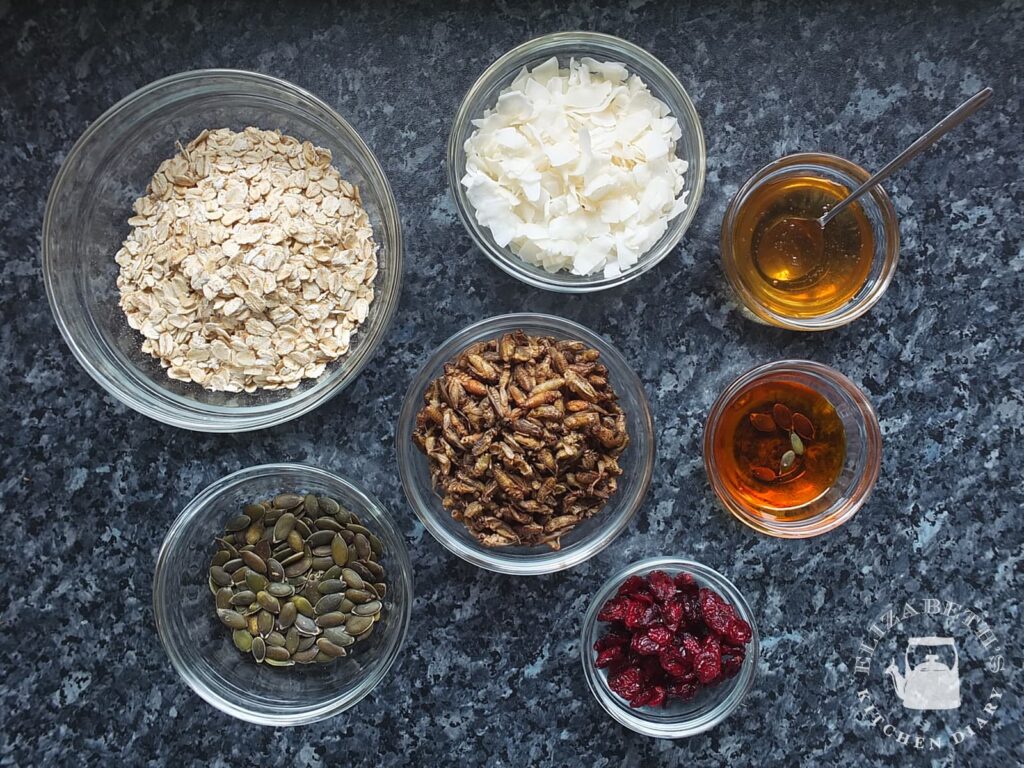 What you'll need to make crunchy cricket granola…
Jumbo oats – these are larger than your standard porridge or quick-cook oats and make for perfect, crunchy granola.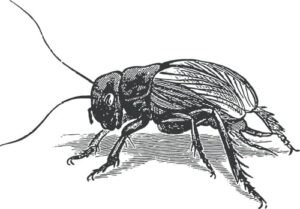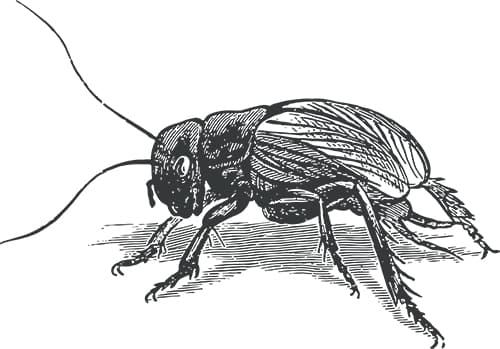 Dried crickets – packed full of insect protein, these tiny insects are actually quite tasty!
Pumpkin seeds – these little nutritional powerhouses add a nice, nutty flavour to the crunchy granola.
Dried cranberries and/or raisins – for a little juicy pop of flavour.
Coconut flakes – adds a nutty, sweet flavour to the granola. Tip: stir this in at the end if you don't want your coconut toasted.
Honey – a natural sweetener.
Vegetable oil – to help the oats to toast nicely. I used Malaysian red palm oil.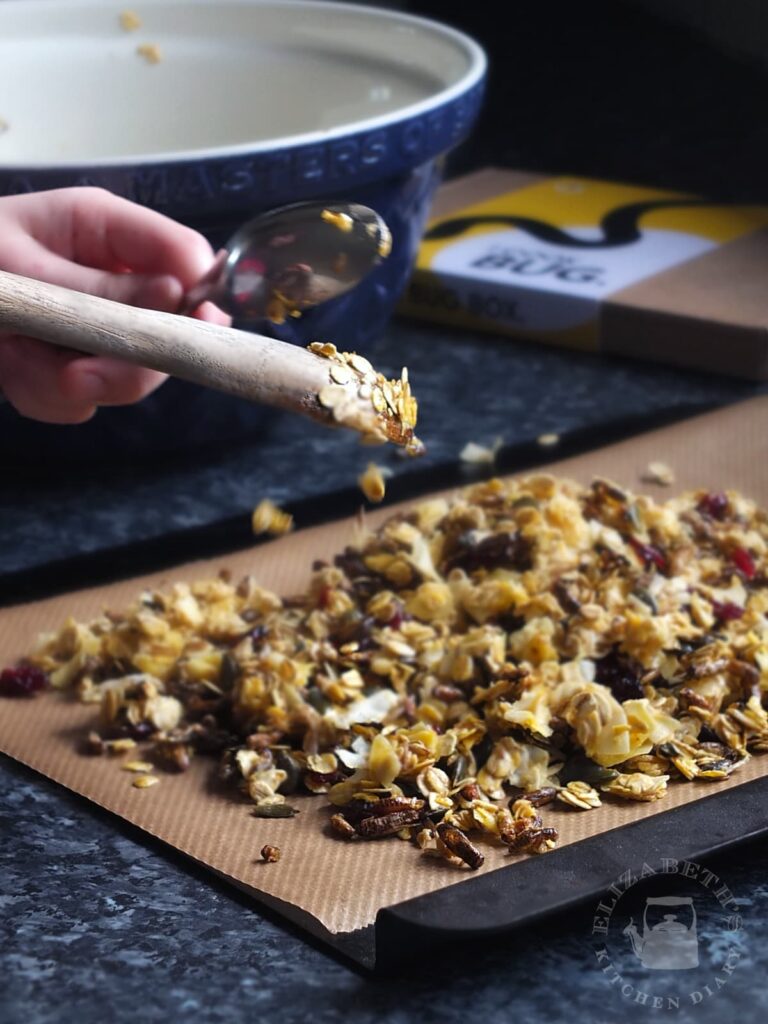 How to make it…
Preheat your oven to 190°C / 170 °C fan/ gas mark 5.
Place all of the ingredients into a bowl and mix until coated.
Spread the granola evenly onto a baking tray lined with greaseproof paper.
Bake the granola for 10-15 minutes, turning once, until evenly browned.
Leave it to cool completely before storing in an airtight container.
Serve with yoghurt, fruit or with your favourite milk.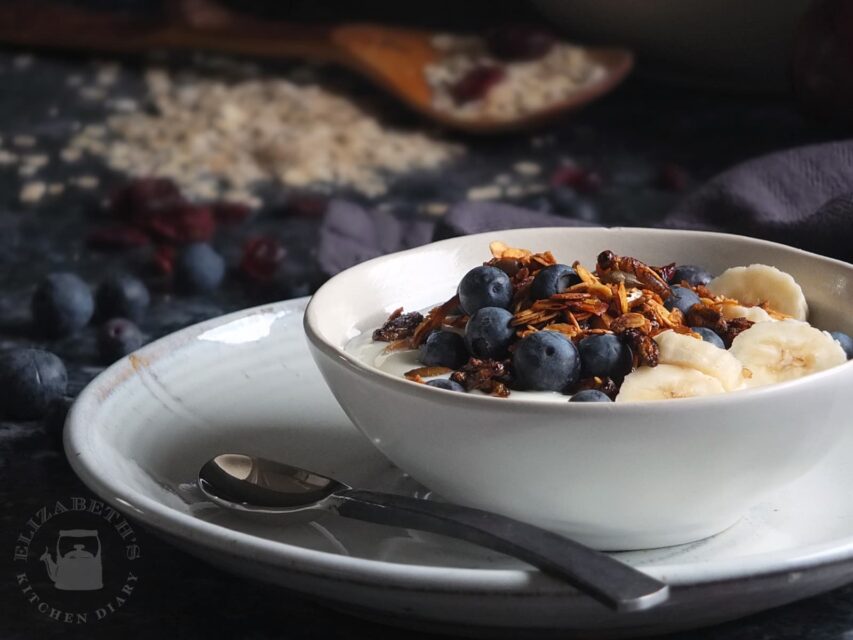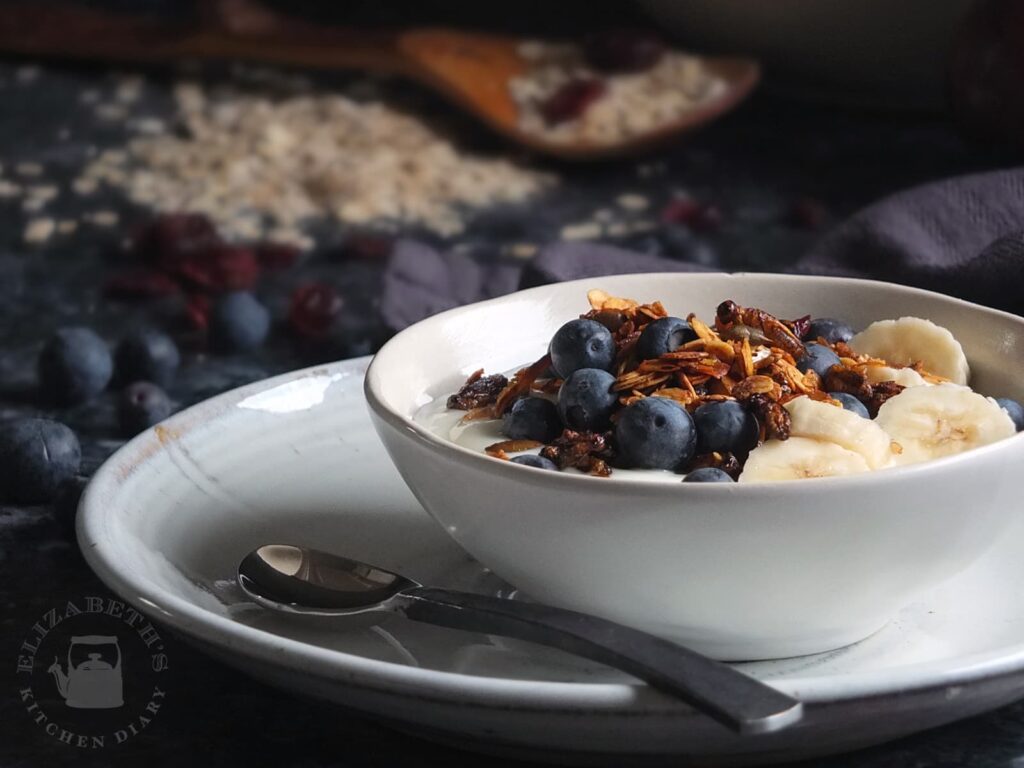 Discover BUG kits – cook delicious insect meals at home
The recipe and crickets for this blog post came from the fine folk over at BUG, who, last year, sent us one of their first test crunchy cricket granola kits.
Founded by Leo and Aaron, Better Universal Grub (aka BUG) was created to inspire your palate and demonstrate what a delicious and versatile ingredient insects really are. To do this, they've created a range of insect meal kits ranging from ginger, sesame & teriyaki crickets for stir-fry to buffalo worm falafels.
Their kits are not yet commercially available at the time of writing (they already sold over 1000 of their test meals without any marketing budget!), but they have just launched a crowdfunding campaign to get their sustainable, healthy and delicious insect meals onto dinner tables across the country soon.
You can become a BUG shareholder and be part of their journey to show the world that insects are really just tiny nuggets of deliciousness.
Sign up to BUG's mailing list and be the first to know when they launch their brand new BUG Kits in the next few months!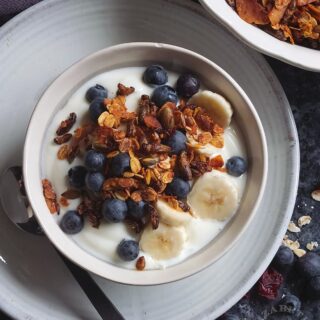 Crunchy Cricket Granola
An insect protein-packed breakfast made with jumbo oats, honey, seeds and dried fruit.
Print
Pin
Rate
Affiliate Links
This recipe card may contain affiliate ingredient and equipment links. As an Amazon Associate I earn from qualifying purchases.
Instructions
Preheat your oven to 190°C / 170 °C fan/ gas mark 5.

Place the dried crickets and the rest of the ingredients into a small mixing bowl and gently stir until everything is coated in honey and oil.

Spread the granola evenly onto a baking tray lined with greaseproof paper.

Bake the granola for 10-15 minutes in the centre of the oven, turning once, until evenly browned.

Leave the granola to cool completely before storing in an airtight container.

Serve with yoghurt, fruit or with your favourite milk.
Nutrition
Calories:
290
kcal
|
Carbohydrates:
31
g
|
Protein:
8
g
|
Fat:
17
g
|
Saturated Fat:
10
g
|
Trans Fat:
1
g
|
Sodium:
7
mg
|
Potassium:
210
mg
|
Fiber:
3
g
|
Sugar:
17
g
|
Vitamin A:
1
IU
|
Vitamin C:
1
mg
|
Calcium:
12
mg
|
Iron:
2
mg
Pin this recipe for later
Elizabeth's Kitchen Diary was sent a complementary crunchy cricket granola kit to try out. This is not a paid post and all thoughts and opinions expressed are our own.