In this recipe, local, organic Shetland lamb shoulder is rubbed in a blend of Moroccan spices before being seared and slow-cooked with tomatoes, chickpeas and apricots until the lamb is fall-off-the-bone tender. Includes both oven and slow-cooker recipe instructions.
This recipe was originally published in January 2012, and was republished with new photos and information in May 2021.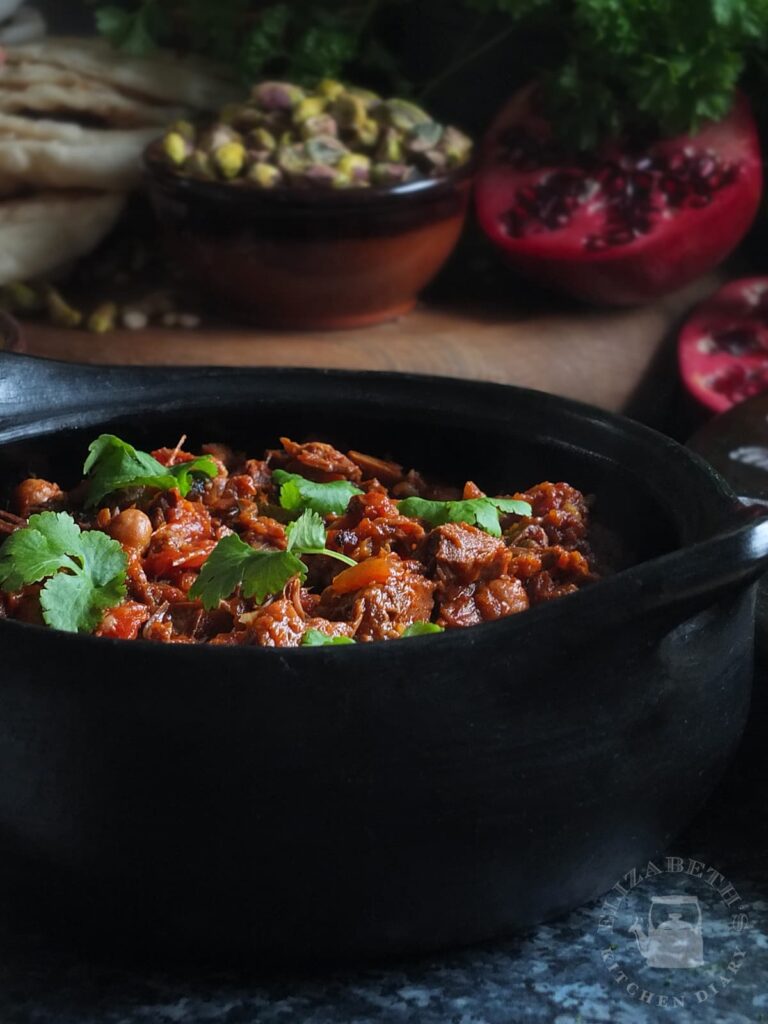 Lamb shoulder – perfect for slow cooking
Shoulder of lamb is one of the most perfect cuts of meat for slow cooking.
Lamb's shoulder is a muscle that works hard during its short lifetime, which means it's packed full of flavour. However, because it has had to work hard it benefits from slow cooking to make it tender. It's a less expensive alternative to the leaner leg of lamb, making it a valuable, nutritious ingredient for family meals.
Slow cooking this cut of lamb with the bone-in will add even more flavour to the finished dish.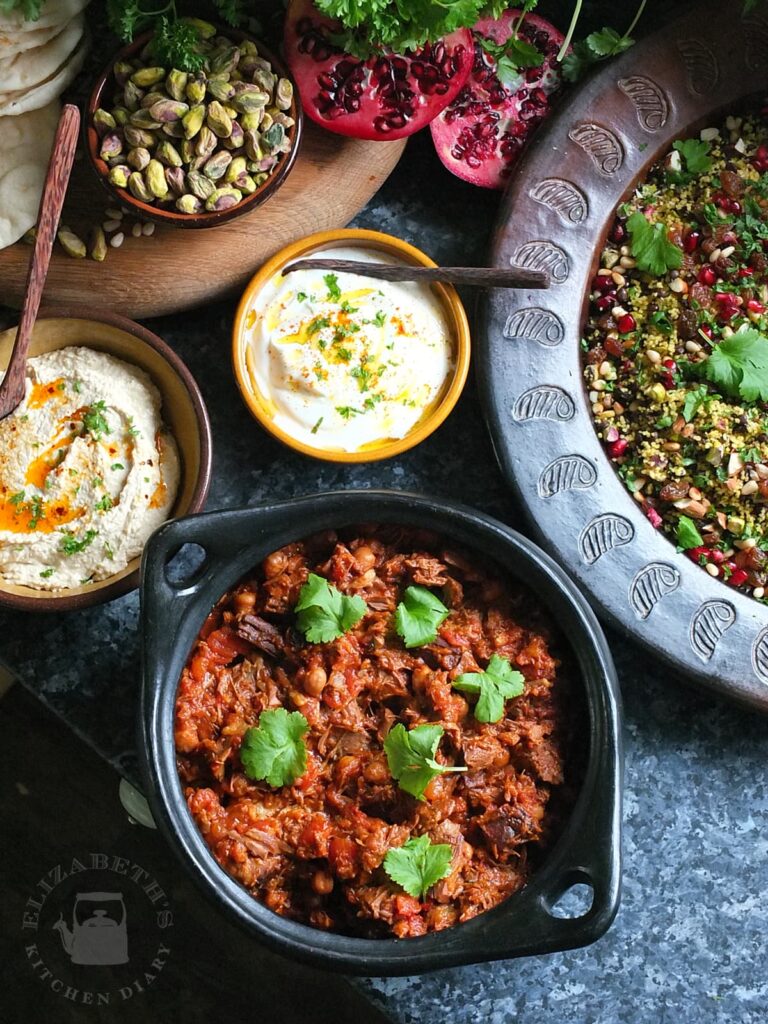 What to serve with this slow-cooked lamb shoulder recipe
This recipe is pairs really well with jewelled couscous with puy lentils and pomegranate, hummus, a simple layered tomato salad and a flatbread like Baladi or khobez.
I also like to serve some plain natural yoghurt drizzled with a little lemon-infused olive oil and sprinkled with paprika.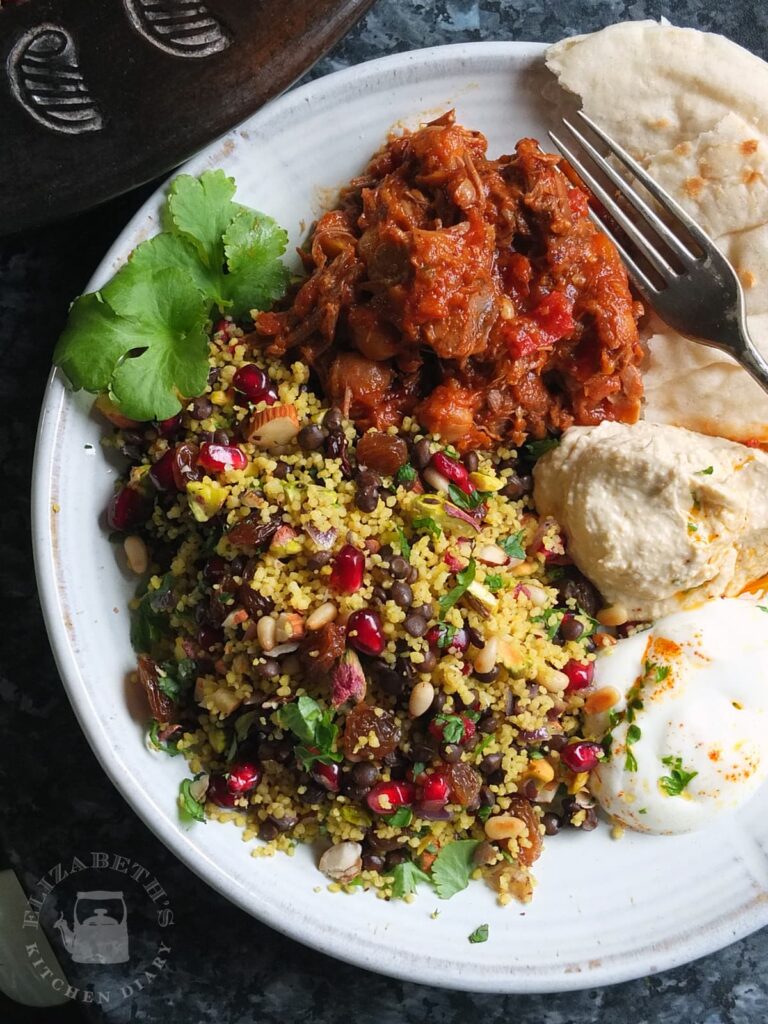 Although this recipe takes a long time to slow cook, leftovers taste even better the following day.
You can also freeze this recipe for later, simply defrost and reheat for an effortless midweek meal at a later date!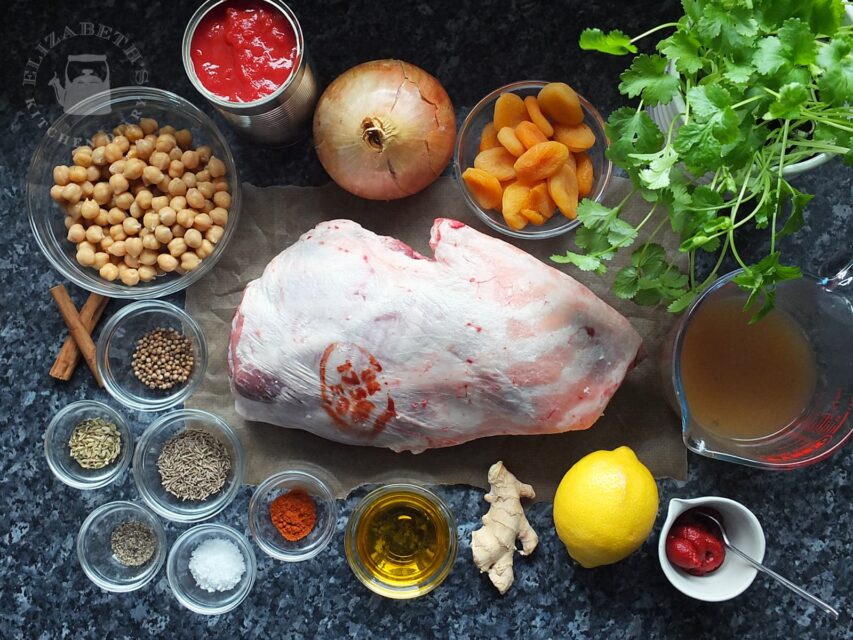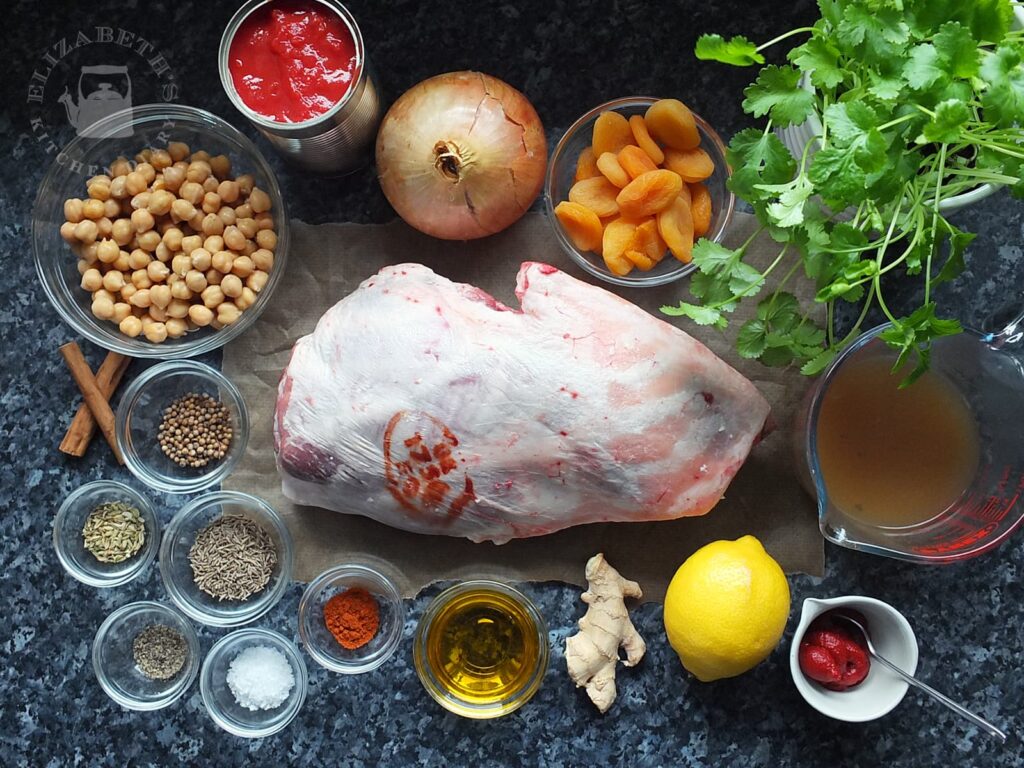 What you'll need…
Spices – use whole cumin, coriander and fennel seeds, toasted and freshly ground for maximum flavour, and cayenne pepper and cinnamon sticks.
Lamb shoulder – something locally and ethically reared. Mine comes from Uradale Farm.
Olive oil – for searing the meat before slow cooking. This keeps in moisture and adds to the flavour.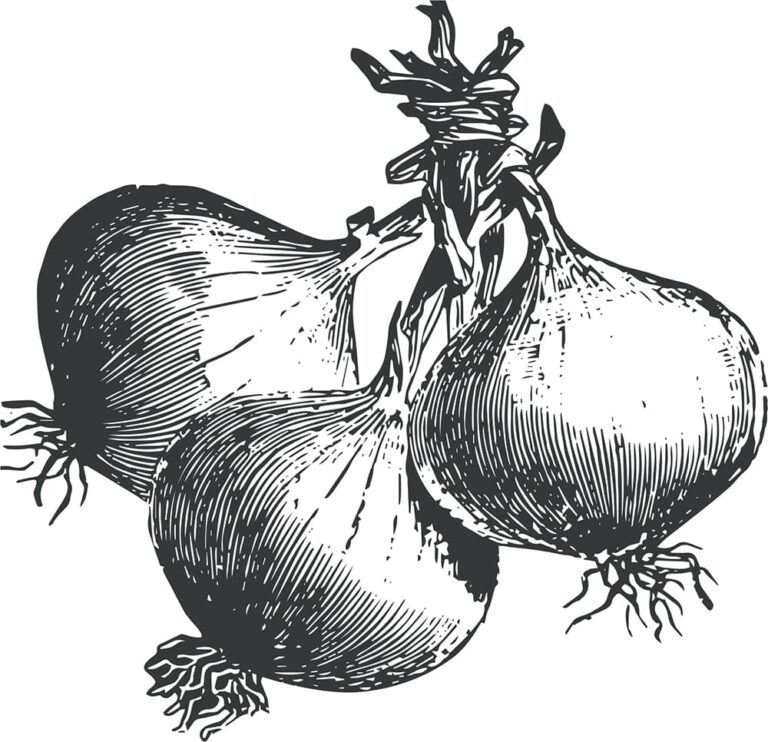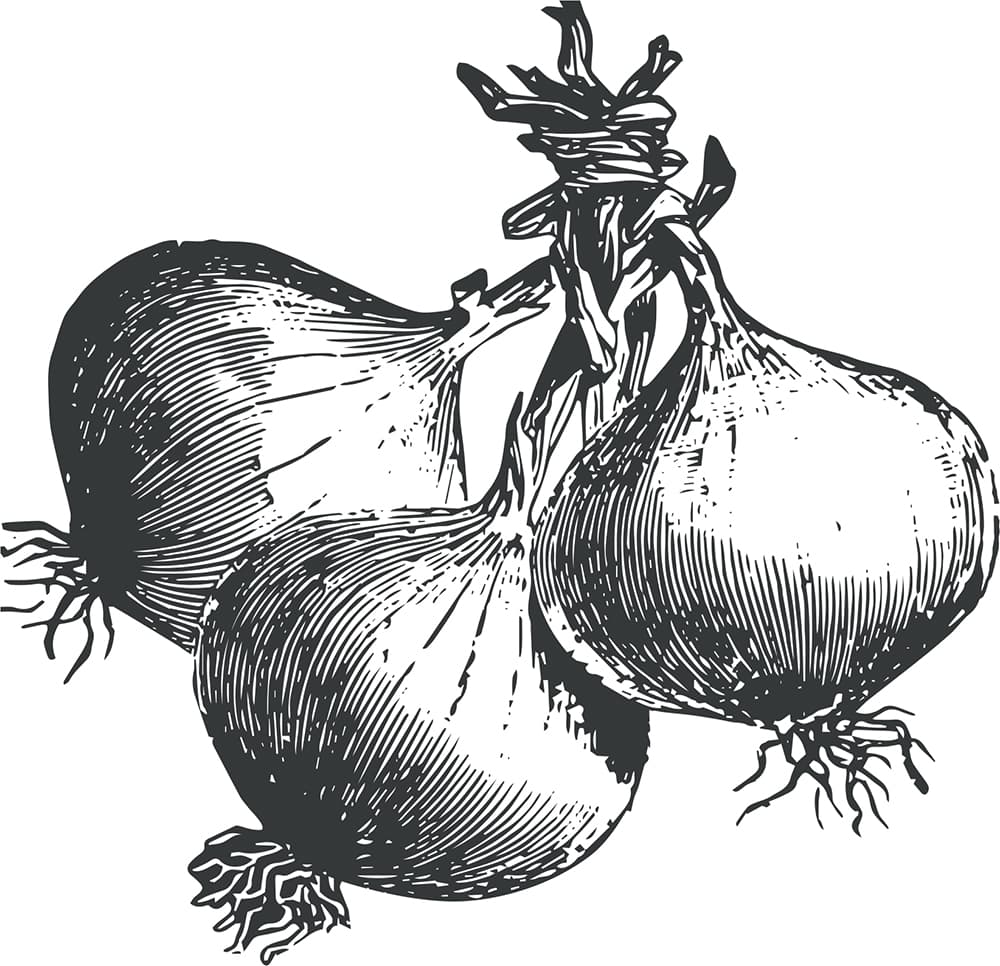 Brown onion – finely chopped for a base flavour.
Tomato paste – adds a tomato richness to the sauce.
Lamb stock – ideally made from scratch (check out my

bone broth recipe

), but a stockpot works too. Can substitute with chicken stock.
Chickpeas – tinned is fine. Wash and drain them well before using. Alternatively, soak and cook 125 grams of dried chickpeas.
Dried apricots – adds a delicious fruity flavour to the dish. Substitute with raisins or figs, if you wish (or a mixture of all three).
Tinned tomatoes – whole tinned plum tomatoes in tomato juice are ideal for this recipe, but regular tinned chopped tomatoes will work too.
Fresh ginger – imparts warmth and flavour to the dish.
Lemon zest – brings out the other flavours in the finished dish.
Fresh coriander leaves – to garnish.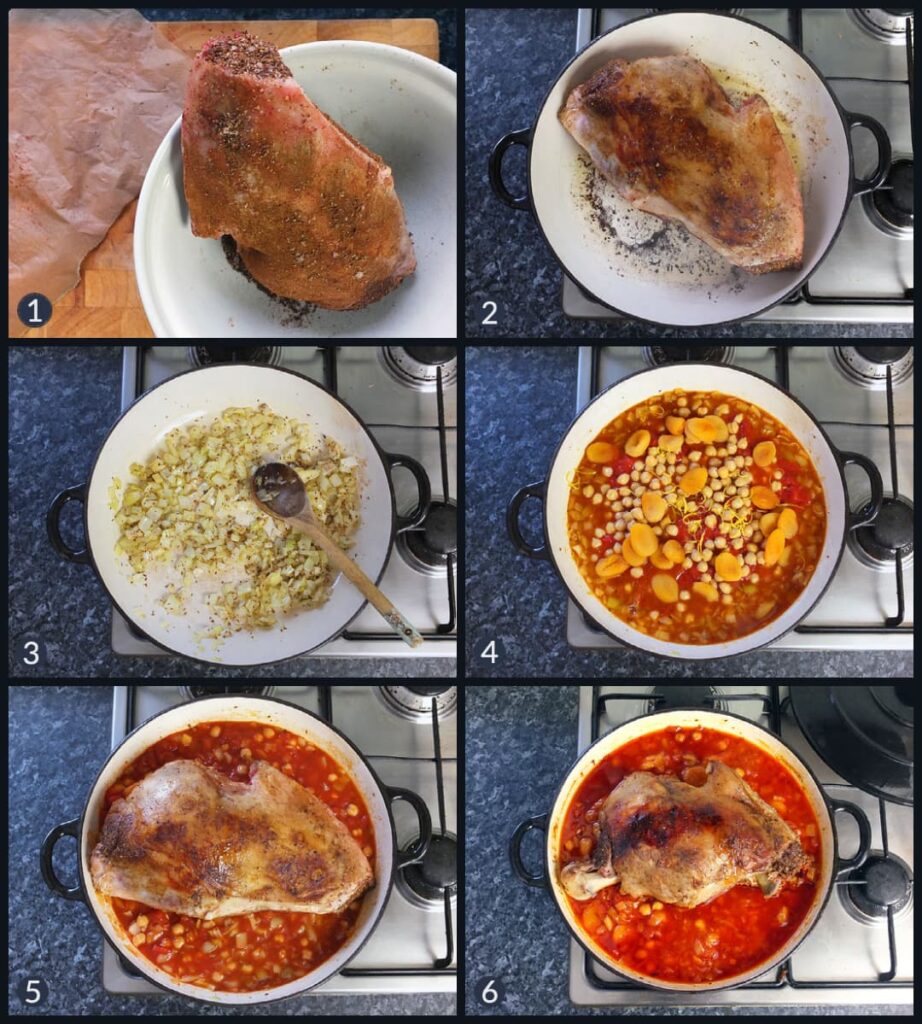 How to make it…
Rub the toasted, ground spices mixed with salt into the lamb.
Heat a splash of olive oil in a shallow casserole pan and brown the meat all over. Set aside, or place into a slow cooker, if using.
Heat the remaining olive oil in the same pan and saute the onions along with any remaining spice mixture until softened.
Add the tomato puree, stock, chickpeas, apricots, cinnamon sticks, ginger and lemon zest and bring to the boil.
Return the meat to the pan or add the liquid to the slow cooker bowl.
Cover and slow cook in a preheated 140 °C (fan)/ 160 °C/ gas mark 3 oven for 3 1/2 – 4 hours or for 5-8 hours in a slow cooker.
Click here for the full recipe instructions (including slow cooker instructions)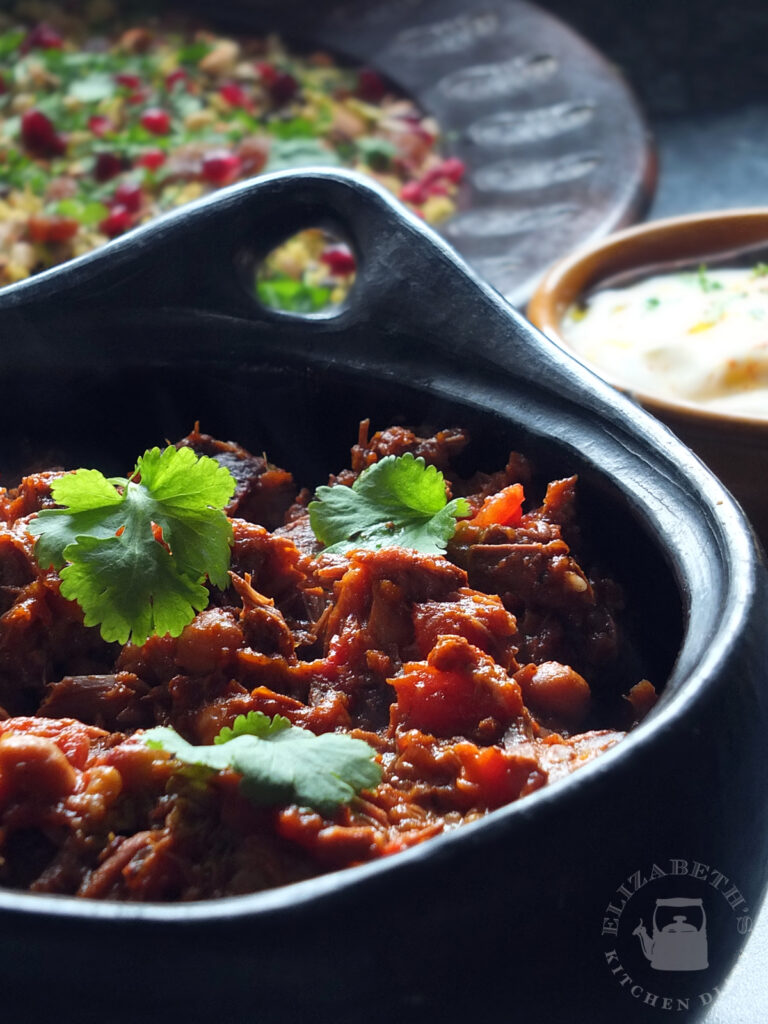 Does the shoulder of lamb have a bone?
Yes, and we recommend buying a whole bone-in lamb shoulder for the best flavour, however, you can get boneless shoulder of lamb which is perfect for stuffing and roasting. Alternatively, you can buy cubed lamb shoulder.
Is lamb shoulder fatty?
Yes, and this is why it tastes so good. Slow cooking it makes it even more tender and delicious.
Should you seal lamb before slow cooking?
No, you don't really need to if you're short of time. Contrary to popular belief, browning the meat does not lock in moisture before slow cooking. However, it does add to the flavour of the finished dish. It also looks nicer, I feel, especially if you are serving the lamb shoulder whole instead of shredded.
What is lamb shoulder good for?
Lamb shoulder, because it's a tougher, fattier cut of lamb, is good for slow cooking and stewing. You might like my easy gluten-free lamb curry recipe, which is made from cubed lamb shoulder.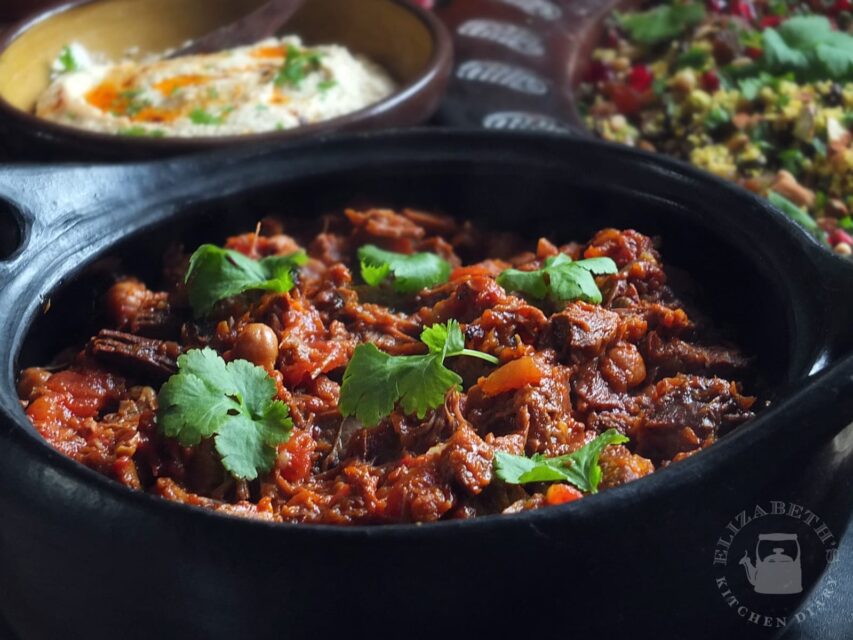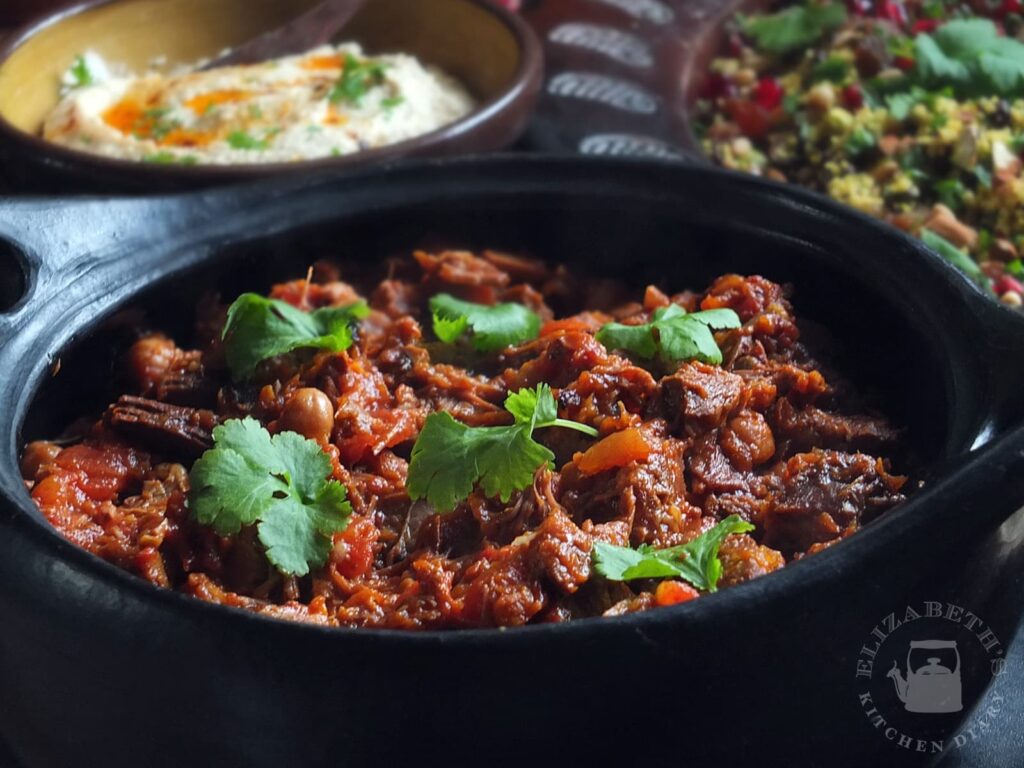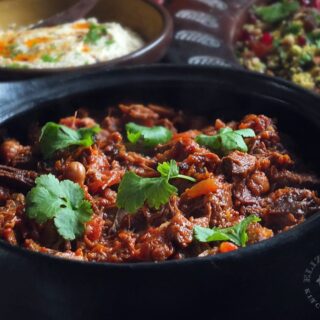 Morrocan Slow-cooked Lamb Shoulder Recipe
In this recipe, local, organic lamb shoulder is rubbed in a blend of Moroccan spices before being seared and slow-cooked with tomatoes, chickpeas and apricots until the lamb is fall-off-the-bone tender.
Print
Pin
Rate
Affiliate Links
This recipe card may contain affiliate ingredient and equipment links. As an Amazon Associate I earn from qualifying purchases.
Instructions
Toast your cumin, coriander and fennel seeds in a dry pan. Grind to a coarse powder in a mortar and pestle.

Mix the toasted spices with the cayenne, salt and freshly ground black pepper.

Rub the spice mixture all over the outside of the lamb shoulder.

Heat the remaining oil in the casserole dish and saute the onions with any spice mixture which may be left in the bowl. Cook the onions for approximately five minutes, until softened.

Add the lamb stock and deglaze the pan, scraping up any tasty browned bits leftover from browning the lamb.

Add the tomato puree, chopped tomatoes, cinnamon sticks, ginger, lemon zest, chickpeas and apricots.

Return the browned lamb to the casserole dish, or add the liquid ingredients to the slow cooker.

Slowly cook the lamb in the centre of the oven for 3.5-4 hours, or set the slow cooker for 8 hours on low.

Serve the lamb whole, or shredded mixed into the sauce and garnished with fresh coriander leaves.
Nutrition
Sodium:
642
mg
|
Calcium:
97
mg
|
Vitamin C:
15
mg
|
Vitamin A:
827
IU
|
Sugar:
15
g
|
Fiber:
7
g
|
Potassium:
889
mg
|
Cholesterol:
76
mg
|
Calories:
363
kcal
|
Saturated Fat:
3
g
|
Fat:
13
g
|
Protein:
30
g
|
Carbohydrates:
33
g
|
Iron:
5
mg
Environmental Information
Pin this recipe for later
Other lamb recipes you might like
Pastitsio is a Greek-style macaroni cheese pie. In this easy family favourite recipe layers of ooey-gooey macaroni cheese sandwich a spiced lamb mince.
A simple yet delicious slow-cooked lamb shanks recipe with vegetables and gravy. Serve with creamy mashed potatoes. Includes both slow-cooked oven version and crockpot slow cooker recipe instructions.
A taste of home, this roast lamb and rosemary pie is made from leftover roast lamb and gravy encased in my grandmother's crispy, flaky perfect pastry recipe.