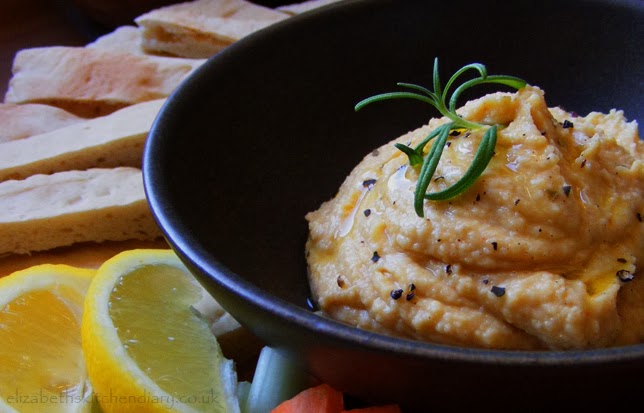 I love hummus! Would you believe that when I was younger I only ever ate the shop-bought variety? It seemed far too exotic, when I was first living on my own, to make such a thing, but then I discovered that it only takes 5 minutes to prepare from start to finish. It takes much longer using dried chickpeas, which I have tried and given up on. That involves far too much forward thinking with all the soaking, boiling etc. and it probably ends up being just as expensive to buy a tin of chickpeas, to be honest.
I am not a big fan of tahini. I find that most jars I've ever purchased have ended up being chucked out, three quarters full, because I'd only use it in hummus. I don't make hummus often enough to warrant buying tahini (and I don't care for the flavour), so I adapted this recipe of my own. I use a hand blender to get the right consistency as I find food processors leave the chickpeas a little too chunky for my liking; I prefer a nice, smooth hummus.
If I am making hummus for myself I use two large fat juicy cloves of garlic (I can never get enough garlic, me!) but if I'm making it for the children to eat I only use one small one, as raw garlic can be a bit overpowering for their taste buds. I'm also a big fan of cumin, so I might add a little bit more than the recipe calls for if I'm making this for myself. To give an extra boost of flavour you could always toast a teaspoonful of whole cumin seeds in a dry pan over a medium heat until they start to jump. Grind them to a powder in a mortar and pestle and away you go.
This hummus recipe goes superbly with homemade khobez, an Arabic flat bread and vegetable crudites for a quick, child-friendly, lunch. A good grinding of Shetland Seaweed over the top adds vital trace minerals to my family's diet.
Hummus
A beautifully flavoured dip for vegetable crudites and bread
Ingredients
1 x 400 gram tin chickpeas
4 tbsp fresh lemon juice
60 ml extra virgin olive oil
1-2 garlic cloves, crushed
1/2 tsp sea salt
1 tsp ground cumin
1/2 tsp cayenne pepper
freshly ground black pepper
Shetland Seaweed Sprinkle
fresh parsley, to garnish
Instructions
1. Wash and drain the chickpeas well.
2. Place the chickpeas, lemon juice, olive oil, garlic, sea salt, cumin and cayenne pepper in a deep container.
3. Puree with a hand blender, adding a little more olive oil if you want a thinner hummus.
4. Spoon into a serving dish. Drizzle with a little olive oil and sprinkle with the ground pepper, seaweed and parsley, if desired.
Details
Prep time: Cook time: Total time: Yield: Serves 2-3