A taste of home, this roast lamb and rosemary pie is made from leftover roast lamb and gravy encased in my grandmother's crispy, flaky perfect pastry recipe.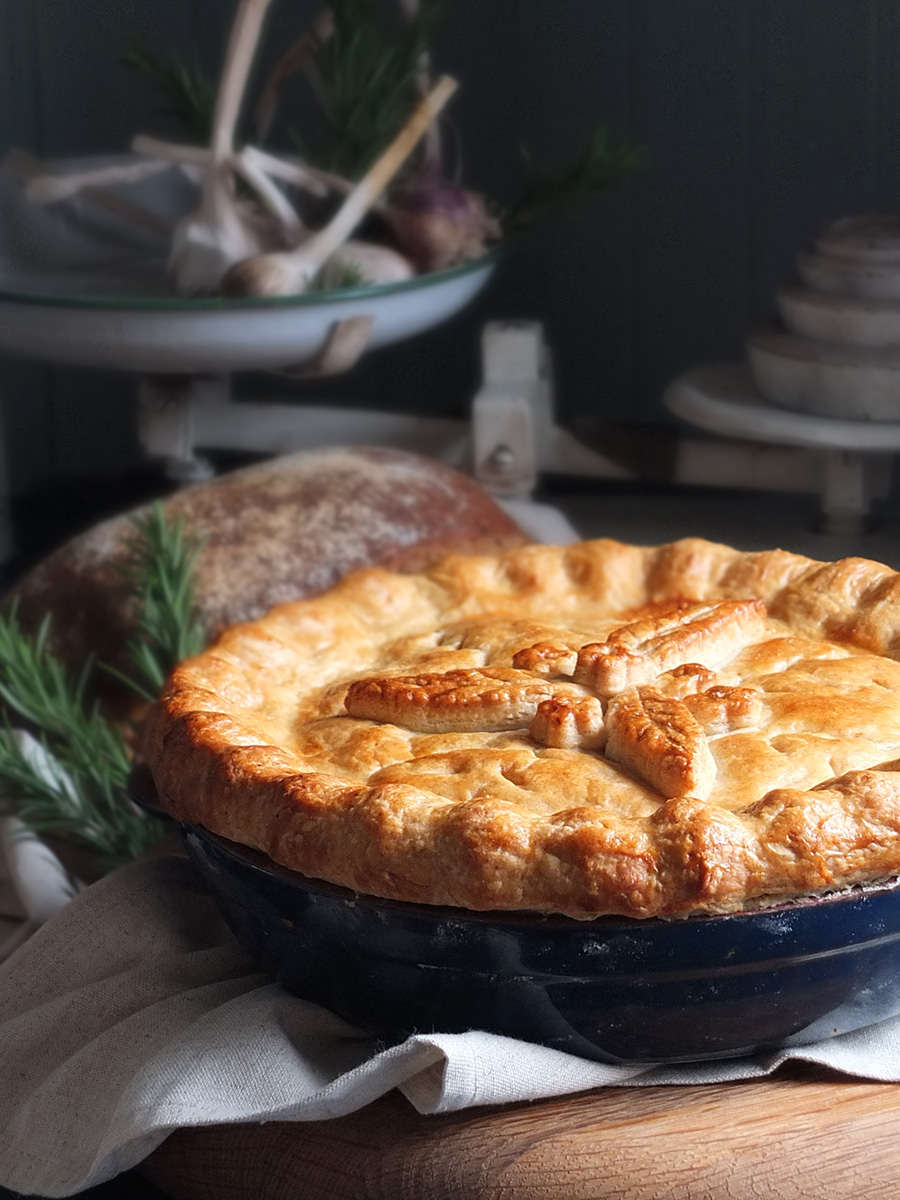 A little family history
It's 1942. The world is at war.
A young handsome Canadian chap with sticky-out ears and a great big cheeky smile has been posted to a military base on the south coast of England.
There he falls in love with a beautiful young English woman who looks just like Queen Elizabeth. She is driving a bakery van. She returns his love and when the war finishes they get married and he takes her back home to Canada.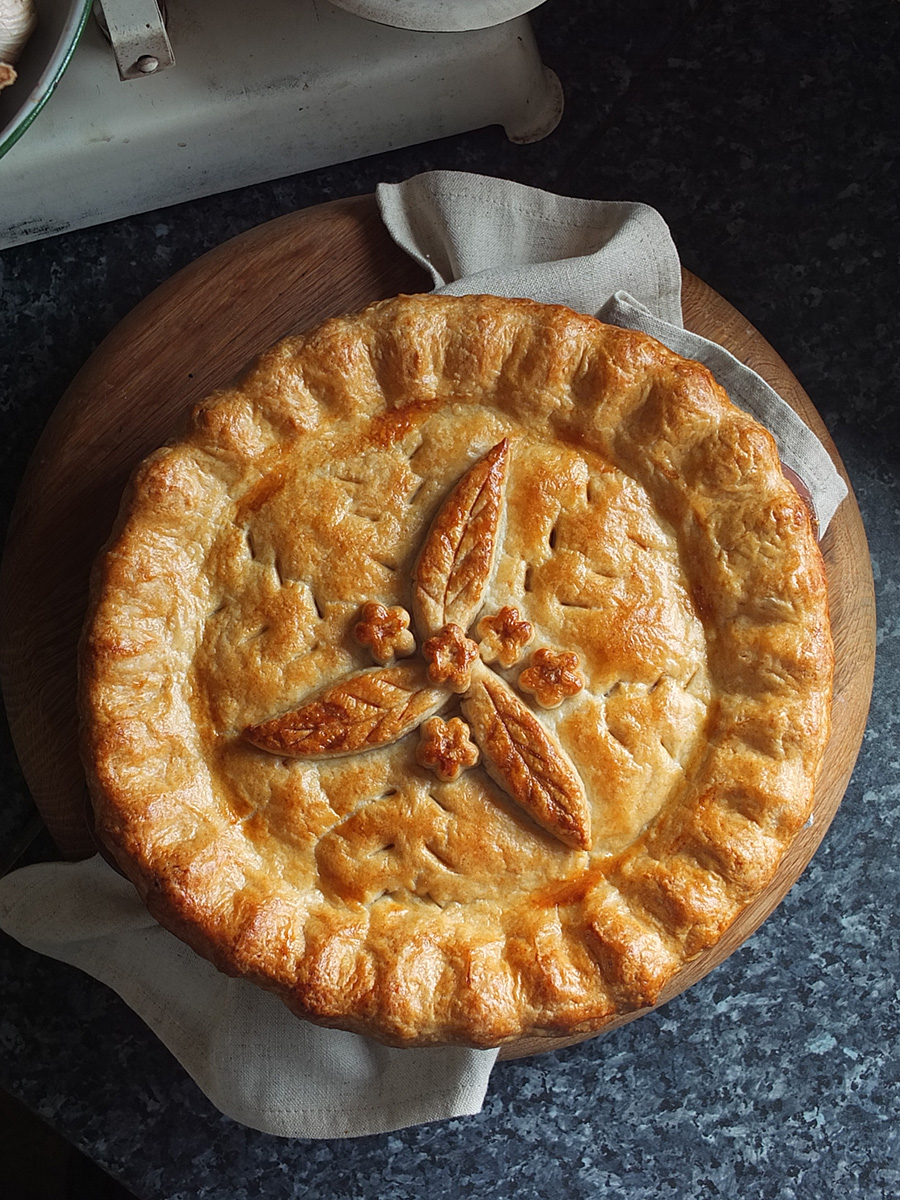 These were my maternal grandparents. I never knew my grandmother as she sadly passed away long before I was born, but I was named Elizabeth because my grandmother looked so much like the Queen.
When I was a child my mother used to make meat pies out of leftover roast beef and my grandmother's pie crust recipe, written in her notebook as 'Mum's Pie Crust'. She had inherited my grandmother's electric meat grinder and my mother would grind up cold, leftover roast beef along with a carrot and onion.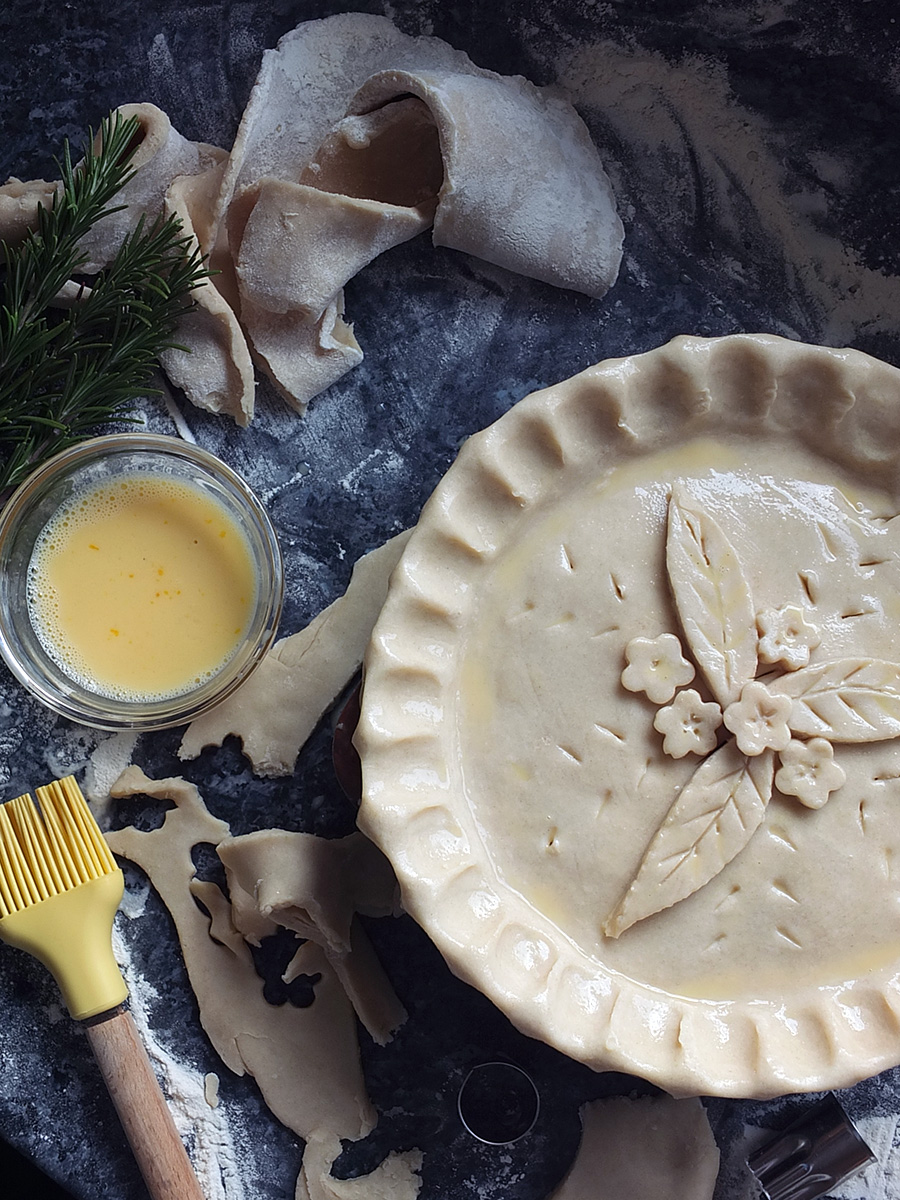 Any leftover gravy (always made with gravy granules!) would get poured into the resulting minced meat and spooned into a deep pie dish lined with pastry. She would decorate the top of the pie with leftover scraps of pastry; there were always leaves.
Sometimes excess pastry would get made into little sausage rolls, and oh my, the combination of this lard-filled pastry crust encasing the minced meat mixture…. pure childhood heaven.
If we were really lucky we'd get a slice of this pie, cold, in our packed lunches and it made for the best packed lunches ever.
When I immigrated back across the pond in 1999 (21 years ago this week!) I brought with me a handwritten copy of my grandmother's pie crust recipe.
So this is my version of my maternal family pie recipe – made with locally sourced lamb, flavoured with homemade lamb stock (see recipe notes) and encased in my grandmother's flaky pastry recipe. It's a perfect recipe to share with you this International Women's Week.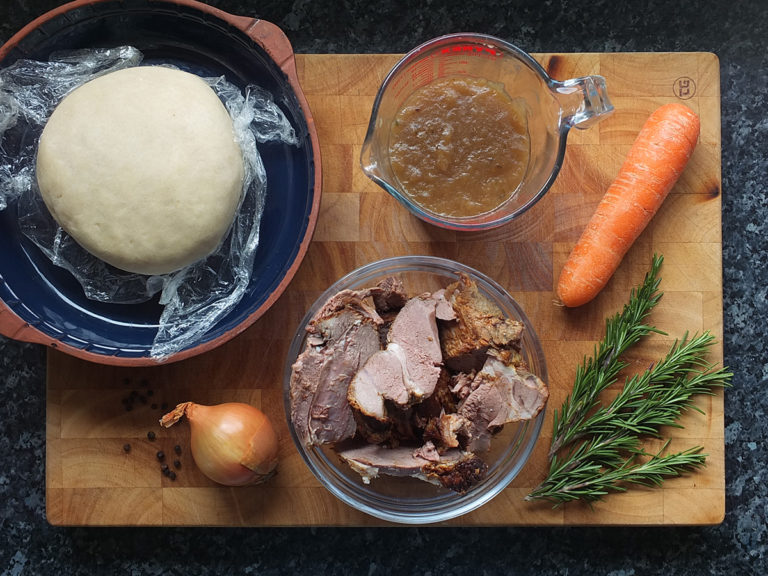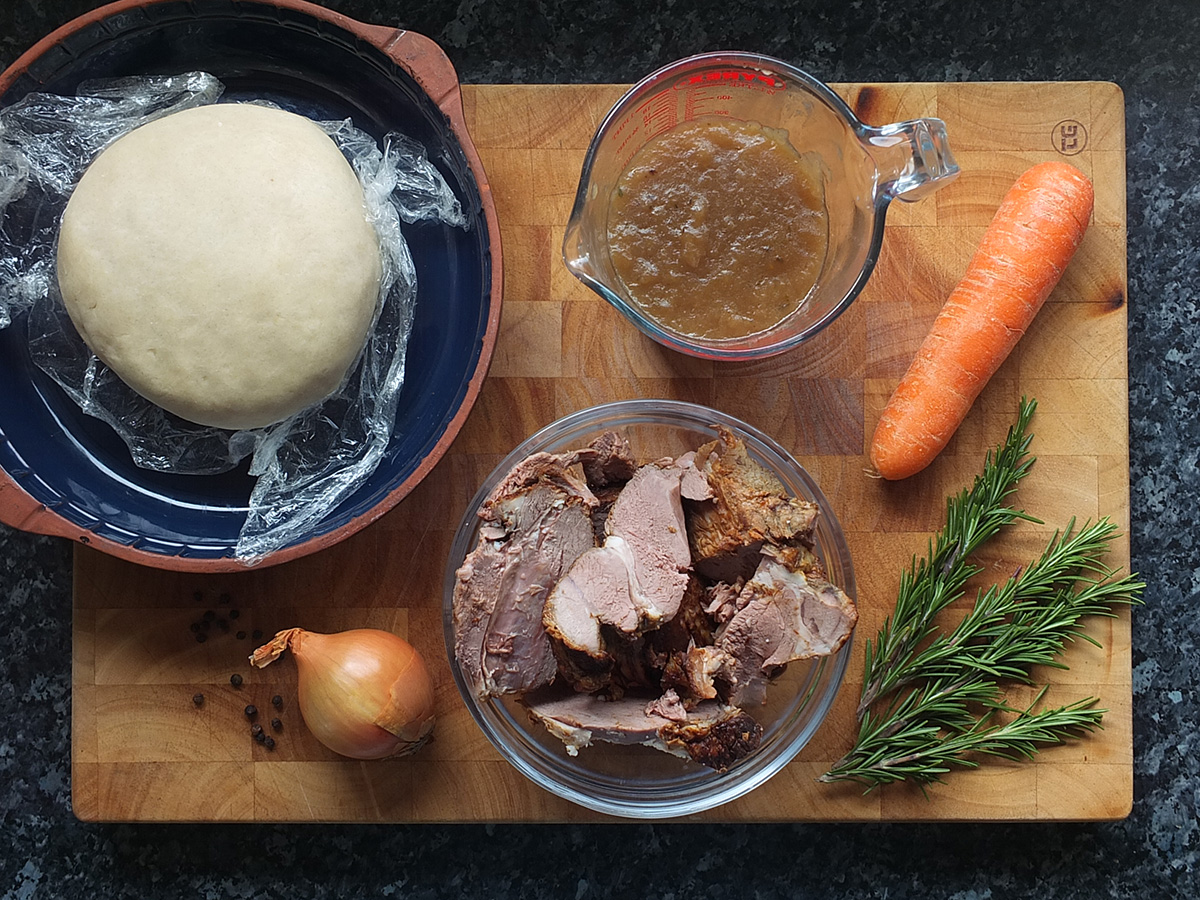 Ingredients
750 grams shortcrust pastry (shop-bought or homemade – see notes)
600 grams leftover roast lamb
1 small onion
1 carrot
1 tbsp rosemary, chopped
300 ml leftover gravy
salt & pepper, to taste
egg wash or milk, to glaze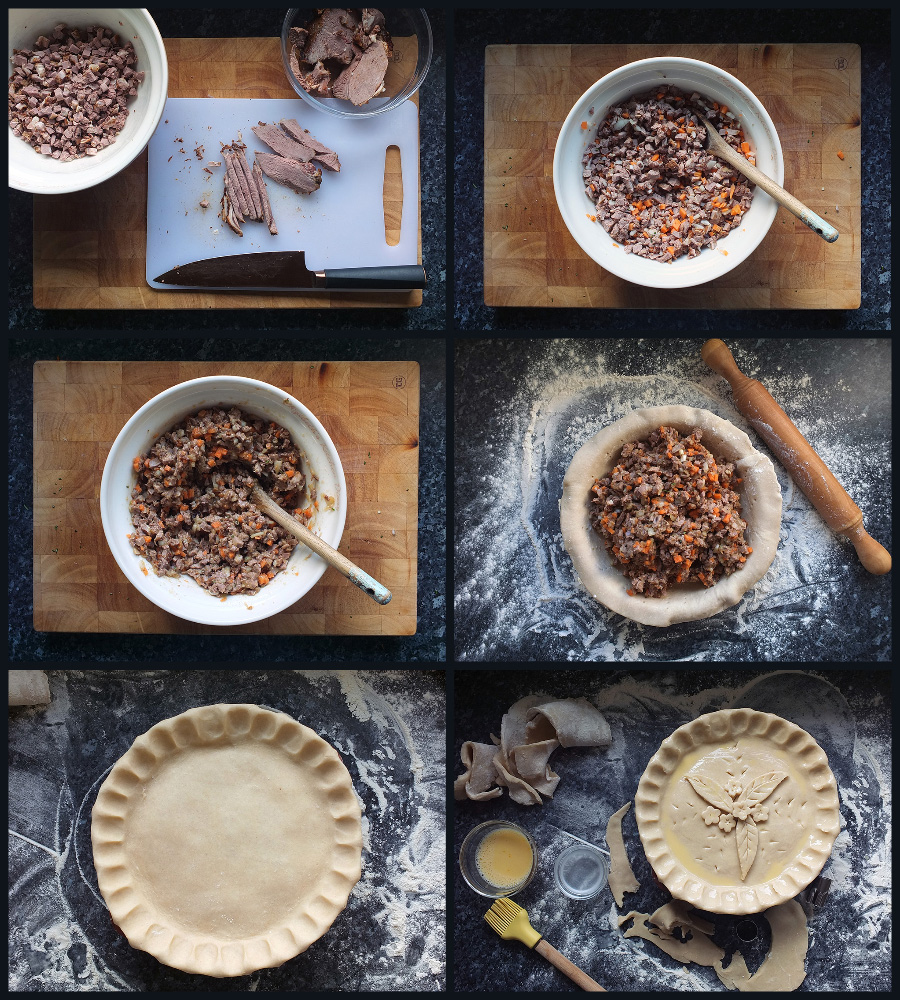 Instructions
Chop your leftover, cold roast lamb into small 5 mm dice.
Add the finely chopped onion, carrot and rosemary.
Stir in the leftover lamb gravy and season to taste.
Line a pie plate with shortcrust pastry, and add the filling.
Top with more pastry, crimping the edges to seal.
Decorate as desired, brush with milk or an egg wash and bake for 30 minutes at 220 C/200 C fan.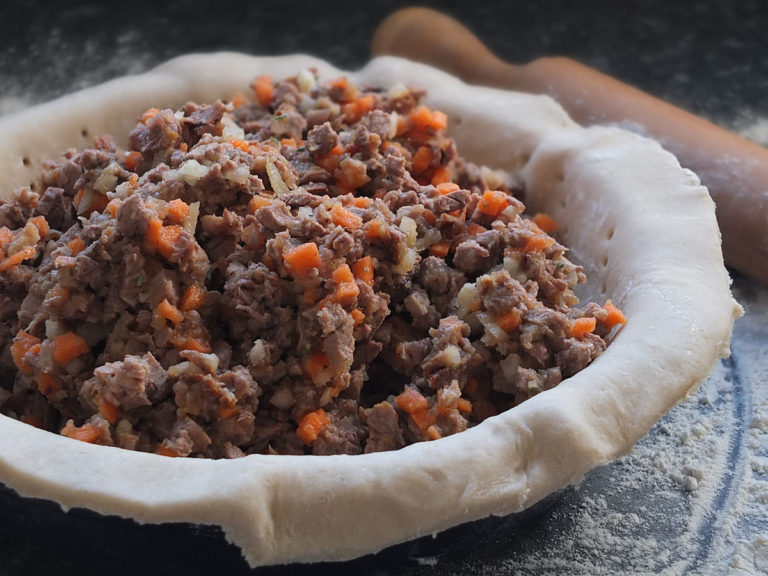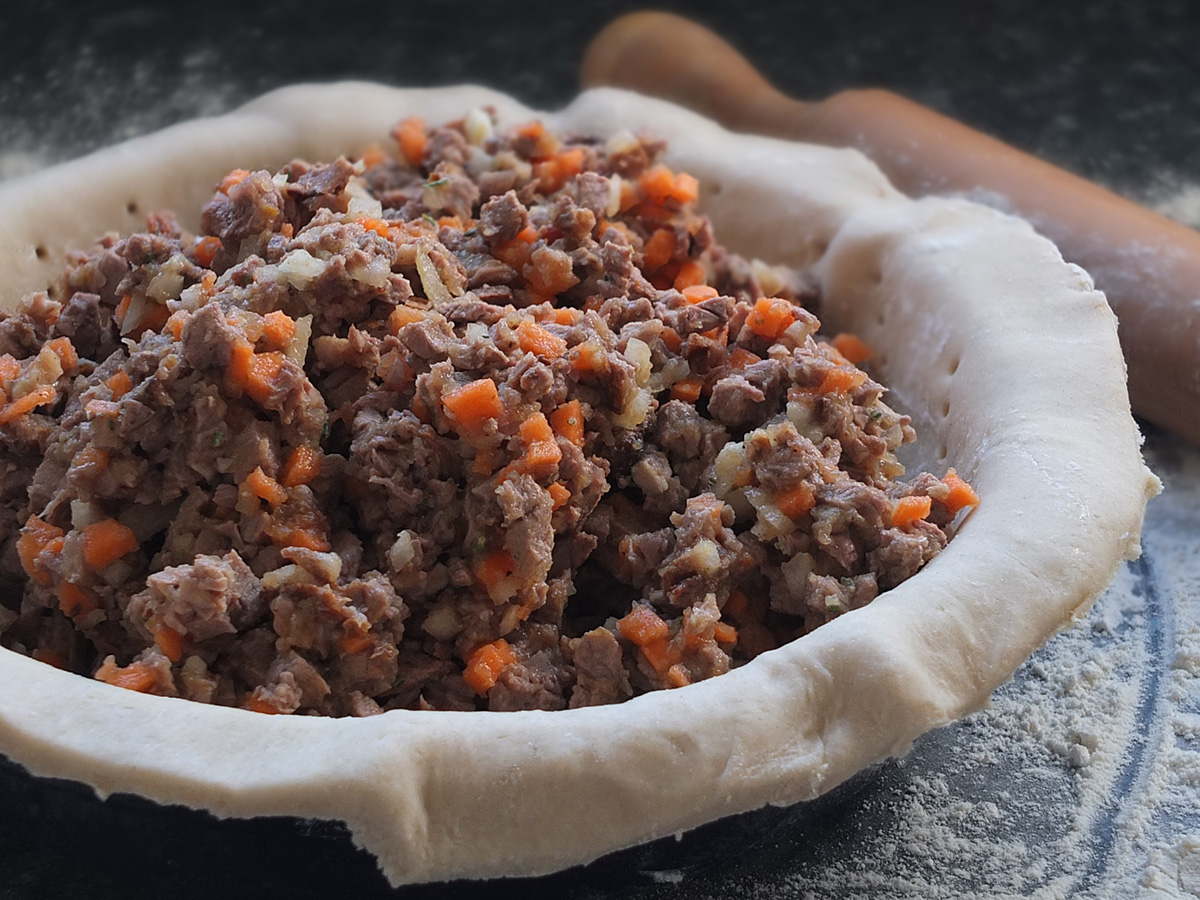 Tips for making roast lamb and rosemary pie
use leftover roast lamb for this recipe, ideally, if it's been chilling overnight in the fridge
you can either finely chop the lamb, carrot and onion or run them through a meat grinder
use any leftover pastry/filling to make sausage rolls
use homemade lamb gravy to bind the ingredients together for the best flavour (see recipe, below)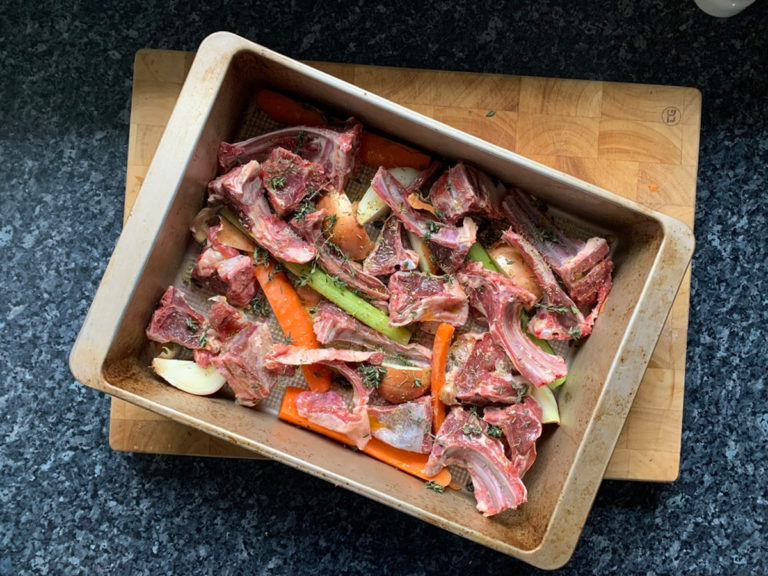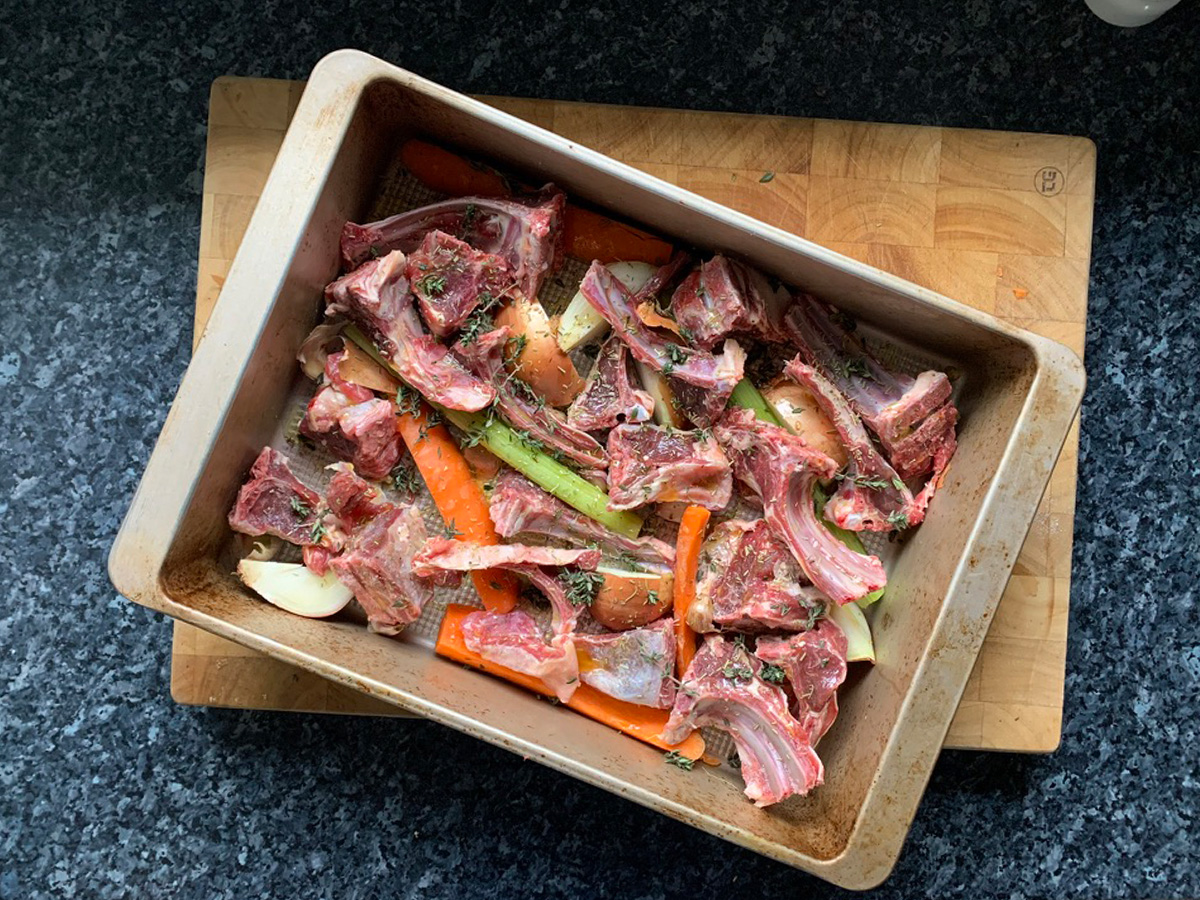 How to make lamb stock for the best homemade lamb gravy
Preheat oven to 220 C/ 200 C fan and place lamb bones in a large roasting tin along with 1 unpeeled quartered onion, 1 halved carrot, 1 celery stick and a handful of unpeeled garlic cloves
drizzle with a little olive oil and sprinkle with dried rosemary
roast in the oven for 45 minutes
transfer all the contents of the roasting tin to a large stockpot and cover with water
add a few parsley stems, bay leaves and around 10 peppercorns
bring to a simmer, and gently simmer for four hours until the liquid is dark and reduced
strain, reserving the liquid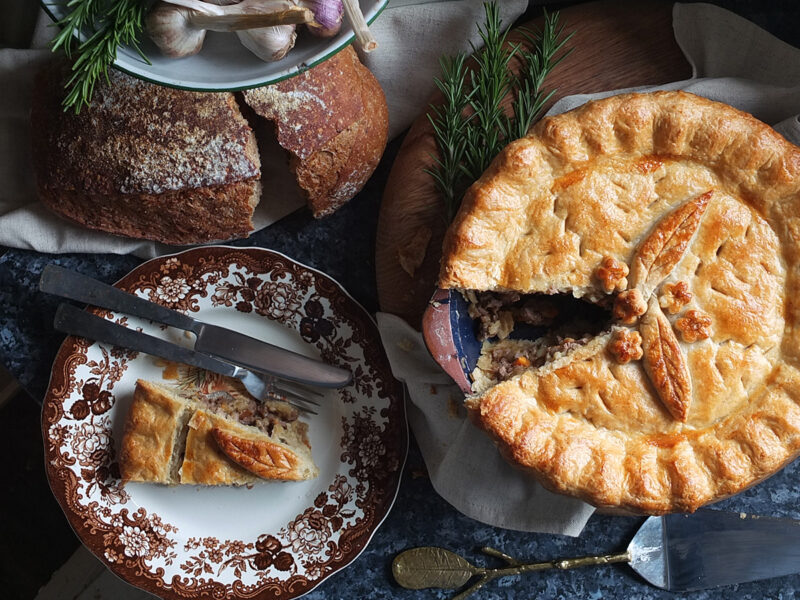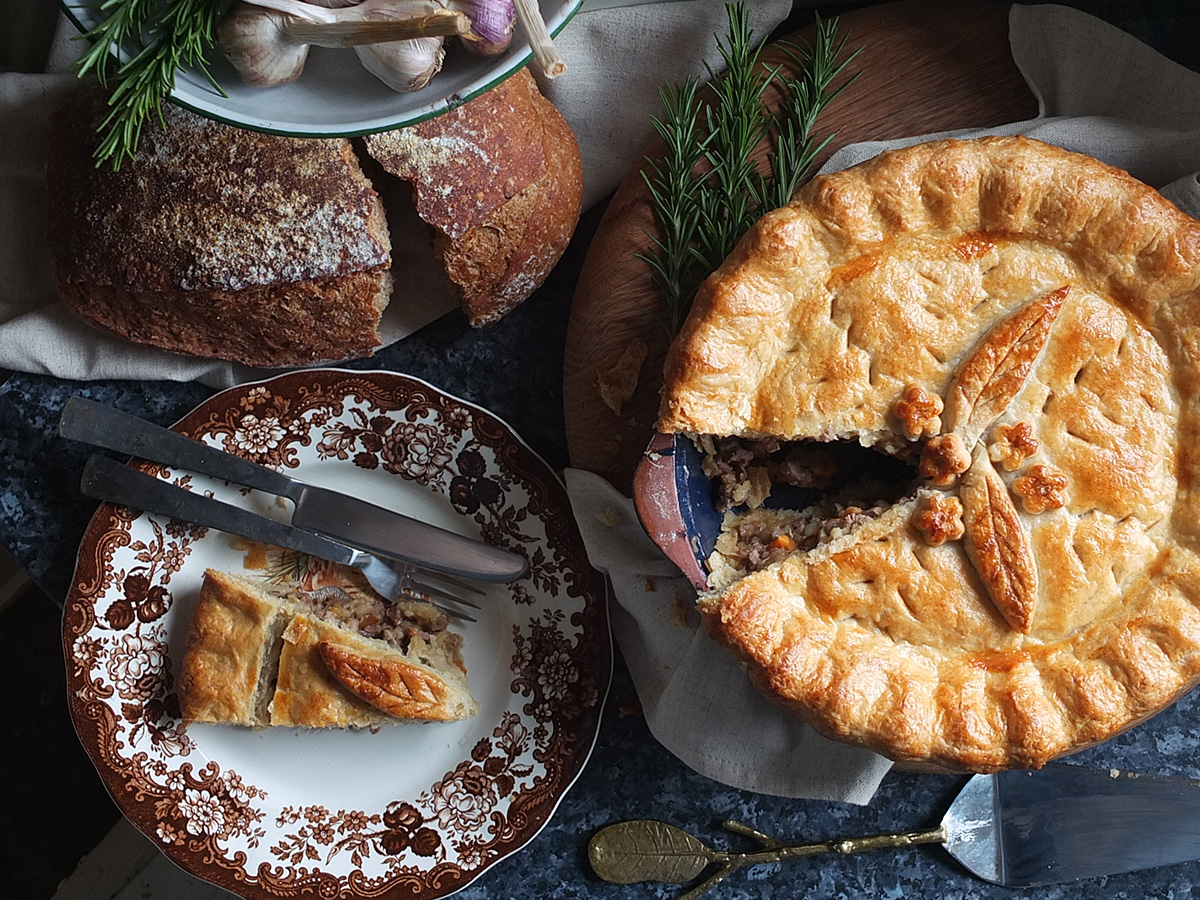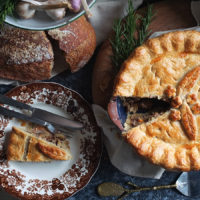 Roast Lamb and Rosemary Pie Recipe
A taste of home, this roast lamb and rosemary pie is made from leftover roast lamb and gravy encased in my grandmother's crispy, flaky perfect pastry recipe.
Print
Pin
Rate
Ingredients
My grandmother's pastry recipe
Roast lamb and rosemary pie filling
600

grams

leftover roast lamb

finely diced

1

onion

finely chopped

1

carrot

finely chopped

1

tbsp

fresh rosemary

finely chopped

300

ml

leftover lamb gravy

Shetland sea salt

to taste

freshly ground black pepper

to taste

egg wash

to glaze
Affiliate Links
This recipe card may contain affiliate ingredient and equipment links. As an Amazon Associate I earn from qualifying purchases.
Instructions
How to make my grandmother's pastry recipe
Measure the flour, brown sugar, baking soda and salt into a large bowl.

Rub in the lard with your fingertips until it resembles coarse breadcrumbs.

Add the vinegar and egg to a measuring jug and whisk briefly. Top up with cold water to measure 225 ml.

Add the liquid ingredients to the dry and combine well.

Turn out onto a floured surface and knead briefly, until smooth. You might need to add a little more flour, or a few drops more of water to make a soft, yet firm, dough.

Cut the dough in half and form into discs.

Wrap each disc in cling film and chill until needed.
To make the roast lamb & rosemary pie filling
Add the onion, carrot and chopped rosemary.

Pour in the gravy and stir to combine thoroughly.
To assemble
Preheat oven to 220 C/ 200 C fan.

Roll out one disc of pastry on a floured surface to a thickness of 1/4 inch.

Line the base of a deep 9-inch pie plate with the pastry and use the tines of a fork to poke holes in the dough.

Add the pie filling, smoothing over the top with a spoon.

Roll out the second disc of pastry and use to top the pie, sealing the edges with a little water.

Decorate as desired, brush with an egg wash or a little milk and bake in the centre of the oven for 30 minutes.
Nutrition
Calories:
412
kcal
|
Carbohydrates:
55
g
|
Protein:
17
g
|
Fat:
13
g
|
Saturated Fat:
5
g
|
Cholesterol:
54
mg
|
Sodium:
282
mg
|
Potassium:
294
mg
|
Fiber:
4
g
|
Sugar:
4
g
|
Vitamin A:
2762
IU
|
Vitamin C:
14
mg
|
Calcium:
113
mg
|
Iron:
4
mg
Environmental Information
Other lamb recipes you might like
A simple yet delicious slow cooked lamb shanks recipe with vegetables and gravy. Serve with creamy mashed potatoes.
This super easy Chilli con Carne recipe is made with lamb mince, which lends a delicious earthy flavour to the classic recipe. Serve with rice, soured cream and slices of creamy avocado – perfect for a midweek meal.
The classic shepherd's pie is the ultimate cold-weather comfort food. A layer of gravy and onion flavoured minced lamb is topped with creamy mashed potatoes.
Pin this recipe for later!