In collaboration with Tasty, Easy Lamb.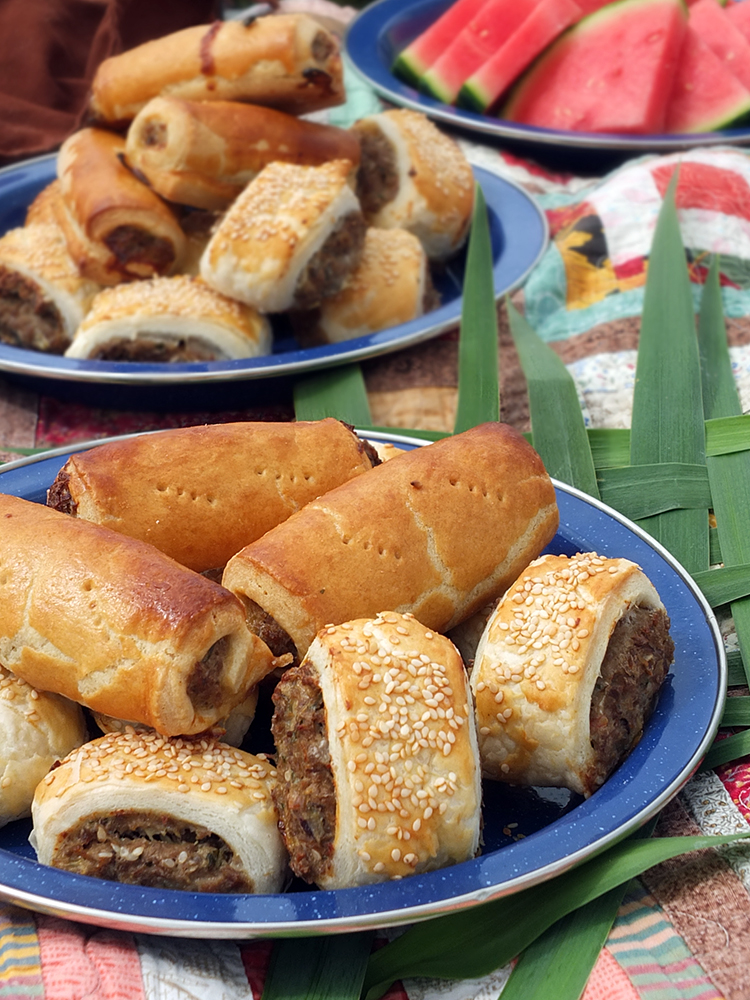 When I was a little girl my mother used to make the best meat pies ever with leftover Sunday roast. The cold roast was cut into pieces and fed into an electric meat grinder along with an onion and a carrot and bound together with leftover gravy (always of Bisto origin, it was the 1980-90s after all!). This gorgeous meat pie filling was encased in my grandmother's pie crust recipe, a recipe my grandmother had brought to Canada with her when she immigrated from England after the war.
That pie filling and that crust recipe – it's my first real food memory from my childhood. Oh, how I loved those meat pies, especially cold the next day straight from the fridge served with a giant dollop of Cape Breton chow-chow (a bit like Piccalilli Pickle).
Sometimes, if there was enough filling leftover and extra pie crust my mother would make a batch of sausage rolls for my brother and I. Same delicious food combination but in a more portable form – perfect for picnics and outdoor adventuring.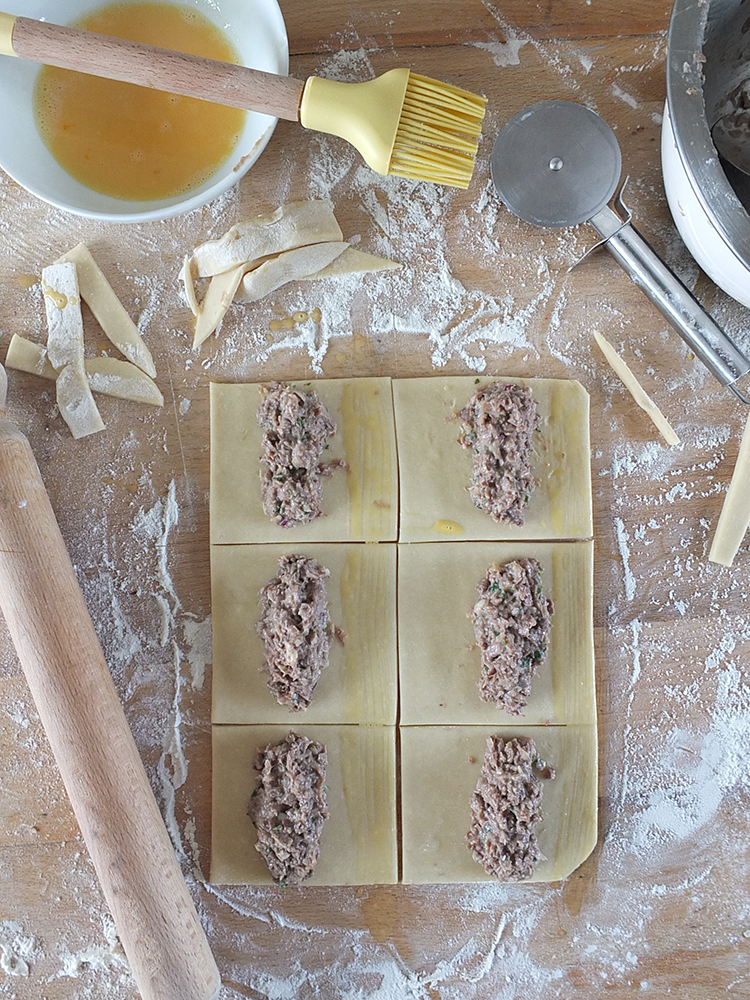 For this recipe I've recreated my mother's technique for making those delicious sausage rolls but this time using leftover roast lamb with a handful of fresh mint leaves from the garden thrown in for flavour. Another important tip is to use a good quality gravy to bind the dry roast lamb together. I like to make my own lamb gravy by throwing any lamb bones with bits of meat still stuck to them (from cutting my own cubed lamb shoulder from a whole piece instead of buying ready cubed) into a baking tray with a whole unpeeled quartered onion (the onion skin gives the gravy a nice colour), a halved carrot, a few sticks of celery and several whole, unpeeled garlic cloves.
This gets roasted for 45 minutes under a high heat in the oven and then gets transferred to a large stock pot. I add enough cold water to cover and then leave the pot with the lid on to simmer for at least four hours before cooling and straining.
This makes the best gravy ever, I tell you! You'll never buy stock cubes again once you've tried this. You can pick up lamb bones at your local butchers too, possibly even for free as they tend to just bin them anyway.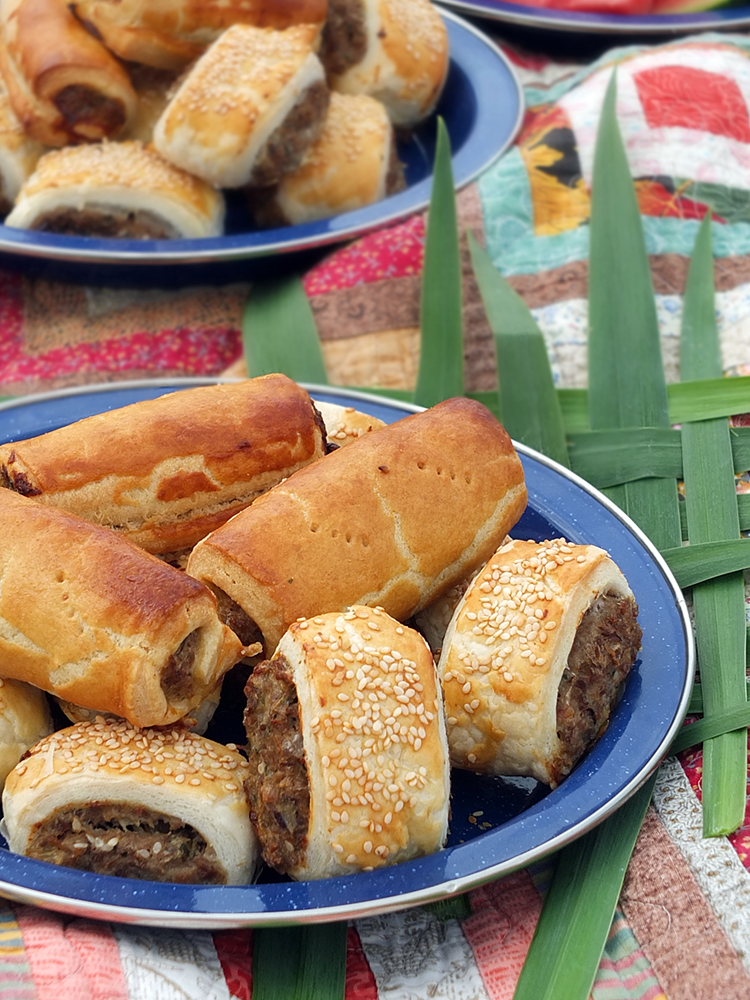 Now I learned, over the years, that my mother's sausage roll technique is not the traditional way Brits make their sausage rolls, so I've included two different versions. The second version, as you can see pictured above, is made with ready made puff pastry. Same filling, different pastry. These sausage rolls are sprinkled with sesame seeds for extra flavour and visual appeal, but to be honest, there were twelve people at our recent weekend picnic and it was the sausage rolls with my grandmother's pastry recipe that were preferred. Total picnic comfort food.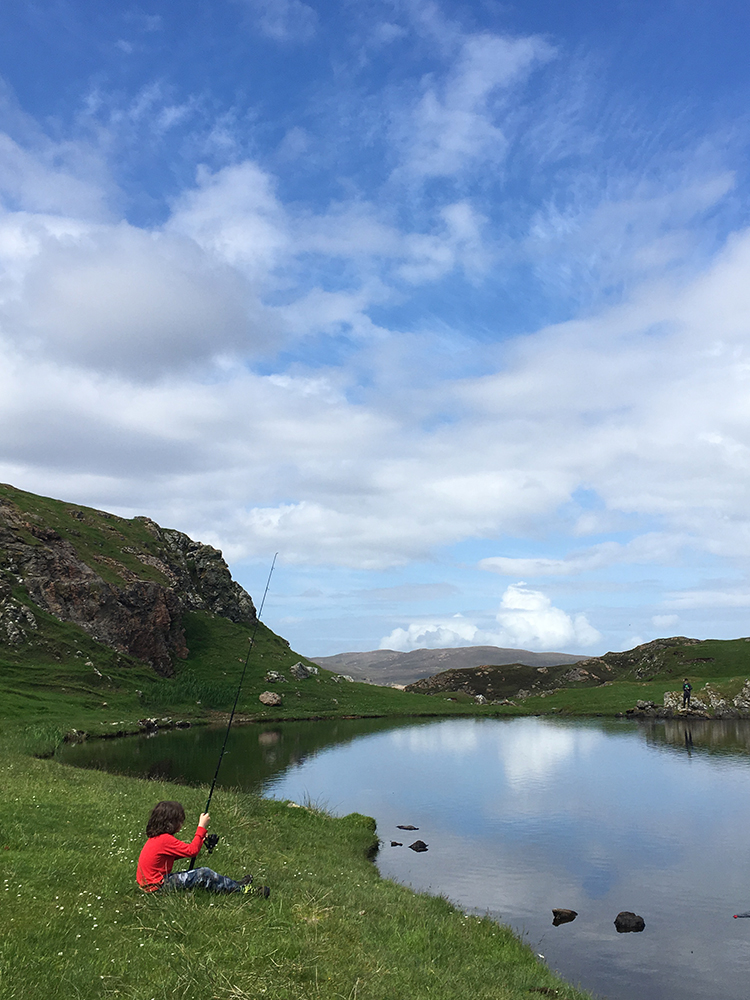 Sunny weekends were meant for lounging by the fishpond making reed mats (featured under the sausage roll plate, did you notice?), weren't they. Summer is officially here!
For more summer lamb recipe inspiration visit the Tasty Easy Lamb website, and follow them on Facebook, Twitter or Instagram.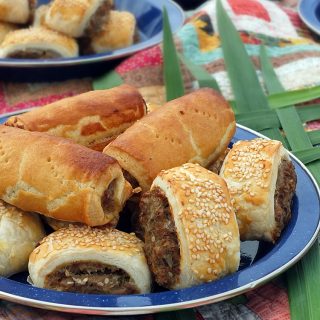 Roast Lamb & Mint Sausage Rolls: Two Ways
Perfect for picnics, this simple sausage roll recipe will be sure to impress children and adults alike.
Print
Rate
Ingredients
for my grandmother's pastry recipe
for the lamb & mint filling
450

grams

leftover roast lamb

1

small

onion

minced

1

handful

fresh mint leaves

finely chopped

200

ml

leftover lamb gravy

1

small

free-range egg
for the puff pastry version
to serve
Affiliate Links
This recipe card may contain affiliate ingredient and equipment links. As an Amazon Associate I earn from qualifying purchases.
Instructions
To prepare the dough, mix the flour, brown sugar, bicarbonate of soda, salt and lard together with your fingertips. Rub together until the consistency is like fine breadcrumbs.

Mix the vinegar with the beaten egg and add enough cold water to bring the volume up to 225 ml.

Add the wet ingredients to the dry, mixing well with a wooden spoon until the dough comes together.

Turn out onto a floured board and knead for a few minutes until it forms a smooth ball.

Divide the dough into two and shape into flat, round discs. Wrap in cling film and refrigerate until needed.

To prepare the filling, finely chop the leftover roast lamb into 5mm or smaller dice. Add the remaining ingredients and stir well to combine. Refrigerate until needed.

Preheat oven to 220 C/ 200 C fan and line a baking tray with greaseproof paper.

Roll out each disc of pastry to the thickness of a pound coin. Using a sharp knife carefully cut the dough into 3.5 inch squares.

Arrange one tablespoonful of the lamb and mint filling down the centre of each square.

Brush a little beaten egg along one side of square and fold over the two sides so that the egg wash side sticks to the other side to form a sausage roll shape.

Brush the tops with beaten egg and prick with the tines of a fork two times to let steam escape.

Bake for 20-25 minutes until golden. Transfer to a wire rack to cool.

If using the ready made puff pastry, allow to come to room temperature for a half an hour before rolling out into a rectangle shape the thickness of a pound coin.

Using a sharp knife carefully cut into two long rectangles about 4 inches wide and 15 inches long.

Arrange the lamb and mint filling along the centre of each rectangle and brush beaten egg down the pastry on one side. Fold over the pastry to seal.

Using a serrated knife, cut each piece into 9 sausage rolls and arrange on a baking tray.

Brush the tops with beaten egg and sprinkle with sesame seeds.

Bake for 20-25 minutes until golden. Transfer to a wire rack to serve.

Serve the sausage rolls hot or cold with hot tomato pickle, if desired.
Environmental Information
OTHER LAMB RECIPES YOU MIGHT LIKE
Quick & Easy BBQ Lamb Skewers
BBQ Lamb Leg Steaks with Harissa & Mint
15-Minute One-Pan Lamb & Quinoa Midweek Supper
Street Food: Brazilian-Style Lamb Kibe
Chilean-inspired Lamb Burgers with Pebre & Marraqueta Buns
Brazilian-inspired Lamb Feijoada with Mango Salsa
Slow Cooker Lamb Chilli with Pasilla Peppers
Argentine-inspired Lamb Chops with Chimichurri
Lamb Casserole with Ale
Pistachio & Orange Crusted Mini Roast
Mediterranean-inspired BBQ Koftas, Couscous Salad & Baharat Yogurt Dip
Slow-cooked Shetland Lamb Casserole with Creamy Herbed Polenta
Pastitsio – Greek Macaroni Pie
OTHER PICNIC RECIPES YOU MIGHT LIKE
Herbed Potato Picnic Bannocks
A Summer Fruits Picnic Cake
Picnic/BBQ Bread Rolls
Our Family Favourite Potato Salad Recipe
Five Minute BBQ Sauce Recipe
Oatmeal Raisin Spice Cookies
Bear Paws (Old Fashioned Soft Molasses Cookies)
This is a commissioned recipe for Tasty, Easy Lamb, although all thoughts and opinions expressed are our own. Thank you for supporting the brands who make it possible for me to do what I love: mess up my kitchen and share recipe stories.
[color-box]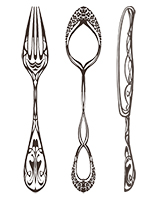 Have you made this recipe?
Take a photo and tag @tangoraindrop or use the hashtag #elizabethskitchendiary and share on Instagram and Twitter. It would make my day to see your creations!
[/color-box]