In collaboration with Garda Trentino S.p.A. Tourism Board.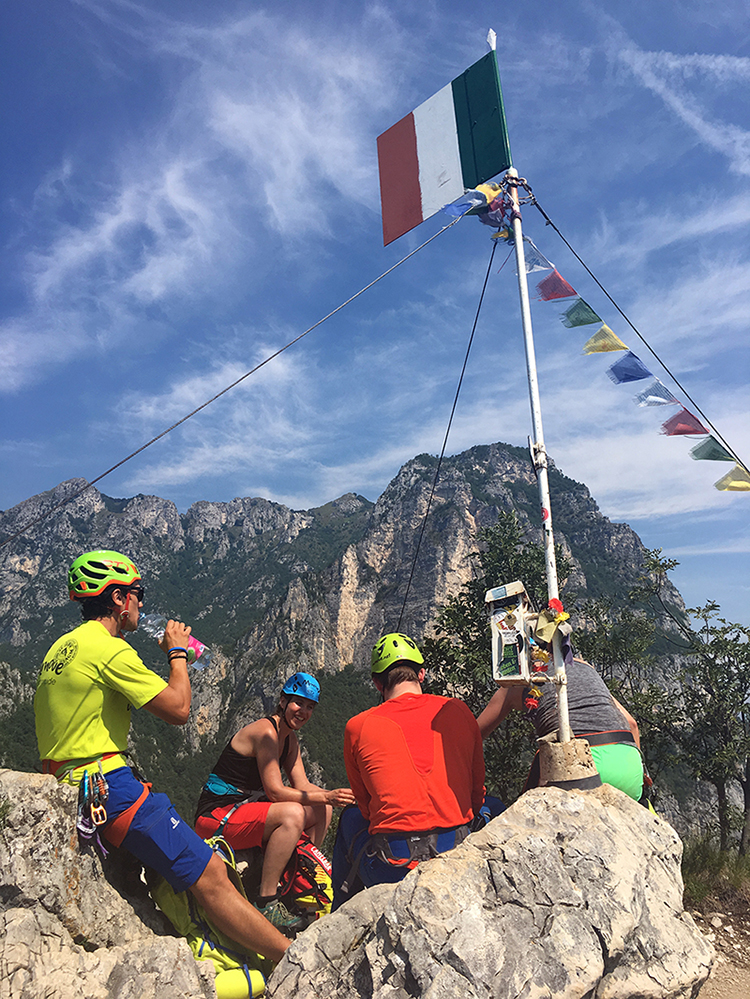 Lake Garda is the largest lake in Italy. Located in Northern Italy it is just an hour's train journey from Milan Central Station. Garda Trentino covers the region at the top of the 51.6 km long lake; a collection of small towns and villages within a 15 km radius. It is an outdoor enthusiast's paradise with over 1000 km of cycle trails and over 500 climbing routes varying in level of difficulty, not to mention the 600 km of trekking routes and the wide variety of watersports. A unique blend of rock, mountain and water, all tied together with the most fantastic, mouthwatering locally produced food and drink. I recently had the pleasure of visiting this area thanks to the Garda Trentino S.p.A. Tourism Board.
Towering above Riva del Garda, a picturesque town on the lake waterfront, like something out of a fantasy novel, are the white cliffs of Cima Capi (907 metres), Cima Roca (1090 metres) and Bochet dei Concoli (1207 metres). My first thought when I saw these awe-inspiring hills? I have to climb up there!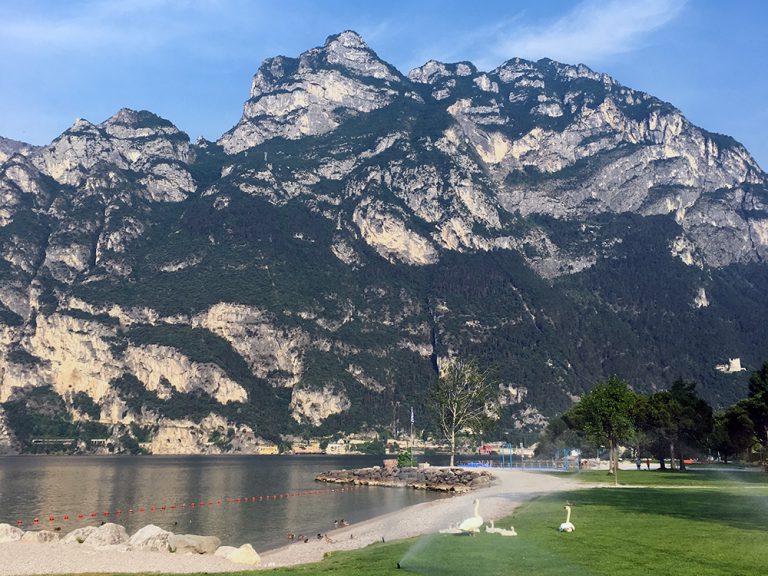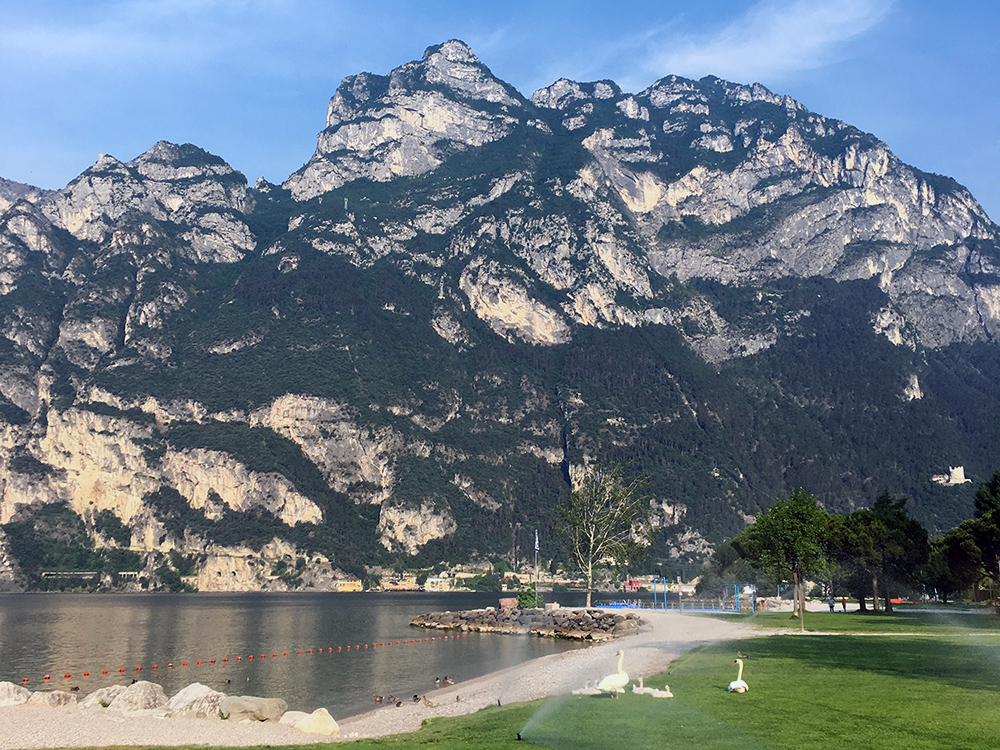 Now, I would not consider myself an experienced climber by any means. In fact, it has been over 18 years since I last donned climbing gear and took to the cliffs, so instead of having a go at these hills alone, I joined a small group led by an experienced mountain guide from Mmove – into nature. I was collected from the waterfront at precisely 8:15 am and driven to the nearby village of Biacesa, where our six hour trek began.
Our aim: to climb the Via Ferrata to the summit of Cima Capi. A Via Ferrata is a bit like the UK tree-top Go Ape facilities but on rocky mountains, developed to equal out the grade of popular alpine ascents. They consist of continuous thick metal cables fixed to the mountainside as well as metal rungs and footplates.
In the car park, we were given our climbing gear: a helmet, a sit harness and a purpose-built energy absorbing lanyard. This last piece is a clever bit of equipment – two arms with karabiners clip to the metal cable, and, in the case of a fall, the centre piece acts like a shock absorber, preventing (if all goes well) serious injury.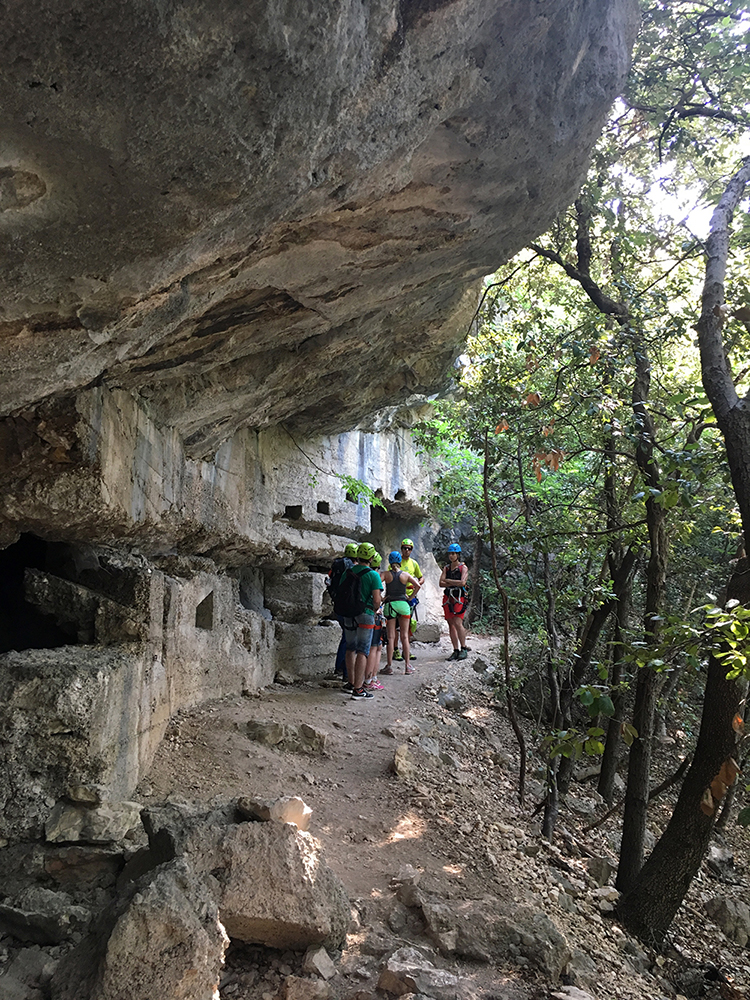 The trail took us up into the forest, along a well-maintained pathway zig-zagging up the side of the hill. Lake Garda was one of the main access routes to the South Tyrol during the First World War, so this area was fortified by the Austro-Hungarian command. Bomb proof shelters and trenches were dug right out of the mountain, and many of these still remain, as pictured above.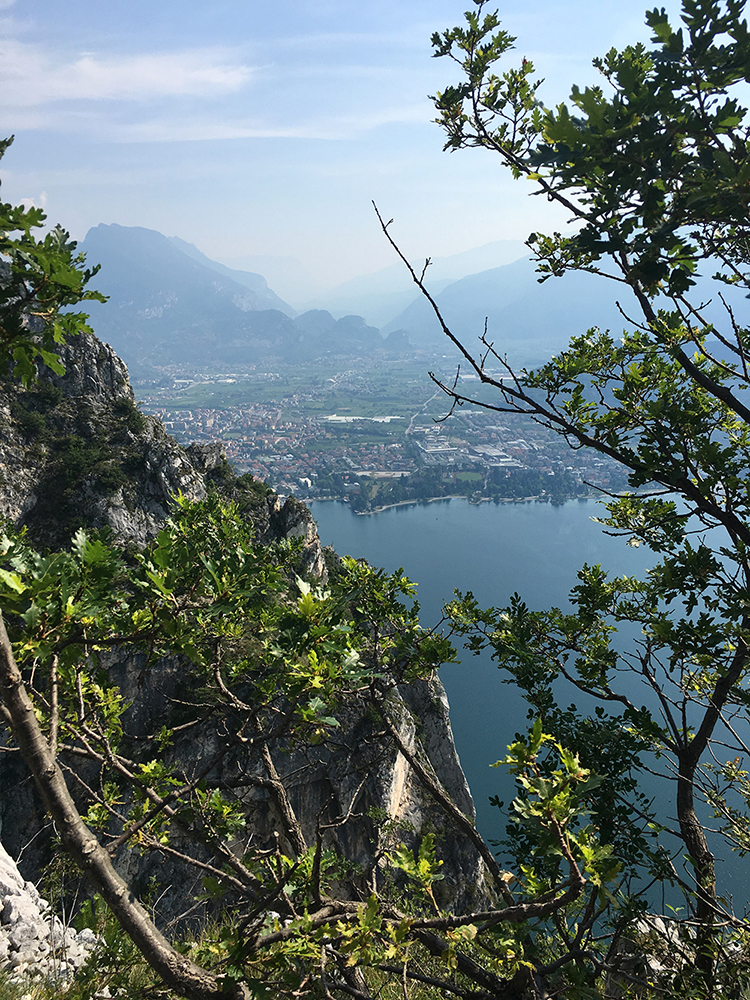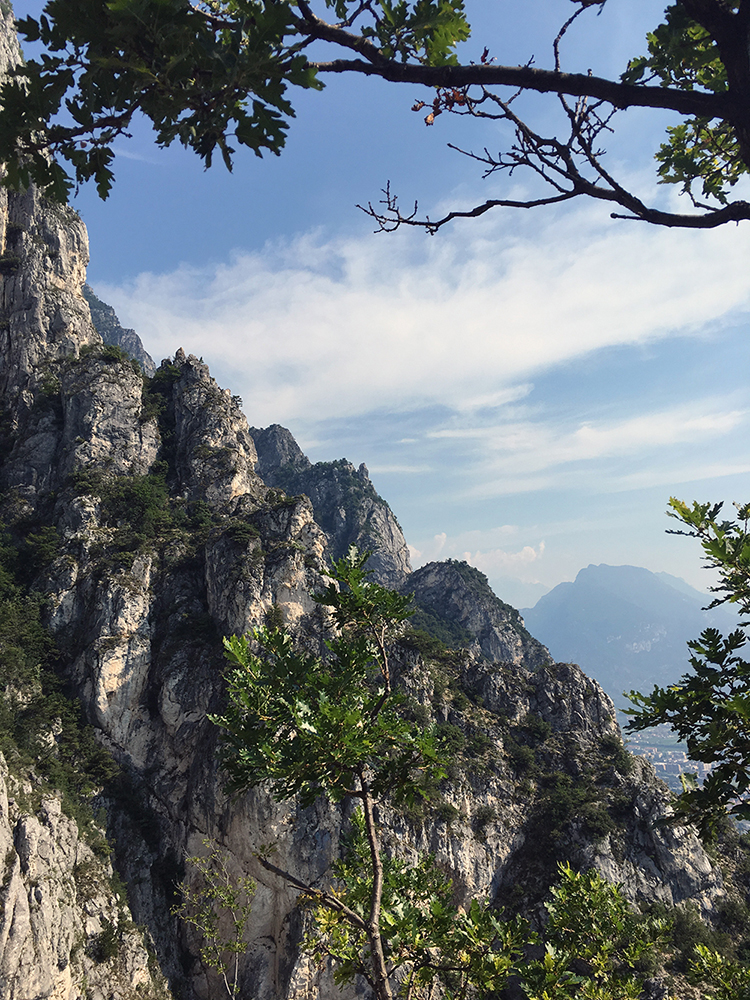 From up here, the views across Lake Garda and over to Riva del Garda and the towns of Arco, Torbole and Nago were absolutely stunning. I felt so alive and exhilarated and… to be honest, I have never perspired as much in my life as I did that day! The temperature was a whopping 36 C. Given that I'd left my home in Shetland at 11 C it took some getting used to the heat, and to remember to regularly apply SPF 50 suncream! The life of a red head …
Then, the really fun bits where we get to affix ourselves to the mountainside with the Via Ferrata. The thick metal cable is regularly pinned into the mountainside every few feet/metres, depending on the terrain, so you need to stop, unclip one karabiner, fix it to the next section of cable and repeat with the other karabiner. Some sections involve quite a thrilling and steep climb up the cliffs or traversing across a peak. There was only one area where I got the heebie-jeebies, the peak pictured below, bottom left. It was there our guide was stopping and taking photos of folk with their cameras – they'd lean back over the edge to the right with no hands, and he'd snap a photo. I get sweaty palms just thinking about it! I couldn't even look down at this point, I just kept going. No selfies for me!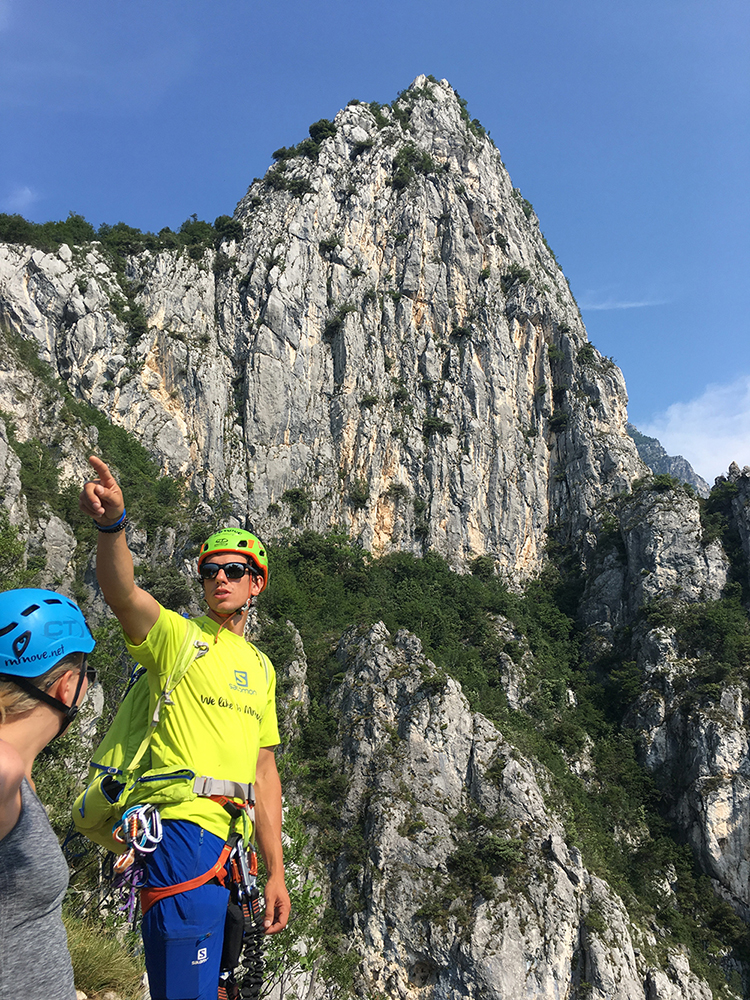 We stopped for a well-deserved rest at the summit, eating our picnic lunch and enjoying the fantastic panoramic views below with a sense of achievement.
Going back down from the summit presented just as many challenges as ascending it, with some rather steep declines, a traverse across a wall in the scorching heat (even the cable was almost too hot to touch!) and some unsteady rocky paths.
We stopped for a much appreciated cold drink in a mountain hut manned by volunteers and carried on back down the track back to the car park, smiles beaming brightly.
Instead of dropping me back off where I was collected in the morning, our mountain guide dropped me off at the start of the second part of my day's trek: The Ponale Trail.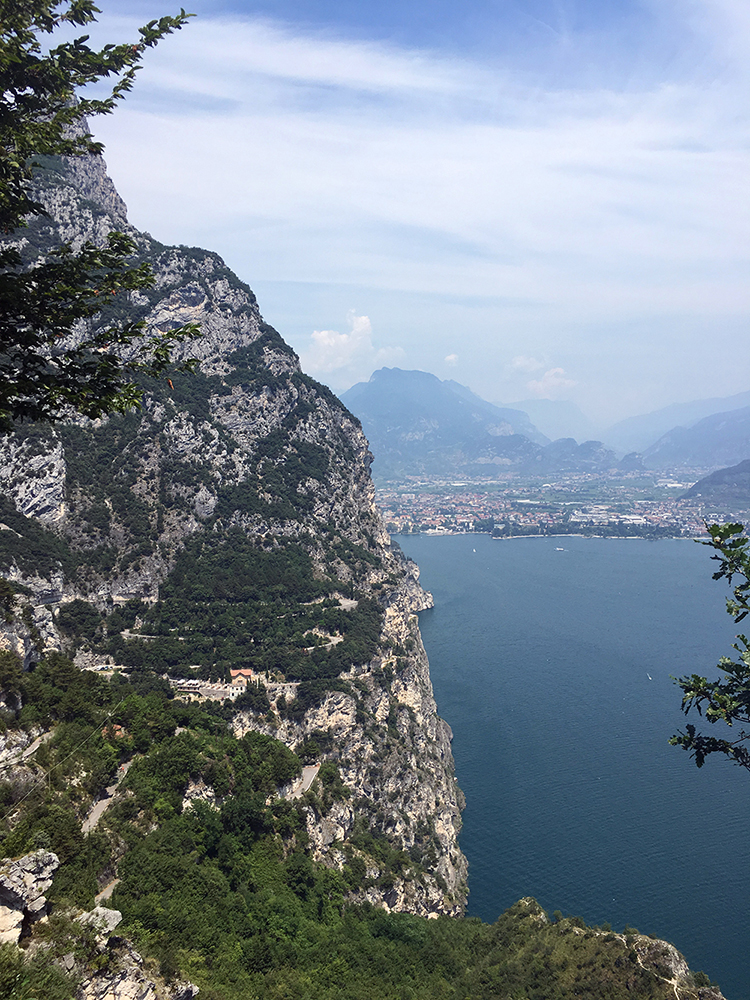 In the past, the old Ponale road was the only connection between Riva del Garda and the Ledro Valley. My trek began at the end of the trail, where a large statue of the Virgin Mary overlooks the lake. The view here (pictured above) is absolutely stunning, and you can see the pedestrian road carved into the side of the mountain, weaving in and out of tunnels.
This 1.5-hour walk was an absolutely pleasant one with The Ora, the daily wind the travels up the lake from the South, providing a cooling breeze in the sunshine. I could see all the windsurfers below taking advantage of the welcome breeze.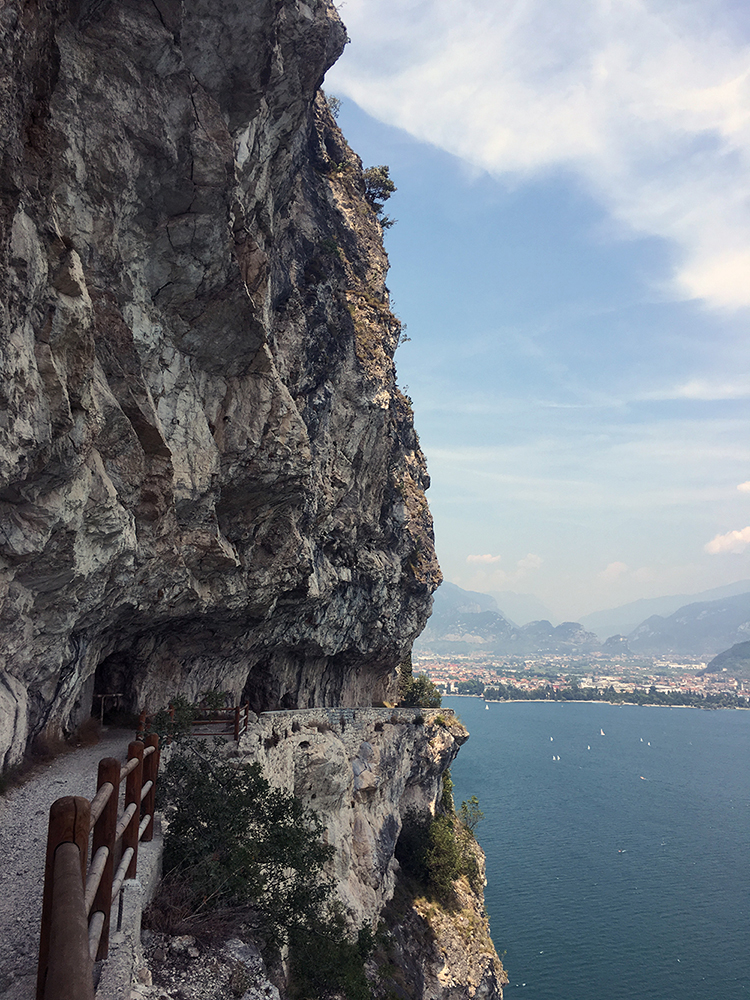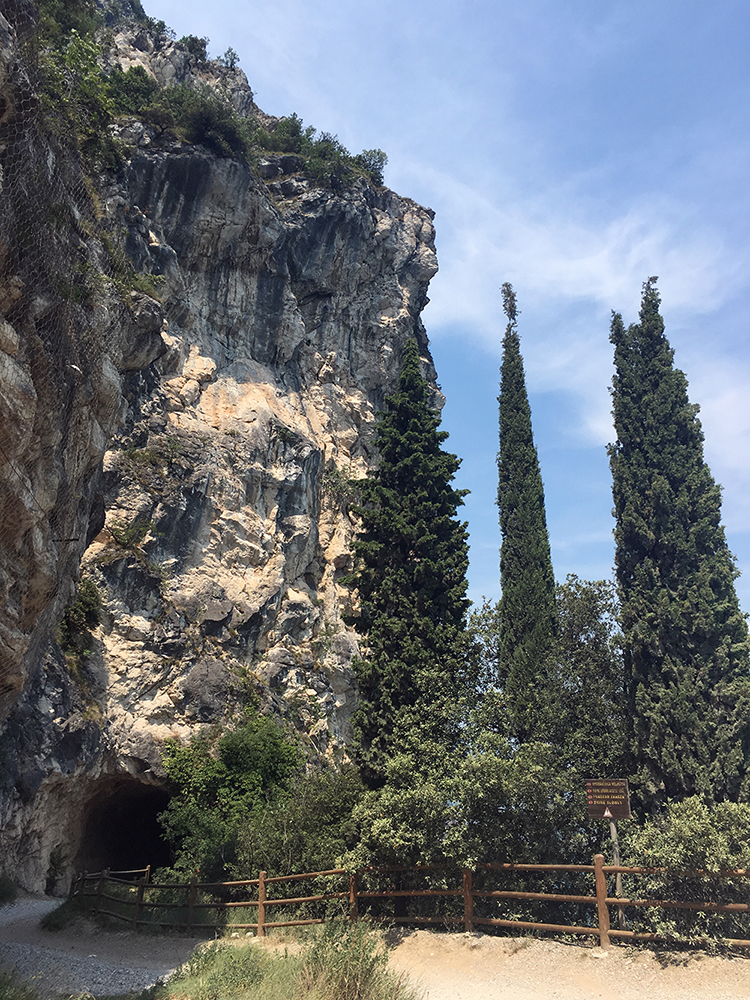 Here too you could see evidence of fortifications built during the Great War. Caves, rooms, tunnels, corridors and trenches carved out of the mountainside itself. If this mountain could speak, what stories would it tell?
My journey down the trail was regularly interrupted by the sound of bicycle tyres on gravel behind me, and I sidestepped out of the way allowing the regular stream of mountain bikers to pass by. It was a perfect day for it, but I felt for all the bikers heading the other way up the trail as it's all uphill!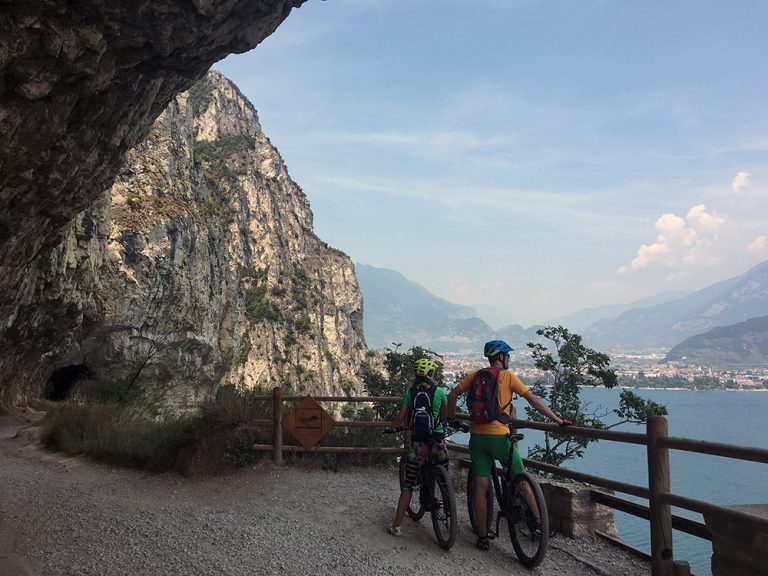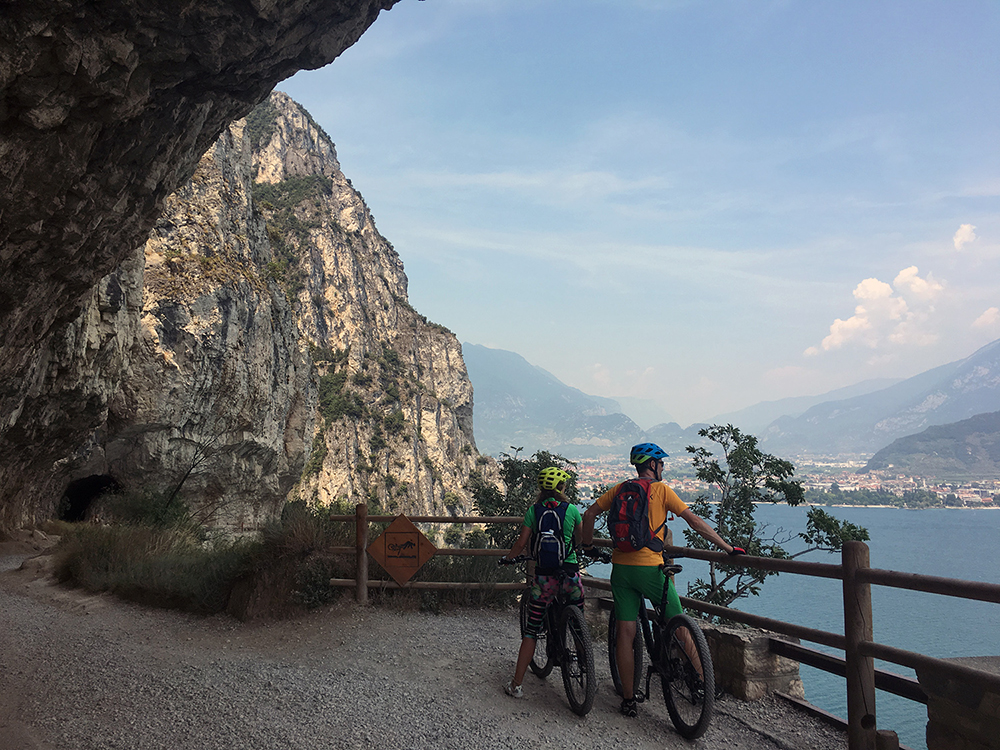 I spent three full days in Garda Trentino, and this trek was definitely one of the highlights of the experience. The calorie burn meant I could enjoy that night's three-course Italian evening meal with a hearty appetite too!
The Via Ferrata wasn't as physically demanding as I had expected it to be. You don't need any experience with rock climbing to be able to do it, just a decent level of fitness and no vertigo. It's definitely worth doing if you're in the area, and at only €80 per person for the six-hour guided trek it's worth every penny.
There will be more blog posts over the coming months about my fantastic trip to Lake Garda, so be sure to subscribe to my blog so you don't miss any!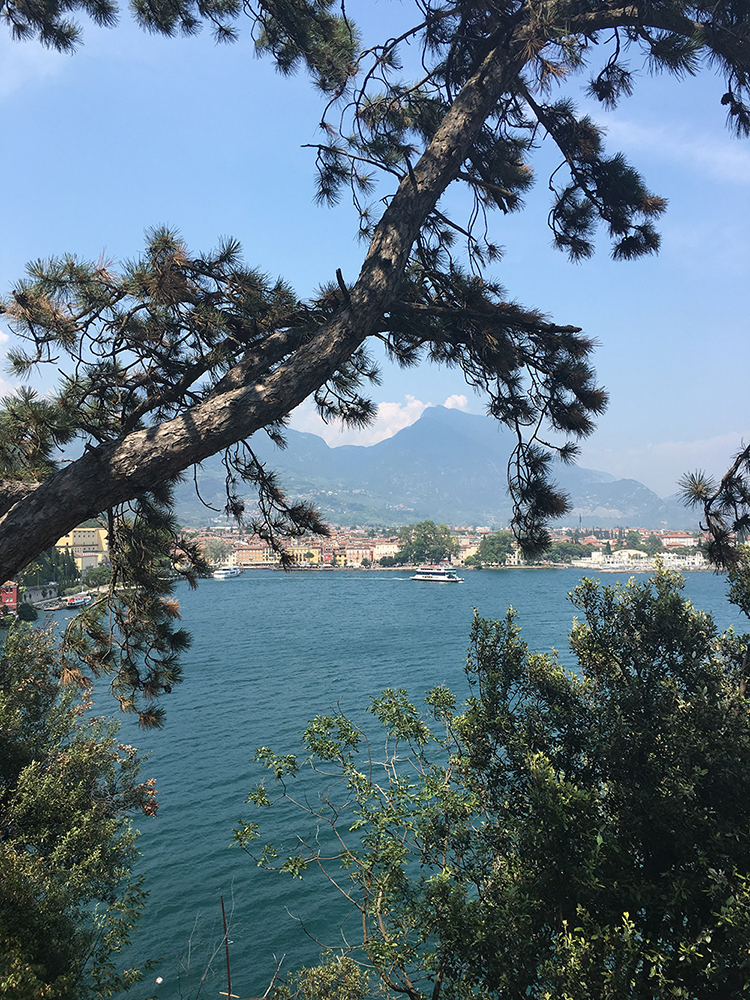 FURTHER INFORMATION
The Ponale Trail – Riva del Garda
Mmove into Nature
WHERE TO EAT IN GARDA TRENTINO
Ristorante Nuovo 900 Da Lucio (fresh & modern)
Ristorante al Fortino (in an 1863 Austrian military fort)
Ristorante Il Ritratto Carpe Diem (creative food)
Ristorante Villetta Annessa (fine dining at its finest!)
Ristorante Antica Croce (home of carne salada)
Osteria le Servite (al fresco dining under grapevines!)
OTHER PLACES TO VISIT
Olio Cru (olive oil tasting experience)
Omkafe Coffee House (best espresso, ever!)
Varone Waterfall (100 foot falls in a cave!)
Tenno Lake (an alpine lake with turquoise waters)
Canale di Tenno (Mediaeval village!)
WHERE TO STAY
Hotel Luise (fresh, modern, stylish, 4 stars)
Elizabeth was a guest of Garda Trentino S.p.A. Tourism, but all thoughts and opinions expressed are hers alone.