Fresh strawberries and balsamic vinegar are a match made in heaven. These quick and easy strawberry shortcakes take no time to whip up and they taste utterly amazing! Perfect for a summer picnic!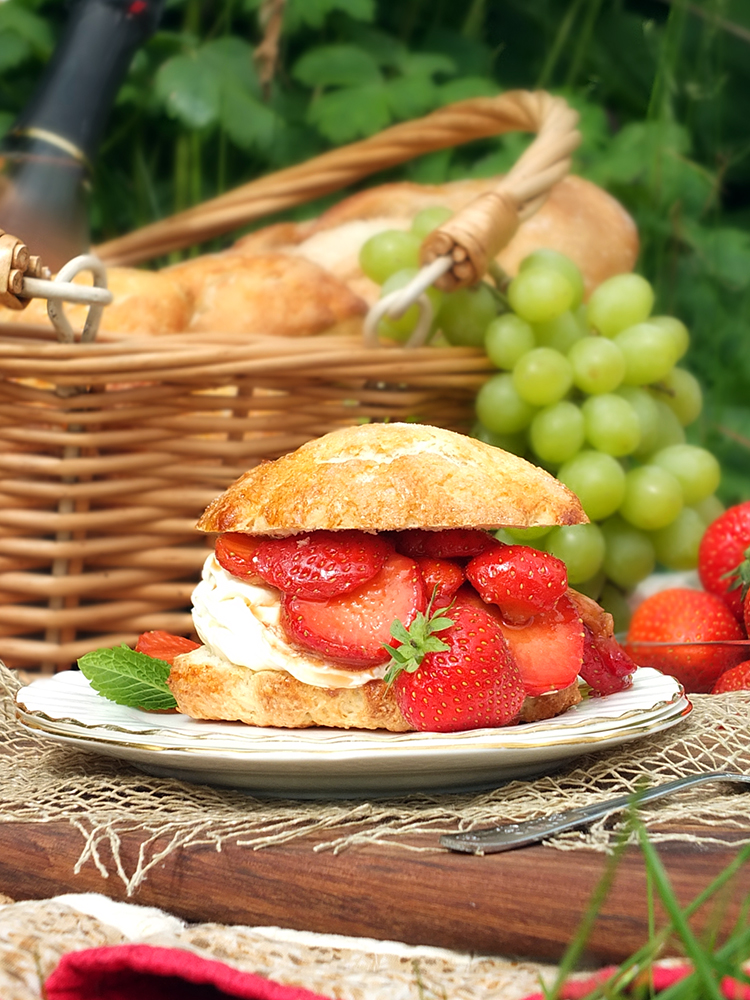 "Mum, do you know what I really, really want?" our youngest son (aged 8 and 1/4) asked recently.
"What's that?" I enquired.
"Squirty cream, so I can squirt it right into my mouth!" he laughed.
"Um….. ok?!" I chuckled, "I'll see what I can do."
So when I next went to the village shop and spied a giant punnet of Scottish strawberries on offer, I remembered my son's desire for squirty cream and took the notion of making some strawberry shortcakes for our Sunday picnic.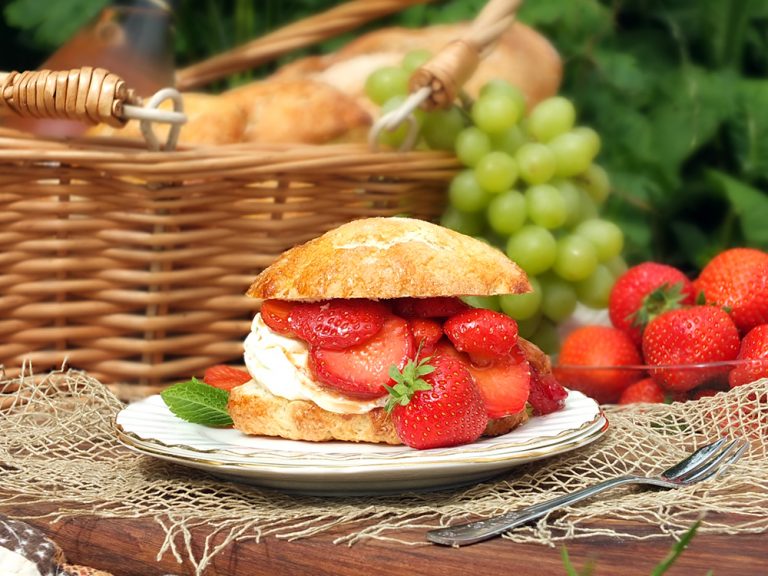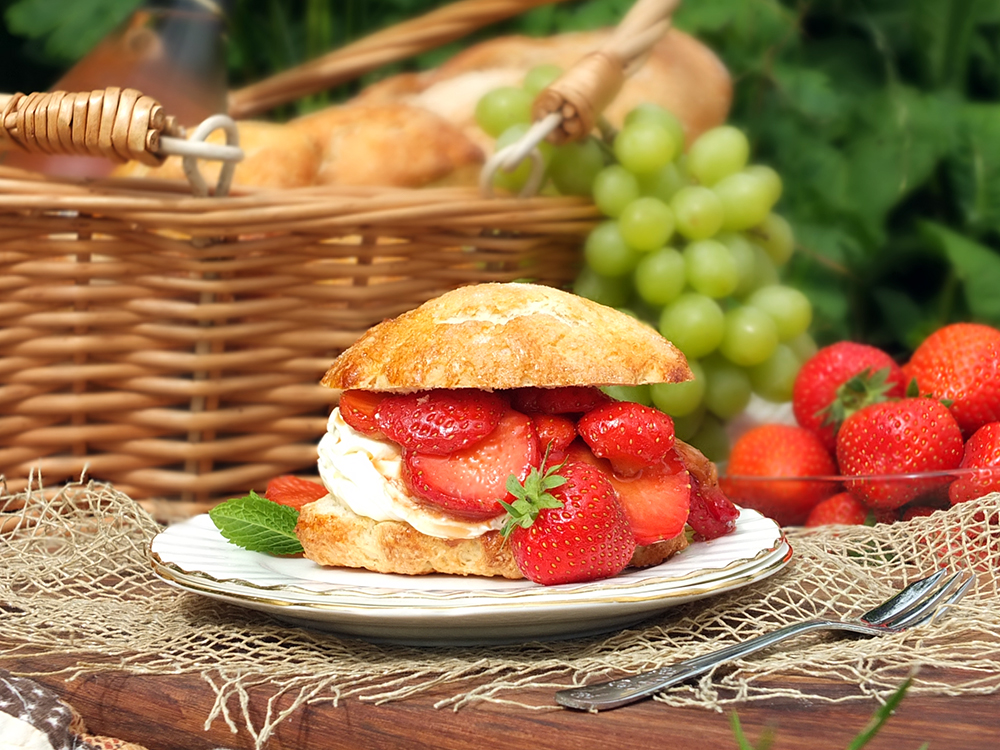 Of course they couldn't just be ordinary strawberry shortcakes, like the ones I grew up with (Cape Breton baking powder biscuits sweetened with a little bit of sugar and topped with berries and fresh cream), no, I had to jazz things up a bit with some good quality Italian balsamic vinegar and decent sprinkling of freshly ground black pepper.
If you didn't already know, balsamic vinegar, black pepper and fresh strawberries are a food combination made in heaven. Honestly, try it – just slice your berries, drizzle over some vinegar (good stuff though, not cheap supermarket stuff) and sprinkle over some fresh black pepper (again, none of that powdery awful dried stuff – use freshly ground pepper). You'll be a convert, promise!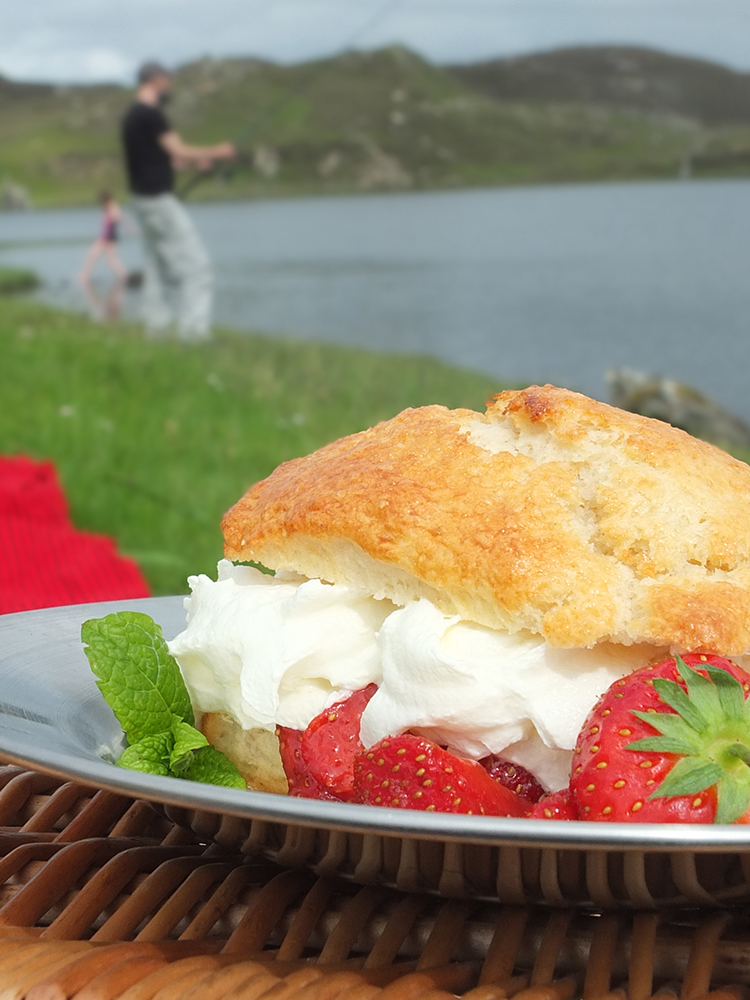 INGREDIENTS NEEDED FOR THIS STRAWBERRY SHORTCAKES RECIPE
flour – I used sprouted wheat flour
baking powder
vanilla sugar (caster or granulated will work too)
a pinch of sea salt
plain natural yoghurt
butter
milk
free range egg
strawberries
balsamic vinegar
whole black peppercorns – they taste better when freshly ground
double cream (or cheat with some squirty cream!)
[amazon_link asins='B01N556XLX,B0193PKDJA' template='ProductCarousel' store='elizskitcdiar-21′ marketplace='UK' link_id='0cbbc789-a389-11e8-86de-7381dba60e60′]
My strawberry shortcake base was made with some sprouted wheat flour, a new flour that's taking the baking community by storm. The wheat grains are soaked for 24 hours before being allowed to sprout for five days and then the whole thing is milled like regular flour is. The theory is that this flour is easier to digest and packed full of more nutrients than regular flour, and it certainly does make for a rather fantastic shortcake base. Look out for sprouted wheat flour in your nearest wholefoods store.
Our fishing pond picnic strawberry shortcakes were served with the squirty cream (pictured above), much to our son's delight. The strawberries with the balsamic and black pepper syrup were really easy to transport in our picnic basket too. The shortcake bases just needed slicing, a spoonful of berries and syrup added and then topped with a generous squirt of cream.
I can also attest that any leftover syrup works really well in a berry pie filling – just cut up loads of mixed berries and sprinkle with plenty of sugar, to taste, heat in a pan until the berries begin to break down and thicken the whole mixture with cornflour dissolved in some water. Use to fill your favourite pie crust and bake. Delicious!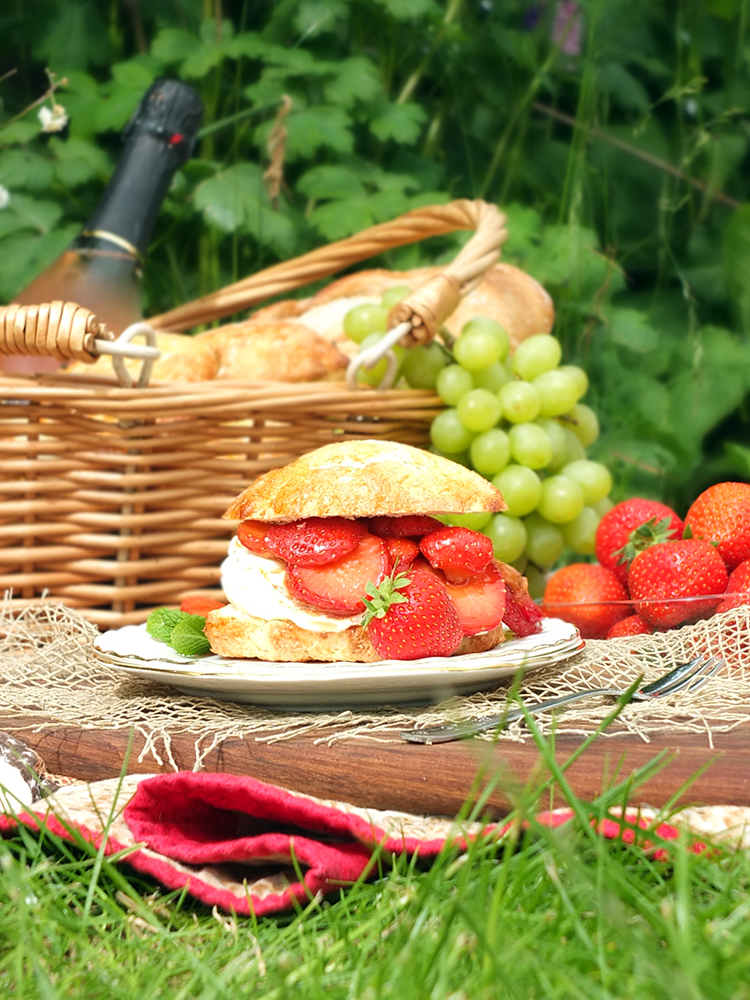 At home though, in our garden picnic, I served the strawberry shortcakes with some whipped Scottish double cream, sweetened with a little bit of homemade vanilla sugar.
To make your own vanilla sugar, once you've used the seeds from the pod in your recipe pop the pod itself into a jar and fill with some caster sugar. Leave it there for a few weeks and the pod will infuse the sugar with a gorgeous vanilla flavouring.
If you don't have vanilla sugar simply replace it for regular caster sugar in the recipe and add a half teaspoonful of vanilla bean paste.
All in all, this makes for a rather fantastic summer picnic recipe. Do let me know if you try it!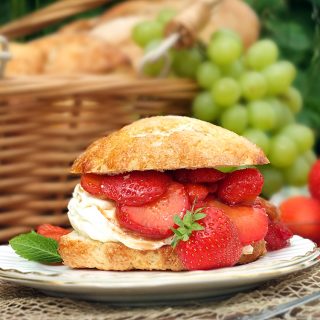 Strawberry Shortcakes with a Balsamic Vinegar & Black Pepper Syrup
These quick and easy strawberry shortcakes take no time to whip up and they taste utterly amazing! Perfect for a summer picnic!
Print
Rate
Affiliate Links
This recipe card may contain affiliate ingredient and equipment links. As an Amazon Associate I earn from qualifying purchases.
Instructions
Preheat oven to 220 C/ 200 C fan/ 425 F and line a baking tray with baking paper.

Rub the flour, baking powder, salt, vanilla sugar and butter together in a medium sized bowl until it resembles fine bread crumbs.

Add the yogurt and milk and stir with a wooden spoon until it forms a soft dough. Turn out onto a floured board and knead for a minute or so until smooth.

Flatten the dough your hands and, with a rolling pin, roll out into a rectangle about one inch thick. Cut into eight even sized pieces and place on the baking paper.

Glaze with the beaten egg and sprinkle with caster sugar.

Bake for 12-15 minutes in the middle of the oven until well risen and golden. Transfer to a wire rack to cool completely.

To prepare the strawberries: slice large ones and quarter the small ones. Place them in to a bowl. Pour over the balsamic vinegar and sprinkle over the caster sugar and the freshly ground black pepper. Leave at room temperature for half an hour.

To prepare the cream: whip the cream with a whisk until it begins to thicken. Sprinkle over the vanilla sugar and whip until the cream forms soft peaks. Refrigerate until needed.

To serve, slice each shortcake into half, spoon over some whipped cream and top with the sliced strawberries in syrup. Serve immediately.
Environmental Information
[amazon_link asins='B01JJ9GQEQ,B013RWW730,B017NT1EGO,B016IPXUZW,B016IOUPJC' template='ProductCarousel' store='elizskitcdiar-21′ marketplace='UK' link_id='237ec389-a388-11e8-9cbd-c3dfbe8bd733′]
PIN THIS STRAWBERRY SHORTCAKES RECIPE FOR LATER!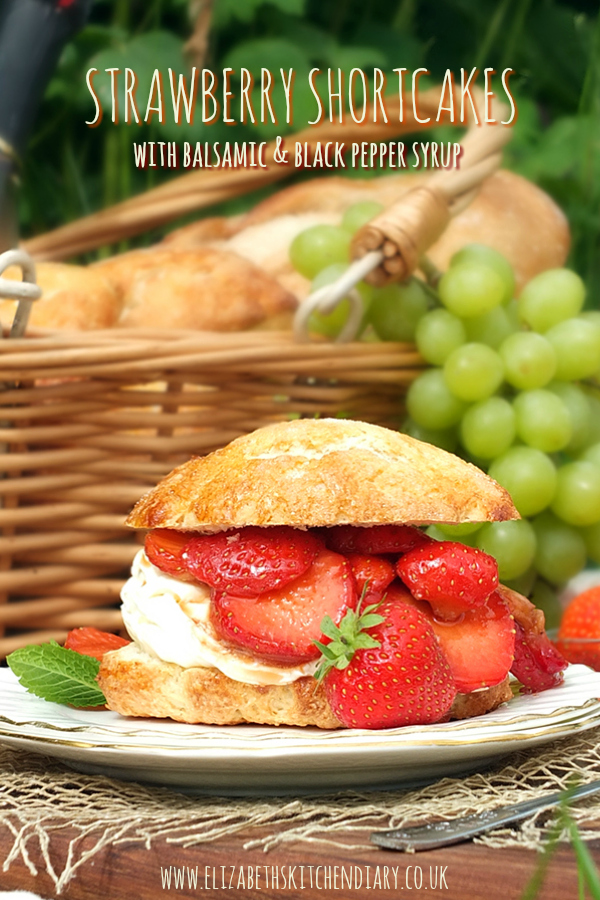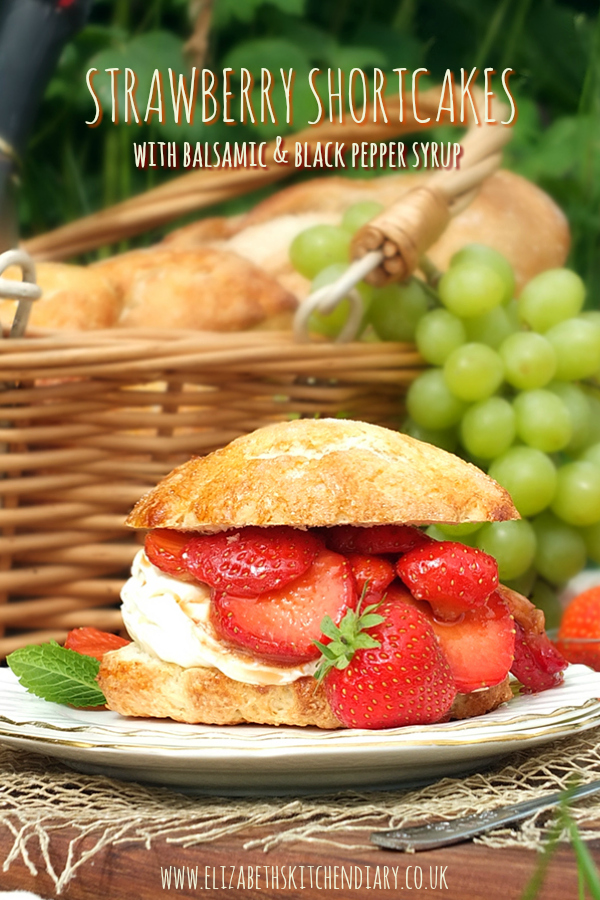 [color-box]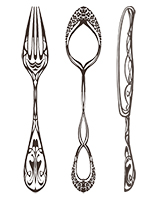 Have you made this recipe?
Take a photo and tag @tangoraindrop or use the hashtag #elizabethskitchendiary and share on Instagram and Twitter. It would make my day to see your creations!
[/color-box]