Layers of ooey gooey macaroni cheese sandwiching a cumin spiced lamb mince.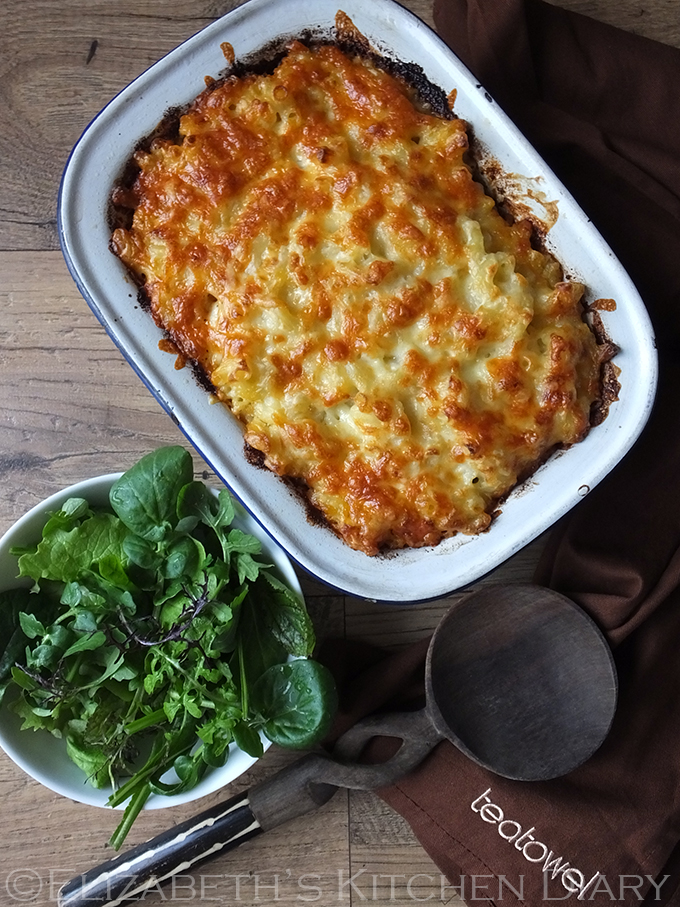 Everything you see on my blog is photographed and subsequently eaten. If it's a hot dish, it's photographed hot and photographed fairly quickly so it doesn't get cold before we eat it. There isn't time for all that fancy styling and garnishing. It's taken out of the oven, plonked onto a backdrop beside my kitchen window, photographed and then served to an impatiently waiting family who are very likely staring at the back of my head or twiddling their thumbs while they wait.
I was speaking with a friend yesterday who had taken a food styling course in America where everything was painted to look more vibrant, and propped up with cotton wool and perfectly inedible afterwards.
Not so on my blog. On occasion, I will prop up a bowl with a penny or a nut, and all my photos are processed in Photoshop (more to compensate for the poor light than anything else) but the end result is always devoured. I quite literally eat my photos!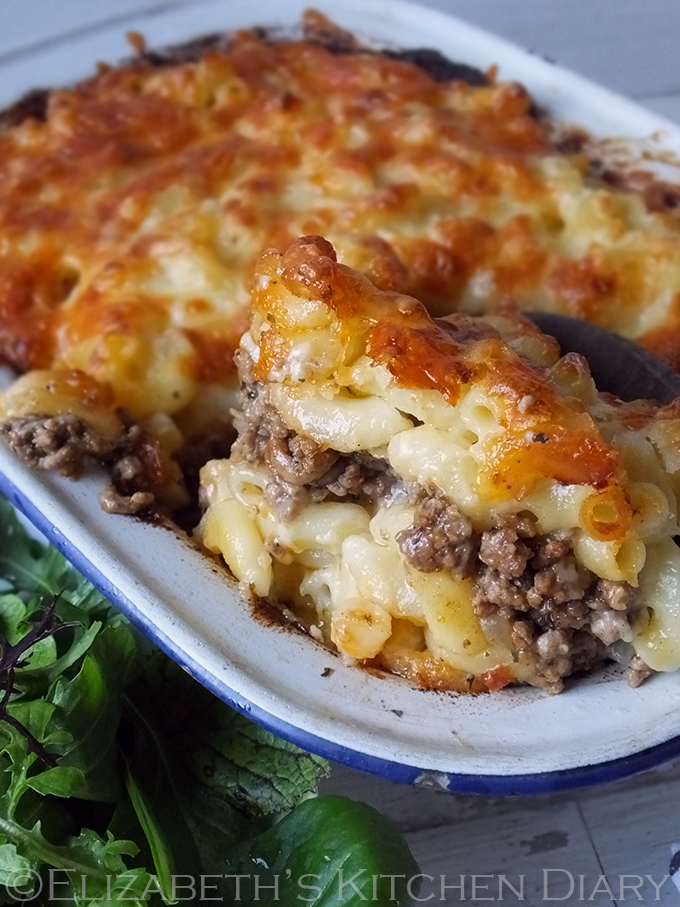 I am absolutely delighted that the days are long enough now so that it is still daylight at dinnertime! The sun isn't setting until just after quarter past six these evenings, meaning I can now reintroduce our hot dishes to the blog!
This morning I hit the floor running. It was go – go – go all day, with my not finding the time to scoff breakfast until about half past one in the afternoon (and even that was a hurried banana while heading off to another meeting!).
I'd taken a packet of lamb mince out of the freezer last night with no idea of what I was going to do with it, but come time to make dinner I was in a carbohydrates sort of mood.
A macaroni and cheese sort of mood.
A macaroni and cheese with a layer of lamb mince spiced with toasted cumin kind of mood.
Pastitsio it would be!
A version of this recipe was given to me by my Canadian father who brought a photocopy of it with him on one of his visits many years ago. I've been making it regularly (except for that period between now and last Christmas where I was on a strict diet!) and today the sun shone just enough when it came out of the oven for me to share a photograph and the recipe with you.
As such, I am linking up with a new(ish!) food blogging challenge by the lovely Scottish blogger Janice over at Farmersgirl Kitchen – Recipe Clippings.
As an aside – did anyone else catch that almost total eclipse today? Did anyone else 'not' look directly at it because they didn't have a proper set of eyewear or a DIY eclipse viewing box thingy. Yea, me neither – that would be silly.
<Cough!>
Ok, I did have a sideways glance at it while the clouds cleared briefly. Apparently the birds stopped singing for the duration of the eclipse, but to be honest it didn't get any darker than it normally does on a rainy, cloudy day! I was glad the children at the local school had the opportunity to witness it though, with everyone outside with protective eyewear. The kids couldn't stop speaking about it over dinner! The next one won't be for another 15 years, so I'm delighted they had the opportunity to witness this one.
Check out that gorgeous salad in the photos – that beauty is the best salad mix I have ever eaten. Today was veg box day with our veg box collected from its top-secret bus shelter drop off point midway between our house and the growers. No dressing is needed – the mix of salad leaves range in flavour and texture making for the perfect side.
Things are growing and the light is returning – Spring is in the air!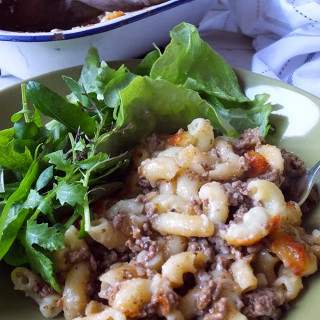 Pastitsio - Greek Macaroni Pie
Layers of ooey gooey macaroni cheese sandwiching a cumin spiced lamb mince.
Print
Rate
Ingredients
235

grams

dry elbow macaroni

(reserve the pasta water)

2

tbsp

olive oil

1

large

onion

diced

2

garlic cloves

500

grams

lean lamb mince

300

ml

reserved pasta water

3/4

lamb stock cube

2

tsp

tomato puree

1

tsp

cumin seeds

toasted and ground

1

tsp

ground cinnamon

1

tbsp

chopped fresh mint

56

grams

unsalted butter

50

grams

plain flour

135

grams

plain yogurt

125

ml

milk

130

grams

mature cheddar cheese

grated, and divided
Instructions
Preheat the oven to 190 C/ 375 F.

Bring a pan of salted water to the boil and cook the macaroni according to the package instructions, until al dente. About 8 minutes.

Drain the pasta in a colander and pour over plenty of cold water to stop the cooking process. Set aside.

Meanwhile, heat the oil in a saute pan.

Gently saute the onion and garlic for 8-10 minutes, until softened. Add the lamb mince, season well with salt and pepper, and cook until browned all over.

Mix the lamb stock cube with the pasta water to make a lamb stock, and pour into the lamb mixture along with the ground spices, tomato puree and chopped mint.

Simmer, gently, for 10-15 minutes, until the mixture is thick.

Heat the butter in a small saucepan until melted and beginning to bubble. Stir in the flour and cook for one minute, stirring constantly.

Remove from the heat and whisk in the milk and yogurt.

Return to the heat and cook gently for a further five minutes. Remove from the heat again and stir in half of the grated cheddar.

Mix the cooked macaroni with the cheese sauce and spoon half of the mixture into the bottom of a medium sized baking dish.

Spoon over the spiced lamb mince and top with the remaining macaroni. Sprinkle with the remaining grated cheddar.

Bake in the preheated oven for 30 minutes, or until the top is golden and bubbly.

Serve with a side salad!
Notes
Average calorie content (for those counting!) is approximately 600 if serving six.
Products from Amazon.co.uk
‹
›
OTHER LAMB MINCE RECIPES YOU MIGHT LIKE
Lamb & Haggis Meatballs with a Whisky Cream Sauce
A Classic Shepherds' Pie Recipe
Indian Tapas: Lamb, Pea & Potato Mini Samosas
Grilled Lamb Kibbeh Kebabs
Spicy Lamb Pizza with Feta & Rocket
Street Food: Brazillian Style Lamb Kibe
Chilean-Inspired Lamb Burgers with Pebre & Marraqueta Buns
Mamta Gupta's Keema Meatball Curry
Spooky Halloween Sausage Rolls Mummies
Lamb Keema Sag with Rosti Topping
Moroccan Shepherd's Pie