Our family favourite comfort food recipe – this macaroni & cheese recipe is quick and easy to make and comes with an optional crispy topping. In collaboration with Scottish Widows.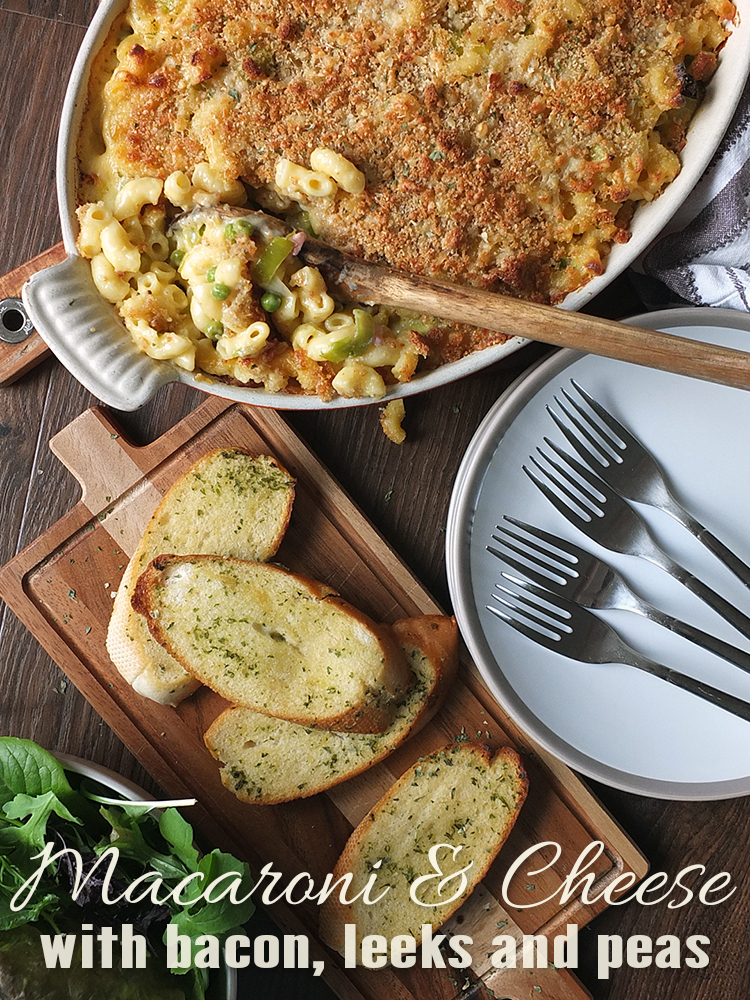 Making the best of your time
What could you do in an hour?
Lately I am finding that there just doesn't seem to be enough time in the day to do everything I need (or want) to do. Things need to be prioritised and other things, which might not seem that important right now but will be in the future, get pushed to the back of the pile.
I have teamed up with Scottish Widows who have been exploring the concept of time and how we can make the very most of the time we've got. This has got me thinking about the little things that I do at home that help me save time, and the time I take out of each day for myself to recharge and try to regain some balance in an increasingly hectic world.

Scottish Widows research
Scottish Widows has commissioned research exploring how people spend, and waste, their time, and what activities they think are valuable.
Did you know, that on average, every Brit wastes 80 minutes of every day on activities that they admit are a waste of their time? This adds up to 21 days in a year! The average Brit spends over two hours a day on social media and browsing the internet, and the top ways in which we are wasting our time are: deciding what to wear (46%); losing the car in the carpark (41%), online window shopping for clothes they can't afford (23%), rifling through one's handbag (35%) and watching animal videos online (17%).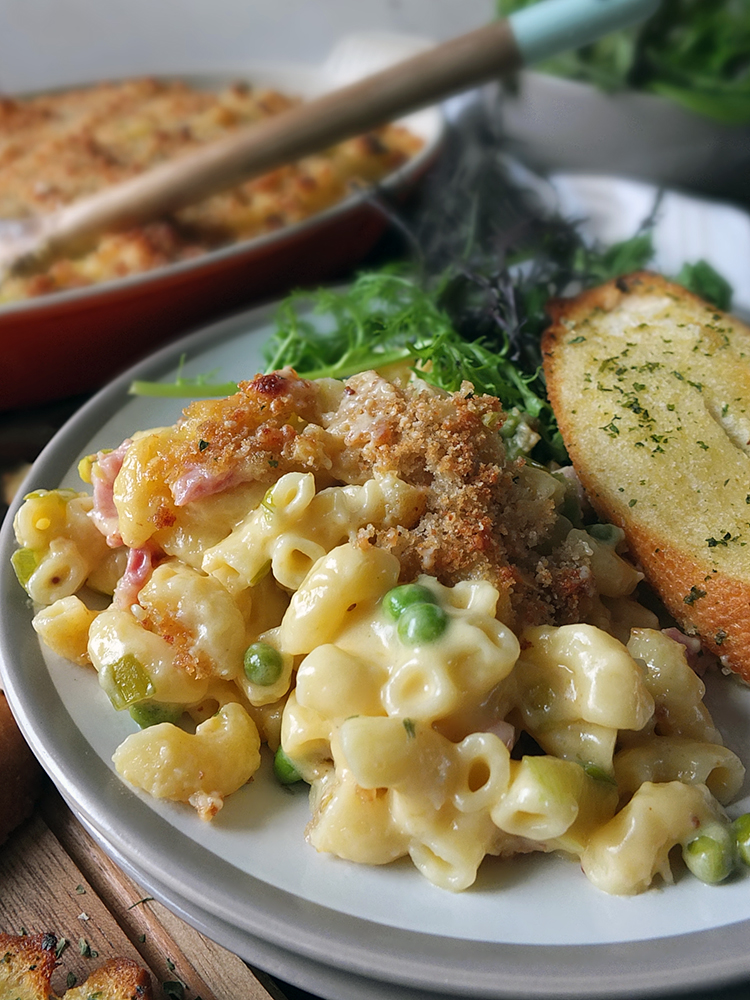 As a self-employed stay at home mother and wife most of the family cooking is left to me – since I'm here, in my kitchen office, all day every day anyway.
As much as I love cooking I don't want to spend ages standing over a hot cooker, so, for many of our regular family favourite comfort food recipes I've created some food hacks around them to save time and money. Things I can make in advance and then have a bit of spare time for a bike ride, or a brisk hill walk.
Here are my food hacks for maximising just one hour: the time it takes to make dinner and what I do, for me time, while that dinner is baking in the oven.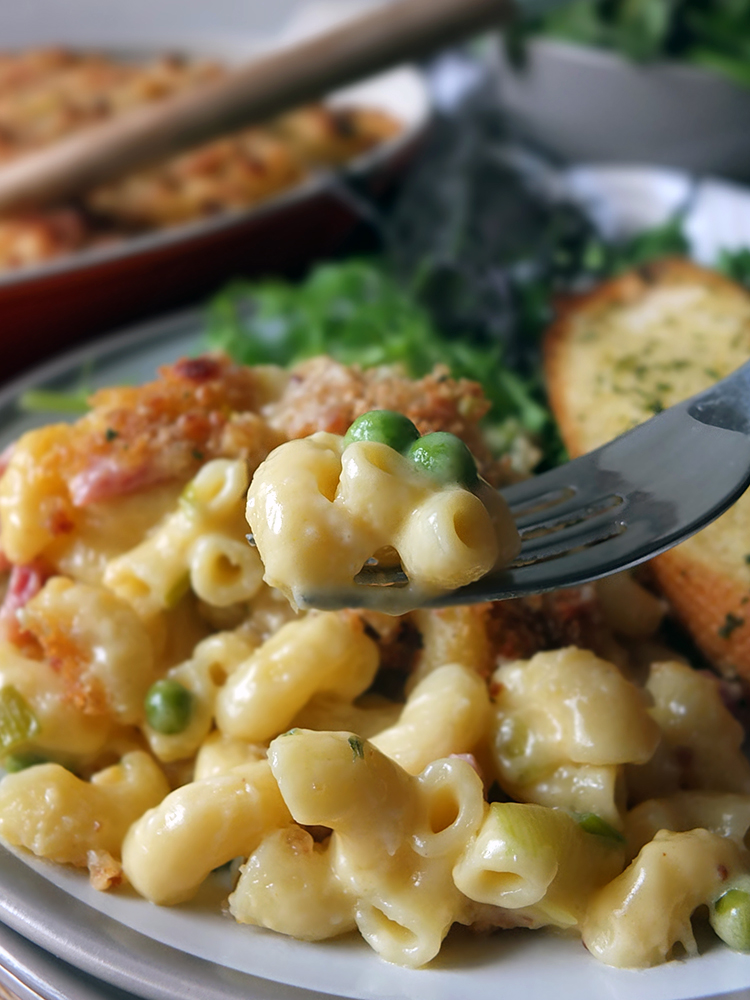 Food hack #1 – Shop local
Shop local. Your food will taste better because of it, you will be directly supporting your friends and neighbours and therefore the local economy, and with lower food miles you'll be doing your bit for the environment.
It also saves time to use your local village or corner shop instead of driving to a supermarket.
I make my family favourite macaroni and cheese with as much local produce as I can cram into it – organic veg box leeks, Shetland milk, smoked back bacon from the Anderson butchers, bread from the Quernstone Bakery and cheddar cheese from Orkney, our nearest island neighbours to the south.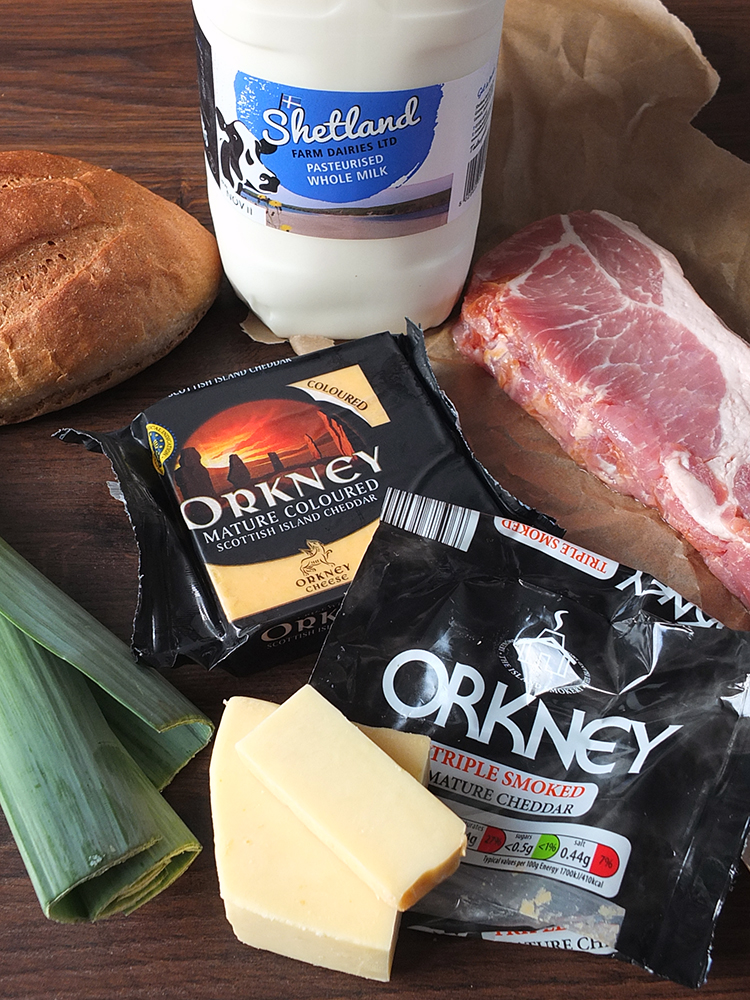 In all honesty this recipe varies depending on what kind of ingredients I can get at my local village shop, and as luck should have it this week they had a gorgeous new triple smoked cheddar cheese, but any smoked cheddar will work. I'm quite fond of Applewood too, if I can't get Orkney cheese.
Food hack #2 – use your freezer
Freeze any leftover bacon right away instead of storing it in the fridge (and then, if you're like me, promptly forgetting about it), and just chop off what you need for recipes from frozen. This doesn't work if you're wanting bacon with your fry up, but freezer bacon is perfect if you're wanting a little bacon in a pasta dish, or fried with some steamed Brussels sprouts, etc.
Food hack #3 – avoid waste
Make your own fresh breadcrumbs. I've got a mini handheld food processor which makes short work out of a loaf of stale bread (gone stale, say, because you completely forgot to collect your veg box containing said loaf from the drop-off point until two days later). Pop the bread crumbs into a bag or plastic container and freeze until needed. Alternatively, you could lay them out on a baking tray and leave them to air dry for a day or two and then store in an empty jam jar.
Food hack #4 – multitask!
To save even more time, before you start preparing this recipe put a tray of frozen chunky oven chips on to cook. By the time you've got to the melted cheese stage, the oven chips will be ready and crying out to be dunked in a gorgeous big bowl of oozy macaroni and cheese, sitting on the couch, of course, in front of the telly.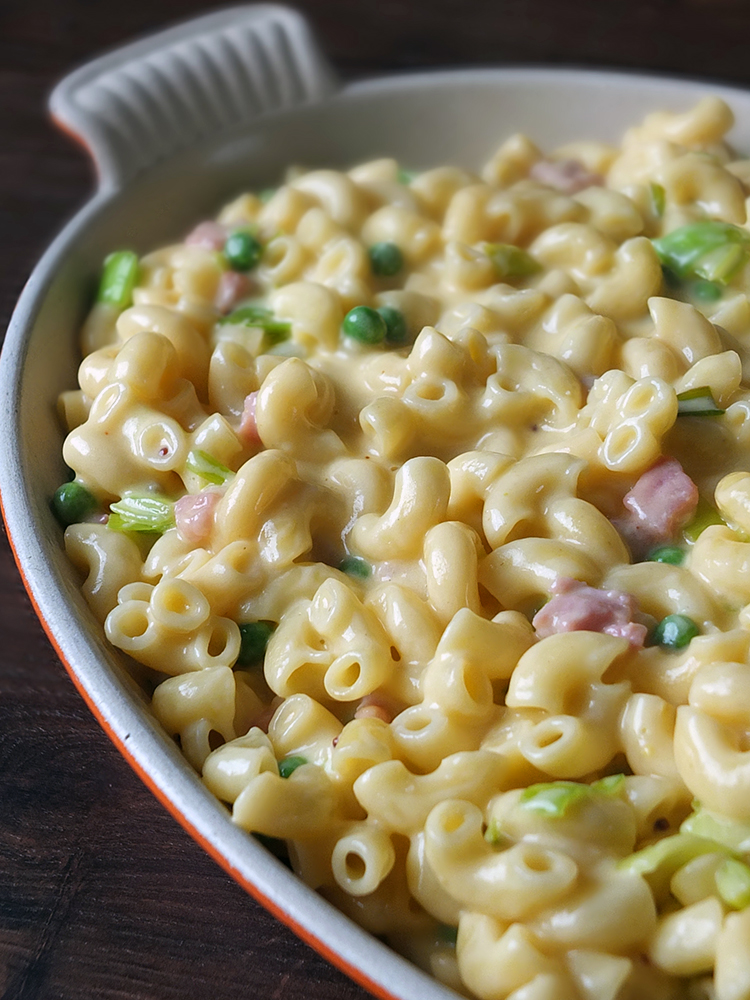 If you're wanting a crispy topping though, it takes only a matter of seconds to whip up, especially if you've got frozen bread crumbs. Just grab a handful from the freezer, mix with some cheese and melted butter, sprinkle over the top of the macaroni and cheese and pop into the oven. To save even more time (and washing up) omit the melted butter and just dot the top with little bits of butter.
Food hack #5 – sometimes shop bought is ok
Five to ten minutes before the macaroni and cheese is ready, transfer it to the bottom rack in the oven and heat up some ready-made frozen garlic toasts on the rack above it!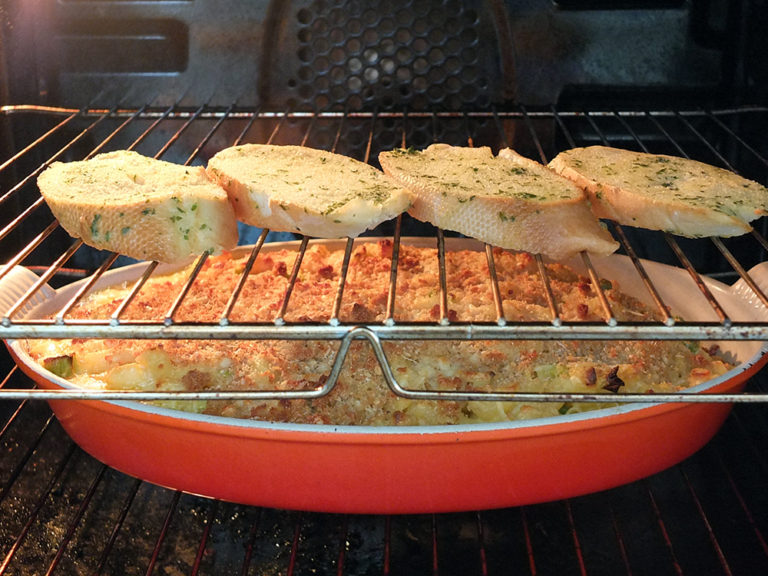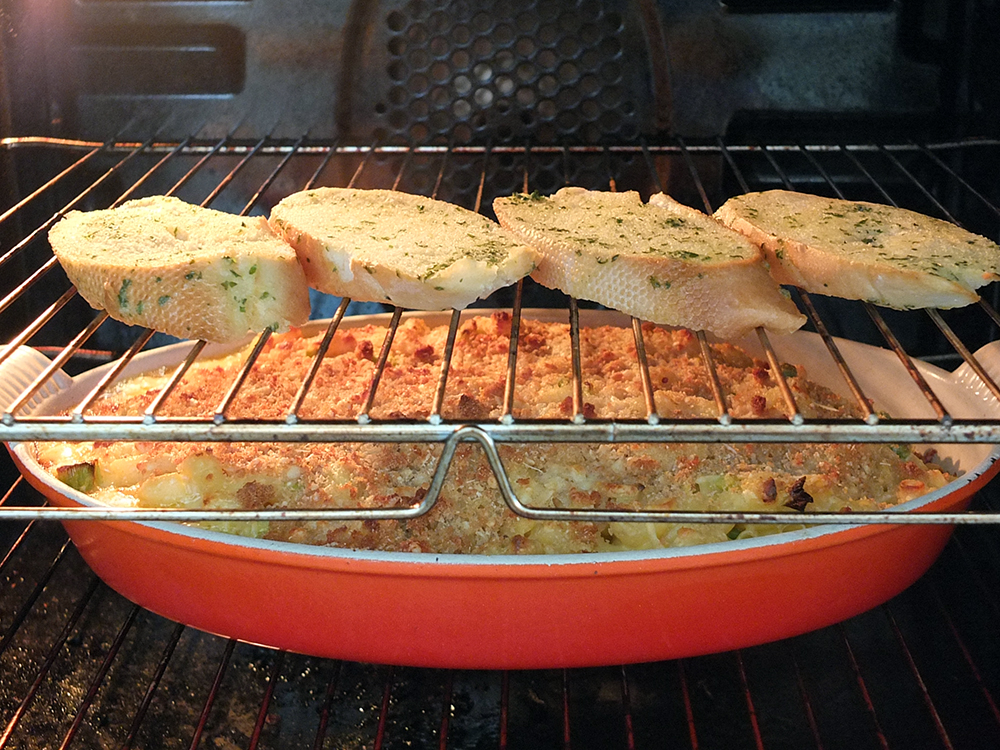 While the macaroni and cheese is baking away in the oven you've got a full thirty minutes (you could stretch it to forty without any ill effects too!) to do what you want. Time for you!
Watch the video below to see what I did when my mac n' cheese was in the oven!
Scottish Widows - Macaroni & Cheese with Bacon, Leeks & Peas
The NHS recommends that adults take thirty minutes of exercise at least five days a week for optimum health benefits, and what better time to do this than when dinner is in the oven? Then you can feel all virtuous when you come back from your walk, rosy-cheeked and energetic, and feel like you've earned a proper plateful of ooey-gooey mac and cheese.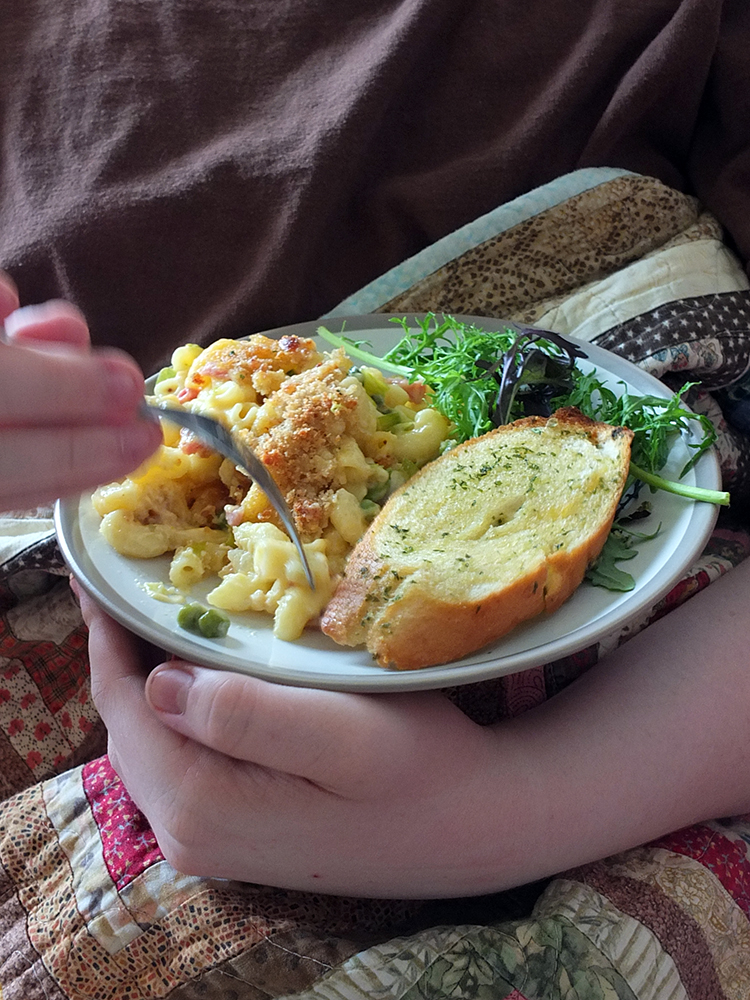 Other Macaroni & Cheese food hacks
homemade macaroni and cheese can be frozen (before the topping is added). Defrost thoroughly before cooking.
cook the macaroni in advance – boil a full kettle when you have your morning cuppa and cook the pasta until al dente, drain and refrigerate
batch cook the cheese sauce. I often make a big batch and then freeze it into smaller portions for the kids, then all I need to do is cook pasta for dinner and serve with veg on the side.
leftover grated cheese can be frozen too, and store those Parmesan rinds in the freezer for use in soups later.
leftover macaroni cheese reheats really well on the stovetop for lunch the next day. Simply pour in a splash of milk or two and reheat over medium heat in a saucepan.
don't measure the ingredients. This is one of those recipes I just make by eye every time, and it saves time on washing up.
make the sauce in the pan you are going to bake the macaroni dish in saving with washing up!
How do you feel you waste your time? What food hacks do you use to help save time? How do you make the most of an hour? Let me know in the comments!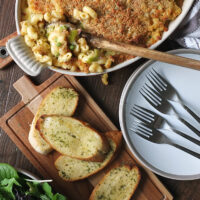 Macaroni & Cheese with Bacon, Leeks and Peas
Our family favourite comfort food recipe - quick and easy to make with an optional crispy topping.
Print
Rate
Ingredients
for the macaroni & cheese
for the topping, optional
Affiliate Links
This recipe card may contain affiliate ingredient and equipment links. As an Amazon Associate I earn from qualifying purchases.
Instructions
Preheat oven to 200 C/ 180 C fan.

Cook macaroni in boiling, salted water for two minutes less than the packet instructions suggest. Drain & set aside.

Heat 1 tbsp butter in a saute pan and fry the bacon until it begins to brown. Add the finely sliced leeks and cook for a few minutes until they begin to soften. Add the frozen peas, give it a stir and set aside.

Meanwhile, heat the remaining butter in a saucepan until melted and bubbling. Stir in the flour and cook for one minute.

Remove from the heat and whisk in a little of the milk until combined. Slowly stir in the remaining milk and return to the heat, stirring until thickened.

Remove from the heat and add the grated cheeses, mustard and cayenne. Stir well until the cheese has melted.

To prepare the topping mix the ingredients together and sprinkle over the top of the macaroni and cheese.

Bake, in the centre of the oven, for 30 minutes.
Environmental Information
Other recipes you might like
Lobster Macaroni & Cheese by Emily's Recipes & Reviews
Macaroni Bake by Planet Veggie
Smoked Salmon & Leek Macaroni & Cheese by Kavey Eats
Tattie & leek soup
This is a commissioned macaroni & cheese recipe post in collaboration with Scottish Widows. All thoughts and opinions expressed are our own. Thank you for supporting the brands who make it possible for me to do what I love: mess up my kitchen and share recipe stories.