Issue #12 of our weekly bite-sized review series.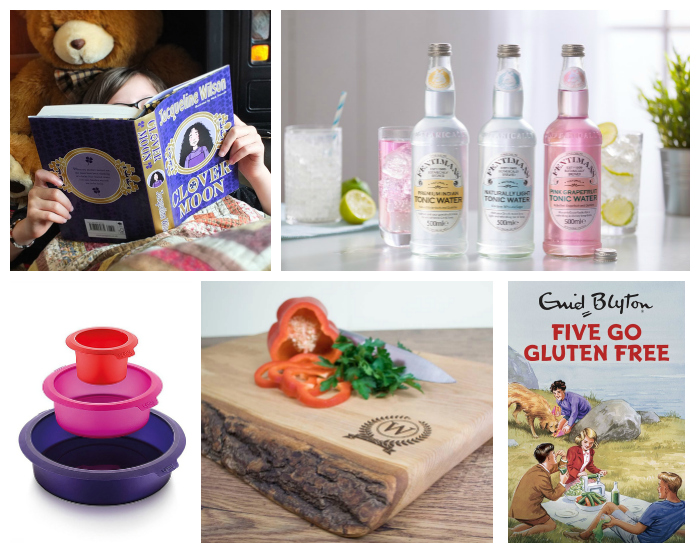 This week we threw an epic children's birthday party and made a showstopper three tiered cake in a silicone cake mould for it. We also tried out some new botanical mixers, read a few new books and now own a rather lovely new personalised wooden chopping board. 
Lekue Three Tier Cake Mould – make show stopping three tier cakes in no time with these silicone cake moulds. It was DD's birthday last weekend and we wow'd her classmates with a Death by Chocolate extravaganza made with this mould. All three pans fit on one large baking sheet for even cooking too. RRP £25.50 from Amazon.
Personalised Wooden Chopping Board – Made from Welsh ash timber this stylish 38 x 23 cm wooden chopping board is perfect for both preparing and serving food at the table. I love the bark outer edge and there's room for three initials within the engraved wreath design. Perfect for Christmas, birthdays or as a fifth wedding anniversary gift. Watch out for mine appearing in blog post photos in the near future! RRP £49.99 from Ijustloveit.co.uk
Fentimans Botanical Mixers – Fentimans have just launched a new line of 500ml botanical mixers. These include premium Indian tonic water, naturally light tonic water, pink grapefruit tonic water, botanical tonic water, rose lemonade, bitter lemonade and ginger beer & muddled lime. My favourite? The pink grapefruit. Perfect with gin for a refreshing and zesty long drink. Available at Waitrose.
Clover Moon – the newest children's book by award winning and best selling author Jacqueline Wilson. Set in Victorian London this book tells the tale of Clover Moon, a child born into poverty and what she does to make a better life for herself. The perfect Christmas gift for Jacqueline Wilson fans young and old. RRP £12.99 it is currently on sale for only £6 (hardcover) on Amazon.
Five Go Gluten Free – Enid Blyton for grown-ups. George, Dick, Anne, Julian and Timmy are all feeling rather poorly. Nothing seems to work, and with their doctors mystified, they're driven to trying out various expedients to cure themselves. Julian goes online to self-diagnose that he's got pancreatic cancer, bird flu and Creutzfeldt-Jakob Disease. Anne decides that the old methods are the best and decides to have herself exorcised – which proves to be an awful lot of bother for everyone, and such a mess. Dick goes to a witch-doctor who calls himself a 'homeopath' ('sounds only one short of sociopath, Dick!') but it's George who discovers they need to go on an exclusion diet, so they enter a world of hard-to-find, maddeningly expensive specialist foods .  RRP £7.99 from Amazon, but currently on offer for £2.99. The perfect stocking filler!
Elizabeth's Kitchen Diary has received samples of all the above products. This is not a paid post and all thoughts and opinions expressed are our own. Please see note in sidebar about links in orange.