In collaboration with We Bake, the community that rewards you for baking.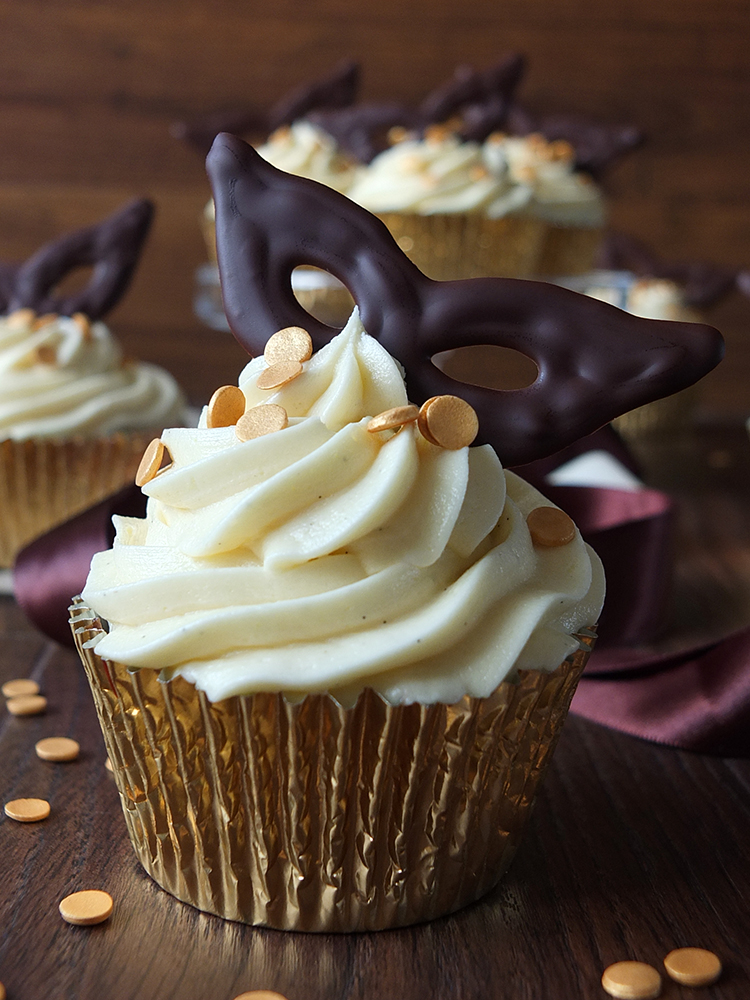 When it comes to birthday parties it has been known for me, on occasion, to go completely over the top. I absolutely love baking birthday cakes and will spend days carefully crafting sugar paste decorations for my own children's celebration cakes.
Regular readers will know that I am turning 40 at the end of this year. In my ideal world I would love to throw a huge murder mystery masquerade party, inviting all of my favourite people to a perfectly themed venue such as a Victorian mansion. In reality, since I don't actually know anyone who would arrange such a thing for me (or have access to such a venue – the village hall really won't cut it!), and as I haven't got the time (read: inclination) to do it myself I'll likely just celebrate at home quietly with my family, cupcakes and a bottle (or two) of something bubbly.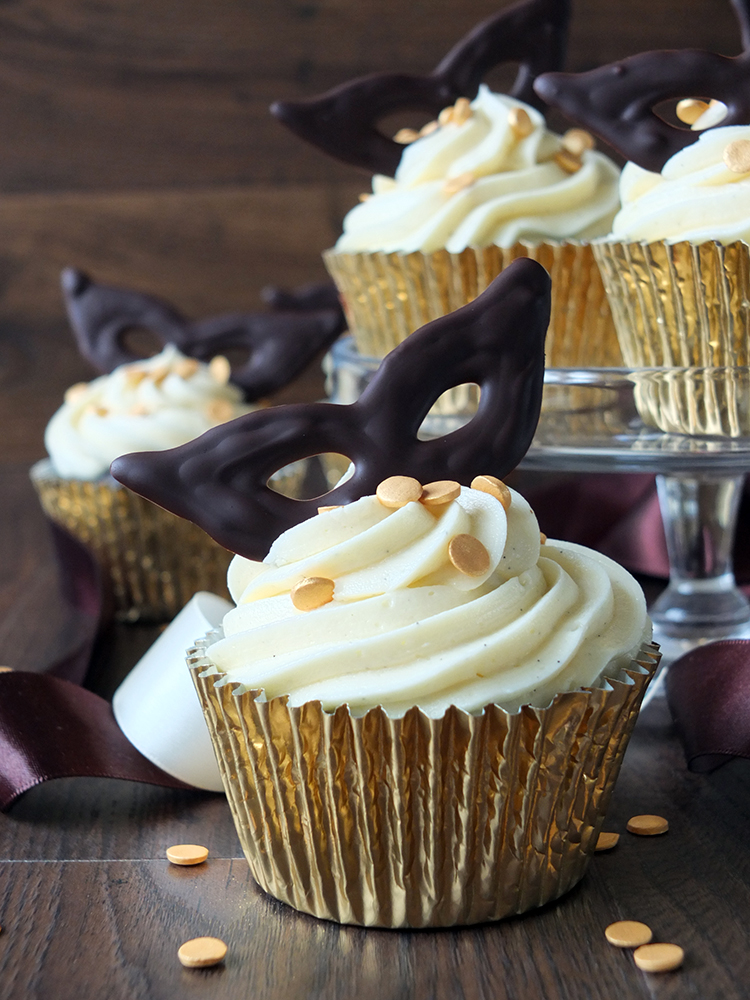 So, with all my daydreaming of murder mystery masquerade parties I recently created these fantastic chocolate fudge masquerade party cupcakes. They're rather indulgent with a tower of bourbon vanilla buttercream, a hidden rich chocolate centre and carefully handcrafted dark chocolate masquerade masks. Gold sprinkles finish them off perfectly, I think, giving them a touch of sophistication. Cupcakes for grownups.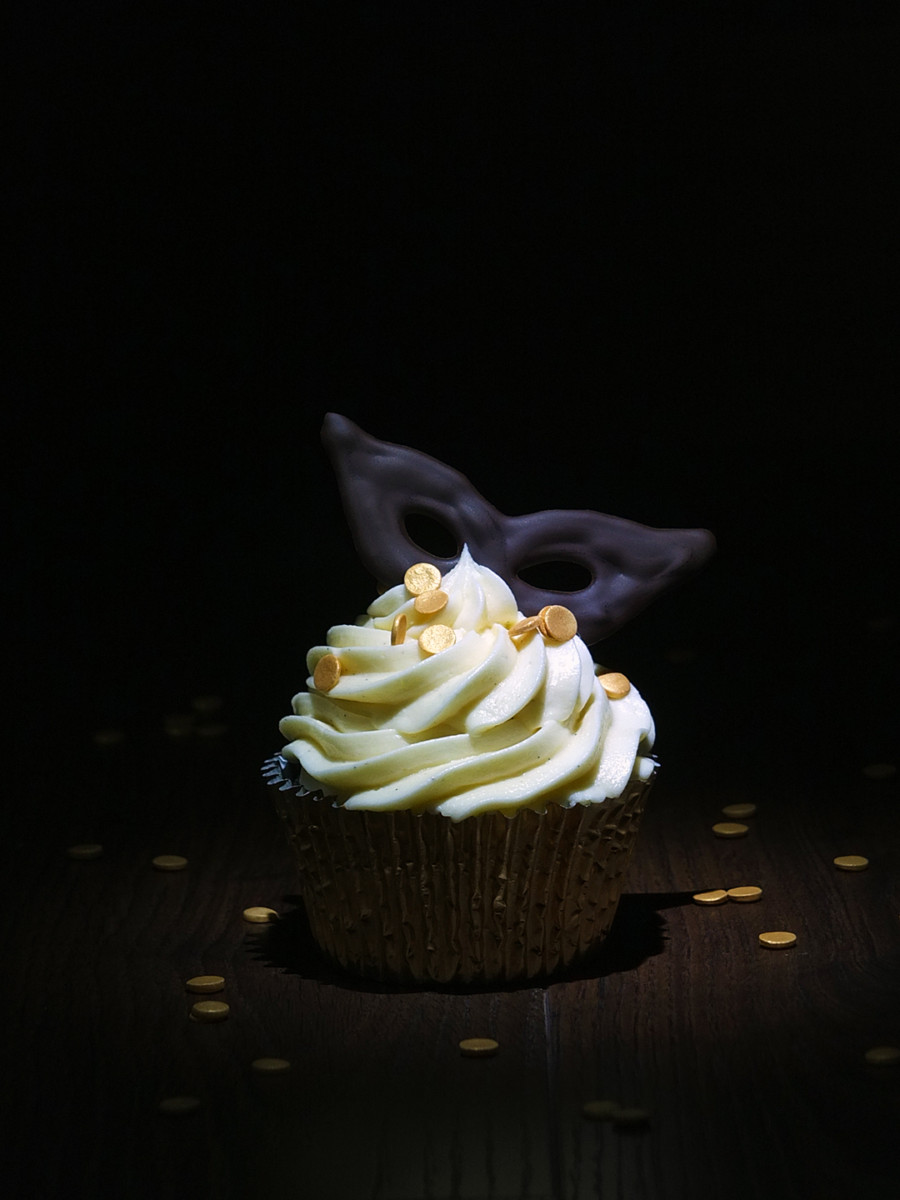 To make the masquerade masks I used my Lekue decomat. It's a little silicone tub with a nozzle. You fill the tub with melted chocolate and draw chocolate shapes onto a translucent silicone mat. I found an outline of a masquerade mask that I liked online, saved it to my computer and used it to create a printable template to place behind the silicone mat.
The chocolate takes awhile to harden (I tend to pop them outside in the cool breeze!) but once they have you can peel them off and use them to decorate the tops of the cupcakes. Just make sure not to put them into direct sunlight or the chocolate will melt and the masks will droop – I learned this the hard way!
I've since learned that you can buy a gold coloured edible shimmer spray from Dr. Oetker – this would have been a perfect finishing touch for the chocolate toppers with a touch of shimmery gold on the outside edges.
They're rather effective cupcake toppers though, don't you think? My husband says they have a 'come and eat me, you know you want to!" air!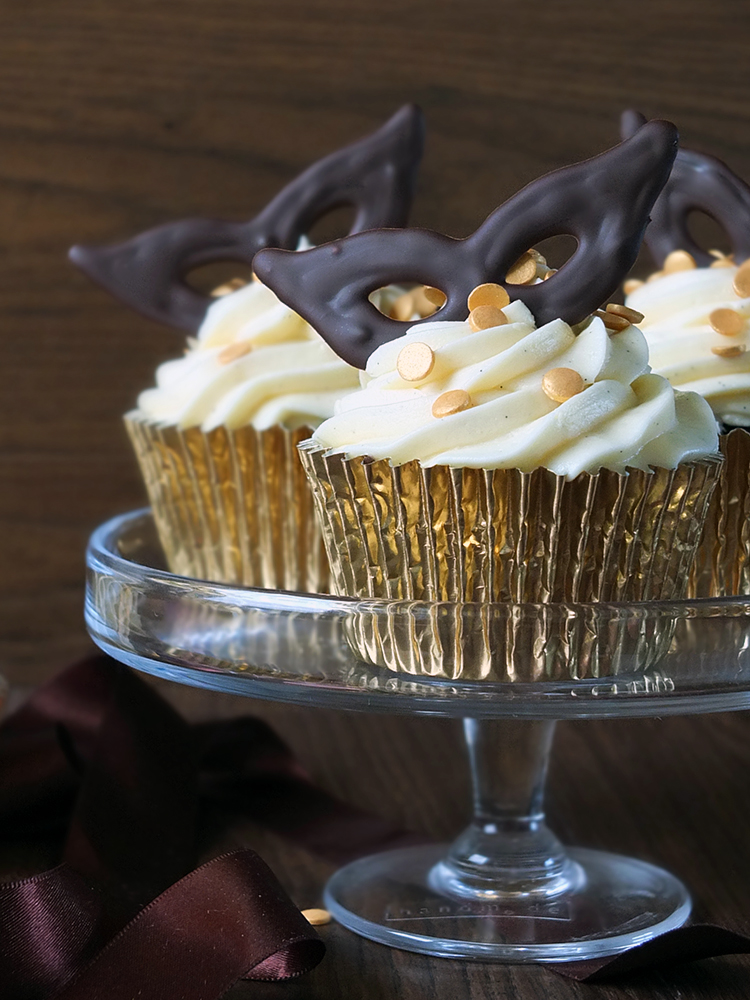 I've recently joined a new online community that's just launched this month – it's called 'We Bake' and it's a community that rewards you for baking. We Bake is the first baking-only social media platform and it's designed not only to celebrate baking but also to coach and motivate bakers like you and I to do more of what we love. Imagine a mix between Facebook and Instagram, but with 100% baking content, and that's what We Bake hope to achieve.
As We Bake is a community for bakers of any level everyone (that means YOU!) can share all things baking and get in contact with others bakers from all over the country. Simply create your own profile and follow any other bakers who take your fancy. You can even win prizes and get access to exclusive events through community challenges.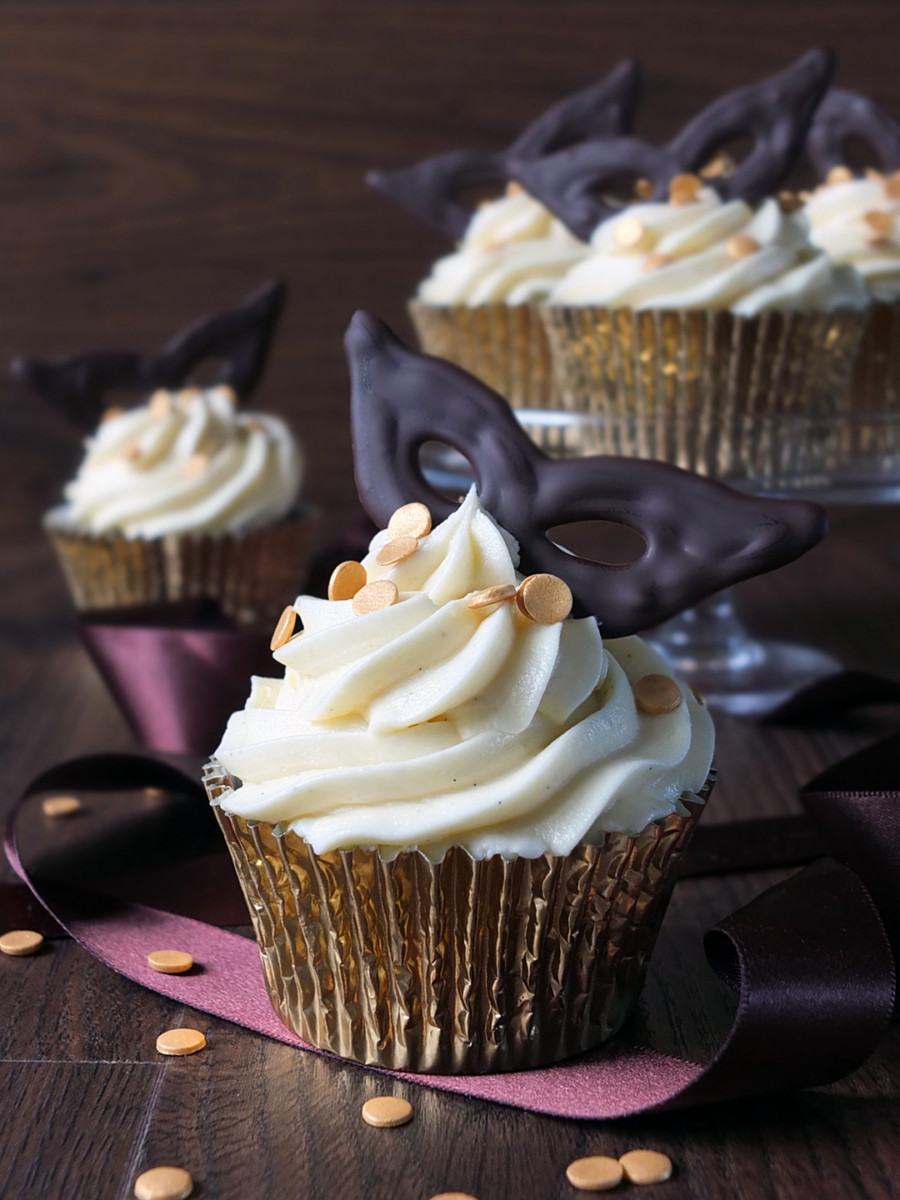 The first community challenge that I'm taking part in is The Cupcake Champion challenge. We Bake are looking for the community's best cupcake bakers. Entrants will have the chance to win one of six unique medals (i.e. most colourful, most fun, most delicate, etc.) Those lucky six will then be invited to a baking masterclass hosted by a cupcake guru. While at the event they will each have to recreate their cupcakes (or bring it with them) and the cupcake guru will crown the overall winner, who will receive a specially made' 'Cupcake Cup' and a weekend break to visit London's best baking hotspots.
How exciting is that?! That would not be a bad way to spend my 40th birthday…. 😉
In the meantime, here's my rather indulgent chocolate fudge masquerade cupcake recipe! See you over on We Bake!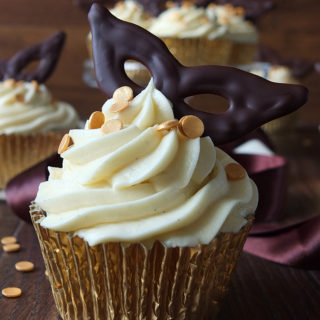 Chocolate Fudge Masquerade Party Cupcakes
A rich and decadent chocolate fudge cupcake topped with a tower of bourbon vanilla buttercream and a dark chocolate masquerade mask. Cupcakes for grown ups!
Print
Rate
Ingredients
Affiliate Links
This recipe card may contain affiliate ingredient and equipment links. As an Amazon Associate I earn from qualifying purchases.
Instructions
Preheat oven to 190 C/ 170 fan/ 375 F/ gas mark 5 and line a 12 hole muffin tin with paper cupcake cases.

Sift together the flour, bicarbonate of soda and sugars together in a large mixing bowl.

Melt the cocoa powder, water and butter over a low heat in a small saucepan. Do not allow this mixture to boil.

Mix the milk and vinegar together and set aside a few minutes to curdle.

Add the chocolate mixture, the milk, egg and vanilla to the dry ingredients and whisk until thoroughly combined. The batter will be thin.

Spoon into the prepared baking cakes and bake in the centre of the oven for 20 minutes, until well risen and springy.

Leave to cool for five minutes in the tin and then squeeze in the Dr. Oetker cupcake filler. Transfer to a wire rack to cool completely.

To prepare the masquerade masks find an image online that you like and print out an A4 sheet with 12 copies of the image on it.

Break the chocolate and melt in a heatproof bowl suspended over a pan of barely simmering water.

Place a clear silicone mat (or waxed paper) over the printout of the masks and spoon the chocolate into a piping bottle fitted with a small nozzle. Carefully draw over the paper mask template. Set aside in a cool place for at least an hour to harden (don't refrigerate them as they will attract condensation at room temperature).

To prepare the frosting beat together all the ingredients until light and creamy. Frost the cupcakes using a large star nozzle and sprinkle over the gold sprinkles, if using.

Arrange a chocolate masquerade mask on the top of the cupcakes and serve!
Environmental Information
SHARING WITH SOME FOOD BLOGGING LINKIES
Recipe of the Week by A Mummy Too
Treat Petite by CakeyBoi and The Baking Explorer
We Should Cocoa by Tin & Thyme
This is a commissioned recipe for We Bake, although all thoughts and opinions expressed are our own. Thank you for supporting the brands who make it possible for me to do what I love: mess up my kitchen and share recipe stories!
[color-box]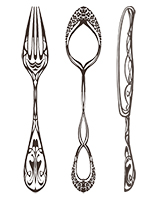 Have you made this recipe?
Take a photo and tag @tangoraindrop or use the hashtag #elizabethskitchendiary and share on Instagram and Twitter. It would make my day to see your creations!
[/color-box]