In collaboration with Tasty, Easy Lamb.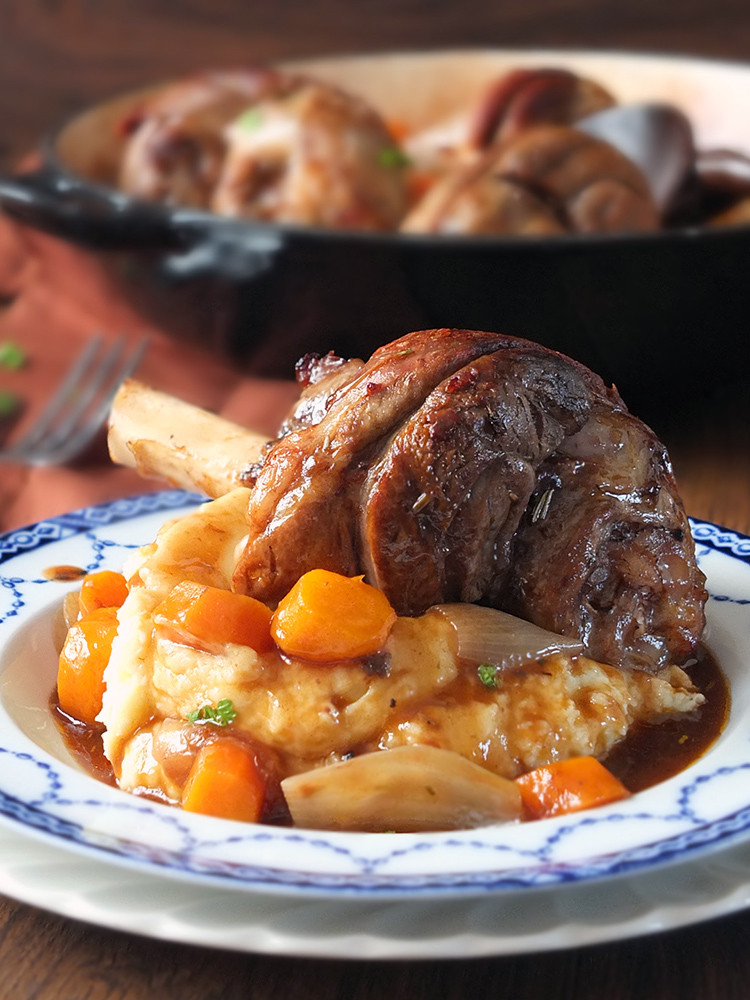 A hearty plateful of succulent, tender slow cooked lamb on a bed of creamy mashed potatoes swimming in the most delicious homemade gravy – what else could you ask for on a cold, winter's evening when the gales are raging outside?
This recipe is based on a lamb or beef stew I make with the same ingredients. The only difference is that I dredge the cubed meat in seasoned flour and brown on all sides before letting it simmer on a low heat for an hour or so on the stove top. I use a little more gravy than mentioned below too, and top the whole thing with some homemade dumplings. 
In fact, why I haven't I shared that particular recipe with you yet? This needs to be remedied!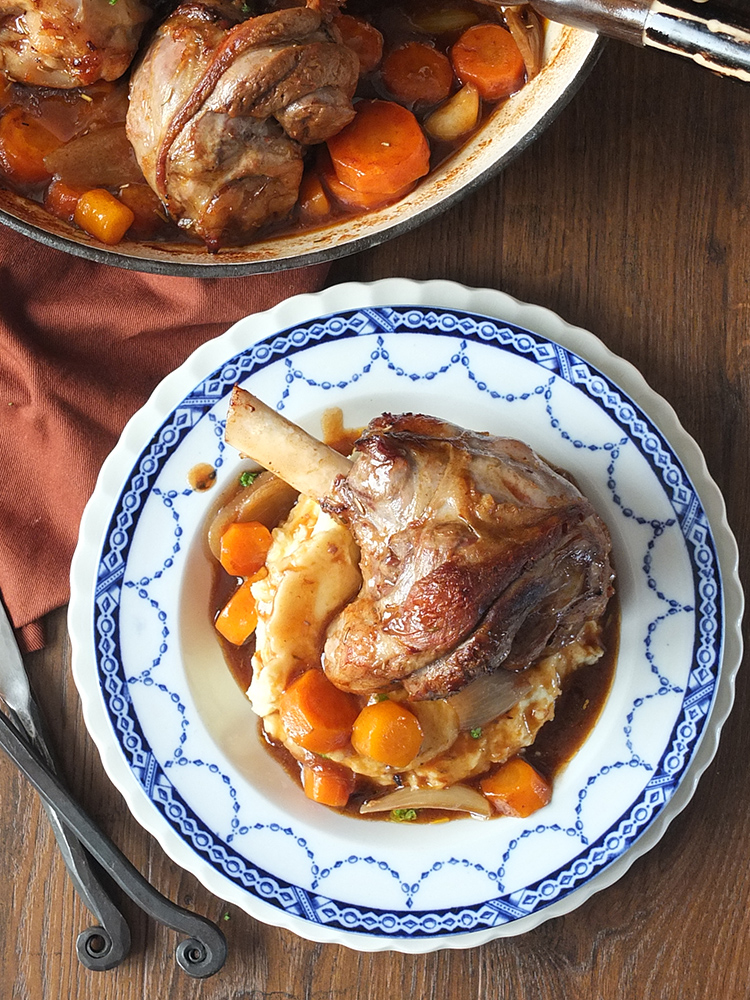 I was inspired to make this lamb shank version when I spied some rather gorgeous large lamb shanks in my local supermarket recently. Regular readers will know that we're quite fond of lamb in our household – it's our main meat of choice given its low food miles, the fact it's so tasty and it's remarkably versatile and easy to cook with.
Do check out the lamb section in your local butchers or supermarket – you can get legs of lamb (and half legs, I've spotted recently!), chops, mince, cubed shoulder, racks of lamb, steaks, neck fillet, strips, cutlets, mini roasts and much more. It's also very reasonably priced.
My recipe is really easy to make too. Simply sear the meat, deglaze the pan, throw in the rest of the ingredients and then ignore it in your oven (or slow cooker) for a few hours. Simply thicken the gravy when the meat is cooked and serve with a generous helping of creamy mashed potatoes. Sometimes, if it's appeared in my veg box that week, I'll make a creamy celeriac and potato mash, or if you really wanted something a little different this sort of recipe goes really well with creamy polenta.
The ultimate winter comfort food!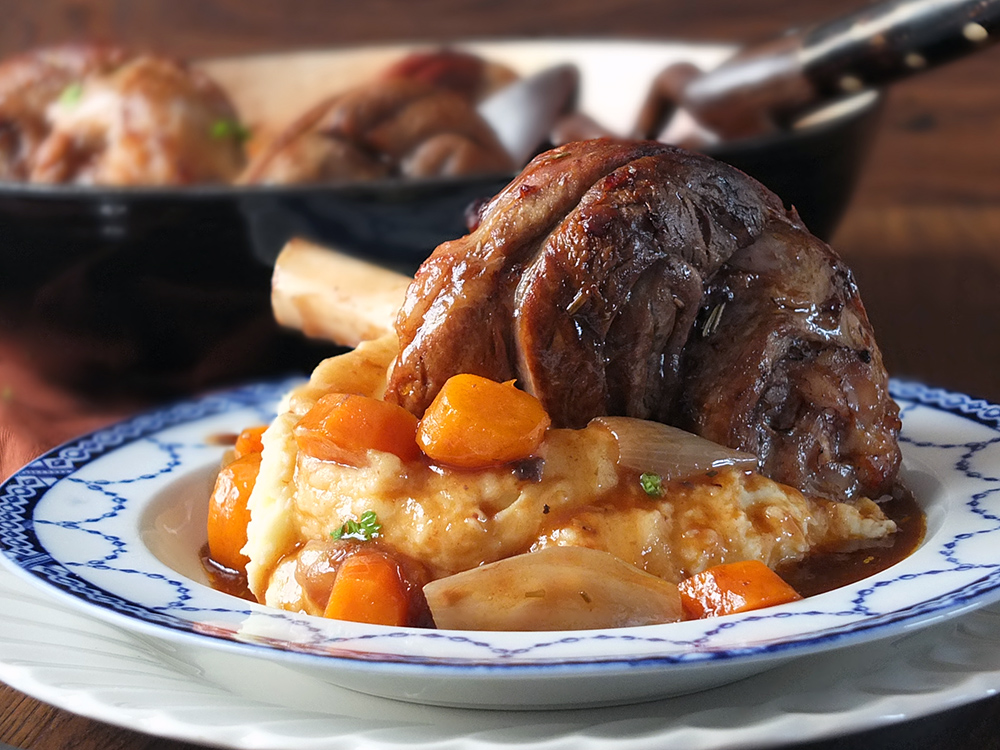 What's your favourite winter lamb recipe? Are you a slow roast sort of person, or do you prefer stews? Let me know in the comments!
For more lamb recipe inspiration visit the Tasty Easy Lamb website, and follow them on Facebook, Twitter or Instagram.
Servings

Prep Time

Cook Time

4

servings

15

minutes

2

hours
Servings

Prep Time

4

servings

15

minutes
Preheat oven to 150 C/ 300 F/ gas mark 2.

Heat sunflower oil in an ovenproof casserole dish and sear the lamb shanks on all sides. Remove from the pan and set aside.

Deglaze the pan with the lamb stock, scraping up all the browned bits that might be stuck to the bottom. Add the tomato puree, rosemary and season well. Remove from the heat.

Add the quartered onions, sliced carrots and the peeled, separated cloves of garlic to the pan. Return the seared lamb shanks to the pan, cover tightly with a lid (or use aluminium foil).

Bake in the centre of the oven for two hours, removing the foil/lid for the last twenty minutes of cooking so that the meat browns nicely.

Carefully remove the lamb shanks and keep warm while you make the gravy.

Dissolve the cornflour in a little cold water.

Return the casserole pan to a medium-high heat on the hob and when the juices in the pan are bubbling carefully pour in the dissolved cornflour. Stir constantly until the gravy thickens. You might need to add some more hot lamb stock or more dissolved cornflour to get it to your desired consistency.

Serve the lamb shanks and gravy with creamy mashed potatos.
Slow Cooker Instructions
Sear meat and deglaze pan, as above. Place in a slow cooker along with the remaining ingredients (except the cornflour) and cook on low for 7-8 hours.

Remove lamb shanks and thicken gravy, as above.
OTHER LAMB RECIPES YOU MIGHT LIKE
A Classic Shepherds' Pie Recipe
Indian Tapas: Lamb, Pea & Potato Mini Samosas
Slow-Cooked Lamb Casserole with Broad Beans & Apricots
Ten-Minute Honey Ginger Lamb Stir-Fry
Grilled Lamb Kibbeh Kebabs
Slow-Roasted Rack of Lamb with a Creamy Mustard Tarragon Sauce
BBQ Lamb Leg Steaks in a Herb Marinade
Leftover Roast Lamb & Mint Sausage Rolls
Quick & Easy BBQ Lamb Skewers
15-Minute One-Pan Lamb & Quinoa Midweek Supper
Street Food: Brazilian-Style Lamb Kibe
Chilean-inspired Lamb Burgers with Pebre & Marraqueta Buns
Brazilian-inspired Lamb Feijoada with Mango Salsa
Slow Cooker Lamb Chilli with Pasilla Peppers
Argentine-inspired Lamb Chops with Chimichurri
Lamb Casserole with Ale
Slow-cooked Shetland Lamb Casserole with Creamy Herbed Polenta
Pastitsio – Greek Macaroni Pie
This is a commissioned recipe for Tasty, Easy Lamb. Thank you for supporting the brands who make it possible for me to do what I love: mess up my kitchen and share recipe stories!