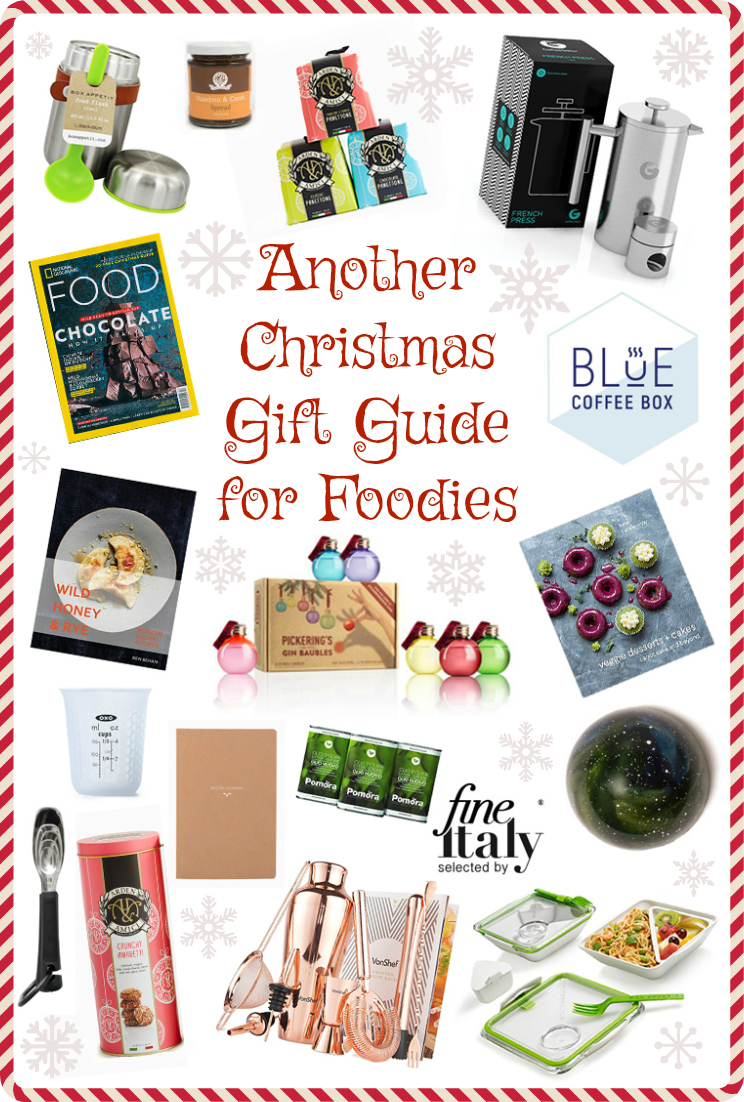 If you follow food bloggers like I do you'll have seen plenty of Christmas Gift Guides for foodies coming out over the last few weeks. I am afraid I'm appallingly late at publishing mine (would you believe I still haven't started my own Christmas shopping yet?!), but nonetheless, here are a few reasonably priced gifts I think would be perfect for foodies. 
A FEW STOCKING FILLERS FOR FOODIES
National Geographic FOOD – the second spinoff from National Geographic (the first was Traveller in 2010) this new magazine, launched on November 30, 2017, serves up food in a whole new way, tantalising your taste buds with a smorgasbord of fresh ideas and flavours. Introductory price £3.
Arden & Amici Cantuccini – deliciously crispy artisan Italian biscuits in a tin. Perfect for dipping into coffee, or sprinkling with grappa. Retails for £5 from Ocado & Waitrose. You can also find their mini Panettone in chocolate, classic or cranberry orange in Tesco, Ocado & Waitrose for £2.75.
Mini Nut Butters from Nutural World – choose from 13 different flavours from chocolate halva spread to hazelnut and carob, pecan & fig or the more traditional almond, cashew or walnut nut butter. If you order four you'll get a cardboard gift packaging too. £2.50 each for 35-gram jars.
OXO Good Grips Spice Jar Spoons – who else has to scoop two teaspoonfuls of spice out of those narrow jars using their half teaspoon? With these clever narrow spoons from OXO Good Grips you don't need to do that anymore! £12 from Amazon.
OXO Good Grips Mini Squeeze & Pour Measuring Cup – this is one of my favourite additions to my kitchen this year. Perfect for measuring out small quantities and safe for the microwave and dishwasher. It takes up very little storage space too. £4 from Amazon.
CHRISTMAS GIFT GUIDE FOR FOODIES
VonShef Copper Cocktail Shaker Set Parisian 9 piece in Gift Box – includes recipe guide! Everything you need to make cocktails like the professionals and entertain guests over the festive season. Made of stainless steel with an attractive copper finish. £39.99 from Amazon
Pomora Olive Oil – adopt an olive tree, support independent farmers and receive quarterly high-quality olive oil deliveries straight from Italy. From £29 per quarter, but if you use the exclusive discount code EKDXMAS25 you will get 25% off your first quarter.
Coffee Gator Stainless Steel French Press – The French Press from Coffee Gator is not like your average French Press. It was born to fulfil two missions 1) to make your taste buds dance with professional standard, coffee-flavour fuller than ever, and 2) to keep your coffee piping hot for longer. RRP £60 but currently available from Amazon for £39.99.
Blue Coffee Box Subscription – a new London startup, coffee beans are handpicked from the top few speciality arabica coffees from 17 different countries, selected for your taste preference, hand-roasted, and delivered in a sleek, letterbox friendly box with origin and tasting notes. Prices from £17.99 per month. Use the exclusive discount code EKD912 to receive £9 off your first box, making it only £8.99! 
Pickerings Gin Baubles – for the gin enthusiast in your life! This pack of six coloured plastic baubles are filled with 5cl of Pickerings Gin and would look fantastic on the Christmas tree. £30 per box of six.
Mirrie Dancers Chocolates – from the wild and remote northern islands of Scotland. Artisan bespoke handmade chocolates in a range of delicious flavours. Give the gift of the Northern Lights in a delicious morsel. Prices start from £8.25. Worldwide shipping.
Bon Appetit Lunch Box – The original lunch box from black + blum. A practical watertight design for your homemade food. Made from high-quality BPA-free materials and ideal for all ages. Features an inner dish for food separation, sauce pot for dressings or condiments, and a fife (fork + knife) with a cutting edge for easy one handed eating. Retails for £19.99
Fine Italy Box Hamper – everything you need for a four-course meal for four people (with wine) delivered straight from Italy. Features high-quality artisan products from Venice, Portofino, Rome, the Dolomites, Langhe or Tuscan regions. Prices start from €77 with free delivery.
Bon Appetit Food Flask – This perfectly compact food flask is ideal for keeping your soups, casseroles and stews hot or fruit salads, gazpacho and ice cream cold. The vegan leather strap holds a super convenient ladle spoon which is shaped perfectly for scooping out the tasty contents. Retails for £29.99
Veggie Desserts + Cakes Cookbook – A delightful debut cookery book from my friend Kate over at Veggie Desserts featuring 60 original recipes all incorporating vegetables. Includes vegan options. Available on Amazon for just £13.78 at the time of writing.
Wild Honey & Rye – Modern Polish Recipes – Another debut cookery book from fellow food blogger Ren Behan. It's a refreshing approach to Polish cuisine with Ren taking us on a journey to discover the new tastes of her beloved culinary heritage. Currently £16.89 on Amazon.
Mleko Recipe Journal – a beautiful recipe journal for the notebook collector. Made entirely out of recycled FSC-certified paper, in this 128-page journal, you will find a table of contents, 110 recipe spreads and blank pages for notes. There is an extra paper bookmark with recipes for homemade milk. €18.
This is not a paid post although we have received product samples of all the above items. Any links in orange are Amazon affiliate links and any subsequent purchase made (within 24 hours) after clicking through them will earn us a small commission.