This fail-proof pie crust recipe was my English grandmother's recipe, brought over with her to Canada when she immigrated just after the Second World War. It's got all the nostalgia for me, and so this is my go-to recipe.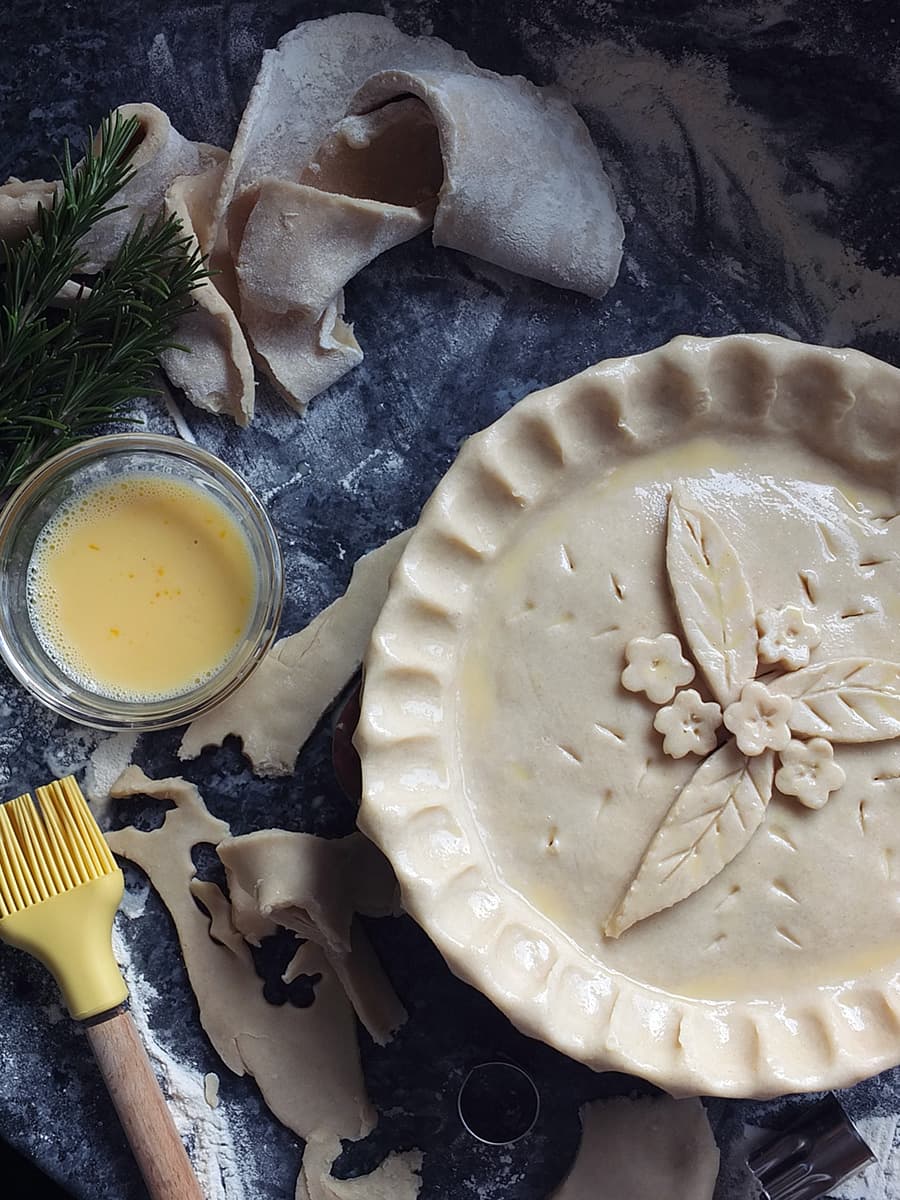 The therapeutic effects of making pie
Making pie is almost like a form of meditation for me. There's something intensely relaxing and satisfying about turning a few simple ingredients into a soft, malleable dough, and then turning that dough into a dish that ticks off all those crispy, carby, flakey boxes.
First, the act of rubbing the fat into the flour – it's not something you can rush. You need to take your time with it, rubbing each little square of lard into the dry ingredients until they resemble coarse breadcrumbs.
Then, the kneading. At first, it doesn't look like much; it's just a pile of breadcrumb-like clumps, but after a few minutes of working the dough with your hands, it turns into a soft, smooth ball of pie dough. A potential encasement for an infinite number of fillings; whatever takes your fancy.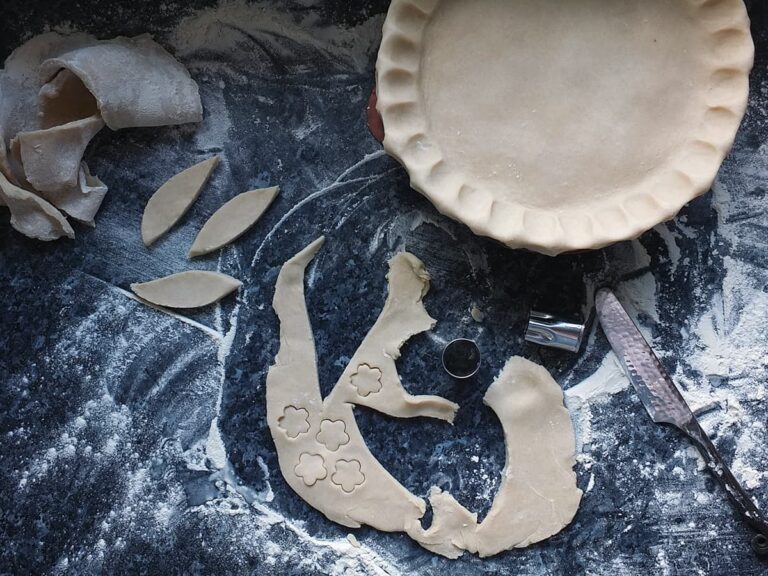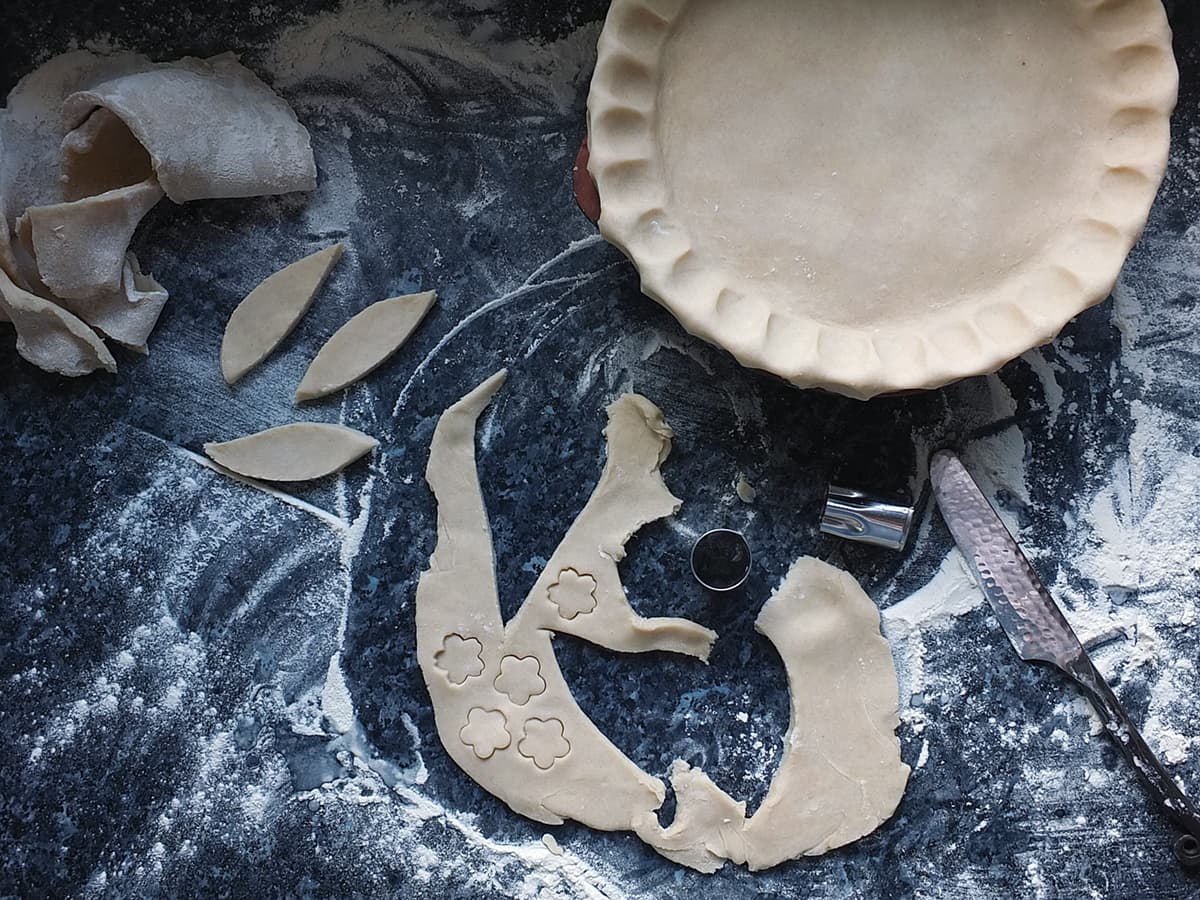 After that, after it's chilled and ready to roll out and you've made your pie filling, the act of rolling and assembling the pie – it's incredibly relaxing.
And you know what? I haven't made pie since the week Shetland went into lockdown early (and shut the virus down in its tracks). Even then I only made it because I was being paid to. Sometimes I feel like a food mercenary. This is a funny industry.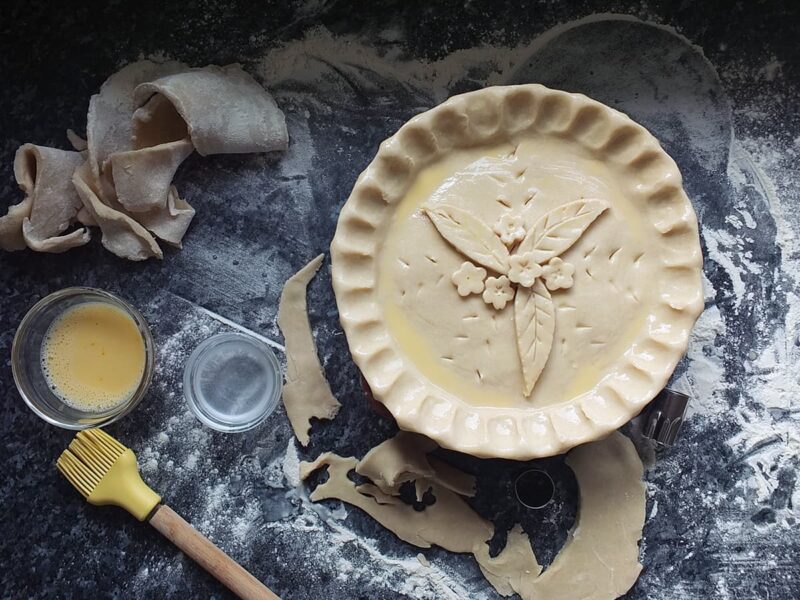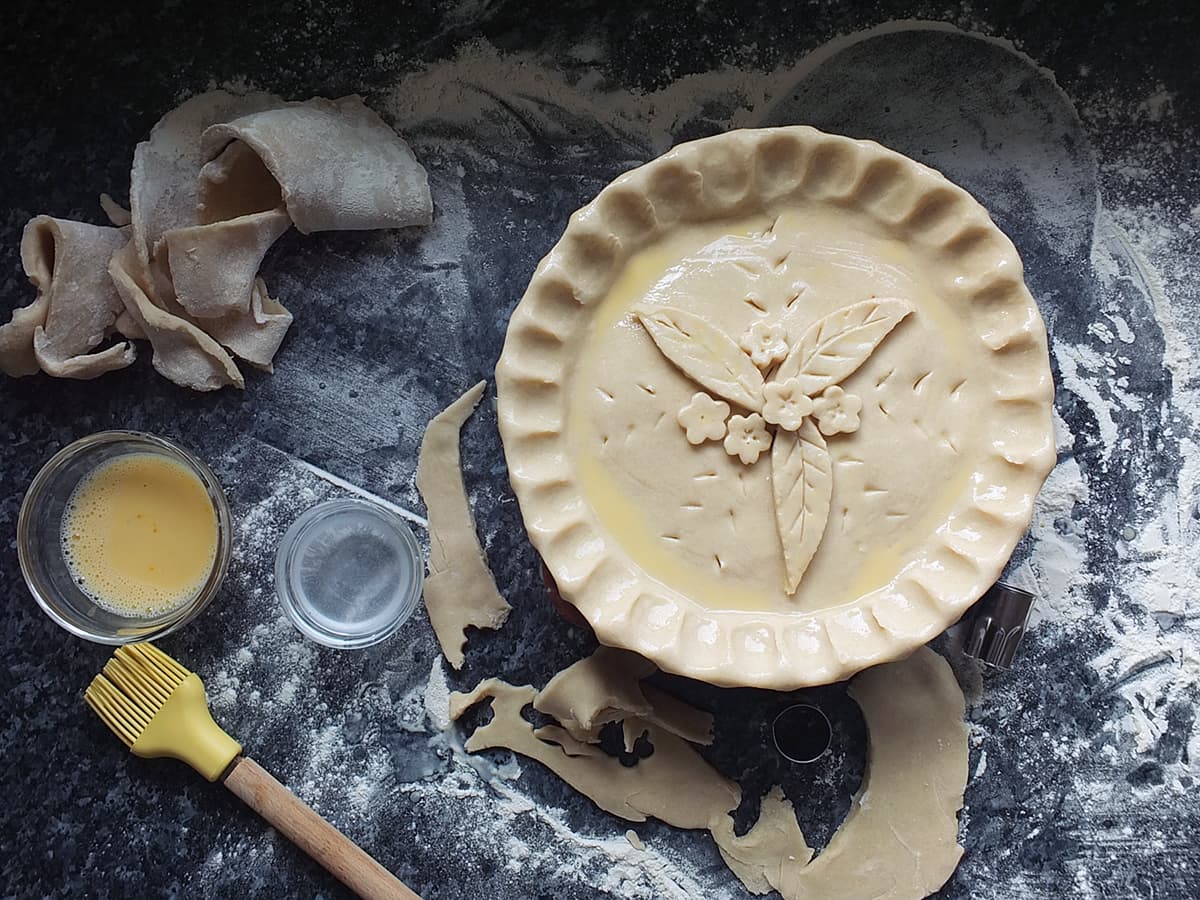 Truth be told, I'm hardly cooking a thing these days. Regular visitors to my website/social channels might have noticed this. When the lockdown restrictions were imposed I found myself unable to stop moving; I felt caged. I let this out by exercising (I can't recommend the Beachbody on Demand app enough, honestly!) and exploring the coastline (and now the sea, now that we're allowed to kayak) near my house.
I made friends with Shetland otters. I've used the opportunity to think about what sort of life I want on the other side of lockdown, the kind of people I want to surround myself in, the kind of person I want to be – in fact, the kind of person I am! There's been a lot of time for thinking, as a single woman during the lockdown.
Enough about that though… you're here for the pie pastry!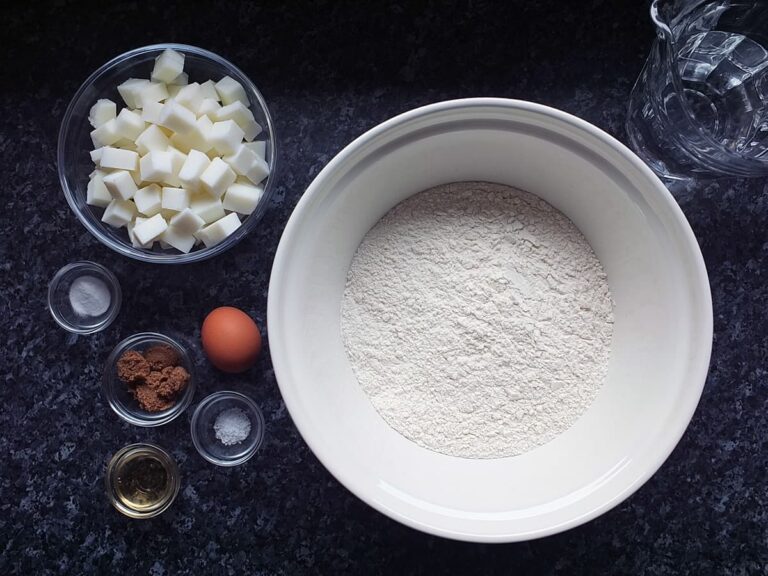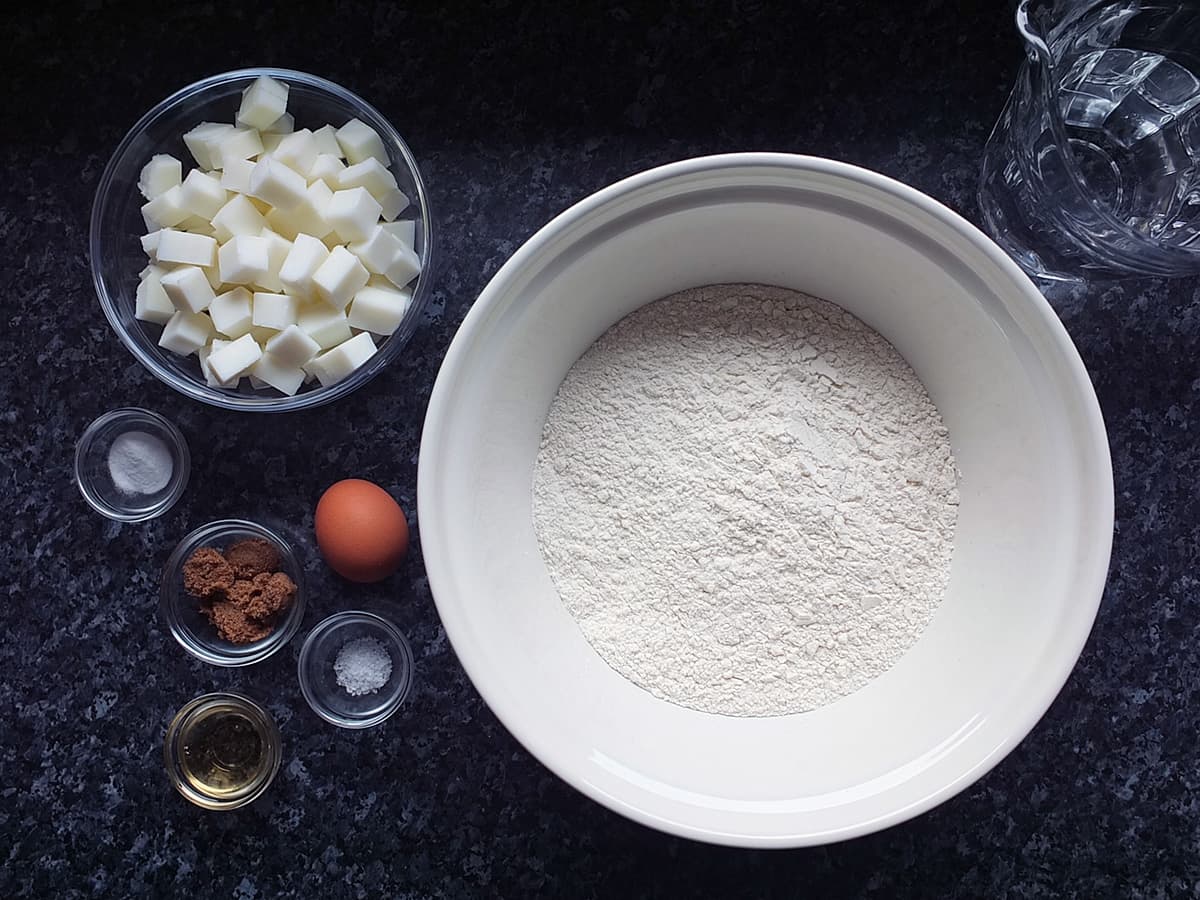 Ingredients for this easy double pie crust recipe
750 grams plain flour
450 grams lard
25 grams dark brown sugar
1/2 tsp bicarbonate of soda
1/4 tsp salt
25 ml vinegar
1 egg, lightly beaten
ice-cold water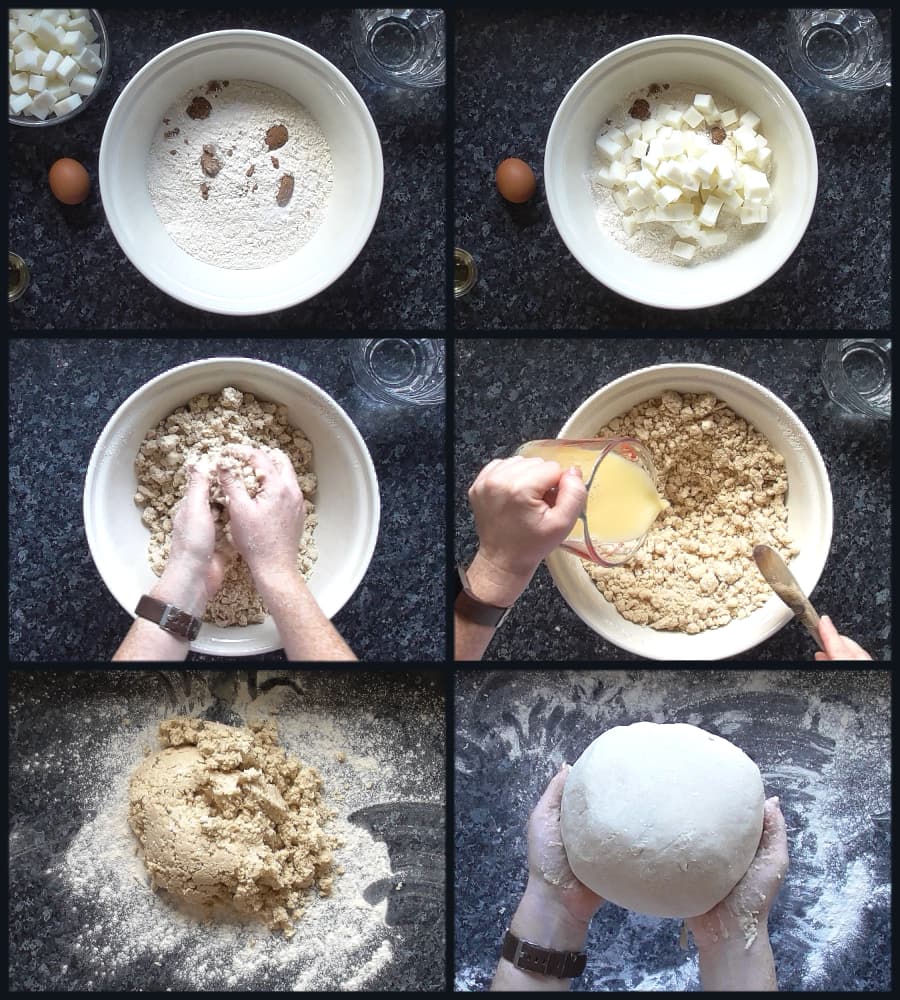 How to make a double pie crust recipe from scratch
Mix the flour, baking soda, salt and brown sugar together in a large bowl.
Add the lard, cut into small cubes.
Rub the lard into the flour mixture with your fingers until it resembles coarse breadcrumbs.
Mix the egg and vinegar in a measuring jug, and top up to 250 ml with ice-cold water.
Add the wet ingredients to the dry, stir and turn out onto a floured surface.
Knead gently until a soft, pliable dough forms. Divided into two, wrap in clingfilm and chill or freeze until needed.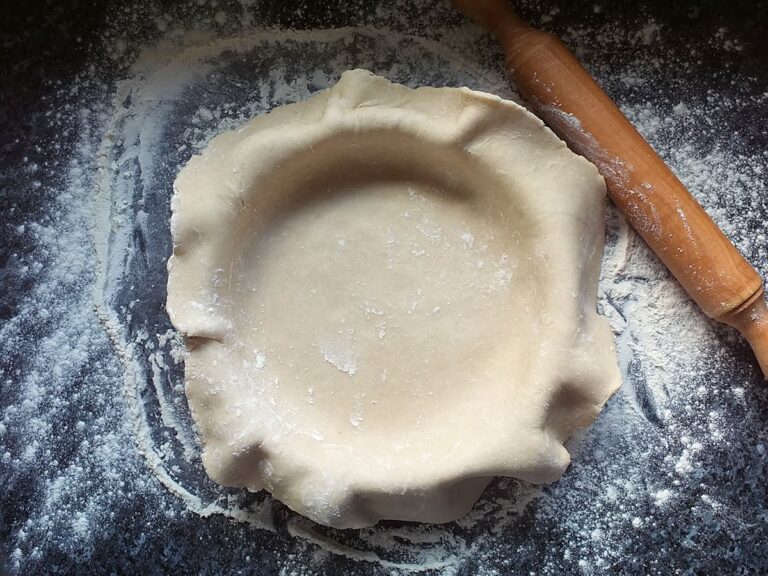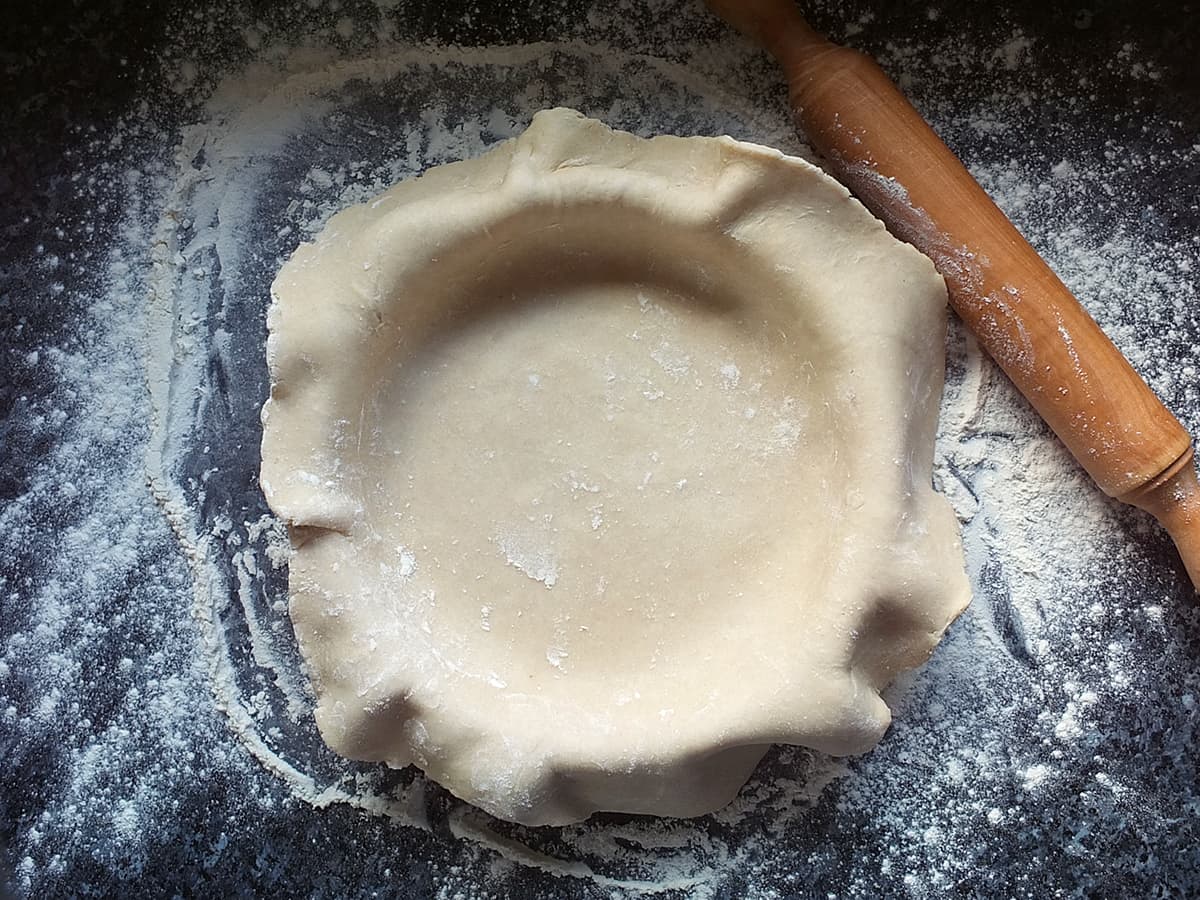 Can you freeze pie dough?
Yes! Simply wrap your flattened ball of pie dough in a freezer bag or double layer of clingfilm and pop into the freezer for up to three months. Defrost overnight in the fridge and roll it out as usual to make your pie.
How long can you freeze pie dough for?
You can freeze pie dough for up to three months.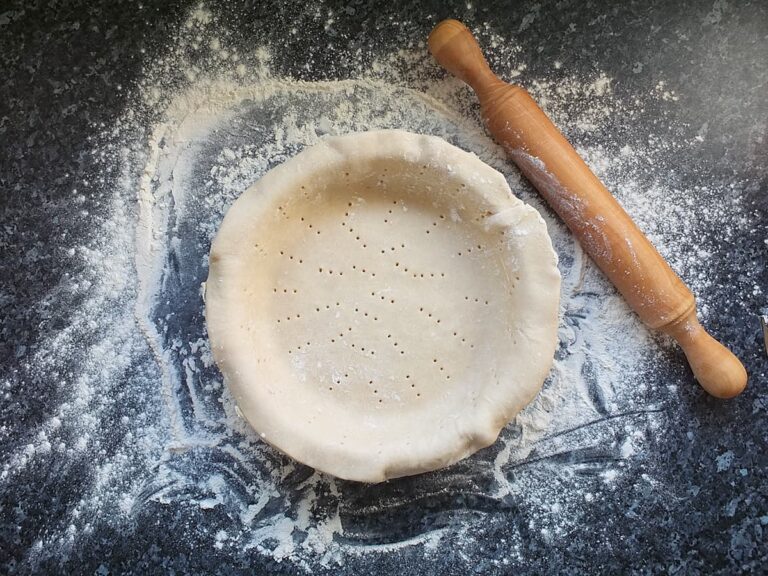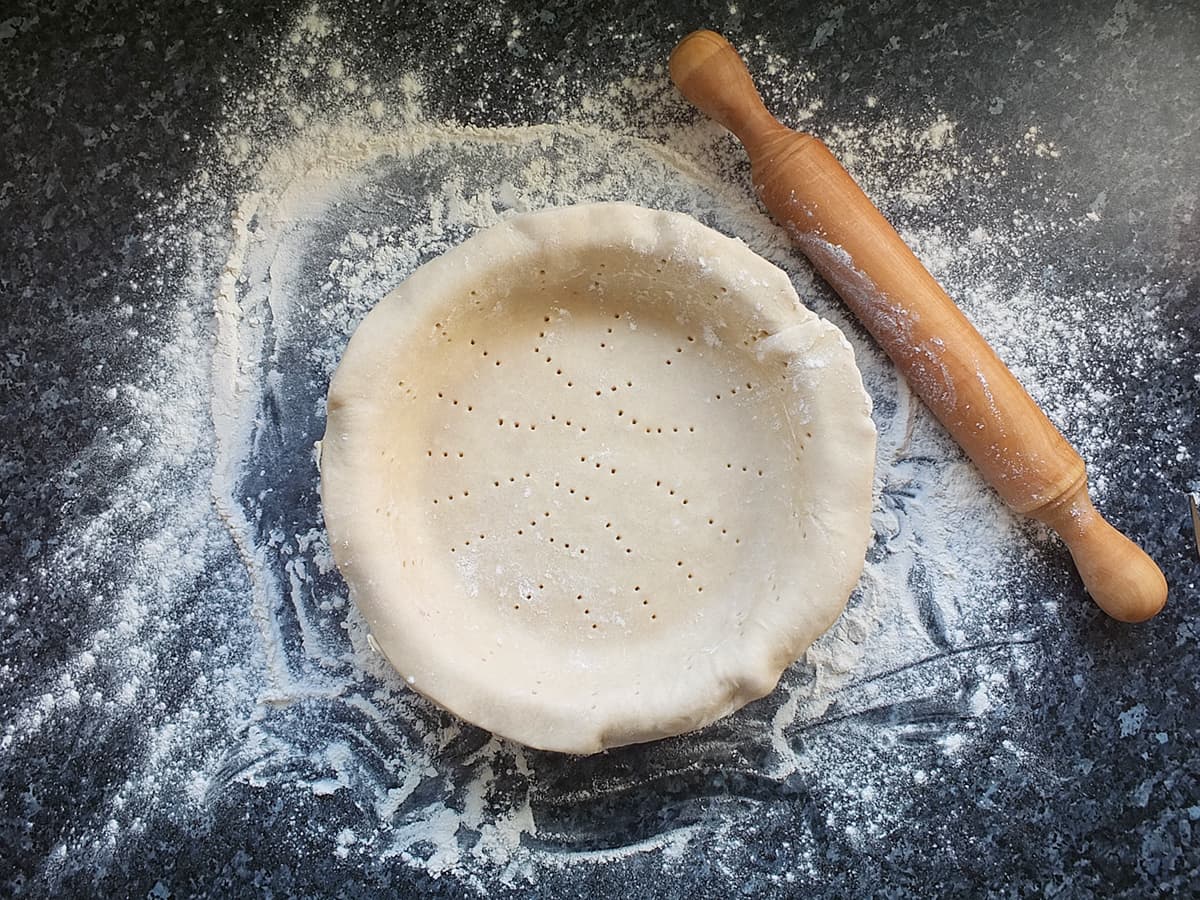 What can I make with this pie pastry recipe?
This recipe is good for both sweet and savoury pie fillings, but if you want to make a sweeter crust for a dessert, simply sprinkle the top with some demerara sugar after you've brushed it with the egg wash before baking.
Why does my pie crust tear when I roll it out?
Your pie crust may be too dry (ie: you added too much flour). Try adding a little bit more water and kneading the dough again gently.
You shouldn't have a tearing problem with this recipe as the lard content keeps the dough soft and pliable.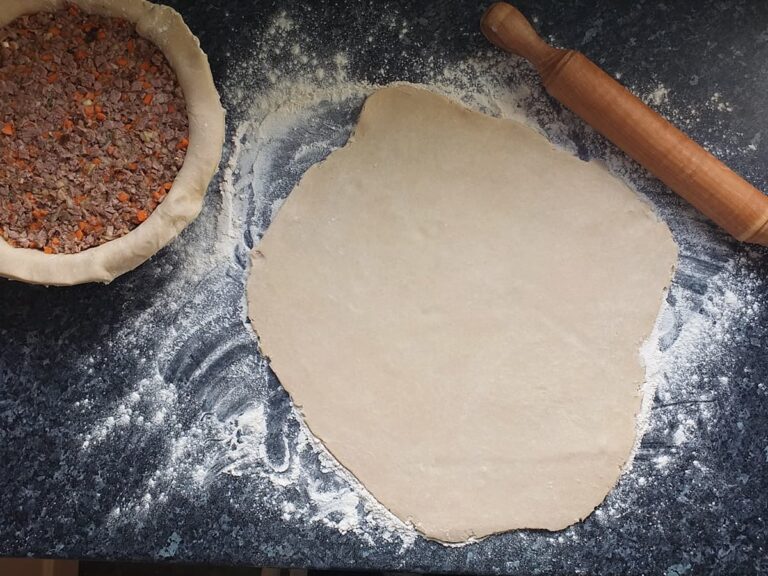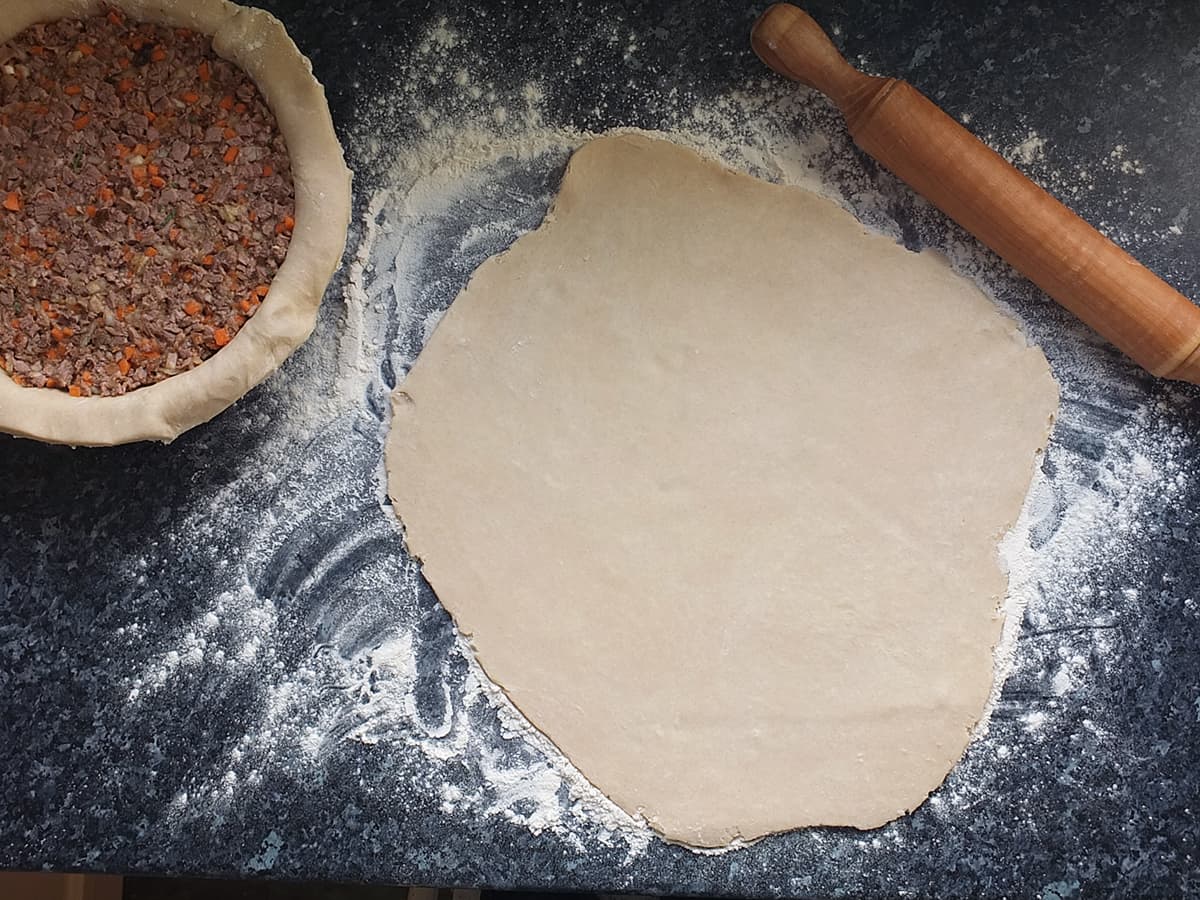 A pie crust recipe without shortening or butter
This recipe uses lard as the fat, instead of shortening or butter. If you don't want to use lard, shortening is a good substitute, but the pastry won't taste as nice.
Truth be told, this pie crust recipe and baked potatoes are the only two recipes I use lard in with my cooking.
Is lard or butter better for a pie crust?
Lard has 20% less saturated fat compared to butter, and it has a higher melting point which means it doesn't soften as quickly when you handle it.
When the pie crust is baking, the little pockets of fat melt away leaving tiny air pockets that expand because of the steam created when cooking. When lard is the fat used, the resulting pastry turns into an extremely crisp, flaky crust.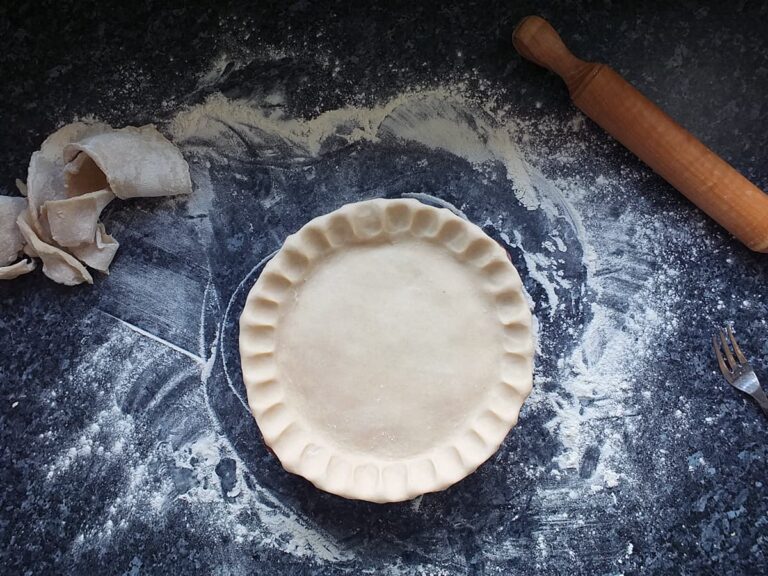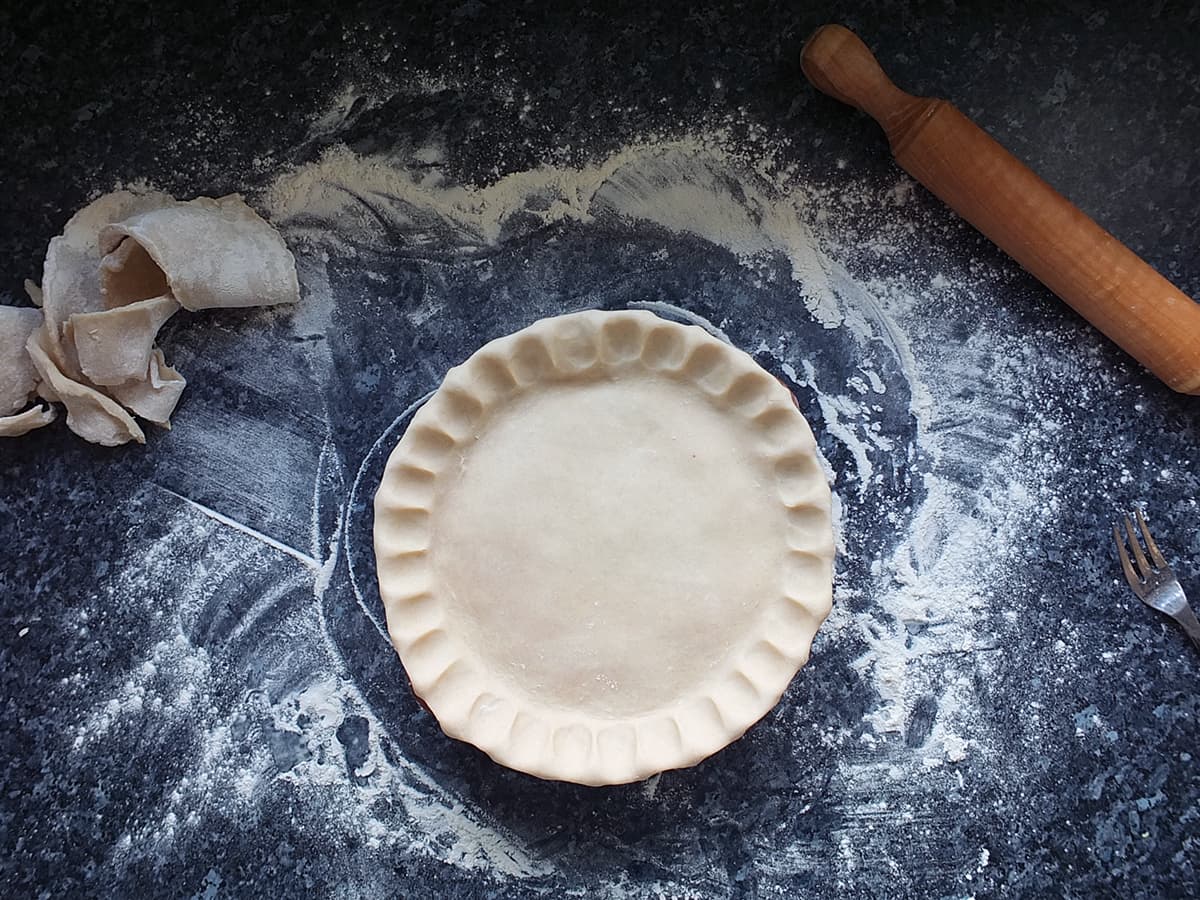 Why do you use vinegar in pie pastry?
Vinegar helps prevent the formation of gluten (a group of proteins that act as a glue, giving bread its elasticity) in the pie pastry dough which results in a flakier pastry.
How do you shape the edge of a pie crust?
I use my fingers to seal the top and bottom pie crusts together, the way my mother taught me. First, I dip a finger in cold water and wet the bottom crust slightly to stick the two layers together. Using my thumb and first fingers, I press the two layers together to form small peaks along the edge of the pie crust.
Watch the video below to see how I do it.
How to assemble, crimp and decorate pie pastry
Dust your work surface with flour and roll your chilled pastry circle with a rolling pin to a thickness of 1/8th of an inch.
Carefully lift the pastry and lay over your pie plate.
Using the sides of your hands, gently press the pastry into the pie dish.
Trim off the excess pastry around the edges, saving it for decorating later.
Prick holes in the bottom pastry with a fork.
Fill the pie and roll out the second layer of pastry.
Place on the top of the filled pie, and trim away the excess.
Use your finger to apply a little cold water between the two pastry layers to seal them together.
Using your thumbs and fore-fingers, press the two layers of pastry together into small peaks.
Decorate as desired by making shapes with the leftover pastry. Stick them to the top crust with a little cold water.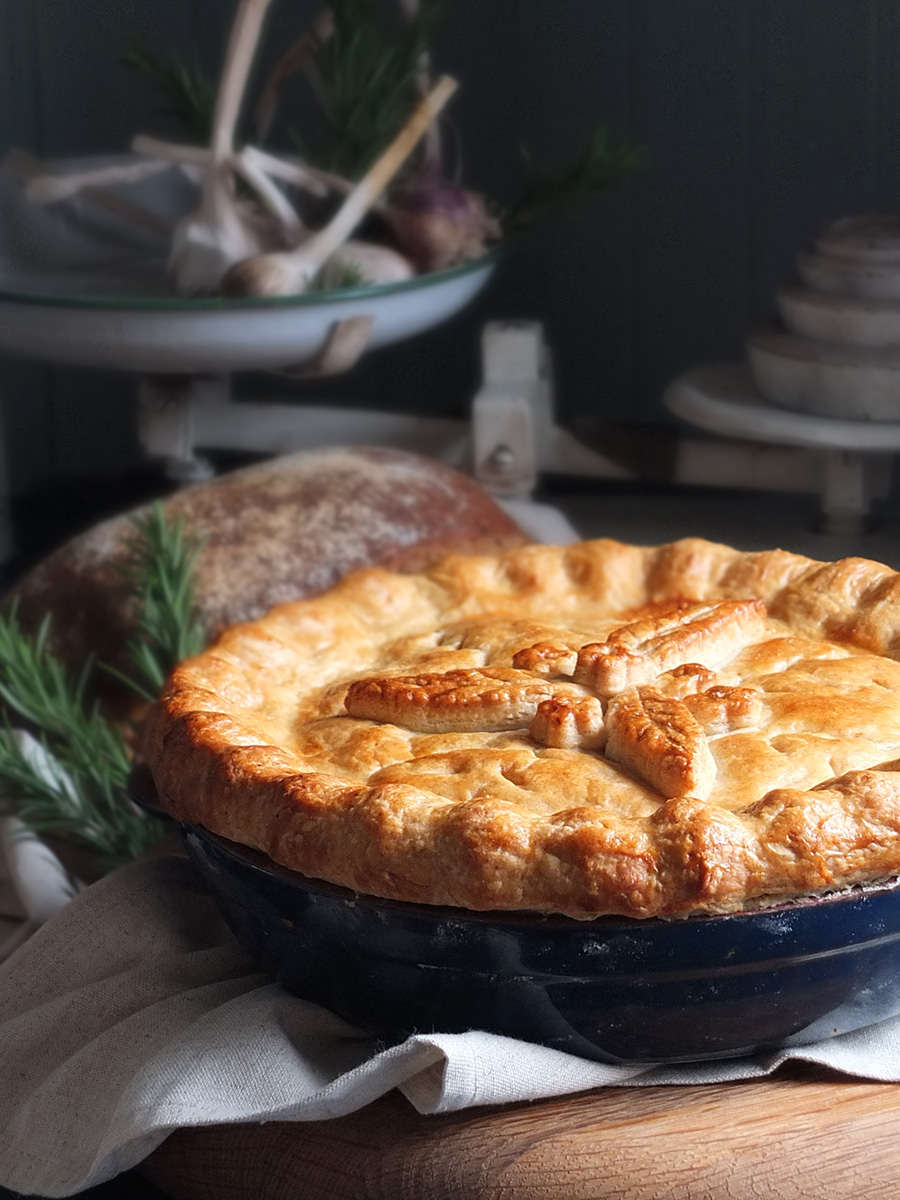 Leftover roast lamb & rosemary pie
My favourite way to use this pie pastry recipe is in a leftover roast lamb or beef pie, the way my mother used to make it. Well, truthfully, she used my grandmother's meat grinder to grind cold Sunday roast into fine bits along with a carrot, onion and leftover gravy (always Bisto), but here's my leftover roast lamb and rosemary pie recipe, if it interests you.
I'd love to see your pie creations! If you do make my recipe, share a photo on Instagram and tag me @tangoraindrop!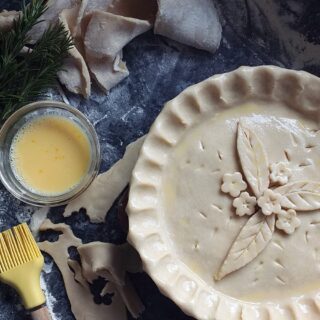 Easy Double Pie Crust Recipe
This pie crust recipe was my English grandmother's recipe, brought over with her to Canada when she immigrated just after the Second World War. 
Print
Rate
Affiliate Links
This recipe card may contain affiliate ingredient and equipment links. As an Amazon Associate I earn from qualifying purchases.
Instructions
Mix the flour, baking soda, salt and brown sugar together in a large bowl.

Rub in the lard with your fingertips until it resembles coarse breadcrumbs.

Top up with enough ice-cold water to measure 250 ml.

Pour the wet ingredients into the dry and mix well.

Turn the dough out onto a floured surface.

Knead until a soft, pliable dough forms.

Divide the dough into two discs and wrap in cling film.

Chill or freeze until needed.
Nutrition
Calories:
127
kcal
|
Carbohydrates:
26
g
|
Protein:
4
g
|
Fat:
1
g
|
Saturated Fat:
1
g
|
Cholesterol:
7
mg
|
Sodium:
54
mg
|
Potassium:
76
mg
|
Fiber:
2
g
|
Sugar:
1
g
|
Vitamin A:
951
IU
|
Vitamin C:
7
mg
|
Calcium:
50
mg
|
Iron:
2
mg
Environmental Information
Other recipes you can make with this pie pastry
A taste of home, this roast lamb and rosemary pie is made from leftover roast lamb and gravy encased in my grandmother's crispy, flaky perfect pastry.
Perfect for picnics, this simple sausage roll recipe will be sure to impress children and adults alike.
Pin this recipe for later
This recipe post contains Amazon Associates affiliate links, which means if you click through them and make any subsequent purchase in the next 24 hours we will earn a small commission at no extra cost to you. Thank you for supporting my family through these purchases; it saves me from having to go get a real job.