In collaboration with Tasty, Easy Lamb.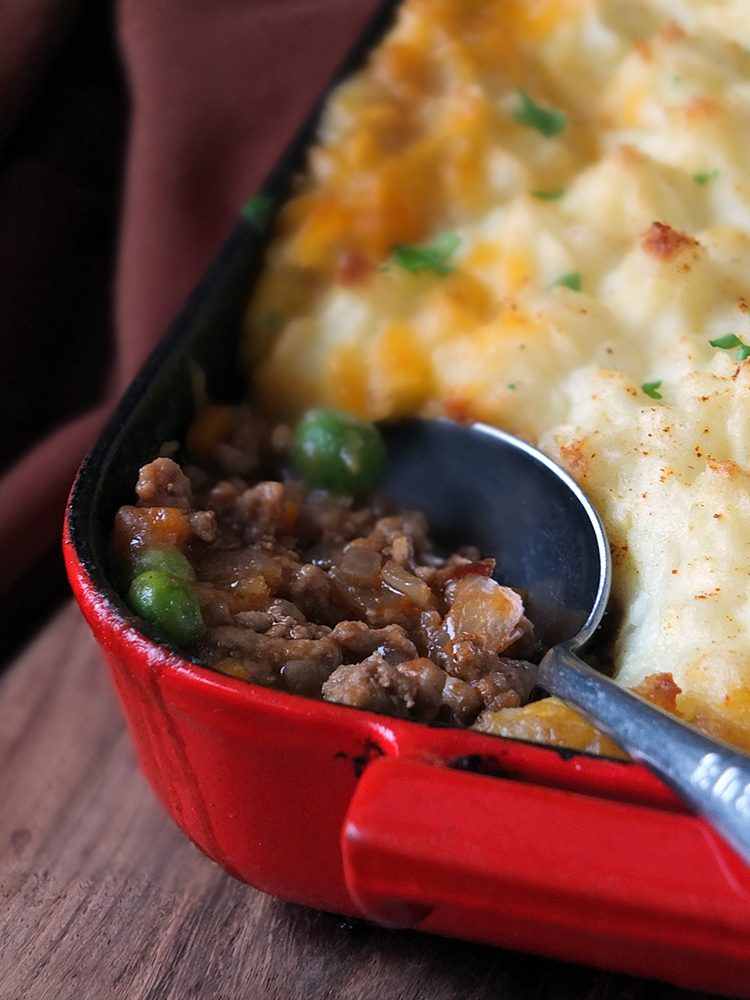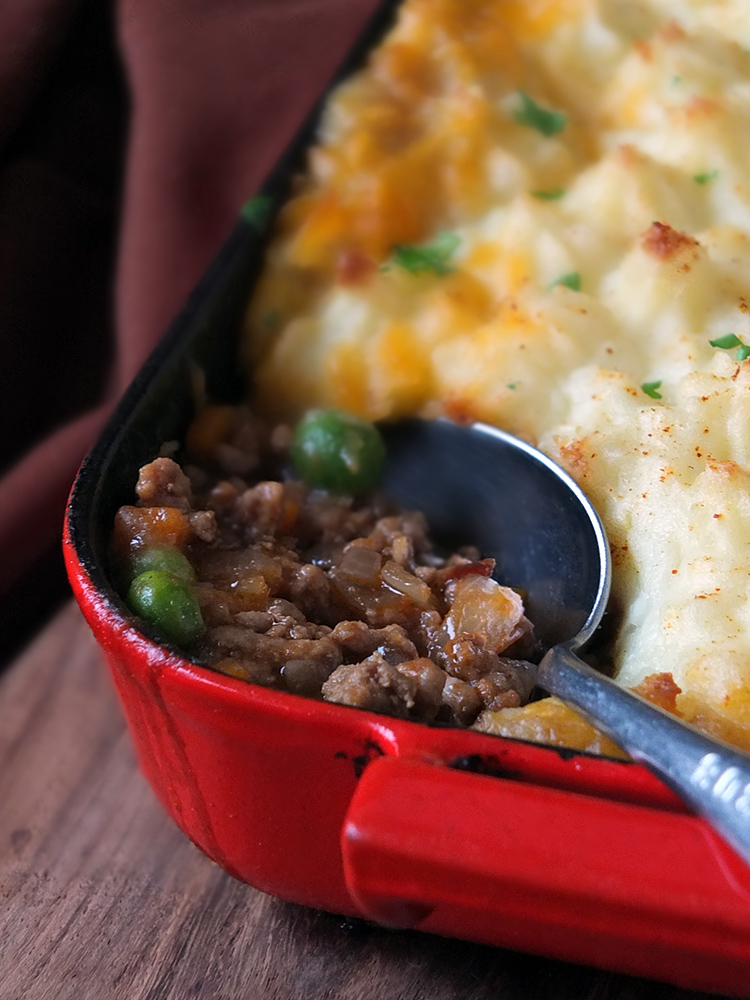 Did you know that Shepherds' Pie is usually made with lamb mince? A mashed potato topped pie made with beef mince is called a 'Cottage Pie', a term coined around 1791 when potatoes were introduced as an edible crop affordable for the poor.
It's a cheap and simple dish to make, and for many Scots, it's the epitome of comfort food. The term 'Shepherds' Pie' didn't appear until 1854 in The Practice of Cookery and Pastry by a Mrs. I. Williamson of Edinburgh, where she writes:
Shepherd's Pie. Take cold dressed meat of any kind, roast or boiled, slice it, break the bones, and put them on with a little boiling water, and a little salt, boil them until you have extracted all the strength from them, and reduced it to very little, and strain it. Season the sliced meat with pepper and salt, lay it in a baking dish, pour in the sauce you strained, and add a little mushroom ketchup. Have some potatoes boiled and nicely mashed, cover the dish with the potatoes, smooth it on the top with a knife, notch it round the edge and mark it on the top the same as paste. Bake it in an oven, or before the fire, until the potatoes are a nice brown.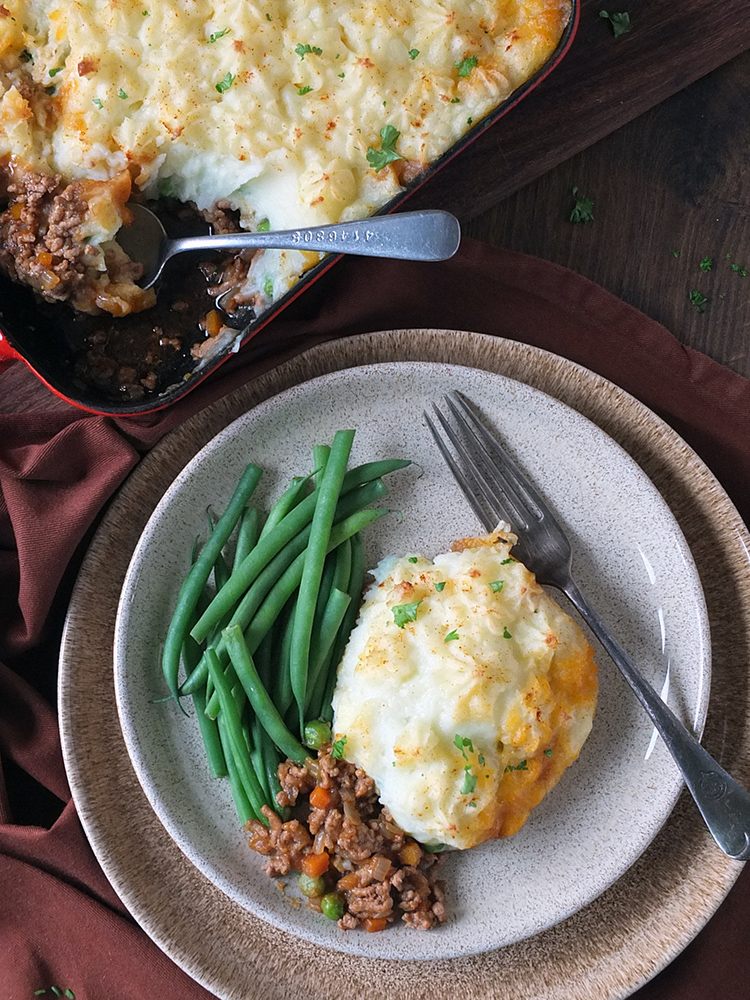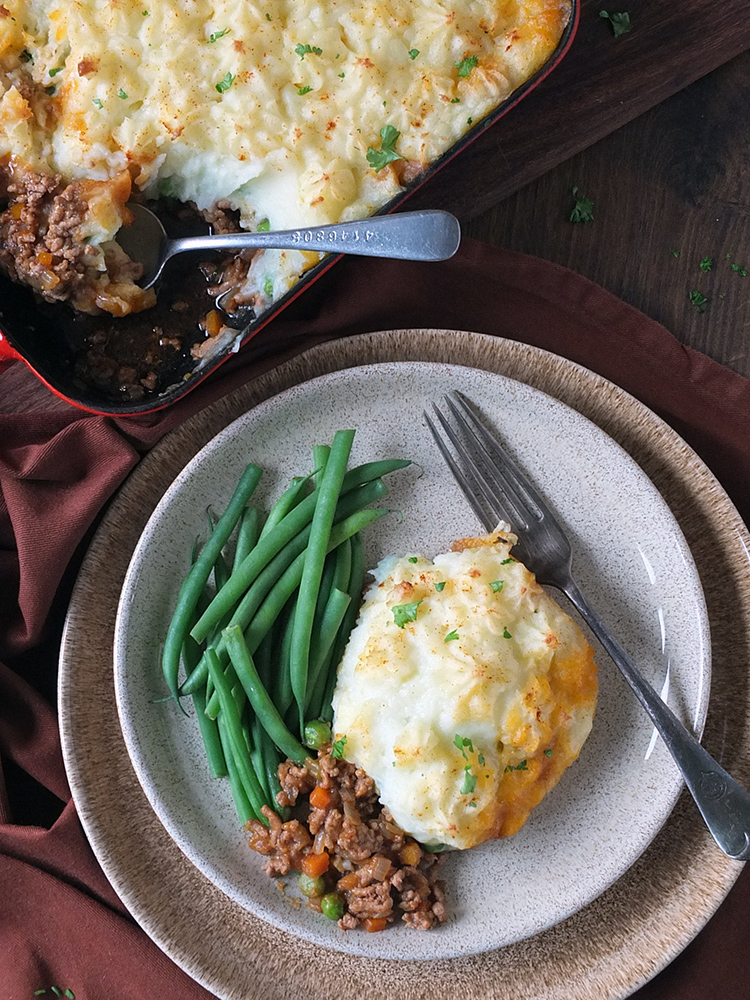 It's a dish of my childhood that brings back that nostalgic, warming comfort feeling when eaten. My recipe is slightly different to the one I grew up on which was minced meat cooked with a tin of condensed vegetable soup topped with mashed potatoes. For my recipe, I've added a little tomato puree, carrot, celery, onion and stock which is reminiscent of that vegetable soup blend flavour that I remember but feel free to omit the puree or replace it with mushroom ketchup if you want a more traditional taste.
Another thing I do with my Shepherds' Pie, and I didn't wonder why until I was making this dish to photograph for this blog post, is to sprinkle a little bit of smoked paprika across the top before baking. My mother used to do that, and I do it too, just because it was the done thing. There's not enough paprika to add any flavour whatsoever, but there is just enough for my eight-year-old son to query, "Mum, what is that?" pointing to a minuscule fleck of colour. True story!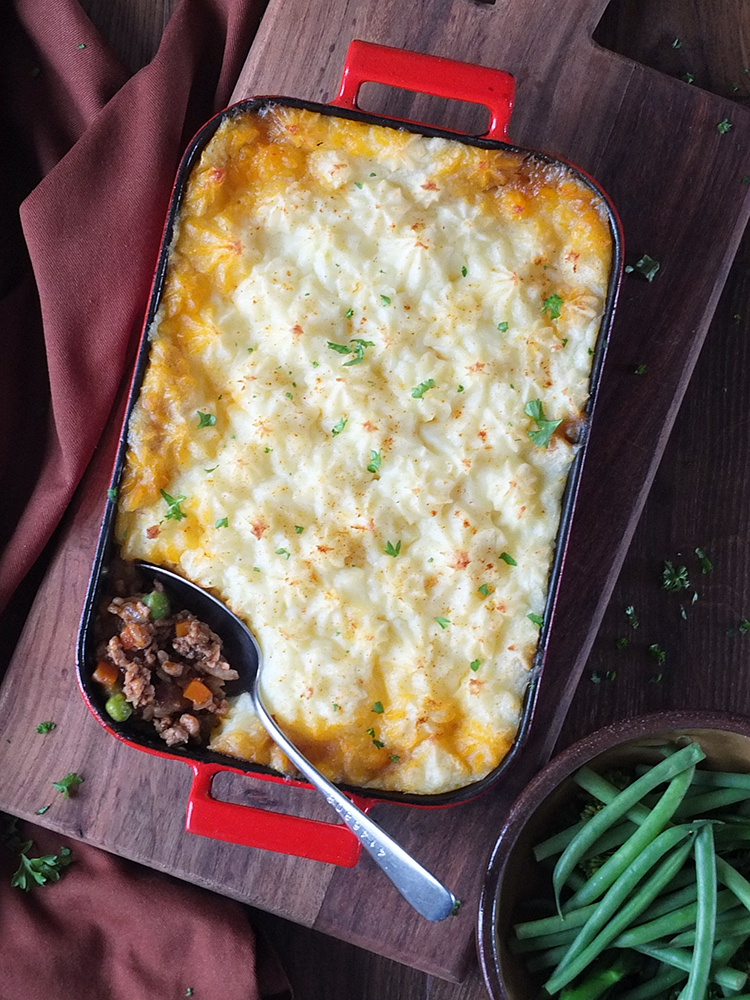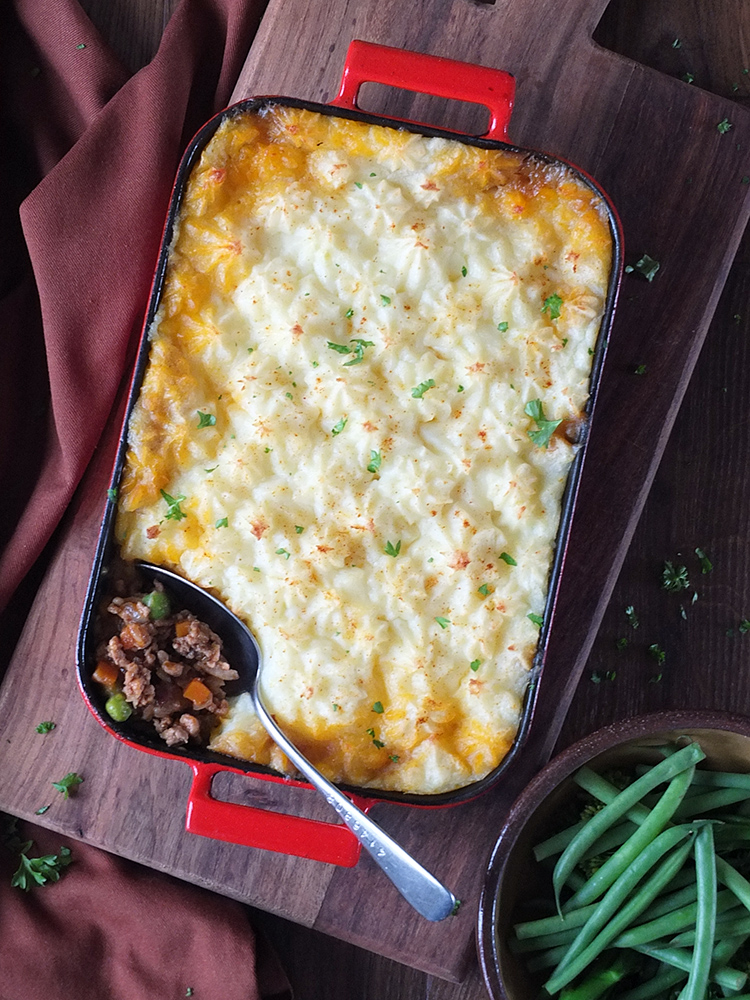 My variations of this dish might include sprinkling some mature grated cheddar cheese across the top before baking, or replacing the frozen peas with a layer of buttery leeks, depending on how many have appeared in my veg box that week. Sometimes I'll sprinkle some dried parsley across the top too, for a splash of green.
I have also been known to eat my Shepherds' pie with a hearty glug of tomato ketchup squirted across the top. True story. Yum!
For more lamb recipe inspiration visit the Tasty Easy Lamb website, and follow them on Facebook, Twitter or Instagram.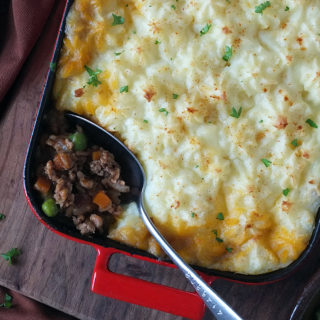 Classic Shepherd's Pie Recipe
The classic shepherd's pie is the ultimate cold-weather comfort food. A layer of gravy and onion flavoured minced lamb is topped with creamy mashed potatoes.
Print
Rate
Ingredients
for the mashed potato topping
Affiliate Links
This recipe card may contain affiliate ingredient and equipment links. As an Amazon Associate I earn from qualifying purchases.
Instructions
Preheat oven to 200 C/ 180 C fan.

Boil potatoes for 15 minutes or so until fork tender. Carefully drain using a colander and return the potatoes to the hot pan. Place the pot on the still-hot hob to steam the potatoes dry for a few minutes, shaking occasionally so they don't burn.

Mash with the butter and milk so that it reaches the desired consistency. Set aside to cool while you prepare the filling.

Heat the butter and oil in a saute pan, and gently fry the onion, celery and carrot for 5-10 minutes until it begins to soften.

Add the garlic and cook a further minute or so before addding the lean lamb mince. Saute until browned.

Add the thyme, tomato puree, Worcestershire sauce and lamb stock (from a stock cube is fine) and simmer for 10 minutes until the gravy has thickened.

Arrange the lamb mixture on the bottom of a casserole dish, top with a layer of frozen peas and pipe or spoon the mash over the top.

Dot a little butter over the top of the mashed potatoes, sprinkle with some paprika, if desired, and bake in the centre of the oven for 30 minutes.
Environmental Information
OTHER LAMB RECIPES YOU MIGHT LIKE
Slow Cooked Lamb Shanks with Vegetables & Gravy
Indian Tapas: Lamb, Pea & Potato Mini Samosas
Slow-Cooked Lamb Casserole with Broad Beans & Apricots
Ten-Minute Honey Ginger Lamb Stir-Fry
Grilled Lamb Kibbeh Kebabs
Slow-Roasted Rack of Lamb with a Creamy Mustard Tarragon Sauce
BBQ Lamb Leg Steaks in a Herb Marinade
Leftover Roast Lamb & Mint Sausage Rolls
Quick & Easy BBQ Lamb Skewers
15-Minute One-Pan Lamb & Quinoa Midweek Supper
Street Food: Brazilian-Style Lamb Kibe
Chilean-inspired Lamb Burgers with Pebre & Marraqueta Buns
Brazilian-inspired Lamb Feijoada with Mango Salsa
Slow Cooker Lamb Chilli with Pasilla Peppers
Argentine-inspired Lamb Chops with Chimichurri
Lamb Casserole with Ale
Slow-cooked Shetland Lamb Casserole with Creamy Herbed Polenta
Pastitsio – Greek Macaroni Pie
This is a commissioned recipe for Tasty, Easy Lamb. Thank you for supporting the brands who make it possible for me to do what I love: mess up my kitchen and share recipe stories!
[color-box]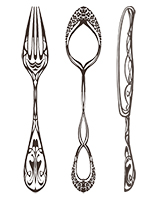 Have you made this recipe?
Take a photo and tag @tangoraindrop or use the hashtag #elizabethskitchendiary and share on Instagram and Twitter. It would make my day to see your creations!
[/color-box]