A recipe from the cookery book East by West by Jasmine Hemsley.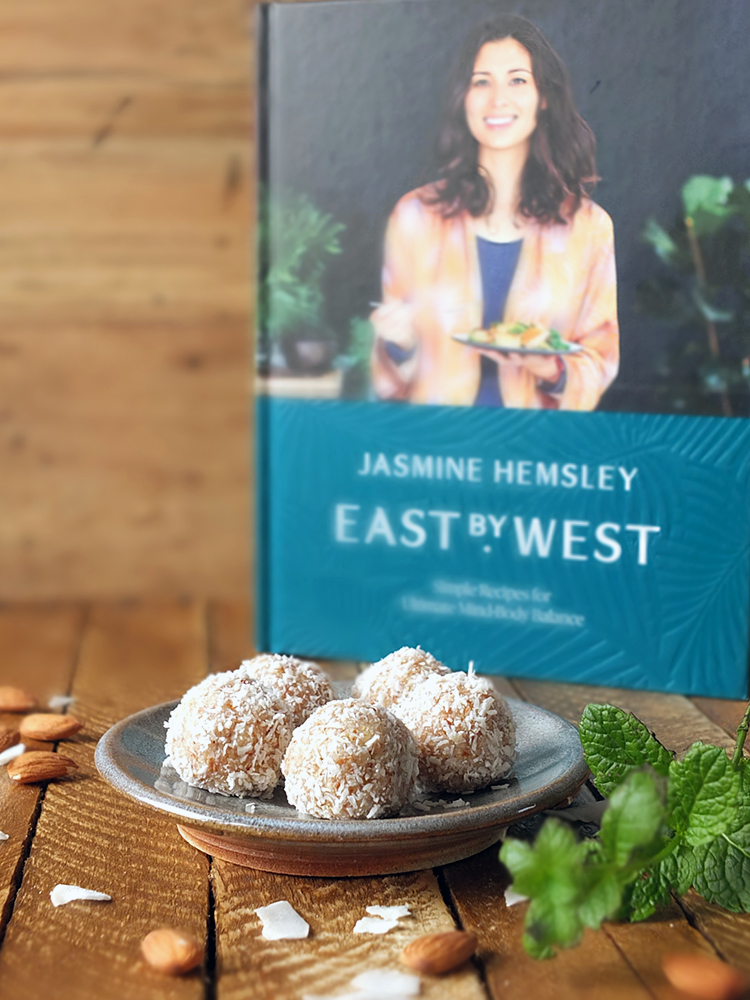 Cookbooks are such a wonderful creation, aren't they? I mean, I know the internet is filled with creative recipe ideas and you simply need to search for a few ingredients to come up with recipes to make, but there's something very satisfying with curling up on the couch on a winter's day and turning the pages of a well-written and photographed cookery book.
East by West is the latest addition to my cookery book collection; the first solo cookbook from bestselling author, cook and TV presenter Jasmine Hemsley, co-founder of Hemsley + Hemsley. Featuring 140 delicious recipes from around the world, East by West champions the ancient Ayurvedic philosophy of eating to nourish, sustain and repair for ultimate mind-body balance. It's a treasure trove of information, inspiration and delicious recipes.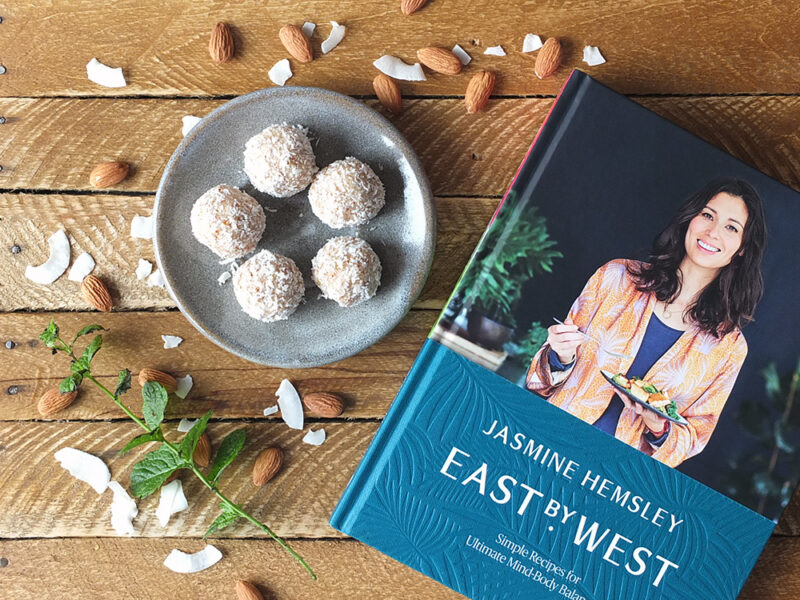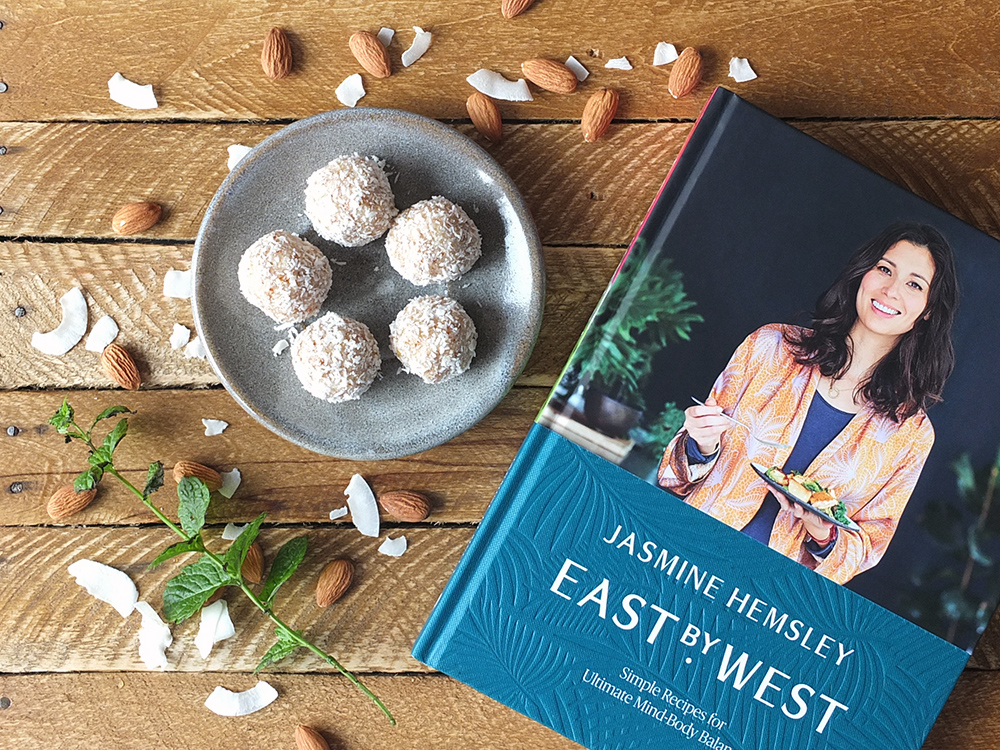 Jasmine continues her passion for balancing body, mind and spirit amidst the challenges of our fast-paced day-to-day lives, through real food and tasty home cooking. With a focus on listening to your body, eating when you're hungry, being conscious of what you're eating when you're eating it and choosing foods that are right for your mood from day to day, East by West is a modern take on the Ayurvedic principles.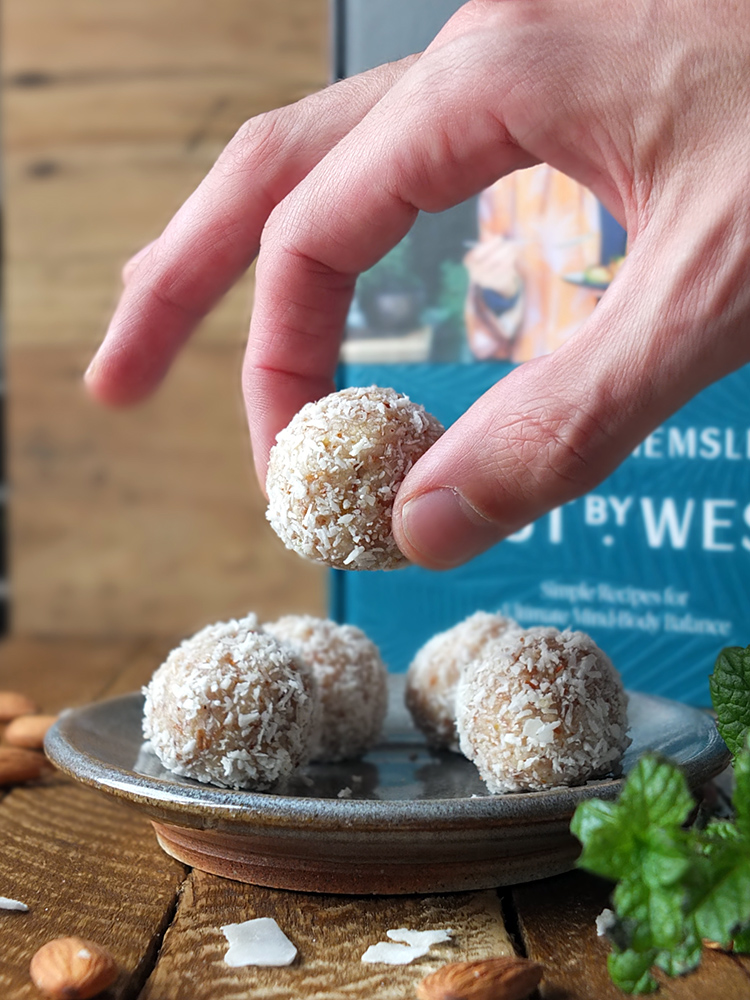 With classic Ayurvedic comfort dishes from Golden Milk to Kitchari and great family sharing dishes such as Sesame Roast Chicken to Saffron Millionaire Cheesecake, the book has something for every taste (bringing to life store cupboard basics to create dishes) from super simple to simply special.
A global range of recipes, together with simple mindful rituals and a classic cleanse to revisit when your energy levels need a boost help the book bring Ayurveda to life in a fresh and friendly way. Packed with beautiful colour photography and inspired by Jasmine's personal journey with food and healthy living, East by West represents a delicious evolution of the ideas explored in Hemsley + Hemsley bestsellers Good + Simple and The Art of Eating Well.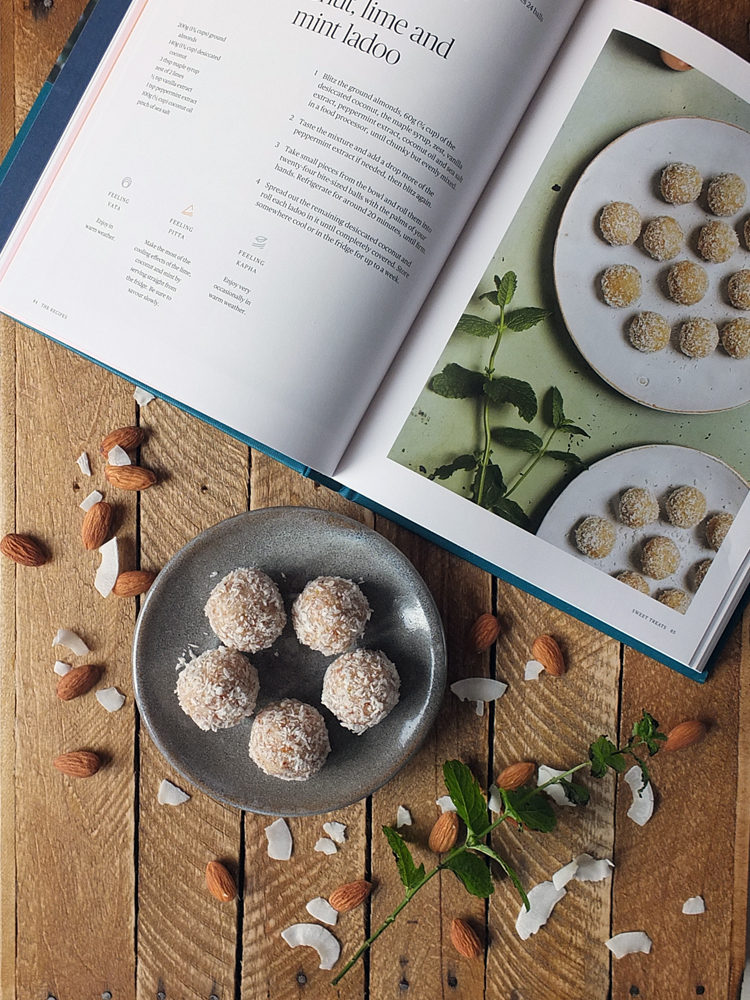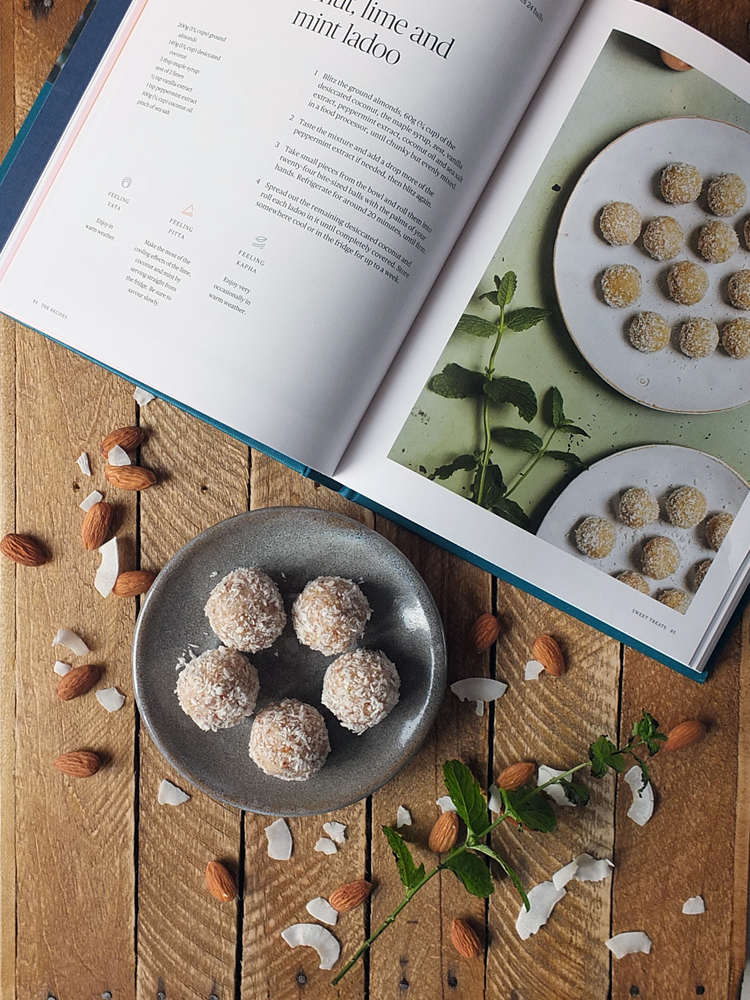 While flipping through the cookbook I found an easy recipe I just happened to have all the ingredients for in my store cupboard – coconut, lime and mint ladoo.
Jasmine writes: "The original bliss ball, or 'energy ball', an Indian ladoo, is a ball-shaped sweet that's usually made of nuts and dried fruit. The traditional name in Ayurveda is 'modak', which means a preparation that makes the inner body happy. Pilgrims were traditionally given ladoos on arrival at the holy sites, to boost energy and strengthen the spirit during meditation and prayer. The process of turning the quick mixture into even-sized balls is like a little mediation in inself! And a fun one to involve the kids. In Ayurveda, ladoos are seen to promote Agni and so make the perfect starter for lunch."
I have been given permission to reproduce one of Jasmine's recipes below, a recipe for a delicious coconut, lime and mint ladoo. Scroll down to the bottom of this and fill out the Rafflecopter entry form to win a copy of East by West too!
Jasmine Hemsley is an author, chef and entrepreneur with influence well beyond the culinary world. With a passion for eating well to feel great, Jasmine believes in conscious, healthy and joyful living, and has inspired a global audience to shift their perspectives on food. She is the co-founder of Hemsley + Hemsley, East by West, and Sound Sebastien. Jasmine's first solo book – East by West: Simple Ayurvedic Recipes for Ultimate Mind-Body Balance, was published in November 2017.
Book: East by West – Simple Recipes for Ultimate Mind-Body Balance
Author: Jasmine Hemsley
ISBN: 978-1-509858-125
Publication Date: 2 November 2017
Cover: Hardback* and Kindle* (*Amazon affiliate links)
RRP: £25.00 (UK) but currently on offer for only £12 through Amazon.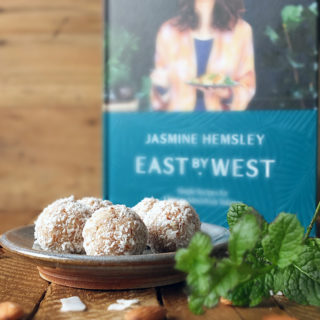 Coconut, Lime & Mint Ladoo "Energy Balls"
The original bliss ball or 'energy ball' is an Indian ladoo made from nuts and dried fruit. These were traditionally served to pilgrims on their arrival to holy sites to energize and revive. Recipe from East to West. Reproduced with permission.
Print
Rate
Affiliate Links
This recipe card may contain affiliate ingredient and equipment links. As an Amazon Associate I earn from qualifying purchases.
Instructions
Blitz the ground almonds, 60 grams of the desiccated coconut, the maple syrup, zest, vanilla extract, peppermint extract, coconut oil and salt together in a food processor until chunky but evenly mixed.

Taste the mixture and add a drop more of the peppermint extract if needed, then blitz again.

Take small pieces from the bowl and roll them into twenty-four bite-sized balls with the palms of your hands. Refrigerate for around twenty minutes, until firm.

Spread out the remaining desiccated coconut and roll each ladoo in it until completely covered. Store somewhere cool or in the fridge for up to a week.
Environmental Information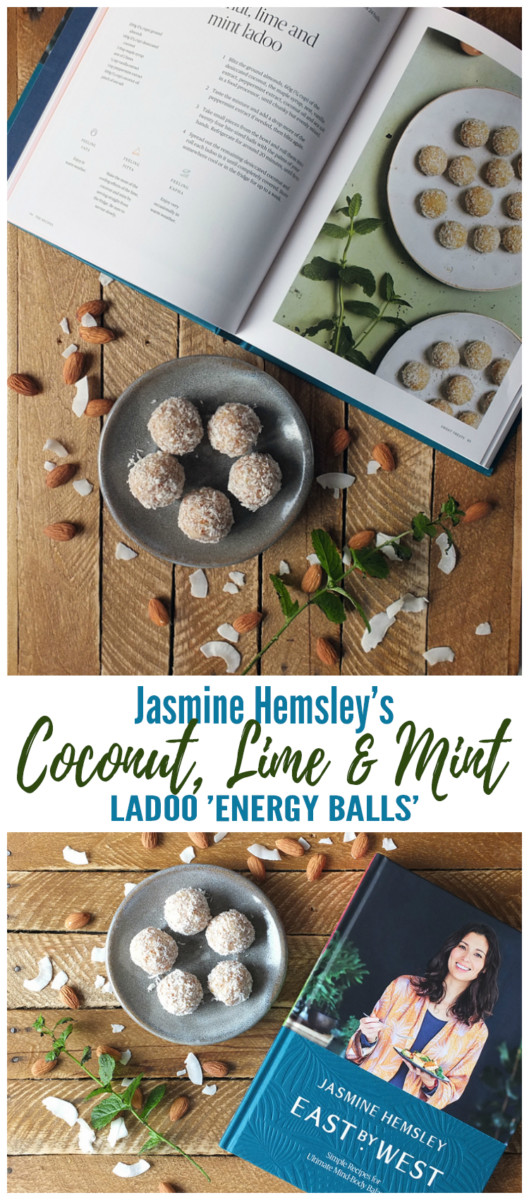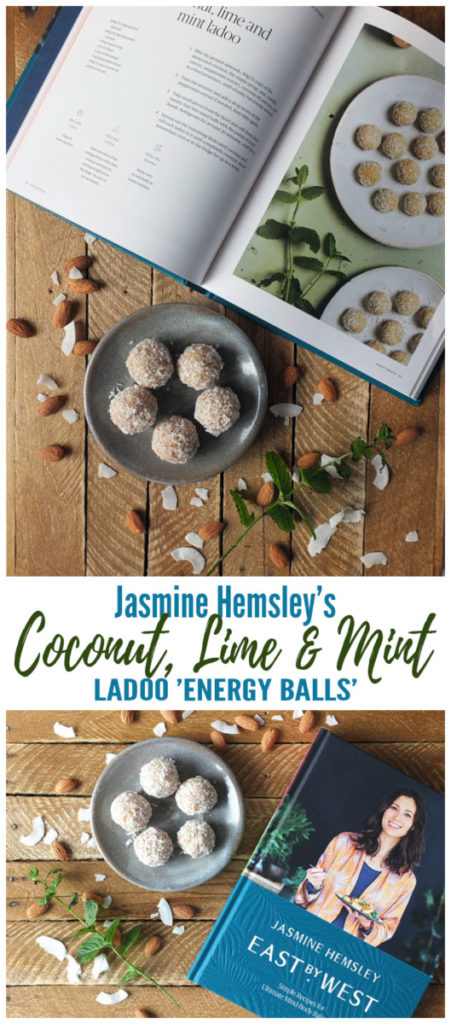 EAST BY WEST GIVEAWAY
Pan Macmillan Publishers have sent me a second copy of East by West to offer as a giveaway to my UK readers!
HOW TO ENTER
For your chance to win a hardback copy of Jasmine Hemsley's East by West cookery book worth £25 enter using the Rafflecopter form below. Come back and tweet about the giveaway every day for more chances to win!
TERMS & CONDITIONS
This giveaway is open to UK entries only. Entrants must be age 18 or over. The winners will need to respond within 30 days of being contacted; failure to do this may result in another winner being selected.
The prize is offered and provided by Pan MacMillan. The prize is to win a hardback copy of Jasmine Hemsley's East by West cookery book worth £25. There is no cash alternative and the prize is not transferable.
There is no entry fee and no purchase is necessary to enter this giveaway. The promoter (Elizabeth's Kitchen Diary) reserves the right to cancel or amend the giveaway and these terms and conditions without notice.
Entry into our giveaways will be deemed as acceptance of these terms and conditions.
If you need some help using Rafflecopter, here's a quick clip to show you how. Rafflecopter will pick the winners at random from all the entries received. I will be verifying entries and any automated entries or those who have claimed they have made the mandatory blog post comment and really haven't will be disqualified. It's mandatory! Please make sure your comment is eight words or longer or Google views it as spam. >>>>> All entries with comments fewer than the mandatory 8 words will be disqualified. <<<<<
Closing date is midnight (that's 00:00 hours, 12 am on Sunday night/Monday morning) on Monday 11 December 2017 (GMT) and the winner will be announced shortly afterwards.
[color-box]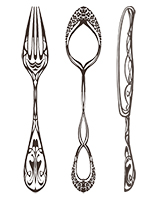 Have you made this recipe?
Take a photo and tag @tangoraindrop or use the hashtag #elizabethskitchendiary and share on Instagram and Twitter. It would make my day to see your creations!
[/color-box]
This is a sponsored recipe post in collaboration with Pan Macmillan. Thank you for supporting the brands who make it possible for me to do what I love: mess up my kitchen and share recipe stories.