This traditional British hand-raised pork pie recipe consists of a roughly chopped pork filling enveloped in hot water crust pastry. This River Cottage recipe, shared with permission, is from the River Cottage Cooking Diploma from Learning with Experts.
**This post contains affiliate links.**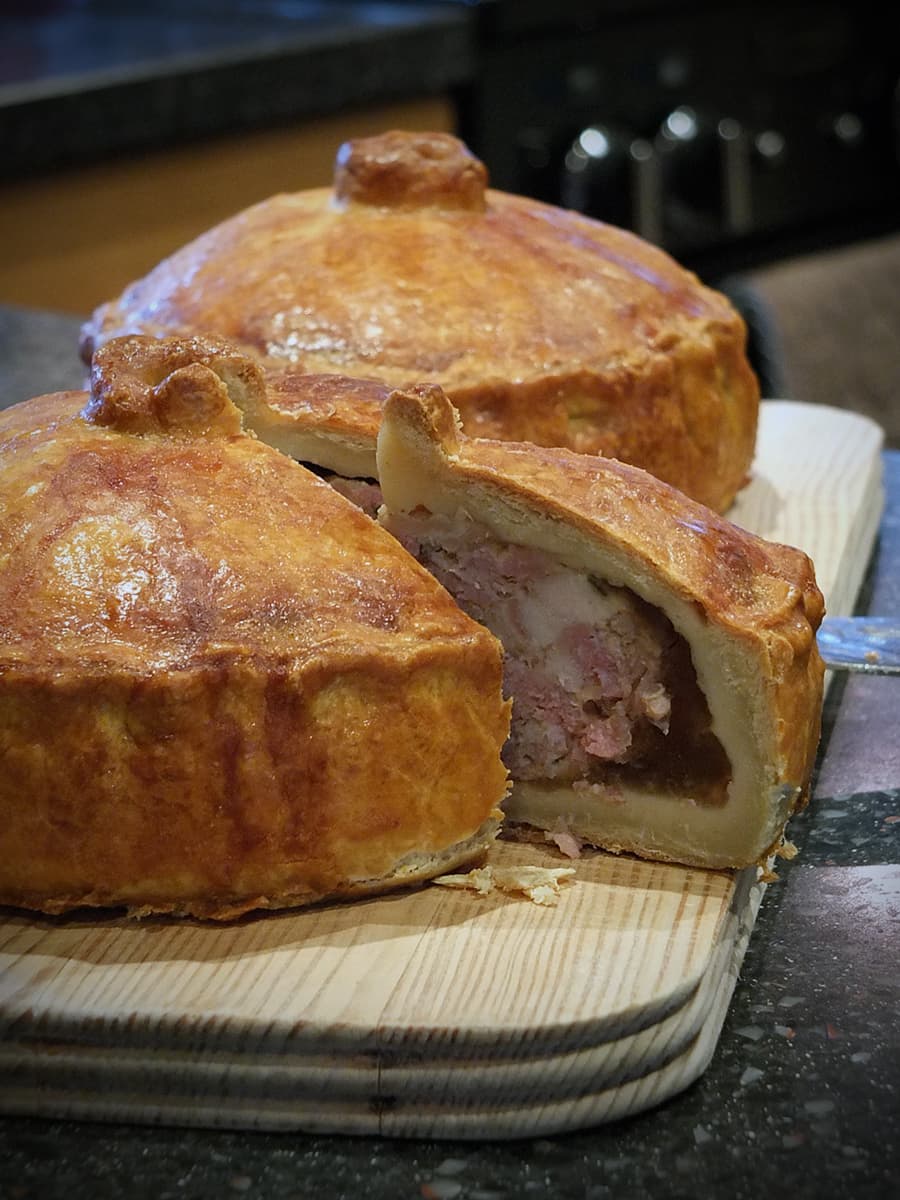 My very first ever pork pie
I have a confession to make: the photo above is of my first ever pork pie. I'd never made one before, and, believe it or not, I'd also never heard of, let alone made, hot water crust pastry before.
I'm rather chuffed with my first attempt!
This recipe was made and photographed as one of four assignments for The Pie Shop course from Learning with Experts, an online pastry course taught by Tom Morrell. This course is one of twelve cooking classes comprising The River Cottage Cooking Diploma, which I began last Autumn.
Yes, dear reader, after nine years of writing a food blog, I have gone back to school, and I'm learning how to cook, properly!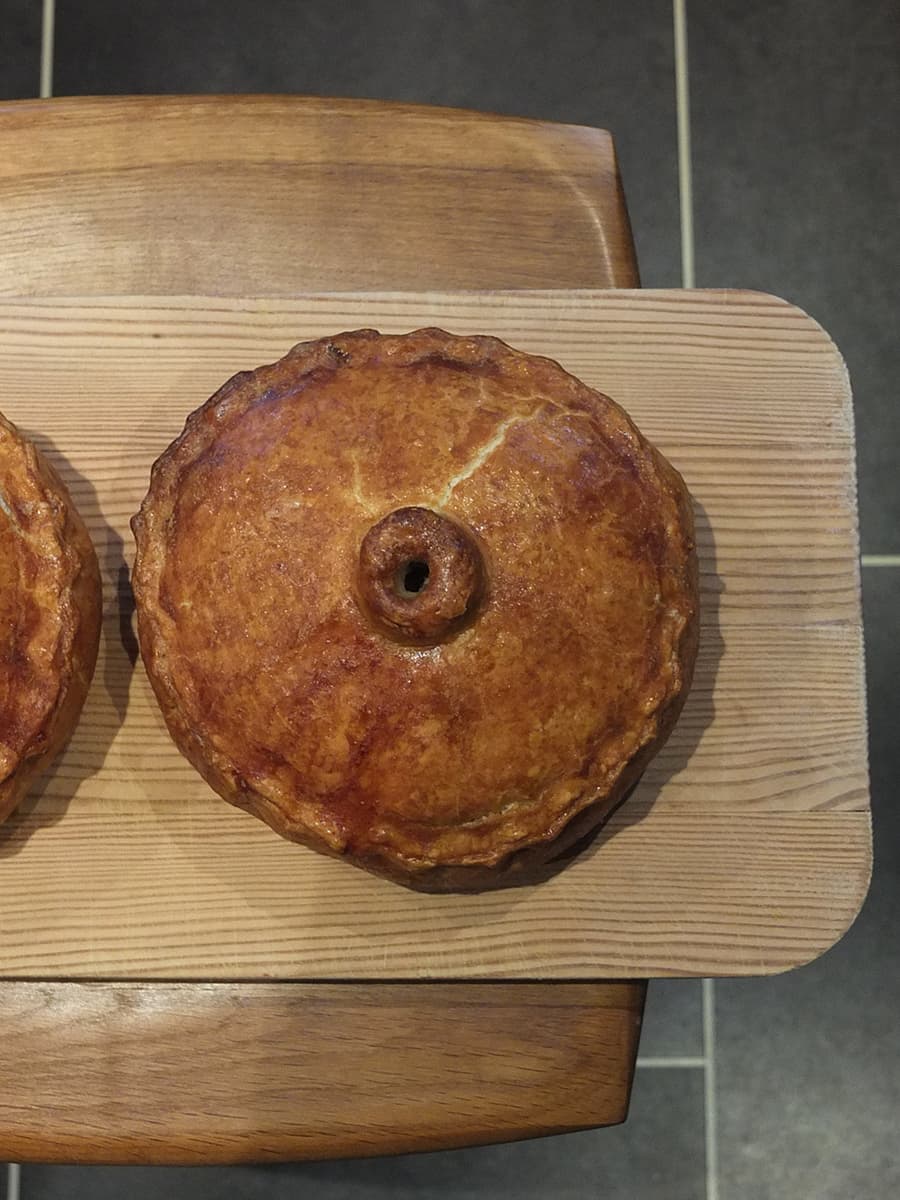 What is a traditional British pork pie?
The pork pie is a traditional British meat pie consisting of a roughly chopped pork filling encased in hot water crust pastry. The gaps left in the pork pie are filled with jellied pork stock to preserve it for longer.
Pork pies are usually served cold or at room temperature as a snack or with a salad.
What is a hand-raised pie?
A hand-raised pie is a traditional, deep, pie made with hot water crust pastry shaped or raised, by hand. No tin or mould is needed.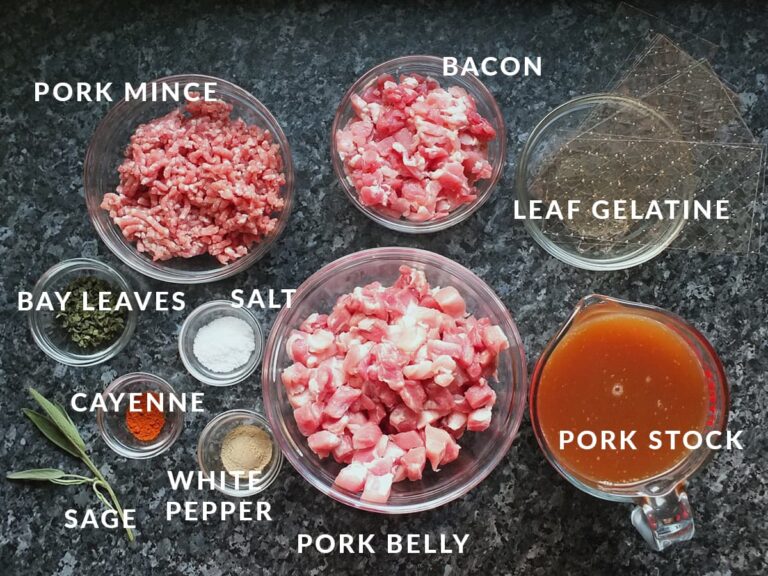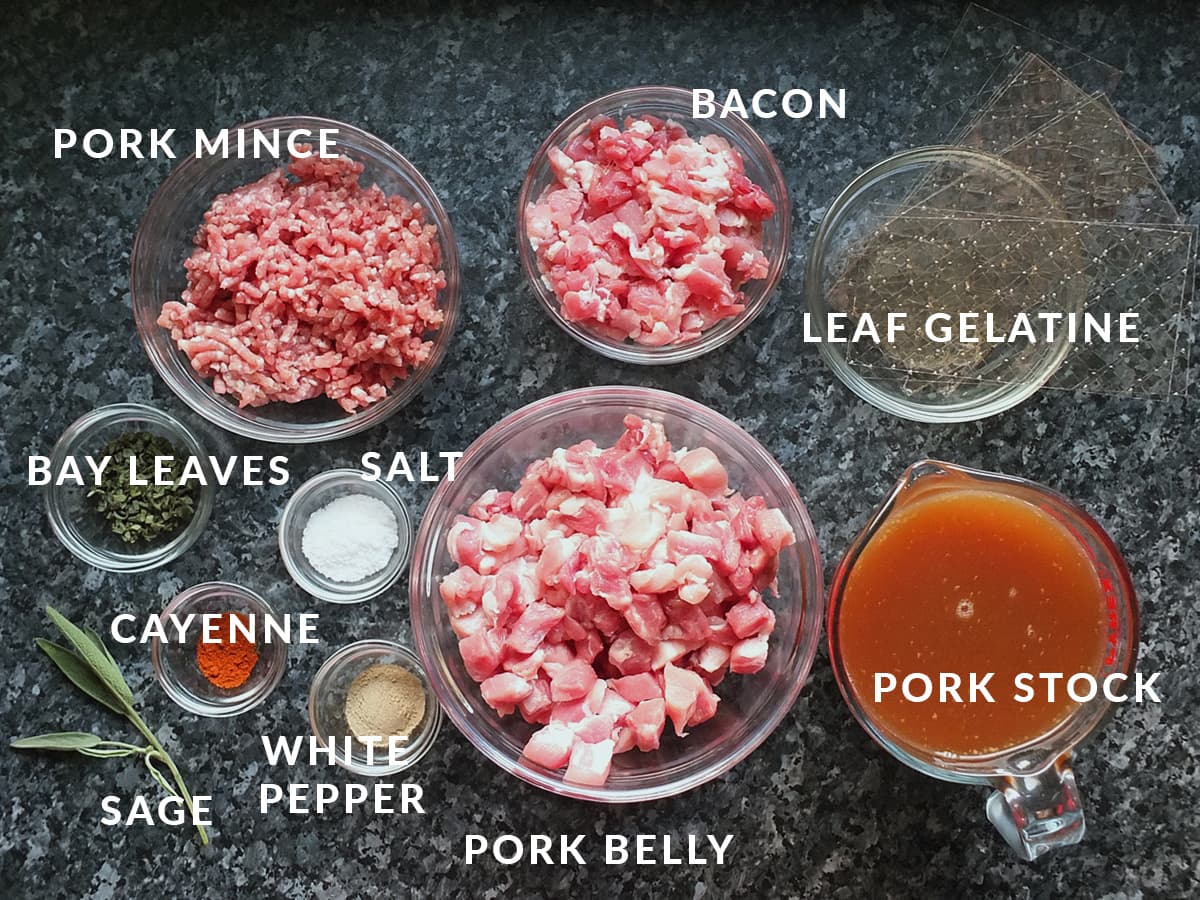 What are pork pies made of?
Pork mince – this helps bind the pork filling together.
Diced, dry-cured, unsmoked streaky bacon – use bacon with less than 20% fat, no more.
Diced pork belly – again, make sure this isn't too fatty. You're looking for less than 20% fat.
Pork stock – ideally homemade for the best flavour (see notes below) but stock made from a stock cube will still work.
Bay leaves – use fresh ones if you can source them for the best flavour.
Sage leaves – the flavour of sage works well with the richness of the pork.
Salt – this brings out the flavour of the meat. Omit if you are using a stock cube for the pork stock.
Cayenne pepper – this gives the finished a pie a nice flavour kick.
Bronze-leaf gelatine – to make the pork jelly.
Hot water crust pastry – robust enough to be baked with the wet filling inside and filled with pork jelly afterwards.
Egg wash – to brown up the pastry nicely.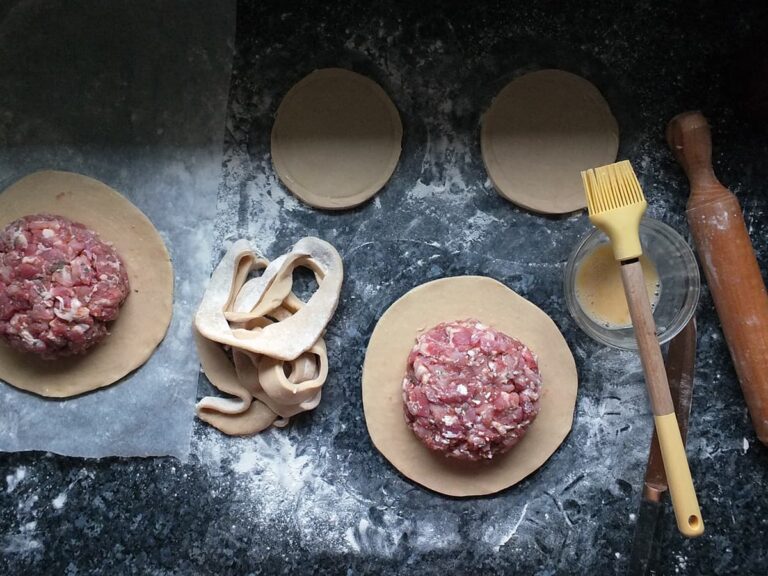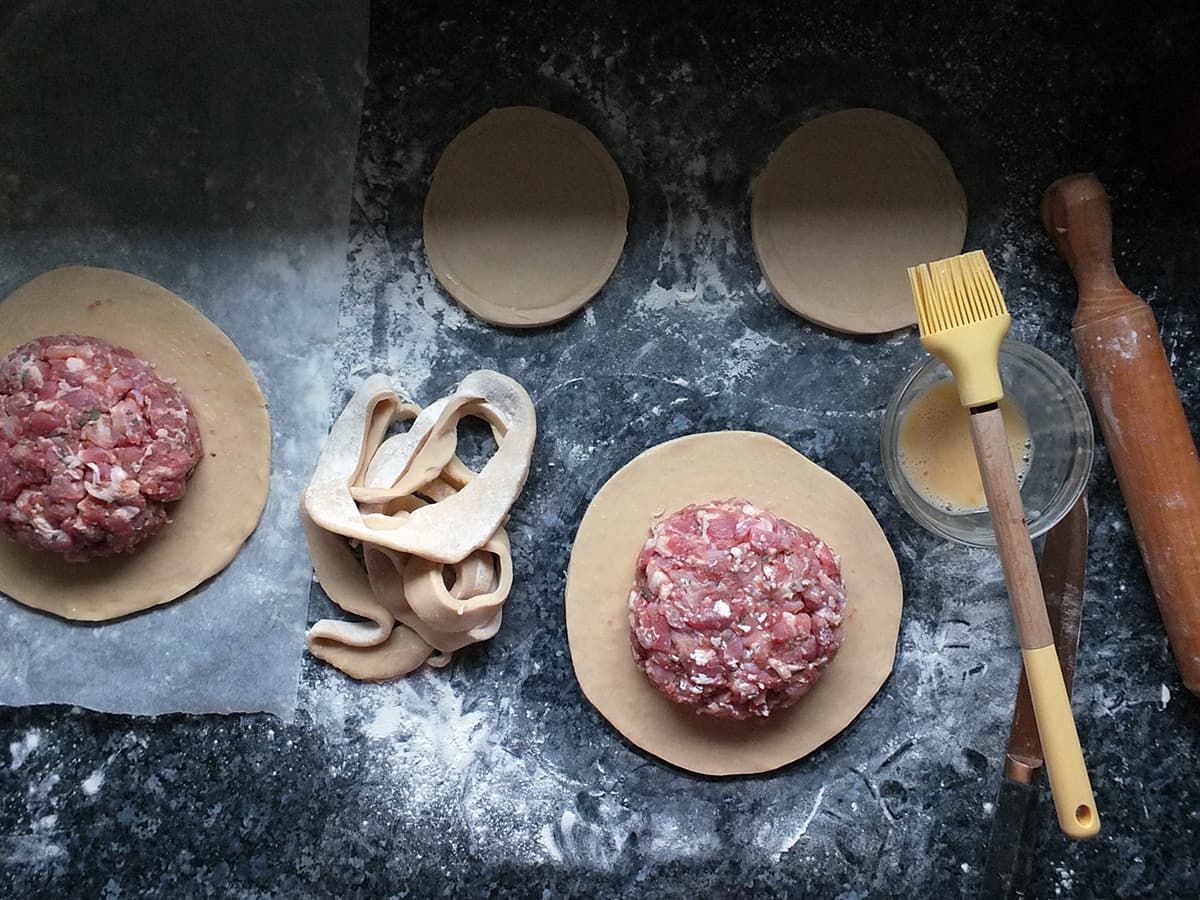 What is hot water crust pastry?
Hot water crust pastry is a type of pastry used to make savoury pies, such as this pork pie recipe. It is prepared by heating water in a pan, melting fat (such as butter or lard) in hot water and then adding the hot mixture to flour and eggs.
This type of pastry bakes into a thick golden-brown crust. It is well suited to holding wet fillings such a pork pie filling.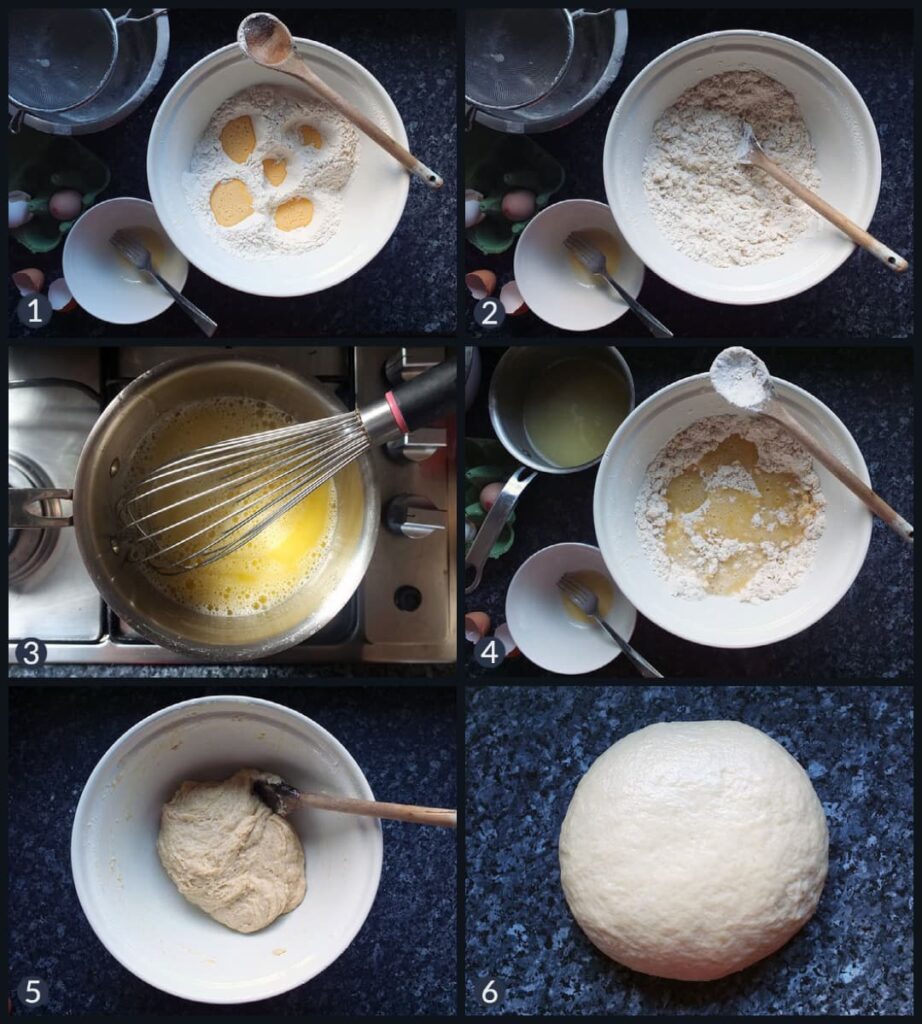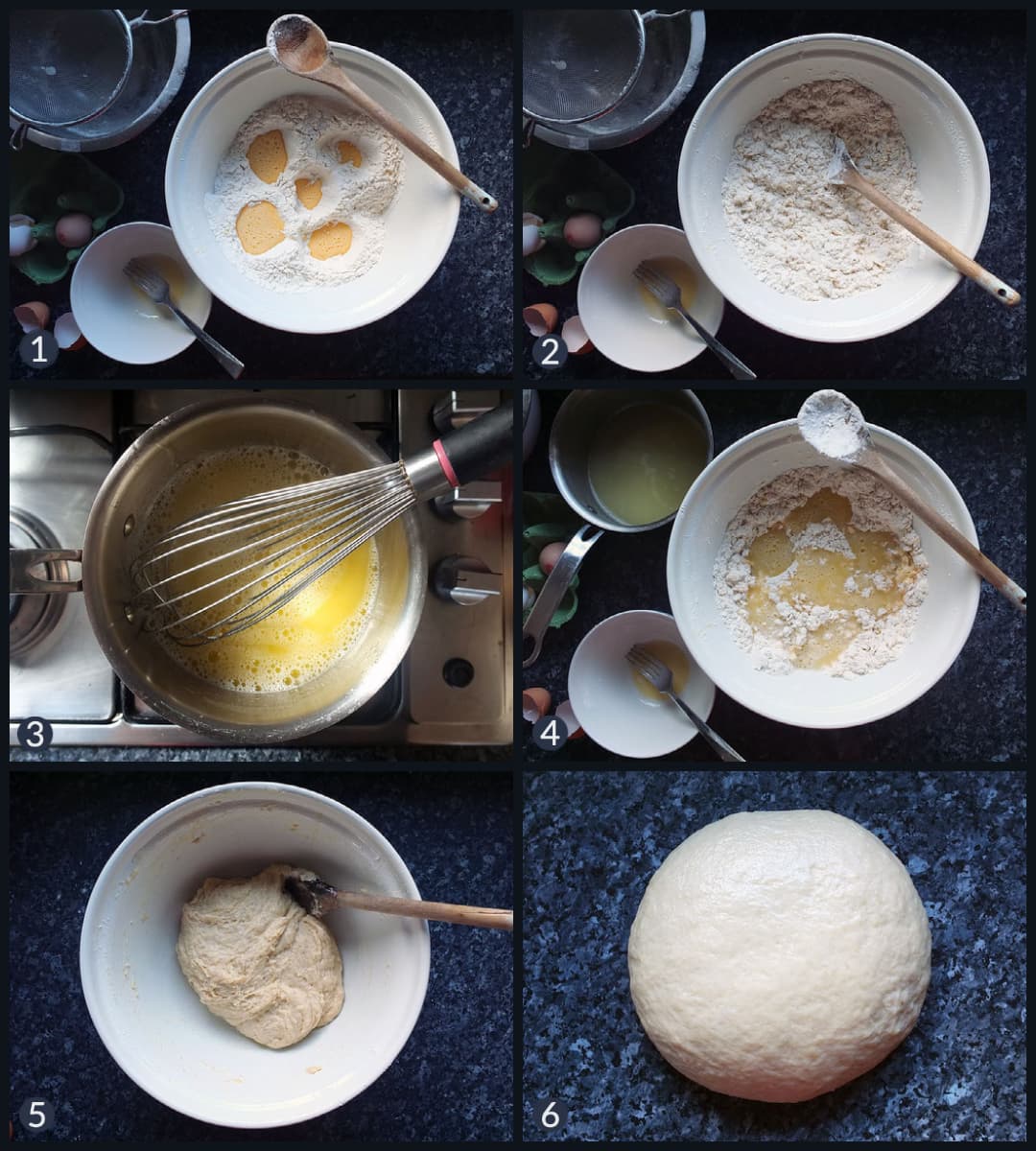 How do you make hot water crust pastry?
Sift flour and salt into a large bowl and add beaten eggs.
Mix the eggs into the flour until just combined.
Heat water in a small saucepan and allow the fat to melt in it.
Add the water and fat to the flour mixture.
Beat until it begins to form a soft dough, and continue to beat a little bit longer.
Form into a ball and chill in the refrigerator for an hour.
To learn how to make the perfect hot water crust pastry, including the correct temperature to heat the water to and all sorts of other handy tips and techniques (including the recipe quantities used for this pork pie recipe), sign up The Pie Shop course with Learning with Experts.
The Pie Shop with Tom Morrell
The River Cottage is a well-known household name, with its founder Hugh Fearnley-Whittingstall inspiring home cooks since Spring of 1999 when their first tv series, Escape to River Cottage, was aired on Channel 4.
The Pie Shop with Tom Morrell Trailer
The Pie Shop is taught entirely online by Tom Morrell, one of the chefs at River Cottage (and quarter-finalist for Masterchef: The Professionals).
This cooking class was my first course with Learning with Experts, and I honestly didn't know what to expect.
I was impressed with this course. The way it was delivered felt like a professional chef was right in the kitchen with me, teaching me tips and tricks to perfect the recipes. Not only were students taught how to make the recipes, but we were also taught the whys behind each technique. I rather enjoyed it, as well as the chat with the other students.
In The Pie Shop, you learn how to make four classic pastries: the hot water crust pastry used in this pork pie recipe and shortcrust, rough puff and suet pastries. After each lesson, you are encouraged to try the recipes yourself and share your results with your tutor and fellow students.
Who knew that you could combine flour, fat and water in such vastly different various ways to make completely different pastries.
Read my full review: The Pie Shop – learning how to make pastry properly.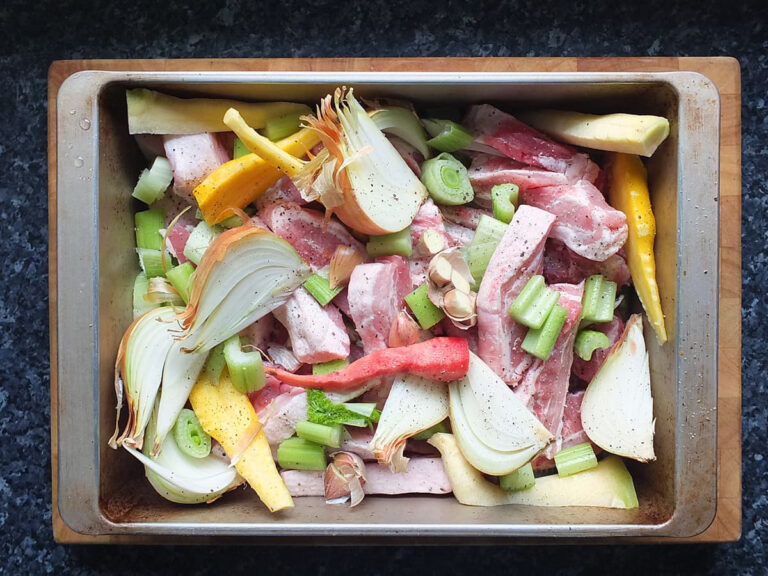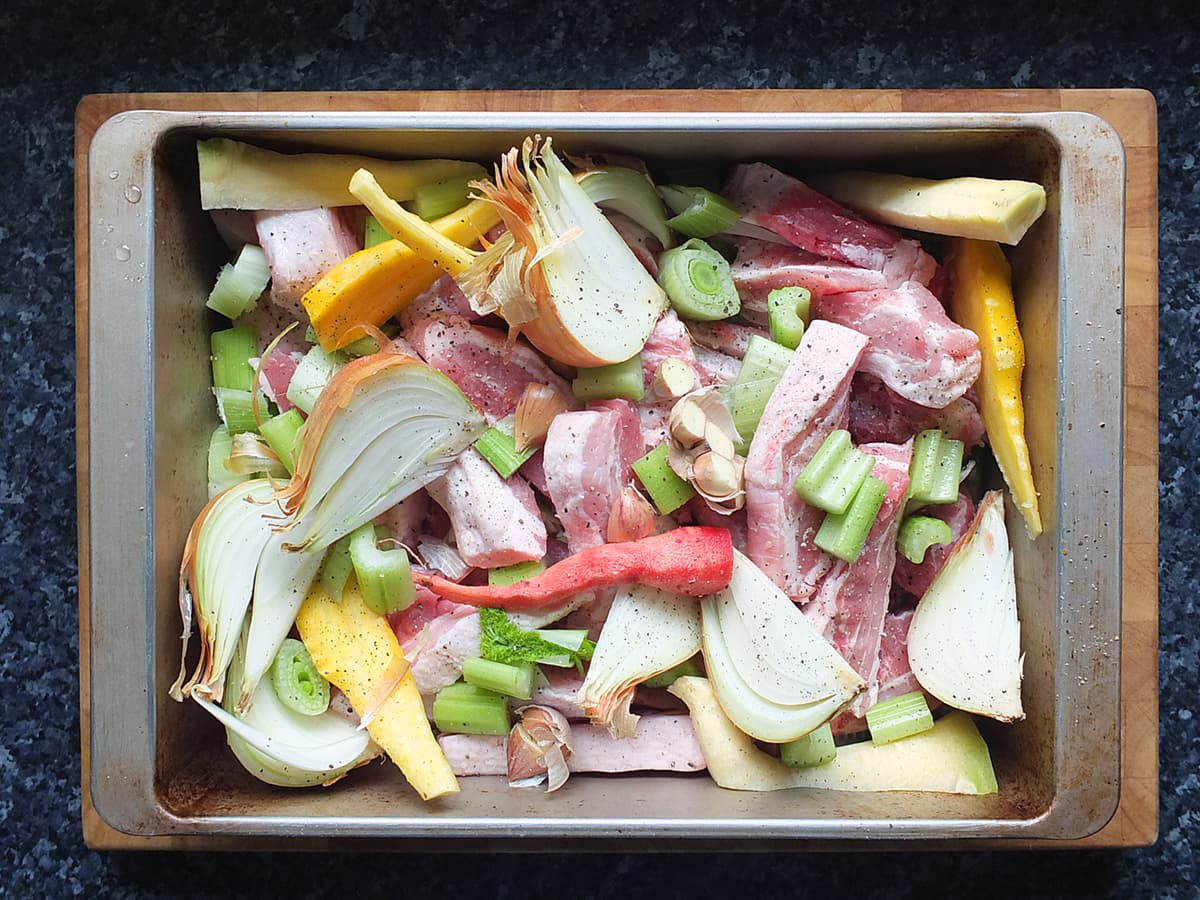 Before you start making your pastry or pork pie filling, I recommend making your homemade pork stock. Homemade stock makes such a difference with the final flavour of the dish.
How to make homemade pork stock
Preheat oven to 200 C/ 180 C fan/ gas mark 6.
Place 3 kg pork bones into a roasting tin.
Add 1-2 quartered onions (unpeeled), two peeled, halved carrots, one stick celery, chopped, one fennel bulb, chopped, and one bulb of garlic, unpeeled and coarsely chopped.
Drizzle over a few tablespoonfuls of olive oil and sprinkle with sea salt and freshly ground black pepper.
Roast for 45-60 minutes, occasionally turning until everything is golden and roasted.
Transfer the roasting tin contents to a large stockpot, cover in water, add a few bay leaves, some parsley stalks, and a few peppercorns.
Simmer, covered, on low for 3-4 hours. Keep an eye on the liquid level, topping up with more hot water if needed.
Strain and reserve the liquid, discarding the bones.
Refrigerate overnight, skimming off the top layer of fat in the morning.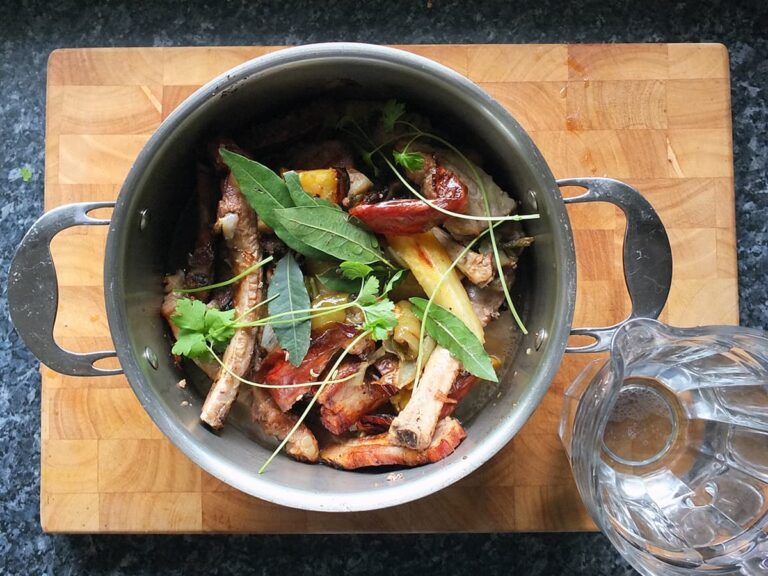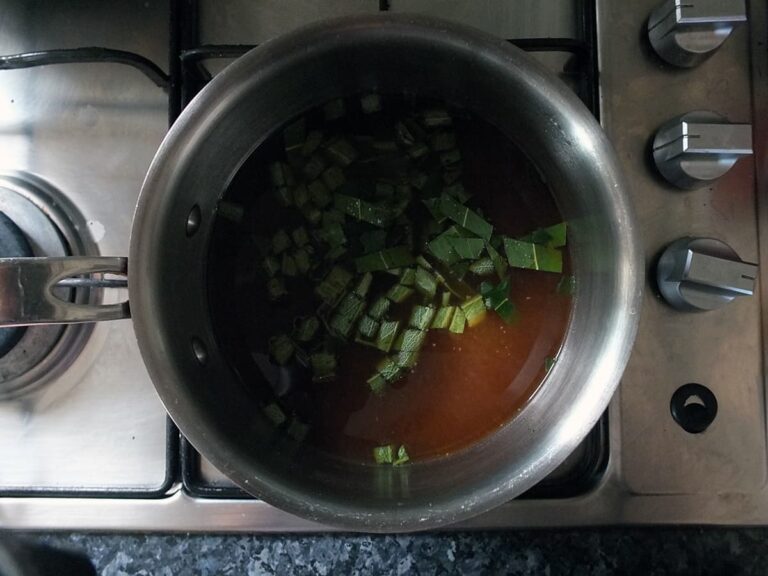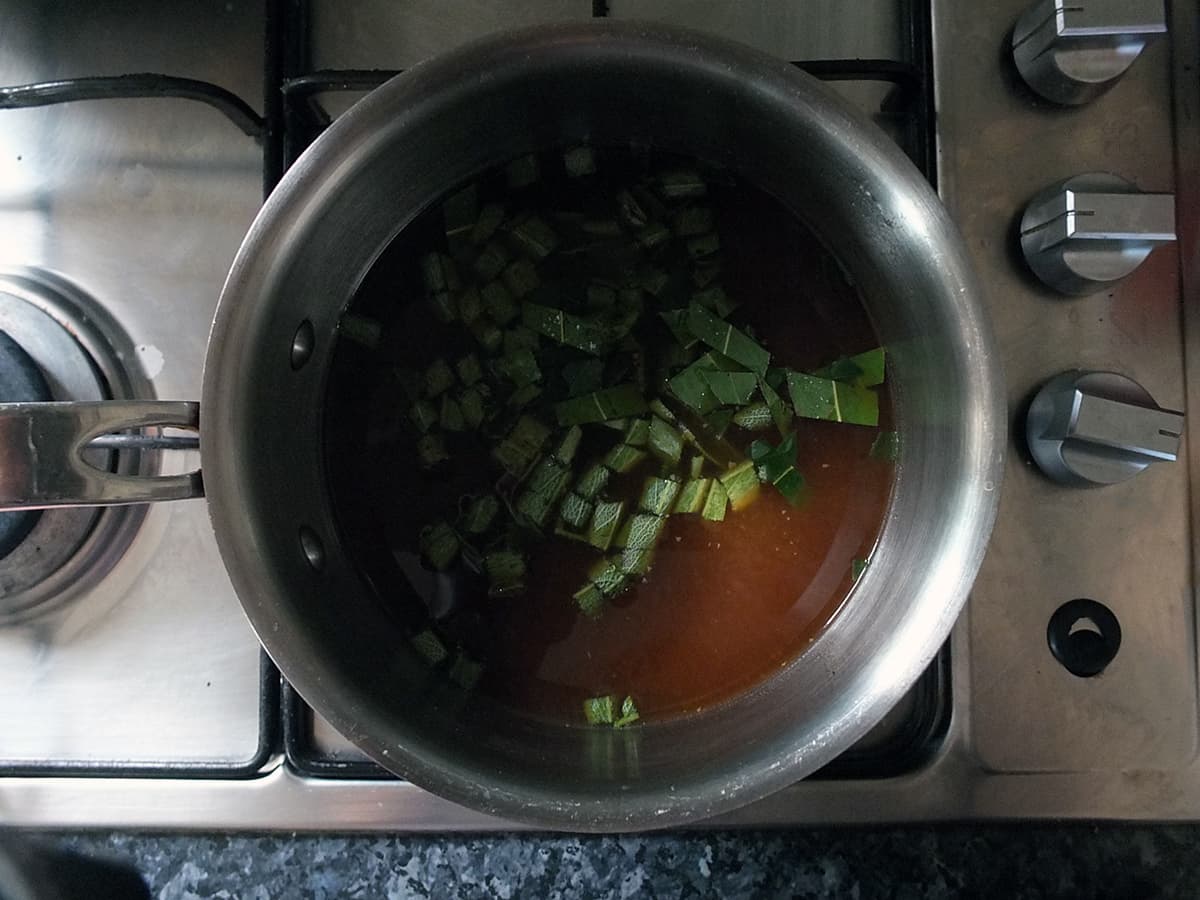 How to make pork pie jelly
Bring pork stock gently to the boil in a medium-sized saucepan.
Add chopped bay leaves and sage.
Meanwhile, soak leaf gelatine in cold water.
When the gelatine is ready, squeeze out the excess water and add to the hot stock. Whisk until dissolved.
Season well with salt and pepper.
Strain the chopped herbs out of the jelly with a sieve and cool until needed.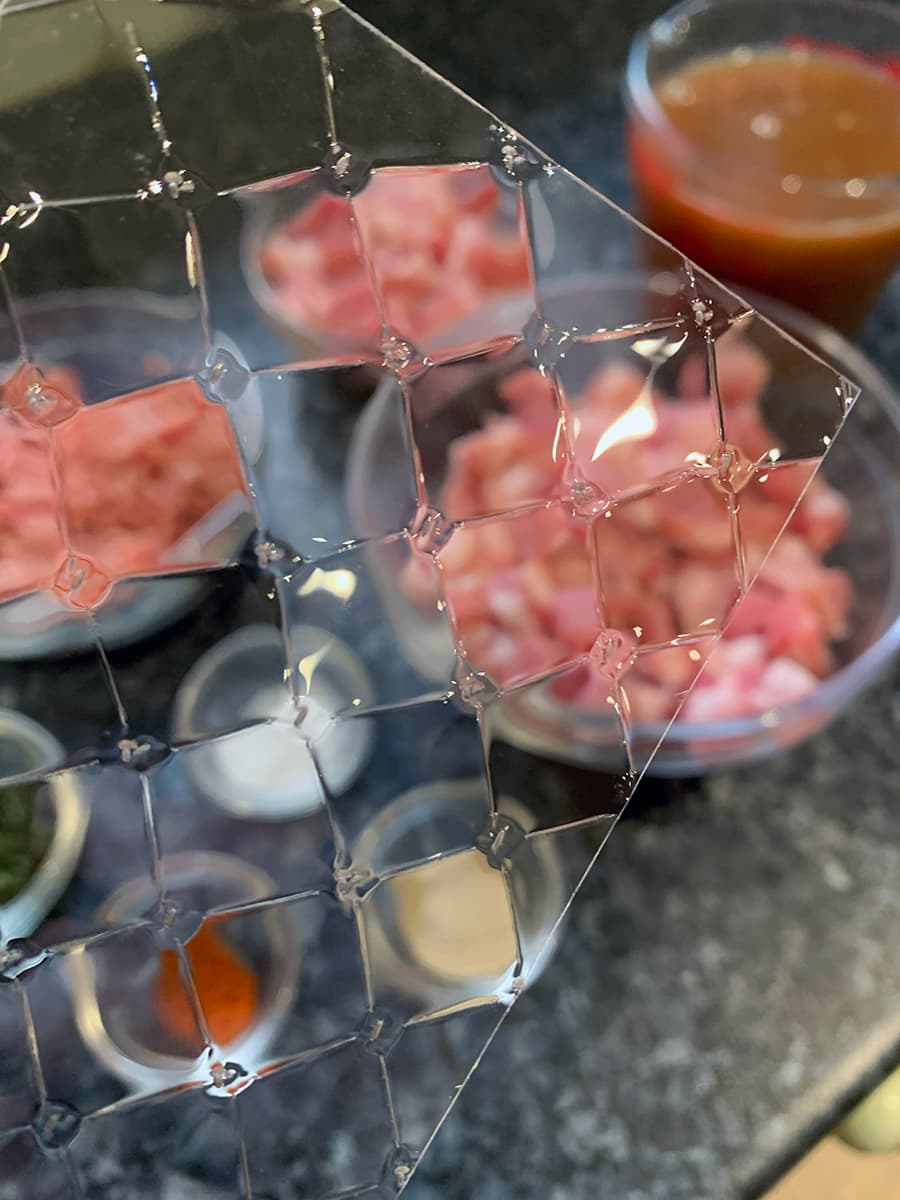 What is leaf gelatine?
Leaf gelatine is a gelling agent/thickener made by pouring gelatine into sheets, drying them and then cutting them into sheets. Instead of powdered, working with leaf gelatine makes for a smoother finished product with a more superior mouthfeel.
Can I use powdered gelatine instead of leaf gelatine?
Yes, substitute three teaspoonfuls of powdered gelatine (8 grams, or 1 UK sachet) for four gelatine leaves.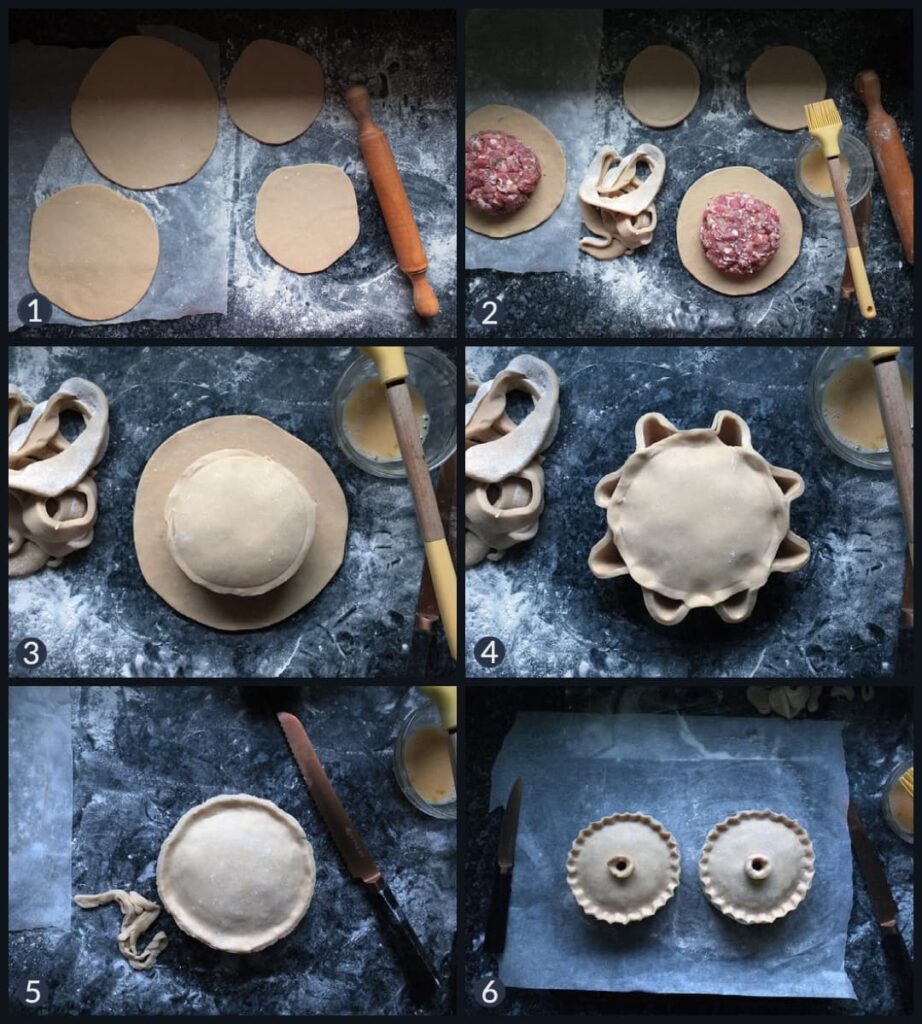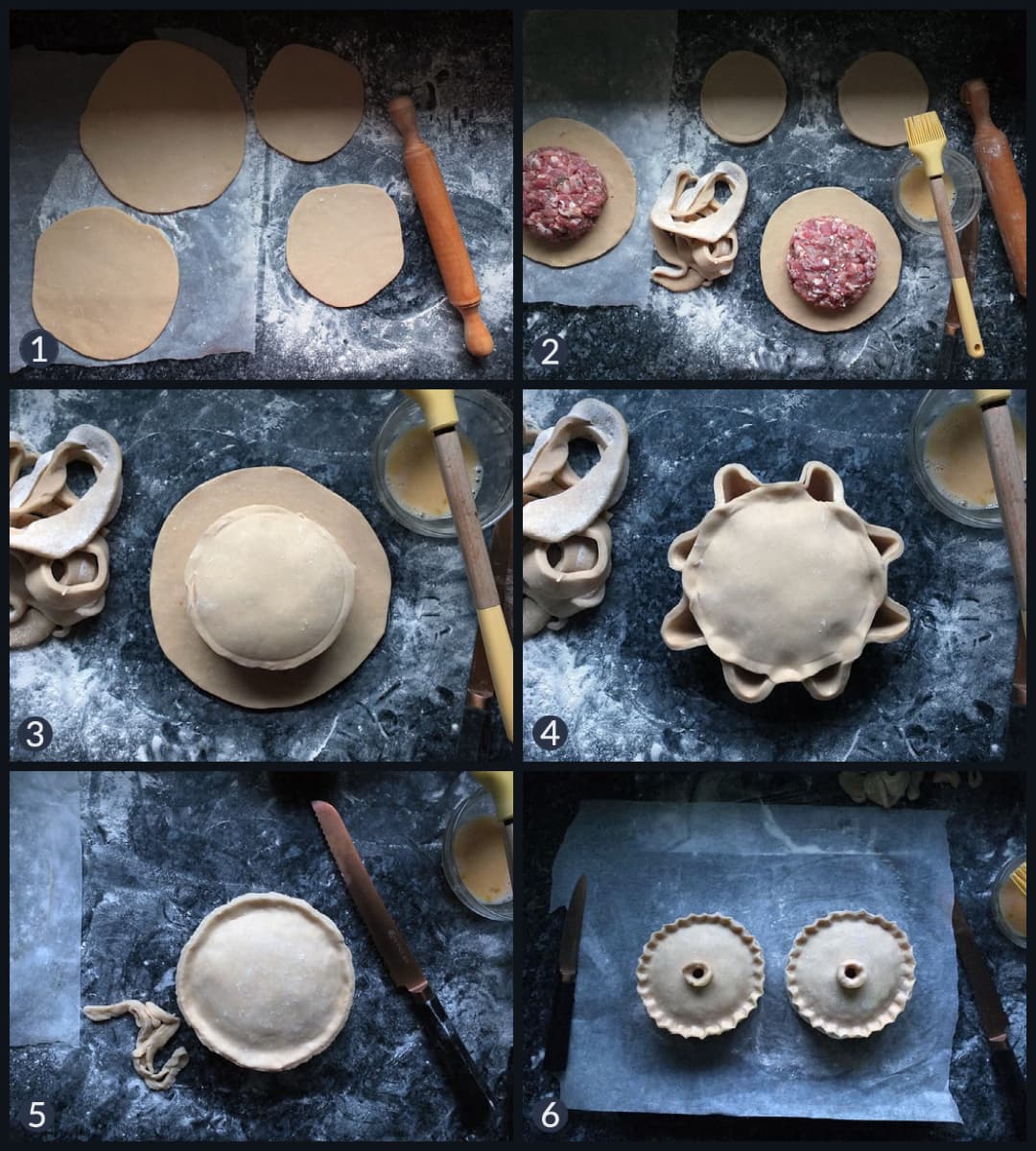 How to shape a pork pie
Roll out a base and lid for each pie.
Arrange your pork pie filling in the base of the base, making sure the pastry base is big enough to come up the meat's sides.
Pop the lid on the top of the meat.
Bring the sides of the base up to meet the pastry lid and pinch together.
Pinch all along the edges to form a 'crown'.
Cut a steam hole on the top and fit with a chimney.
I highly recommend you do The Pie Shop course from Learning with Experts for more tips and tricks on making hot water crust pastry and shaping the perfect pork pie.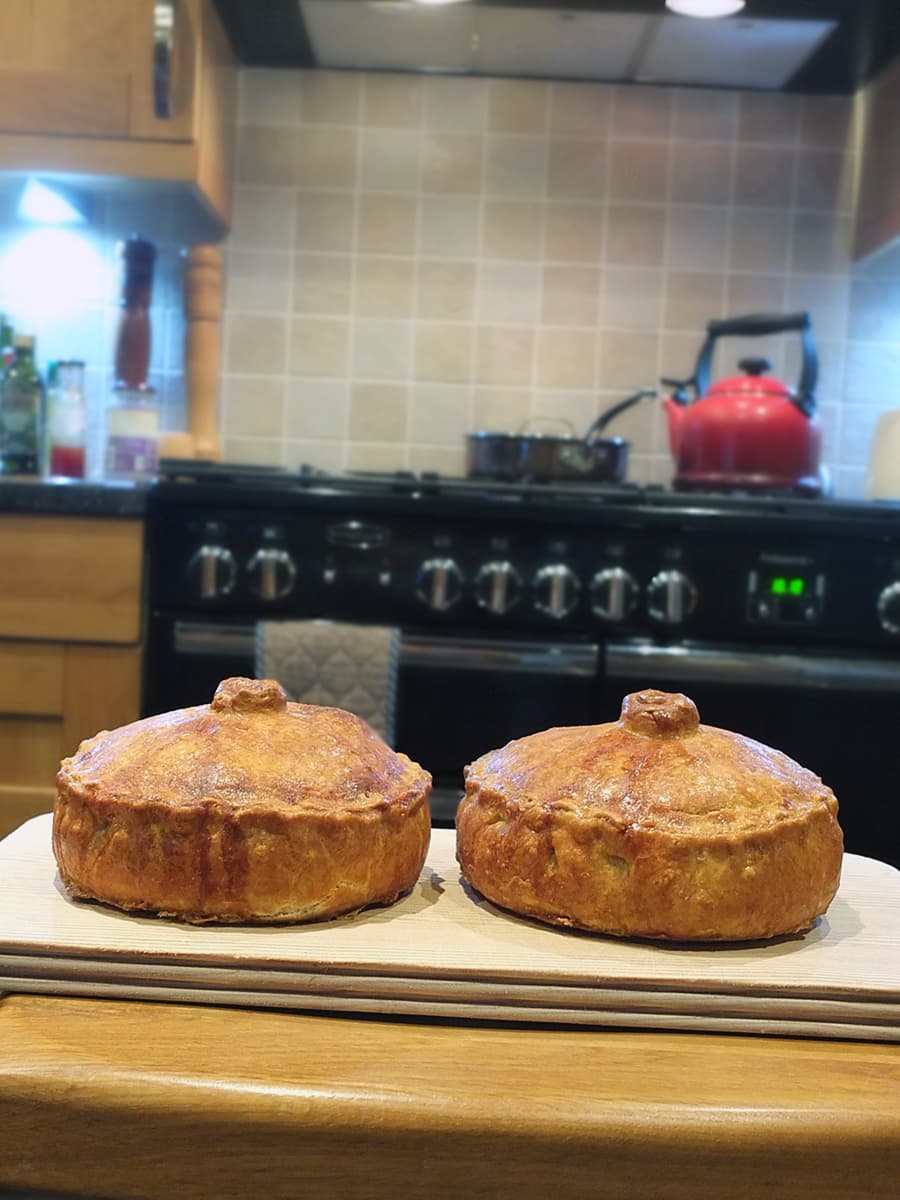 New year, new beginnings.
I suppose this is as good a time as any to tell you that I've moved house!
After spending 14 years on Shetland's rural west side, I'm now living back in Lerwick again, in a rather fabulous 4-bedroom house with my partner and kids.
In addition to life being pretty fabulous despite what's going on in the world, I can't tell you how ridiculously excited I am to be cooking on a Rangemaster. The kitchen I'm cooking in – it's every food bloggers dream! Watch this space, because this year I'll be taking my food blogging next level while I work through the River Cottage Cooking Diploma with Learning with Experts.
Stay safe everyone, happy pie making, and I wish you all a wonderful new year!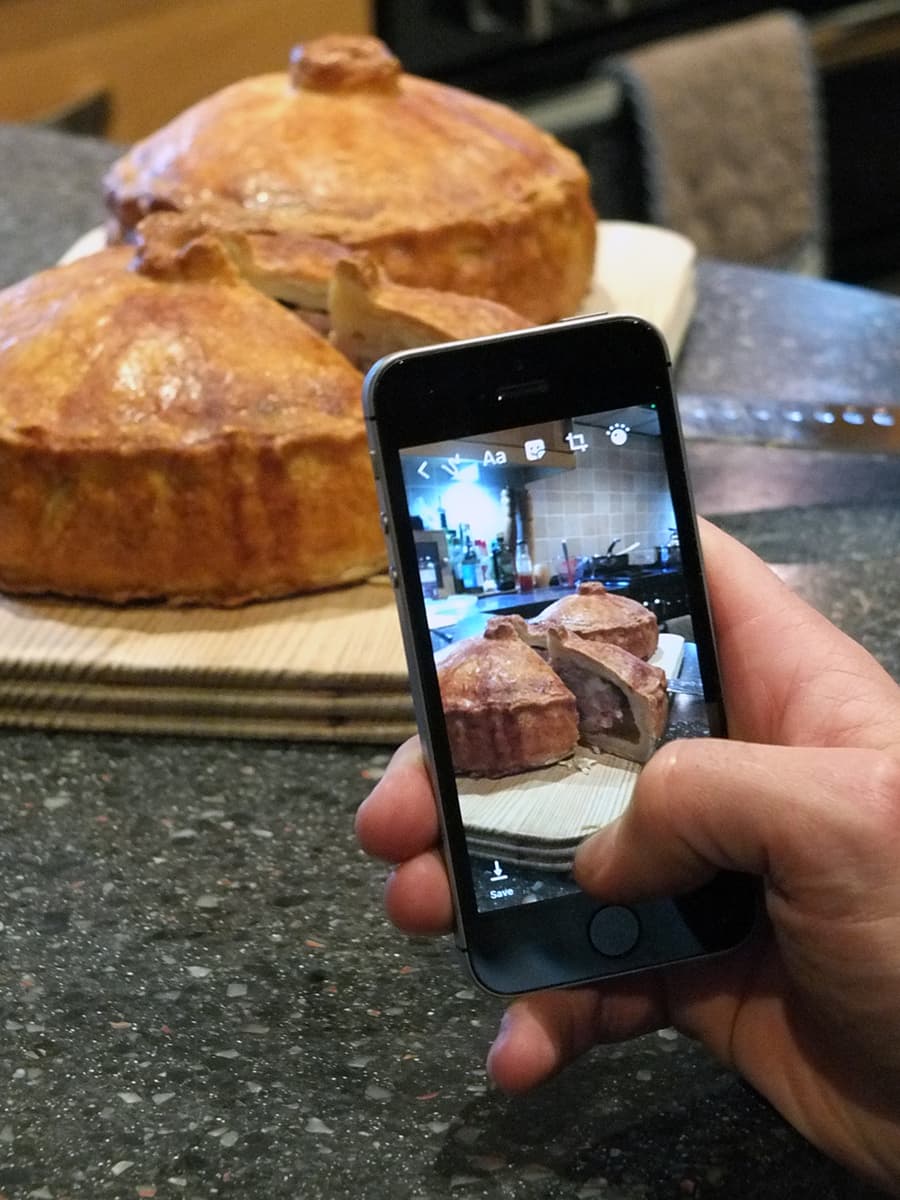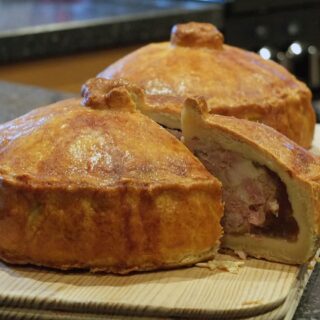 Traditional British Hand-Raised Pork Pie Recipe
Pork mince, belly and unsmoked streaky bacon create the filling of this pie which is then encased in hot water crust pastry, baked and filled with homemade pork jelly.
Print
Pin
Rate
Servings:
16
generous portions
Affiliate Links
This recipe card may contain affiliate ingredient and equipment links. As an Amazon Associate I earn from qualifying purchases.
Instructions
Place the pork mince, bacon and pork belly into a mixing bowl and add all the spices.

Using your hands, mix well until combined. Refrigerate until needed. Soak gelatine leaves in cold water.

Bring the pork stock to a gentle boil in a small saucepan. Add the bay and sage leaves.

Squeeze out the excess water from the gelatine and add to the hot stock.

Whisk until dissolved. Season well with salt and pepper.

Strain the stock through a sieve, reserving the liquid. Leave to cool.

Cut your chilled hot water pastry into thirds. Divide one third into half. These will form the bases and lids of your pies.

Using a rolling pin, roll each pastry base to a thickness of 1 cm. The lids can be slightly thinner.

Divide your meat mixture into two and form into circle shapes approximately three fingers tall. Trim the excess pastry around the edges of the pastry base, making sure there's enough left to cover the sides of the meat. Egg wash around the outside edge of the pastry base around the meat.

Place the lid on the top of the meat and bring up the base to meet the lid.

Pinch together the pie base and lid, trimming away any excess. Make a 1.5 cm steam hole in the top and using a little of the excess trim, form a small chimney. Place on a baking tray.

Egg wash the entire outside of the pie and bake in a preheated 180 C oven for one hour. After 20 minutes, give the whole pie another egg wash.

After cooking, immediately transfer the cooked pies to a cooling rack. Re-open the chimney holes with the back of a teaspoon, and using a kitchen funnel (or similar) pour the pork jelly into the top of the chimney. Top up every ten minutes as the jelly soaks down.

Cool in the refrigerator for at least six hours before eating.
Nutrition
Calories:
540
kcal
|
Carbohydrates:
33
g
|
Protein:
11
g
|
Fat:
39
g
|
Saturated Fat:
14
g
|
Cholesterol:
59
mg
|
Sodium:
844
mg
|
Potassium:
207
mg
|
Fiber:
1
g
|
Sugar:
1
g
|
Vitamin A:
35
IU
|
Vitamin C:
1
mg
|
Calcium:
17
mg
|
Iron:
2
mg
Environmental Information
Pin this pork pie recipe for later
Other pastry recipes you might like