Are you looking for a last-minute edible Christmas gift idea for the peanut butter fan in your life? These crunchy American-style SKIPPY® Peanut Butter granola clusters will be sure to impress, and this easy recipe only takes less than half an hour to make!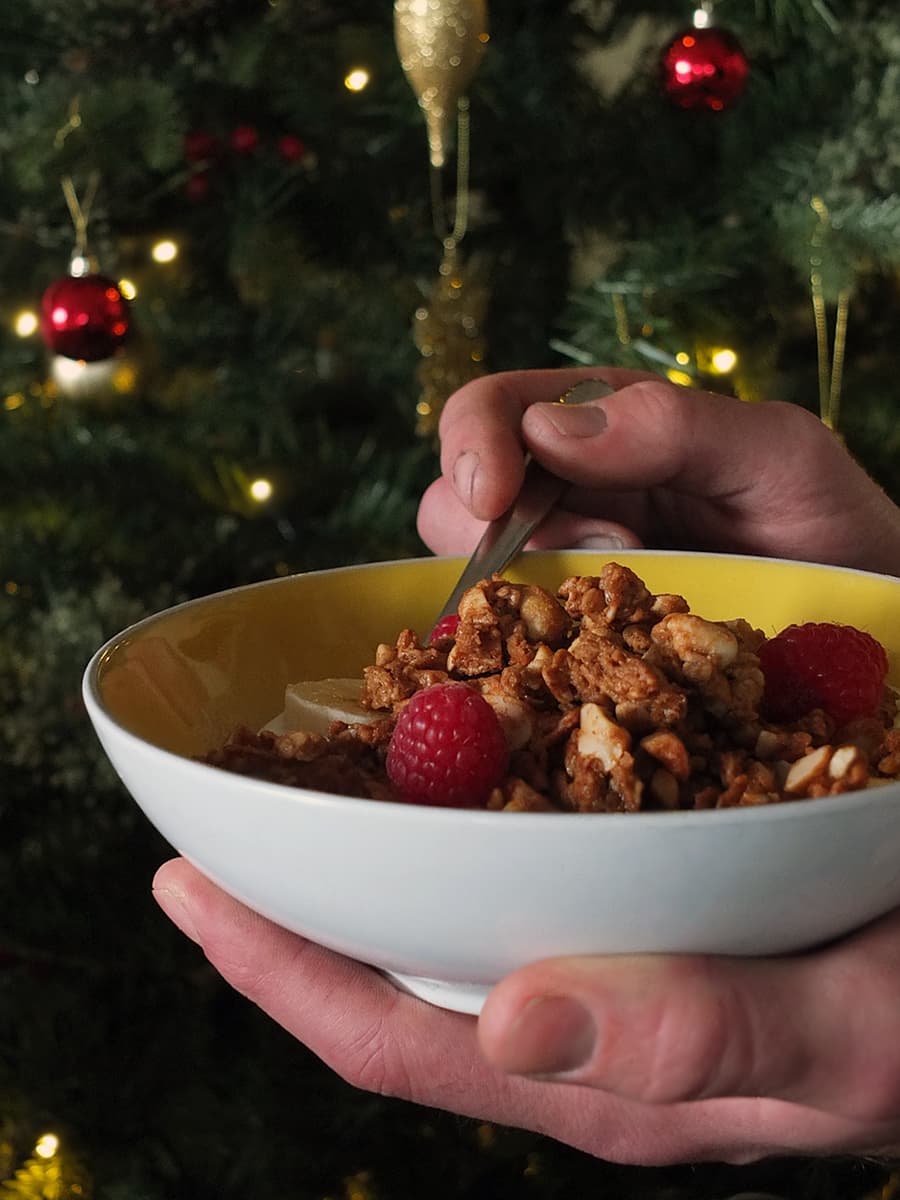 A last-minute edible Christmas gift idea
Edible Christmas gifts make for some of the best sorts of gifts, I think. If you've left Christmas to the last minute, like me, you might be looking for some creative inspiration…
Well, I've got you covered. This granola recipe takes just five minutes to prep and less than a half an hour in the oven to cook. Once it's cooled (which takes around half an hour) it's ready to be stored in a fancy glass jar, tied with a ribbon and gifted to any peanut butter fans in your life.
Easy peasy.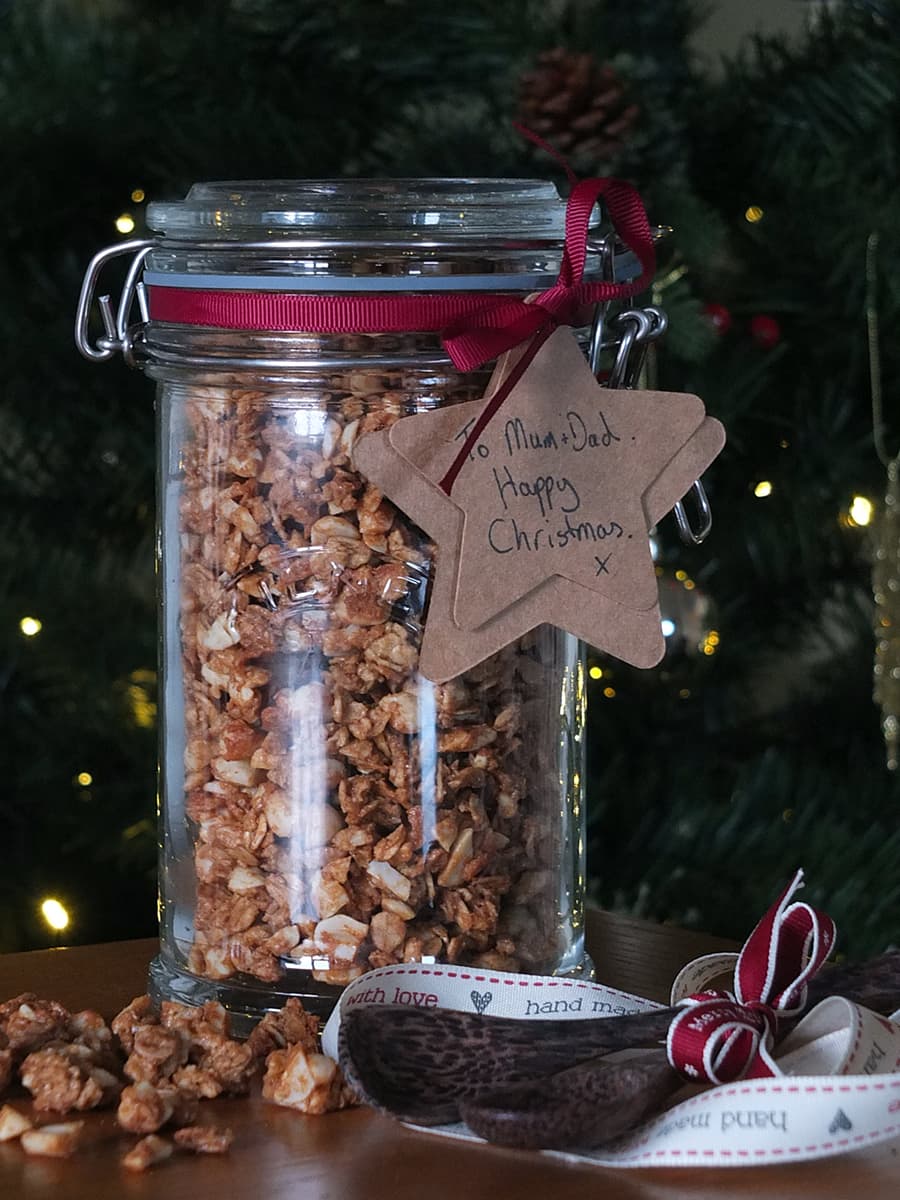 About these SKIPPY® peanut butter granola clusters
I'm a huge fan of granola for breakfast…or dessert (it's awesome with vanilla ice cream!) or even in the middle of the day as a post-cycle snack.
We eat a lot of granola in our home.
These granola clusters are a little more on the indulgent side than I'd usually make, just because it's the festive period, and, well, what with everything that's going on in the world right now sometimes a little extra indulgence is just what we need.
If you want to jazz them up even further you could add a handful of your favourite, chopped milk or dark chocolate and some mini marshmallows too. S'mores granola, anyone?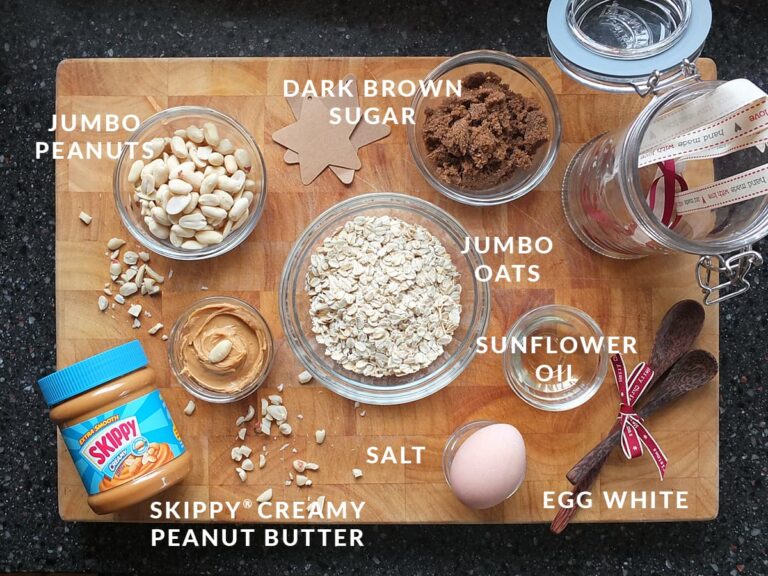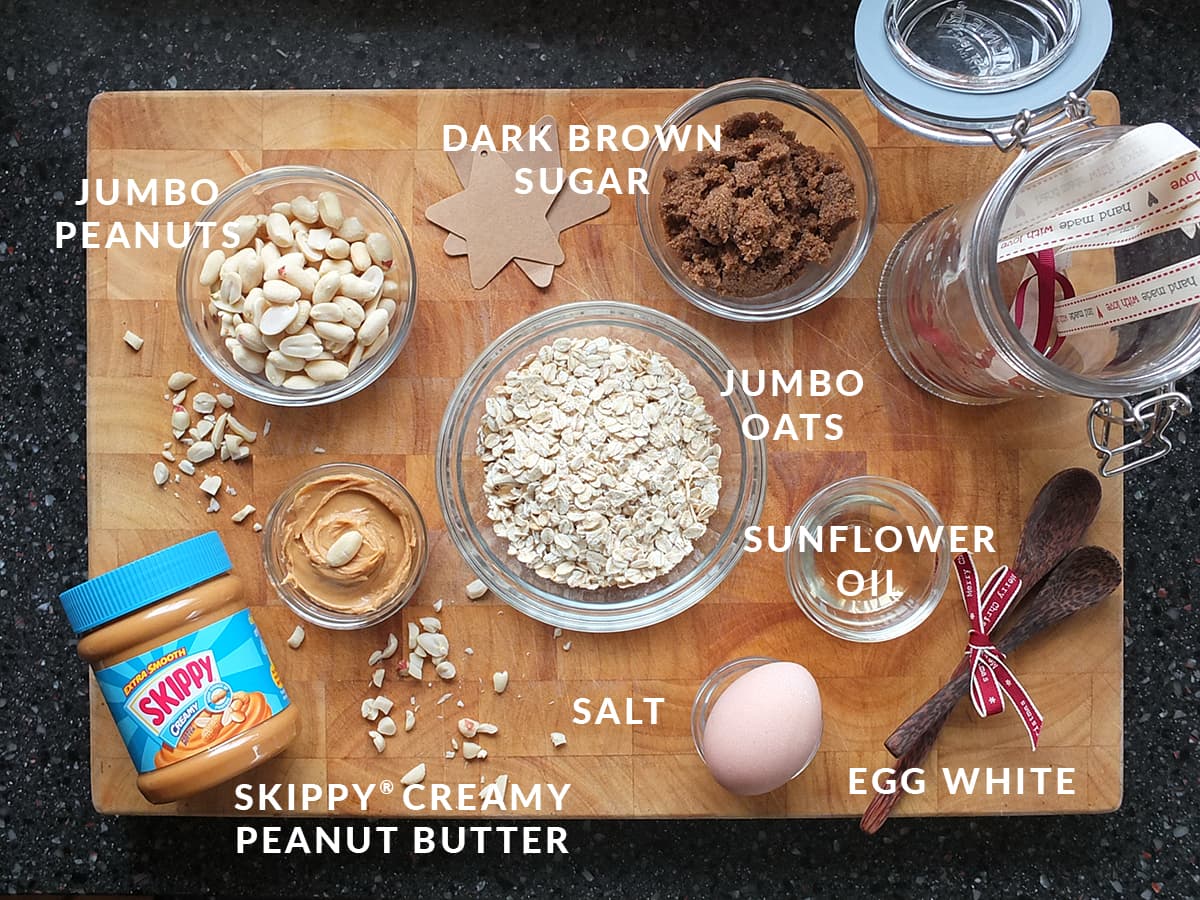 What you'll need…
Jumbo oats – also known as Grade-A oats or old-fashioned oats, This style of uncut oats are milled to the thickest size and make for rather delicious granola clusters.
Dark brown sugar – containing more molasses than regular brown sugar, this provides a rich, caramel sweetness to the granola.
Jumbo peanuts – use an unroasted, unsalted variety and coarsely chop them yourself.
American-style Skippy® peanut butter – the creamy flavour of America's favourite peanut butter takes this peanut butter granola recipe to the next level.
Egg white – this is the binding agent which will create lovely, crunchy clusters of granola.
Sunflower oil – you need fat when making granola or you'll end up with crispy dried oats.
Salt – just a pinch to bring out the flavours.
Equipment
Mixing bowls – you'll need three, two for the wet ingredients and one for the dry.
Whisk – for beating the egg white.
Wooden spoon – for combining everything together.
Baking tray – for toasting the granola clusters in the oven.
Non-stick baking paper – because no one wants granola stuck to the baking tray.
Glass jar – to store the peanut butter granola.
Ribbon & gift label – to decorate.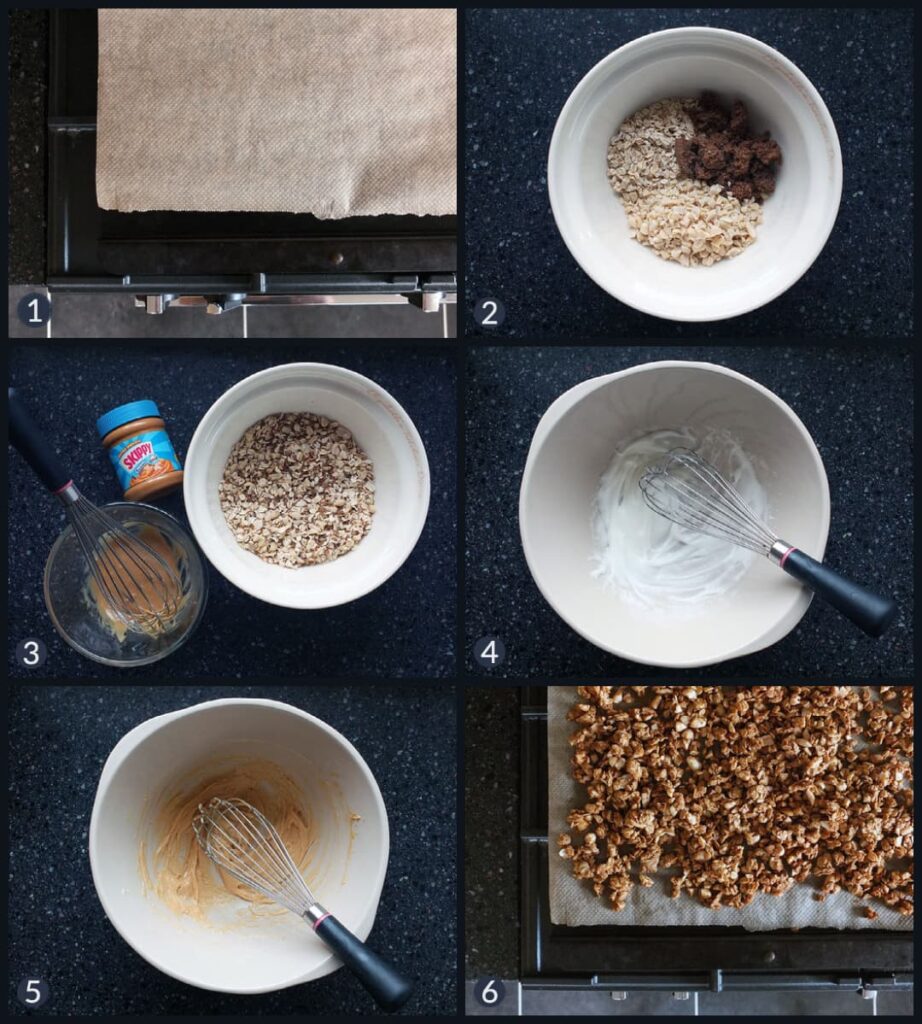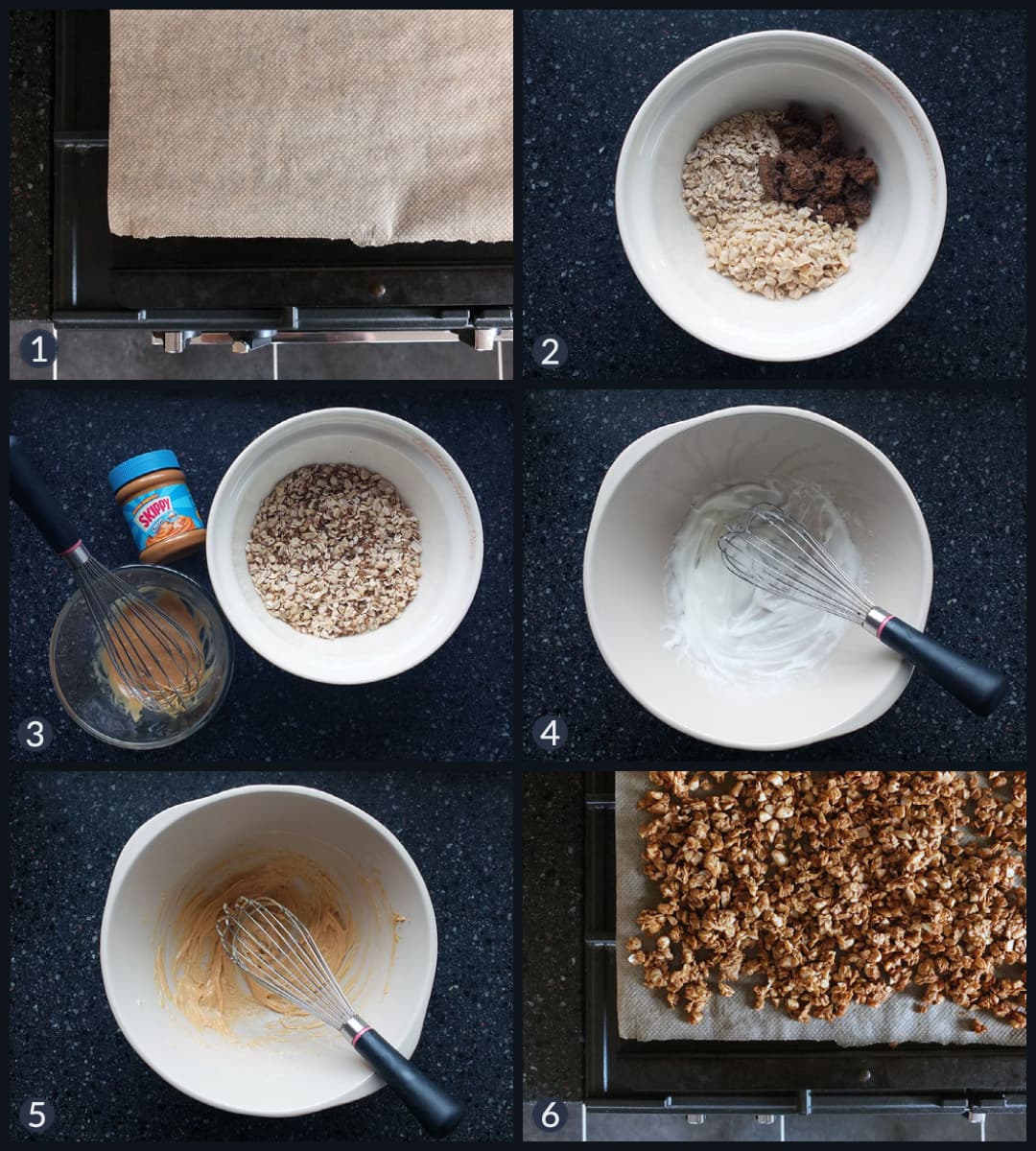 How to make SKIPPY peanut butter granola clusters
Preheat your oven to 140 C fan/ 160 C/ 275 F/ gas mark 1 and line a baking tray with non-stick baking paper.
Combine the jumbo oats, coarsely chopped jumbo peanuts, dark brown sugar and salt in a large bowl.
Whisk the American-style SKIPPY® peanut butter and sunflower oil together in a small bowl until smooth.
In a separate bowl, whisk the egg white until it forms soft peaks.
Stir in the peanut butter mixture, and then add the dry ingredients until combined.
Spread out in a single layer on the prepared baking sheet and bake for 25-30 minutes, turning once or twice.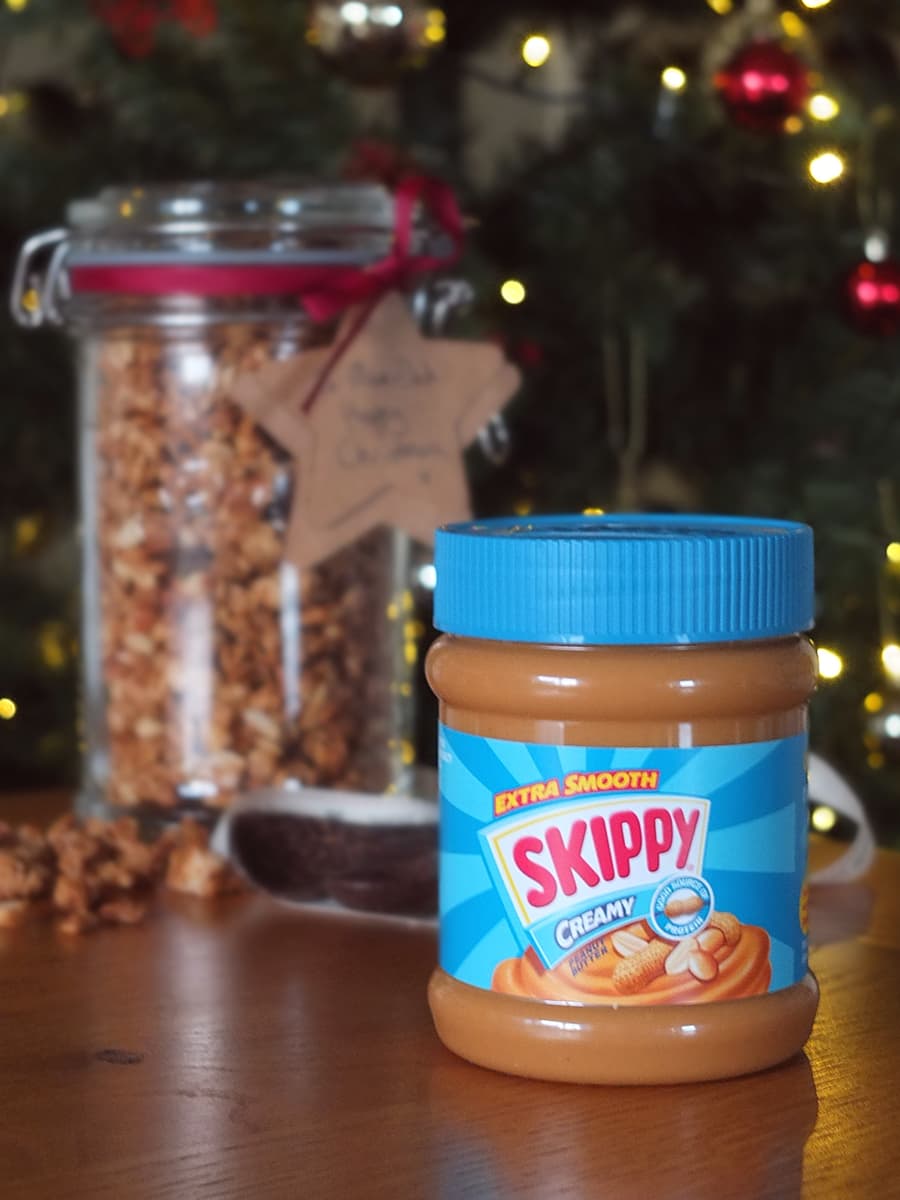 About SKIPPY® Peanut Butter
With a US heritage spanning more than 80 years, SKIPPY® Peanut Butter maker Joesph Rosenfield revolutionised peanut butter making process. Back in 1933, he changed the formula to create a less sticky and longer-lasting peanut butter – no longer would peanut butter stick to the roof of your mouth!
The creamy texture of American-style SKIPPY® peanut butter works well in recipes – you can use it in everything from peanut butter flapjacks, an indulgent peanut butter cheesecake or even peanut sauce for a stir-fry.
Look out for SKIPPY® peanut butter here in the UK in many leading supermarkets. It's available in both creamy and chunky varieties.
How do you like your SKIPPY® peanut butter? Let me know in the comments!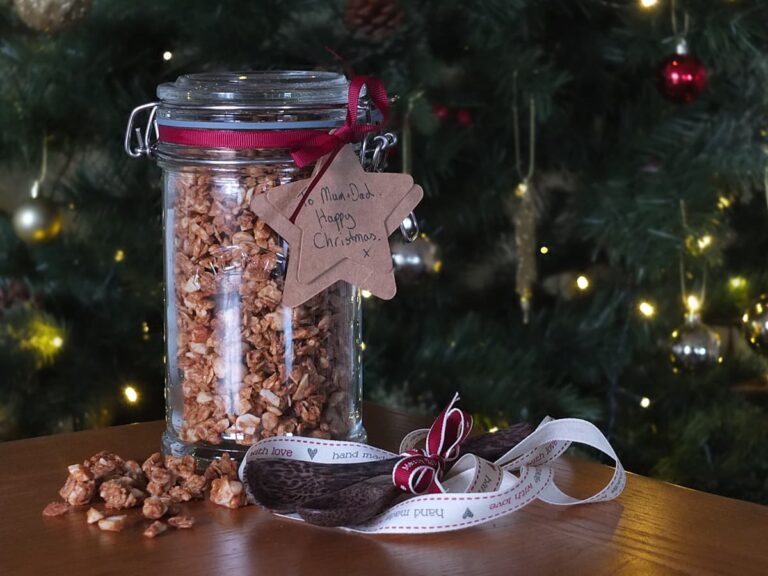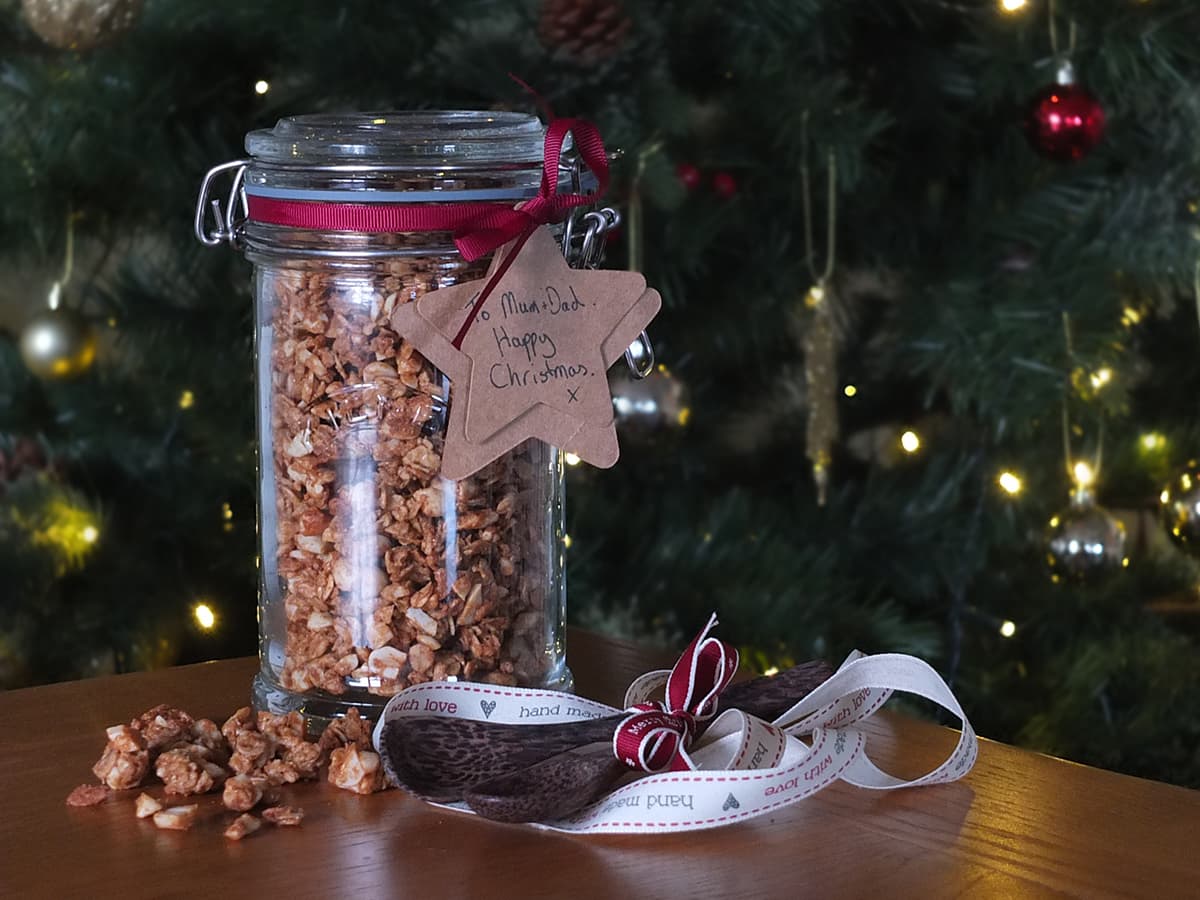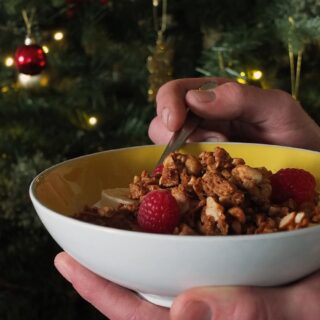 SKIPPY® Peanut Butter Granola Clusters
Crunchy clusters of jumbo peanuts, old-fashioned rolled oats, dark brown sugar and the delicious flavour creamy SKIPPY® Peanut Butter.
Print
Pin
Rate
Affiliate Links
This recipe card may contain affiliate ingredient and equipment links. As an Amazon Associate I earn from qualifying purchases.
Instructions
Stir in the peanut butter and oil mixture.

Add the dry ingredients and stir until combined.

Spread out in a single layer on the prepared baking sheet.

Bake for 25-30 minutes, turning once or twice during baking. Leave to cool completely on the tray before storing in an airtight container.
Nutrition
Calories:
168
kcal
|
Carbohydrates:
17
g
|
Protein:
5
g
|
Fat:
10
g
|
Saturated Fat:
1
g
|
Sodium:
36
mg
|
Potassium:
150
mg
|
Fiber:
2
g
|
Sugar:
8
g
|
Calcium:
19
mg
|
Iron:
1
mg
Pin this recipe for later
Other SKIPPY® Peanut Butter Posts
These No-Bake SKIPPY® Peanut Butter & Chocolate Energy Bites take only 10 minutes to make, and they make for a perfect after school snack. 

These peanut butter & chocolate chip flapjacks are packed full of peanut flavour and energy, perfect for refuelling during your epic summer adventuring. No mixing bowl needed!

My first North American press trip took me to Georgia, USA, along with a select group of European bloggers and social media influencers. We were invited on an American peanut education tour to learn all we could about American peanuts.

This is a sponsored recipe post made in collaboration with SKIPPY® Peanut Butter, although all thoughts and opinions expressed are our own. Thank you for supporting the brands who make it possible for me to do what I love: mess up my kitchen, share recipes and go out on my bike when the sun shines.