For a romantic meal in this New Year's Eve, try serving lamb rump steaks with red wine jus and celeriac puree. Everything can be made in advance and reheated, meaning you only need to reheat and cook the lamb steaks on the night. Effortless!
This seasonal winter dish has been made in collaboration with Try Lamb.
A romantic night in
When I was around twelve or thirteen, I began to develop an interest in cooking. I used to host 'dinner parties' for my mother and brother, setting the dining room table up with the fine china and cutlery, devising three-course menus (elegantly written out on decorated paper) and pretending I was running a restaurant. No one was allowed to help. Even at that age, I was micro-managing the kitchen.
I wanted to open a restaurant or cafe when I grew up. I even drew out the floor plans on graph paper once. Who knows, maybe a restaurant or cafe is in my future yet.
This love of menu planning, cooking and sharing food with loved ones has never left me. I still enjoy creating three or four-course dinners, spending the whole day prepping.
Earlier this year, I prepared a four-course feast for my boyfriend. The thing is, I wanted to make it look effortless. I didn't want to be spending all evening rushing about getting stressed over hot hobs, so I created a menu that could be prepared in advance and reheated.
This meant that all I had to do after the bottle of wine was opened to air, was to re-heat the sides and sear some lamb steaks. Three minutes cooking on each side. That's it.
A romantic night in.
This is what I did…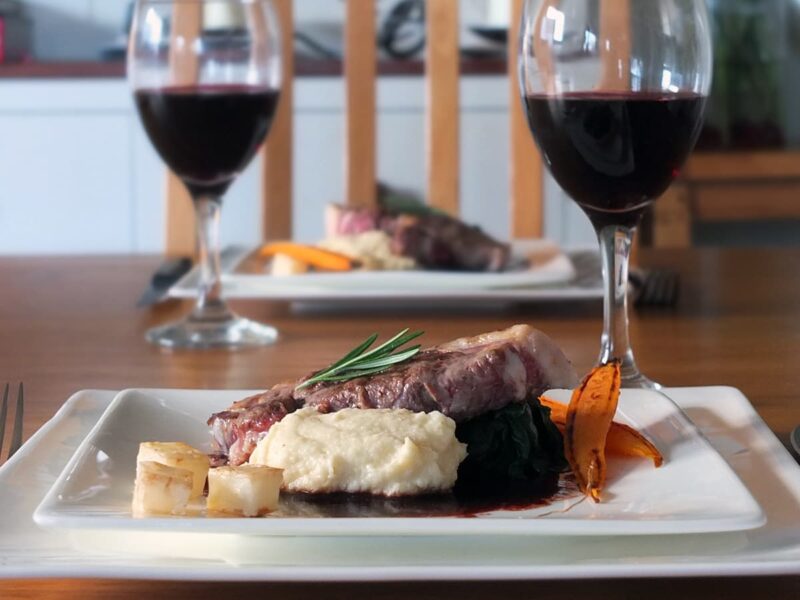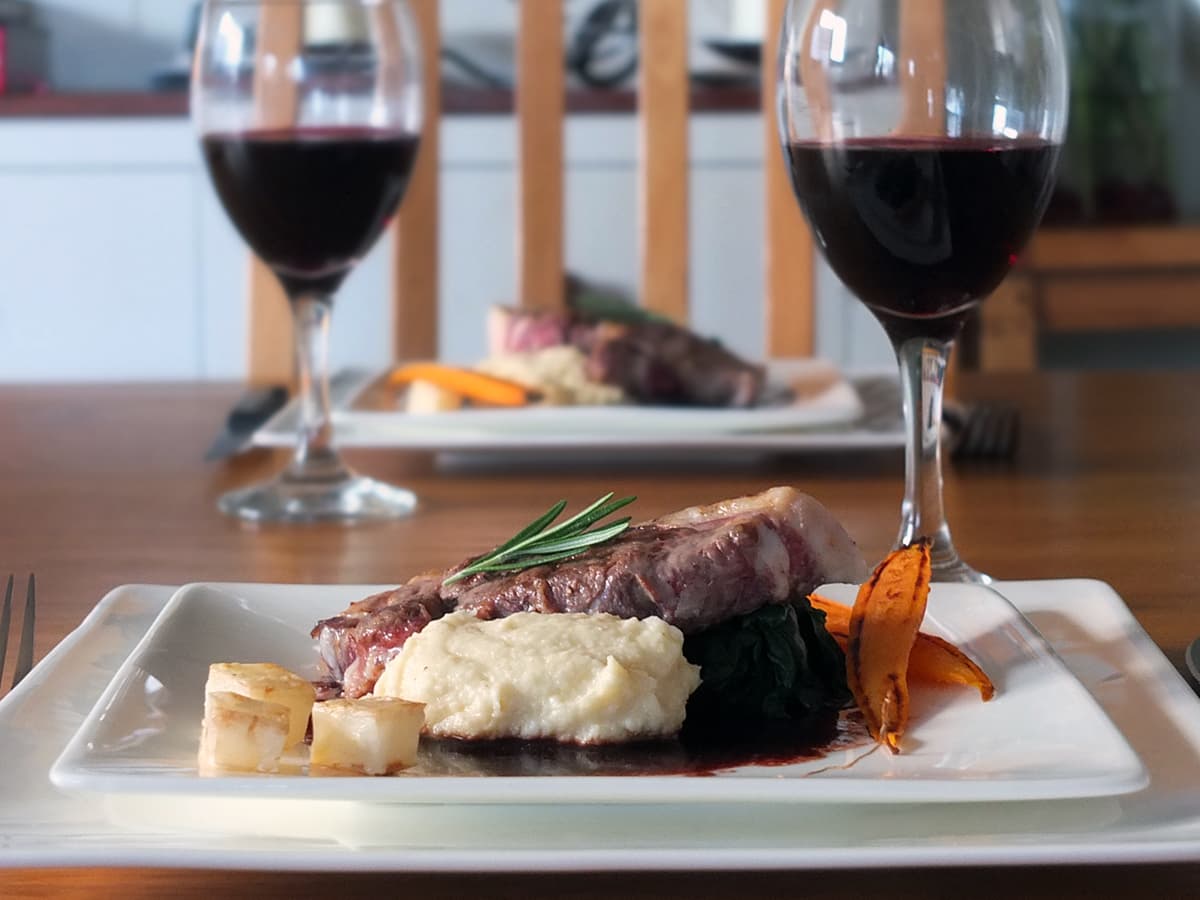 A New Year's Eve Dinner Menu for Two
lamb rump steaks
celeriac puree
red wine jus
sauteed greens
carrot and celeriac to garnish (optional)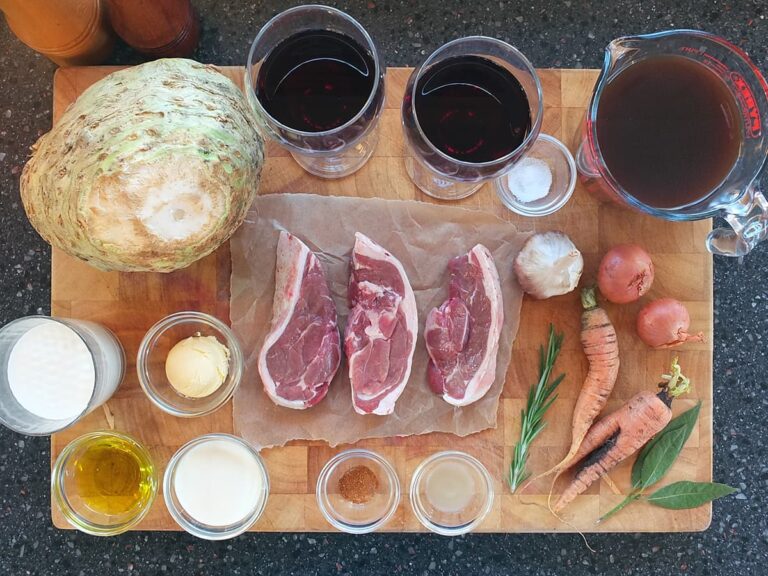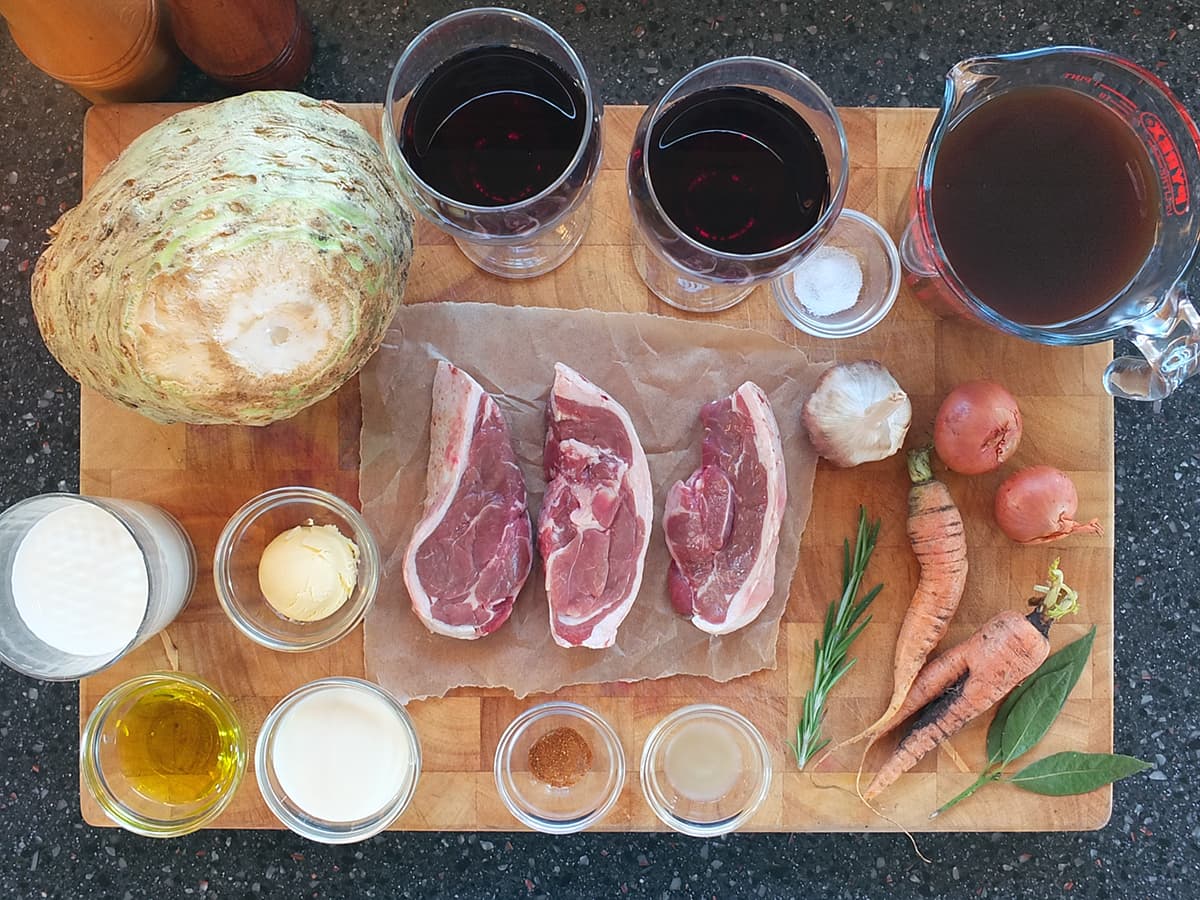 What you'll need for this lamb rump steaks recipe
For the lamb steaks
2-3 lamb rump steaks, depending on their size
1 tsp olive oil per lamb steak
salt and pepper, to taste
For the red wine jus
1 tbsp olive oil
2 small shallots, cut into 8ths
1 garlic clove, halved
125 ml port
125 ml red wine
1 rosemary sprig
2 bay leaves
500 ml of lamb stock
pinch sugar
1 tbsp butter
For the celeriac puree
250 grams celeriac, peeled and cut into 1 cm pieces
1 tbsp butter
125 ml full-fat milk
salt and pepper, to taste
pinch of cayenne pepper
1/2 tsp lemon juice
1-2 tbsp double cream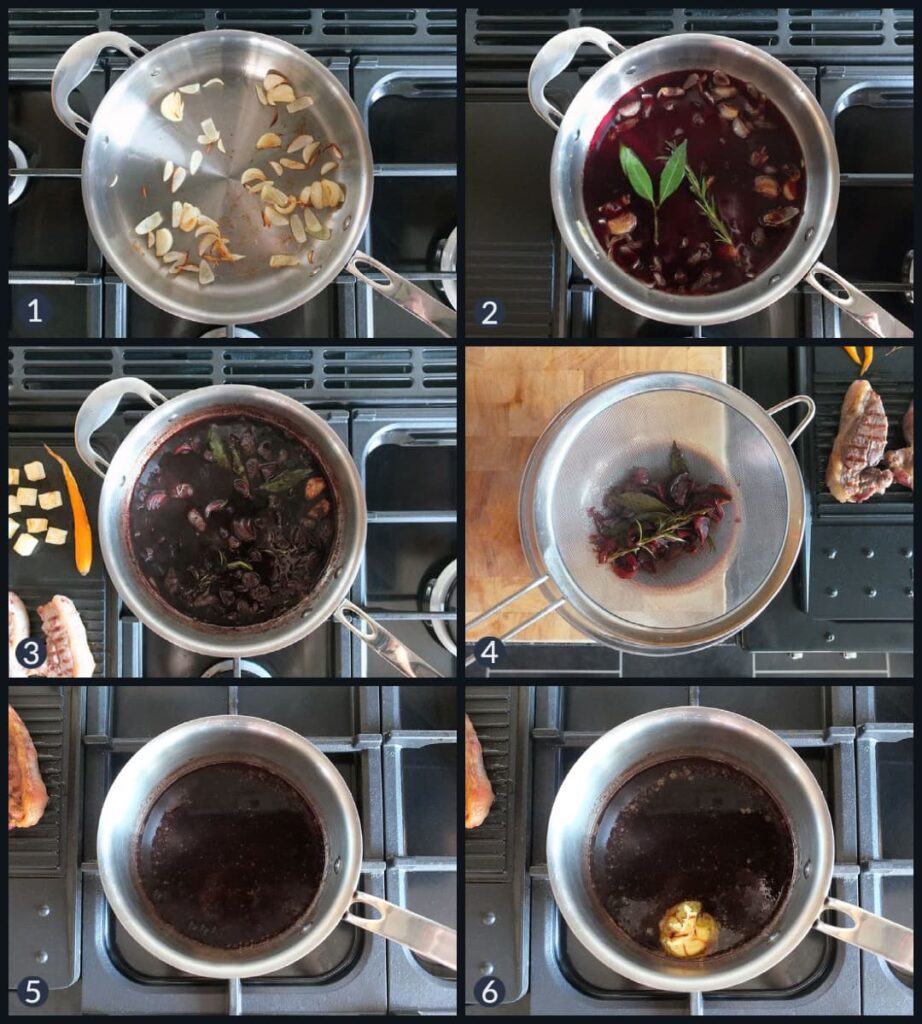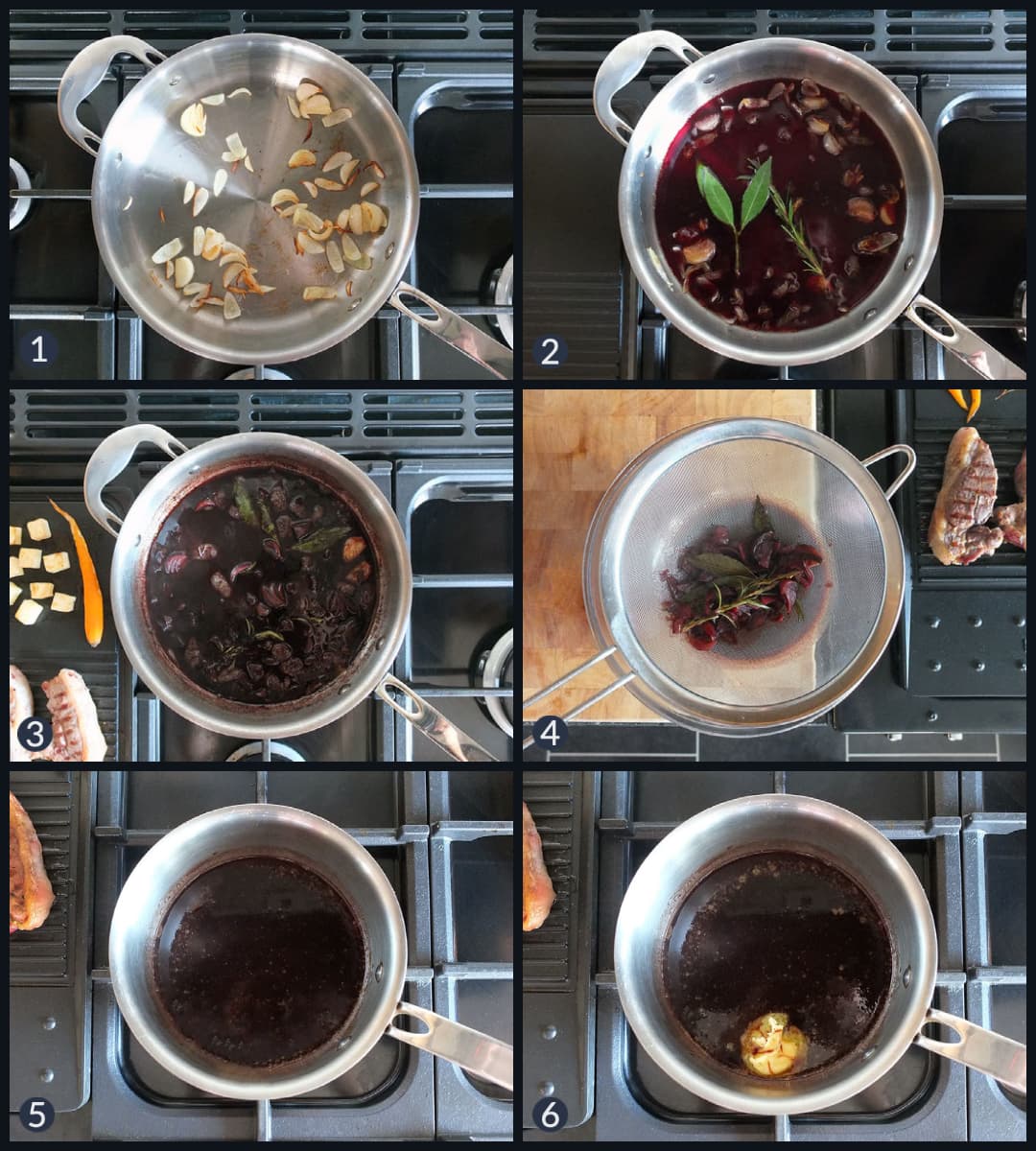 How to make red wine jus
Add the olive oil to a saute pan and gently cook the shallots and garlic for 10 minutes.
Measure in the port and wine and add the rosemary and bay leaves and simmer until reduced by half.
Add the lamb stock and simmer again until reduced by half.
Strain out the herbs.
Return the jus to a clean pan and bring to the boil.
Add butter, a pinch of sugar and season to taste. Cover and refrigerate until needed.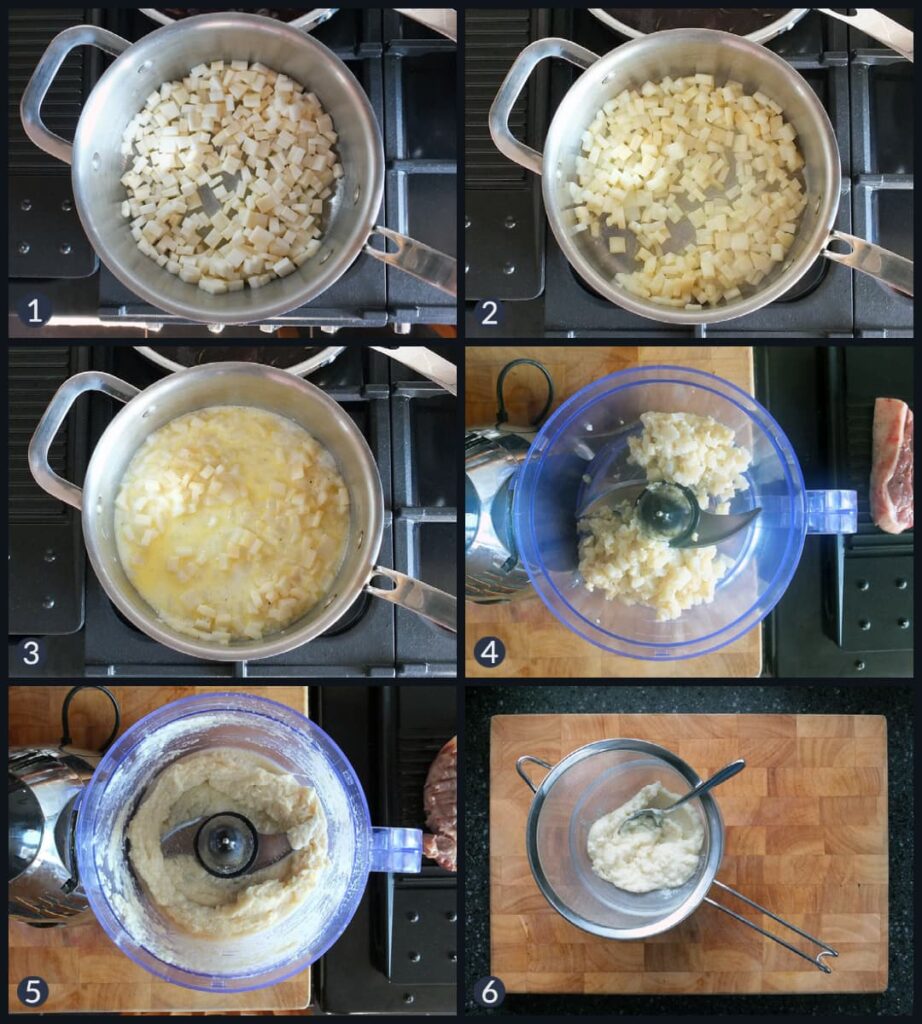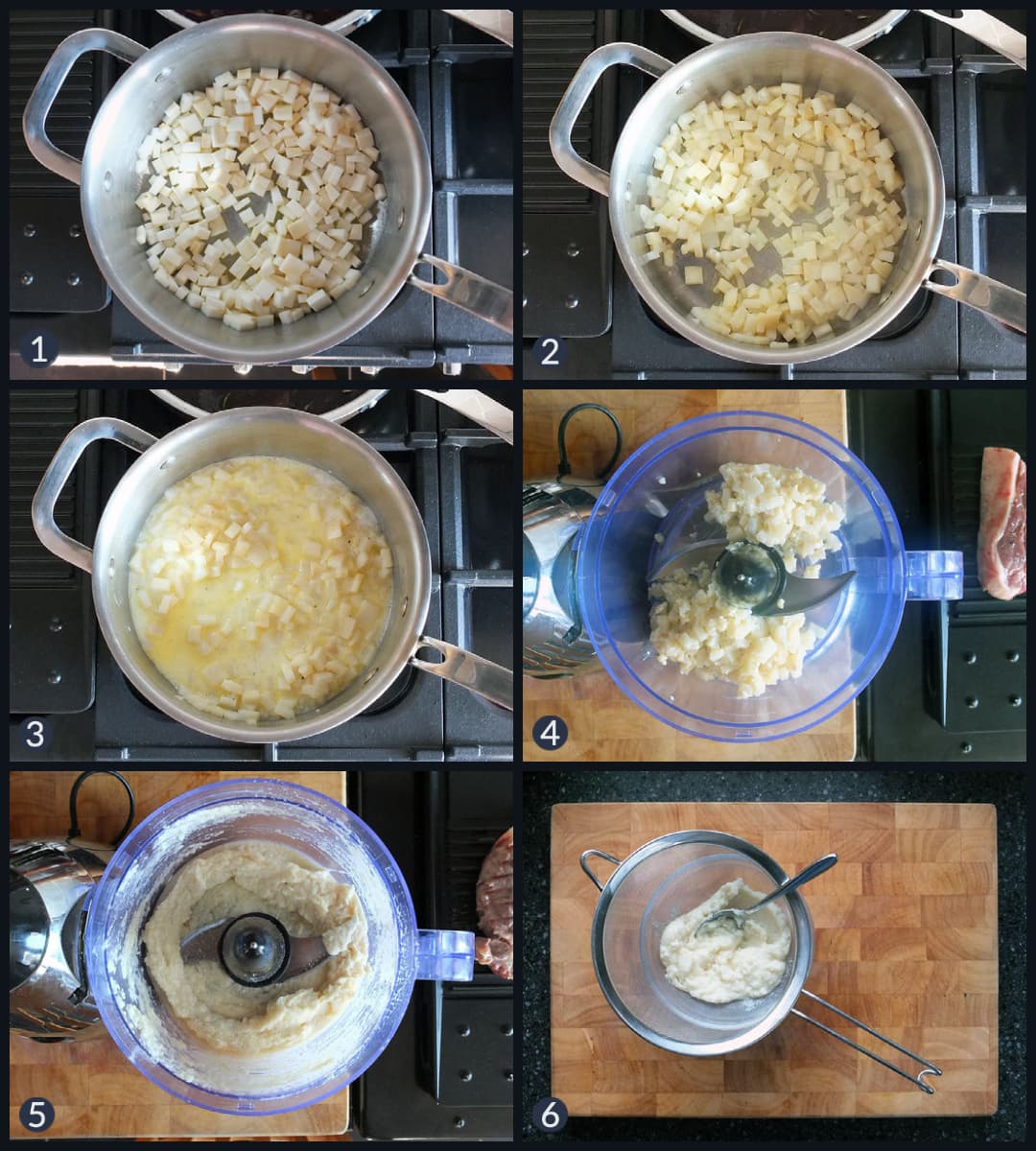 How to make celeriac puree
Peel your celeriac and cut into 1 cm pieces.
Heat butter in a small pan and gently cook the celeriac, covered, for five minutes.
Add the milk and season with salt and pepper. Cook, covered, for 10 minutes over medium heat.
Remove the celeriac from the pan with a slotted spoon and place it into a food processor or blender.
Puree, adding the lemon juice and enough double cream to form a soft puree.
Push through a sieve to remove any remaining lumps, transfer to a clean bowl, cover and refrigerate until needed.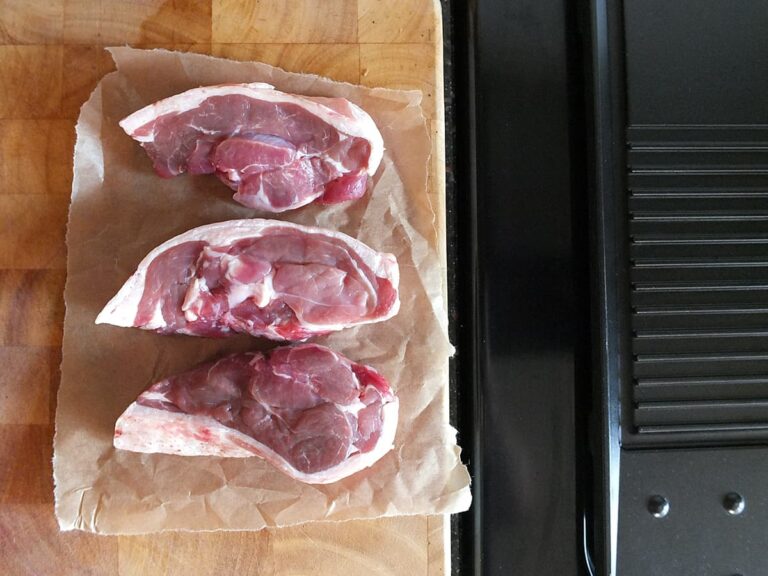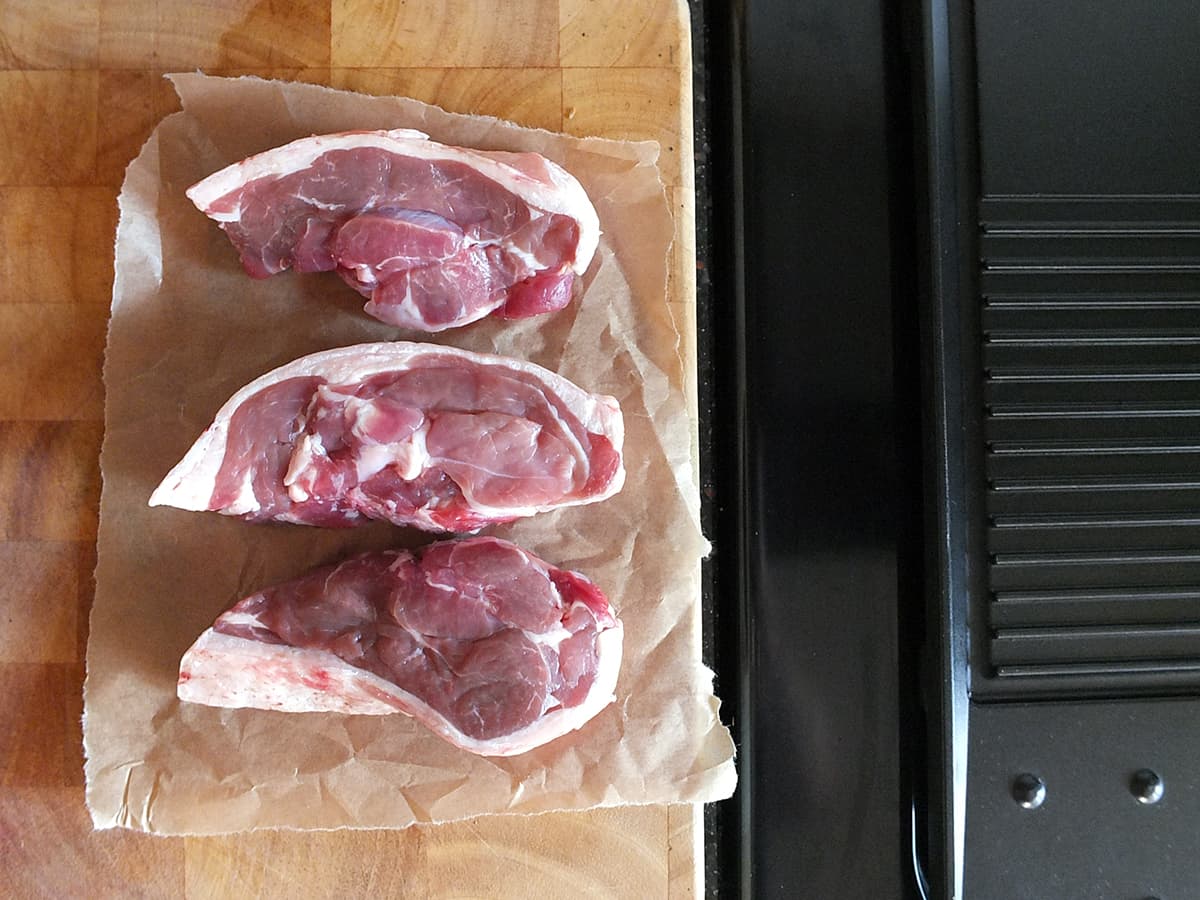 What cut is lamb rump steak?
Lamb rump steaks come from the back of the lamb where the top of the loin meets the leg. It is a lean, tender cut of meat full of flavour, which means you don't need to add any strong sauces or flavours.
How to cook lamb rump steaks
Lamb rump steaks are delicious pan-fried whole. They only need 3 minutes on each side for medium-rare or 4 for well-done. Brush the lamb steaks with a little oil (one teaspoonful per steak is sufficient) and season with salt and pepper and cook on a hot, preheated griddle plate.
What other lamb steak cuts are there?
Lamb steaks can be cut from the leg, loin or shoulder.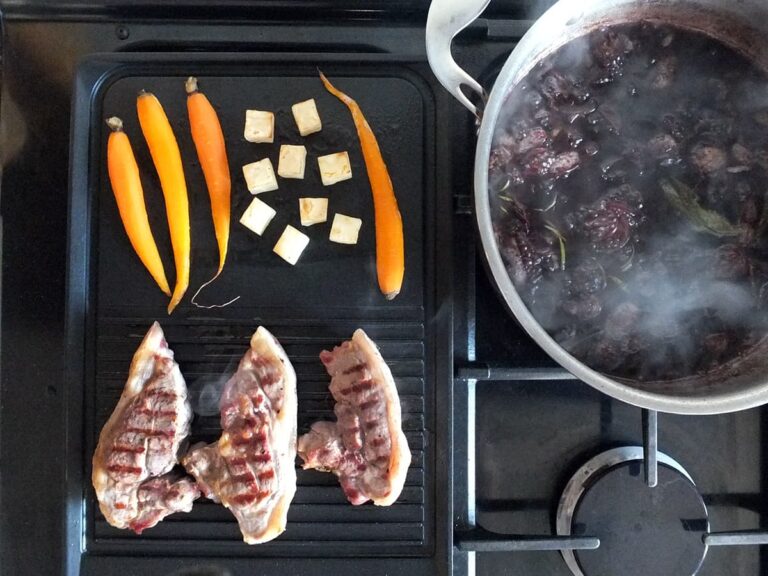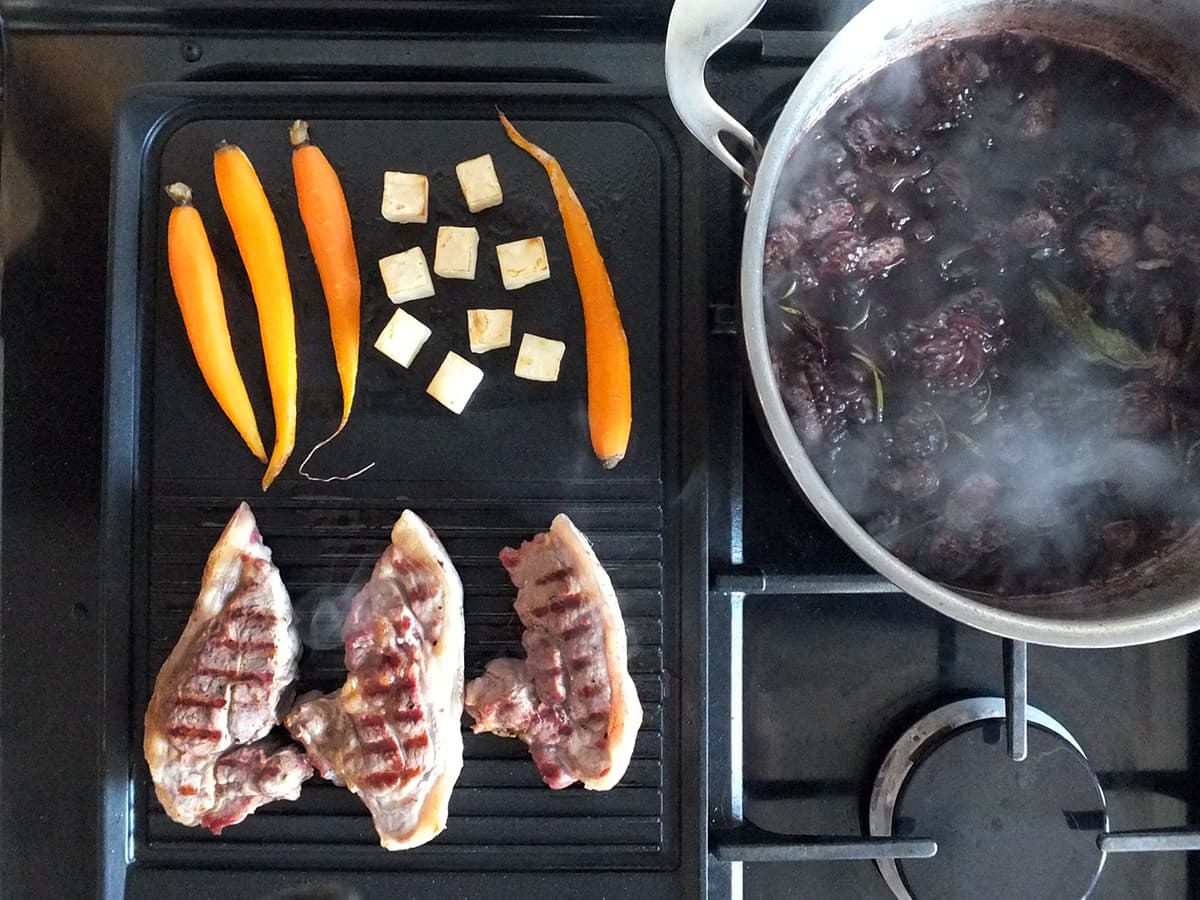 What wine goes well with lamb?
Cabernet sauvignon
Pinot noir
Malbec
Petit Verdot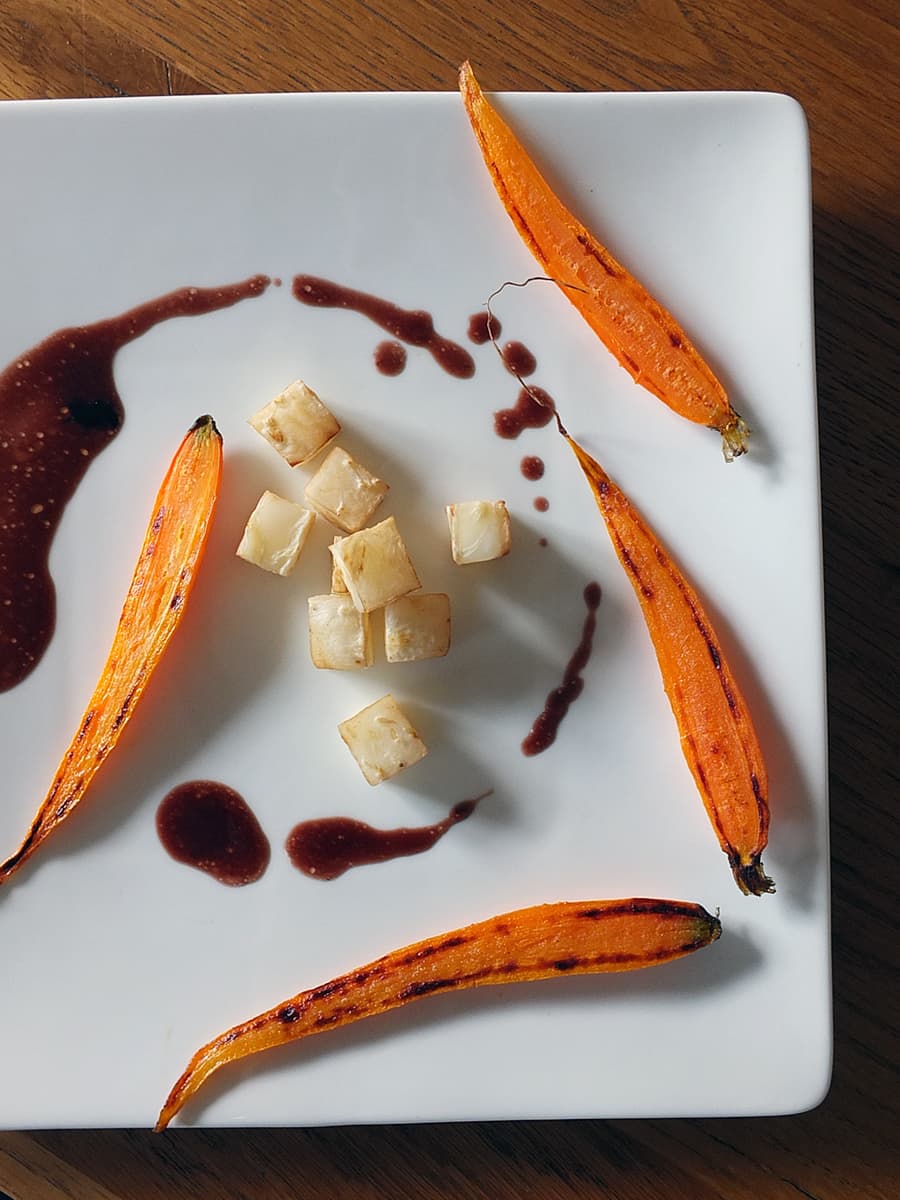 A note on garnishes and plating
I enjoy creating meals with whatever vegetable produce arrives in my organic veg box. The week I made this recipe featured celeriac and dirty, misshapen carrots. So that's what I used in this recipe.
To make the celeriac cubes, cut your celeriac into 2 cm cubes and simmer for 5 minutes or so until they are tender but still retain their shape. Drain and cool.
To make the carrot garnish, peel your small carrots leaving the top and root on. Simmer whole until tender and allow to cool.
When it comes time to plate up your meal, simply melt a little butter on a griddle plate or pan and colour the sides of the cooked celeriac cubes. Cut the cooked carrots in half lengthwise and grill, cut side down, until heated through.
Also, when it comes to decorating your dish with a swirl of red wine jus, it's easier to start with the jus and then add to the plate.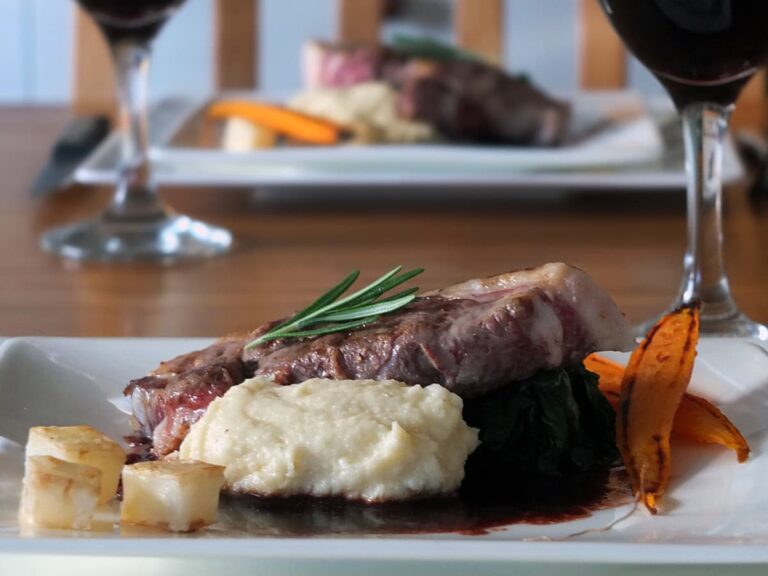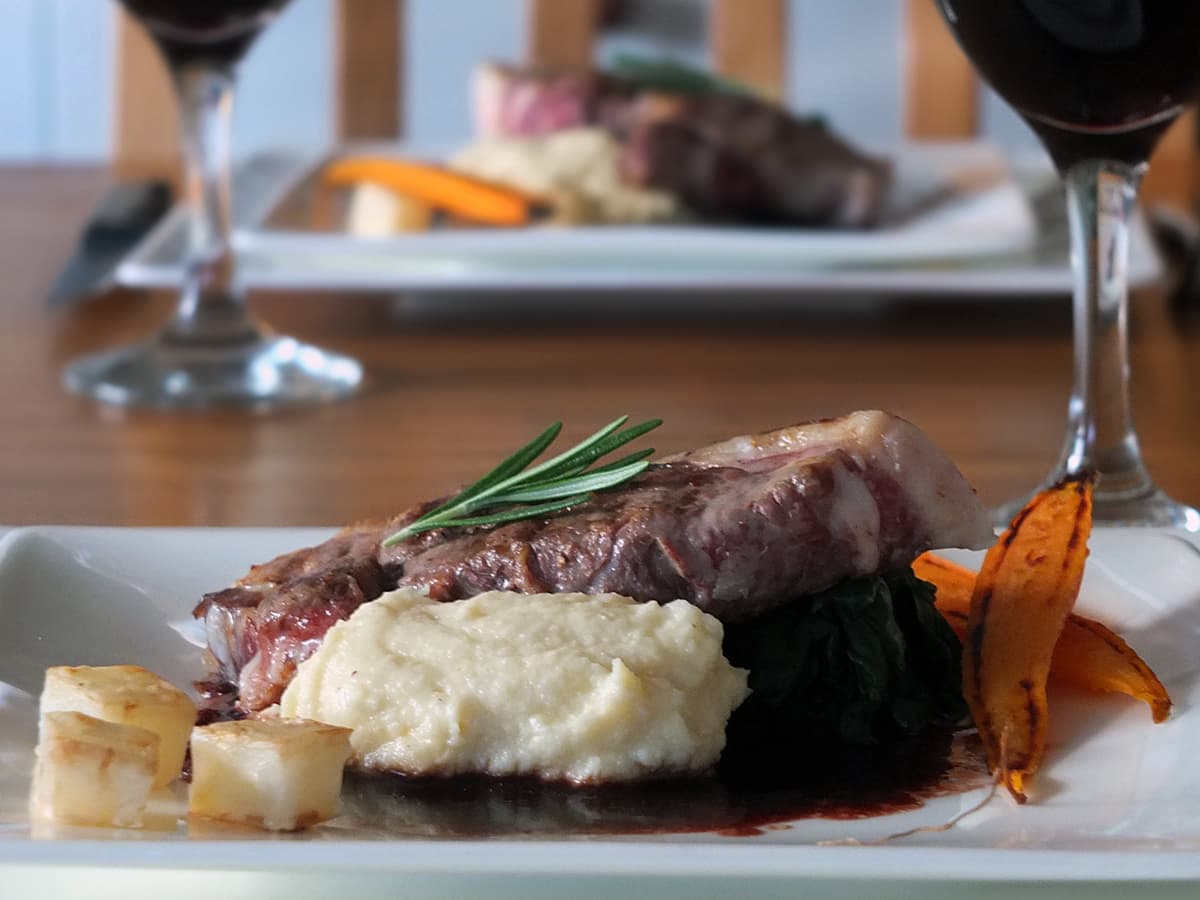 The Try Lamb, Love Lamb Campaign
Lamb is an incredibly delicious and versatile ingredient. It's easy to grow, too, thriving in European pastures.
The Try Lamb, Love Lamb Campaign was created to showcase the ease and versatility with which lamb could be incorporated into family meals. I and a team of other foodies have been regularly sharing lamb recipes with our followers, in collaboration with Try Lamb, in hopes that we will help inspire you to give lamb a try this year. Trust me, you'll love it!
You can find out more about lamb by visiting the Try Lamb website.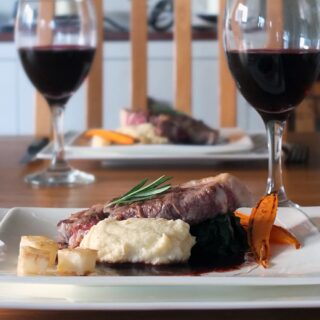 Griddled Lamb Rump Steaks with Red Wine Jus & Celeriac Puree
For a romantic meal for two, sear lamb rump steaks on a griddle pan and serve with red wine jus, celeriac puree and sauteed greens.
Print
Pin
Rate
Affiliate Links
This recipe card may contain affiliate ingredient and equipment links. As an Amazon Associate I earn from qualifying purchases.
Instructions
Notes
Both the red wine jus and celeriac puree can be prepared in advance and reheated when needed.
Nutrition
Calories:
729
kcal
|
Carbohydrates:
24
g
|
Protein:
51
g
|
Fat:
40
g
|
Saturated Fat:
16
g
|
Cholesterol:
179
mg
|
Sodium:
747
mg
|
Potassium:
1172
mg
|
Fiber:
3
g
|
Sugar:
8
g
|
Vitamin A:
566
IU
|
Vitamin C:
13
mg
|
Calcium:
158
mg
|
Iron:
5
mg
Environmental Information
Pin this lamb rump steak recipe for later
Other lamb recipes you might like
A simple yet delicious slow-cooked lamb shanks recipe with vegetables and gravy. Serve with creamy mashed potatoes.
In this epic Feast for Kings, we host a Game of Thrones-inspired banquet with a show-stopping triple crown roast of lamb and all the trimmings. 
This lamb bourguignon is a stove-top, slow-cooked lamb stew with tender pieces of succulent lamb braised in red wine and cognac. It is flavoured with carrots, onions, mushrooms, bacon and a Bouquet Garni.
This is a sponsored recipe post made in collaboration with Try Lamb. All thoughts and opinions expressed are our own. Thank you for supporting the brands that make it possible for me to do what I love: mess up my kitchen and share recipe stories.