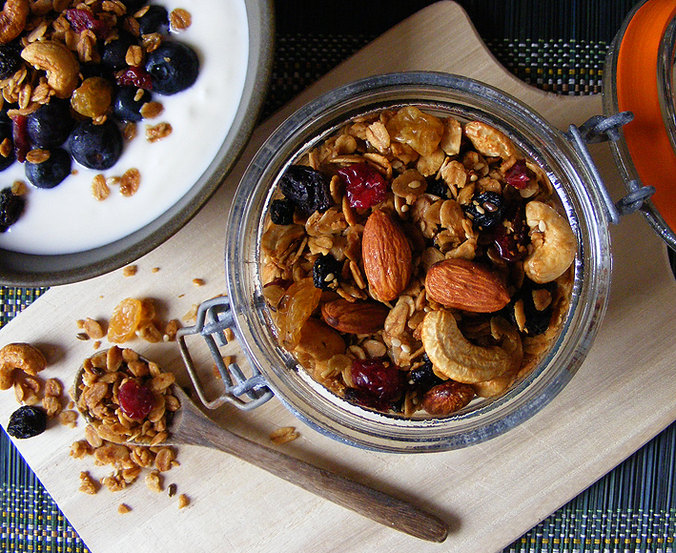 They say that breakfast is the most important meal of the day and what better a way to break ones fast than a wholesome granola sprinkled over some fruit and natural yogurt? That's one of my favourite breakfasts anyway, and my partner and children have both cottoned on as well. Shop bought granola is expensive and frankly, they're a bit stingy on the good bits like the juicy raisins and whole nuts. I found what fruit and nuts that they did have were positioned at the top of the box, so by the time you get to the bottom it was slim pickings through the powdered remains. And have you looked at the sugar and fat content of most shop bought cereals? Truly shocking!
When I first started making this recipe a few years ago for my family I made it with only raisins, and then my local supermarket started stocking their own fantastic blend of dried berries and raisins including fruit-syrup sweetened cranberries, flame raisins, golden raisins and blueberries. Their fruit blend works really well in this granola, and gives it a juicy, flavoursome wow-factor.
Try this recipe. You'll love it, honest. If you're wanting it a little sweeter you could always serve it over some fruit compote or up the quantity of muscovado sugar. We think it's just perfect as it is though.
The dregs (you know, the bits leftover once all the raisins and nuts are gone and you don't really want to eat seedy oats for your breakfast) make a wicked apple crumble topping.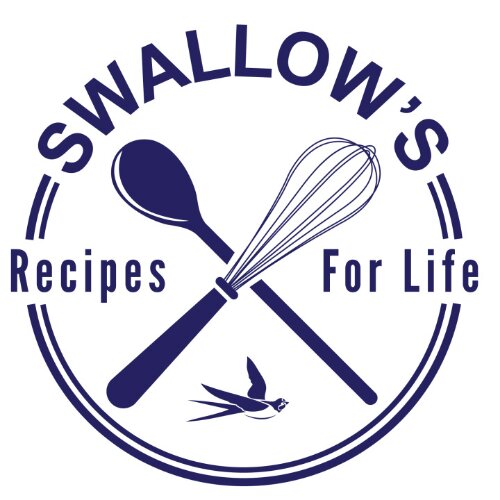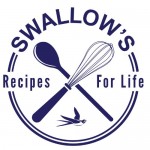 SWALLOW is a charity based in Somerset, and they help adults with learning disabilities lead more independent lives. The group meets every Wednesday and they introduce new simple and delicious recipes to their members that they can make on their own.
SWALLOW have been gathering recipe ideas via the Recipes for Life challenge hosted by Vanesther at Bangers & Mash for a cookery book they are publishing at the end of the year. Each month we're given a theme of three easily obtainable ingredients to work with and this month those ingredients are oats, honey and berries.
As this is a very easy, tried and tested recipe including those three key ingredients I've re-blogged it with some better quality photographs and I am linking it up to the round-up at Bangers & Mash.
This recipe has been included in Javelin Warrior's Made with Love, Mondays recipe round up of from-scratch recipes.
I've also shared this post with the Alphabakes food blogging challenge co-hosted by Caroline of Caroline Makes and The More Than Occasional Baker. This month Caroline has challenged us to bake something involving the letter F, and this recipe involves dried fruit so it fits the bill perfectly!